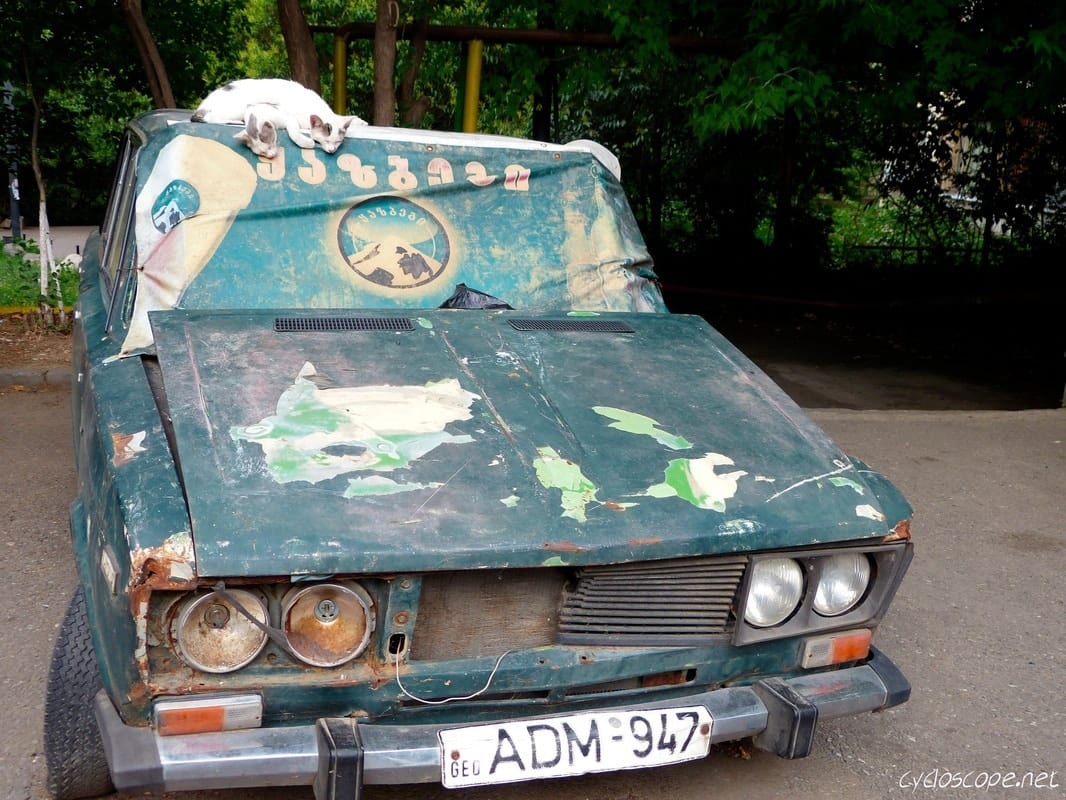 A road trip to Gori and the cultural treasures of central Georgia, Uplistshike and Mtskheta. Exploring by bicycle the architecture of these old settlements
We load the bikes on the van, also the Nika's one, and leave for Tbilisi. Twenty years of living in Germany didn't make him lose the habit of driving like a perfect Georgian.
Today it's terribly hot. I know I'm repeating myself, but every day seems worse. We arrive at Nika's house, should sleep by a friend who has a guest house in front but he does not pick up the phone.
Casa Nika is very beautiful, in the style of old Tbilisi houses, huge porch, all wood. It 'full of windows. Let's go to the embassy of Azerbaijan and magically our visa is ready! From 20 July to 19 August we can stay in Azerbaijan.
We go back to Nika, cook pasta with zucchini (very difficult to find in Georgia) and we move into the guest house of his friend (who is also named Nika).
It was a garage in the courtyard of the building which was converted into a studio, with the fireplace also. It's used by Nika and his friends to swill. For the remainder, nothing works, no TV, no fridge, no kitchen, but there are a bed and a shower and that is enough.
We spend a few days here, we go at the flea market, some bike mantainence, go to the market (huge) in front of the stadium to make up for lost glasses, spend an evening at the home of Nika's neighbors and plan to buy a boat and roaming from port to port to do a wine tasting.
The project is very complex but I can not explain the details, it's secret. Nika also tells us that somebody has given fire to his vineyard 18 times! He has no idea who and why even though he has some suspects.
Then, after a series of unexpected events then resolved (GoPro left in Anaga, GPS touchscreen problems) tomorrow we should be able to leave the city and take a ride to Mtskheta, the ancient capital of Georgia and Uplistshike, the oldest inhabited site the Caucasus.
A cultural heritage trip
Disclosure: Some of our articles contain affiliate links. This comes at no additional cost for you and helps us keep this website up and running. (as Amazon Associates we earn commission from qualifying purchases)
We set off with the usual 40°.
The way out of Tbilisi looks a bit like all highways leaving big cities, long, busy, nothing to see. But, at least, flat.
We arrive at Mtskheta, a cute little town between the Kura and the Aragvi rivers. And 'quite touristy, it is also a place of pilgrimage, here is one of the most important monasteries of Georgia.
Near the town there is a large park along the river, take the opportunity to give us a rinse and leave again in the direction of Gori.
We want to stop to sleep near the monastery of Schio-Mgvmene, about ten kilometers from Mtskheta.
The monastery is on top of a mountain, we will reach it tomorrow morning on feet. After some kilometers, we take a dirt road along the river Kura and we stop to sleep, after the usual rinse into the river.
---
Shortly after dawn, the tent has already become an oven. We leave bikes and gear here and move by foot towards the monastery.
Of course, along the path, there is not a thread shade. We do not know how many degrees there are but we perceive plenty. Daniele blames me because I'm always in the back there to photograph snails climbing prickly plants.
We finally arrive at the monastery. It should be a tourist place but there is not even a bar, and we have a certain hunger.
Upon entering the courtyard comes a priest who makes me realize that I'm dressed in a manner offensive to God, what he thinks God does not like cyclists, like the dogs.
Although in theory, he created me so, in theory, I should know how I am made. In any case, have not yet entered the church, we are in the courtyard, does he thinks I should ride a bike with a long skirt and headscarf?
I wait for Daniele to go up the stairs that lead to the church and bring me something to cover my obscene figure. Take a tour, there are three churches, two here and one more on the top of the mountain.
Then there is the grave of the hermit Schio. The complex is very nice but I'm hungry and I keep on thinking only about food.
Luckily we get a lift for a portion of the return path.
We start to pack up all our things. The bicycle thermometer marks 54°! What can I say? Not a breath of wind blowing, although I do not think it would change much.
We take the paved road and luckily there is now a market where we buy bread and cheese. We sit outside to eat and a little later there comes a Chinese cyclist (you can guess from the huge Chinese flag that waves, attached to the bike).
It's going from Copenhagen to Beijing and while waiting for the visa to Armenia get a ride in Gori, the birthplace of Stalin.
Let's take a dozen miles and then the climb the hot knock me out. Due to a slight breeze degrees are "dropped" to 48.
---
After pushing a long way (hoping in vain that some truck stops to take me) I reach Daniele who thought I had been kidnapped. Luckily he is close to a fountain where we take literally a shower.
When we set off again with joy we realize the climb is over. We stop to buy something to cook for dinner and a guy that we have not even exchanged a greeting gives us a 2.5 liters beer bottle! Just what I was missing on the bike, it felt too light!
Finally, we find our beloved river Kura and we stop to sleep.
Hot, hot, hot. The road is unexpectedly beautiful, with a semi-desert landscape of low mountains of bright red color. The main street is a wide curve to the south, but the GPS points us a dirt road which could save us about ten kilometers.
Again, not sated by the hard lessons inflicted us from the rocky Romanian road and the Bulgarian forest, we venture. This time, however, it goes just fine! The trail is well maintained and flat, very relaxing, except for the final river crossing on a seriously unsafe bridge.
---
Around 15:00 we get to the troglodyte town of Upslistshike. We visit the site, here. It seems to be the oldest human settlement in the Caucasus. Imagine life here, in pre-Christian times, it is a mystical journey through time.
We can say they had chosen a nice place, a bit high, breeze, beautiful view, the river below. In the village nearby there is nothing, only the river that flows through it.
There are several children/young people who are swimming close to the museum and there is a bridge from where they dive.
It's strange, it should be a tourist place but it is not even signaled, although there are some tourists.
There is not even a restaurant, so no chance to eat a khachapuri. We go in search of a market, but we do not find that either. So we continue to cycle in the direction of Gori and we meet a small market where we can buy something for dinner.
We're going to put our tent down the road, there is a descent to a beautiful lawn and then to a grove. Now we cook pasta and go to sleep.
---
Tonight, Daniele was sick, bowel problems, and puking. Unknown cause, suspects on a "mortadella" bought at the market, the only thing that I have not eaten. But it may also have been the water. In any case, it has to do with the bummer.
So, this morning, the idea is to reach Gori and to look for a train back to Tbilisi. Daniele manages to make the 10 km that separate us from the city of Stalin. At the station, they tell us that the only train that also loads the bikes will set off this evening at seven.
We go to the bus station and in an instant, we find a taxi driver who takes us to Tbilisi (bikes on the roof) for little money, something like 15 euro. Given that there are 90 kilometers…
The driver does the way we should have done by bike, the highway. We note that there would have been no shade at all.
Arrived in Tbilisi we get back to the house of Nika's friend and sleep. Around 8 pm we wake up, we go eat at the house of Khinkali (ravioli) and we go back to bed.
Stay in touch while we get lost! Follow us on Social Media