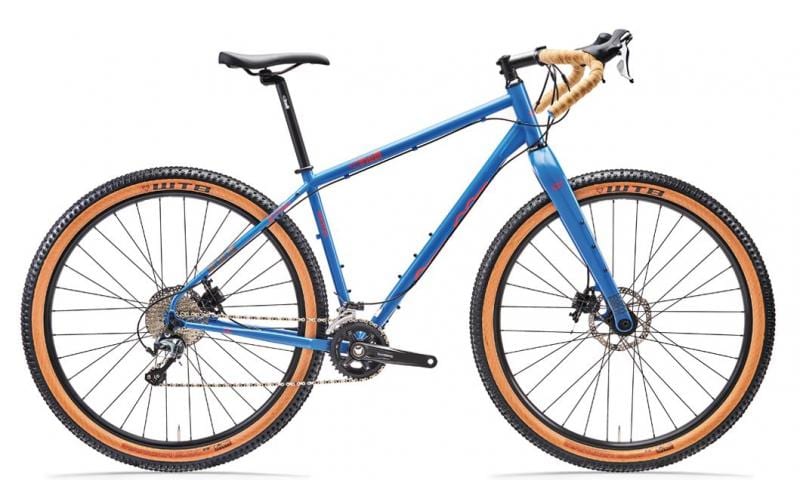 Cinelli Hobootleg Geo 2022 vs 2020 vs 2019 vs 2016
Bikepacking/Gravel Adventure/Touring Bike
Specs, weight, tire clearance & Review.
A field test of 8,000km
MTB, Gravel, or Plus Bike?
Frame Material: Chromoly Steel
Fork: Carbon
Wheel Size: 700c / 29″
Number of Spokes: 32
Number of Gears: 20
Max Tire Clearance: 29×3.0 / 27.5×3.0
Drive Train: Shimano DEORE 36/26T x
Weight: 12.9 kg
The Cinelli Hobootleg Geo is the latest release of the historical Italian bike manufacturer – big tires, and aggressive off-road geometry – it really is an interesting rig for bikepacking, but not just that.
Those new types of hybrid bikes, half-gravel, half-touring, half-MTB are kind of flooding the market of adventure bicycles right now. This category of adventure bikes are often referred to as Plus Bicycles
Catering to the raising bikepacking scene, the Hobo Geo by Cinelli fulfills all the latest trends, and with the added appeal of the "Italian design" is most likely to become a dream-bike for many.
Let's dive into a more detailed description while reading the opinions of Daniele and Simona from BeCycling, who are actually crossing the Americas on two Cinelli Hobootleg Geo. They also kindly provided all the pictures in this blog article (thanks a lot guys!).
Cinelli Hobootleg Geo – The Different Versions
Disclosure: Some of our articles contain affiliate links. This comes at no additional cost for you and helps us keep this website up and running. (as Amazon Associates we earn commission from qualifying purchases)
How we write our reviews: most of our reviews are based on first-hand long-term use or short-term test by a member of our team. For some new models or build variations, we rely on our experience with similar models and our team's experience in understanding bike geometry and components.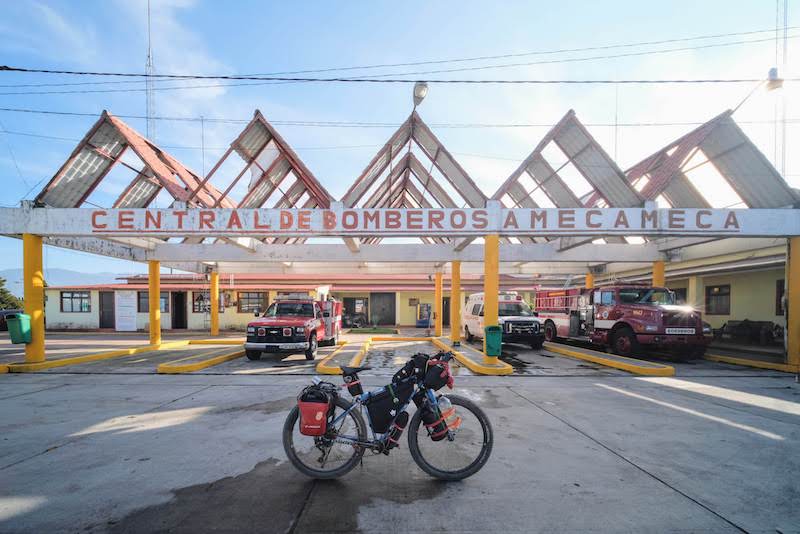 Cinelli Hobootleg Geo Sangria is the 2016 model and it is still available from some shops, often at very discounted prices!
The angles are steeper and the wheelbase about 10cm longer compared to the 2019 model, longer top tube and head tube seems to show Cinelli's intent in prioritizing cushioning and comfort.
The components are much more basic (see below) and the price clearly reflects that. Overall we think the 2016 Cinelli Hobo Geo is still a great buy for those willing to do some off-road touring inna-bikepacking-styla.
The Hobootleg Geo – Blue Ridge Mountains is the 2019 model. It features trendy shallow drop-bars and an overall more "nervous" geometry.
Shorter tube length and wheelbase might add in readiness, making it more maneuverable in tight corners but maybe less comfortable and effective under heavy loads… but this is not a fully-loaded-expedition kind of bike, we'll see that later
Daniele and Simona from BeCycling played an important role in giving feedback from the road to the Cinelli design team, their experience with the Sangria version contributed to the changes and updates found in the 2019 Blue Ridge Mountain version of the Hobo Geo.
The Hobootleg Geo 2021 is the latest redesign, again thought in collaboration with Be Cycling, who are back in Italy after 6 years of uninterrupted travels, always on Cinelli bikes.
Again Cinelli follows other brands in implementing a carbon fork, but angles even more the geometries coming out with a touring bike that's nothing like any other.
In this blog review, we'll talk mostly about the 2019 and 2021 models, as the Sangria is likely to disappear soon from the shops.
[Follow the BeCycling journey around the World on Insta!]
Hobo Geo 2021 – The Frame Set
The sloping frameset is made of Columbus Cromor triple-butted steel, this means no-bullshit great-quality Italian steel – definitely another tier compared to the Taiwanese materials used by many touring bike manufacturers (eg. Surly).
The frame is treated with anti-corrosion to provide reliable protection against the elements, adventure bikes shouldn't rust. It features three bottle-cage and CNC rear dropouts, designed to support the disc-brake clamps. It has the obvious eyelets for a rear rack and fender that every gravel designed for touring should have.
The maximum tire clearance allows up to 3.0″ tire to fit in, with a choice between 29 and 27.5 – of course tubeless-ready, just as the trend commands. The use of fenders or certain models of rear carriers will reduce the clearance a few inches (of course), unfortunately Cinelli doesn't state the max clearance with fenders.
The New Carbon fork has 4 lateral eyelets and two bottom ones for each side, "anything you need eyelet" they say, it certainly offers a lot of options for bikepacking cages and low-rider front racks. Cable routing is external.
Check some cool bikepacking cages
Geometry of Cinelli HoBootleg Geo 2021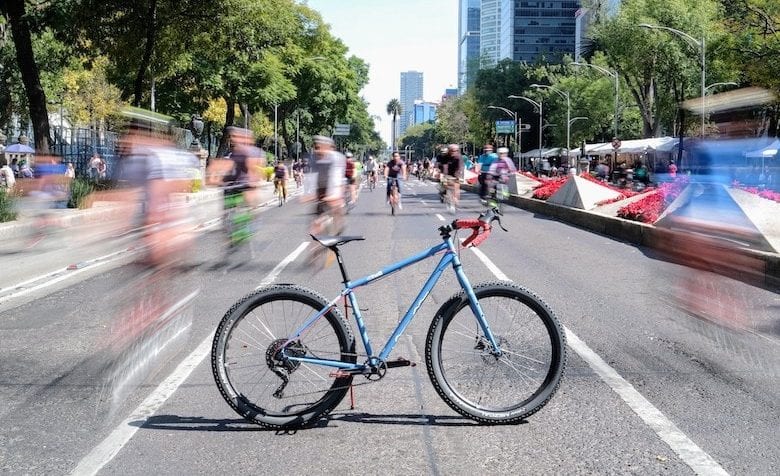 With a very small fork rake the Cinelli Hoboootleg Geo, similarly to the Ribble 725 Adventure, seems a very reactive bike despite the 29″ wheelset.
The chainstay length is similar to traditional touring bikes like the Trek 520 at 450mm, which ensures enough natural cushioning thanks to the ideal diameter of the Columbus Cromor tubes. The relatively high bottom bracket takes away some stability while giving more clearance over obstacles.
Although the Hobo Geo has bosses for rear rack and front low-rider, it seems that this machine will give its best on rough tracks under relatively reduced load.
The latest version of the Cinelli Hobootleg Geo for 2021 angled the top tube even more, for a longer wheelbase which makes the bike more stable.
The frame geometries draw very much from the mountain biking word, upright riding position, long trail (around 80mm), high bottom bracket to avoid pedal strike with rocks, suspension-corrected fork to be able to mount a suspension if desired without changing geometries. Despite this, the goal was to try to keep the triangle as large as possible to optimize frame-bag space.
(Says Daniele Carletti from BeCycling.net)
The Hobo Geo 2021 New Drive Train & Standard Components
After going SRAM all-in with the 2019 version, Cinelli goes back to good old Shimano. While SRAM for sure makes hi-quality stuff, a concern to consider when talking about worldwide parts-availability. Unfortunately, Shimano dominates in most of the world, especially in developing countries finding SRAM parts has similar chances to winning a lottery
Regarding the gearing choice, Cinelli goes one step back on his track, returning to an asset more similar to that of the 2016 Hobo Geo. The 2019 Hobo Geo used to feature a SRAM APEX 1×11 drive train, with an 11/42t in the back – another industry trend in bikepacking.
The more gravel-oriented Sangria 2016, had a 2×10 – 26/39t x 11/26t, here with the 2021 Hobootleg Geo, we expand the range with a 36/26t double chainring in the front and an 11-34t 10-speed cassette, derailleurs are Shimano Deore in the front and Tiagra in the rear.
The 2019 with its 11/42t gives a granny capable of climbing stairs, but the maximum speed is reduced to under 38 km/h – another sign of a bike more oriented to off-road touring. Of course you're rid of a derailleur and a shifter, and that's good – less is more.
The choice to go back to a double in the front for 2021, after so much testing, maybe proves this not to be the ideal setup for a long-distance bike expedition.
Shifters are also hi-performing and durable Shimano Tiagra, while disc-brakes are Trp Tr29 with 160mm Rotors.
Tyre Size
Another thing that makes the Hobootleg geo more of an all-terrain beast than a classic tar-touring rig is the extreme tire clearance, increased from the previous Sangria model.
Mounting 29″ wheels with 3″ tires give a great feeling when riding sandy single-tracks bumpy washboards and all kinds of challenging terrain, including snow.
Of course, nothing is ideal for all conditions, so you'll experience more rolling resistance on smooth tarmac, but that's not the bike you want if you mostly ride on asphalt.
Another small drawback is the part availability, 27.5″ and 29″ are still uncommon in many developing countries. Although this bike looks great to tackle the rough African terrain, that's only until you need spares such as spokes, tires, or sealant.
One thing that I pushed a lot with Cinelli was the space for the wheel passage (and I don't know if they are very happy, but I do). They sell it as a gravel bike, I considered it from the beginning like a Plus bike. However it is nice to have the possibility to change wheels at will from 29*2 to 27.5+, without it affecting geometries basically!

So far we have used 27.5*2.6 (on which we have done more than 8,000 km), just these days I am putting 2.8, and I have tried a friend's wheels with 3″ Chronicles and they fit without problems.

All this is obviously made possible by the thru-axle boost at the rear. In addition to the various obvious advantages of a wider hub, it also moves the chain line outwards, preventing the chain from rubbing against such a wider tire when on the lighter gear. (So we should thank BeCycling for this, hehe)

[Follow the BeCycling journey around the World on Facebook!]
What Are The Best Riding Setups for a Hobootleg Geo?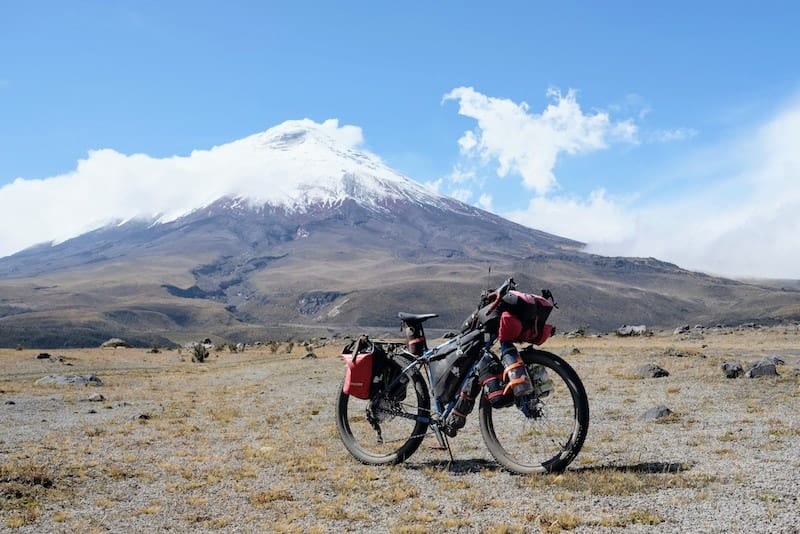 The gravel geometry of the Hobootleg Geo makes it naturally inclined to bikepacking. Although it can certainly handle cycle touring panniers, that's not what the Geo is meant for, Cinelli has its expedition model in the Hobootleg, which we'll review soon.
The many mounting points make the Hobo Geo versatile enough for quite some different backpacking or hybrid setups.
Becycling for example, like many long-distance bike travelers, went for a hybrid setup – with small panniers on a rear carrier – while using all front-fork mounting points and hanging stuff almost everywhere, including tent poles down the lower tube.
This is a slick set-up, which keeps the lines relatively compact and aerodynamic while ensuring a capacity comparable to a 4-panniers rig. Cool stuff!
The bike rides well, is stable at speed and downhill, but is also responsive to maneuvers on the handlebar. Without load it is even more agile and responsive, if only we were capable of mountain biking…

It is quite far from the classic touring bike that feels like a train on the tracks, the shifting of weight makes it bend down easily and corrects the trajectory downhill. Dodging rocks is much easier now. (cit. BeCycling)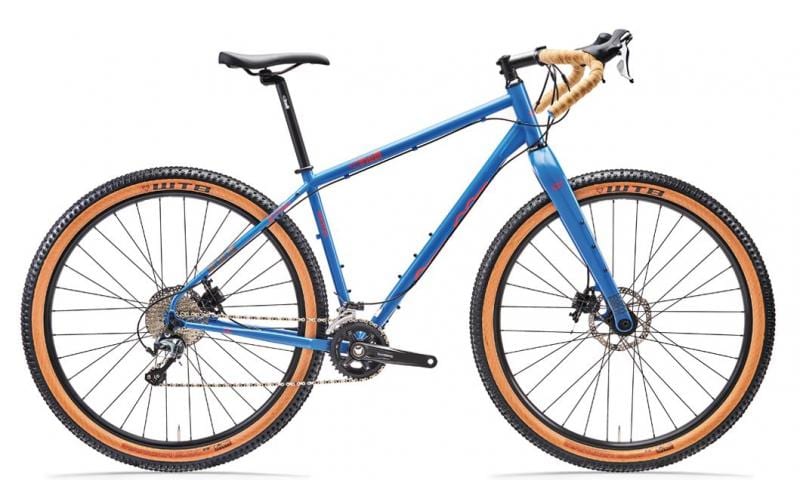 Cinelli Hobootleg Geo 2021 Specs
Frame: Columbus Cromor Double Butted Steel
Fork: Columbus Futura Adventure Carbon Tapered
Tire Clearance: Up To 29×3.0 / 27,5×3.0
Handlebar: Cinelli Largo / Ø 31,8 / 560mm (S/m/l/xl)
Crankset: Shimano Deore / 36/26t – Size 170 (S/m) 175 (L/xl)
Ft. Derailleur: Shimano Deore Fd-m4100-m / Side Swing / Front Pull
Rear Derailleur: Shimano Tiagra / 10 Speed / Long Cage
Cassette: Shimano / 10 Speed / 11-34t
Shifters: Shimano Tiagra
Brakes: Trp Hy-rd (Md-c705c) / Trp Tr29 160mm Rotors
Wheels: Shining / 29″ / Formula Hubs / 6 Bolt
Tyres: Wtb Ranger / 29×2,25 / Tan Sidewall
Weight: Frame 2500g / Fork 550g (Uncut)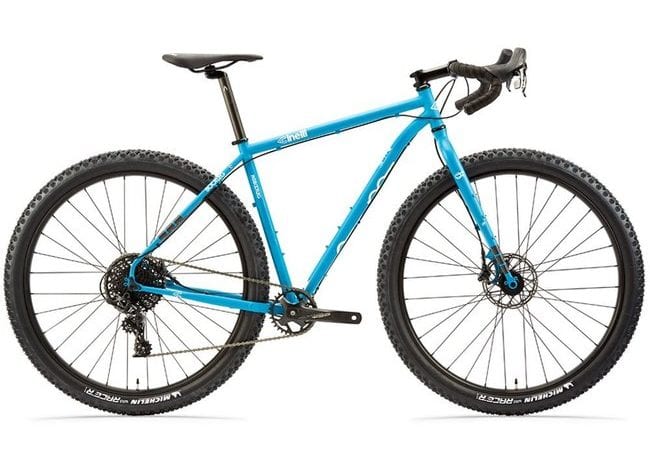 Hobootleg Geo Blu Ridge Mountain 2019 – Components & Specs
Frame and Fork
Sizes: S (40) M (46) L (51) XL (55)
Frame: COLUMBUS Cromor Double Butted Steel
Fork: COLUMBUS Cr-Mo Steel 1 "-1/8
Cable Routing: External, full length housing
Color: Blue Ridge Mountains
Tire Clearance: up to 29×3.0 / 27.5×3.0
Hub Spacing: Rear TA Ø12x148mm / M12x1,5 L167mm skewer Front TA Ø15x100mm / M15x1,5 L125mm skewer
Frame Features: front & rear fender and rack eyelets / triple eyelets fork blades / FD ready / front light hole
Weight: Frame 2500g / Fork 1600g (uncut)
Brakes and Drive Train
Crankset: FSA ALPHA DRIVE 1X / 32T – Size 170 (S / M) 175 (L / XL)
Brakes: SRAM APEX1 HRD Disc / Post Mount 160mm (rotor size up to 180mm)
Cassettes: SRAM / 11 Speed ​​/ 11-42T
Rear Derailleur: SRAM Apex 1/11 Speed ​​/ Long Cage
Ft. Derailleur: NIL
Shifters: SRAM APEX1
Components
Headset: EC 34 / 28.6 | EC 34/30 External 1 "-1/8
Seat Clamp: Ø 30mm
Bottom Bracket: BSA 73mm
Stem: CINELLI Bootleg Stem – Size 110 (S / M) 120 (L / XL)
Handlebar: CINELLI Bootleg Drop-Touring Handlebar / Ø 31.8 / 560mm
Seatpost: CINELLI 6061 Seat Post / Ø27,2 / L350
Tape: CINELLI Cork
Wheels: SHINING / 29 "/ 6 Bolt Disc
Tires: MICHELIN WILDRACE 'R2 TS / 29X2,25
Chain: SRAM
Price: $2,399.99

Cinelli HoBootleg Geo Sangria 2016 – Components & Specs
Frame and Fork
Tubeset: Columbus Cromor Double Butted Steel
Fork: Cinelli Cr-Mo Steel 1-1/8″
Brakes and Drive Train
Cassette: SRAM GS-1030 11/36T 10S
Shifters: SRAM X5
Brakes: Avid BB7 S – SRAM FR5 Brake Levers
Front derailleur: SRAM X5
Rear derailleur: SRAM X5
Chain: KMC X10
Components
Headset: EC 34/28.6 | EC 34/30
Stem: Cinelli Bootleg 6061 ÌÎÌá 31.8mm
Handlebar: Cinelli Bootleg 6061 ÌÎÌá 31.8mm
Grips: Ergon GP2 Twin Density with Bar End
Seatpost: Cinelli Bootleg 6061 ÌÎÌá 30mm
Saddle: Selle San Marco Ischia Bootleg Custom
Crankset: FSA Comet Compact Mega Exo 26/39T 170/175mm
Bottom bracket: FSA BB-7100
Wheels: Alex Rims 584×23 MD23 – SRAM Myth 506 Hubs
Tires: Continental Race King 650Bx2.2″
Pedals: Wellgo WPD 95B
Accessories: Front/Rear Rack + Front/Rear Fenders Friendly
Bike weight: 12.9kg – Price: $799.99
About Cinelli Bicycles
Cinelli is an Italian bicycle manufacturing company based in Milan, producing mostly road bicycles and components. While 80% percent of Cinelli's business consists of components, they are renown for having designed and produced some very interesting bikes across the decades of activity.
Cinelli was founded in 1948 by Cino Cinelli (died 20 April 2001), a former professional road racer and president of the Italian Cyclists' Association. He won Milan–San Remo in 1943, the Giro di Lombardia in 1938, and the Tour of the Apennines in 1937.
Cinelli was the seventh of 10 children, the son of a small landowner near Florence. He became interested in bicycle technology after mechanical failures in races.
They started making stems, bars and frames for other companies. Stems and bars were 80 percent of Cinelli's own sales. By 1978 they made no more than 700 frames a year.
The breakthrough arrived in 1974, with an aerodynamic bike on which Ole Ritter broke his own hour record. The staple product was the Speciale Corsa road model made from 1947. The Speciale Corsa also became known as the "Super Corsa" after a supplier sent decals that erroneously said "Super Corsa" instead of "Speciale Corsa."
Looking for a Travel Bike? Check these!
Check Also
Stay in touch while we get lost! Follow us on Social Media