Bikepacking GPS Navigators from Cheap to Top! A comparison of the best bike computers for touring
Garmin vs Bryton vs Wahoo. Specs, price & first-hand thoughts
What is the best bike GPS? Why a GPS device? Among the many bicycle travelers we met, most use a mobile phone for navigation, we think though that a real bike GPS is definitely a great companion for a bicycle adventurer, almost a must.
This blog article aims to give some reasons and guide you through the choice of the perfect bike GPS computer for your needs.
There are many smartphone apps, also very valid, some have a vertical learning curve (such as Oruxmap) while others are much simpler, featuring only the basic functions. A well-balanced example is Komoot (which we have tested extensively).
However we cycled for years, bikepacking more than 40,000 kilometers, with a Garmin GPS device and when, after years of mistreatment, we lost it, we felt lost too. Garmin certainly makes some of the best cycle computers in the world but there are also valid alternatives.
Let's dive into the products first, the list of the best bike GPS models to date. while at the end of this guide, you'll find out "why" you should get a GPS for your travels or bike trips, and what are the main features to keep in mind.
Disclosure: Some of our articles contain affiliate links. This comes at no additional cost for you and helps us keep this website up and running. (as Amazon Associates we earn commission from qualifying purchases)
How we compile our gear guides: during the almost 10 years of cycloscope.net our team personally tested dozens of similar pieces of gear. For what we can't test personally, we involve other people in the cycling community to give their feedback and opinion about gear they have used. Our decade-long experience in bicycle touring enables us to find the key cons and pros of every product we mention.
The 11 best GPS Navigators and Cyclocomputers
compared by price and technical specs
Here is the list of the best GPS for bikepacking and cycle touring, with all their technical characteristics, find the model that best meets your needs and check the price. If you have other models to suggest, contribute to the comments section at the end of this article!
The Garmin Edge Series
Not only Garmin: bike GPS computers from alternative brands
3 more honorable mentions for the best GPS for bikepacking
Dedicated Bicycle GPS Computers
The Garmin Edge Series
Edge is the Garmin series for its GPS cycling computers. They all use internal GLONASS capable GPS chipset to track your rides, and connect to ANT+ sensors like power, heart rate, speed, cadence, eTAP/Di2/etc. All of this can be uploaded to Garmin Connect wirelessly via Bluetooth Smart or WiFi (or, via USB cable).
Garmin has a wide line of product in the Edge series, from the most basic Garmin Edge 130 plus to the professional Edge 1040 solar. Let's dive into that and try to understand the differences by comparing the Garmin Edge GPS units:
best GPS computer for bikepacking endurance events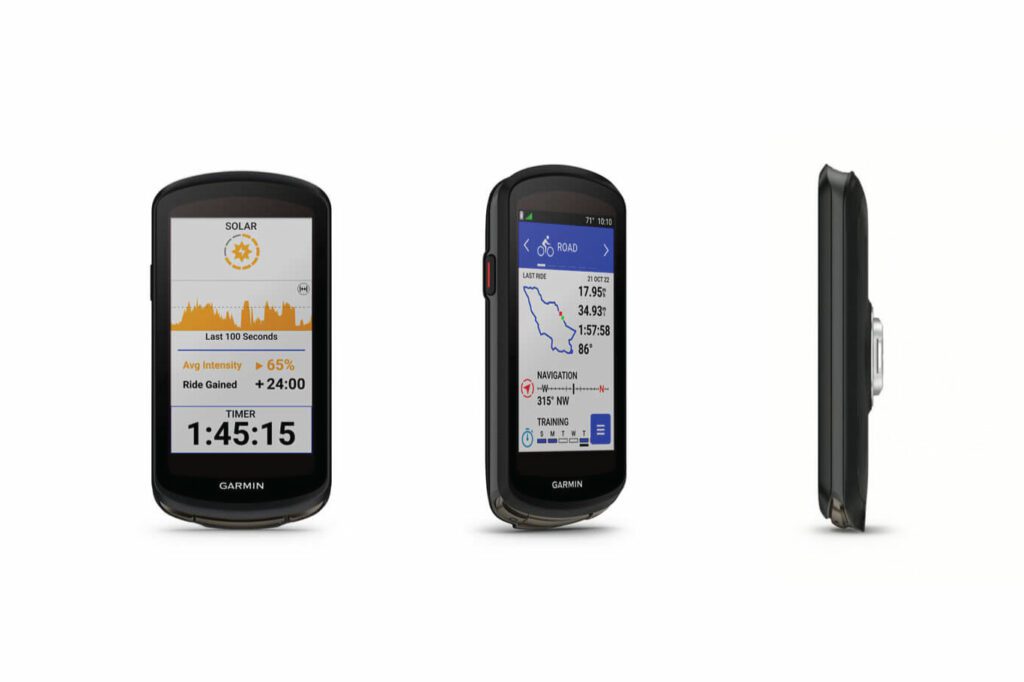 The Garmin Edge 1040 Solar, compact as a smartphone positions itself as the ultimate cycling computer choice. Geared towards pro cyclists, it flaunts an arsenal of functions that are sure to satisfy even the most discerning users.
The sheer depth of data at your fingertips might verge on excessive for the casual cyclist, but the real allure lies in its seamless integration with smartphone apps, a gateway to a realm of boundless possibilities.
Among its features, the "Popularity Routing" is a standout – harnessing the collective Garmin Connect data to paint a vivid heat map of favored routes. Meanwhile, the "Strava Segment" app transforms your rides into competitive arenas, enabling real-time performance comparisons with fellow riders.
The inclusion of the innovative Power Glass solar charging lens extends its battery life remarkably – a boon for endurance rides. This translates to a staggering 100 hours in battery-saving mode or 45 hours of relentless use.
Impressively, daytime rides offer a unique advantage, adding 42 extra minutes of battery life per hour in the battery-saving mode and up to 20 minutes per hour during high-demand scenarios, assuming a consistent 75,000 lux illumination during daylight cycling.
While the Edge 1040 Solar undoubtedly boasts an impressive roster of features, including a USB rechargeable lithium-ion battery with a 17-hour runtime, altimeter, compass, Strava segment integration, WiFi, Bluetooth, and a multitouch screen boasting 240 x 400 px resolution, there's a catch, besides the obvious point of the price tag.
For bikepackers and adventure cyclists aiming for a streamlined travel experience, its extensive feature set could become a double-edged sword.
In the realm of bikepacking, where simplicity and endurance reign supreme, this device's vast functionality might prove a tad overwhelming and arguably excessive.
While a true marvel for data enthusiasts and professionals, its complexity could deter the average traveler seeking a more straightforward journey.
best midrange bike touring GPS
If we think of the Edge 540 as the younger sibling, the 840 falls somewhere in between. Both units share the same dimensions, but the 840 Solar comes with a handful of extra features, notably a touchscreen interface instead of traditional buttons, along with a generous 32 GB of integrated memory.
The Garmin Edge 840 offers a range of training and exercise capabilities highly valued by dedicated race-bike enthusiasts. These include event-specific daily workout recommendations, primary and secondary exercise objectives, real-time stamina monitoring, comprehensive analysis of cycling proficiency, scrutiny of course demands, a consolidated training status, and more.
An intriguing feature, also found in the 540 model, is the accident detection system—a combination of sensors designed to identify potential crashes and automatically notify a designated contact through SMS.
It features an incorporated altimeter, enhanced connectivity options, round-trip navigation. However, no product is without its shortcomings.
One aspect where the Edge 840 falls a bit short is in its solar efficiency. While it harnesses solar power, its efficiency in converting sunlight to usable energy could be improved. This might be a consideration for users who rely on sustainable charging solutions.
All in all, the Edge 840 represents a notable evolution from its predecessor, the 540 model. Thanks to its capacious built-in memory, it caters to the needs of even the most adventurous bikepacking enthusiasts.
Considering the slightly higher price point of $80 to $100 compared to the 540 model, you might wonder if the investment is justified.
Given the added features and improved functionality, the Edge 840 offers a compelling package that justifies the incremental cost. If you're interested in comparing all the features in detail, you can do so here.
budget Garmin GPS device for bikepacking
The Edge 540, accompanied by its solar variant, emerge as the younger siblings in Garmin's Edge lineup, and steps in as the latest additions, addressing key aspects that demanded enhancement on its predecessor, the Edge 530 (still available at a very affordable price).
An impressive boost of 6 hours in battery life sets the Edge 540 apart, totaling a substantial 26 hours. The solar version takes it up another notch, extending continuous functionality by an extra 6 hours (reaching up to 32 hours under optimal conditions).
These devices, priced at a wallet-friendly 350 USD, veer away from touch screen interaction, opting for a button-based approach distributed on both sides of the screen.
Compatibility with Varia bike radar, Garmin lights, and Strava Segments characterizes both devices, enriched by advanced performance and power analysis capabilities. These encompass novel features like Time in Zone, FTP tracking, specialized VO2 metrics, recovery insights, and cycling dynamics.
The intriguing twist lies in the differences. The Edge 540 exclusively arrives with Garmin Cycle Maps preloaded, a notable advantage. Yet, its standout feature remains the accommodation of external memory – an issue the 530 series grappled with, sporting a meager 51MB internal memory and lack of an SD card slot. This improvement allows for seamless incorporation of more expansive maps.
Operating seamlessly across temperatures from -20°C to +55°C, the devices can be paired with smartphones via Bluetooth. The Edge 540 introduces two novel sensors missing from its predecessor, the Gyroscope and Multi-band GNSS.
The Edge 540 is a good-value cycling computer for mountain bikers who don't venture too far. The USB-charged battery allows charging the device with a basic solar panel or battery pack. Have a look at the full comparison between the 530/540/540 solar.
best entry-level Garmin for touring
The Garmin Edge 130 Plus stands out as the brand's smallest and one of the most compact cycling computers available. Despite its diminutive size, it packs a punch in terms of features.
The device's straightforward design comprises five buttons for easy navigation. Its simplicity is refreshing, offering a singular 'ride' profile with no multiple bike options.
For mountain biking, the Edge 130 Plus introduces valuable updates. The inclusion of hang time dynamics, which record jump distances and heights, enhances the experience for off-road addicts.
More interesting for bikepacking, the 'ClimbPro' feature provides detailed climb information during planned routes, making it especially useful for navigating challenging terrains. Garmin's PhysioTrueUp ensures accurate physiological data across multiple devices, enhancing training insights.
The device supports various training sensors via Ant+ and Bluetooth, including power meters, heart rate monitors, and more. With compatibility across GPS satellites, including GPS, Galileo, and GLONASS, it ensures reliable tracking.
Additionally, its stable smartphone connection and notification features, such as WhatsApp messages, are convenient for connected riding.
While lacking advanced mapping capabilities compared to larger models, the Edge 130 Plus offers excellent value for its compact size.
It's versatile enough to excel on lighter navigational tasks even on multi-day bike trips.
Overall, its combination of size, features, and reliability makes the Garmin Edge 130 Plus an appealing choice for bikepackiers seeking a capable and compact cycling computer.
best GPS device for cycle touring & bikepacking
In contrast to its pricier counterpart, the Edge 1040, the Explore 2 downplays training-related functionalities, omitting elements like Strava Live Segments, Virtual Partner, and Advanced Workouts to cather more esplicitely to bike touring and bikepacking enthusiasts.
Garmin's Explore lineup indeed prioritizes expansive displays and comprehensive navigation tools over advanced training metrics.
The Explore 2 introduces novel features including an updated user interface, downloadable global cycle maps, a barometric altimeter, Garmin ClimbPro, and broader sensor compatibility, even accommodating power meters and inReach satellite communication.
Differences from the higher-tier Edge 1040 comprise a $299 lower price point, a smaller screen, the absence of Strava Live Segment support, restricted activity profiles, and a lack of structured workout guidance.
The Explore 2 boasts a bright and wide 3-inch display sporting a resolution of 240x400px. Despite foregoing select high-end features, the Edge Explore 2 achieves a harmonious blend of navigation prowess and essential data provision, thus appealing to a wider range of adventure cyclists seeking reliable guidance through a larger screen interface.
As seen on its siblings, the Explore 2 incorporates an accelerometer for Incident Detection and extends support for e-bike monitoring.
Notably, the Explore 2 addresses a key drawback of the initial Explorer model, offering prolonged battery life through a newly introduced battery-saving mode, allowing for up to 24 hours of navigation or up to 34 hours of GPS ride time sans navigation.
The Edge Explore 2 brings forth its advantages: an altimeter, WiFi connectivity, and robust routing capabilities, while acknowledging its limitation: the absence of an SD card slot.
The Edge Explore 2 emerges as a premier GPS computer option for MTB touring, serving riders who prioritize reliable navigation while minimizing the importance of training data.
If you're in search of a steadfast companion for your cycling expeditions, particularly valuing comprehensive navigation, the Explore 2 could indeed be the ideal choice to meet your needs.
Not only Garmin:
bike GPS computers from alternative brands
Although so far we only talked about Garmin devices, there are obviously other GPS bike computer manufacturers, equally valid and somehow cheaper. Let's have a look.
fully featured and affordable bike computer for touring
The Wahoo ELEMNT ROAM v2 showcases notable upgrades within a familiar exterior. While its visual appearance remains largely unchanged, retaining the same screen size, LED indicators, and slightly enlarged button layout, the device boasts significant improvements in its functionality.
The key advancements of the Roam V2 are found internally. It now integrates Dual Band GPS for heightened accuracy, particularly in challenging environments such as areas with dense foliage or tall structures.
The storage capacity has been expanded to 32GB, allowing for a greater number of routes, maps, and workouts to be accommodated. The addition of compass and gyroscope sensors offers potential benefits, although Wahoo has yet to fully implement their capabilities. The device introduces Summit Segments, aiding in pacing during climbs, along with pre-loaded routes, Systm Outdoor Workouts for training, and Public Route Sharing.
Wahoo excels in user-friendliness. The screen remains easily readable while on the move, and the map design ensures straightforward navigation. The accompanying app operates seamlessly, ensuring consistent synchronization between the device and the app.
While the claimed 17-hour battery life falls short compared to some competitors, the Roam v2 retains Wahoo's convenient phone integration for uncomplicated setup and customization, global map downloads, and the quick-zoom function for adjusting displayed data fields.
The data capabilities are comprehensive. The device offers over 20 data field categories for customizable pages, encompassing metrics ranging from basics like distance and elevation gain to more advanced parameters such as muscle oxygen and power data options.
The Elemnt Bolt v2, operated by buttons rather than a touchscreen, continues Wahoo's tradition of simple setup and customization. The companion app streamlines screen personalization, instantly reflecting changes on the device.
A notable feature is the SUMMIT functionality, which intuitively anticipates changes in road gradient and utilizes color coding to enhance road visualization. The SUMMIT FREERIDE feature detects climbs in advance, and SUMMIT SEGMENTS provides visual cues for climbs irrespective of the active screen.
Although they do not directly load Open Street Map files, the Wahoo GPS units can be made to read them by creating a compatible version through this tool.
The Elemnt Roam V2 complements the Wahoo Elemnt Bolt V2 in the product lineup. While the Bolt caters to performance-oriented riders with its compact design and color screen for navigation, the Roam stands out as a larger unit, placing emphasis on navigation assistance.
With a 2.7-inch display (compared to the Bolt's 2.2 inches), the Roam offers extended battery life (up to 17 hours), dual-band GPS, and integrated accelerometer, gyroscope, and compass features.
On its side are an affordable pricing compared to other options, a well-designed phone app, the precise barometric altimeter and magnetic compass, and the three different mounts included. While as a downside I can mention only a relatively short battery life.
The Wahoo ELEMNT ROAM v2 is tailored to bikepackers in search of an advanced GPS device that doesn't break the bank. It provides accurate navigation, customizable data fields, and Summit features that anticipate changes in terrain.
best value bikepacking GPS navigator
In the competitive realm of GPS cycling computers, Garmin has been a dominant force for years while Wahoo has been rapidly gaining ground in the last decade.
As a smaller player, Bryton from Taiwan has been carving its niche with value-driven units featuring extensive features and long-lasting batteries.
Filling the gap left by the discontinued 850 model, the Bryton Rider 750 emerges as the brand's flagship cycling computer. Armed with a color touch screen, Bluetooth, ANT+, WiFi connectivity, preloaded base maps, and more, it's an all-inclusive device.
The Rider 750 shares a resemblance with the budget-friendly Rider 420, albeit sporting a larger screen and enhanced button arrangement. The 2.8-inch full-color screen introduces a 'Graphic User Interface,' utilizing colors to swiftly convey heart rate and power zones on graphic metrics, enhancing map readability.
While touch functionality is present, two side buttons manage power, start/stop, laps, and data page navigation. The touch interface and buttons exhibit a slight lag, necessitating a moment of consideration before responding to inputs. This adjustment might lead to a few initial missteps.
Equipped with GPS, Glonass, Galileo, Beidou, and QZSS satellite network access, the Rider 750 supports Bluetooth and ANT+ sensors, including power meters, electronic drivetrains, and Garmin Varia radar. Additionally, it features ANT+ FE-C capabilities to control smart trainers for indoor sessions. For outdoor workouts, the computer guides interval training set through the app or synced from Training Peaks.
Wireless connectivity simplifies ride uploads and firmware updates while maintaining compatibility with third-party apps like Strava and Training Peaks. Boasting a claimed 20-hour battery life, the computer tracks 85 metrics, including advanced fields like normalized power, with each data screen displaying up to 12 fields.
Initial setup involves the Bryton Active Companion App, akin to Wahoo's approach, allowing customization of data screens, satellite networks, and sensor pairing. The process occasionally resets all data fields to defaults when adding or removing one, a minor inconvenience.
Bryton's UI, while improved, retains some quirks. Navigation is a highlight of the Rider 750, featuring voice-activated searches and turn-by-turn directions, great news for the cycle touring crowd.
Yet, its routing sometimes opts for more direct paths, bypassing safer options. Notably, in terms of battery life, while not hitting the claimed 20-hour mark during rigorous use with power meters, heart rate monitors, Varia Radar, and navigation, the device still performs admirably.
In the dynamic world of cycling computers, the Bryton Rider 750 emerges as a contender, offering a blend of features, navigation capabilities, battery life, and more importantly, incredible value for money!
best budget bike touring GPS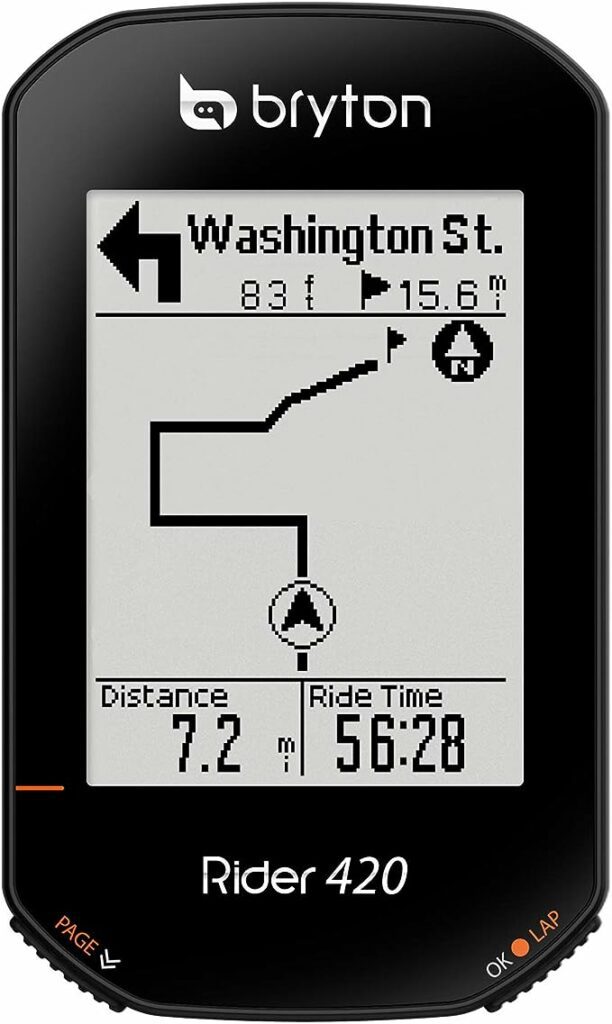 Let's end with a fairly inexpensive option, the Bryton GPS Rider 450, with a black and white but rather large and bright screen.
The interface allows indeed up to 10 data fields per page to allow a better understanding of performance in real time.
Although BnW, the 420E is still a cartographic GPS, coming with preloaded OSM maps (Open Street Map).
Rider 420E now supports the electronic gearbox system, including Shimano Di2, Campagnolo's EPS, and SRAM eTap. Instead of checking your crank and cassette, you can get all the gear information directly on the device, such as the gear ratio, gear combination, and even the battery life of the ESS.
It is able to receive European, Russian, Chinese, and Japanese satellites. It is equipped with an altimeter and good rechargeable batteries will keep it up to an astounding 35 hours.
If you're relying on your bike computer for turn-by-turn navigation, this might as well be a perfect budget option if you're willing to sacrifice sat nav for enanched battery life.
The Bryton Rider 420E is an absolutely no-bullshit GPS computer. Reliable and quick satellite reception and the longest battery life on the market of cartographic GPS for bikes, make this a great and cheap choice for those who like to get lost for days… or weeks… or years.
3 more honorable mentions
for the best GPS for bikepacking
There are three more products that have enticed our curiosity but we didn't have the chance to test them, we hope to write more about them in the future.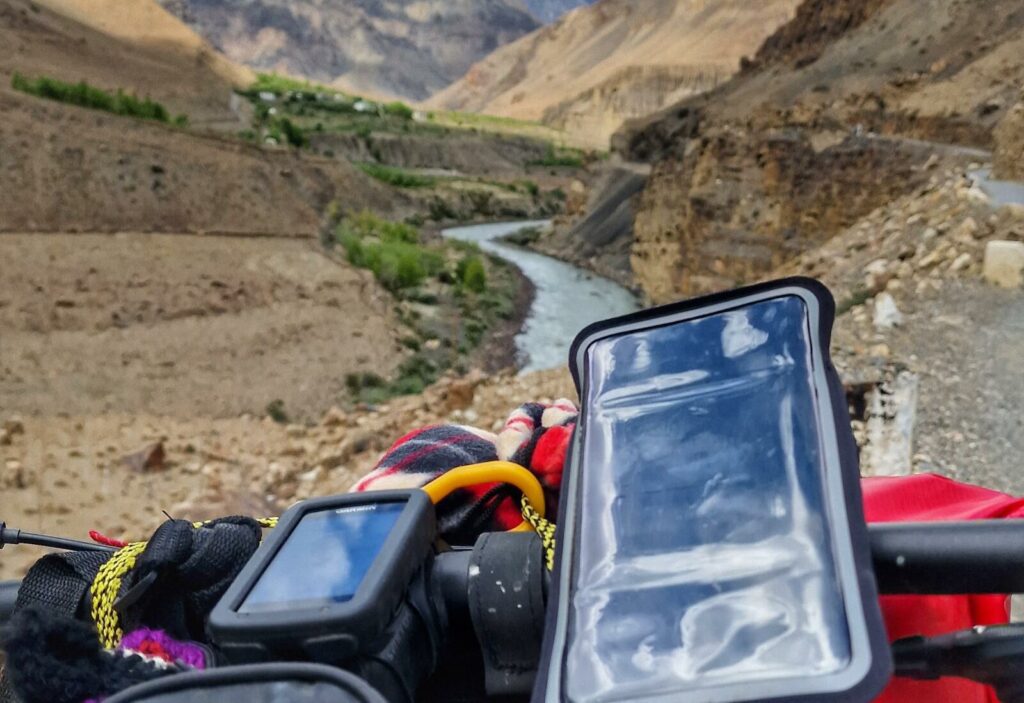 Why a bicycle GPS device
The first reason is undoubtedly the battery life, at least for the type of use that we make of it; if you only use your smartphone and you are in a big city or in unfamiliar roads you will be forced to consult the map often with the consequence that the phone's battery, however good it may be, will be drained in a very short time.
It is not always easy to find a place to recharge, especially if you are camping in the wild. Of course, there are battery packs or portable solar panels that can guarantee you a few days of battery life… but nothing will be comparable to the life of a GPS cycle-computer, which can reach up to 72 hours of juice in constant use.
Another reason, which for some might not be so important but it's vital to us, is the ability to save the tracks you rode with a high degree of detailed data. While most apps will allow you to do that, again you'll struggle with the life of your phone's battery, since recording tracks is a consuming activity. Of course, routes can also be imported from external devices, PCs, phones, tablets, or fellow GPS computers.
Moreover, not less important, the GPS devices for outdoor use are almost indestructible, our Garmin fell several times from the mount on the handlebars in particularly bad roads, and a couple of times after the fall we also passed on it with the fully loaded bike, about 50 kilos, it has always survived and continued functioning properly.
Fourth reason: even under the pouring rains of South East Asia, most cycling GPSs do not need any special protection, being tested to be completely immersed in water or at least for full water resistance. Let's say the same can't be told about smartphones, except or some heavy-duty models.
So, in summary, the strengths of GPS for bikes are:
battery life;
resistance to falls, impacts, and accidents in general;
waterproofing;
possibility to save, record and share tracks.
The only flaw of almost all GPS cycle computers is the screen scrolling sensitivity. Even on the most modern touch-screen devices, the responsivity is way far from the cheapest smartphones. With the difference though that they can be used even when wet or with gloves on. Besides this, touchscreens tend to wear out after a long (very long) use.
It was so with our Garmin Oregon 400T, that we bought second-hand and used daily for at least 3 years. We paid 80€ but, in the long run, it was worth much more. No phone would never have lasted that long.
Pro tip: use apps on your smartphone or PC to create routes and itineraries, then import them to your GPS device and follow the track, or do your choices on the run.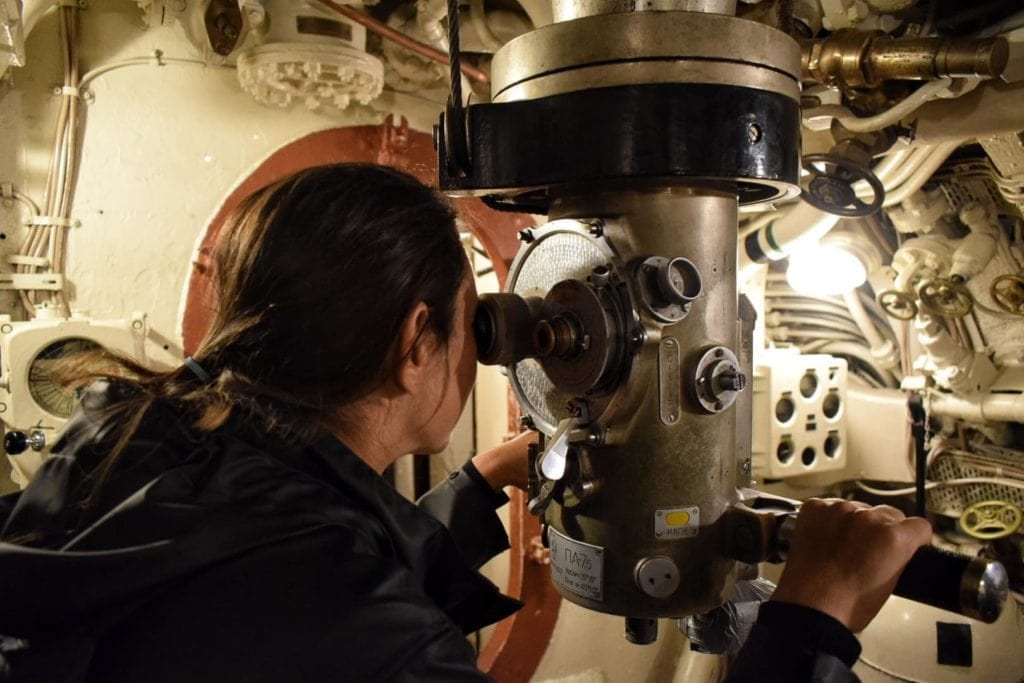 How to evaluate the waterproofness and resistance of GPS devices
Looking around to choose your next GPS you will often find yourself reading the data on the impermeability and resistance of the device in question.
To get an idea of what those letters and numbers mean, let's start by saying that there are two parameters to measure the resistance of the device; one concerns the resistance to the impact with solid bodies, the other the protection from liquids. In both cases, you will find the acronym "IPX" followed by a number.
IP is the name of the standard developed by the International Electrotechnical Commission (IEC) to determine the resistance of an electrical device to freshwater and common materials such as dirt, dust, and sand.
The first digit after IPX is the classification that the IEC has assigned to a unit for its resistance to solids. In this case, the maximum level is 6, which means that no "harmful" dust or dirt has penetrated the GPS after being in direct contact with the material for eight hours. In particular:
IPX1: protection from contact with a large surface, such as the back of a hand, but no protection against intentional contact with a part of the body;
IPX2: protection against small objects, including fingers;
IPX3: protection against tools, such as screwdrivers, thick wires, or similar objects;
IPX4: protection from most wires, screws, and nails;
IPX5: partial protection from contact with harmful dust, ie the powder is able to penetrate into the device but will not be able to compromise its operation;
IPX6: total protection from contact with harmful dust – in this case, dust cannot enter the device.
As for the resistance to water, whether it is using the GPS in the rain or unluckily drop it into the lake, the meaning of the classification codes is this:
IPX1: Protection against water dripping vertically on the device;
IPX2: Protection against vertically dripping water when the device is inclined at an angle up to 15 °;
IPX3: Protection against direct splashes of water when the device is inclined at an angle up to 60 °;
IPX4: Protection against rain and splashes of water regardless of direction and inclination;
IPX5: Protection against low-pressure water sprayed by a nozzle with a diameter of 6.3 mm;
IPX6: Protection from water fired in powerful jets by a nozzle with an opening of 12.5 mm in diameter;
IPX7: Protection against immersion in water at a maximum depth of 1 meter for a maximum of 30 minutes;
IPX8: Protected from immersion in water at a depth of more than 1 meter (the manufacturer must specify the exact depth at which the device is not damaged).

Did you like this article? Maybe you could also be interested in
Stay in touch while we get lost! Follow us on Social Media