This is a very interesting and innovative bike, with amazing specs and a great price tag. The Adventure 725 by the British manufacturer Ribble Cycles (in business since 1897) features a weird-looking thin Reynolds 725 tubing with a very "contemporary geometry".
Handcrafted from steel which is renowned for offering the most compliant of rides as well as being a highly durable material due to its high tensile strength, the carefully profiled tubing also results in the lateral stiffness not being compromised.
This carefully thought out geometry also offers the maximum balance between control and long-distance, mile eating comfort (says Ribble).
The mammoth tire clearance for tires up to 2.8" on its 27.5 wheels is absolutely great for those who want to venture on sandy tracks, this is one of the widest tire options in this list.
Added versatility is given by the several mounting points for racks (that can be doubled to use bikepacking cages like the Blackburn Cargo), three bottle mounts, and fender mounts.
The 11/42T 10-speed cassette gives a great granny gear that should be able to bring you up the steepest tracks.
An innovative adventure bike great to tackle extreme roads in comfort
Disclosure: Some of our articles contain affiliate links. This comes at no additional cost for you and helps us keep this website up and running. (as Amazon Associates we earn commission from qualifying purchases)
How we write our reviews: most of our reviews are based on first-hand long-term use or short-term test by a member of our team. For some new models or build variations, we rely on our experience with similar models and our team's experience in understanding bike geometry and components.
Ribble Adventure 725 – the different versions
The Ribble Adventure 725 comes in four different versions, occording to your choice of drive train models and gearing:
Ribble Adventure 725 Deore – featuring Shimano Deore groupset (2×10 – 36-26T/11-42T) and Jones Loop Bars
Ribble Adventure 725 MicroShift Deore – Deore drivetrain 2 x10 36-26T/HG500 10 Speed 11-42T, Reynolds 725 steel fork
Ribble Adventure 725 SRAM NX 1x – with a 1×11 – SRAM PG-1130 11-42T cassette and SRAM NX GXP 32T chainring – drop bars and Full Carbon Fibre Monocoque fork
Ribble Adventure 725 SRAM APEX – same gearing as the previous one but Apex derailers and shifters
At the end, it comes down to your favorite choice of drive train, I tend to recommend Shimano not because they are any better but for their wide availabilty which can make the difference when looking for spares in less developed countries.
SRAM versions though, have the 1×11 system which is very trendy at the moment – Getting rid of oune derailer and one shifter reduces the chance of something going wrong, although it also decrease the maximum speed… but this is not a bike made for speed.
The different bar options cather to different styles of ride, with the Jones Loop also being among the most popular choice of handlebars among long-distance cyclists. Carbon fork reduces the overall weight of the rig, but it is certainly not as tough as a Reynolds steel fork. Carbon forks are also stiffer and less cushioned, your take.

Geometry
Fork offset and chainstay length are shorter than on traditional touring bikes (check the Stanforth Kibo for example) which results in a shorter wheelbase.
This means less stability under load but more handling capabilities, that's why the Ribble 725 Adventure is more of a bikepacking bike than a fully loaded tourer.
Although it has bosses for rear rack and front low-rider, it seems that this machine will give its best on rough tracks under relatively reduced load.
The top tube angle is very steep, making the bike more nimble and twitchy. The bike reacts faster to steering input making it prone to oversteer, which means it adds up in agility.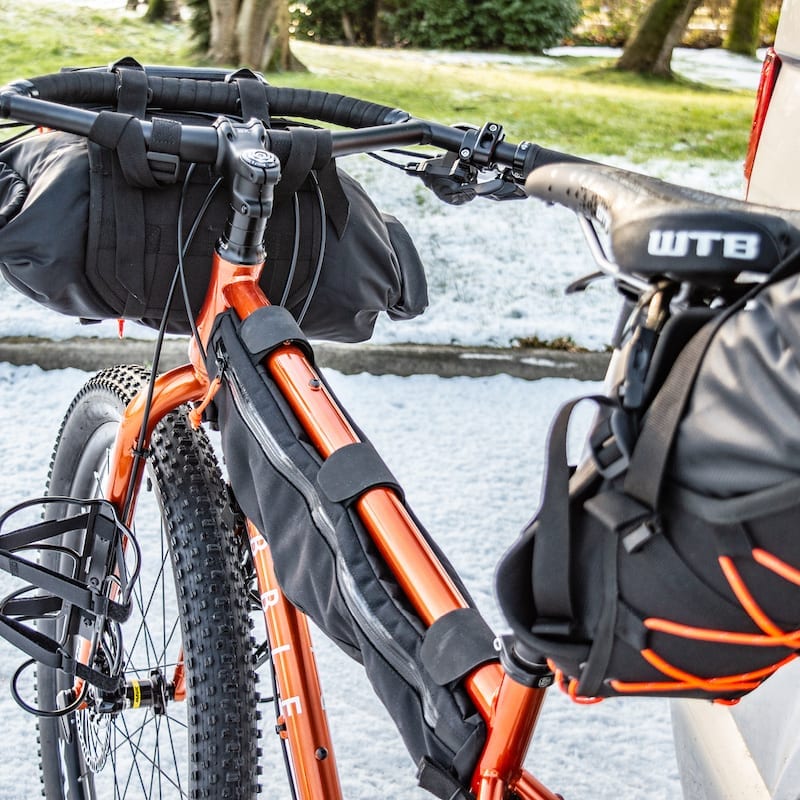 Tyre Size
Another thing that makes the Adventure 725 more of a single-track animal than a roadie. The smaller diameter of 650b wheels allows you to run higher-volume tires.
Because higher-volume tires are taller than the tires you could run on a 700c wheel, the wheel and tire diameter end up being similar to a 700c wheel and road tire setup.
This means that handling characteristics and geometry are minimally affected by the wheel change, yet you gain the benefits of a higher-volume tire, that is more grip on soft surfaces like sand or snow.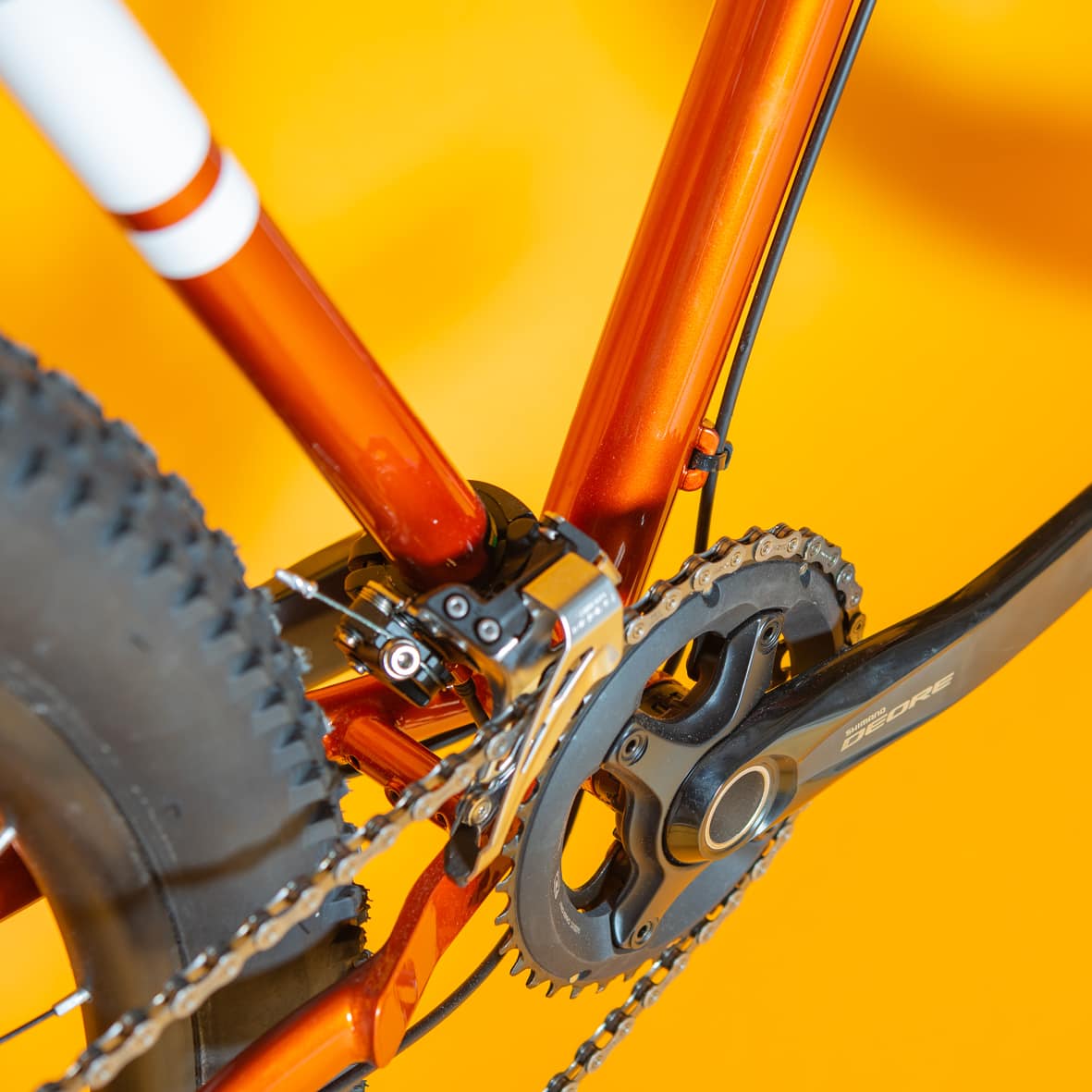 The Ribble Adventure 725 Deore Specifications:
Shifters – Deore M6000 Rapidfire 10spd
Brake Levers / Brakes – Shimano BL- MT201 / BR-UR300
Chainset – Deore 175 36/26T
Bottom Bracket – Shimano BB52 68/73mm
Cassette – Shimano HG500 11/42T
Front Derailleur – Deore M6020 LCTSDP 34.9mm
Rear Derailleur – Deore M6000 Shadow+ GS
Rotors – Shimano RT66 6-Bolt 160mm
Wheels – Mavic Crossmax 650b 15×100 / 12×148 (Boost Rear)
Tyres – WTB Ranger 2.8
Bars – Level Loop Alloy, Black
Stem – Level Gravel Alloy, Black
Grips – Level Rubberised, Black
Seatpost – Level 1 Alloy 27.2mm, 350mm, Black
Saddle – WTB Koda Race 142mm
Have a look at
20 Best Touring Bikes for les than 2,000$
18 Great Touring Bikes for less than 1,000$
The 23 Best Panniers for Touring and Commuting – Compared
Top Handlebar Bags for Bike Touring
Budget Sleeping Bags – A Complete List
Essential Gear For Bike Touring
The Safest Bike Helmets on the Market
Cycling Sunglasses – How to Choose the Right Ones for You
Stay in touch while we get lost! Follow us on Social Media