An in-depth review of Stanforth Kibo Dirt Drop
after an 8,000km test ride in 14 countries
When my 80-years-old beloved bike died in Laos I needed to find a new touring rig for my world trip, and I knew it wasn't going to be easy to replace a bike like mine.
I needed something equally special, so I started digging into custom-made bicycles. That's when, I found out about Stanforth Bikes, and I immediately fell in love with the elegant design.
We were impressed by the Stanforth Kibo's frame geometry and choice of components, not to mention how good it looks. So we decided to ride them across Europe for 5 months… This is our review, looking forward to riding them in Africa and South America in the next years.
Are you interested in custom touring bikes? Check these
---
The Company
Stanforth bikes is a one-man company, Simon Stanforth designs the frames and then customize the geometry for the rider's measures, he handles most of the customer care personally so you will get to know him if you buy a Stanforth bicycle.
Simon is not a frame builder though, most of his frames are manufactured in Coventry by the almost-legendary Lee Cooper, a top player in the game since 1984.
We interviewed Simon some time ago, so check this article if you want to know more about the man behind the brand
Disclosure: Some of our articles contain affiliate links. This comes at no additional cost for you and helps us keep this website up and running. (as Amazon Associates we earn commission from qualifying purchases)
How we write our reviews: most of our reviews are based on first-hand long-term use or short-term test by a member of our team. For some new models or build variations, we rely on our experience with similar models and our team's experience in understanding bike geometry and components.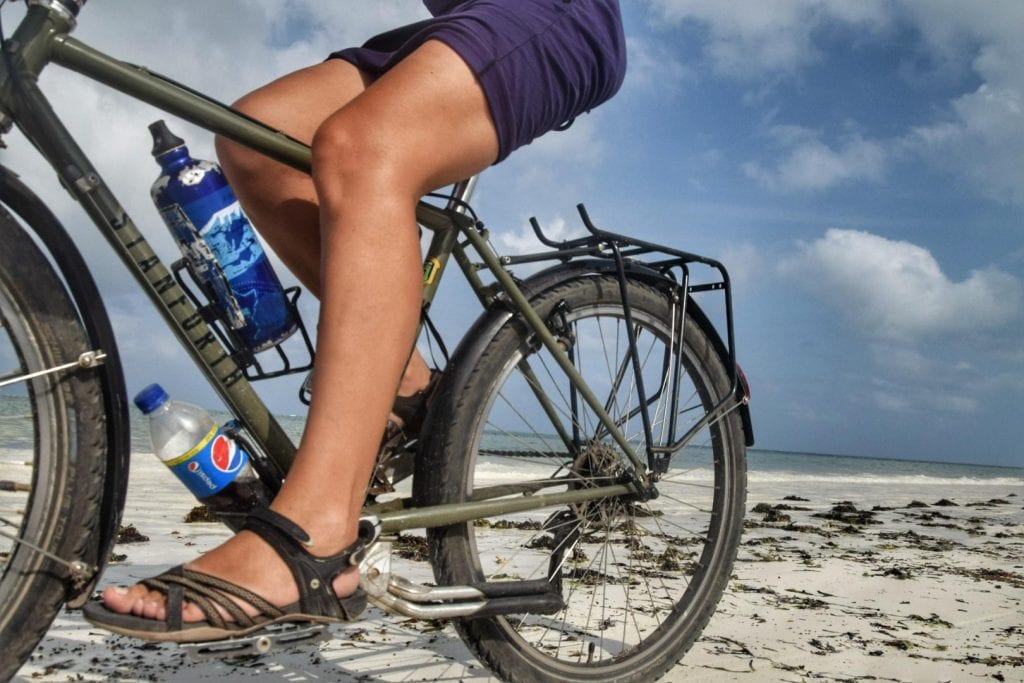 ---
Disclaimer – our relationship with Stanforth Bikes
You might have noticed some Stanforth Bikes ads around our website, let's clarify. We have been given two Kibo Dirt Drops by Simon, what we give him in exchange are pictures, ads, and tags on our social profiles, no money involved.
We chose Stanforth among other options because they fit our riding style and are exactly what we look for in a touring bike, at least for now. This review is our own honest and unbiased opinion, based on an 8,000km ride we did in Northern and Central Europe in Summer/Autumn 2018.
---
Stanforth Bikes – The Base Models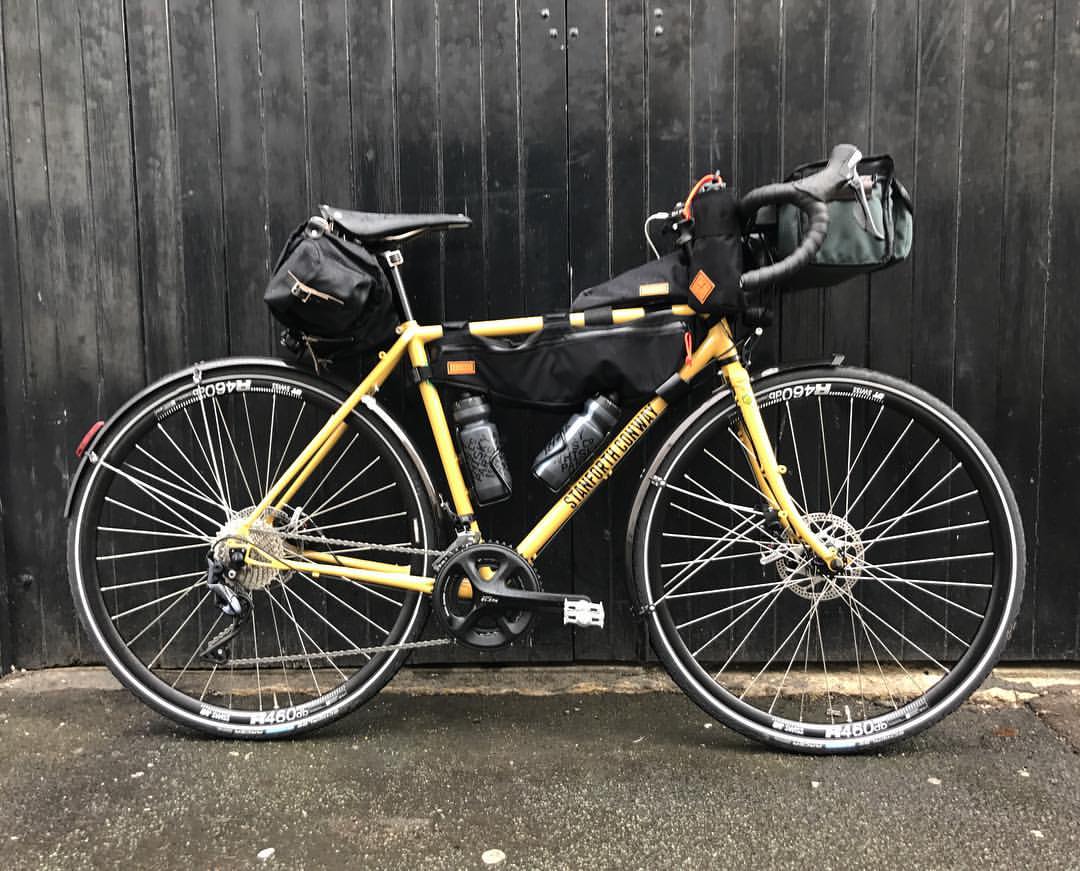 Stanforth currently builds upon 3 base models, Skyelander, Stanforth Conway, and Kibo Expedition. Each of these models has basic variations (i.e. Kibo Dirt Drop, Kibo+, Kibo Rohloff). After choosing one of these sets, the real customization begins… almost everything is possible, from changes to the components to geometry tweaks.
The Stanforth Kibo Expedition is the expedition model, the sturdiest of the frames, designed to carry heavy loads and handle any sort of terrain.
The Skyelander is inspired by a classic touring/randonneur style, ideal for tours of moderate difficulty as well as a daily hi-end and stylish commuting.
The Stanforth Conway is the light tourer, designed specifically for endurance rider Sean Conway and his record-breaking expedition, a self-supported 3890-mile ride from Portugal to Russia in 25 days. Ideal for bikepacking setups.
In this review, we'll talk about our experience with Kibo Expedition in its Dirt Drop version, although we'll spend a few words for the other models at the end of the article.
Update! Stanforth has recently released a new expedition model, the Stanforth Pamira – read our first impressions here.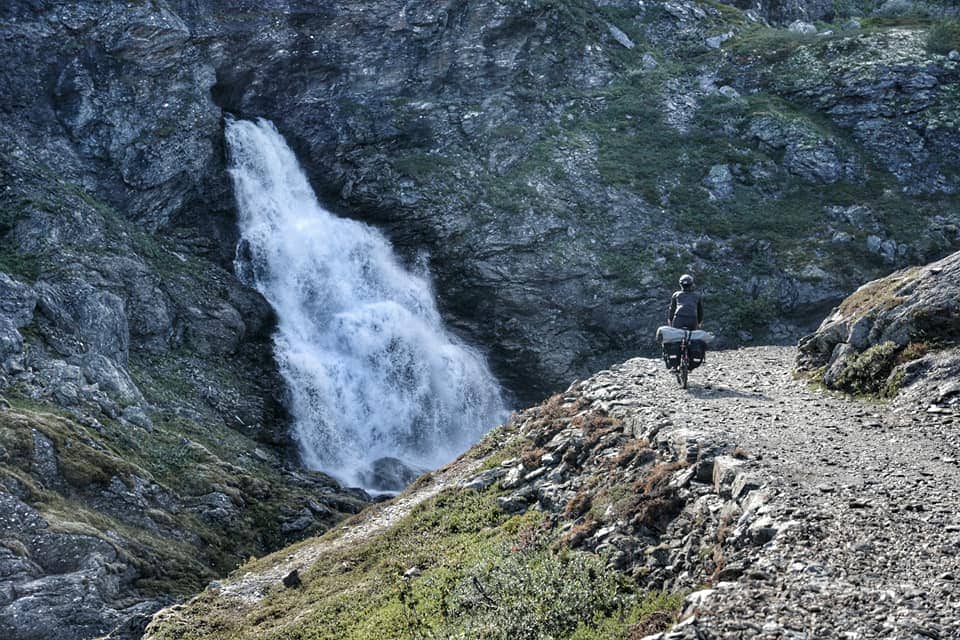 Stanforth Kibo Expedition – Our Review
The Kibo is Stanforth's touring tank, a 26″ wheeled expedition bikes designed to carry heavy loads, for long distances, on every kind of terrain loaded touring. There are four base models: the Kibo, the Kibo+, the Kibo Dirt Drop and the Kibo Rohloff:
The Kibo is the first model, featuring 620mm wide raiser bars
The Kibo+ is the standard Kibo with a few extras. These include the XT crankset, XT hubs, and XT V-brakes
The Kibo Dirt Drop is the drop bar version
The Kibo Rohloff can accommodate the famous and belove hub gear (the Rolhoff indeed)
Like all Stanforth bikes, the Kibo can be customized to suit your needs, from gearing to handlebars, stem, brakes, and even geometry.
Kibo frames are made from air-hardened Reynolds 631 steel. The frames are assembled with the highest degree of skills and care to maximize the strength.
The components are top-notch, carefully selected with expedition bike touring in mind. They include quality parts from Nitto, Velo Orange, Shimano, Paul Components, and Brooks.

Kibo Dirt Drop
We chose to ride the Kibo Dirt Drop because we have big plans. This bike is a real world-rounder and fears nothing, exactly what we needed for the rest of our world trip.
The drop-bar is a personal choice, there's no best handlebar for touring, except the one you like the most. The frame can anyway accommodate most touring handlebars, get inspired here.
The Kibo Dirt Drop comes equipped with Shimano XT chainset and rear derailleur, Tektro RRL SR levers, Dura Ace bar-end shifters and Nitto heat-treated dirt drop bars, finished with very comfortable bar tape.
The wheels, the second most important touring component after the frame, are all hand-built; 36 stainless steel spokes connect Rigida Sputnik rims with Deore XT hubs, definitely two sturdy wheels.
Brakes can choose among Tektro CR710 narrow profile cantilevers, Paul Components touring cantilevers, Shimano Deore XT V-Brakes, or TRP Spykes mechanical disk brakes.
About tires, we went for our tested and beloved Schwalbe Marathon Plus Tour, but Marathon Mondials and Continental RaceKings are also an option.

Stanforth Kibo's Geometry – Frame and Fork
Geometry and frame materials are key in the bicycle world. The frame is undoubtedly the most important part of any bike, and that's especially true for touring bikes, meant to ride at full loads on any surface.
Materials and craftsmanship
The Kibo frame is hand-built in the UK using the strongest gauge of the quality air-hardened British Reynolds 631 steel for the main triangle. The stays are Reynolds 525, and the forks Reynolds 631.
All Stanforth frames and forks are lugged for increased durability, although a fillet brazed versions of the Kibo is available on request. The frames are double powder coated in either Black, British Racing Green, or Ash Green, a wide selection of custom colors is available for a 50GBP surcharge.
The level of detail and precision in the finishing is notable, it really makes the bike stand out when compared to mass-produced touring bikes like Surly, Genesis or even Koga. The brand and model are embossed in the frame in matching colors, the final aesthetic result is what I like to call an "elegant tank".
Geometry
Even though there are slight geometric differences among the four Kibo base variations, some fundamentals stay the same. The length of the chainstay is fixed to 467mm while the fork rake stays at 55mm (a few more on the small size frames), these two measures contribute to a long wheelbase.
In a few words, this kind of geometry creates a more stable bike, avoiding wiggling under loads at high speeds, Wheelbase has a major influence on the longitudinal stability of a bike, along with the height of the center of mass of the combined bike and rider.
What does this mean? It means the bike is rock solid, feeling almost anchored to the ground, besides it has a sort of natural cushioning, a suspension-like effect which renders the shock of the wheel to the rider's body in a much more gentle manner compared with the stiff and nervous geometry of an (i.e.) Cinelli Hobo.
The Kibo Dirt Drop has a shorter top-tube while the Kibo, Kibo+, and Kibo Rolhoff are in two versions, one for an ahead stem with a 1 1/8″ threadless steerer and the other with a 1″ threaded steerer for a quill stem the difference is just a sloping top tube on the ahead version for an increased standover room.
The fork could almost be called "lazy" with its 55mm rake which slows down the steering speed while adding comfort and stability. The finishing on the forks makes them real beauties. Available sizes are 19″, 20″, 21″, 22″ "23" although other sizes or tweaks can be arranged, even for heavier riders.
Add-ons – Cable routing, bottle cages and such
The frame and forks have bosses for three bottle cages, a front low rider rack and rear pannier rack, as well as mudguards. Cables are routed outside the frame through precisely welded bosses.
Like most touring bikes, the derailleur hanger is integral, built-in the frame. This makes perfect sense, since steel can be bent, weld, and repaired… but what if you fuck up the thread? Read more about this in the "Issues on the Road" section.
Our Thoughts
A work of art and design. The ideal touring frame for our tastes and purposes
Kibo's Cockpits
The Kibo Dirt Drop comes equipped with heat-treated Nitto Dirt Drop RM-013 bars, hi-quality strong stuff. Those are very comfortable to me, with their very slight rise from the clamp area to the ramps and the Profile Design cushioned Drive bar tape, although, in hindsight, I would have liked them to be a bit wider.
The shifters are Dura-Ace bar-end shifters, which we loved. Very precise and reliable both when set on "indexed" or friction control, switching between the two can be done in a fairly easy way even while riding.
The brake levers are TRP RRL SR Alloy Drilled Drop Bar levers. The hoods are flat and textured, offering great comfort and grip.
The stem of our choice was the Zenith hollow forged AL6061-T6 aluminum stem, while for those who prefer quill stems, Stanforth proposes the Nitto Technomic Deluxe Tallux. The horizontal length is 80mm but 100mm and 110mm are also available on request.
The Kibo, Kibo+, and Kibo Rolhoff mount 620mm wide double-butted alloy riser bars but can be upgraded (42GBP) to Jones Loop bar, heat-treated Nitto riser bar or the Nitto butterfly style bar. Bar options can be found here. The shifters are the elegant and precise Microshift Thumb Shifters.
Our Thoughts
Raiser bars are not exactly the most versatile choice for touring, we would replace them with straight bars with bar ends or something butterflyish. The drops are very comfortable but a bit more width would have given easier handling over front-wheel loads

Transmission
Cranks and derailleurs are Shimano Deore XT, can't find any better for touring, with the added advantage of worldwide availability that Shimano guarantees. Paired with the Dura-Ace shifters, the Kibo jumps between distant gears in a smooth and silent style.
The Deore XT triple 22-32-44 chainset combined with the 11-34 cassette is all you need to climb even the steepest road at full load, a massive gear range of 617% with 17 (1st gear) to 104 gear inches (27th gear).
Our Thoughts
Top-notch. Gearing is ideal for all terrains and slopes, Shifting is smooth and precise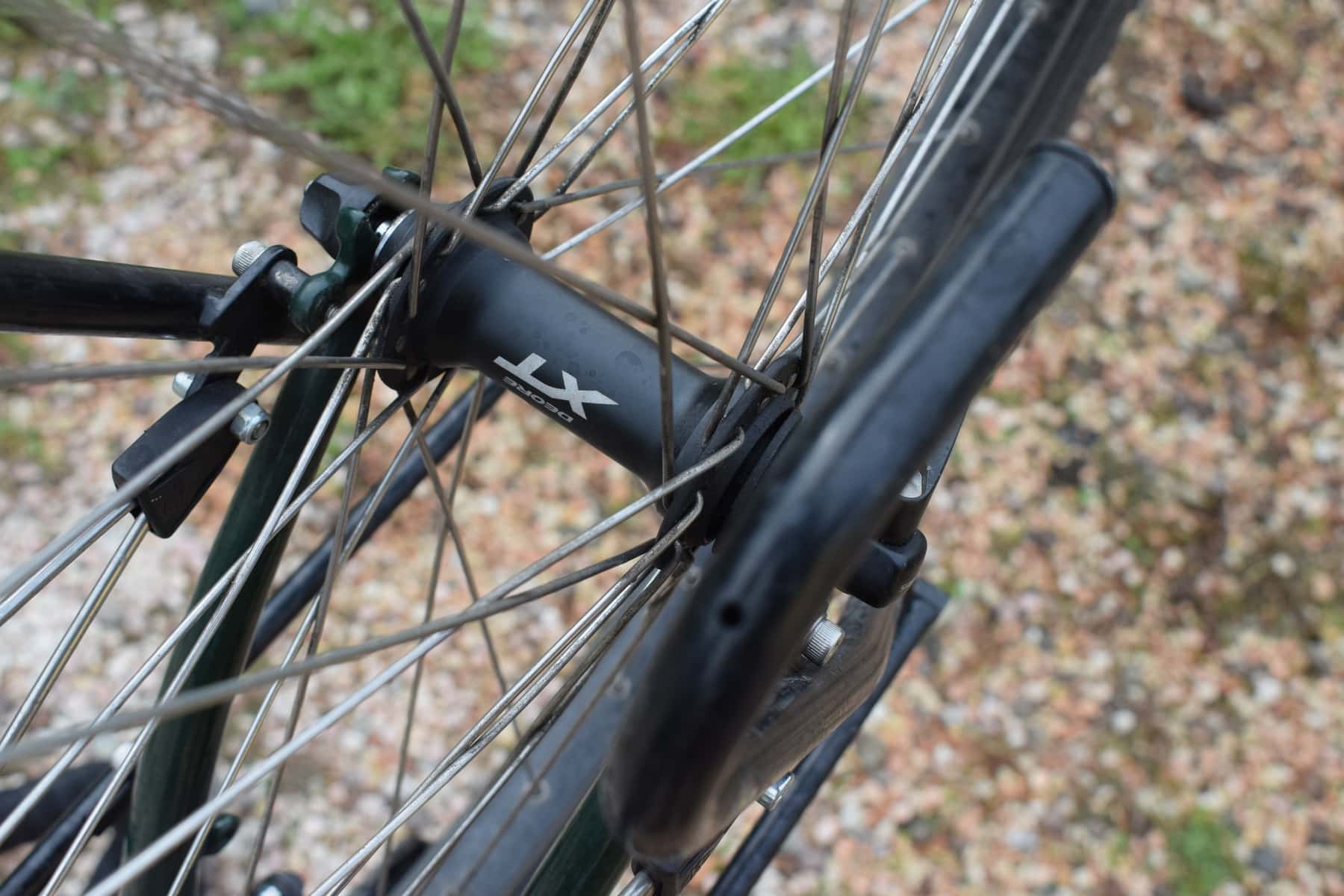 The Wheels
As I already mentioned, wheels are the second most important component of a touring bike. They are the contact point with the ground, carry all the load and suffer all the stresses given by the road surface.
Strong wheels are a must for expedition touring, and we can't be happier about ours. The 26″ Ryde Andra's are famed to be the strongest rims out there. Stanforth goes for the 36-holes version, more spokes more strength.
Moreover, all Stanforth Bike's wheels are handbuilt in England, which makes them stronger than industrial ones (when the wheel-builder knows what he/she's doing). Shimano Deore XT M780 hubs are sealed to keep mud and dirt out. Indeed when we opened the hubs for service after touring almost the whole of Europe, they were still quite pristine.
We enjoyed a lot of dirt roads during our 5-months-long test, even some bumpy-as-hell single tracks at full load (read about the South Downs Way in England), the bikes were also quite brutally loaded on several busses and trains… well, the wheels never bent a single millimeter, we never had to adjust spoke tension or go crazy trying to true the wheels (a thing we used to be very often forced to do with our old rides).
Tires are the Marathon Plus Tour 26 x 2.0″, the Marathons are chosen by the great majority of bike travelers for their almost divine puncture resistance, indeed we didn't get ANY flat for the whole journey.
Two inches of width ensures grip and comfort even on rugged terrain, handling with ease thin and deep gravel as wheel as big rocks and bumps. The wheels' max load (including bike, rider, and luggage) is 130kg.
The wide tire clearance allows width up to 2.3″ or even 2.4″ if you give up the mudguards (sure you wanna do that?)
Our Thoughts
Can't ask more. These are the perfect wheels for expedition bicycle touring
Kibo's Brakes
Simon Stanforth provided our two bikes with different sets of brakes for touring purposes. Elena's Kibo comes with Tektro CR710 cantilevers while Daniele's mounts Shimano Deore V-Brakes. We honestly didn't feel any noticeable difference in stopping power but tend to prefer the V-Brakes for the ease given when taking out the wheels.
An upgrade option to the Paul Components Touring cantilevers or Disc brakes (TRP Spykes) is also possible. The bike though stops very quickly even on steep downhills so we don't think any upgrade is needed.
Our Thoughts
The bike brakes quickly even when fully loaded. We prefer V-Brakes to Cantilever
Default accessories
Saddle is the most personal of the choices but surprisingly many long-term travelers agree on that. The Stanforth Kibos feature indeed the most popular touring saddle of all time: the Brooks B17 expedition saddle. The more miles you clock the more comfortable it gets (and the better it looks…) if you properly take care of it.
The headset is Tange Seiki Technoglide 1 1/8″ for the ahead and the proven-to-endure Tange Seiki Levin 1″ for the quill.
Mudguards are the flexible SKS black Chromoplastic 55mm, they also suffered a lot of bending and always returned in shape (applying some torsions when necessary).
Front and rear racks are Tubus, the most popular among expedition bike travelers, specifically Black Tubus Tara lowrider on the front and Tubus Cargo on the rear. Tubus racks are made of stainless steel and are guaranteed 10 years by the German manufacturer.
Pedals and kickstand are the only components' choice we don't second. The VP Touring pedals are just too small and slippery to be considered even light-touring pedals. I agree they look good but too many times we both risked a crash for losing the grip on the platform, I will replace them as soon as possible with some wide flat pedals like these or these.
For those who want the commodity of a kickstand, Stanforth propose the Velo Orange Double Leg… well, we had two of them fail in 5 months, and always bringing up problems. We admit we loaded our bikes a lot, considering we were carrying a huge packraft each, but honestly the Velo Orange is not up to the task for a long expedition, so it's not the right choice for a bike like the Kibo.
We are discussing this with Simon, probably we'll try an Ursus on. Check this for a comparison of the best bike touring kickstands.
Our Thoughts
Saddle and mudguards are perfect for the job. Kickstand and pedals are not ideal
Riding a Kibo – our experience
When we first sit on our Kibos, the handling felt a bit slow and stiff; it certainly can't have the playfulness of a gravel bike. Once we loaded it up though, we were shocked and amused. The steel takes the load as it would a womb hold a baby, in a perfectly natural way.
With loads on the bike feels so stable that riding with no-hands becomes just too tempting sometimes, all the stiffness is gone, replaced by an incredible sense of comfort and cushioning.
On downhills, the bike stays anchored to whatever surface, since the geometry and the large tires can smooth out and keep their trail even on technical paths.
It was great riding it out of Brighton, unfit after many months of sedentary life in China, seeing we could easily push up our 55kg each on the 12% slopes without even resorting to the lightest gear. We almost never had difficulties climbing anything, even Elena, who notoriously likes to hike her bike uphill, very rarely did so.
The toughest roads we cycled were probably the South Downs Way and the second section of the Rallarvagen. We gave up on the South Downs because it honestly can't be done on a loaded bike, but it felt great on the Rallarvagen when we had to walk only on the very rockiest sections.
When we finally shipped back our packrafts things got a lot easier, we enjoyed climbing the Tatras in Slovakia and the Alps in Austria and Italy.
The heel clearance with the panniers was never an issue, while it can happen sometimes to touch the wheel with your toes, but that's very rare and depends on the rider's position.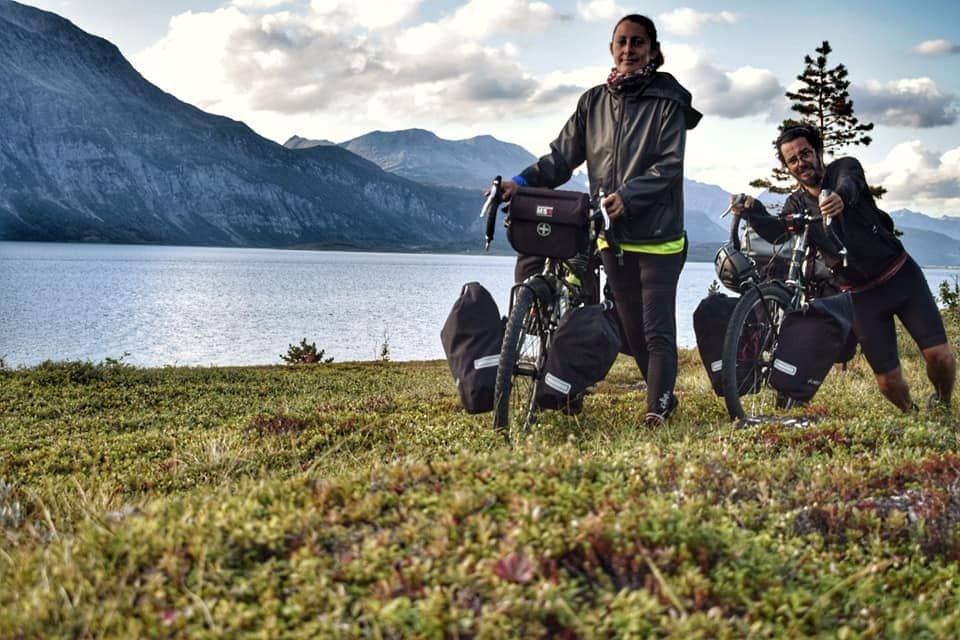 Issues on the road
We are happy to say we almost didn't have any issue with our Kibos so far, wheels never need to be touched, gearing didn't need any tuning, we had no flats and overall just replaced a few brake pads along the way.
There were some troubles with Crosso Panniers over Tubus Racks but this hasn't anything to do with the bike.
We had one headache though, for which we mostly blame ourselves, but that it's worth mentioning: when putting our bikes back together after flying from Ireland to Norway we messed up with the derailleur hanger.
Basically, we were stupid enough to try and screw the derailleur back the wrong way, thus we screwed ourselves screwing up the thread… clear ain't it? How did we solve this problem? We were lucky to found a magician…
Other minor problems were the kickstand multiple failures and the sit-post clamp which got worn out and wasn't holding in place… Simon Stanforth is planning to replace both these components.
Wrap Up
A Kibo is meant to ride the world, to get lost with its rider in remote and wild areas; to carry everything you need to self-support yourself in nature, and to do that for many years, even a lifetime.
The Kibo certainly isn't the right choice for the occasional/light tourer, those people we'll be better off with a Skyelander (that can double as a great commute) or the Stanforth Conway (almost a gravel bike)… but if expedition is what you're up too, very few rides can stand the comparison with a Kibo.
Of course, also among long-term travelers, there are different styles. Some like more reactive bikes, such as Cinelli Hobootleg, some prefer to ride 28″ like the Bombtrack Expedition, others don't have the budget for such an hi-end rig like the Stanforth Kibo.
For our touring style though (long term, remote, fully loaded) we definitely think we found the bike of our dreams.
Check Also
The 9 best bikes for overweight females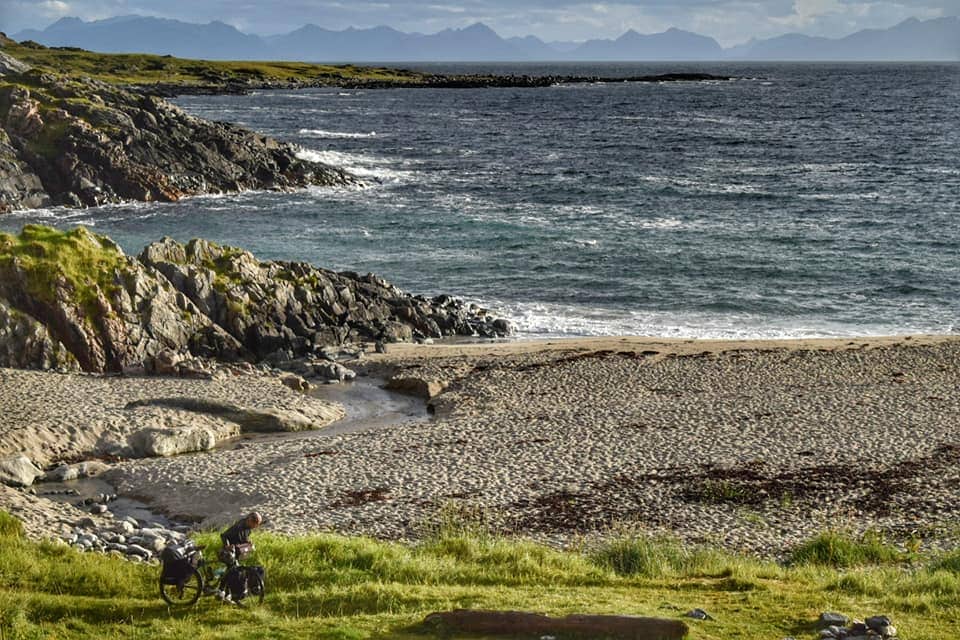 Pricing and how to buy
For such a complete bike with top-notch components, the Kibo is fairly priced. Try finding something handbuilt and with similar specs for a lower price. The Ahead version comes fully built at £2,295, the Quill version for £2,250. The Rohloff version comes at a steep 3,200GBP.
There are also cheaper versions of the Kibo with downgraded components, you'll have to give up DuraAce shifters, XT chainset and hubs to be able to get a Kibo ahead for £1,795 or the Kibo quill £1,750.
If you want one or have questions you can contact Simon Stanforth through the official Stanforth Bikes Website and discuss your needs and custom wishes with him. Stanforth ships bikes and frames all over the world.
---
Looking for something cheaper?
the 21 best touring bikes under 1000USD
18 great expedition bikes under 2000USD
10 beginners' touring bikes designed for ladies
want it for free?
How to turn a piece of junk into a touring bike
---
Kibo Dirt Drop – Full Specs
Frame & Fork
Lugged frame hand built in England. Reynolds 631 main frame, Reynolds 525 stays. Reynolds 631 fork. Quill & ahead versions available - N.B. horizontal top tube on quill version & sloping top tube on the ahead
Headset
Threaded for quill - Stronglight A9 alloy 1". Threadless for ahead - Tange Technoglide J27 1 1/8"
Shifters
Shimano Dura Ace 9 speed bar end shifters (friction/index)
Derailleurs
Shimano Deore XT
Chainset
Shimano Deore XT triple 9 speed 44/32/22
Cassette
Shimano HG50 9 speed 11-34
Brakes
Black Tektro CR710 cantilevers, Deore V brakes or TRP Spykes disc brakes
Levers
TRP drilled hole RRL SR (or TRP if choosing V brakes or discs)
Rims
26" 36h Ryde Andra (all wheels are hand built)
Hubs
Shimano XT hubs 36h black or dynamo hub upgrade
Tires
Schwalbe Marathon Plus Tour 2.0" or Continental Race Kings 2.0"
Stem
Ahead: Zenith A-head 80mm (other lengths available).
Quill - Nitto Technomic Deluxe Tallux 80mm
Bars
Nitto heat treated dirt drop RM-013 48cm bars
Saddle
Brooks B17
Tape
Profile Design cushioned Drive bar tape
Pedals
VP Touring
Sizes
19", 20", 21", 22", 23"
Racks
Black Tubus Tara lowrider on the front and Tubus Cargo on the rear
Mudguard option
SKS black Chromoplastic 55mm
A few words about the Stanforth Conway
Simon from Stanforth Bikes and the Famous British bike adventurer and writer Sean Conway have known each other for a few years. Sean loves steel bikes and fast touring, having cycled the world on a steel bike in 2012. Simon has been a big fan of Sean's adventures over the years, in particular his long-distance bike tours.
One conversation led to another about creating a bike that delivered on Sean's needs: "it has to be steel, relatively lightweight for a steel tourer, robust, able to carry some lightweight bags/panniers, disc brakes, good tyre clearance and pacey. Oh, and I want to break a trans-continental record on it…"
A year later after three prototypes, testing, tweaking and fine-tuning; the Stanforth Conway came out as a stiff, agile, and fast bicycle, perfect for bikepacking on technical trails. Sean Conway succeeded in his record-breaking expedition.
The Stanforth Conway is a bit more pricey than the Kibo at £2,795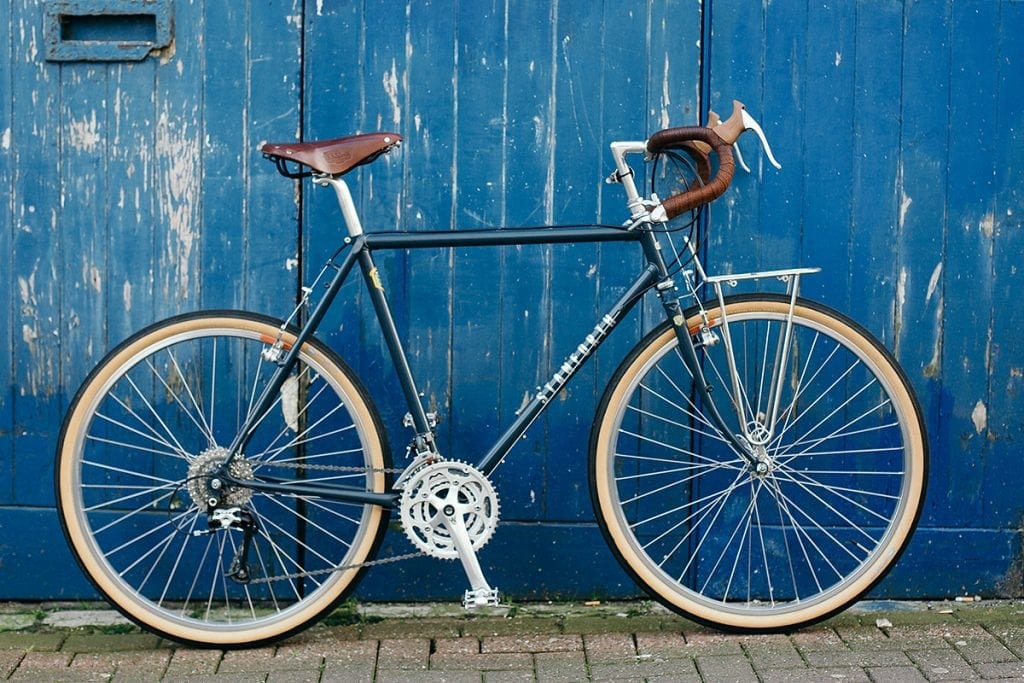 A few words about the Skyelander
The Stanforth Skyelander is the 700cc or 650b version of the Kibo, although the geometry has quite some differences. The most evident is the 10cm shorter chainstay and thus the shorter wheelbase.
The Skyelander 650b has mid to low trail for a moderate front end load, it's more of a randonneur than an all-terrain touring, although it has clearance for 45mm tires.
A custom version of the Skyelander 650b has won the 2018 Cycling UK Touring Bike Choice award at the Bespoked UK Handbuilt Bike Show.
The Stanforth Skyelander is the cheapest of the Stanforth range at £2,195 for a complete bike.
---
Are you interested in custom touring bikes? Check this
Looking for something cheaper?
want it for free?
Stay in touch while we get lost! Follow us on Social Media