The Best + Lightweight Sleeping Pads for Bikepacking, Cycle Touring, Camping & Ultralight Hiking, for All Budgets
R-Value, Weight, dimensions, self inflating, and price from the cheapest to the top-notch
If you are an outdoor lover, an avid hiker, if you enjoy bicycle touring, bikepacking, or free-style backpacking most likely you'll agree that the tent is your house and the sleeping pad is your bed.
Bikepacking sleeping pads? Camping mats for backpackers or hikers? There is not really a difference when it comes to the choice of a sleeping pad for any of these activities. What you'll want is comfort, a lightweight, and a small packable size.
It's very important to have proper sleep when during the day you keep your body under a continuous effort, like when cycling, or hiking. Choosing the best ultralight sleeping pad though is not easy, there are dozens of brands out there.
Self-inflating sleeping pads, inflatable camping mats, foam pads: what should you buy? We'll try to give you different options for different needs and different budgets.
We decided not to list just the best lightweight sleeping pads here, not everyone can afford the best, and not everybody needs it, sometimes a basic budget inflatable camping mat is all you need.
We'll first dive into product comparison, while at the bottom of this article, you can learn everything you need to know about camping sleeping mats for bikepacking, backpacking, cycle touring, hiking, and whatnot.
Check also
> 6 Best Hammock Sleeping Pads for Camping
> 12 Best Double Sleeping Pads for Camping
The Best Ultralight Sleeping Mats in a Nutshell
10 Best Ultralight Sleeping Pads
Disclosure: Some of our articles contain affiliate links. This comes at no additional cost for you and helps us keep this website up and running. (as Amazon Associates we earn commission from qualifying purchases)
How we compile our gear guides: during the almost 10 years of cycloscope.net our team personally tested dozens of similar pieces of gear. For what we can't test personally, we involve other people in the cycling community to give their feedback and opinion about gear they have used. Our decade-long experience in bicycle touring enables us to find the key cons and pros of every product we mention.
1. Klymit Static V
Best lightweight sleeping pad for warm weather camping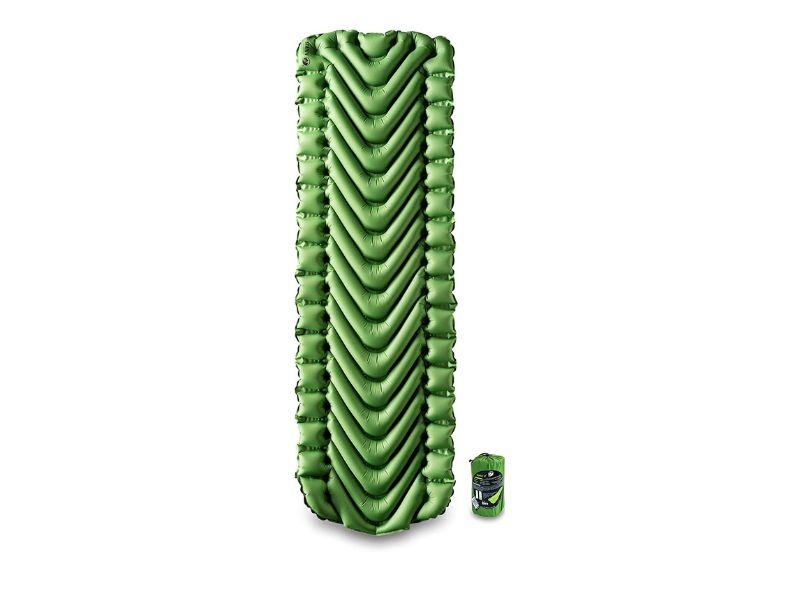 From 48$ (the green version)
SPECS:
Weight: 18 oz- 510 g
R-Value: 1.3
Dimensions: 72″ x 23″ x 2.5″- 183 x 58 x 6.3 cm
Packed: 3″ x 8″ 7.6 x 20.32 cm
Colors: Green, Coyote Sand, Orange, Red.
The Original Static V is an ideal pad for avid backpackers and casual campers looking for performance at an entry-level price. It quickly inflates in just 10-15 breaths, packs up small, and weighs only 18 ounces.
The body-mapped V chamber design limits air movement to help maintain insulating performance and ergonomic comfort. Dynamic side rails cradle you on the pad and the rugged material is great if you want to sleep on the ground under the stars.
Klymit has developed something called Body Mapping Technology: a V-shaped design that allegedly delivers superior support and comfort no matter how you sleep – on your side, belly, or back.
The side rails provide a secure, comfortable sleep by centering you on the pad and inhibiting air movement while tossing and turning.
The Deep Weld Patterning creates expansion zones that allow your bag to fully loft beneath you for improved thermal comfort. while the Twist-Pull Valve is secure and simple, allowing for inflation in as few as 10 breaths, and opening up wide for rapid, complete deflation.
The Klymit Static V is one of the most popular sleeping pads with thousands of positive reviews, its low R-rating though makes it a no-go choice if you plan to camp at low temperatures. There an insulated version with an R-Value of 4.4.
Klymit manufactures many different versions of the Static V, including an even lighter one, a double, and a sleeping pad specifically designed for hammock camping.
2. OutdoorsmanLab Ultralight
Most quiet budget sleeping pad
SPECS:
Weight: 16 oz – 450 g
Dimensions: 73″ x 21.6″ x 2.2″ 185.5 x 53 x 5.6 cm
Packed: 8 x 3.5″ 20.3 x 8.9 cm
Color: Red
OutdoorsmanLab is a small, innovative outdoor gear company. Their goal is to manufacture quality outdoor gear with unique designs and features at a revolutionary price.
This ultralight bikepacking sleeping pad is huge for its weight and packed size, way bigger and thicker than a standard-size Therm-A-Rest Prolite.
It's also very silent, which improves sleep quality both for yourself and for the people around you. Made of 20D Ripstop Nylon, it only takes 10/15 breaths to inflate.
The OutdoorsmanLab Ultralight Sleeping Pad seems like a very good budget option, offering great comfort for a price which about half of its most famous competitors and featuring a very similar weight and size. Its R-Value though is relatively low at 1.3 making it thus not an option for real winter camping.
3. Therm-A-Rest ProLite
Best ultralight self-inflating backpacking pad
SPECS:
Weight: 18 oz – 510 g
R-Value: 2.4
Dimensions: 72 x 20 x 1″ 183 x 51 x 2.5cm
Packed: 11″ x 4.1″ – 28 x 10.4 cm
Colors: Poppy
Therm-A-Rest is the most popular brand for lightweight backpacking sleeping pads, a reputation gained over years of experience serving thousands of adventurers also on extreme expeditions.
The ProLite is the lightest and most compact self-inflating mattress available. Self-inflation keeps set-up super-easy and its die-cut foam packs small, easily fitting inside most ultralight backpacks it's ideal for high-mileage bicycle touring journeys where every gram counts. Stuff sack included.
Despite being a summer sleeping mat, it still has a respectable R-Value of 2.4, which should keep you warm enough even in near-freezing temperatures (given a proper sleeping bag, of course).
Some users complain about it being a little noisy, and 1″ thickness surely isn't the most comfortable for side sleepers, whose hips might touch the ground beneath.
It comes in four sizes, 2 full-length, and 2 half-length for ultralight addicts.
4. Therm-A-Rest NeoAir XTherm
Best winter ultralight backpacking sleeping pad
SPECS:
Weight: 15 oz – 430 g
R-Value: 6.9
Dimensions: 72″ x 20″ x 2.5" – 183 x 51 x 6.3 cm
Packed: 9″ x 4" – 22.8 x 10 cm
Color: Vapor, Lemon Curry.
NeoAir XTherm Lightweight Inflatable Air Mattress is the ultimate winter expedition sleeping pad, great for snow hikes and cold weather bike touring.
Offering maximum warmth for the weight, it's designed specifically for adding a padded layer of warmth between the sleeping bag and the ground in harsh, cold conditions. The proprietary reflective ThermaCapture technology traps radiant heat within the pad, while the Triangular Core Matrix minimizes heat loss during sleep.
The baffled internal structure provides support and comfort in a 2.5-inch inflated mattress, for a restful night in the backcountry. Inflates easily in less than two minutes by blowing into the valve, for quick setup in a bivy or a tent.
The four-season Therm-A-Rest NeoAir XTherm sleeping pad is perfect for lightweight bikepacking expeditions in rugged environments, both summer and winter, thanks to its innovative tapered design and materials, which eliminate bulk, making it possible to pack the ground pad to the size of a one-liter water bottle.
The downsides of this camping mat, besides the 5 stars price, are its noisiness and most important the fact that it is slippery, and easy to find yourself on the ground if you move a lot when sleeping.
Available in two sizes: The Regular measures 72x20x2.5″ inflated, packs to 9×4″, and weighs 15 oz; The Large measures 77x25x2.5″ inflated, packs to 11×4.5″, and weighs 20oz. A stuff sack and repair kit are included. Made in the USA.
5. Sea to Summit Ultralight Insulated Air Sleeping Pad
Most comfortable ultralight camping mat
SPECS:
Weight: the Regular Mummy 1 lb. 0.9 oz. and the Large Mummy: 1 lb. 5 oz.
Packed Size: Regular Mummy is 9 x 4 inches and Large Mummy is 10 x 4 inches
R-Value:3.1 – the woman version is 3.5
Color: Orange
Sea to Summit Sleeping Mats offers the most advanced technology available, providing comfort levels, ease of use, and durability which made the brand a point of reference for outdoor lovers worldwide.
The innovative Air Sprung Cells, formed by a matrix of dot-welds, function like individual coils in a pocket-sprung mattress.
Pressure on one cell does not affect the surrounding cells. These Air Sprung Cells evenly distribute weight and contour perfectly to the body.
While the inflation takes 30 to 60 seconds with a Sea to Summit pump; mouth inflation requires only 8-12 full breaths. Airstream™ pump is integrated into the base of the stuff sack
The liquid-extruded anti-microbial TPU bonds permanently to the shell fabric, virtually eliminating delamination and preventing internal mold growth from mouth inflation. Internal convection is prevented by Thermolite, radiant heat-loss by non-woven, silent Exkin Platinum.
The LIGHT SERIES features a hybrid layer construction for low weight and packed volume. In the torso area the mat is divided into upper and lower chambers – offset dot-welds in this area double the resolution of cells, providing greater support and insulation.
In the head and leg areas, where less support is needed, the construction is a single chamber for reduced overall weight and smaller packed volume.
6. WellaX Ultralight
Great budget silent sleeping pad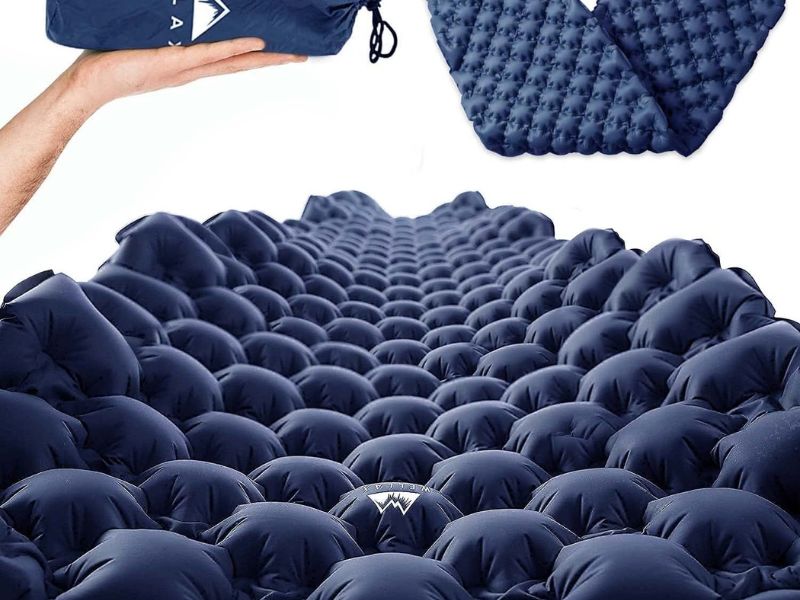 Technical Details:
Weight: 14.5 oz – 400 g
R-Value: 2.1
Dimensions: 78″ x 24″ x 2.5″ 198 x 61 x 6.4 cm
Packed: 10 x 3.5"25.4 x 8.9 cm
One of the most common complaints among air pad users is the crinkly or squeaky noise they make. This can be especially bothersome to light sleepers that tend to shift around throughout the night.
The WellaX Sleeping Pad is virtually silent, allowing you to move around without waking everybody else up, great if you're cycle touring with a partner.
Combine this with the fact that it's cheaper, has two flat valves, inflates and deflates quicker than most, uses slightly thicker fabric, and has a bit more width to keep your arms from sliding off, and now you've got a real contender!
Made of laminated 20D Rip-stop Nylon and a TPU Layer, this budget backpacking sleeping pad is very lightweight and pretty small when packed, despite being one of the biggest on this list.
Downsides: a few people found the same defect, the pad was leaking air, it might be due to poor quality controls (where most of the cheap brands save), however, the company will refund you or send a new sleeping pad if you find that defect.
The R-Value of 2.1 makes it not really ideal for winter expeditions.
7. Big Agnes Insulated Air Core Ultra
Best bikepacking sleeping pad for comfort in cold weather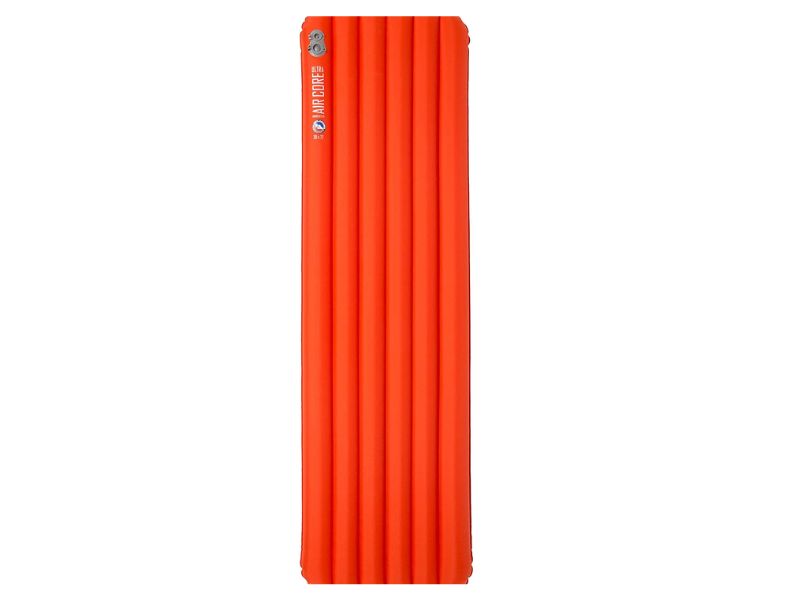 SPECS
PETITE: Dimensions: 20″ x 66″ x 3.25″, Rolled size: 4.5″ x 8″. Weight: 20 oz.
REGULAR: Dimensions: 20″ x 72″ x 3.25″, Rolled size: 5″ x 8″. Weight: 21 oz.
LONG: Dimensions: 20″ x 78″ x 3.25″, Rolled size: 5″ x 8″. Weight: 23 oz.
WIDE REGULAR: Dimensions: 25″ x 72″ x 3.25″, Rolled size: 5″ x 9″. Weight: 25 oz.
R-Value: 4.5
Color: Orange
The recently redesigned Big Agnes Air Core Ultra has a smooth and stable sleeping surface, is easy and fast to inflate/deflate, warm, tough, light, and pretty packable.
It takes about 50/55 breaths to inflate it fully, making it one of the slowest pads to inflate, but when you're done you'll have a nice 3.25 inches between your body and the hard cold ground. Besides that, there is no loss of air when you remove your mouth to rest as the valve is self-sealing.
This is certainly not the lightest sleeping pad here, but the price-to-warmth ratio is great, with a trustworthy 4.1 R-Value for a hundred bucks it is one of the best and most affordable sleeping pads on this list.
The Big Agnes Air Core Ultra camping sleeping pad comes in 4 different sizes.
8. Klymit Inertia O Zone
Best sleeping pad for minimalist bikepacking/backpacking
Technical Details:
Weight: 12.2 oz – 350 g
R-Value: N/A
Dimensions: 72 x 21.5 x 1.75″ 183 x 54.6 x 4.4 cm
Packed: 3.5″ x 6″ – 8.9 x 15.2 cm
Color: Blue
Klymit has a knack for innovation, and their Inertia series is the definitive proof. This series of ultralight sleeping pads are designed to suit the needs of the lightweight addict, perfect for flashpackers and minimalist bikepackers.
The Inertia series takes a radically different approach to sleeping comfortably on air, by providing support at key pressure points while eliminating every ounce of "unnecessary" material. It works especially well inside a sleeping bag, where the empty spaces between the chambers serve as expansion zones that allow your sleeping bag to fully loft beneath you, maximizing its thermal performance.
At just 12.2oz, the Inertia O Zone inflatable camping pad is the heaviest of the Inertia series but still the lightest pad on this list. Combining the comfort of the Static line with the weight savings and warmth from the Inertia series, with an integrated 4-inch tall pillow, ample tossing room, and a loft pocket profile.
Inflation and Deflation: The pad rapidly inflates in as few as 4-7 breaths, and a hand pump is included for more rapid inflation and the ability to reach a higher PSI. The valve's intelligent design allows for micro-adjustments to fine-tune pressure and comfort.
Downsides: do not expect any kind of insulation from this sleeping pad, it's ideal for ultralight backpacking trips in warm climates but when it gets cooler you'll regret not having carried that 100g more.
9. Nemo Tensor
High-quality Insulated sleeping pad with foot pump
SPECS
Weight: 24 oz – 680 g.
R-Value: N/A rated 15°F.
Dimensions: 72″ x 20″ x 4″ 183 x 51 x 9 cm.
Packed: 7″ x 8″ – 17.8 x 20.3 cm.
Color: Yellow.
Nemo is another colossus brand in the outdoor world, a manufacturer of diving equipment as well as ultralight camping gear. A real quality brand.
Despite being so strong and tough, most Nemo pads have not been tested for R-Value, which is quite a shame. The Nemo Tensor sleeping pad is rated at 10°F but it's not clear to which standards, or if this is a comfort, limit, or extreme temperature rate.
By the way, the pad is really well made and people are mostly happy with it, it showed to behave well even in freezing temperatures.
The integrated foot pump is fast and efficient, and a welcomed alternative to using your lungs, especially after a day on the trail. The oversized pillow baffle at the head end provides extra loft under the head and prevents your camp pillow from sliding off the end.
Nemo manufactures all kinds of versions and sizes for the Tensor Sleeping Pad, insulated or not, small, XL, or double.
Downsides: It seems to be a bit noisy and the insulation rate is not reliable.
10. Outdoorsman Lab Self-inflating
Best cheap self-inflating sleeping Pad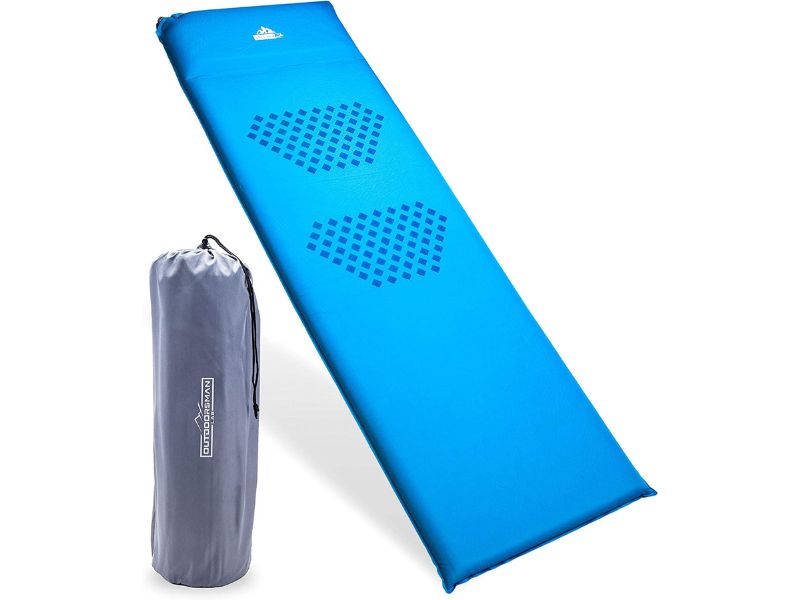 Technical Details:
Weight: 35 oz – 990 g
R-Value: 4
Dimensions: 72″ x 21.5″ x 1.5″183 x 55 x 3.8 cm
Packed: 10 x 6.5"25.4 x 16.5 cm
If you really are on a budget, here's the cheapest sleeping pad on this list at only 25 bucks. Of course, you can't expect the features and quality of much higher price tags, this pad is heavy (almost 1kg) and bulky not as thick as you can expect for this kind of weight.
This basic sleeping pad though has plenty of positive reviews, is self-inflatable, has an R-Value of 4 (unconfirmed), and is made of durable, wear-resistant, and waterproof 75D Ripstop Polyester Fabric.
A good choice for the occasional campers and those who really don't have that 15 bucks more for a lighter option.
Check Also:

> Essential Camping Gear for Bicycle Touring and Bikepacking
> 17 Myths to Bust about Bike Touring [and a few that might actually be true]
> 9 Easy Bicycle Trip Destinations for Beginners
How to choose the best sleeping mat for Bikepacking. A buying guide
Lightweight VS Ultralight Sleeping Pads
There's no clear distinction between the two, usually, when we say ultralight we mean under 18oz (500g), while everything between that and 1kg (36oz) can still be considered lightweight.
The first question you should ask yourself is: Does really 10oz change my life? Well, they might, if you are hiking long distances with your gear on your shoulders I really understand every gram counts.
For those of us traveling by bicycle though, I would say 10oz doesn't really count that much, I would prefer a bit more comfort.
Packed and inflated size
A sleeping pad that packs small is always welcome, saving space is important, especially for bikepackers and flashpackers. Inflated size though is what most matters in my opinion. Again you must find your ideal compromise.
In my experience, with mummy-shaped sleeping pads, you often find yourself laying on the ground, at least a part of you, but that might not be the case if you really sleep like the mummy of Tutankhamun.
Rectangular pads are of course more comfortable, and the wider the better… and the heavier. Do your math.
Some ultralight addicts like to use half-size sleeping pads, which usually are shorter versions of a regular pad, where your lower limbs simply stay in contact with the ground, these are ok for warm weather but definitely a no-go for winter camping.
We won't list any of these in this article, but many ultralight sleeping pads here have a short version.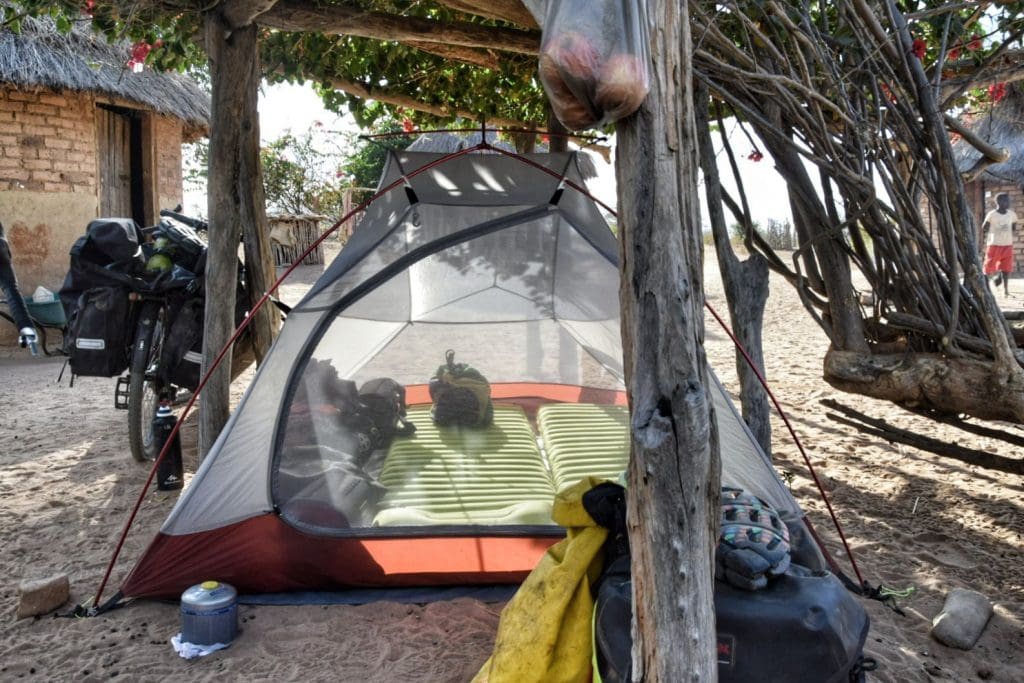 Insulation: understanding the R-Value
The R-value is the unit of measure of a sleeping pad's ability to insulate, the measurement of a material's thermal resistance. The higher the R-value, the warmer it will be.
For example, Therm-a-rest's NeoAir XTherm has an impressive R-value of 5.7, while the Klymit Static V only has an R-value of 1.3.
From the Therm-A-Rest blog:
"R-value is useful in comparing mattresses, but it's important to note that while R-value is a standard measurement, there is no standard methodology for testing the R-value of a camping mattress.

So, be careful comparing R-values between brands. Some companies actually test their mattresses while others "estimate"; differences in how they test can make apple-to-apple comparisons a challenge…

Another useful bit of knowledge is that you can generally draw the line between three-season and winter mattresses at an approximate R-value of 3.0. We also think that if a mattress is to supply any reliable amount of warmth, it should have an R-value of at least 1.5."
Self-Inflatable pads VS Air Pads VS Foam pads
The only difference between a self-inflatable sleeping pad and a normal inflatable air pad is that you'll have to pump air yourself in the latter one. If that's not a problem with you then you don't really need a self-inflatable.
Foam pads are bulkier and way less comfortable, with the only (big) advantage of being unfailing. An air pad can get punctured (always bring a repair kit), cell foams might pop, it might leak air… a foam pad has none of these problems.
We won't list any foam pad here, if you want to try one have a look at the Therm-A-Rest Z light Sol.
Thickness
One might assume a thicker sleeping pad to be more comfortable, but that's not always the case. A pad too thick and poorly made could give the sensation of a pool inflatable, and we really don't want that. Nevertheless, to avoid feeling the asperities on the ground you'll want at least 2″.
Noise
Some sleeping pads make some really annoying squeaks when you move around. Unless you're a deep sleeper and a solo traveler, this is something else you should consider.
What is the R-value in sleeping pads?
The R-value is used to measure the thermal insulation of a sleeping pad. The higher the R-value, the more insulated it will be. This is especially important when considering camping in cold weather.
Are foam sleeping pads comfortable?
An inflatable or self-inflatable sleeping mat will always be more comfortable than a foam sleeping pad. On the other hand, though, those don't suffer a puncture and are extremely reliable. If you're using campsite facilities and not camping in the wild, a foam sleeping pad can be comfy enough. Of course, they are bulkier to transport and so have fewer suites for minimalist bikepacking or backpacking setups.
How thick should a sleeping pad be?
For supine or belly sleepers, 1.5 inches is a reasonable thickness for a sleeping pad. If you sleep on your side we recommend getting to 2″.
Stay in touch while we get lost! Follow us on Social Media