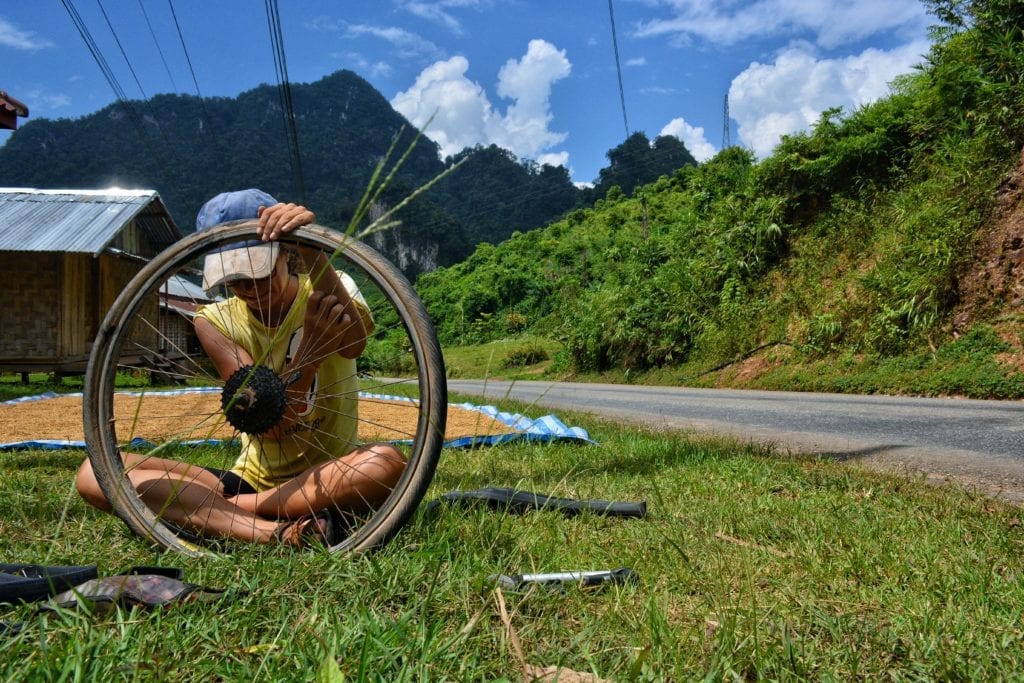 The complete bikepacking toolkit
All the spares and tools you'll need to perform repairs for cycle touring, bikepacking, gravel day trips, bike holidays
When you're out bike touring for a long while you want to have the tools to be able to fix all the more common failures that can happen to your bike.
While some more complex issues may need the help of an expert mechanic (or at least a workshop), flat tires, broken spokes, gear regulation, wheel tuning, brake fixing, and pad replacing, bolt tightening are the kinds of stuff you're most likely to face when out bikepacking.
Most of them are not hard at all (well, tuning a wheel is not easy), and you can deal with it yourself (better say that sometimes you must). If you don't know anything about bicycle mechanics you can dive into Sheldon Brown's website, the bible of bicycle mechanics.
Let me say this straight, you don't have to be a bicycle mechanic in order to enjoy bicycle touring. When we started we knew almost nothing about bicycle mechanics, dealing with it, struggling, getting headaches, and maybe watching some YouTube videos will slowly turn you into the best repairman for your own bicycle.
One thing I noticed while cycling around the world was the lack of proper bicycle repairmen out there. Most of the time you'll pull your hair in despair when watching some random dude doing improper things to your beloved bike. Most of the time is just better to do it yourself.
So here is a list of tools and spares to bring on a bicycle trip or bikepacking expedition. We'll first divide the bike toolkit list depending on the length of the trip, and then describe the tools in more detail and explain why you do or don't need them.
Essential Tools and Spares for Bicycle Touring and Bikepacking
Disclosure: Some of our articles contain affiliate links. This comes at no additional cost for you and helps us keep this website up and running. (as Amazon Associates we earn commission from qualifying purchases)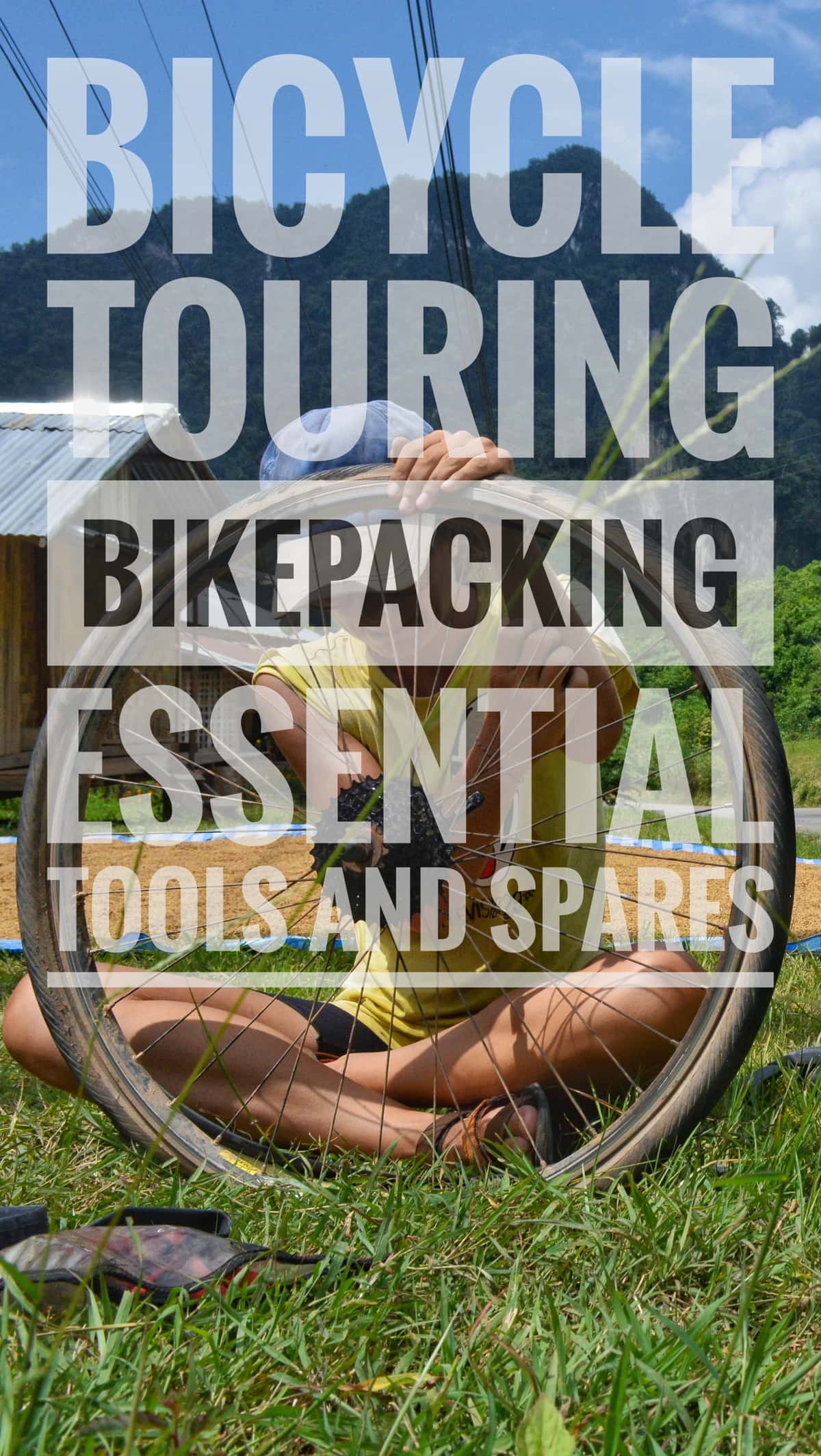 This article is part of our series about Essential Gear for Bicycle Touring and Bikepacking
This section is about bike tools and spare parts. For the other sections check below.
Check Also
The Basic Bicycle Accessories for Bicycle Touring
Bike Camping Essential Equipment
Electronics to Bring on a Bicycle Expedition
Bicycle Touring Clothing Essentials
23 waterproof panniers compared
17 ultralight tents under 200$
The Best Online Stores for Cycle Touring
If you're looking for a Bicycle have a look at
18 Amazing Touring Bicycles Under 2,000$
21 Best Touring Bikes Under 1,000$
10 Woman-Specific Bikes for Touring
Essential Bike Toolkit and Spares for a Day-Ride
Of course, everything could potentially go wrong even on a day ride, but that's very unlikely if you do correctly maintain your bike. For a day ride bring with you:
Tire levers and patch kit
Allen Key or Bike Multi-Tool
Chain Link
Bicycle Tools and Spares for a Weekend/Week-Long Bikepacking Trip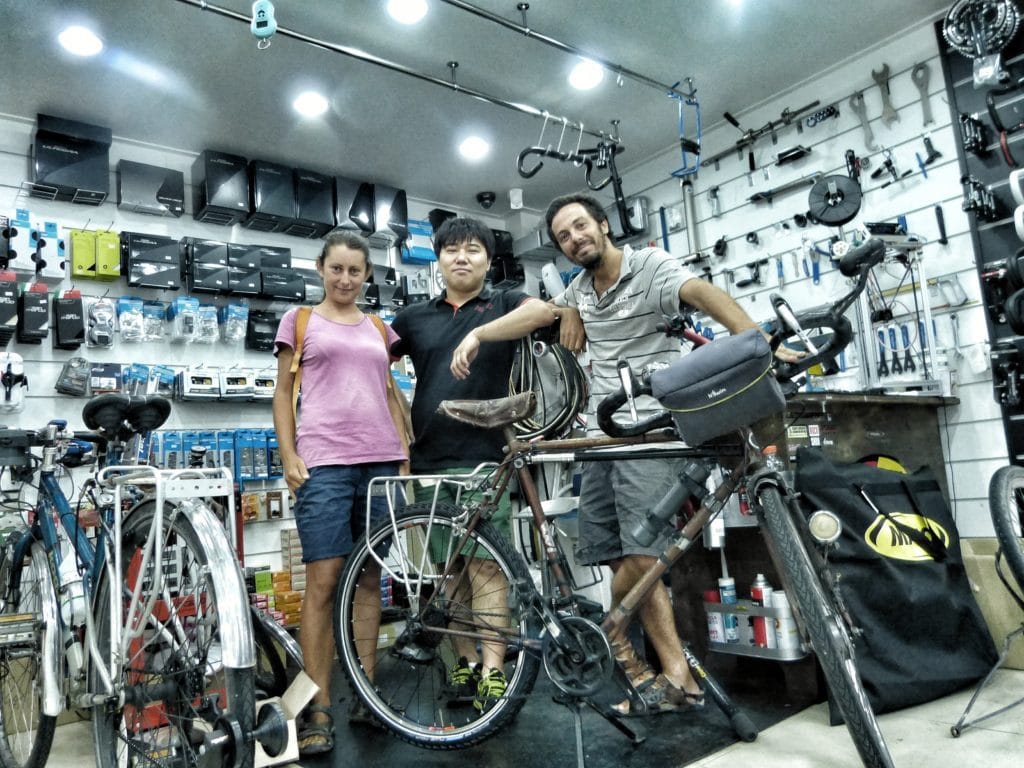 Tire levers and patch kit
Allen Key or Bike Multi-Tool
Chain Link
Spoke Wrench
Chain Tool
Screwdriver
Lubricant
Zip Ties
Bikepacking Toolkit and Spares for a long Expedition
Tire levers and patch kit
Allen Key or Bike Multi-Tool
Chain Link
Spoke Wrench
Chain Tool
Screwdriver
Lubricant
Spanners
Pliers
Zip Ties
Duct Tape
Sewing Kit
Hard Toothbrush and piece of cloth
Cone Spanner
Cable Cutter
Spokes
Tube
Brake Pads
Bolts and Nuts
Essential Tools for Bicycle Touring and Bikepacking
1. Spoke Wrench
A spoke wrench is essential to any bikepacking toolkit. Spoke can break or get loose, your wheel will lose its balance, and riding will become very uncomfortable or even impossible. Tune a wheel is not an easy game, but with the experience, you'll get a clue on how to make it at least less worst. Check Sheldon Brown's bible to learn how to do it.
You can buy a Spoke Wrench in almost every bike shop, here there's one from Amazon, one from Tredz (for those based in the UK and Europe), and one from Jenson USA for friends in North America.
Wrenches (Spanners)
If you don't want your bike to fall apart, you better check it regularly. Tightening the bolts is an important part of this check-up.
It's so very important to have the wrenches for almost all your bolts, especially the rack ones. A pedal spanner can be very useful if pedals get loose (rare) and fundamental if you're flying with your bike since all airlines will force you to remove the pedals.
A great shop to buy all kinds of tools is the UK Tool Centre, but really you could buy those at your town's hardware store.
Tyre Levers and Patch Kits
Absolutely essential on every bike ride, let alone when touring. Take a look at this Hi-Quality one from Jenson USA or these cheap ones on Amazon.com.
Allen keys
Same as for the spanners, you need to have the ones you need. Usually, classic multitools like these all have it, together with a bunch of other useful stuff. Another great multitool we are considering buying is the Topeak Alien II, here available for UK and Europe and here on Competitive Cyclist for the US.
Pliers (Tongs)
Small tongs (or pliers) are extremely useful to pull cables and on so many other occasions I can't even count. We set off without one but we bought it pretty soon. Something like these, yes bulky and heavy, but useful – try to get the smallest you can find.
Chain Tool
Being able to open up your chain, replace it, or take out a broken chain link is very important. This is one of the tools we used the most during our bicycle tours. Many multitools, like the Topeak Alien II, have it among their skills. Or just a "stand-alone" one like these many ones. Don't stay too cheap on this if you are on an extended bike trip, you're probably going to need it often, and if it fails…
Screwdriver
A small screwdriver is needed to adjust the derailers. Most multitools have what it takes.
Zip Ties, Duct Tape
These are the most important pieces of your repair gear, essential for any road trip, don't set off without that, and never run out. With a combination of those two items, you can basically repair or temporarily fix, almost everything.
Lubricant
To keep your chain and all the moving parts always slimy. You can use bicycle-specific lubricants like these ones or any other cheaper lubricant. We use a cycling-specific one (what we find on the road) and a backup WD40 for degreasing, you can find it literally everywhere in the world.
Sewing Kit
A small sewing kit can fix your clothes, tent, and sleeping bag, and even handle an emergency repair on a ripped tire.
Hard Toothbrush and Piece of Cloth
Your best friends when struggling to keep your bicycle clean.
Non-essential Tools for Bicycle Touring and Bikepacking
These are tools that you mostly could survive without, however, especially for long expeditions, some of these may come in pretty handy.
Cassette Remover
When replacing a cassette most likely you'll be nearby a bike shop, so that's not really an issue, they should have the most common ones. But it may happen that your cassette gets a bit loose and starts wiggling, this is the moment when a cassette remover may be useful.
It's small and lightweight, so carrying one is not a problem. It looks like this, sometimes, different bikes might need different cassette removers, that's another reason to take it with you, the local bike shop might not have your type, it happened to me in Kyrgyzstan.
To really remove the cassette you'll also need this tool, which is very bulky and you might not want to carry it around. An old piece of chain and pliers might do the job if you sweat enough.
Cone spanners (Two flat wrenches to open the hubs)
Servicing the hub is something you must do once in a while. To open it you need two wrenches (or spanners) of the right size, usually 13″. Find it at Amazon or any other online shop.
Hose Clamps
Hose clamps may turn out pretty useful to fix stuff, we used these to repair a rear rack, the repair lasted 20,000km.
Headset Wrench
The headset, especially the classic ones, may sometimes get loose, the weight on the front may cause that. This tool can be a lifesaver in these cases.
Cable Cutter
It can be very useful when replacing a cable or performing other unexpected tasks. I mean something like this thing.
Essential Spare Parts to Bring on a Long Bicycle Trip
Spokes
Having a few spare spokes is very important, especially when you're traveling with odd wheels (gear hubs, dynamo hubs), but even if you have the most standard 28″ don't think that is going to be easy to find spokes everywhere. We met a traveler in Kyrgyzstan who got stuck for almost one month for just one spoke.
Chain Link
Absolutely fundamental. If a link in your chain breaks you can replace it and keep riding. It weighs nothing and takes up no space.
Tube
Sure you can patch a tube a dozen times, but there are chances that you'll not be able to patch it anymore. Bring at least one spare tube. When changing a tube, keeping a short section of it may be useful for repairs.
Brake Pads
Brake pads wear out fast, bring some quality spares or you'll end up relying on cheap garbage. Disk pads are more durable but can bend, and they are harder to find in developing countries.
Non-Essential but useful bike spares
Bolts and nuts
A few spare bolts, nuts, and screws for the most important parts of your bike are worth bringing along. Rack bolts especially.
Brake and Gear Cables
It never happened to us, but brake cables can snap. Gear cables are even less likely to do so. Consider bringing at least a brake cable replacement.
Folding Tyre
We never had a spare tire and never needed it, but it may be helpful in case of rare-but-not-so-rare tire explosions or rippings. Schwalbe makes compact folding tires that perform just as normal ones.
Check Also the Other Articles of this Series
The Basic Bicycle Accessories for Bicycle Touring
Bike Camping Essential Equipment
Electronics to Bring on a Bicycle Expedition
Bicycle Touring Clothing Essentials
23 waterproof panniers compared
17 ultralight tents under 200$
The Best Online Stores for Cycle Touring
If you're looking for a Bicycle have a look at
18 Amazing Touring Bicycles Under 2,000$
21 Best Touring Bikes Under 1,000$
10 Woman-Specific Bikes for Touring
Stay in touch while we get lost! Follow us on Social Media