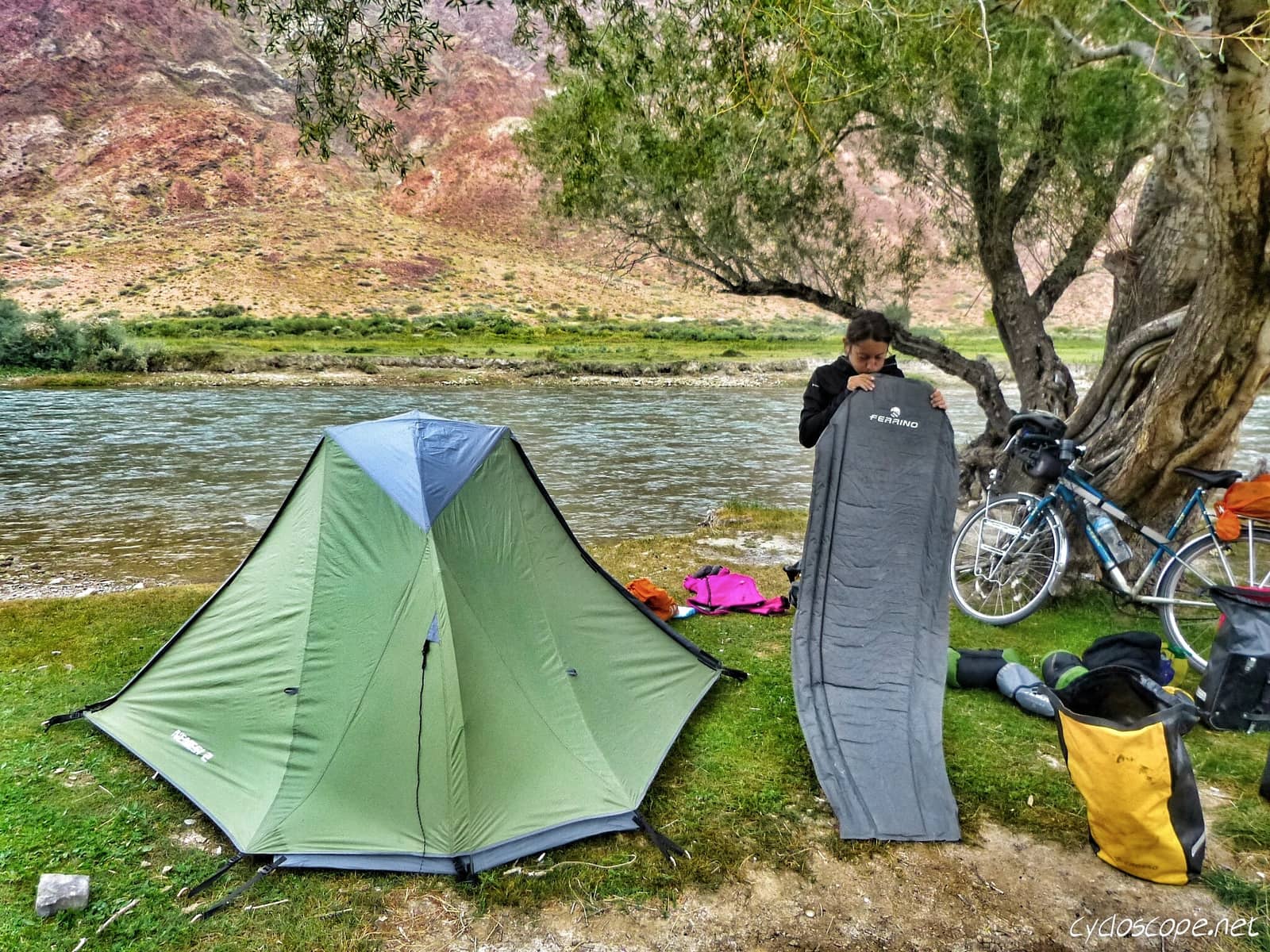 Bike camping! A list of ultralight camping equipment to bring when cycle touring or bikepacking




Essential and useful gear to enjoy the bicycle camping life
Bike camping is an extraordinary activity you should do at least once in a lifetime. In this article, we'll go through the ultimate bike camping gear list, both for long cycle touring expeditions and for weekend bikepacking camping trips.
When on a long-distance bike journey, unless you're going on a so-called "credit card tour" (meaning sleep only in hotels and eat only in restaurants), most of your nights out bike touring will probably be camping nights.
Camping and bike touring / bikepacking go hand in hand, and camping is one of the fascinating aspects of traveling by bicycle.
Finding the perfect spot, sleeping in nature, cooking your own meal, enjoying the stars, and waking up in the wilderness. These are experiences you'll carry with you forever.
Choosing the right camping gear for your expedition marks the difference between nights amazing and memorable or horrible and restless, if you're traveling in climatically extreme areas your very survival will depend on it.
So, if you're planning on a warm-weather destination don't waste too much money on that, you can find lightweight gear without selling a kidney, but if an expedition to Kazakstan in winter is what you're up to, don't stay too cheap.
This article is part of our series about Essential Gear for Bicycle Touring and Bikepacking

This section is about camping gear. For the other sections check below.
Disclosure: Some of our articles contain affiliate links. This comes at no additional cost for you and helps us keep this website up and running. (as Amazon Associates we earn commission from qualifying purchases)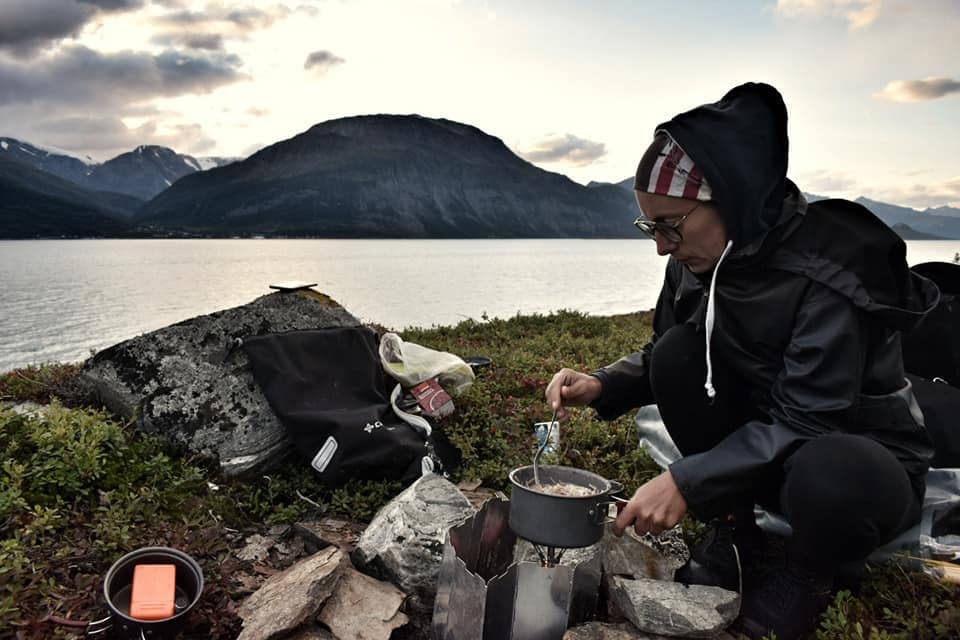 Cycle Touring Camping Gear List in a Nutshell
Camping Tent
Sleeping Pad
Sleeping Bag
Sleeping Linen (optional)
Headlamp
Knife
Stove
Cooking Pans
Kitchen Tools
Vacuum Flask (optional)
Water Filter (only in remote areas)
Foldable Sink (optional)
What is Bike Camping (or Cycle Camping)
Well, cycle camping is that thing when someone takes his/her bicycle and goes around for a while, then finds a nice spot and sets up his/her camp to spend the night.
You can go for a single night out or do this for the rest of your life, it will still be bike camping.
Of course, the duration of the trip matters when choosing the right gear to go bike camping.
If you stay out one week around the same area you won't have much temperature difference, so you can bring less gear that is suited for the season.
When on an extended bike camping trip you'll probably go through a wide range of climates, which means you'll need to find a compromise – or carry A LOT of stuff.
Another thing that makes a difference is your campsite of choice: if you plan to overnight in public or private campings then you will need less stuff – certainly not a folding sink or a water filter, for example.
If instead your plan is to wild camp, which means camping in the wilderness often in a stealth fashion, then you'll need some more stuff.
This list hopes to cover all the essential bike camping gear for all needs, if you think there's something missing please let us know in the comment section.
Check Also
> Bikepacking Bags! The Best For Each Category from CHEAP to TOP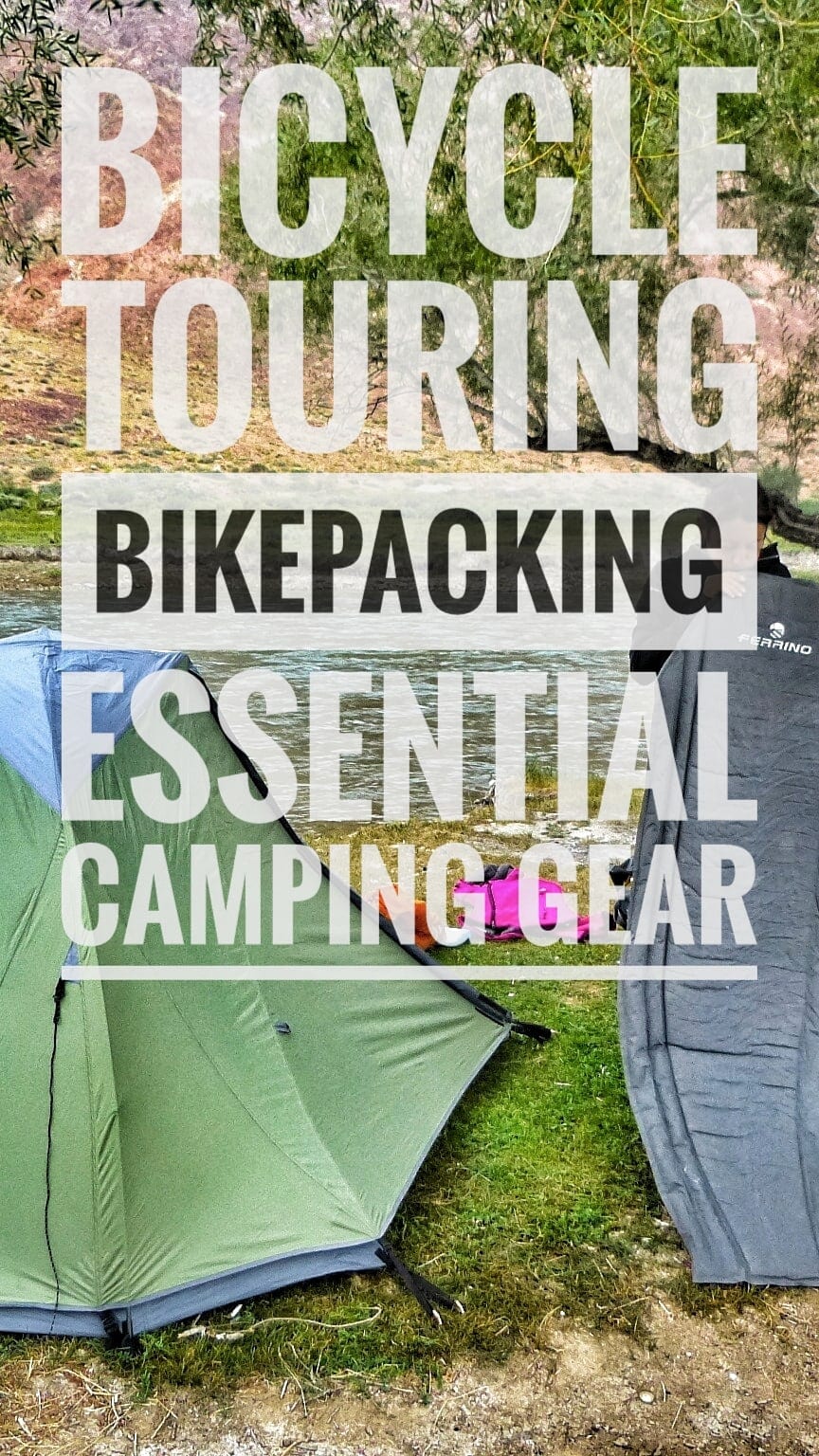 The Essential Bike Camping Equipment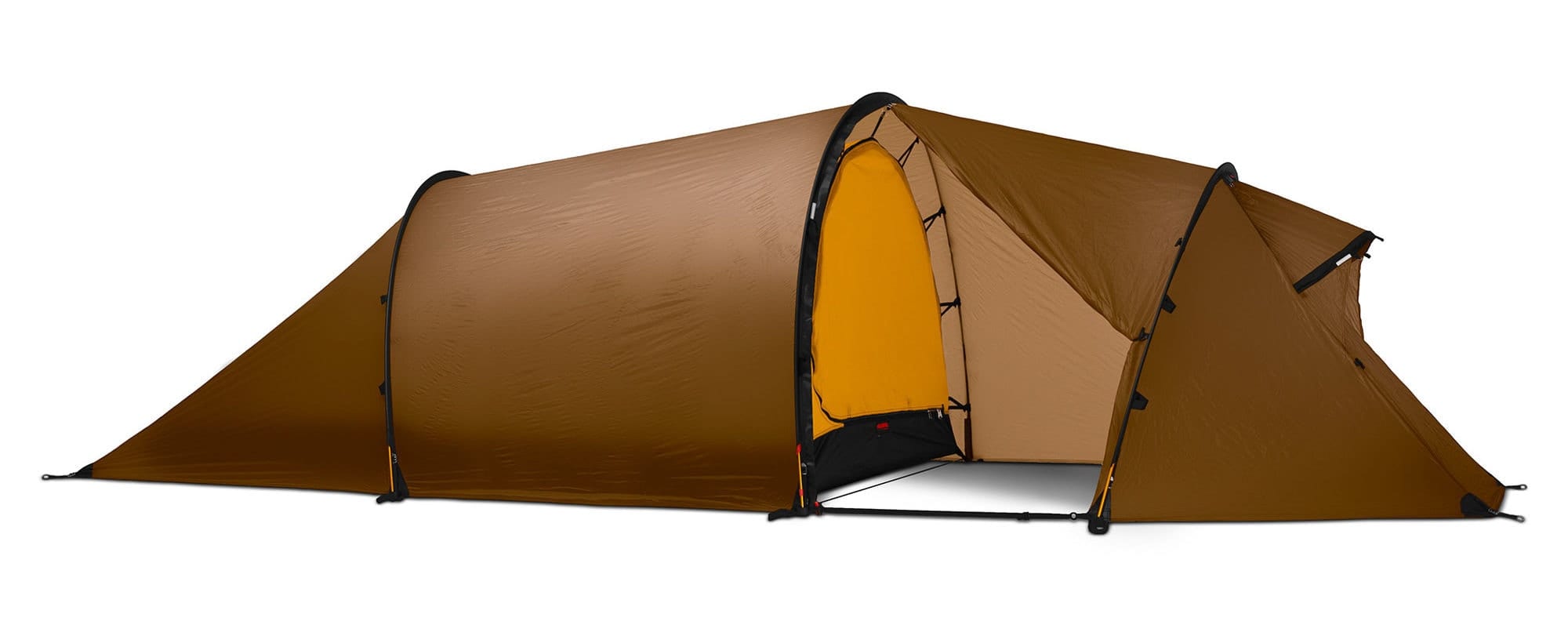 Bike Camping Tent
Your tent will be your home for most of your trip, if it is going to last a while, then you'll want a comfortable and reliable home to live in.
It should be lightweight, small when packed, and as big as possible when mounted. Having wide vestibules is very important to store your gear.
Tents can be free-standing (no need to pitch it to the ground), half-free-standing (only need a few stakes), or not-free-standing (doesn't stay up if not pitched).
We do suggest you to absolutely avoid not-free-standing tents like this, it's very common to find perfect sheltered camping spots where is impossible to plant a stake (or peg).
It may be concrete, wood, or whatever (like for example the magical gazebos of Korea, or porches of the Shinto Shrines in Japan), you can also find kinds of soil where pitching is really complex, like hardened soils or sand.
We suggest taking with you a half-freestanding tent like this (you can use ropes and tight it to somewhere), or even better a completely free-standing one like this (the super expensive tent of my dreams).
Take a look at the vast choices of quality tents available at outdoorplay.com. Don't forget also to bring a few spare pegs (stakes), soon or later you're going to lose at least one.
Some people love to use hammocks for camping, if you are one of them do not forget to buy a sturdy carabiner.
Check our lists

> 17 best lightweight tents under 200$
> The Very Best One-Person Tents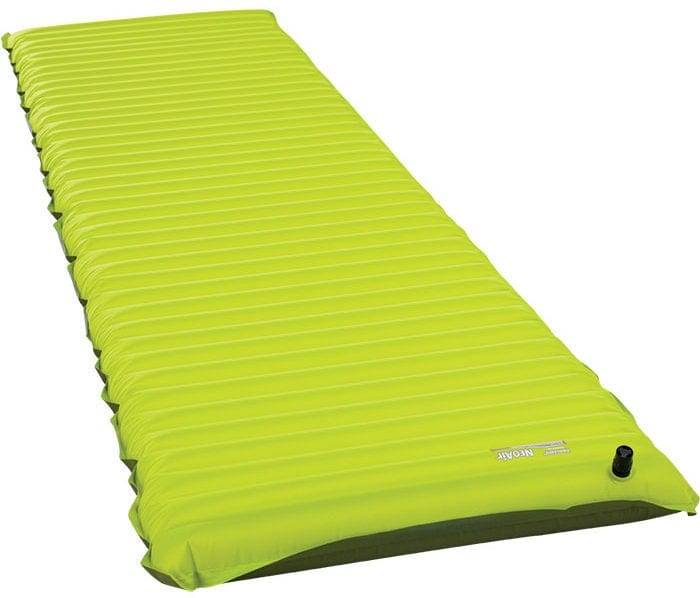 Sleeping Mats for Cycle Camping
If the tent is your house, then the Sleeping Mat is your bed, since any type of camping cot is out of the question for bikepacking. It's very important to have a proper sleep when keeping your body under a continuous effort like bicycle touring does.
Self-inflatable mats are the most common choice, and indubitably the very convenient – inflatable camping pads though are usually lighter and more compact.
There are dozens of brands out there, Thermarest is the most popular but you can check many more interesting products here. Rigid camping mats are very bulky but eliminate the risk of puncture and give peace of mind.
Sleeping Bag
The quality of the sleeping bag you'll need strongly depends on which temperatures are you going to face. There are very cheap, compact, and lightweight sleeping bags that are good for temperate climates like this and this.
If you plan to camp with lower outside temperatures than is very important for your survival to invest a little more in this item.
The lower the temperature, the more expensive the sleeping bag. Take a look at this one, suited for Siberia or this, also for low temperatures. Have a look at this list of winter sleeping bags.
If you are on a budget but do not want to give up quality here are the top 10 sleeping lightweight bags under 100$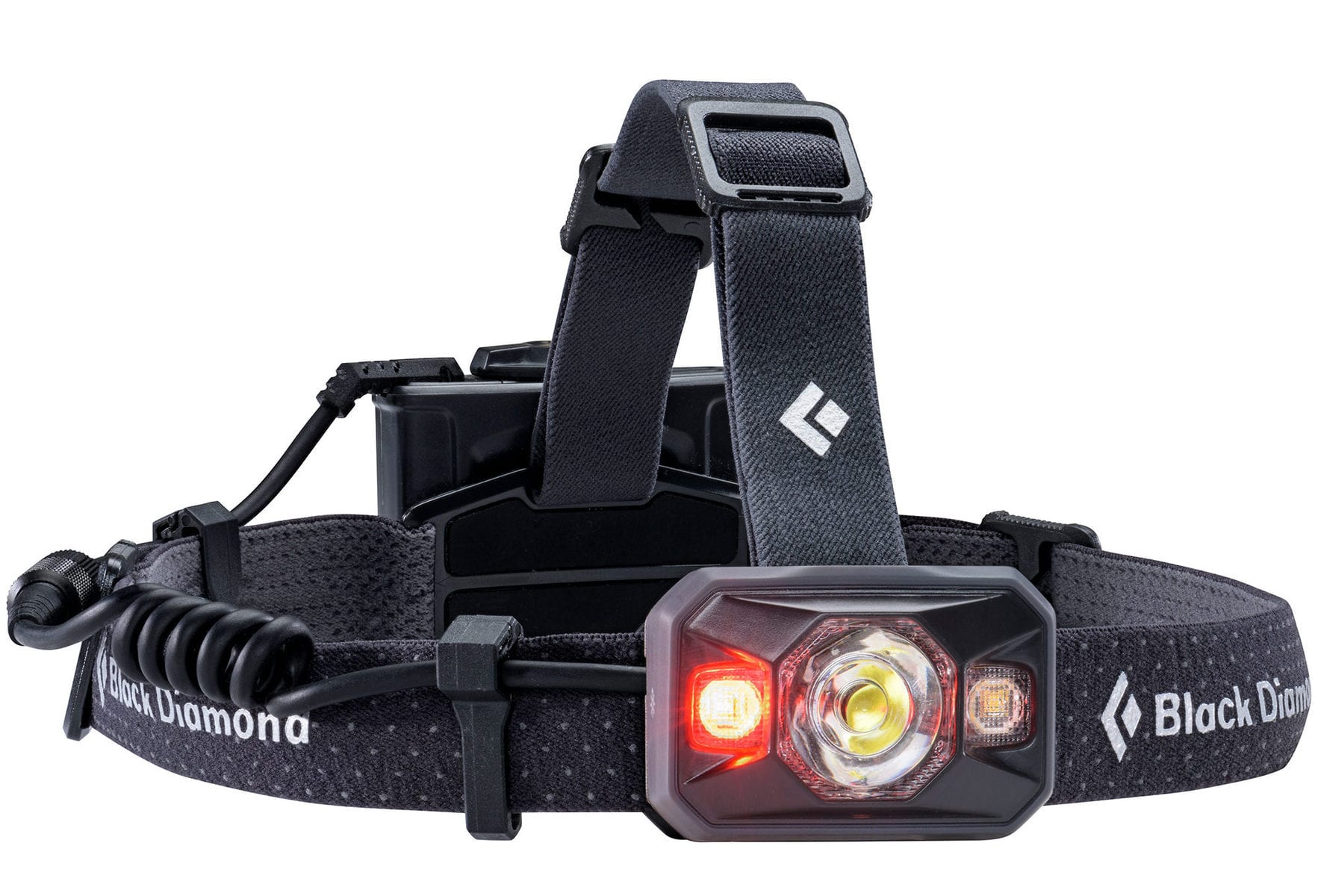 Torch (Flashlight)/Headlamp
Unless you're a feline you'll need some help to see in the dark. Headlamps are definitively the best solution, as they leave your manipulative limb free to manipulate whatever. Take a look at this choice on Outdoorplay.com and the much cheaper stuff on Amazon
.
Check our Camping Headlamp Buying Guide
Knife
A knife has just so many purposes that I won't bother myself or you trying to list them. A good quality folding knife or a classical Swiss knife is what you need.
Not-So-Essential Camping Equipment for Bicycle Touring
Sleeping Liners
A sleeping linen is a thin sheet that can add some warmth to your sleeping bag, or be used when is too hot for a proper blanket.
They are lightweight and do not take much space, a great solution for added versatility to your sleeping gear. This merino wool one REI or this from Sea to Summit. A vast choice of cheap ones is available on Amazon.
Cooking Stove for Bike Camping
We cooked for 2 years using a very basic DIY alcohol stove made out of a beer can, you can make your own for free, there are plenty of sophisticated DIY stoves projects on this beautiful website.
If you want something more professional, MSR, Jetboil, and Primus make nice multifuel stoves. More choice here.
Cooking Pan
What's a stove without a pan? There are a lot of solutions on the market for cooking sets. A windscreen is fundamental for cooking outdoors when the wind is an annoyance.
Kitchen Tools
Whether is this a fork, a spoon, chopsticks, or your hands, you must find a way to deliver the tasty meal you just cooked to your mouth.
Camping-specific tools like this (ever heard of the "spork") are cool and make for perfect gifts for your travel partner, but you could also just bring a fork and a spoon from home, of course.
Vacuum Flask
Nice to keep your coffee hot, or your iced tea icy. Simple as this, better than a normal cycling water bottle. Also, if you want hot coffee maybe you should consider a portable coffee maker.
Water Filter
A water filter is something you may use very rarely, but it's a true lifesaver. If you're going to travel in densely populated areas you probably don't need that. But when going to places like Kazakhstan, then you're going to love it.
We have the wonderful MSR Guardian (here on Amazon), it's incredibly slow but allows you to literally drink from puddles. Cheaper options are LifeStraw or Sawyer Squeeze.
Learn more
> The 10 Best Travel Water Filter and Purifiers for Cycle Touring, Bikepacking, and Hiking
Foldable Sink (or bowl)
I didn't even know these existed until a few days ago, they are exactly what the name suggests: a sink that you can fold.
Useful to wash the dishes, but do you really need one? If the answer is yes, check this one from Ortlieb, we are considering buying one.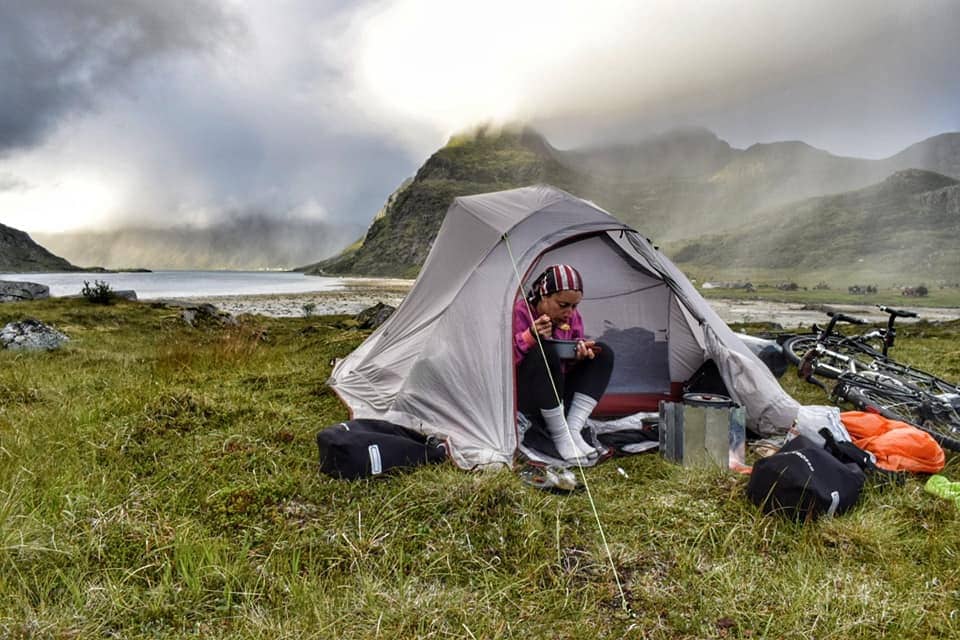 More Bike Camping Gear
Of course, that's not all you'll need for your next cycle camping trip, there's a lot more to be carried along with you, especially if you're going on a long bike trip.
Have a look at our compact
> Bikepacking Gear List! The Ultimate Cycle Touring Packing List
Cycle Touring Essential Gear List
What gear should I bring on a bicycle trip? The choice of the gear really depends on what kind of trip are you planning: are you going to ride the Tibetan Plateau in winter? Are you going to traveling South East Asia? Or your plan is an exploration of Europe?
So, if you don't plan some extreme expedition our advice is not to worry too much about the gear.
If you're on a budget, don't invest too much money in equipment, save it for the trip instead. You can travel on an old refurbished mountain bike, use buckets as panniers and get a cheap tent.
Quality gear though is an investment that could last a lifetime or at least several touring years. So, if your wallet is not crying, consider the motto "you get what you pay for". Read more about panniers, racks, accessories, etc...
Tools and Spare Parts to bring on a Bicycle Expedition
When you're out bike touring for a long while you want to be able to fix all the more common failures that can happen to your bike.
While some more complex issues may need the help of an expert mechanic (or at least a workshop), flat tires, broken spokes, gear regulation, wheel turning, brake fixing, and pad replacing, bolt tightening are the kinds of stuff you're most likely to face when out touring.
Most of them are not hard at all (well, tuning a wheel is not easy), and you can deal with it yourself (better say that sometimes you must). Read more…
Electronic Equipment to Bring on a Long-Haul Bicycle Expedition
We don't need to get as far back as in the days of the pioneers of bicycle touring, just 20 years ago is enough to find ourselves stripped of all the electronic stuff that we are now so much used to.
Some people, still nowadays, enjoy the old style, a way to be more in touch with nature and take a break from the stress of the modern world.
All these electronics though, give bicycle travelers a new set of possibilities that can simplify and also improve the bike touring experience.
Shoot great videos and pictures, stay in touch with your relatives and friends, know always where you are, and even work remotely while traveling.
We put together this list of gear to help you think about what you may need for your next bicycle expedition. Read more…
Bicycle Touring Clothing Essentials
The choice of clothes to take with you while bicycle touring is strongly dependent on the weather and climate you're going to cycle.
If, like most bike tourers, you plan to ride and camp mostly at temperatures above 0°C (32°F) don't invest too much money in clothing.
Most of the time, using ordinary sports clothes and maybe one or two bike jerseys will be just fine.
We put together this list of gear to help you think about what you may need for your next bicycle expedition. Read more…
Have a look at
If you're looking for a bicycle
FAQs About Bike Camping
Where do you keep your bike when camping?
Unless you have a tent big enough to store the bike in a vestibule, park your bike as close as possible to your tent. Possibly tie one of the wheels to the tent with a thin rope, so you'll notice if someone tries to move it.
How do I prepare for a bike camping trip?
Bring some food and enough water, a flashlight or headlamp, a sharp knife, warm clothing, and a complete camping sleeping system (tent, mat, sleeping bag). Let go of your fears and enjoy the communion with nature.
Found it Useful?
Subscribe our Newsletter and Follow Us on Social Networks!
Stay in touch while we get lost! Follow us on Social Media