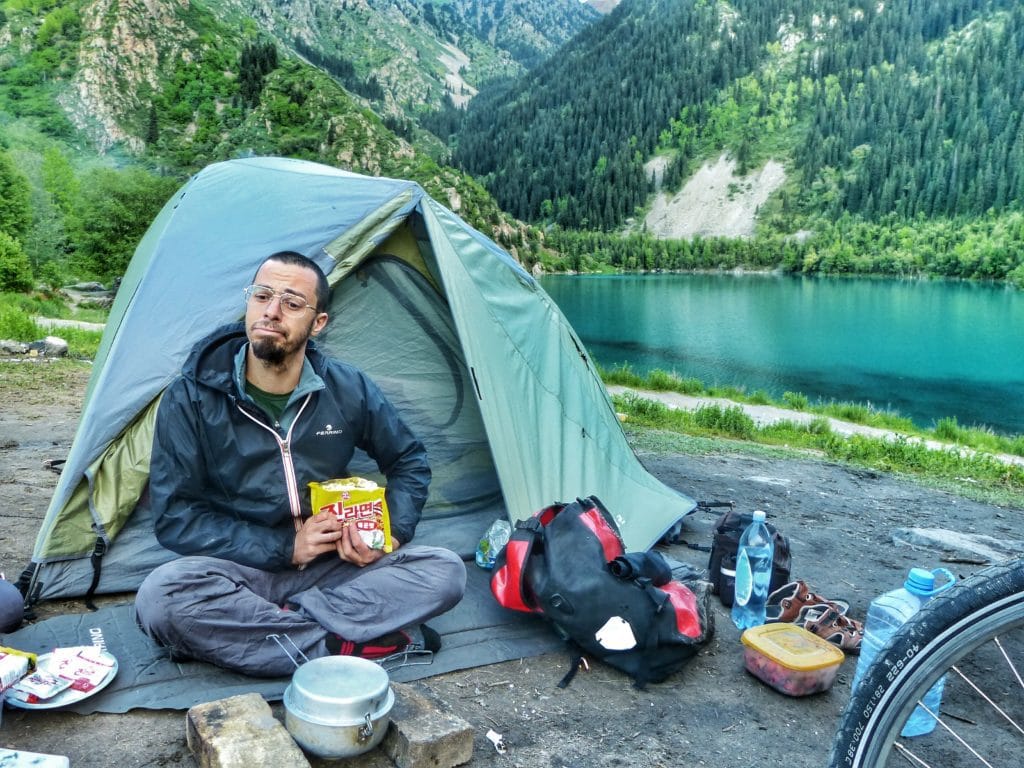 The best ultralight 2-man tents under 200$, affordable bike camping tents for hiking & cycling adventures
Compare 17 cheap 2-person lightweight tents for backpacking, bikepacking & cycle touring
The world of lightweight tents is becoming bigger every day, along with the well-established brands producing backpacking, cycle touring, bikepacking, and ultralight tents in general, many new brands come out into the market every year, sometimes with innovative products, sometimes with reliable, cheap camping tents that won't break your bank and still keep you warm and dry, ready for your next day hike or whatever.
In this blog post, we'll talk about cheap 2-persons tents under 200$, so don't expect to find the quality of a Hilleberg here. But still, the tents mentioned in this list are all well suited for bicycle touring, long hikes, and adventurous backpacking trips, they are almost all fully freestanding, meaning that they can be used on almost every kind of terrain or surface.
So let's dive into the comparison of our favorite budget lightweight 2-person tents for the year 2023.
Later we'll have a look at what factors you should consider when buying a lightweight tent for bikepacking, cycle touring, or backpacking… even when on a budget you should try to get the best 2-person camping tent for you.
Disclosure: Some of our articles contain affiliate links. This comes at no additional cost for you and helps us keep this website up and running. (as Amazon Associates we earn commission from qualifying purchases)
How we compile our gear guides: during the almost 10 years of cycloscope.net our team personally tested dozens of similar pieces of gear. For what we can't test personally, we involve other people in the cycling community to give their feedback and opinion about gear they have used. Our decade-long experience in bicycle touring enables us to find the key cons and pros of every product we mention.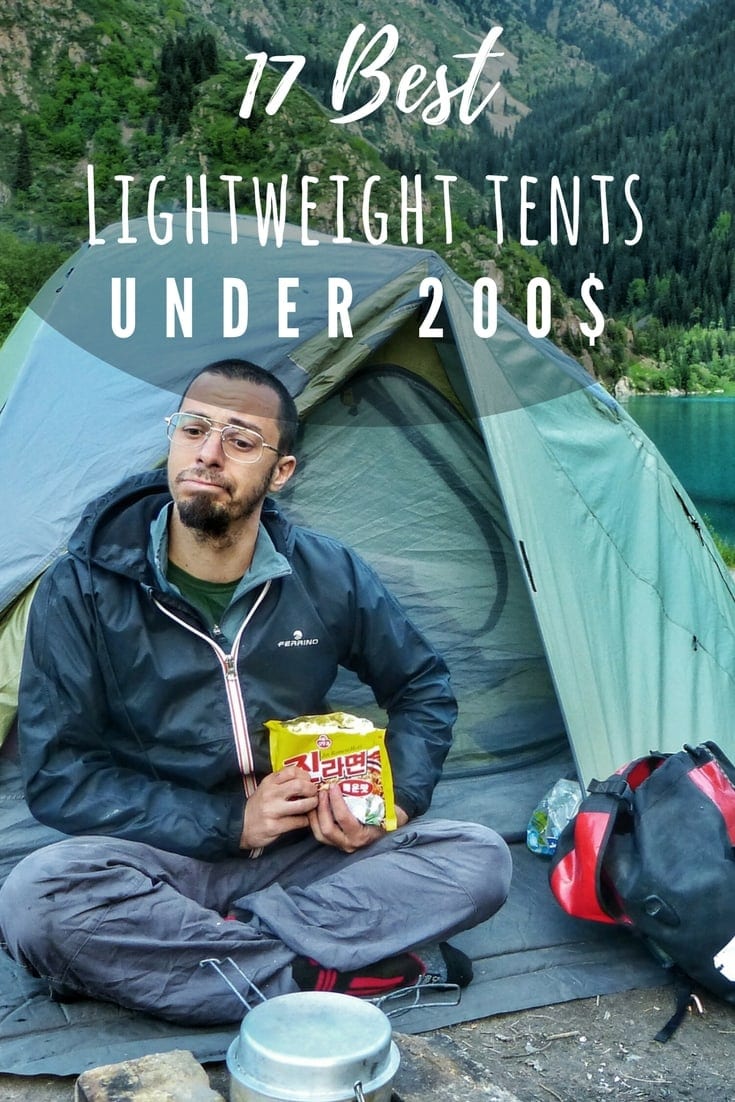 The best-value 2-man backpacking tents in a nutshell
REI Co-op Trailmade 2
Naturehike Mongar
ALPS Mountaineering Zephyr 2
Hyke & Byke Zion 2P
Mountainsmith Lichen Peak
Mountainsmith Morrison 2
Naturehike ViK
Hyke & Byke Yosemite
Naturehike Cloud-Up 4 Season
Eureka Midori 2
Eureka Suma
Featherstone Outdoor UL 2
North Face Stormbreak 2
Marmot Crane Creek
14 Best BUDGET Lightweight 2-Person Tents Under 200$
REI Co-op Trailmade 2 – New Entry 2023!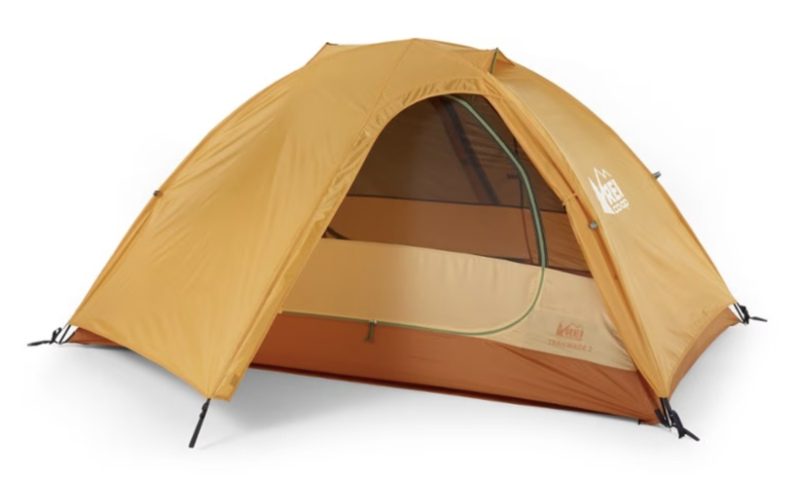 The REI Co-op Trailmade 2 tent is a game-changer in the world of backpacking and bikepacking, offering an exceptional combination of lightweight design, durability, and ample space to move around.
It might not be the lightest, and it's disappointing that Rei doesn't state the waterproof rating of this tent, but the Trailmade makes up for these with a very sturdy construction, an incredibly easy set-up, and the great convenience of two doors on a freestanding tent
The robust poles and sturdy fabrics ensure that the tent can handle gusty winds and heavy rain, providing peace of mind to adventurers facing unpredictable weather during their expeditions.
Another highlight of the Trailmade 2 is its spacious interior. The tent's clever design maximizes living space while keeping the overall footprint compact, allowing backpackers and bikepackers to enjoy a comfortable night's sleep without feeling cramped. With easy access doors on both sides, getting in and out of the tent is hassle-free, and the vestibules provide extra storage space for gear, shoes, or even bikes when needed.
Additionally, the Trailmade 2 incorporates thoughtful features like mesh panels for superior ventilation, multiple interior pockets for organizing personal items, and reflective guylines for enhanced visibility at night.
Colors
Desert Sun / Mineral Teal
Waterproof Index
PU 4000mm
Inner Dimensions
88 x 52 x 40″ / 223.5 x 132 x 101.6 cm
Materials
20D silicone-coated ripstop nylon /
Poles: 7001 Aluminum
Features
2 entrances / 2 vestibules
Packed Size
8.5 x 22″ (21.6*56cm)
Weight
5 lbs. 7oz./2.46kg (all included)
Naturehike Mongar
A very nice budget tent is the Naturehike's Mongar, an ultra-lightweight and compact 3-season/2-person backpacking tent. If you're familiar with the MSR Hubba Hubba then you'll notice the similarities, indeed Naturehike was an MSR Chinese factory in the past.
Weighing only 4 lbs for the whole set and with a packing size of just 19.6 x 5.9 x 5.9 inches, the Mongar is a great bang for the buck, priced under 170$, way below the MSR price tag.
The rainfly and floor are made from 20D polyester with a 4000mm waterproof index, a silicon-coated fabric with fully taped seams. The Mongar is able to keep you dry under tropical downpours if set up properly. The poles look durable, made of 7001 aluminum.
This is a freestanding tent, able to resist strong winds thanks to a stable design, the ventilation is good with two air vents on the flysheet to prevent condensation.
The two doors, one for each side, allow for easy access and storage. Both doors indeed have a decently sized vestibule that can be fully or partially closed.
Mongar freestanding tent – Lightweight fabric and rational structure lead to proper packed weight. Balance the stability, comfort, and weight. More available space, enough for 2 people. Good ventilation, 2 air vents on the two sides of the fly prevent condensation from building up.
If you want even more storage/vestibule space, Naturehike designed this super-cool porch extension for the Mongar, it adds a large space where you'll be able to cook your camping meal without getting wet on a rainy evening, have a look!
Another quite useful feature is the overhead gear loft, where you can store a torch or a battery-powered fan.
Colors
Gray / Purple / Light Green
Waterproof Index
PU 4000mm
Sun-Protection
UV 50+
Materials
20D silicone-coated ripstop nylon /
Poles: 7001 Aluminum
Features
2 entrances / 2 vestibules
Packed Size
19.7*5.9″ (50*15cm)
Weight
4.6lbs/2.1kg (all included)
Check Also:
> Naturehike Tents REVIEW! 11 Tents Compared for 2023
ALPS Mountaineering Zephyr 2-Person Tent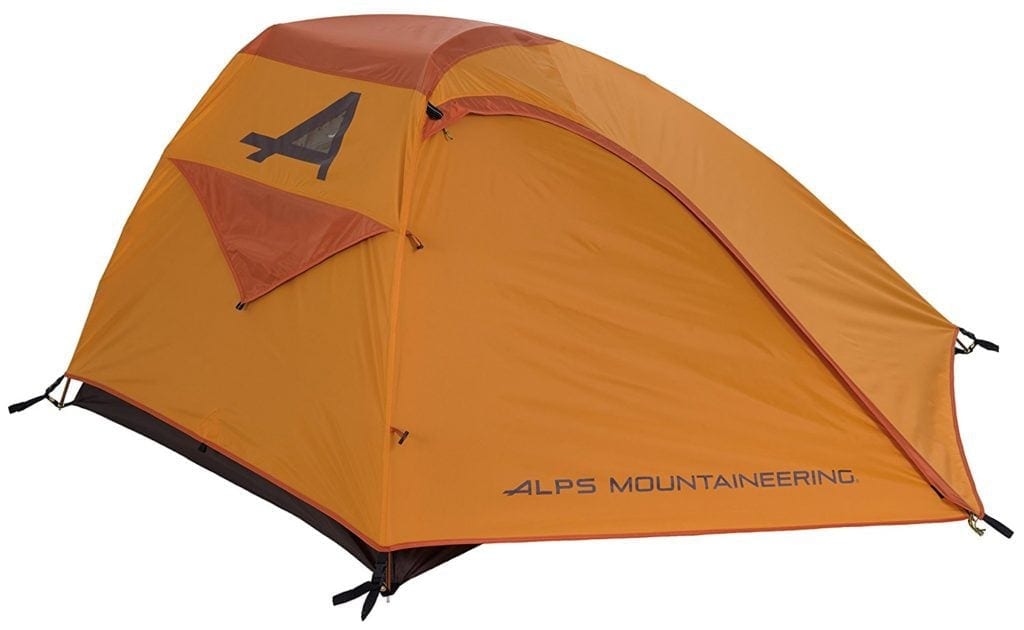 Alps Mountaineering is a well-established brand from Missouri, they manufacture high-quality gear since 1993. Their Zephyr has been tested by many backpackers, hikers, and outdoor enthusiasts.
The geometry is different from the classic two-person lightweight tents, and it looks designed to withstand strong winds. Walls made from mesh improve air circulation, preventing condensation from collecting inside the tent. The tent is pretty wide to fit two persons comfortably, but for those who need even more space, a 3-persons tent version is available.
Hyke & Byke Zion 2P Two Person Lightweight Tent and Footprint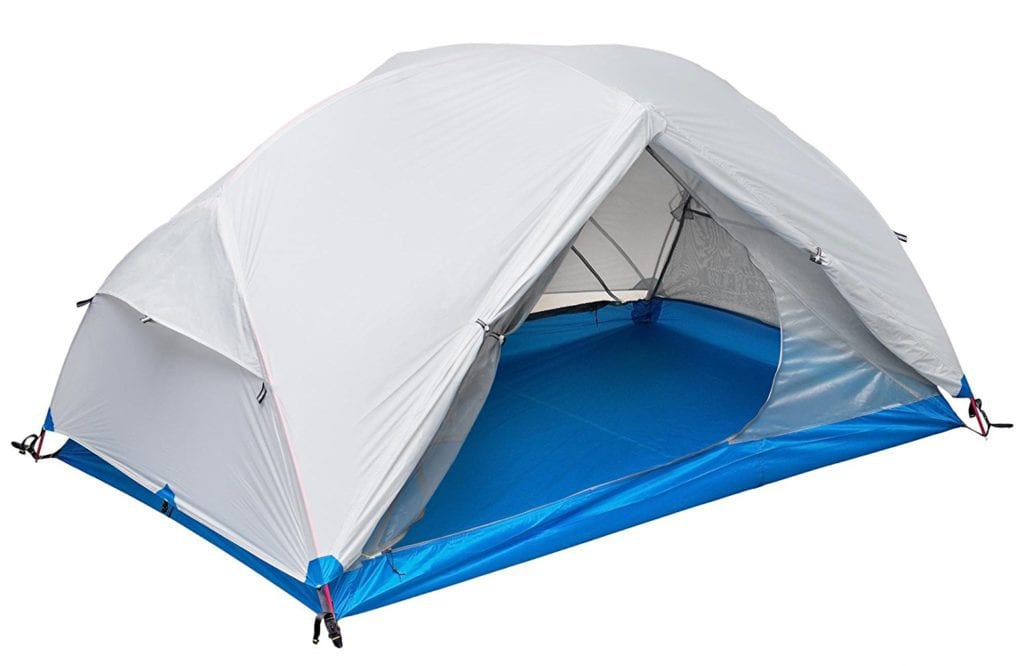 Hyke & Bike is an outdoor brand based in the US, there is a lot of information about them on their website which makes them easier to trust. They are also involved in charity and microloans and seem to have an ethical corporate profile.
The Zion is a pretty standard freestanding two persons tent, based on a single pole. It comes with a footprint, inner walls completely made out of mesh fabric, and a waterproofness rate of 3000mm. The stakes' quality looks higher than the standards for this price tag, there's also a stake presser included.
Mountainsmith Lichen Peak 2 Person 3 Season Tent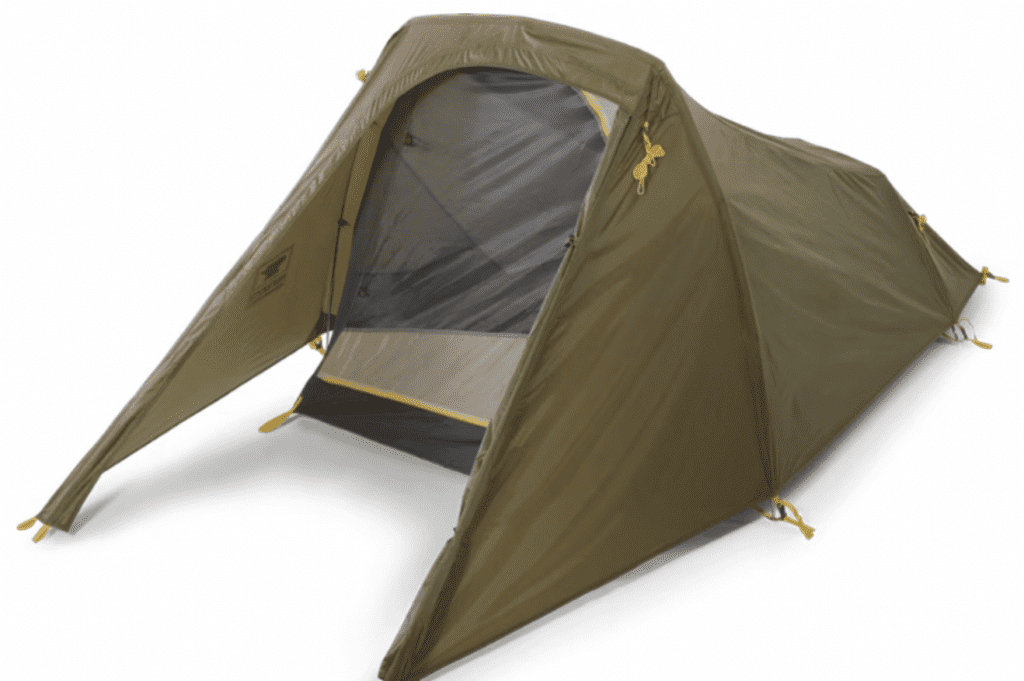 This tent is huge! With a floor of 110 x 60 inches and a top height of 45 inches, this lightweight backpacking tent makes sure you won't feel like a sardine.
With a single front door and a tunnel design, maybe it's not the easiest to access, but its ration weight-to-space is a great vantage point.
Stable in strong winds with its aerodynamic construction, this semi-freestanding tent is also quite breathable with a very well-ventilated inner mesh. It comes with a footprint to protect the floor from tears and punctures.
Mountainsmith has been around for 40 years since it was established in 1979 in Colorado by the outdoorsman Patrick Smith.
| | |
| --- | --- |
| Packaged Weight | 5 lbs. 9 oz. |
| Packed Size | 6 x 22 inches |
| Floor Dimensions | 110 x 60 inches |
| Floor Area | 46 square feet |
| Vestibule Area | 12.5 square feet |
| Peak Height | 44 inches |
| Number of Doors | 1 door |
| Material | 68-denier polyester |
| Rainfly Fabric | 68-denier ripstop polyester |
| Design Type | Nonfreestanding |
Mountainsmith Morrisson 2 Person 3 Season Tent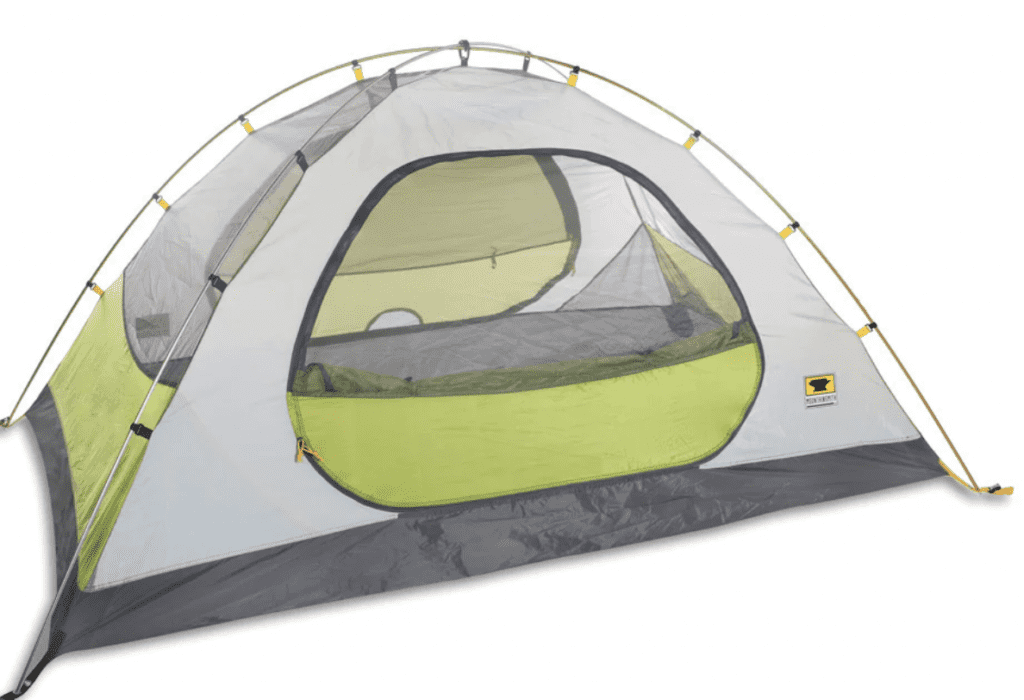 Another great budget tent by Mountainsmith, the Morrison has been around for a while, proving its worth across the years on hundreds of thousands of outdoor adventures.
This 2-man tent was awarded "2011 & 2012 Backpacker Magazine Gear Guide – KILLER DEAL!" and "2011 Outside Magazine – KILLER VALUE!", which should say something about the tent's quality.
The inner tent is not entirely made of mesh fabric like many other tents in the lightweight scenario, which probably makes it less breathable but also warmer.
It's totally freestanding, features 2 doors for ease of access, and has a tall bathtub construction of the floor, ensuring no water would get in even if you'll find yourself in a puddle.
A simple, cheap, and well-tested lightweight backpacking tent that ticks all the boxes.
| | |
| --- | --- |
| Packaged Weight | 5 lbs 8 oz (With Footprint) |
| Packed Size | 18″ x 7.5″ (46 x 19 cm) |
| Inner Dimensions | 92″ x 56″ x 43″ (234 x 143 x 110 cm) |
| Number of Doors | 2 doors |
| Floor Material | 190td Poly PU5000MM F/R |
| Material | 185T Breathable Poly F/R |
| Rainfly Fabric | 185t Poly PU2000MM F/R |
| Design Type | Freestanding |
Naturehike VIK
For those who want to stay really minimal, here's the lightest tent on this list. Naturehike does its magic again, coming out with an ultralight 2-person tent under 3lbs (1.35kg) that paks as small as 18*6 inches (46*16cm).
The secret? This is a one-layer tent, so no separated flysheet and inner mesh. I can hear some of you shouting "condensation!" but hear me out.
A little condensation does occur, but the vents and the possibility of slightly opening the access door while leaving the door mash close will solve the problem in any condition that is not too cold.
This is a summer/spring tent, that can be used for temperatures as low as 45F or 6/7C. Besides that, it's a quite sturdy camping tent for its weight, bikepackers and minimal trekkers would love it, and the price is super-appealing. I purchased a one-person version as a second, spare tent to use when I really want to pack next to nothing.
Despite being a single-walled tent, the Naturehike Vik handles heavy rains properly, thanks to the 15D nylon-coated silicone/PU 2000mm fly and 20D/PU 4000mm floor, a footprint is also included in the purchase.
| | |
| --- | --- |
| Tent fly | 2000mm 5D Nylon Silicone-coating |
| Tent bottom | 20D nylon / 4000mm |
| Footprint | 150D / 3000mm |
| Poles | 7001 aluminum alloy |
| Inner size | 2.68in/210cm (length) * 33.46in/85cm (width) * 37.40in/95cm (height) |
| Packaged size | 18*6 inches (46*16cm) |
| Weight | 2.98lbs (1.35kg) |
Hyke & Byke Yosemite Two Person Backpacking Tent with Footprint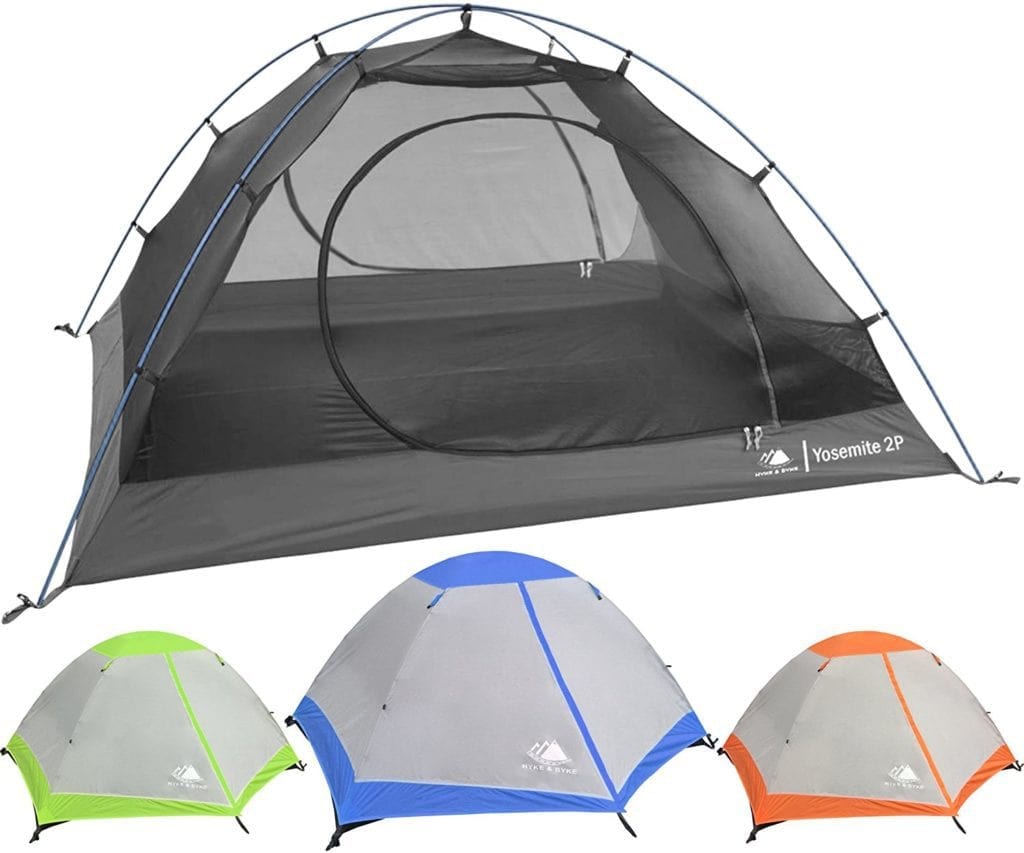 We already mentioned we like Hyke & Byke philosophy and their way of making cheap high-quality outdoor products. This Yosemite model is indeed one of the cheapest lightweight tents on the market.
It still though has a hi-rated waterproof floor (PU5000), comes with an included footprint, and features two large doors and standard vestibules. It weighs slightly more than the Zion 2P but has an inner length of 223cm, which makes it a great choice for the big guys.
Naturehike Cloud-Up 4 Season – EDITOR's PICK!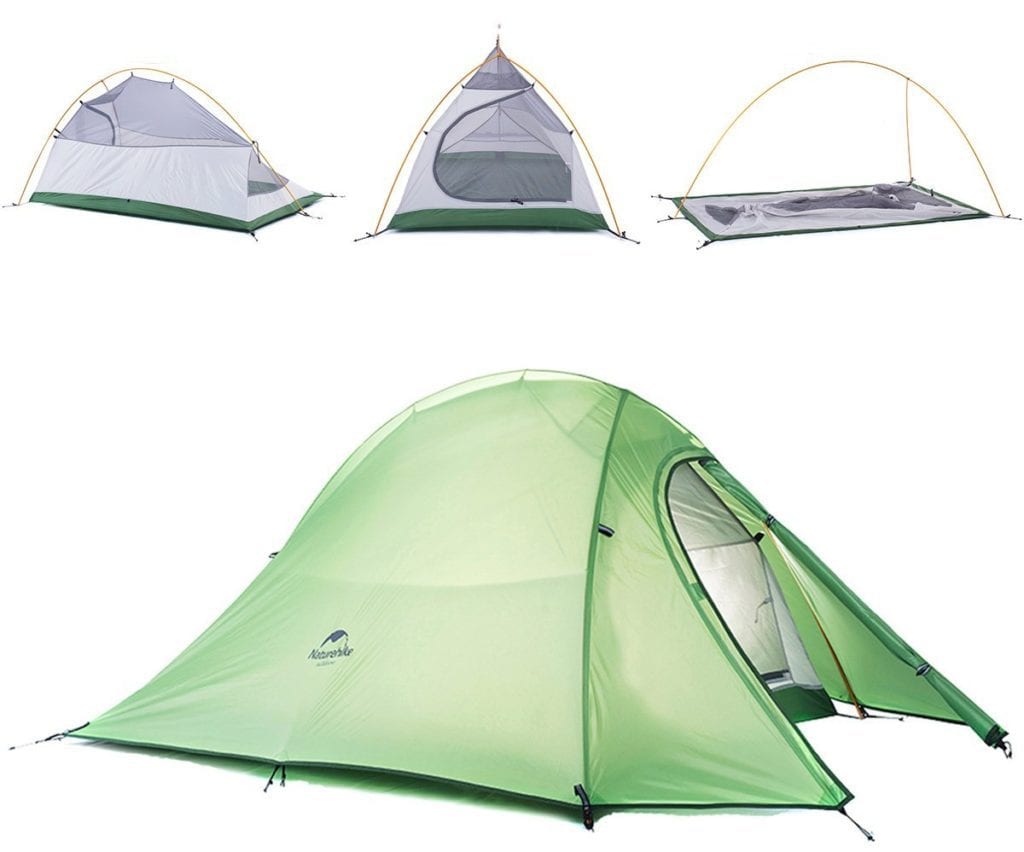 Our four seasons pick, the NatureHike Cloud Up is what we got for ourselves and we'll be using on our next Nordic trip. NatureHike is a Chinese brand which is quickly making his way in the outdoor world thanks to the high quality of their products, their low price tags, and a great customer service.
The inner igloo is made of high-density mesh and nylon fabric and it ensures breathability, while the fly comes in two options, with a skirt for real winter use, and without it.
The two-person version of this tent is not 100% freestanding, requiring two stakes for tensioning, the 3-person version though is fully freestanding (that's what we've got). Overall this is one of the best budget backpacking tents, and certainly the best Naturehike tent so far.
Eureka Midori 2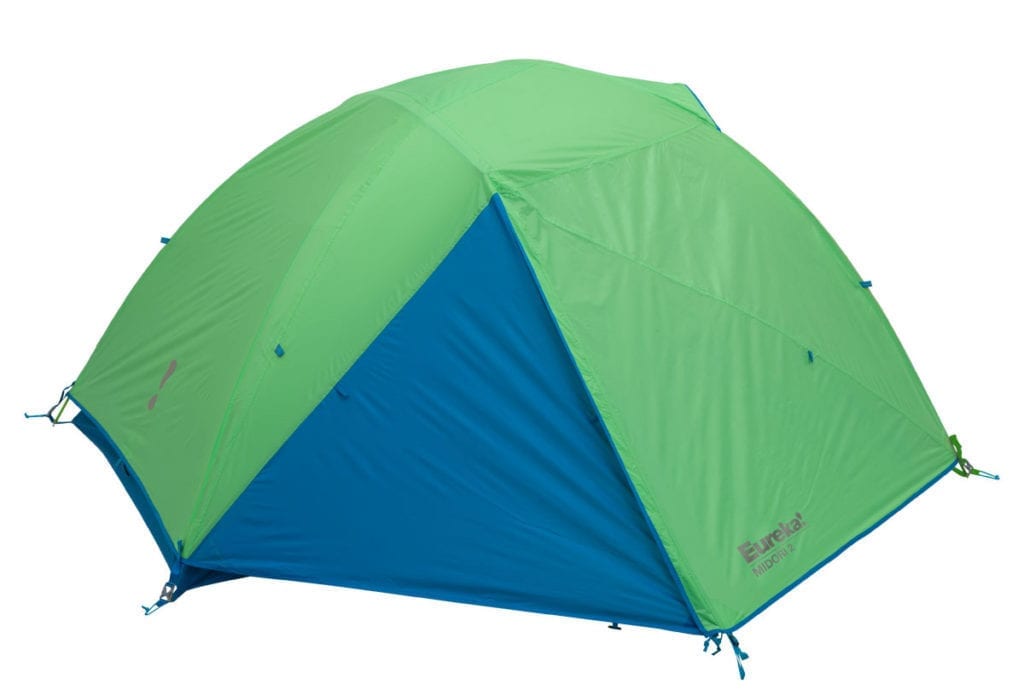 Eureka! Outdoors might not be the most famous outdoor brand, but this company from Dubbo, New South Wales has been around since 1885! Their story goes through the World Wars when they were making tents for military camps, and the list of tough expeditions their gear has undertaken is long and compelling.
The Midori is a very spacious 2-person lightweight tent, fully freestanding and perfectly suited for bike touring, backpacking, and even ultralight bikepacking. If 140cm of width are not enough for you, there's also a very light 3-person version.
Eureka Suma 3 Backpacking Tent
This sister of the Midori, the Eureka! Soma, is even lighter but it sacrifices one door and one vestibule. It packs small and has a simple, freestanding, reliable design. A 3-person version is also available.
Featherstone Outdoor UL 2 Person Ultralight Bikepacking Tent for 3-Season
There's not much information about Featherston outdoor on the web, so I can't say if it's a trustworthy brand or not, but this good-looking tent seems pretty decent and comes for an incredibly cheap price.
With a trail weight of nearly 3.8 lbs, it seems a truly lightweight option for a two-person backpacking trip or bicycle touring expedition. Two Vestibules provide a great amount of Storage Space for your camping gear. Two wide doors add convenient entry and exit.
The inner igloo walls are completely made out of mesh fabric, which should ensure high breathability. It comes with a footprint included. Like all other tents here it's fully freestanding, requiring stakes only for the vestibules.
North Face Stormbreak 2 – Updated for 2023!
Who doesn't know The North Face? The Californian-based trademark is not only the most famous outdoor brand in the world but also among the most renowned clothing companies.
The Stormbreak 2 is a basic lightweight hiking tent with two wide vestibules and a simple and effective design. Unfortunately, The North Face only provides information about the floor area, without indicating its width and length of it.
As far as I can tell most of The North Face products are made in China, at least those with lower price tags like the Stormbreak 2 tent.
Marmot Crane Creek Backpacking and Camping Tent
Another well-established and popular outdoor brand, Marmot products making up to 95 percent of their sales are made in China, Vietnam, Bangladesh, El Salvador, Costa Rica, and Honduras, with only the high-end mountaineering products made locally to ensure top quality in extreme-weather environments.
The Marmot Crane Creek is a sturdy, well-built, essential 2-person lightweight tent well suited for bike touring, hiking, and backpacking. It's not the lightest nor the biggest on this list but, if the brand authority still means something, it should be a reliable option. A 3-person version is also available.
2-man lightweight tent buying guide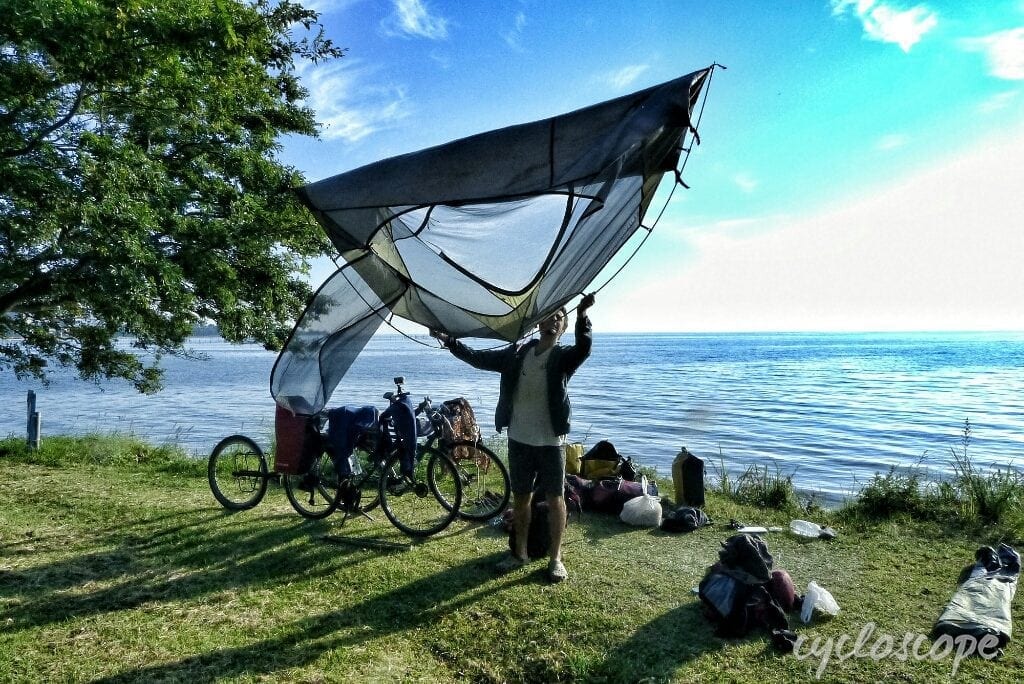 Use: Bike Touring/bikepacking Tents VS Backpacking Tents
Although it may seem a specious distinction, the needs of a bike tourer are a bit different from those of a backpacker or hiker. First of all, the bicycle traveler usually has more gear, spares, tools etcetera add up to the bulk. So, an ideal bike touring tent should have large vestibules for gear storage.
Besides that, when bike touring you use your tent more. Your tent will be your home for most of your trip, especially if it is going to last a while, so you'll want a comfortable and reliable home to live in. Adding a few hundred grams in exchange for a bigger and stronger tent might be a good choice in my opinion.
Backpackers tents, on the other hand, should ideally be ultralight and small when packed. The weight of your tent will be on your shoulders instead of a bike rack, and shouldn't take too much space in your single piece of luggage, your backpack indeed.
Climate: 3-Season Tents VS 4-Season Tents
Although the quality, design, and materials of a tent make some difference in cold weather, make no mistake, what really keeps you warm during freezing camping nights is your sleeping bag (and your companion if you have any).
For most of the trips, a 3-season tent should be enough. With a decent sleeping bag, you should be able to stay warm down to 0°C, so if you don't plan to venture in colder climates, you can go for a 3-season.
3-season tents are lighter and usually provide higher ventilation, if you plan to camp in really hot weather you'll faint and be covered in sweat inside a 4-seasons tent.
But not all is bad about 4-season tents, if your average night temperatures are below 15°C, a 4-seasons will just provide a comfortable sleeping environment, without you needing to wear too many clothes.
Check our full guide
> 3 season vs 4 season tents – what do I need?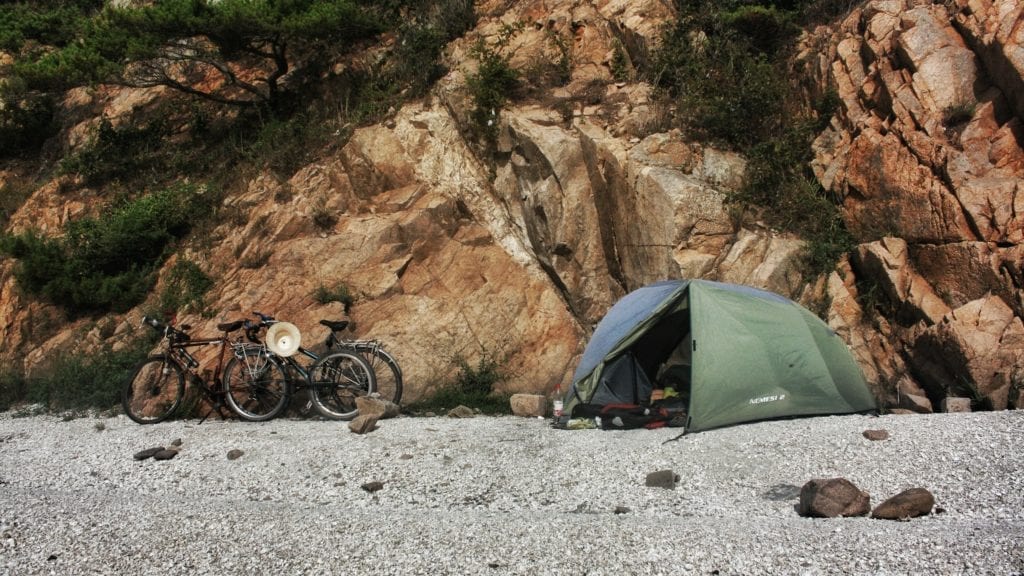 Terrain: freestanding tents VS not-freestanding
Tents can be free-standing (no need to pitch it to the ground), half-free-standing (only need a few stakes), or not-free-standing (doesn't stay up if not pitched).
We suggest absolutely avoiding not-free-standing tents like this, it's very common to find perfect sheltered camping spots where is impossible to plant a stake (or peg), it may be concrete, wood or whatever (like for example the magical gazebos of Korea, or porches of the Shinto Shrines in Japan), you can also find kinds of soil where pitching is really complex, like hardened soils or sand.
We suggest taking with you a half-freestanding tent like this (you can use ropes and tight it somewhere), or even better a completely free-standing one like this (the super expensive tent of my dreams). Don't forget also to bring a few spare pegs (stakes), soon or later you're going to lose at least one.
Almost all the tents listed here are 80-100% freestanding, some need stakes just for the vestibules.
Another important factor to take into consideration when choosing a camping tent is the possibility to pitch its inner igloo alone, without necessarily needing to put the fly on it.
Pitching just the inner tent is great in hot weather and, if the tent is mostly made of mesh fabric, can allow some great stargazing without being bothered by mosquitos.
Living Space: 1-man tent VS 2-person tents VS 3-person tents
One could assume that a 2-person tent is good for 2 persons but that's not always true. Depending on how much time you'll spend in your tent, a tight living space may result in a loss of comfort and a drop in your love for camping.
We would advise taking with you the most spacious tent possible, especially for bike touring, when weight is less a concern than when backpacking.
25 inches (63cm) per person is what is usually considered enough width for one person, but it's honestly a bit too narrow in my humble opinion, particularly in hot climates.
My 2 cents is to consider at least 70cm (28″) per person, the wider the better, especially if you plan to keep some gear inside with you.
Since some of the lightweight tents listed here are narrower than that, you could think about getting the 3-person version, which is available for many of these models.
Another important and often overlooked spec is the length of the tent. Although 210cm (85″) may seem enough, keep in mind that this information indicates the length at floor level.
Depending on the design of the tent, if the walls are very slanted this length might be much shorter at your head's height, resulting in it touching the walls, which is not pleasant. Consider buying a longer tent if you are a tall person.

The elements: waterproofness, wind resistance, and snow handling
Regarding waterproofness rate, we quote from the MSR website:
"A fabric's waterproof rating, measured in millimeters (mmH20), refers not to the thickness of the fabric or its polyurethane (plastic) coating but to the pressure at which water is able to press through the fabric. The standard waterproofing test involves applying water pressure behind a fabric sample until 3 drops of water are able to pass through the fabric.

For example, a 1500 mmH20 rating means the fabric can sustain 1,500 mm of water on top of the fabric before it can leak.

The measurement can then be converted into pounds per square inch (a 1,500 mmH20 rating would translate into 2.18 psi)."
So how many millimeters of waterproofing do you need?
The short answer is, not always a lot. A point of comparison is an umbrella, which you might assume to be a good example of waterproof protection.
Umbrella fabric under hydrostatic head tester resulted in a rating of just 420 mmH20, showing that a bigger number is not always needed when it comes to keeping you dry. So then why do tents have waterproofing ratings of 1,000-10,000 mmH20?
Part of the reason has to do with the greater durability that thicker waterproof coatings with higher waterproofing ratings often provide. But of course, an umbrella never has to cope with the kind of abrasion that a tent floor might undergo. (Read more in-depth about the topic here or on Wikipedia)
Wind resistance instead, is given by a few factors, mostly the strength of the poles, the quality of the stakes, and the aerodynamics of its design.
While a tall tent might seem very comfortable, if the walls are too vertical is more than likely that it will be blown off by strong gusts of wind. Be sure to properly pitch your pegs if you expect strong winds. Learn more about wind resistance here.
4-season tents are designed to withstand heavy snow loads, they usually have even more slanted walls to avoid the snow piling on the top.
FAQ about backpacking tents
What are vents for in camping tents?
Some tents have one or most commonly two vents in the rain-fly, they are meant to improve the ventilation and might be very important to avoid condensation.
What are footprints in camping tents?
The footprint is an additional sheet to put between the tent's floor and the ground, to provide better insulation and avoid the terrain's asperities tearing a hole into the floor's fabric.
Is a 2-person tent big enough for 2 people?
A 2-person tent is designed to accommodate two people, but its actual size and comfort level may vary depending on the brand and model. Generally, a standard 2-person tent should provide enough space for two average-sized adults to sleep comfortably side by side.
However, it's essential to consider the gear and personal belongings that will also need to fit inside the tent.
If you and your camping partner prefer a bit more elbow room or need space to store additional gear, you might consider opting for a 3-person tent.
It's always a good idea to check the specific dimensions and floor area of the tent you're interested in to ensure it suits your needs.
Remember that a 2-person tent is more suitable for couples or close friends who don't mind snuggling up a bit, while solo travelers might find it ideal for extra space and gear storage. Ultimately, your personal preferences, gear requirements, and camping style will determine whether a 2-person tent is big enough for your needs.
If you have any other cheap lightweight tents you would recommend, please contribute in the comments!
Check also
> The very best lightweight one-person tents
> 9 best double sleeping mats
> 10 best ultralight budget sleeping bags
> Top sleeping pads compared
> Camping Gear Essentials List
> How much does it cost to cycle around the world
> How to find sponsorship for outdoor adventures
> How to write a sponsorship letter
> Beginner's guide to bike touring
Stay in touch while we get lost! Follow us on Social Media