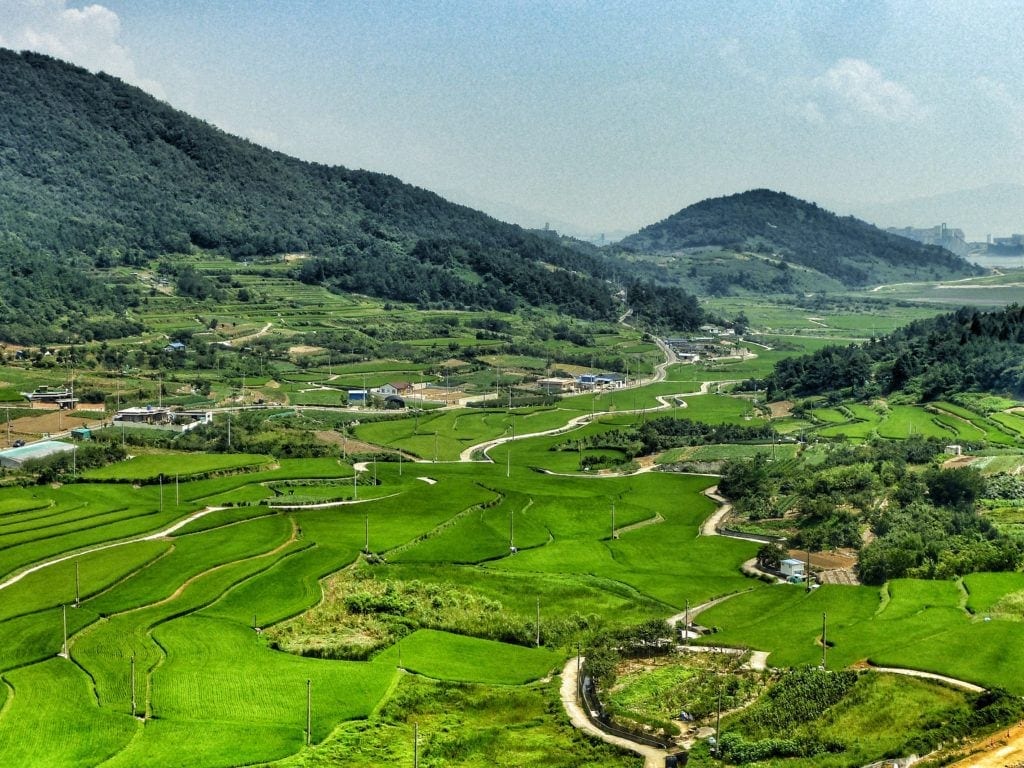 10 to 14 days (or more) trip itinerary to visit the best of South Korea
Travel off-the-beaten-path and see all the top destinations in Korea on a budget, free and easy camping spots. A blog post about our amazing Korean trip.
Although Seoul and Jeju island are gorgeous places for sure, there are many more places to see in South Korea that are too often overlooked by tourists.
As opposite as many articles of this kind, this list of the top destination to visit is comprised of places we have been in person, all of this is first-hand information you can use to build your itinerary in Korea on a budget.
Indeed, this is not just a best-of list, it is instead a full two weeks (or more) itinerary to travel South Korea in-depth. The places mentioned are listed as we visited, from Incheon and Seoul to Busan, following the west and south coasts of the Korean Peninsula.
We spent two months doing this itinerary but we were traveling by bicycle, very slowly and with no time limits. It can be done in 15 days or less if you give up some stops.
Do you want to travel to South Korea but are wondering if it's viable for your finances?
Learn how to travel South Korea on a budget, for less than 10$ per day
Check also 10 great off-the-beaten-path destinations in Japan you probably never heard of
South Korea trip itinerary 10 to 14 days or more
Disclosure: Some of our articles contain affiliate links. This comes at no additional cost for you and helps us keep this website up and running. (as Amazon Associates we earn commission from qualifying purchases)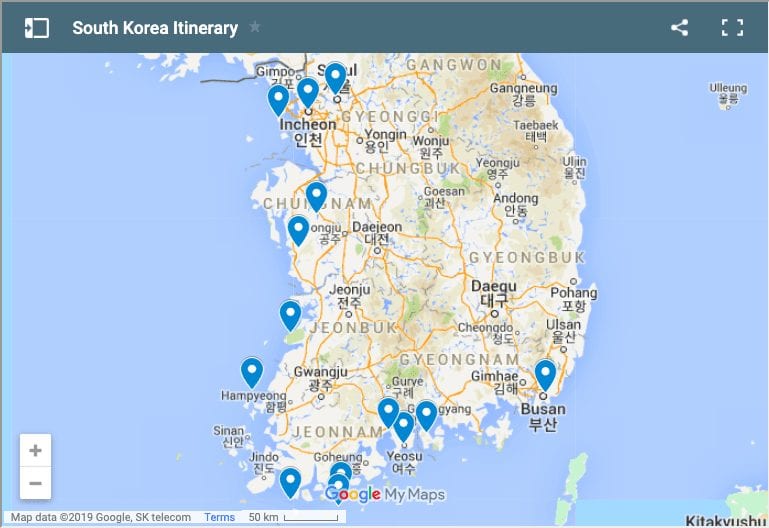 1 night in Incheon
1 night in Muuido
2/4 night in Seoul
1 night in Yadang reservoir
1 night in Boryeong
2 nights in Byeonsan Peninsula
1-night camping in Hanakwol-ri
1 night in Ttanggkeut
2 nights on two different islands – Island Hopping in Doegudo, Geumildo, Saengildo, Soryangdo
1 night in Yeousu and use it as a base to explore the surroundings
2 days in Busan
Best places to see and things to do in South Korea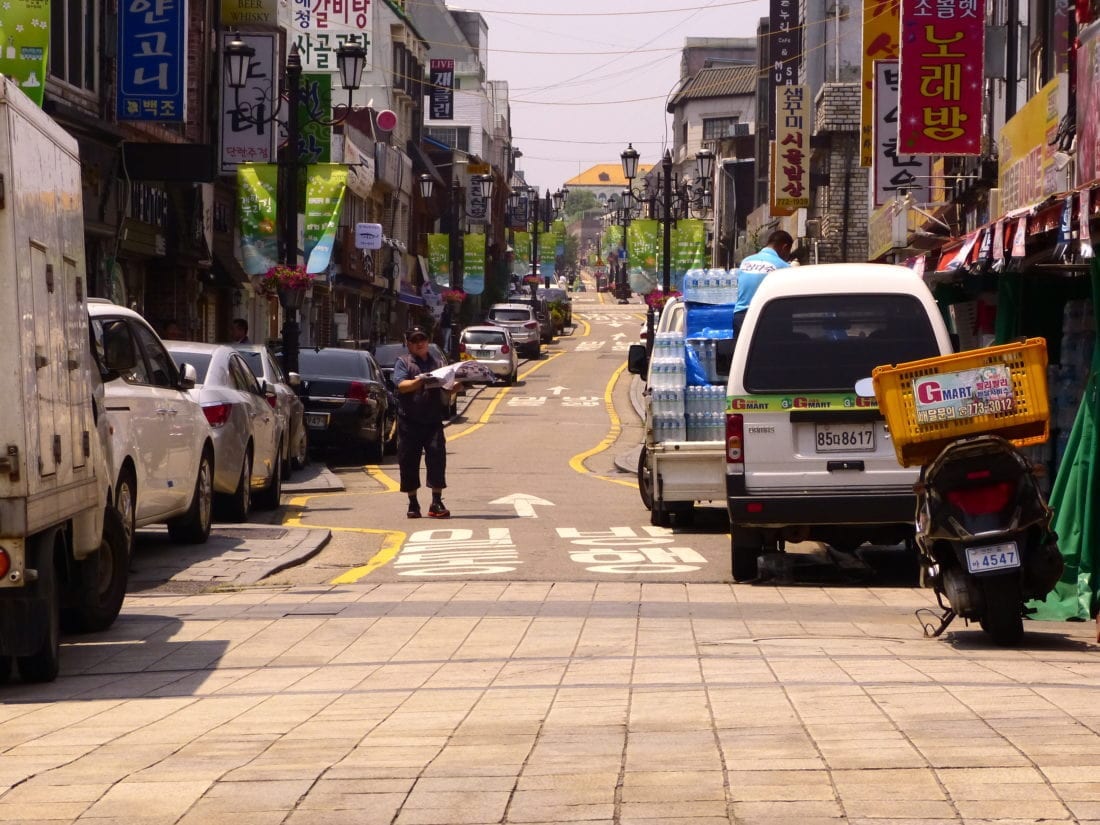 Incheon is South Korea's third most populous city after Seoul and Busan. Its 3 million citizens are considered in the Seoul Capital Area, the fourth largest metropolitan area in the world, with a population of 25 million.
When traveling to South Korea you're more likely to start from here, since either the biggest international airport and most important seaport in the country are in Incheon.
Many travelers do not include Incheon in their Korean trip itinerary, heading straight to Seoul instead. But it could be worth spending a few days here. Incheon is made of streets going up and down, steep like a roller coaster.
The most interesting areas in the city are Chinatown, the old Japanese neighborhood, the port area, General McArthur Park, and the impressive 24km long Incheon Bridge, connecting the city to the island of  Yeongjong, where the airport is.
The best of Incheon though is to be experienced with day trips (or multi-day trips, especially if you're bicycle touring) to the nearby islands. We visited Yeongjongdo, Muui-do and Somuui-do.
We advise spending 1 night in Incheon.
Read our full post about what to do and see in Incheon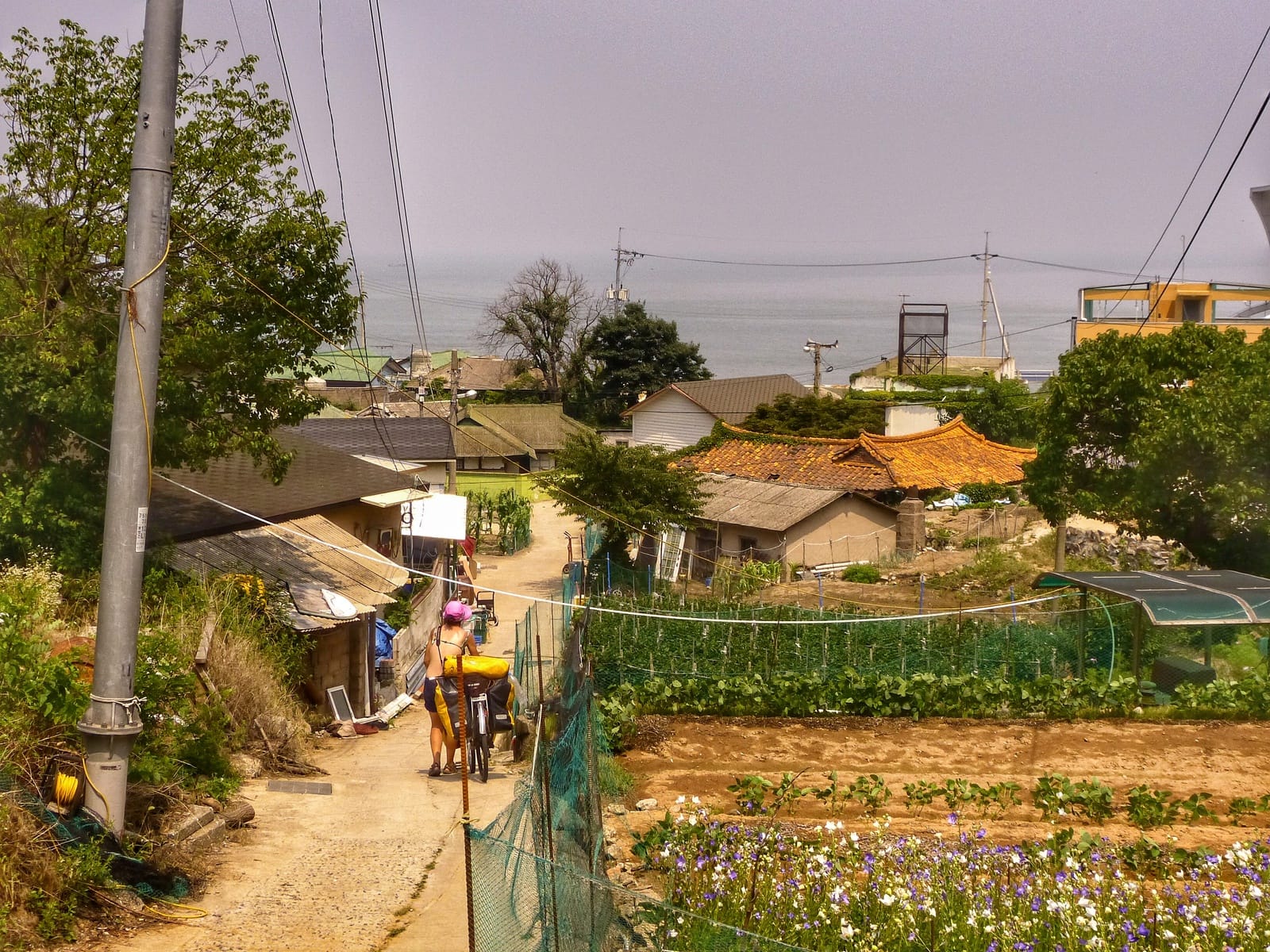 South Korea has 3358 islands, of which more than 100 belonging to Incheon area. Including some islands in your trip itinerary in Korea is a must, you'll see many in this blog post.
In the Incheon area, we visited "only" three islands: Yeongjong-do, Muui-do, and Somuui-do (do means island), easily accessible on day trips from Incheon or Seoul.
South Korea is very camping friendly, and these islands make no exception, so if you like this style and have a tent with you, there's really no need to waste money on expensive accommodations, you can easily budget down your trip here. The three of them are connected, so it makes it easy to visit on a day trip (overnight if you want to enjoy the beaches).
Yeongjongdo is the airport island, it's large and ghosty, there are streets with brand new traffic lights but no cars, and a perfect bike path. When there is low tide, the sea retires hundreds of meters, making the atmosphere even more surreal.
It's an expanse of mud with many herons and other birds, that makes birdwatching the best activity to do here. Also, the view of the Incheon bridge is impressive.
Muui-do island is small and mountainous, lush green, with so much forest and loud cicadas, tiny village of cozy houses dotting the landscape now and then, very beautiful. Hanaggae Beach is the best sandy beach nearby Seoul.
Somuuido island is Muuido's little sister, connected by a pedestrian bridge to Muuido. It's really very small. There is a small village which begins at the harbor and climbs on the only road of the islet. On the other side is a beautiful pebble beach.
We advise spending 1 night in one of these islands, Muuido is for sure the best one about accommodation.
Read the full post about 3 islands getaways from Seoul
There's almost no need to mention this, if you are visiting South Korea you absolutely can't miss its capital city. Things to do in Seoul are plenty and so diverse, we spent 7 days here and we enjoyed every single one.
Seoul ended up being one of our favorite cities in Asia. There are so many things to do in Seoul, visiting the imperial buildings, the markets, strolling the narrow alleys, and even hiking some beautiful hills. Seoul also has a bustling nightlife and a great restaurant scene.
We advise spending 2/4 nights in Seoul.
Take a look at our list of best things to do in Seoul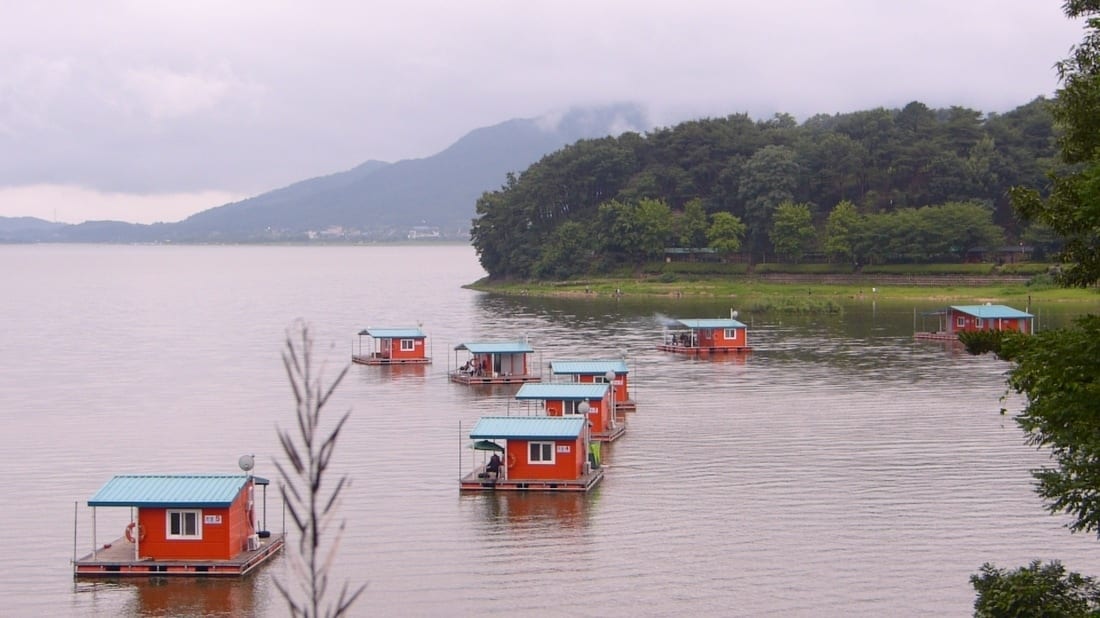 The quintessential Korean activity. On this artificial lake, the biggest in South Korea, there are pretty floating houses used for fishing, if you ever saw the Kim Ki Duk movie, the Isle you know how they look (if you didn't, watch it).
You can overnight in one of these cute and romantic houses, but there's also a free campsite on the shore. The Yedang reservoir is just two hours by train from Seoul, the nearest city (and train station) is Yesan in Chungcheongnam-do.
Spending a night in Yedang will make you experience the real atmosphere of the South Korean countryside. There are also several attractions nearby, including Sudeok Temple, Chungui Temple, Deoksan Hot Springs, Deoksung Mountains, and Imjon Castle.
We advise spending 1 night in the Yadang reservoir.
Check our post about the road between Seoul and Boryeong, and how we spent a night at Yedang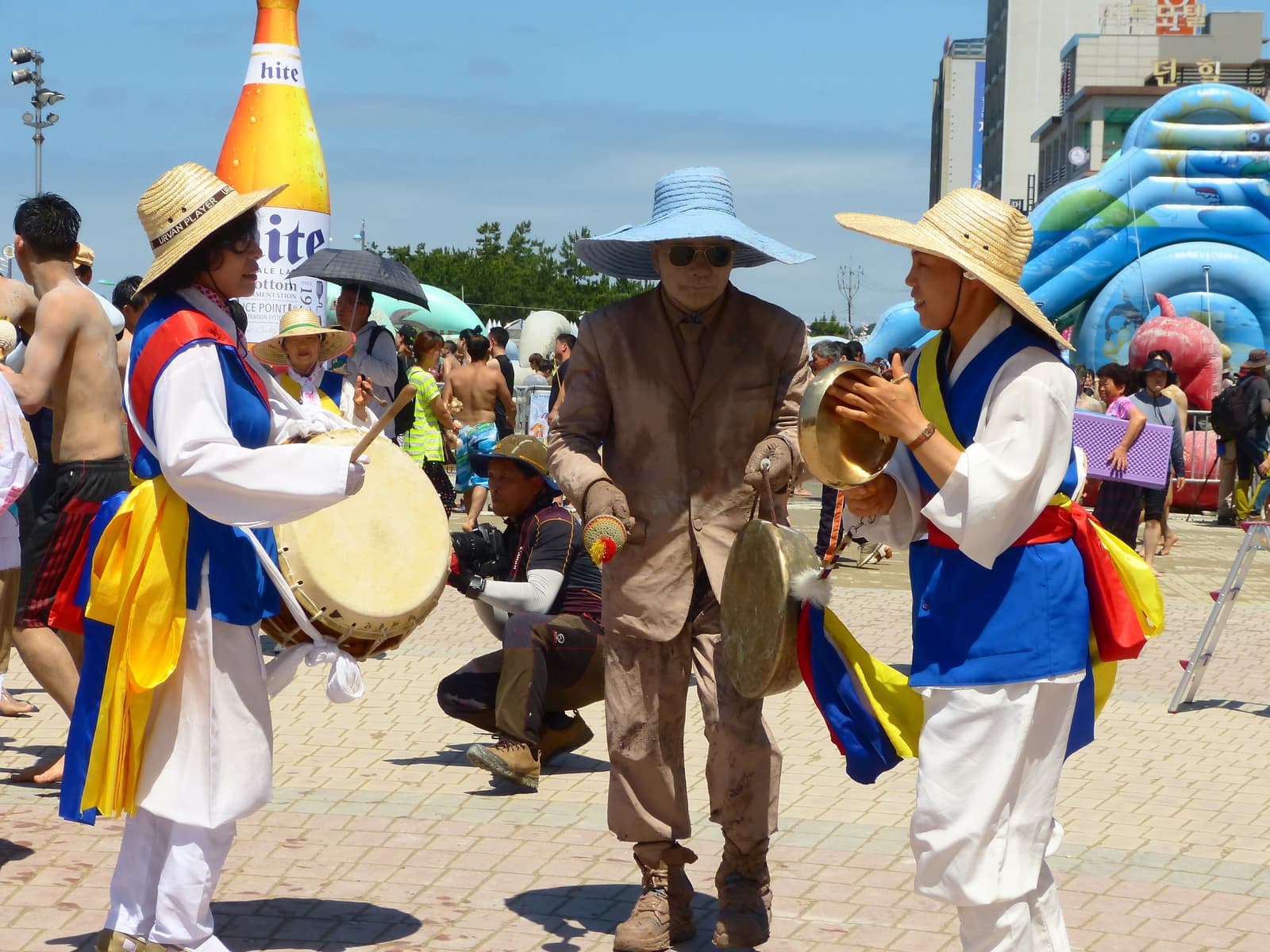 Boryeong is a very popular seaside town, only 170 km from Seoul (2:30/3 hours by bus). Here's probably the most famous sand beach along South Korea's west coast, Daecheon beach.
Daecheon Beach is Indeed is very nice, a couple of kilometers long and very wide, often stricken by nice waves. The muds of this beach are famous for their therapeutic properties and this place thus hosts every year the famous and chaotic mud fest.
There's also a zip-line here, that allows up to 4 people to "fly" at the same time. South of Daecheon Beach is the smaller but quieter beach of Yongdu, with its nice campsite.
Boryeong is a cool place to visit all year round, with many more festivals, a lot of small islands easily reachable from here, and green hills to hike around. More things to do in Boryeong can be found on Wikitravel.
We advise spending 1 night in Boryeong.
See our full article about Mud Festival and the beaches of Boryeong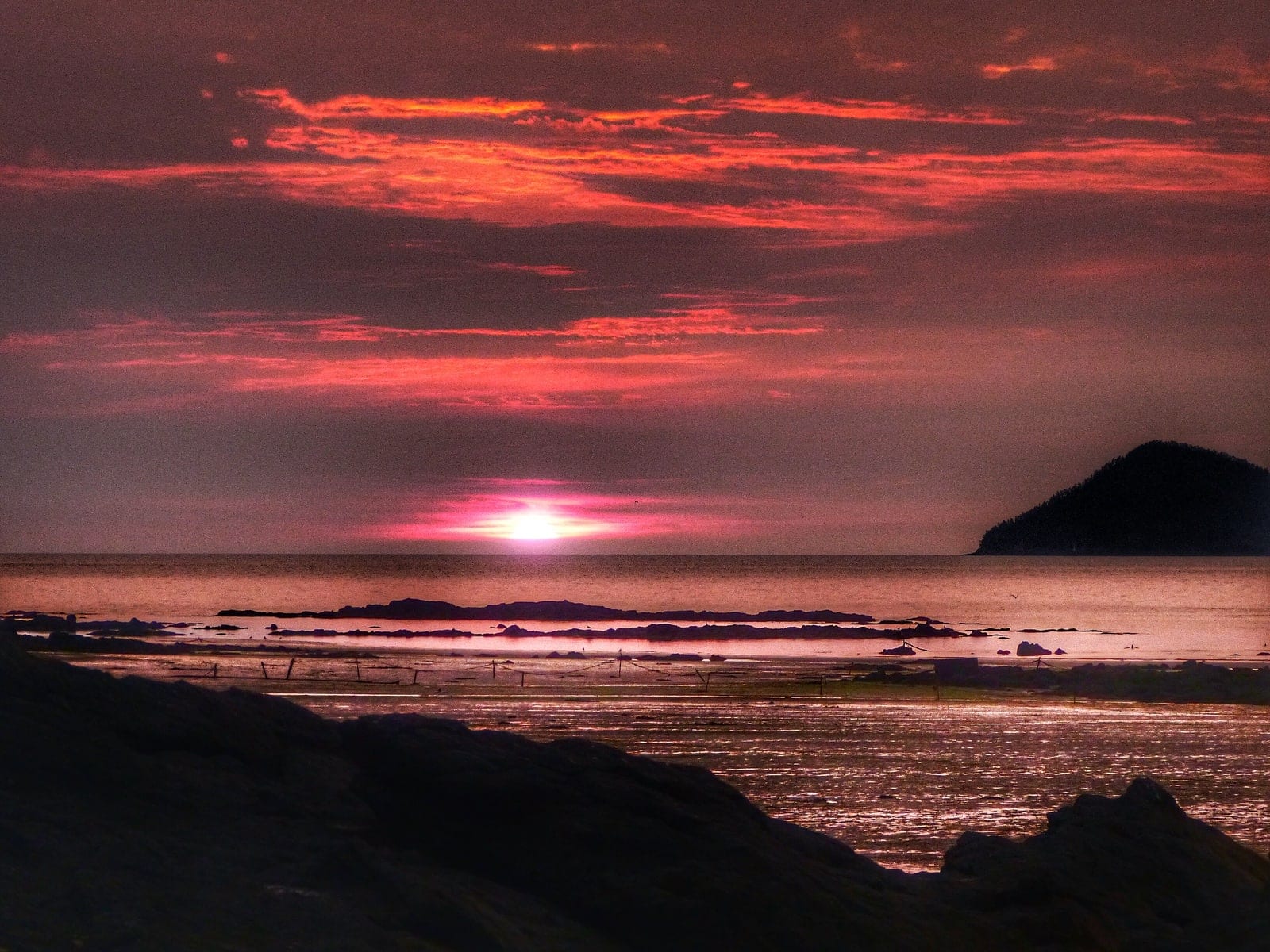 Byeonsan peninsula is a small but gorgeous piece of South Korea, a concentrate of marvels, seriously one of the best off-the-beaten-path places to visit in Korea, you really should include it in your itinerary.
Attractions include the verdant Byeonsan National Park, the huge and clean Byeonsan beach, the amazing Chaeseokgang cliff in Gyeokpo village, the Hanok village (fake but nice), and a small island reachable by foot in low tide.
More cultural places to visit are Naesosa Temple (available for temple stays), the SilkWorm museum, and the shamanist Fisherman Temple (one of the few shamanist temples left in South Korea).
We advise spending 2 nights in the Byeonsan Peninsula.
Have a look at our article about Things to do in Byeonsan Peninsula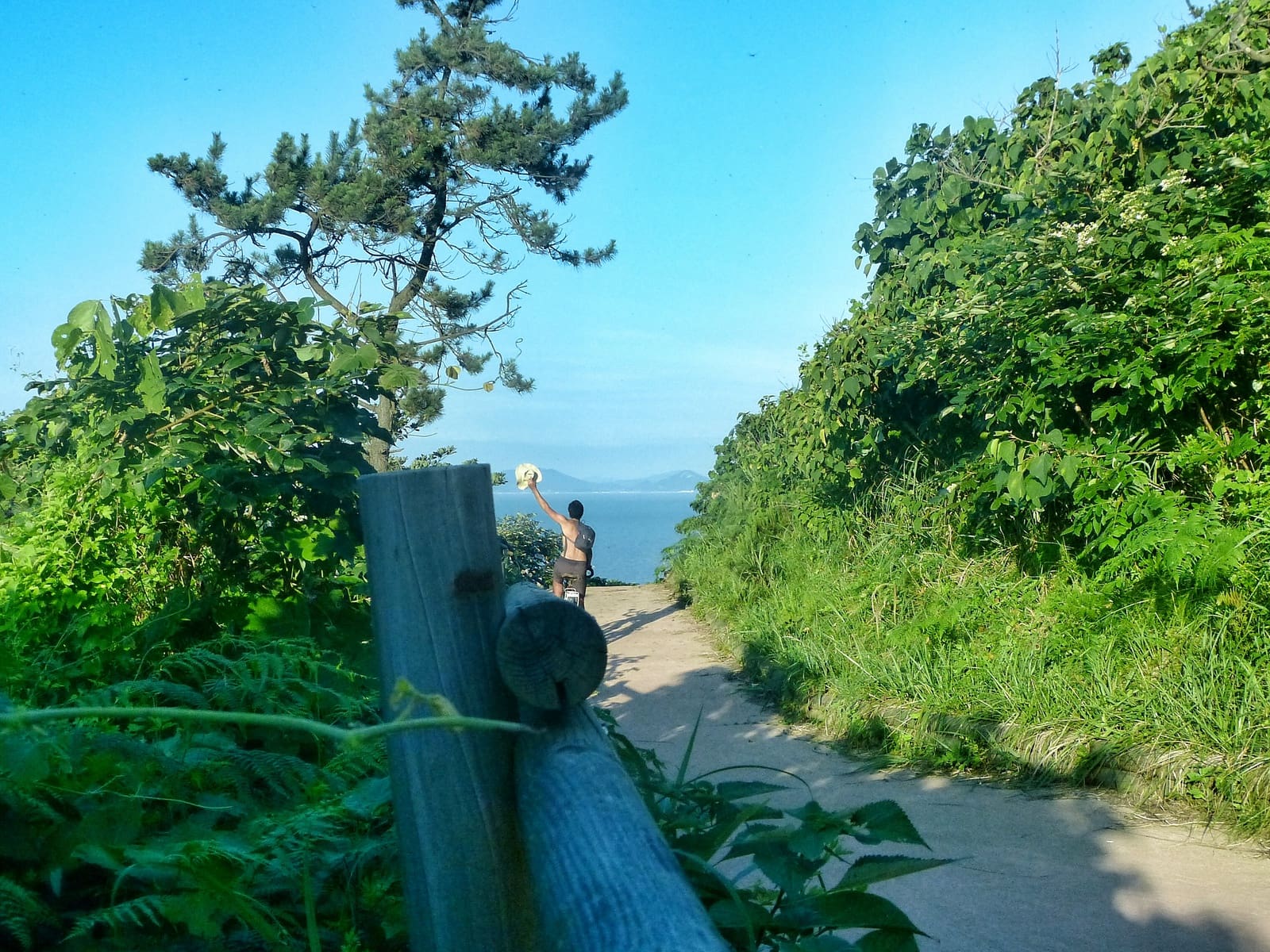 There are 3,358 islands in South Korea, mostly situated along the west and the south coasts. Of these, only a few are exploited by tourism, some being very popular also in other countries, (like the biggest and most famous Jeju).
If you've been following this blog you know we're more the kind of off-the-beaten-path travelers. We love to explore unknown places, avoid the crowds, experience the local lifestyles.
During our two months bicycle trip in Korea, we visited around 20 islands, some connected by bridges, some by ferries, none of them famous. But Sangnagwol-ri/Hanakwol-ri are the ones who really got stuck deep in our hearts.
Those two islands, connected by a bridge, look like not much more than rocks in the ocean, but they are pretty gorgeous rocks. There are two beaches where it is possible to camp for free and a single road to hike or ride.
What's most interesting here is to witness the traditional lifestyle of the islanders, who are (you guessed), all fishermen.
We advise spending 1-night camping in Hanakwol-ri.
Learn more by reading our post about Sangnagwol-ri/Hanakwol-ri Islands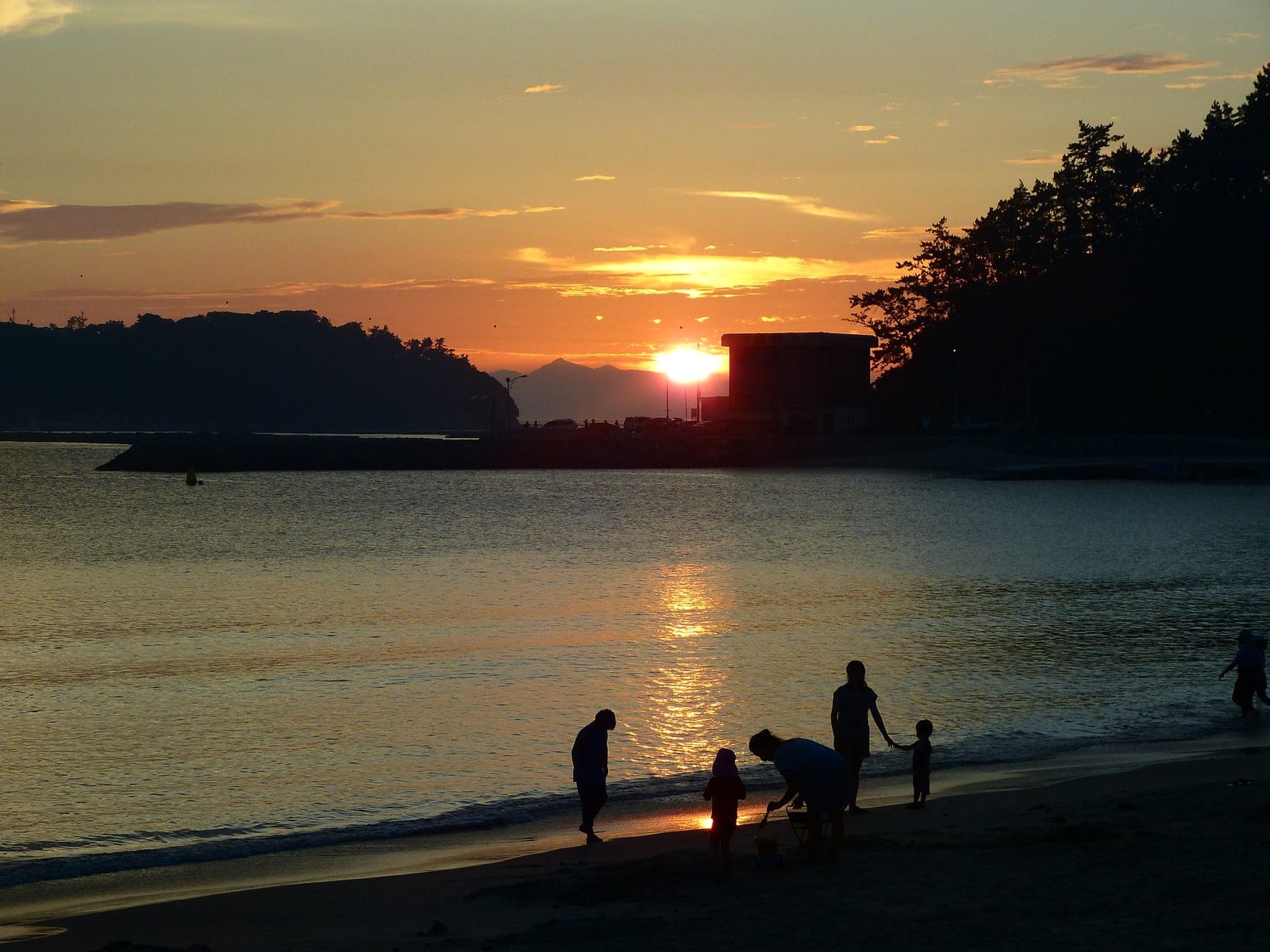 This is the southernmost part of South Korea, a very scenic region, a rough coastline dotted with hundreds of islands. An interesting most point to include in your travel itinerary in South Korea.
Ttangkkeut, the real southernmost tip of Korea, is a very nice fishing village, full of dried fish vendors. At the summit of Sajabong peak, reachable by cable car, there is an observatory from which you get a full view of the Dalmasan Mountain in the north while in the east, fishing vessels can be seen skirting deftly on the surface of the sea.
Atop the summit of Sajabong peak, there is a restored old beacon (Bonghwadae) which in the past was strategically located to warn of approaching Japanese ships.
Wando is another island connected by a bridge to the mainland. It has some gorgeous views, a couple of nice beaches, and two traditional villages.
Songho beach is probably the best beach in the area. The road leading there is a cool panoramic ride along the coast. Songho is a seaside village with a long stretch of sand lined by pine forest, where you can camp for free. There are all the facilities you may need, barbecue spots, clean toilets, and a plethora of seafood restaurants.
We advise spending 1 night in Ttanggkeut.
Read our full article about Ttangkkeut, Wando, and Songho Beach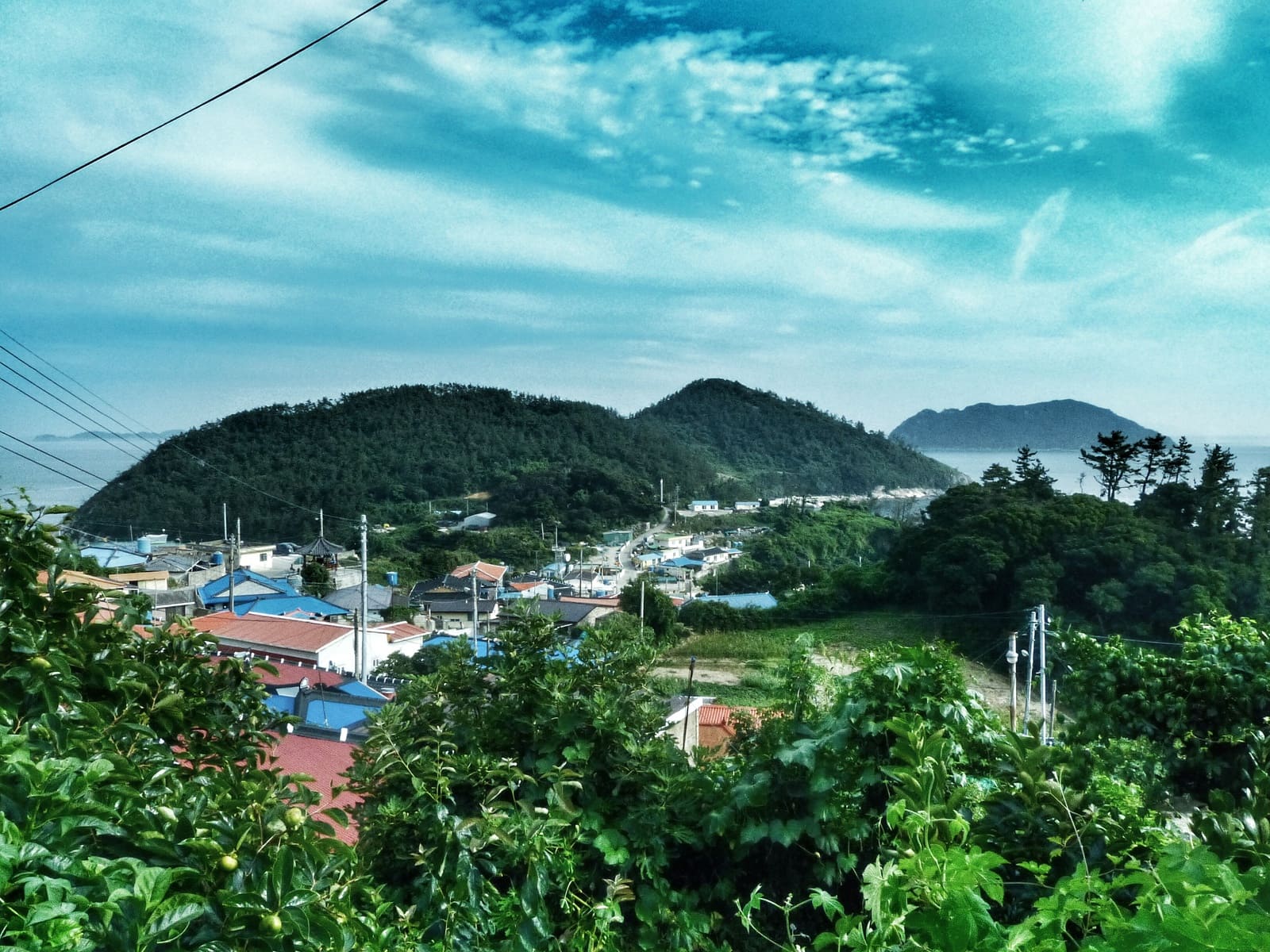 4 great unknown islands off the southern coast of Korea. Great beaches, and authentic fishermen lifestyle, seaweed farming, and floating houses. These islands can be reached from the port of Wando, and are connected by ferries to each other.
DoeguDo is another tiny rock unknown to tourists. The island is wild and beautiful, the few roads have slope around 25%, no more than one km of roads overall. There is a small village hanged on the steep slope of the hill, probably a few hundred people in total, living on shellfish and seaweed farming and traditional fishing. No beaches here.
SaengilDo is larger, the scenic route is beautiful as usual in coastal Korea. Geumgok Beach is a huge and astounding beach, next to a forest, and with clear green water. It was just recently connected by the road, just a few years ago it was only reachable by boat.
Geumildo is the bigger sister, with schools and supermarkets, maybe 4/5000 inhabitants. Geumilmyeongsa is the best beach here.
Soryang Do, the nearby island connected by a bridge, is even more interesting. The village (Sadong ri) is very beautiful, the houses are made of drywall and roofs are colored with a strange substance, that maybe keeps the roofs clear from the effect of salt. There are narrow alleys going up the hill and a true fisherman atmosphere.
We advise spending 2 nights on two different islands.
Read our full article about the best off-the-beaten-path islands in southern South Korea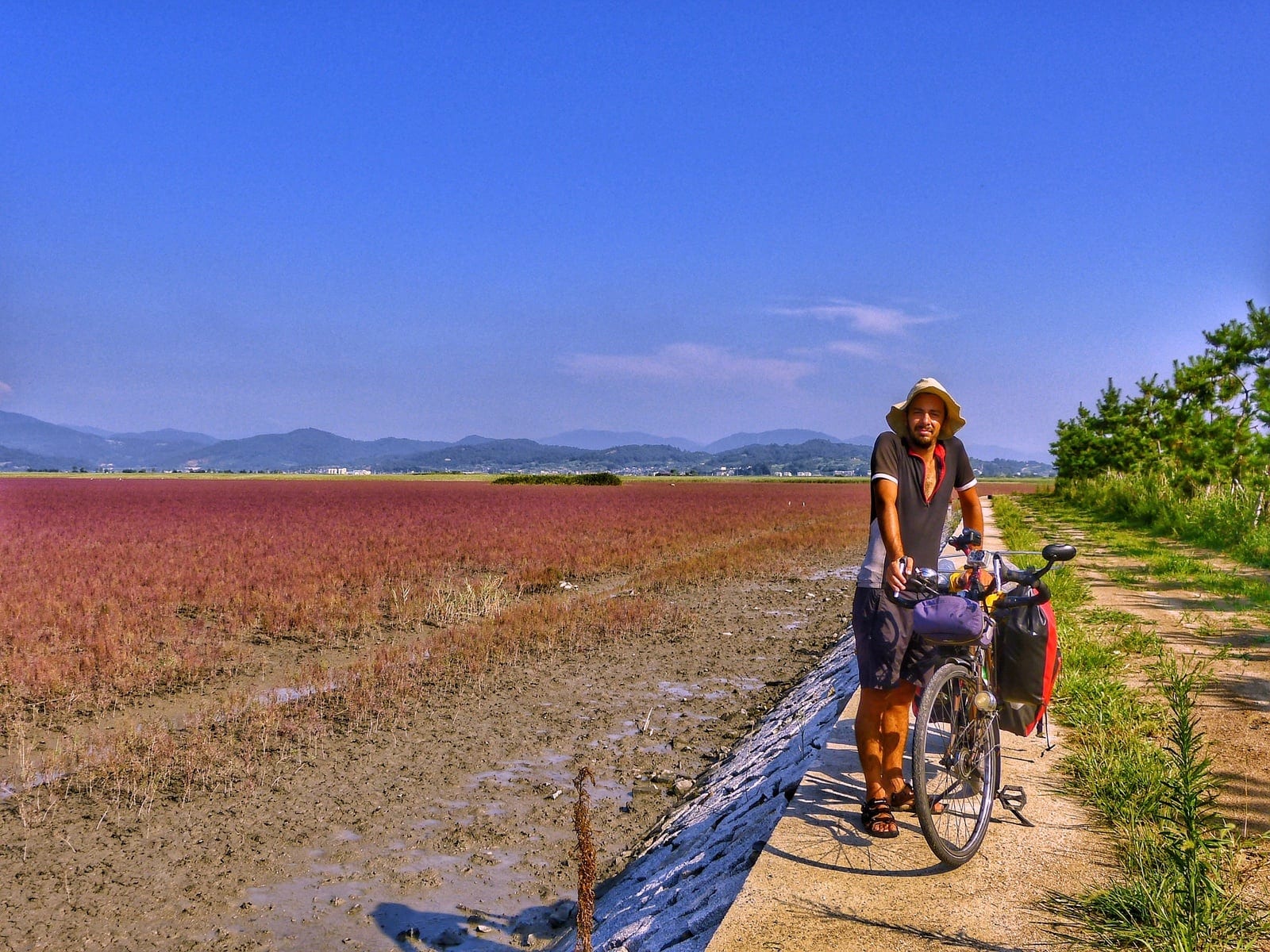 Just a few hours from Busan, these three spots make for a great stop before reaching the busy southern capital of South Korea.
Suncheon Bay is an astounding red wetland, a photographer's paradise. You can visit the tourist area or learn how to admire Suncheon Bay for free here.
Yeosu is a fairly large city, which hosted the World Expo in 2012. It has four cool beaches nearby and the atmosphere of a cool modern city.
Namhae do is the fifth largest island in South Korea, connected by a bridge to the Yeosu Peninsula, it even has some tourism. Here you can witness a fishing technique typical of Namhae do.
It's called Jukbangryeom and practiced only in the Jijok Strait of Namhae. The local fishermen use traps placed at the points where the current is strong to force the fish into it and capture it.
We advise spending 1 night in Yeousu and use it as a base to explore the surroundings.
Check our full article about Yeosu, Namhae do, and Suncheon Bay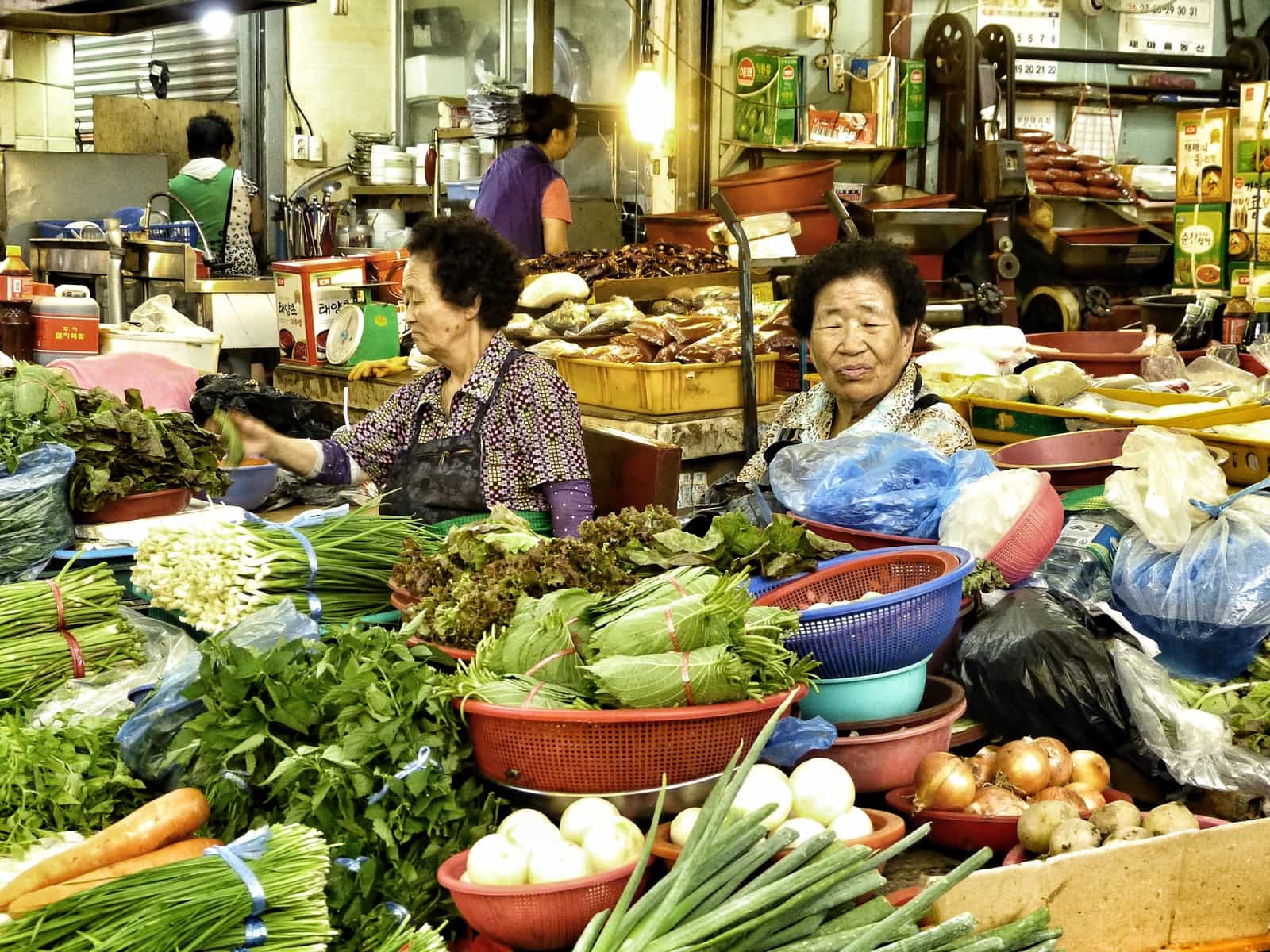 Busan is the second biggest city in South Korea, populated by 3.5 million people. It has a much warmer climate than Seoul, and some great beaches inside the city itself, making it thus very attractive for many expats that decide to settle here.
Busan is a really beautiful city, with a bustling nightlife, busy food markets, and great views from the surrounding hills. It's for sure a must-visit destination in South Korea, with very diverse areas – be sure to pick a nice neighborhood when deciding where to stay in Busan, we recommend the market or one of the beaches.
We advise spending 2 nights in Busan.
Learn more about Busan from our travel journal
Follow us on Instagram

Follow our budget travels
Stay in touch while we get lost! Follow us on Social Media