A bunch of funny things to do in Seoul + 3 facts you might not know about South Koreans. How we spent a week in Seoul
Things to in Seoul are plenty and so diverse, we spent 7 days here and we enjoyed every single one. Seoul ended up being one of our favorite cities in Asia.
This article is part of our South Korea travel log series. We spent two months bicycle touring Korea off-the-beaten-path and we loved it. Check here if you want to learn some tricks on how to travel South Korea on a budget (less than 10$ per day).
We arrived here straight from the island of Muuido, crossing Incheon and Bucheon on a stressful bicycle touring day in the busiest part of South Korea. Exhausted we spend the evening with our host from Couchsurfing, talking about life in Korea.
2 facts to know about Koreans: plastic surgery and hair-styling
Justin is a lawyer for the American military base that occupies a good piece of the city center. He's half Italian and therefore, to our delight, his fridge is full of Italian stuff, including a fresh mozzarella! After a nice shower, we prepare a pesto pasta and talk about the crazy Korean obsession with plastic surgery.
It is said that 60-70% of the Korean women and 30% of the men is plasticized. The most disturbing thing is that they all make the same tweaks in the same way and then all look the same!
There are three types of noses that embody perfection, according to nowadays standard trends. Then there is the magnification of the eye (eyelid and double eyelid surgery) and this V shaped chin, the most destructive.
Basically, they are smashing mandibles. All about the face, they seem not to care about the body. Read the articles in the links, they're very interesting.
We also speak about the four types of Korean hair combing for women:
1. Long hair with bangs = student
2. Long hair without bangs = young unmarried girl in career
3. Short Hair= woman engaged/married
4. Short hair with perm = lady after 50, or who however feels to be old
Believe us, we have not seen exceptions.
Read Also: 27 Fun Facts to Know About South Korea
Things to do in Seoul
1 – Seoul's market – Namdaemun
Disclosure: Some of our articles contain affiliate links. This comes at no additional cost for you and helps us keep this website up and running. (as Amazon Associates we earn commission from qualifying purchases)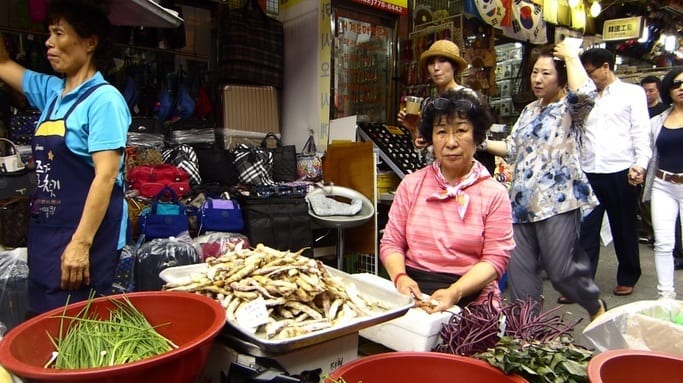 We leave our bikes and bags by Justin. Let's go for a walk in the neighborhood, we meet a shamanic temple that opens only once a year. Churches, however, are at every corner and always open. I have never seen such a number of churches, not even in Italy.
We see the first Korean market, Namdaemun Market. It's nice but the prices are not as cheap as we would have expected in a market. It seems a bit like a sort of tourist trap. We wanted to try the fried mandu but they wanted 1 euro for 1 dumpling, no way, we are still living on the 90 Euros that in the meanwhile became 40, still a couple of days before getting the rent money.
Namdaemun Market anyway is pretty cool, and a great place to buy Korean things to bring abroad, especially tea and traditional sweets.
Just in front of the mandou stall, there's that of a funny guy who prepares sweet little things, he makes a thin dough (like "angel hair") and then fries it. He has thick glasses and speaks like a machine as he prepares in a quirky English-Korean. Sort of market-rap.
1b – Wild camping in Seoul
Tonight Justin could not accommodate us, he had other guests for the weekend.
We end up sleeping in a city park on a mat found in the nearby gazebo… Korea is so free camping friendly that it is easy to wild camp even inside its capital.
The truth is, we actually had another couchsurfer, but when we arrived at her house it was immediately clear that something was wrong, the girl didn't look well and there were eight other guests in a single-room appartment.
Some people try to fill the voids in their lifes by constantly meet large numbers of strangers, either to act as leaders or to feel attenction. Please don't use Couchsurfing this way, get rather some professional help from a therapist (take a look at the licensed ones listed here).
We wake up late, eat a slice of pizza and a gimbap at the 7eleven and take a subway ride into town.
2 – Gyeonbok imperial palace
We go visit one of the imperial palaces, Gyeongbok. After China, it's difficult to be impressed but really it is quite nice. It was mostly destroyed during the Japanese occupation so it's basically a replica.
We are lucky to be in time for the changing of the guard ceremony. Fake guards wearing fake beards march in the palace's yard playing traditional drums.
The palace is located near the main square of Seoul, very beautiful, all covered by soft grass. It's in front of Seoul City Hall at Taepyeongno, Jung-gu.
Check Pictures and Reviews of Seoul Imperial Palace
2b – Couchsurfing with Indians and Pinoys
We can find accommodations for the night by Vikas, an Indian dude who is an engineer for LG, in the evening comes also a Filipino friend called Vehm, she just quit her 12 hours a day job for Guess and is going to be back in the Philippines soon.
She makes a very good advertisement about her country ("we have a fucked up corrupted government but the country is beautiful and cheap and the people are very nice…") so that we seriously consider the opportunity of including the Philippines as one of our next destinations. (2017 update: and we did it! Thanks to Vehm who suggested us the idea. Check our Travel Log from the Philippines).
We cook a pasta with eggplant and spend a nice evening drinking soju and talking about serious things.
3 – Hiking Mountains in Seoul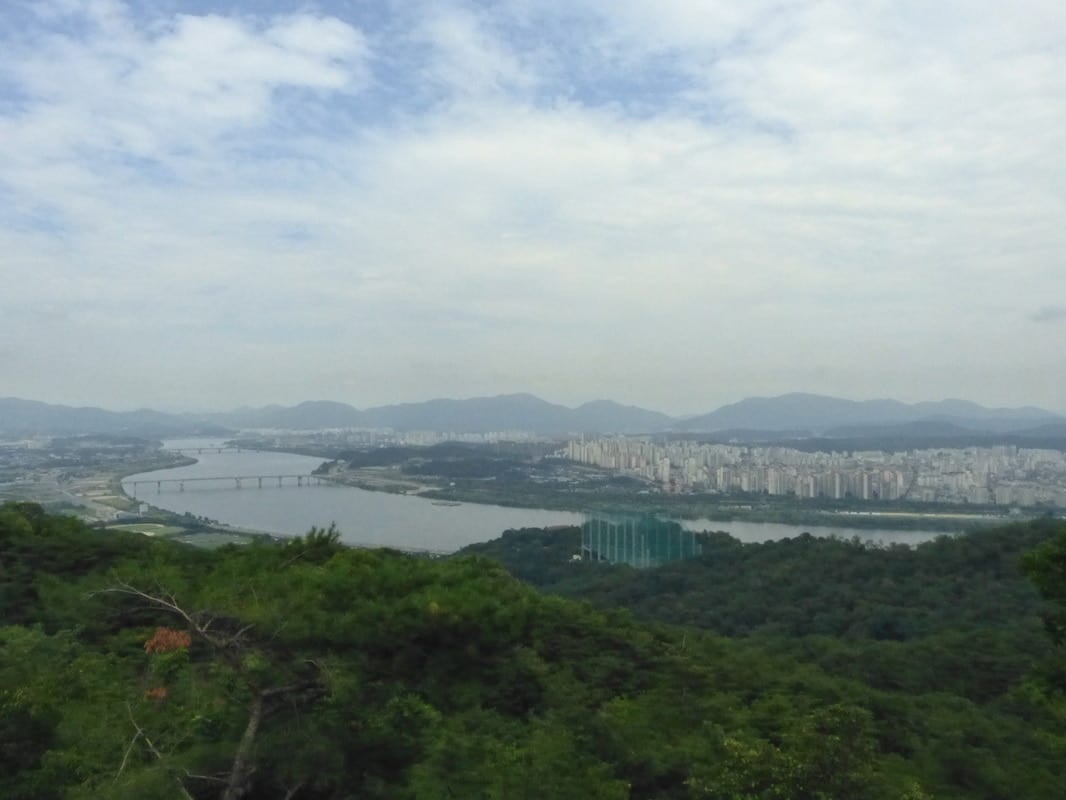 We all wake up late. We leave for a little hike in the nearby mountains. It's nice to just take the subway and still be in the city but in the woods. There are many hiking trails just a fast subway ride from the city center, something that adds-up to the alreadygreat fascination of Seoul, definitely one of the best cities to visit in Eastern Asia.
We go to Achasan, the route is about 8 km, very nice and clean. When you get to the highest point there is an open-air gym, a full one, weightlifting equipment, benches, and all the stuff, if you just want to sweat more… everybody use that, even the old ladies with the perm. Sporty people the Koreans.
We ask directions for the subway station that should be somewhere at the end of the path, a man tells us to follow him, but when we realize the direction is wrong and we should redo a long climb in the sun, he disappears in the wood. We wonder if he went to suicide out of shame.
4 – Almost fancy dinner in Gangnam
Back in town, or rather in the city center, we go to a restaurant in Gangnam (the one of the "style", the famous song). Vehm has a deal there because of her job and we all eat for free!
I take the cold noodles with soybean paste, Daniel rice with beef which apparently is a Japanese recipe (inside there is also some pink ginger), Vikas takes rice with chicken and the waitress warns him about the spiciness. But he, being an Indian, thought he could cope with Korean chili. He manages to finish the dish but sweats a lot and has to ask for a drink a few times. Korea – India 1-0.
Then we take all the bibimpap and then Tteokbokki, a rice cake with spicy sauce, boiled eggs, cheese and pieces of fish. Everything very good, and when it is free it is even more.
5 – Seoul Imperial Palace: Gyeongbokgung
We go to the great north palace, Gyeongbokgung. In July in Seoul, all the historical tourist attractions are free of charge!
Here, as in the previous building, there are some guys in traditional costumes, Swiss Guards style. They also wear fake beards.
3rd curious fact about Koreans
Just that having beards, in Korea is considered a filthy stuff, for unemployed or hippies. We really don't know why, given that it was traditionally worn by most, including emperors.
The fact is that even when your job asks you wear a beard, Koreans prefer to put a fake one on, so they look quite ridiculous.
Inside the Palace's park, there is the national museum of Korean pre-war history, the Korean War is dedicated a separate museum. Here it is more a matter of Korean culture and customs, we must visit a bit in a hurry because we're going to meet with Sehran, a cyclist coming from Turkey.
At the museum there is a section dedicated to traditional musical instruments, there are headphones to hear their sound. Then there are examples of the interior of traditional houses, paintings, silk dresses and beautiful hats and shoes. I like those traditional wide trousers, they must be comfortable and cool.
6 – Wandering randomly in search of an ATM
We meet Sehran in the lively Dongdaemun neighborhood, we go looking for an ATM, we have now got the rent money! We have cards from the same circuit (Maestro) and sometimes it is not easy to find an ATM from which to draw.
Wandering we run into a music store called Ukulele something. Not just ukulele though, the owner is a little gentleman in his sixties, he collects vintage instruments. He plays for us with a kind of kazoo and also with a huge bass flute, which Daniele tries to play too with poor results.
It turns out that finding an ATM accepting our card is a journey. We walk from north to south, passing by some very nice narrow alleys, an artisans neighborhood (mainly ironsmiths), climbing hills, and crossing the Han river. We also get to quickly see some popular Hongdae attractions, the youth's neighboorhood of Seoul.
At the end of the day we had walked about 12km in the city center, more than the yesterday hike, but at least we succeed in finding the ATM. And this was a nice exploration of Seoul.
7 – Changdeokgung Palace and the Temple of the revolutionaries
We visit a temple that was once the base of the revolutionaries who wanted independence from Japan, it's nothing special but it has an interesting history. Then we look at the nearby emperor's palace (another one, these emperors never have enough), surrounded by large green areas and ponds.
It's called Changdeokgung, the palace of prosperous virtue. There is also a secret garden, the only thing with an entry fee (5,000 won). The palace, like most of the historical sights of Seoul, has been rebuilt after being bombed.
7b – Some more random sightseeing in Seoul
Wandering we enter into a long and narrow alley full of blacksmiths, plumbers, and mechanical workshops. There are so many things to do and see in Seoul, you just turn a corner and the city changes completely, but everything seems always perfectly framed. Besides the tourist attractions, this metropolis is really worth exploring, wandering randomly its diverse and mutable areas.
We meet the guys of Twisting Spokes, they are in Seoul and are about to return to China. We are in touch since before starting our bicycle trips and it's cool to meet in such a small touring cyclist world.
Moreover, they just managed to obtain a three months tourist visa for China and we want to understand how they did it. They have presented a route and will send us a copy so we could use it ourselves in the future, plus fake plane tickets and fake hotel reservations.
3 more things to do in Seoul (so that it makes 10)
While wandering we stumble upon the Memorial Park, where there are basically a bunch of American tanks and planes, there's also the Korean War museum but we don't visit it.
Instead, we go to the Itaewon neighborhood, home to many Americans because of the huge US base near here. It's a nice neighborhood with narrow streets and steep slopes, there are several bars and shops quite radical-chic and therefore expensive.
Wandering we find the first boardgame Café of our trip! We are happy you pay a certain amount per hour, the manager is nice and has a lot of games. Maybe not many of you are geeks like us but if you're and you pass by Itaewon, here are the coordinates:
Boardgame Cafè Seoul: N 37°32'22.2 E 126°59'24.4
11 – The Han river cycling path
We go to retrieve the bikes that we left in Justin's garage bike along the Han River.
For 18 kilometers we ride in the city, following the beautiful bicycle path at the side of the river, you only have to leave the path if you want to cross the river. Along the path, there are free children pools, free gyms, tennis courts and more.
For the first time, we see a group dance in Chinese style, but as a soundtrack, there is no traditional music but contemporary Korean dance music. When we get home we cook the tortellini stuffed with cheese that we took from Justin's home. We are happy. We're leaving tomorrow.
Conclusions
Seoul is really a beautiful city. Usually, we do not like big cities but here we can make an exception. It's full of peaceful areas and neighborhoods with narrow streets and vertical slopes, low houses that give the sensation of being in a small town, rather than in the center of a city with millions of inhabitants.
The transports really work well, the subway takes you everywhere and we never found it overcrowded. In 45 minutes you can be in Incheon. Seoul is also very bike friendly, full of bicycle paths.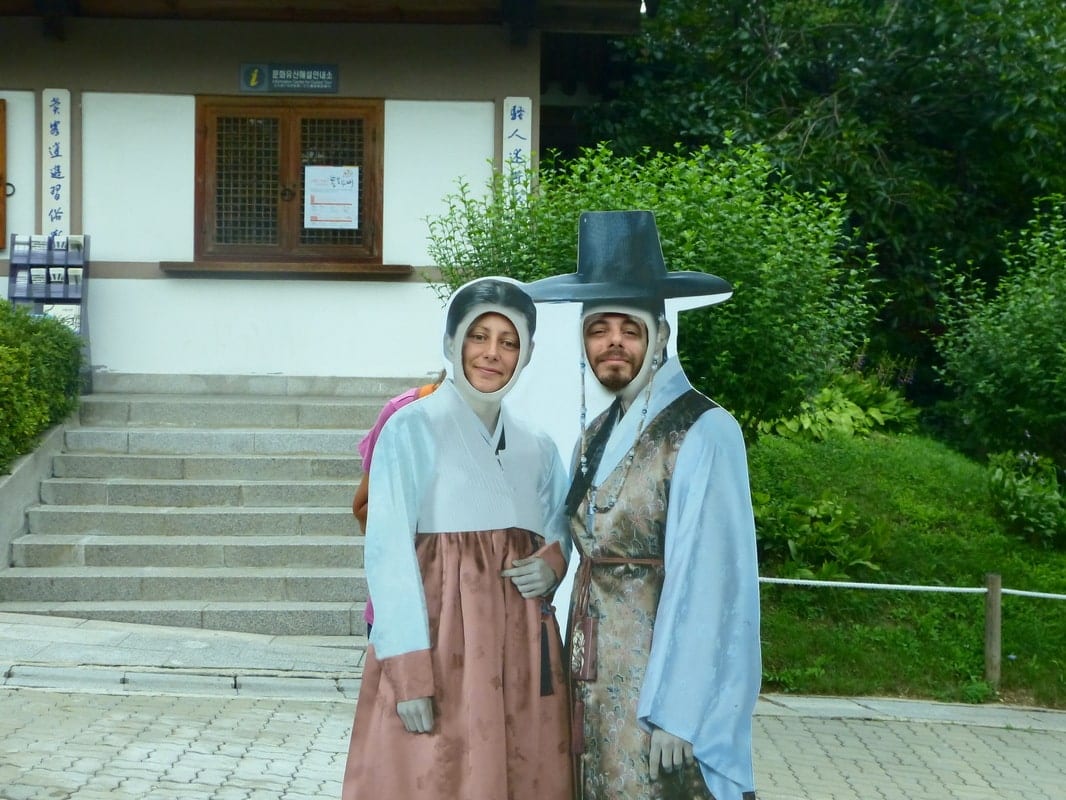 Follow our budget travels and bike tours
Stay in touch while we get lost! Follow us on Social Media