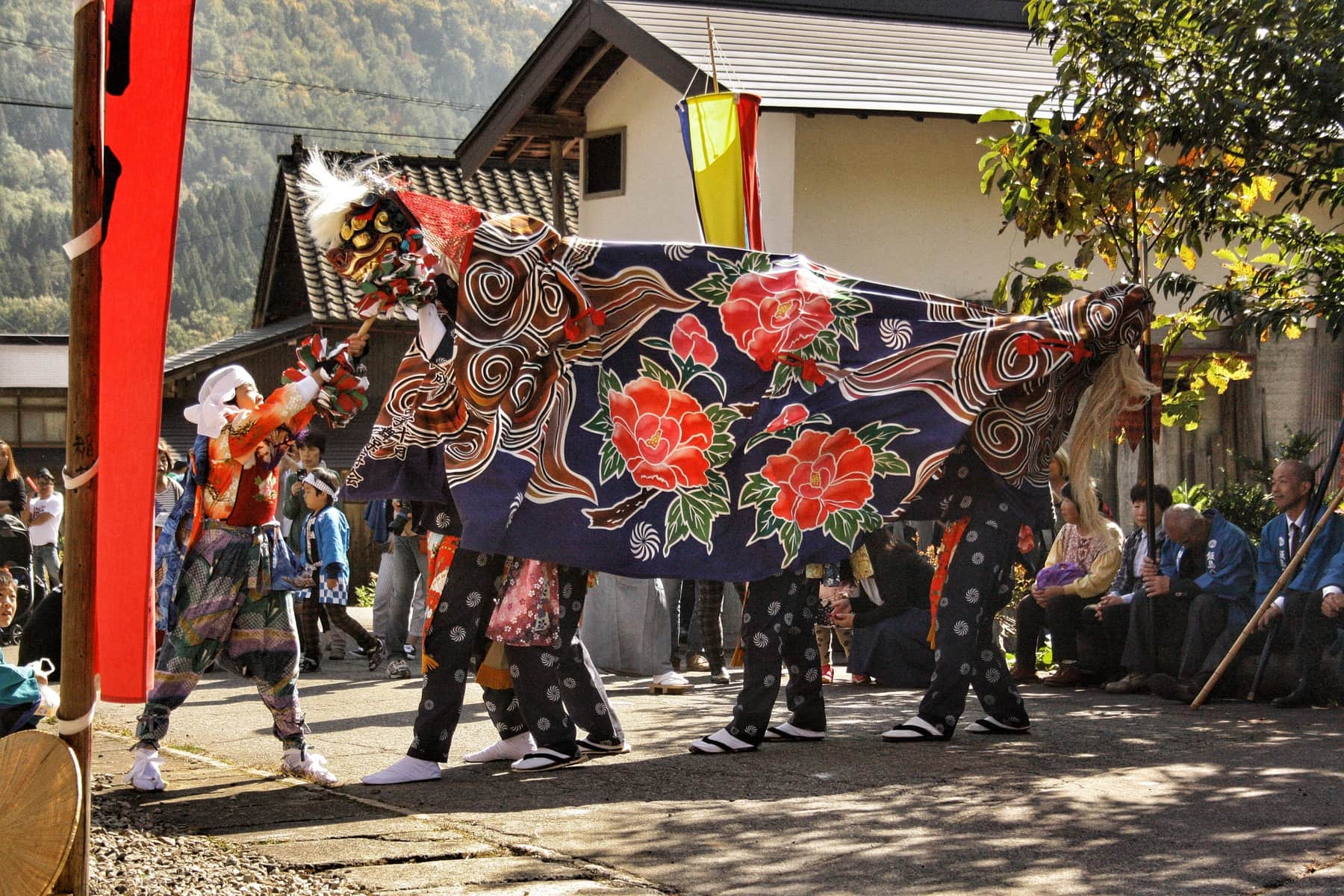 The best destinations in Japan for second-time visitors
Travel Japan off-the-beaten-track
When we're asked the tough question: "what's your favorite country so far?" Japan always come out as one of the first. Traveling in Japan is incredibly amazing, Japan is a country full of cultural and natural marvels.
But what are the best places to see in Japan? What should you see when you travel there?
Japan is way more than Tokyo, Osaka, Kyoto and slow travel is the best way to completely experience this magic country. The real Japan is in the countryside and the small towns, and those are the best places to go for a budget traveler.
Japan it's a dream destination for many, but often I've heard people considering it impossible because of the high costs. Even though Japan is not a cheap country you can check how we traveled in Japan on less than 10USD a day. We stayed three full months there, the whole duration of the free Visa, with around 1,500€ for two persons.
Our trip was entirely done by bicycle, in our opinion bicycle touring is the best way to explore Japan. If you have no idea of what bicycle touring is, check this out.
Although many similar articles often collect places without the authors having ever personally seen them, this list of best places to visit in Japan is totally different. We have been to all these places and all our accounts come from first-hand experience. If you're planning an itinerary for your next trip to Japan, why don't give a look at where we've been to get some inspiration?
Check these
a great off-the-beaten-track itinerary in Kyushu
What to see in Honshu and Shikoku
Cycling in Japan – the best way to explore
But let's see what are the best off-the-beaten-track places to visit in Japan, at least according to our experience
Disclosure: Some of our articles contain affiliate links. This comes at no additional cost for you and helps us keep this website up and running. (as Amazon Associates we earn commission from qualifying purchases)
The Amakusa Islands (Amakusa Shoto in Japanese) are a stunning off-the-beaten-path destination in Kyushu, the southernmost of the Japanese main islands, in Kumamoto prefecture.
It's an Archipelago of about one hundred islands, nestled in the Gulf of Kyushu, the largest of which are Ueshima and Shimoshima. Kyushu is often overlooked in the classic two-weeks in Japan which most people do, but it really has some of the best sights in the whole country.
The landscape of this archipelago is constantly changing, hills covered in lush green forests, cliff and then, white sea stacks, beaches of all kinds, sleepy villages small fishing ports and Shinto shrines. Many birds of prey, buzzards, eagles, and falcons, circle above our heads. The great thing is that these islands are not touristic at all, we even swam naked from a pebble beach!
A great way to explore this archipelago is for sure by bicycle. The main islands are connected by bridges, so it's possible to ride them from Kumamoto to Akune (Kagoshima prefecture), or the other way around, with only one ferry ride, from Nagashima to Shimoshima (around 750Yen, 30 minutes).
The whole Island ride, on the route we did, is around 140km, mostly flat with just a few small hills. Check our full article about Amakusa and Nagashima.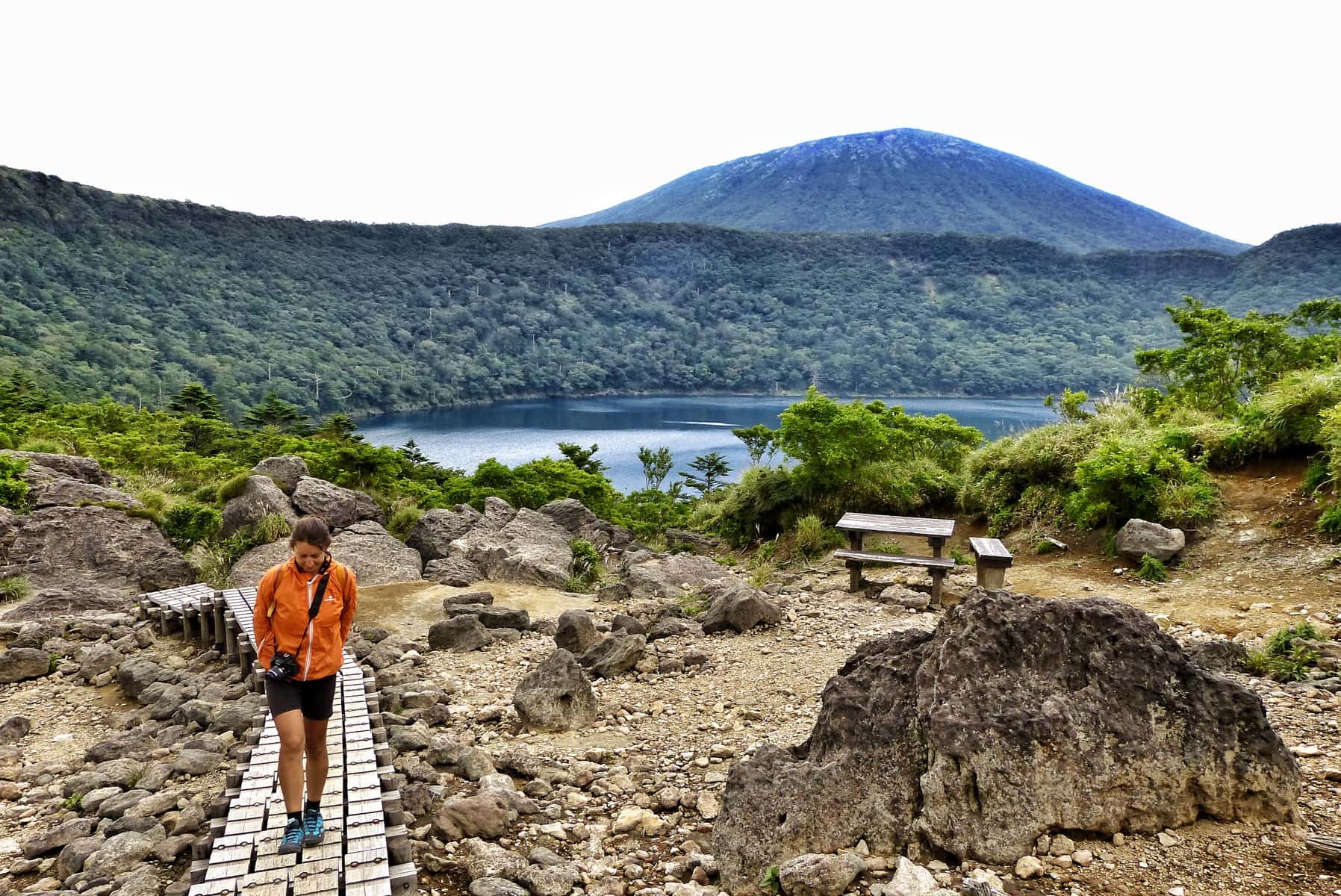 Japan, the land of volcanoes, set straight along the pacific ring of fire, there are around 118 active volcanoes here, spitfire mountains on alien landscapes.
The Kirishima range is one of them, one of the most restless, with 15 active cones (Takachihonomine, Nakadake, Ohatayama, Karakunidake, Tairoike, Ohachi, and Shinmoedake are the most notable) and 10 crater lakes. A powerful place, not to be missed if you're in Kyushu.
The highest peak is mt. Karakuni and Onami lake is the highest crater lake in Japan, a hiking paradise all around, even though some tracks may be closed from time to time, these guys (the volcanoes) are always nervous here.
The road to reach this place is worth the trip itself, with huge waterfalls, steamy ponds of boiling waters, forests, and small hot springs resorts everywhere.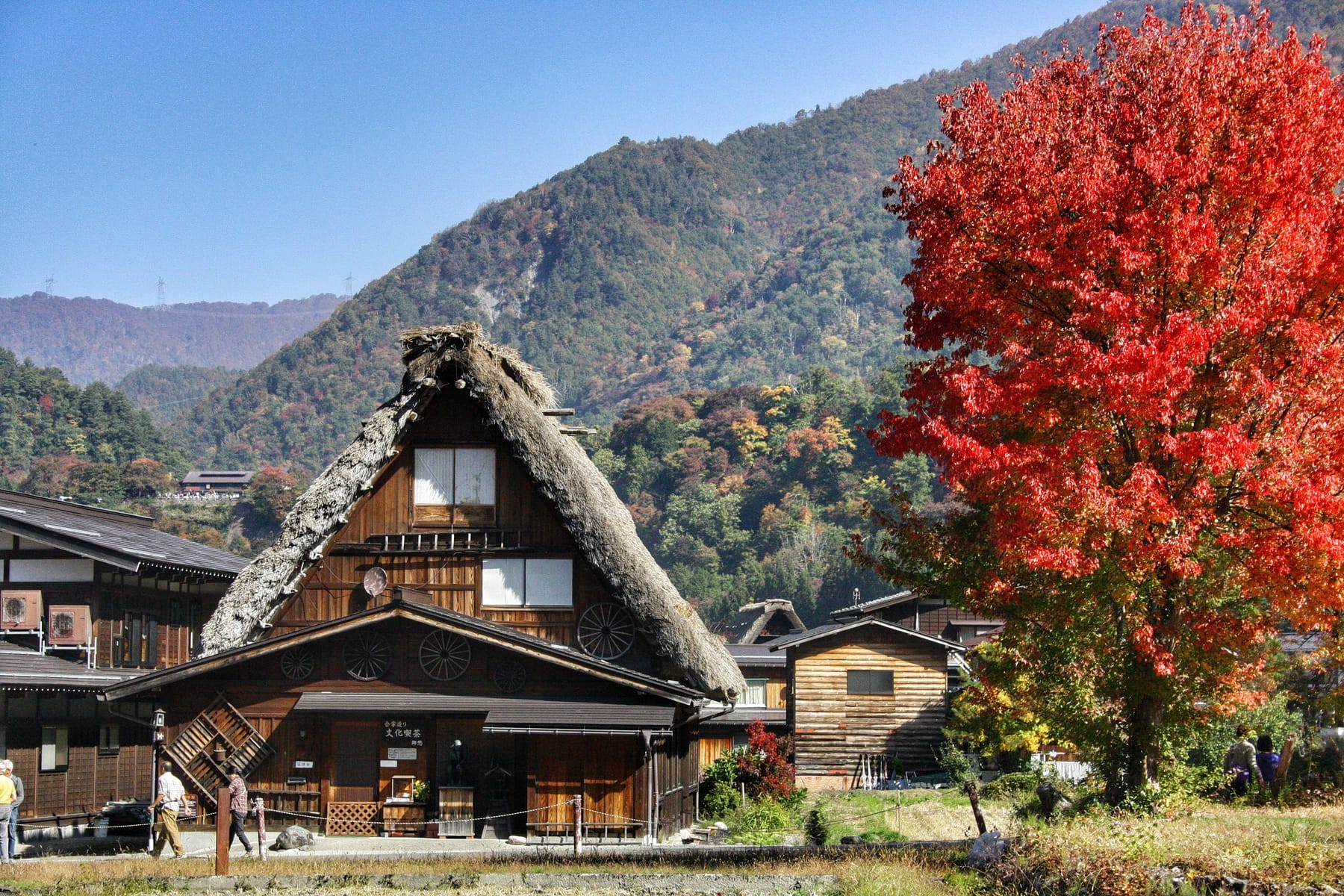 Let's get out of Kyushu for a moment, to the beautiful town of Shirakawa-go, in the Japanese Alps, maybe the best traditional village in Japan. This is a bit more touristic than the other places mentioned here, but it still is ridiculous how few foreign travelers visit this incredible area, which is not even far from Tokyo!
Set at the border between Gifu and Toyama prefectures, on the so-called Japanese Alps, in the lush green valley of the Shogawa river (an important source of freshwater and hydroelectric power with is many blue reservoirs) Shirakawa gives its best in Autumn when the temperature is good and the colors are astounding.
Shirakawa-go has been declared UNESCO World Heritage Site in 1995 for its unique houses. They are called Kiritsuma-Gassho-Zukuri "prayer-hands construction", with their slanting thick straw roofs that resemble hands joint in prayer. These houses are entirely built-in wood and natural materials, without the use of nails, they are suspended on pillars resting on uncut stones.
Shirakawa also hosts one of the craziest Japanese matsuri (traditional festivals), the Doburoku Matsuri, a festival about raw sakè! We also made a video about our experience at the Doburoku Matsuri. Have a look here to learn how to get from Kanazawa to Shirakawago.

Kagoshima is a seaside town in Southern Kyushu laying at the feet of a volcano, the Sakurajima. The Sakurajima is a very scenic 1,117 meters mountain of cooled lava.
It used to be an island itself, but during the eruption of 1914, one of the most violent, it has joined the island of Kyushu in the Osumi Peninsula. The volcano is apparently one of the most active in the world, it's not hard to witness an eruption, or at least a big cloud of smoke, but don't worrie, Japanese know how to deal with their monsters.
Around the volcano is the impressive coastal area, all made of sharp solidified magma, vegetation struggles to make is way back to life through the rocks.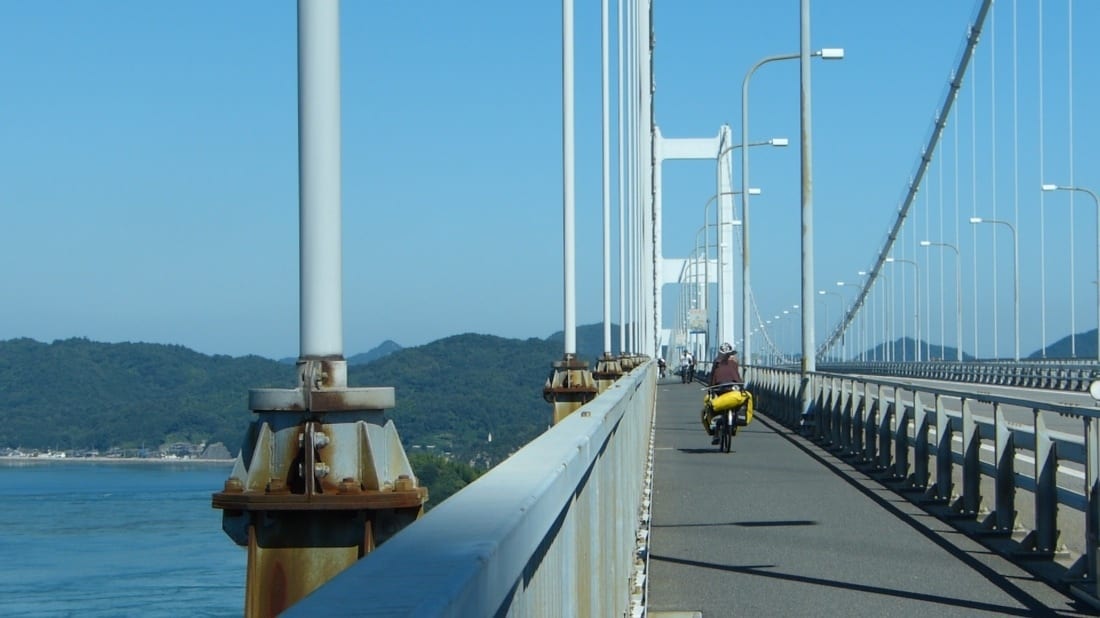 Shimanami Kaido is one of the most famous cycling paths in the world, its impressive series of bridges, especially dedicated to bicycles, makes it one of the most impressive bike infrastructures in Japan and in the whole globe.
This bike path connects the two major islands of Shikoku and Honshu, passing on a series of beautiful islands, with great golden-sand beaches and crystal clear water.
You don't need to have your own bike to do this, as there's a very efficient and affordable rental system here. You don't need to be a cyclist either, every day hundreds of Japanese people enjoy this ride, fit cyclists but also old folks with granny bikes and children! Shimanami Kaido is for sure a very cool destination, great for one or two days off.
The path is about 70km long, beginning (or ending, depending upon your direction), in Imabari (Shikoku) 40km north of Matsuyama, and reaching Honshu in Onomichi, 85km west of Okayama and about the same distance east of Hiroshima. It crosses the six islands of Oshima, Hakatajima, Omishima, Ikuchijima, Innoshima, and Mukaishima.
7 – Biwa Lake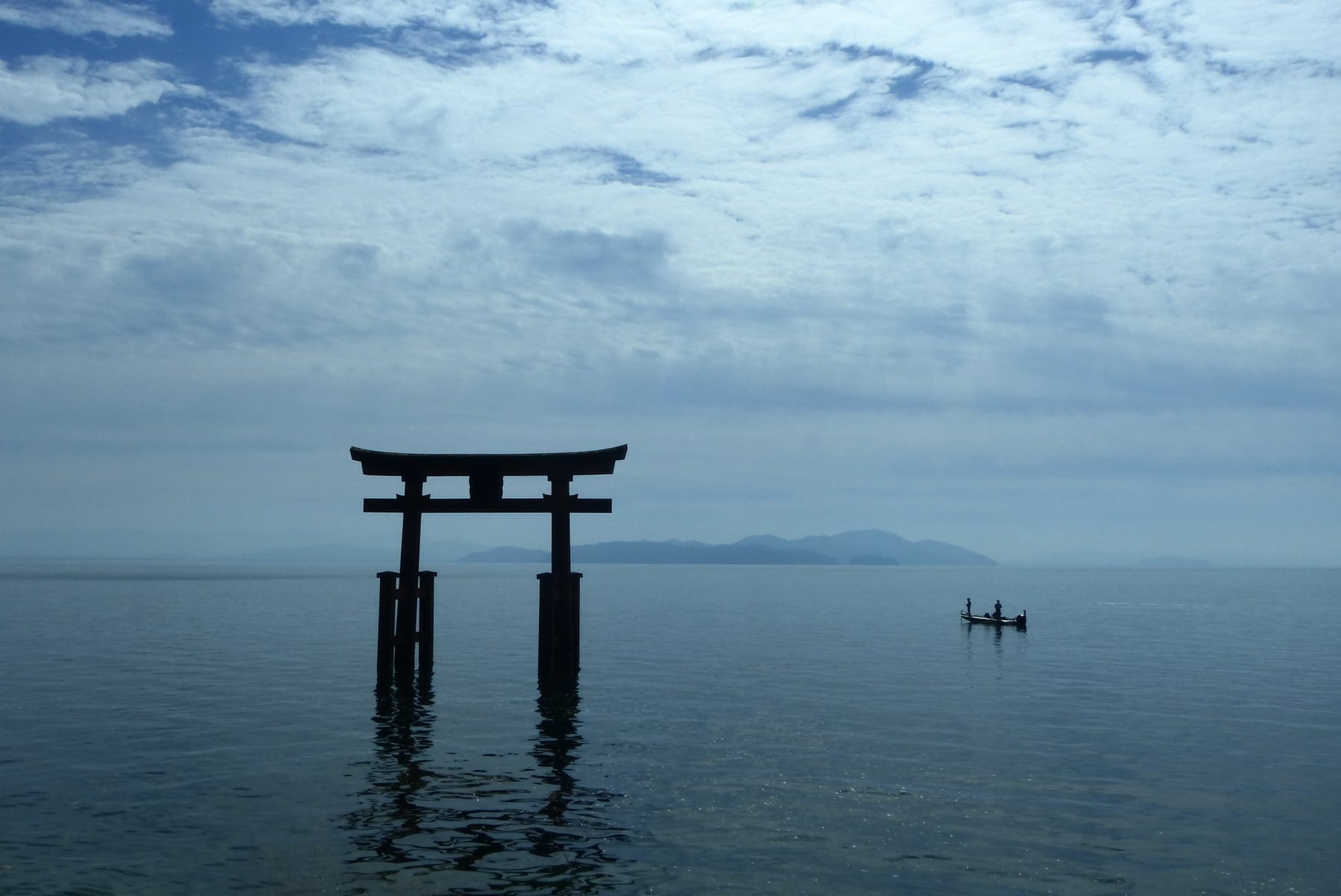 Just 1 hour by train from Osaka (to Omimaiko Station) and only 30 minutes from Kyoto, is the biggest lake in Japan, Lake Biwa. This is a relaxed paradise for those who love nature, water sports, birdwatching. Great for a day trip from Kyoto or while you're visiting Osaka.
There are a large number of historical towns surrounding the lake, including Hikone, with one of Japan's 12 remaining original castles, Omihachiman, with an fascinating canal area, Sakamoto, with the World Heritage Site temple Enryaku-ji, where Lady Murasaki wrote The Tale of Genji, Nagahama, with Japan's oldest remaining train station building, and Otsu, famous for its peculiar festival of huge chariots and mechanical dolls.
The water is very clean and there are some nice beaches. Many Japanese people love to camp here during the weekends.
8 – Takachiho, Taketa, and Mt. Aso
Back in Kyushu, you got that we like it. The northeastern interior of Kyushu, in the prefecture of Oita, is really a must-go area, gorges, waterfalls, shrines, and volcanoes.
Taketa is a small town, surrounded by many waterfalls, the most famous are Harajiri (or Bungo-ono), but there are many more around. In town, there's a jaw-dropping thousand-tori shrine (the kind of shrines where the hundreds of tori gate form a tunnel, like to ones in Kyoto), this is not even mentioned in the tourist guides, but is maybe the most beautiful shrine we saw in Japan.
Takachiho is famous for its gorges, quite nice but a bit too touristic. If you have the chance try to visit the valley of the Gokase river, there's a stunning road going along the river. Takachiho also has two important and very beautiful shrines.
Mt. Aso is again a spectacular volcano, the highest in Kyushu, a paradise for hikers and mountain lovers. The whole area is, needless to say, full of hot springs.
9 – Hirayu and Okuhida Hot Springs
Nestled in-between the high peaks of the Gifu prefecture, one the road connecting the folkloristic Takayama and the castle town of Matsumoto, this area is one of the best places to visit in Japan, among the most scenic spots in the Japanese Alps.
Relaxing in a beautiful onsen after a long hiking day is for sure the top thing to do in this area, which is also famous for its typical food, especially beef and mushrooms.
10 – Sadamisaki Peninsula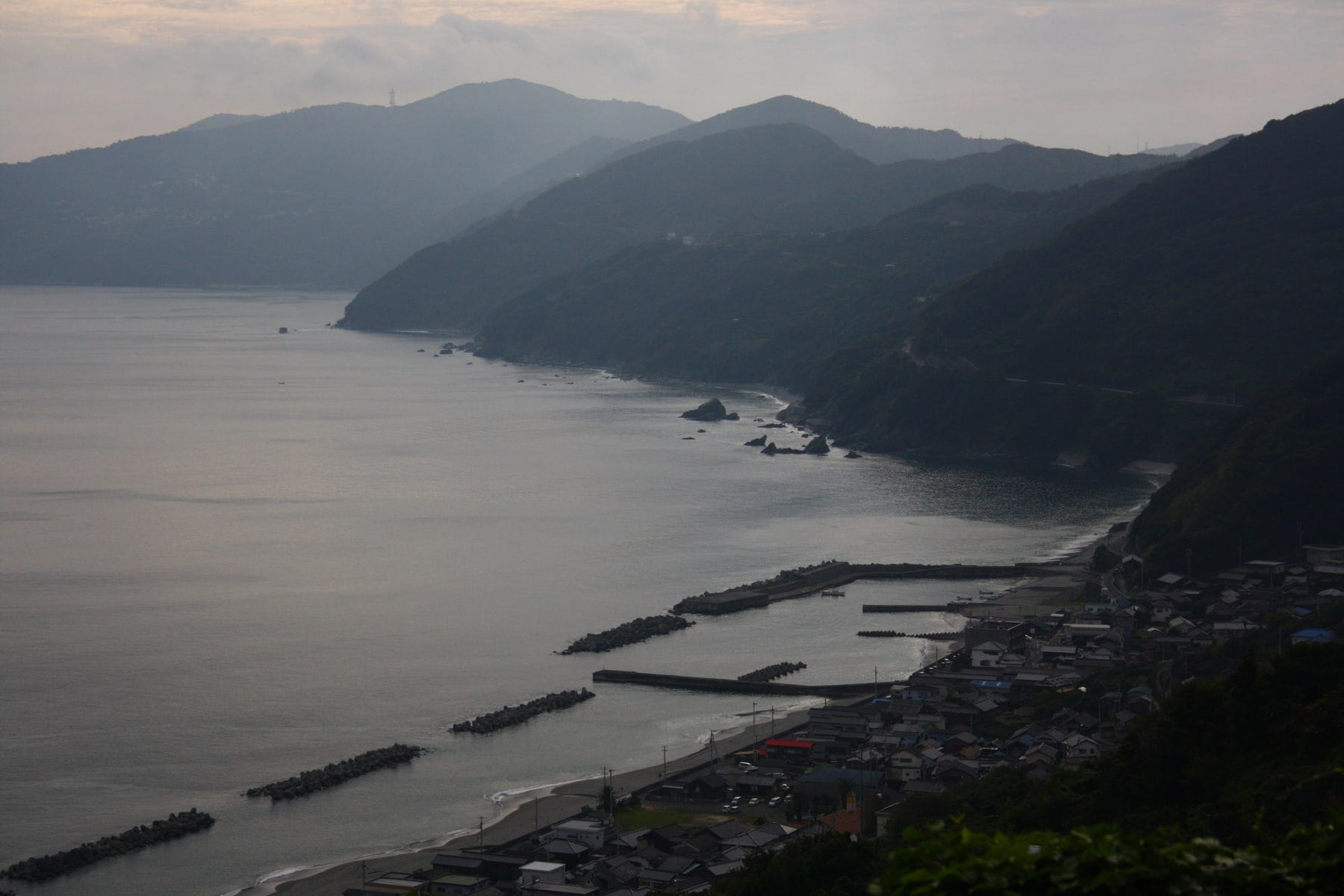 This narrow and steep tongue of land is the westernmost tip of Shikoku island, the smallest of the four main islands of Japan (Honshu, Kyushu, Hokkaido, and, indeed, Shikoku).
The whole Sadamisaki Peninsula is terraced with beautiful fruit orchards, the views are marvelous, with dramatic cliffs, and gorgeous see coastal sceneries.
Sadamisaki peninsula is the perfect place to see the fishermen at work and witness the rural lifestyle of Japan. A ferry connects the peninsula with the port of Oita, in Kyushu.
---
11 – Yokohama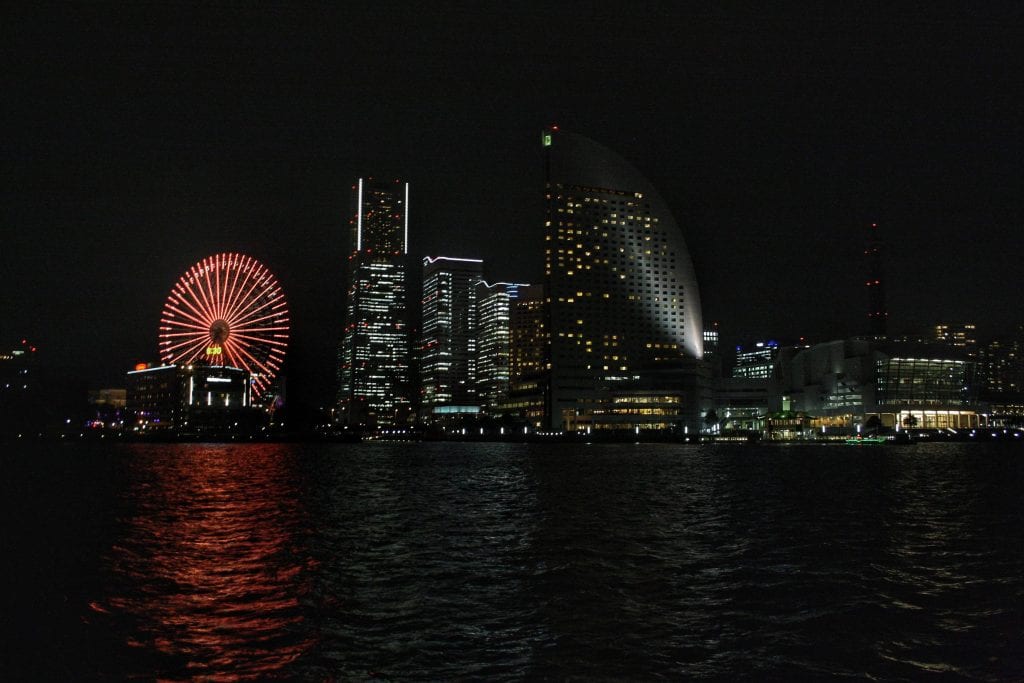 Although often overlooked as a suburb of Tokyo, Yokohama is really the second largest city in Japan by population and the most populous municipality of Japan. It is a major commercial and industrial hub for the Greater Tokyo Area, with a lot of interesting attractions.
Our experience in Yokohama was a quick but intense one, indeed we joined a Factory Night Cruise, a boat trip through the futuristic industrial port – kind of a cyberpunk trip.
There's, of course, a lot more to see here, and staying in Yokohama one or two nights is definitely worth to explore the best of urban Japan.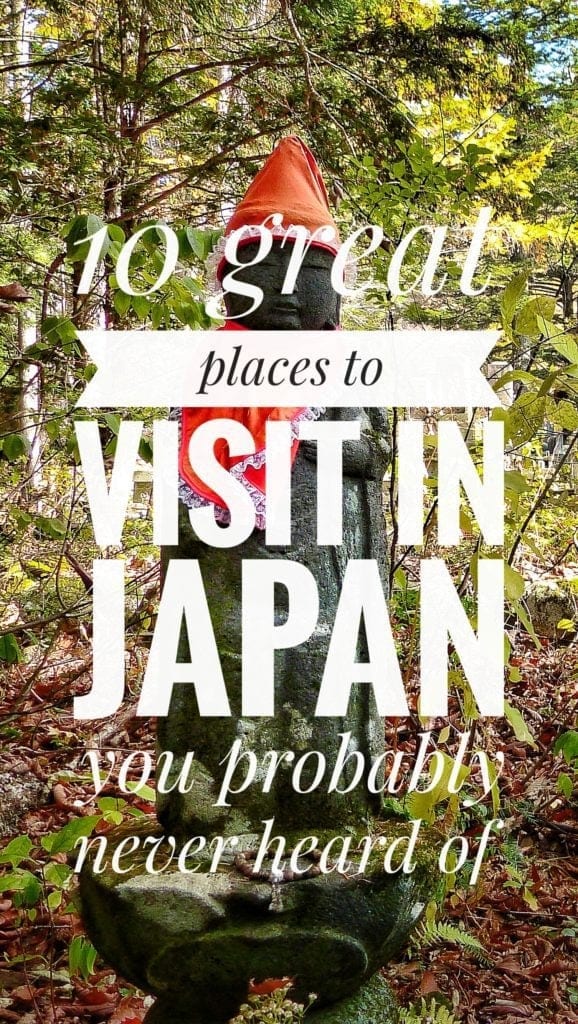 Follow us on Social Networks and Subscribe Our Newsletter
Stay in touch while we get lost! Follow us on Social Media