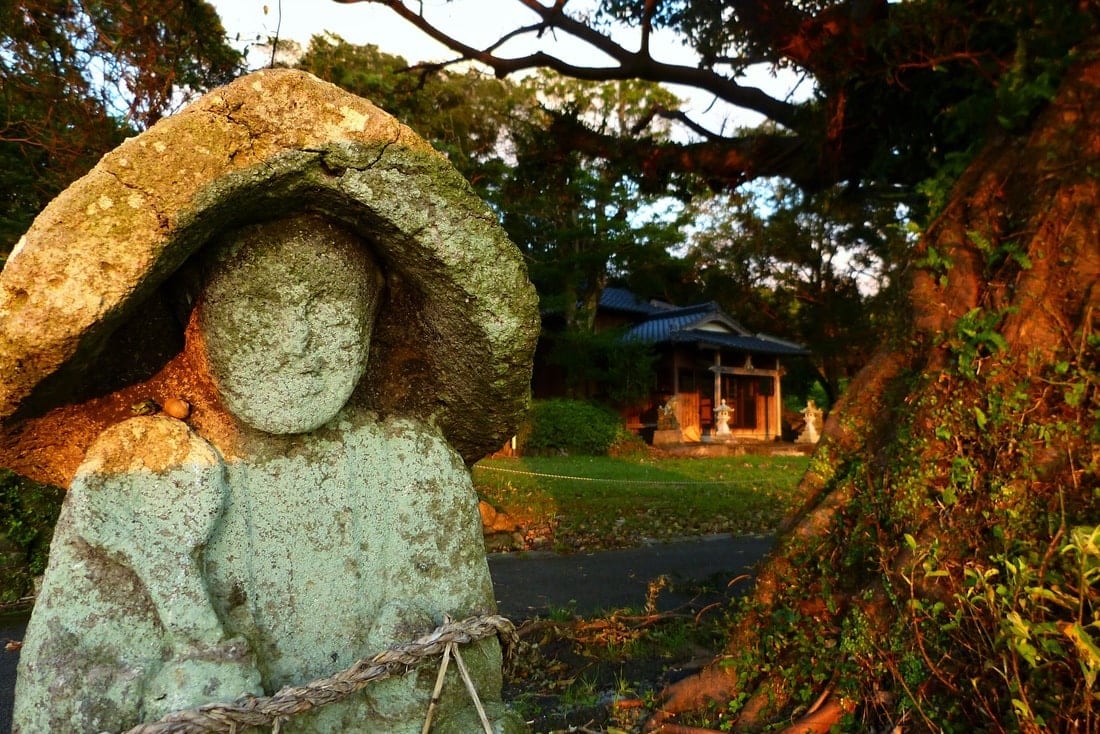 Backpacking Japan on a budget
a blog post to budget down your trip to Japan
Backpacking Japan is a dream for many, but often I've heard people considering it impossible because of the high costs.
Even though Japan is for sure not a cheap country, this guide will introduce you to how to budget travel Japan. We stayed three full months there, the whole duration of the free Visa, with around 1,500€ for two persons.
We traveled to Japan on our bikes, but this guide is dedicated to hitchhikers, walkers, and all sorts of backpackers with a little adventurous spirit.
Nothing could beat though the freedom of the bicycle, Japan it's a very easy destination for bicycle touring beginners so consider buying a bike, or make one out of junk. There are just so many reasons to switch from backpacking to cycle touring.
Japan is way more than Tokyo, Osaka, Kyoto, and slow travel it's the best way to completely experience this magic country. The real Japan is in the countryside and the small towns, and those are good places to go for a budget traveler.
Check also
The perfect Itinerary in Japan for bicycle travelers and backpackers
13 off-the-beaten-path destinations in Japan
---
5 advice to backpack Japan on a budget
Sleep in a tent, use hospitality networks
Buy your food in supermarkets
Get a shower in a cheap onsen or public bath, or straight from the waterfalls in summer
Move around by bicycle, walking, hitchhiking or use local trains
Use Wi-Fi connection from convenience stores
Sleeping
Disclosure: Some of our articles contain affiliate links. This comes at no additional cost for you and helps us keep this website up and running. (as Amazon Associates we earn commission from qualifying purchases)
How to sleep for free in Japan
Free camping (also called wild camping) is definitely the best choice in Japan. It's allowed and it's easy to find so many beautiful spots, especially if you're out of the urban areas.
We slept often in Jinja, or Shinto shrines. They are everywhere and you often can find a roof to stay dry and a water pipe, sometimes even electric plugs.
Cemeteries are also another option. Anyway, we never really had problems finding somewhere to pitch the tent (even though in the urban areas it could be hard and less nice, with highway bridges being the most obvious option).
Many Japanese, even families, sleep in their cars during their holidays, this is considered perfectly normal. If you plan on renting a car, be sure to get one suited for the purpose, that could save you literally thousands of dollars.
Warmshowers and Couchsurfing are widespread in Japan but many members don't speak English and so often are shy about hosting you. Give it a try anyway, we met very beautiful people.
Check Our Guide about Couchsurfing and its Alternatives
Random host: to open his house to a stranger it's a very uncommon thing for a Japanese. That being true, we have been hosted by people we didn't know directly for almost a month in the Tokyo area anyway.
The thing is, we may say, that a Japanese is willing to offer his/her wonderful hospitality if you are introduced by somebody or first made friends with him/her.
---
Where to sleep in Osaka and Kyoto almost for free
There are secret free or super-cheap accommodations in the center of Osaka and Kyoto.
In Osaka, there's a free campground in the Tsurumi Ryokuchi park (GPS coordinates: N 34° 43′ 00.2 E 135° 34′ 05.7).
It's an official campground, all you need to do is register. This being Japan, the safest country in the world, you don't have to worry much when leaving your belongings there and going to explore the surprisingly quiet city of Osaka.
In Kyoto you can stay at the student dorm for 200Y (1.5€), it's a dirty place, but also very funny. Staying here you get to experience the real lifestyle of Japanese university students.
In the dorm, there's a kitchen (good luck) with a music rehearsal room inside, a pool table, and draught beer.
You can easily stumble upon some theater, art, or music performance. The campus' gym nearby is free to access. The dorm is open to backpackers and all sorts of travelers.
(Kyoto student dorm open to travelers GPS coordinates: N 35° 01′ 41.5 E 135° 46′ 42.2).
So even in Japan, if you know where to look there's always a chance to find super-cheap accommodations for those cycling or backpacking Japan on a budget.
Budget Accommodation in Japan
Accommodations prices in Japan are similar to Western European standards, but with a difference: while in the big cities it's easy to find hostels with dorms for as low as 15USD x night, hotels and B&B can be crazily overpriced in more rural areas of Japan… this is where the stereotype of expansive Japan becomes true.
Here are some preventative prices of the cheapest accommodation options in Japan:
In the more rural areas and small towns though, we never saw anything for less than 50$ for a room in a love motel.
So overpriced they are, that outside the main touristic area you will see dozens of abandoned hotels, most Japanese people have lost wealth and purchasing power in the last decades. That's why so many of them prefer to sleep in the car for their weekend out.
Renting a car in Japan (and Sleeping in)
If you decided not to cycle through Japan, we won't blame you, there are some mountains out there that are not for everyone.
Still, you should consider the advantages of being able to move independently in such a big and beautiful country.
Renting a cheap car in Japan costs around 40/50$ per day, those are usually cube style cars some of which are actually pretty spacious.
Cars are all automatic in Japan, the minimum age for driving is 18 years, and you will need a Japanese driver's license or an International Driving Permit (IDP) in order to rent and drive a car in Japan.
Those international permits are usually issued by your country's national automobile association for a small fee.
Sleeping in the car in Japan is totally legal and very common among travelers and weekenders, even families do it.
Except in the crowded urban areas, it is pretty easy to find a spot to park and sleep. A lot of convenient stores like Lawson, Family Mart have a big parking lot, where you can park and spend the night.
These stores have restrooms, food, and free wifi. If you are in some rural areas, just find a nice spot with a nice view and park for the night.
Food
Where to get cheap food in Japan
Japan is very famous for food and its fame is definitely deserved! Restaurants though are not for the budget traveler, expect to pay 5€ for the cheapest bowl of ramen (Japanese noodles in broth).
So, how do we experience Japanese food on a budget? No problems, there are many ways.
---
Convenience Stores (combini)
In the beginning, it's easy to stick to combini (7Eleven, Family Mart, Lawson, and other convenience stores). The convenience stores are your best friends when cycle touring or backpacking Japan.
They have a choice of bento (all kind of precooked food) that you can warm up in the microwave at the store, you also can get free hot water if needed.
The food in this kind of places it's not so good but there's usually a lot of choice of rice and meat, onigiri (rice balls), various noodles and even some "Italian style" spaghetti.
Think at the convenience store as an all in one station: you have wi-fi (see "connectivity" below), toilet, drinkable water, food and drinks, and not less important a place where to throw your garbage, almost impossible to find elsewhere. But you won't experience much of the Japanese cuisine here.
Japanese supermarkets
But the best choice to find budget food when backpacking or cycling Japan is for sure Supermarkets.
Japan has among the best supermarkets in the world, according to my experience. Here you can find almost everything you are dreaming of. Most of them, not just the biggest, have a kitchen and they prepare their bento on the spot.
Stuff is much fresher here, it's very easy to find eight very good pieces of sushi for 3€. A lot of choices and more similar to what you could find in a cheap/budget restaurant.
The secret hint? One or two hours before closing time they will give from 20% to 50% discount on all the bento. Eight nice sushi for 1.50€? Not bad I would say.
Moreover, if camp-cooking is your thing, in Japanese supermarkets you can get all sorts of ingredients from all over the world, and some are quite cheap!
Fruits and vegetables are infamously expansive but you always find up to 90% discount on expiring veggies and they are still good for one or two days. Not much more they could live in my bags anyway.
We spent a lot of time in Japanese supermarkets figuring out how to get a great meal and we often succeeded.
Japanese Discount Stores
Another secret tip for budget travelers in Japan is the Discount stores. Those are apparently big cosmetic and soaps shops, but they always have a food department.
Here you can find pre-cooked udon and noodles for 17Y, sauces to dress them for 0.5€ (tomato sauce, carbonara, mushroom cream).
Sorts of jam for your breakfast, frozen onigiri, and other frozen stuff that will quickly de-froze in your bags. Also, the cheaper beer is to be found here.
Seasonal fruit and vegetables are easy to find for road travelers in rural areas. Just beside the roads, there are stalls with packs of them for a cheap price, if there's nobody there leave the money in the box. This is Japan.
But the best and only real way to experience the authentic Japanese cuisine is to have a Japanese person cooking especially for you, so make friends! Japanese people can be very shy but they are warm in their hearts.
Water Supplies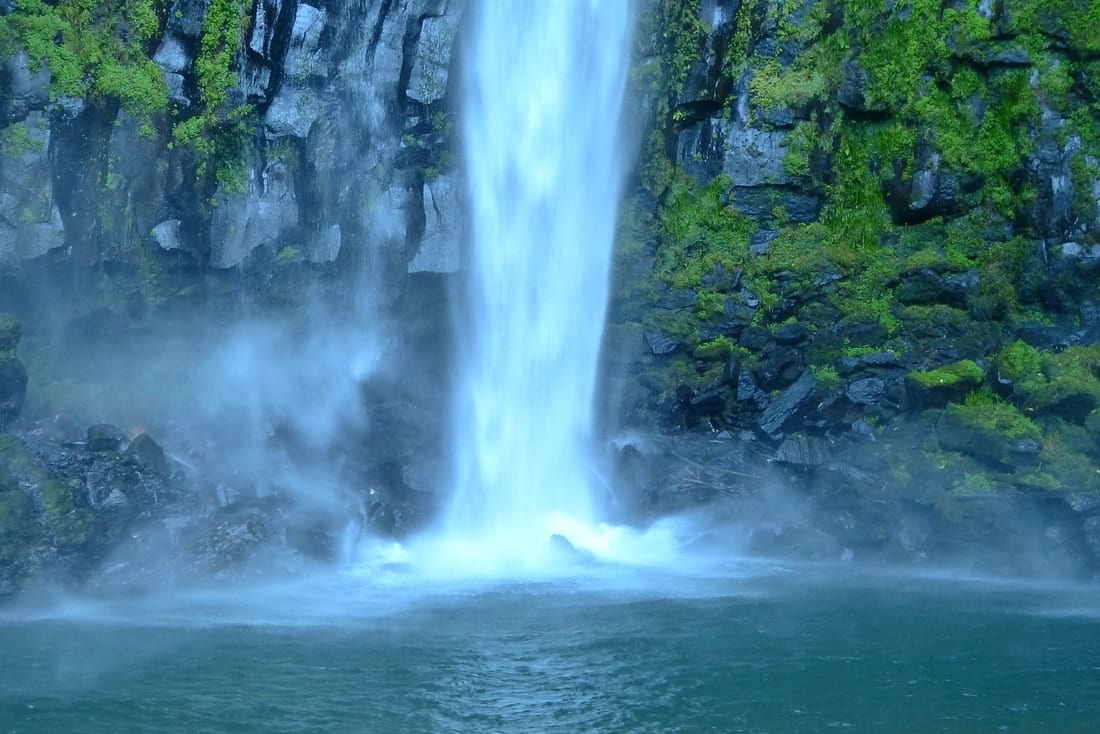 Drinking water it's available everywhere since tap water is drinkable in Japan. Convenience stores (combini) and gas stations also have toilets.
Having a proper shower is not hard, onsen and public baths are everywhere and can be very cheap, ranging from 1€ (even free in Beppu, maybe also elsewhere). You can stay here as long as you want, until closing time (usually in the evening).
If you are in Kyushu during the warm season, you can enjoy plenty of waterfalls and rivers where to rinse yourself from the sweat.
Communication
This is really hard. We can compare Japan to central Asia regarding the number of English speakers, close to 1% probably. Some of them will understand if you write down some sentences.
Speak very slow and very basic English, try to imitate the Japanese pronunciation (for "hot" they say "hotto" for example) and learn some basic Japanese, numbers, and greetings will get you sincere smiles.
---
Connectivity
Free wi-fi connections are available at most convenience stores (7eleven, Family Mart, Lawson) upon subscription on a website, those usually have one hour per day limit but if you subscribe it all you will never be without the internet.
There are convenience stores everywhere in Japan. Free public wireless connection is not so common as in Korea.
Getting a Japanese SIM card and telephone number is not a piece of cake, you can have a look at this article comparing Pocket WiFi options with SIM cards in Japan and see what's best for you.
Weather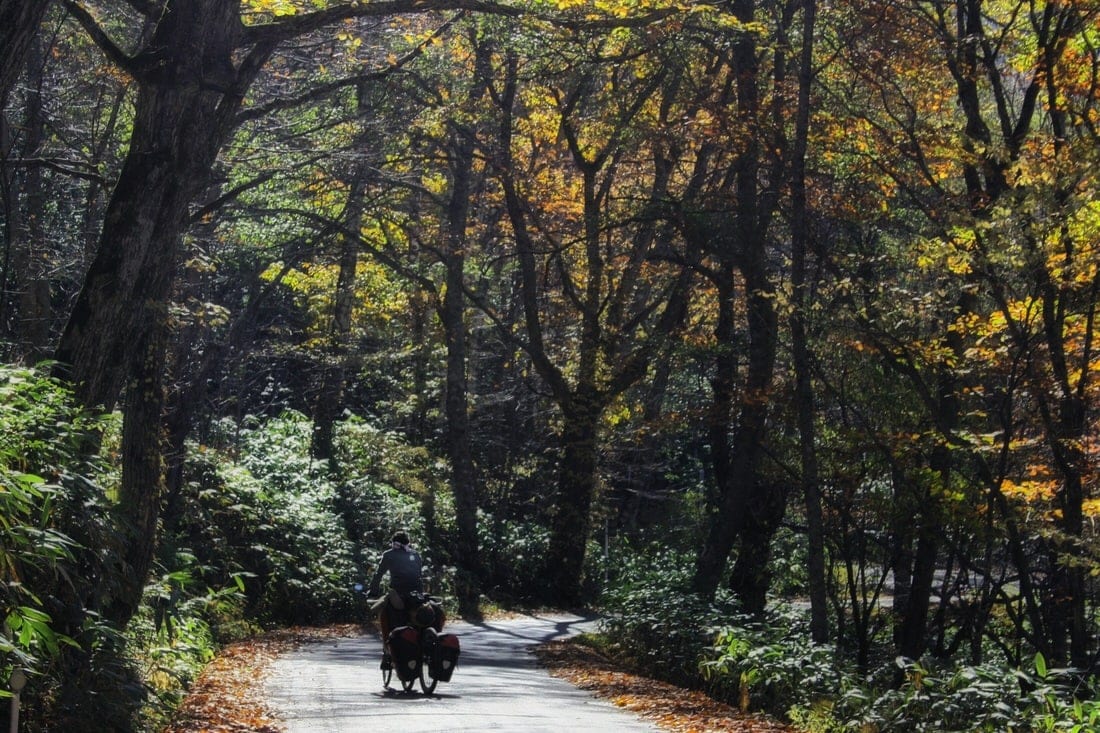 ---
Japan is a big country that stretches from the tropical climate of Kyushu and Okinawa to the Siberian winds blowing over Hokkaido. Thus bicycle touring in Japan is easy all year round. Go south in Winter and north in Summer, if what you're looking for is not extreme climates, if that's the case do the opposite.
Cycling in Hokkaido must be amazing in winter, but you'll need the proper gear. Autumn and Spring are great everywhere, red maple leaves the former and cherry blossom the letter.
Budget Transportations in Japan
If you're bored by some busy stretch or in a rush to get somewhere and willing to throw your bike on a bus, forget about it. Normally long-distance buses won't accept bicycles as luggage and so will do the trains.
Moreover, they are both quite expensive, especially fast trains. That's another thing that makes a bicycle trip by far the cheaper option to experience Japan on a budget, but you have to ride it all (if you want your wallet happy).
Hitchhiking is possible and safe but not super easy. Again the Japanese "shyness" maybe.
Safety
Criminal threats are the least of your worries here, Japan is the safest country in the world. You can leave your wallet on the table of the bar and go for a walk, no problem.
Go to part two, our suggested itinerary for a road trip in Japan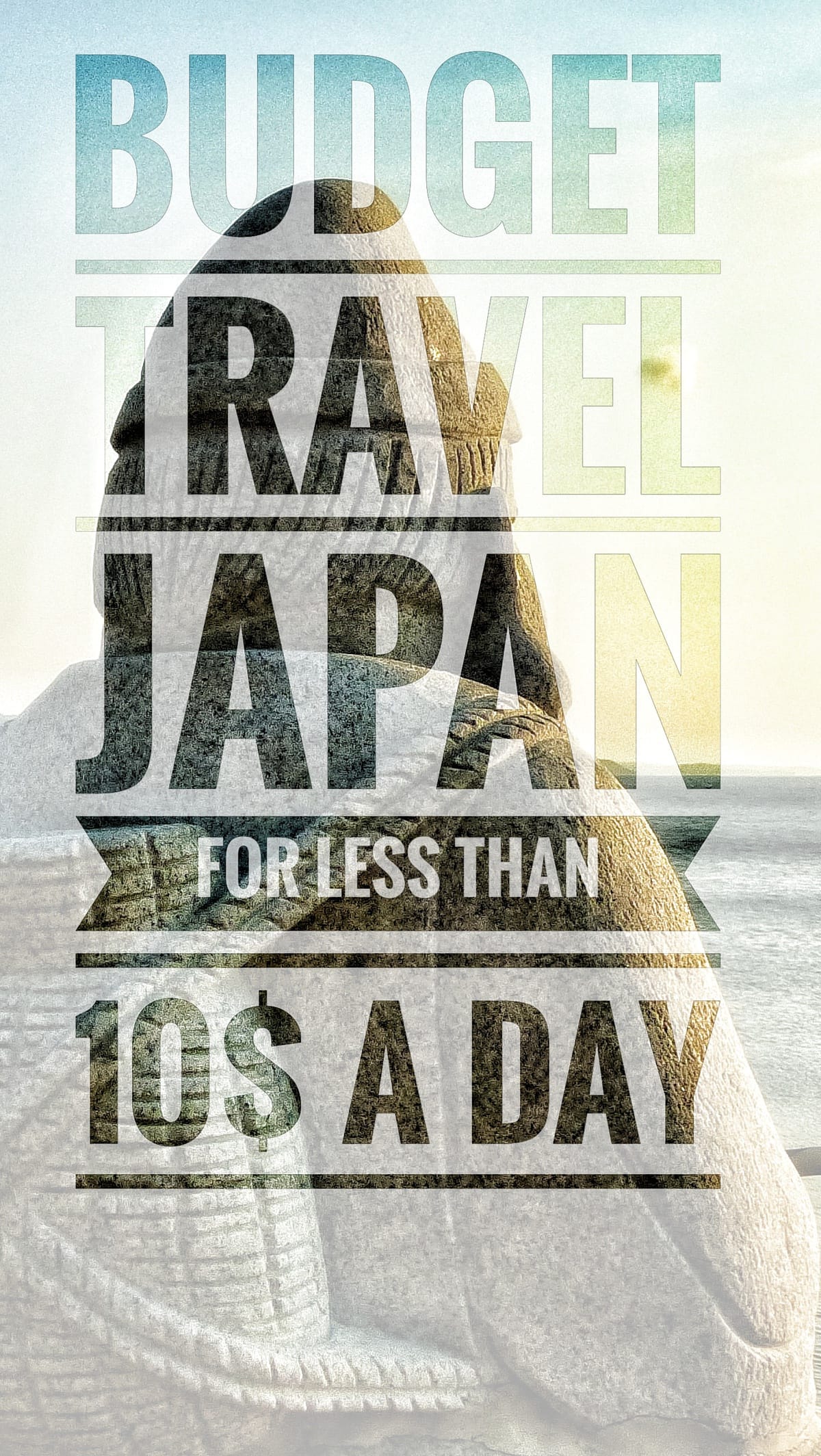 Follow our budget travels
Stay in touch while we get lost! Follow us on Social Media