Bicycle Touring, Bikepacking and Cycling in Japan
Where to go, what to see and how to
travel Japan off-the-beaten-path
Ever considered cycling in Japan? Japan is one of the most visited countries in the world and for many good reasons! Its iconic culture, both ancient and modern, the stunning landscapes, the innumerable volcanoes, hi-tech cities, and often stunning coastline ensure an unforgettable experience to the visitor.
Japan is also a very cycle-friendly destination, ideal for bicycle touring beginners but also very enjoyable by expert cycle tourers. Cycling in Japan is super-safe, wild camping is incredibly easy, the road network is vast and well maintained.
This article is the second part of our Rough Guide for budget travel in Japan. Check the first part about hints, hacks, and tricks to make your dream trip to Japan become true.
In this blog post, we'll give general advice about cycling in Japan and tell you all about our bicycle trip itinerary, since it was almost a hundred percent wonderful we decided to suggest to our fellow travelers.
This was for us a two months journey, we ride it all, bicycle touring Japan at a slow pace. It can be done way faster if you like long days on the saddle.
For those with limited time, we divided our cycling itinerary of Japan into 9 different route stages, which you could ride independently, of course, you can modify this itinerary to best suit your likes and needs.
Links in the articles bring you to the full travel journal post about each destination in Japan. Subscribe our YouTube channel for the upcoming travel videos about bicycle touring Japan if you like.
Below the itinerary, we'll give some general tips about cycling in Japan, if you are not interested in our route you can skip straight there using the table of content down here.
A map of our bicycle touring itinerary
Below is the complete map of our bicycle trip in Japan. It's the complete GPS recording of the journey, almost 4000km of marvel.
Click on the track to get the elevation profile, you can also use the search tool to find a specific location and display the GPX track of reference.
Cycling Japan – a great bike tour itinerary
Disclosure: Some of our articles contain affiliate links. This comes at no additional cost for you and helps us keep this website up and running. (as Amazon Associates we earn commission from qualifying purchases)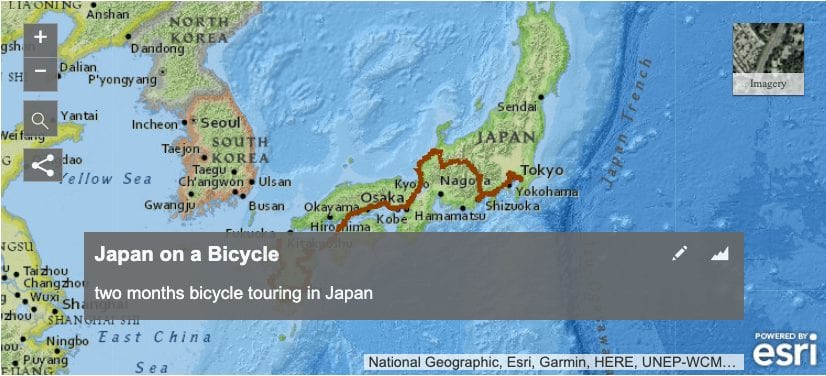 Cycling in Kyushu
We spent a whole month in Kyushu, riding a bit more than 900km on a very slow pace. We can say we saw most of this beautiful Japanese island.
Kyushu was probably the highlight of our bicycle trip in Japan, there wasn't a single day without saying "mamma mia che posto incredibile!" ("oh my mother, what an incredible place"). We planned a tour to see the most active volcanoes and the best part of the coastline.
Kyushu is the third largest island in Japan, with a total surface of 36,782 km2 it's still relatively small. Being the southernmost of the big Japanese islands, its weather is warm enough to cycle all-year-round.
It's home to many active volcanoes, some amazing islands, a very scenic gorge, the steaming town of Beppu, and a lot of stunning beaches.
Route 1. From Fukuoka to the Amakusa Archipelago – 260km

We started our bicycle tour in Japan from the port city of Fukuoka, coming by ferry from South Korea. Fukuoka is a coastal city with some nice beaches and an old castle, but it certainly wasn't a highlight of our trip.
From Fukuoka, we went south to Kumamoto crossing a small range of lush green hills. Here we had to cope with some traffic and a long tunnel, unfortunately, this is one of the most urbanized areas of Kyushu.
From Kumamoto, we took the bridge to the Amakusa islands, a spectacular archipelago in the Ariake Sea (the big gulf of western Kyushu), mostly connected by bridges. Stunning views, quiet roads and some nice beaches with crystal clear water.
The landscape of this archipelago is constantly changing, hills covered in lush green forests, cliff and then, white sea stacks, beaches of all kinds, sleepy villages small fishing ports, and Shinto shrines.
Many birds of prey, buzzards, eagles, and falcons, circle above our heads. The great thing is that these islands are not touristic at all, we even swam naked from a pebble beach!
The whole Island ride, on the route we did, is around 140km, mostly flat with just a few small hills. Check our full article about Amakusa and Nagashima.
To get back to "mainland" Kyushu you'll need to take a short ferry to Nagashima island, another amazing and mystical place.
Check Amakusa Pictures and Reviews on TripAdvisor
2nd Ride. Akune to Mt. Kirishima via Kagoshima and Sakurajima Volcano – 165km

From Akune we absolutely advise taking the coastal road, great views, and golden beaches with scenic cliffs. Then cut to the city of Kagoshima, called the Naples of Japan for its view on the Sakurajima Volcano which resembles the famous Vesuvio.
There are hourly ferries to the base of the volcano, which is not high but very beautiful. You can circle it all and get very nice views while cycling on the lava-stone seaside. A short climb will get you to the top viewpoint.
Riding along the Kagoshima Bay is also very nice, heading towards Kirishima, where the climb to the volcanic mountain range begins. A nice uphill up to 1000msl with a lot of shade and water.
We spot here the only wild onsen (hot spring) we saw in three months in Japan, so hot that looks like another planet. We hiked the Shimonoedake Volcano and the Onami Lake, absolutely worth it. Click on the linked articles to read our detailed reports.
Stage 3. Miyazaki the East Coast and Takachiho Gorge – 280km
From the Ebino Plateau, where the hikes to the volcanic range start, the descent back to the coast is absolutely gorgeous. A low-traffic (almost non-existent) road amidst the forest and the idyllic countryside towards the Japanese surf capital of Miyazaki, long waves, and huge amazing beaches – not really good for swimming though.
From Miyazaki, the road follows the coast but is not really great to cycle. It's a highway with some heavy traffic, especially near the city.
Reaching the town of Nobeoka you'll be ready for the next marvel, the Takachiho Gorge road. This is really a highlight of this bike tour in Japan, certainly not for the touristic spot of the gorge (which is free to access though) but for the route itself. Here you'll cycle almost always along the river, great swimming spots, and scenery.
Route 4. Cycling Mt. Aso, Taketa, Beppu and Oita – 170km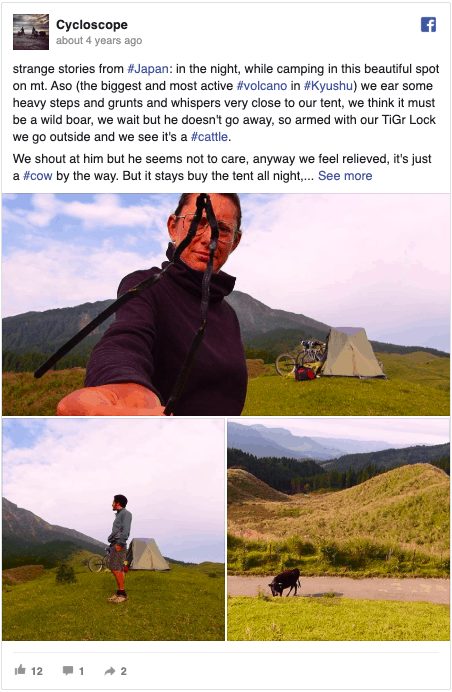 From the town of Takachiho is an interesting bicycle ride to the feet of Mt. Aso, up and down towards one of the most active volcanoes in Japan. Here, near the crater, one of the weirdest stories of our bicycle touring career took place.
Cycling stays great going towards Taketa, where we visited a one-thousand-tori shrine, similar to the famous one in Kyoto but far less touristic – we spent about two hours in awe there.
On route to Beppu, we met our first monkeys, throwing nuts at us. This section goes through tropical forests along some quiet roads. Beppu is the city of hell, straight out from Dante's Inferno… actually, it's a bit overrated but very interesting to imagine how it should have looked one hundred years ago.
Going to Oita, there are some nice stretches of coastlines, although the road is a bit busy. Oita is negligible but it's where you can take the ferry to Shikoku.
Read more about the best things to see and our great bicycle touring itinerary in Kyushu. Here's also the detailed map
Cycling Honshu and Shikoku
Our bikepacking itinerary in the islands of Shikoku and Honshu wasn't as perfect as the first part of our Japanese cycling trip in Kyushu, but almost – The only part we would change is the busy section from Okayama to Osaka.
If we had the chance to change that, we would cycle more in Shikoku and then take the ferry to Kobe or Nara… or hit the northern coast of Honshu thus avoiding most of the urban areas.
Aside from that, we think this is a great itinerary to tour southeast Shikoku and southern Honshu, with a focus on the Japanese Alps (Arupusu).
Read more about our bicycle trip in Honshu and Shikoku
Stage 5. Cycling Shikoku: Sadamisaki Peninsula to Shimanami Kaido via Matsuyama – 155km
Reached through a ferry ride from Oita, the Sadamisaki Peninsula is a narrow and steep tongue of land is the westernmost tip of Shikoku island, the smallest of the four main islands of Japan.
The whole Sadamisaki Peninsula is terraced with beautiful fruit orchards, the views are marvelous, with dramatic cliffs, and gorgeous see coastal sceneries. Sadamisaki peninsula is the perfect place to see the fishermen at work and witness the rural lifestyle of Japan.
Once finished this beautiful ride, you'll be cycling along the coast towards the castle city of Matsuyama. Despite being restored, the castle is still worth visiting – its grounds can be accessed for free while a fee is required to get inside.
Another 50km will bring you at the beginning of the famous Shimanami Kaido cycling path, one of the most famous cycling destinations in Japan.
Route 6. The Shimanami Kaido Cycle Path – 70km

Shimanami Kaido is one of the most famous cycling paths in the world, its impressive series of bridges, specially dedicated to bicycles, makes it one of the most impressive bike infrastructures in Japan and in the whole globe.
This bike path connects the two major islands of Shikoku and Honshu, passing on a series of beautiful islands, with great golden-sand beaches and crystal clear water.
The path is about 70km long, beginning (or ending, depending upon your direction), in Imabari (Shikoku) 40km north of Matsuyama, and reaching Honshu in Onomichi, 85km west of Okayama and about the same distance east of Hiroshima. It crosses the six islands of Oshima, Hakatajima, Omishima, Ikuchijima, Innoshima, and Mukaishima.
Although certainly very nice, we weren't impressed by the Shimanami Kaido – the worst of it is that the path will bring you to one of the busiest parts of the Honshu island, from where you'll have little chance to escape.
Read our full story about the Shimanami Kaido Cycle Path
Stage 7. Onomichi to Osaka via Okayama and Kobe – 267km

There's not really much to say about this section of the route. It's a seamless urban area, very busy with traffic – it certainly goes through some interesting cities but cycling here is really not enjoyable.
The highlights along this section of our bike tour are the town of Ako and the Himeji Castle. Kobe, famous for beef and yakuza, is not our favorite Japanese city while Osaka is certainly worth spending a few days.
As already mentioned, we would suggest a longer ride in Shikoku. Be careful though that, although Shikoku and Honshu are connected by an impressive bridge, it's absolutely forbidden to cycle there – you will have to take a ferry.
Another alternative would be cutting through the interiors towards the northern coast of Honshu to the off-beat towns of Yonago and Tottori, we don't know how's there but it looks nice.
Check the Best Accommodation in Osaka
Stage 8. Osaka to Kanazawa via Kyoto and Biwa Lake – 305km

Osaka to Kyoto is a very short bike ride, a little hill, and quite some traffic. Kyoto is absolutely a must, everybody knows that and we don't feel like having to justify this statement.
From Kyoto, you could go to Otsu (check if it's matsuri time, the traditional festival in Otsu is great) and then hit the magical shores of the Biwa Lake, the biggest lake in Japan. The water is very clean and there are some nice beaches. Many Japanese people love to camp here during the weekends.
Another cool ride of your bike tour in Japan will be the coastal road to Kanazawa, the city itself is a touristic hot spot worth spending a few days.
Check Pictures, Hotels and Restaurants around Biwa Lake
Stage 9. Japanese Alps – ShirakawaGo, Matsumoto, Takayama, Hirayu Hot Springs – 226km

Here they come, the real mountains. This section of the route has an elevation gain of about 6000 meters, certainly the toughest part of this cycling itinerary in Japan – but also one of the most beautiful (and the competition is really high here).
From Kanazawa to Shirakawa Go you'll follow the beautiful Sho River, pass by the town of Nanto (Hokuto No Ken fans will appreciate that) and several reservoirs. We cycled this route in Autumn so the colors were really stunning.
The beautiful town of Shirakawa-go is maybe the best traditional village in Japan, famous for its typical houses, called Kiritsuma-Gassho-Zukuri "prayer-hands construction", with their slanting thick straw roofs that resemble hands joint in prayer.
These houses are entirely built-in wood and natural materials, without the use of nails, they are suspended on pillars resting on uncut stones.
Shirakawa also hosts one of the craziest Japanese matsuri (traditional festivals), the Doburoku Matsuri, a festival about raw sakè! We also made a video about our experience at the Doburoku Matsuri.
From Shirakawa to Takayama you'll ride among gorgeous mountain sceneries, passing by the hot spring resort of Hirayu-Okuhida. The road from Takayama to Matsumoto it's a hell of tunnels after the Hida pass (2000msl).
Very narrow, very dark, very long and with a lot of big coaches going fast, I will suggest to absolutely avoid to do this road by bicycle. It was the worst road in Japan and maybe even in the whole trip, never been so scared before.
Besides that, Takayama and Matsumoto are beautiful cities really worth including in your Japanese itinerary. Matsumoto has one of the few remaining original castles in Japan.
Check the Accommodation with Hot Springs in Shirakawa
Stage nb 9. cycling road to Tokyo: Mt Fuji and Hakone – 321km
Down from Matsumoto the road stays scenic, passing through some lush green valleys. The first place you'll encounter is Suwa, with its large and nice lake. Suwa is also home to one of the craziest festivals in Japan (and the whole world) – the Suwa Onbashira Matsuri, which unfortunately takes place only every 6 years.
The little town of Hokuto is cool and there's an amazing Warmshowers host there. Getting there you'll pass by the Southern Yatsugatake Volcanic Group. It will be the prelude to Mt. Fuji, which you can circle both from east or west.
South of the Fuji is the tourist town of Hakone, set on the shores of a lake surrounded by jungle-like vegetation – watch out from overcurious macaques.
Getting into Tokyo is not pleasant, we couldn't find any dedicated cycling path. We did this section of the route under pouring rain so that didn't add to the enjoyment.
I honestly don't recommend cycling in Tokyo, walking and the extensive subway network (still the biggest in the world) was our choice of transportation to explore this mythical city.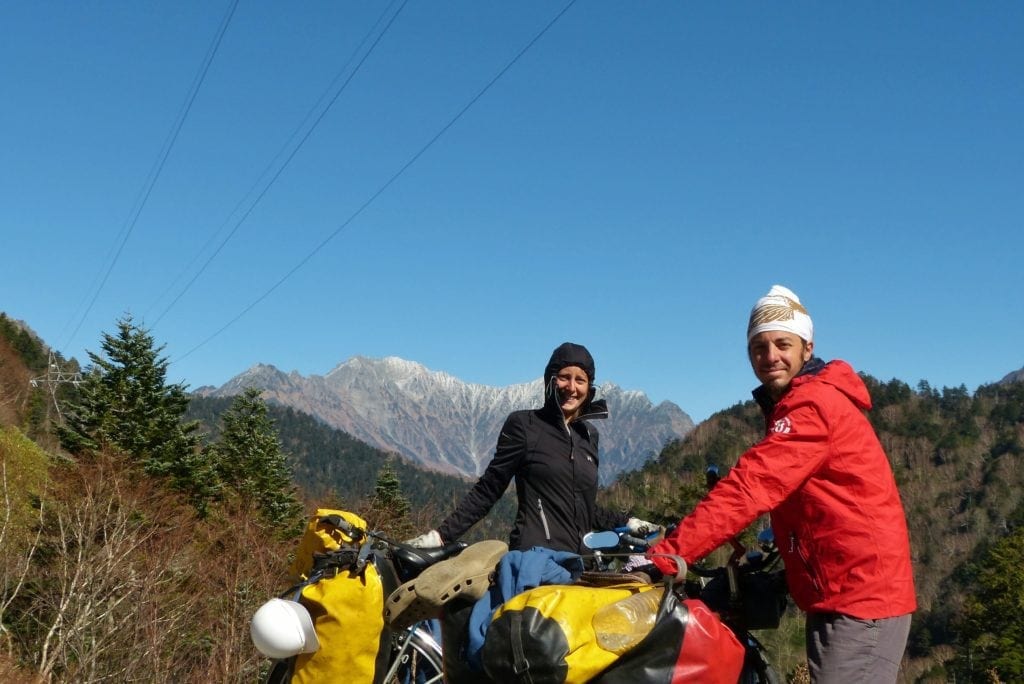 Tips and advice about cycling in Japan
5 advice for cycling or backpacking Japan on a budget
Sleep in a tent, use hospitality networks
Buy your food in supermarkets
Get a shower in a cheap onsen or public bath, or straight from the waterfalls in summer
Move around by bicycle, walking, hitchhiking or use local trains
Use Wi-Fi connection from convenience stores
Where to sleep while bike touring in Japan

Wild camping is definitely the best choice in Japan. It's perfectly legal and finding great spots is very easy outside the urban areas. We camped often in Jinja, or Shinto shrines.
They are everywhere and you often can find a roof to stay dry and a water pipe, sometimes even electric plugs. Cemeteries or abandoned buildings are other (creepier) options.
Anyway, we never really had problems finding somewhere to pitch the tent (even though in the urban areas it could be hard and less nice, with highway bridges being the most obvious option).
Warmshowers and Couchsurfing are widespread in Japan but many members don't speak English and so often are shy about hosting foreigners. Give it a try anyway, we met very beautiful people.
Random host: to open his house to a stranger it's a very uncommon thing for a Japanese. That being true, we have been hosted by people we didn't know directly for almost a month in the Tokyo area anyway.
The thing is, we may say, that a Japanese is willing to offer his/her wonderful hospitality if you are introduced by somebody or first made friends with him/her.
Accommodations: hotels and B&B are not cheap in Japan. We hadn't checked that so much but saw nothing for less than 50€ for one room in a love motel.
This expensive price policy didn't pay much apparently, you will see many abandoned hotels everywhere. Many Japanese people sleep in the car for their weekend out, this is considered perfectly normal.
---
Where to sleep in Osaka and Kyoto almost for free
There are secret free or super-cheap accommodations in the center of Osaka and Kyoto.
In Osaka, there's a free campground in the Tsurumi Ryokuchi park (GPS coordinates: N 34° 43′ 00.2 E 135° 34′ 05.7).
It's an official campground, all you need to do is register. This being Japan, the safest country in the world, you don't have to worry much when leaving your belongings there and going to explore the surprisingly quiet city of Osaka.
In Kyoto you can stay at the student dorm for 200Y (1.5€), it's a dirty place, but also very funny. Staying here you get to experience the real lifestyle of Japanese university students.
In the dorm, there's a kitchen (good luck) with a music rehearsal room inside, a pool table and draught beer. You can easily stumble upon some theater, art, or music performance.
The campus' gym nearby is free to access. The dorm is open to backpackers and all sorts of travelers. (Kyoto student dorm open to travelers – GPS coordinates: N 35° 01′ 41.5 E 135° 46′ 42.2).
Getting food while cycling in Japan

Japanese food is world-renowned, and its fame is certainly deserved! Restaurants though are a bit expansive – think western standard prices (even more), the cheapest bowl of ramen would cost you about 5€, and those places are not always easy to find.
Convenience Stores (combini)
Combini is the Japanese name for convenience stores, there are thousands of them, literally everywhere. Brands include 7Eleven, Family Mart, Lawson, and others. The convenience stores are your best friends when cycle touring Japan.
They have a choice of bento (all kind of precooked food) that you can warm up in the microwave at the store, you also can get free hot water if needed. The food in this kind of place it's not so good but there's usually a lot of choice of rice and meat, onigiri (rice balls), various noodles and even some "Italian style" spaghetti.
Think at the convenience store as an all in one station: you have wi-fi (see "connectivity" below), toilet, drinkable water, food and drinks, and not less important a place where to throw your garbage, almost impossible to find elsewhere. But you won't experience much of the Japanese cuisine here.
Japanese supermarkets
But the best choice to find budget food when cycling Japan is for sure Supermarkets. Japan has among the best supermarkets in the world, according to my experience.
Here you can find almost everything you are dreaming of – most supermarkets, not just the biggest, have a kitchen and they prepare their bento on the spot.
Stuff is much fresher here, it's very easy to find a very good eight-pieces of sushi bok for 3€. There's a lot of choices in Japanese supermarkets, and the level is close to what you could find in a budget restaurant.
The secret hint? One or two hours before closing time they will give from 20% to 50% discount on all the bento. Eight nice sushi for 1.50€? Not bad I would say. Moreover, if camp-cooking is your thing, in Japanese supermarkets you can get all sorts of ingredients from all over the world, and some are quite cheap!
Fruits and vegetables are infamously expansive but you always find up to 90% discount on expiring veggies and they are still good for one or two days. Not much more they could live in my bags anyway.
Another interesting budget option for those cycling Japan is the Discount stores. Those are apparently big cosmetic and soaps shops, but they always have a food department.
Here you can find pre-cooked udon and noodles for 17Y, sauces to dress them for 0.5€ (tomato sauce, carbonara, mushroom cream). Sorts of jam for your breakfast, frozen onigiri, and other frozen stuff that will quickly de-froze in your bags. Also, the cheapest beer is here.
Seasonal fruit and vegetables are easy to find for road travelers in the rural area. Just beside the roads, there are stalls with packs of them for a cheap price, if there's nobody there leave the money in the box. This is Japan.
But the best and only real way to experience the authentic Japanese cuisine is to have a Japanese person cooking especially for you, so make friends! Japanese people can be very shy but they are warm in their hearts.
Getting Water in Japan – How to drink and bath

Drinking water it's available everywhere, tap water is very good in Japan. Convenience stores (combini) and the gas stations also have toilets where you can refill your bottles, although the sinks are often small.
Having a proper shower is not hard, onsen and public baths are everywhere and can be very cheap, ranging from 1€ (even free in Beppu, maybe also elsewhere). You can stay here as long as you want, until closing time (usually in the evening), just be sure to follow the Japanese onsen etiquette.
If you are in Kyushu during the warm season, you can enjoy plenty of waterfalls and rivers where to rinse yourself from the sweat.
Communication

This is really hard. We can compare Japan to Central Asia regarding the number of English speakers, close to 1% probably. Some of them will understand if you write down some sentences.
Speak very slow and very basic English, try to imitate the Japanese pronunciation (for "hot" they say "hotto" for example) and learn some basic Japanese, numbers, and greetings will get you sincere smiles.
Connectivity
Free wi-fi connections are available at most convenience stores (7eleven, Family Mart, Lawson) upon subscription on a website, those usually have one hour per day limit but if you subscribe it all you will never be without the internet. There are convenience stores everywhere in Japan. Free public wireless connection is not so common as Korea.
There are now several short-term SIM card options in Japan, check this article out to learn more.

Cycling the Japanese Roads
Generally speaking, roads in Japan are quite good, though is not rare to find potholes in secondary roads. Long cycling paths are not as common as in South Korea and roads could be sometimes very narrow and with medium/heavy traffic.
However, it's often possible to stick to minor roads, which are usually beautiful and with fewer vehicles.
Weather in Japan
Japan is a big country that stretches from the tropical climate of Kyushu and Okinawa to the Siberian winds blowing over Hokkaido.
Thus bicycle touring in Japan is possible all year round, just go south in winter and north in Summer. Cycling in Hokkaido must be amazing in winter, but you'll need the proper gear.
Autumn and Spring are great everywhere, red maple leaves the former and cherry blossom the letter.
Taking Transports with a bike
If you're bored by some busy stretch or in a rush to get somewhere and willing to throw your bike on a bus, forget about it. Normally long-distance buses won't accept bicycles as luggage and so won't do trains. You're allowed to take your bike on RoRo ferries for free (at least on the ferries we took).
Hitchhiking is possible and safe but not easy, Elena tried to stop cars for a good 20 minutes because of a deer entangled in barbed wire by the side of the road, no one stopped even to aks what happened… and she was alone at the time. Again the Japanese "shyness" maybe.
Follow our bicycle touring and bikepacking adventures
Stay in touch while we get lost! Follow us on Social Media