Cycling the Shimanami Kaido – the Most Famous Bike Path in Japan. A spectacular bicycle infrastructure connecting Shikoku & Honshu. A cycling path hopping from island to island across the inland sea of Japan
Here we are, on the Island of Shikoku, the smallest of the main islands that form the Japanese archipelago. We just cycled a few hundred kilometers here but what we saw made us think it could be worth staying a little more.
But there's a temptation we hardly can resist and this temptation is called Shimanami Kaido. A cycling path hopping from one island to the other across the Japanese inland sea, the Seto "Ocean". A spectacular bike infrastructure that connects Shikoku with Honshu, the main island (where Tokyo and Kyoto are, to make it clear).
An imposing structure of suspension bridges inaugurated in 1999, the ramps built up very exclusively for bicycles, make sure you never have exaggerated slopes to get on and off.
A real "bicycle tour for everybody" dream, indeed we see all sorts of folks, from full-geared-racing-dudes-and-ladies to way-beyond-the-retirement-age small flocks keeping pace with pre-school kids. Along the way, there are many places where you can rent bikes and just leave it to the next station.
Cycling the most famous bike path in Japan
Disclosure: Some of our articles contain affiliate links. This comes at no additional cost for you and helps us keep this website up and running. (as Amazon Associates we earn commission from qualifying purchases)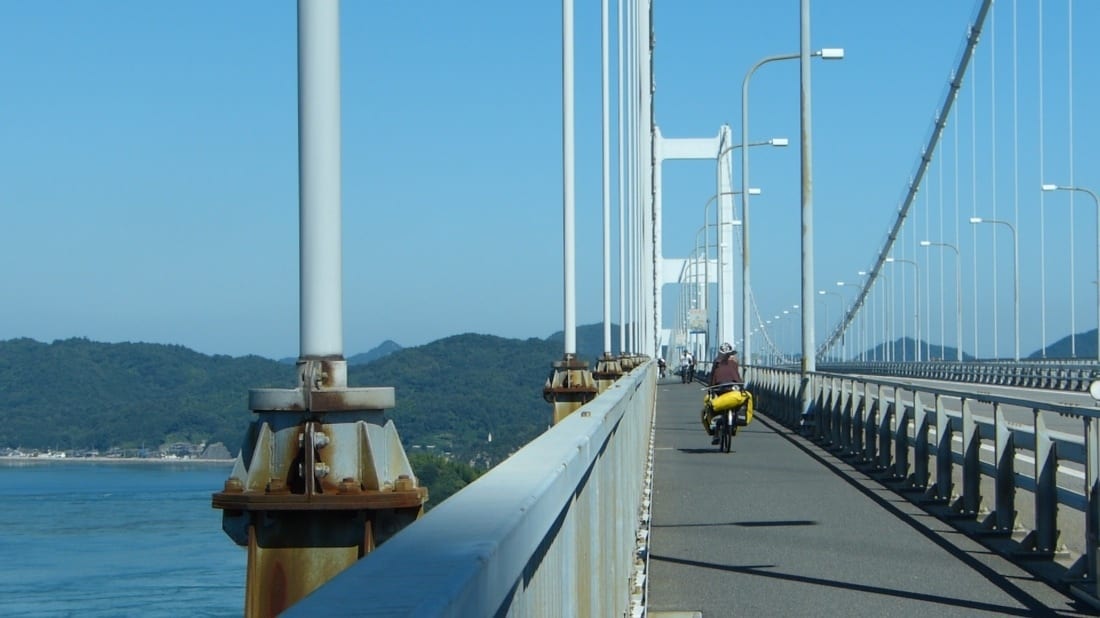 Shimanami Kaido is one of the most famous cycling paths in the world, its impressive series of bridges, specially dedicated to bicycles, makes it one of the most impressive bike infrastructures in Japan and in the whole globe. But is it worth it?
The path is about 70km long, beginning (or ending, depending upon your direction), in Imabari (Shikoku) 40km north of Matsuyama, and reaching Honshu in Onomichi, 85km west of Okayama and about the same distance east of Hiroshima.
It crosses the six islands of Oshima, Hakatajima, Omishima, Ikuchijima, Innoshima, and Mukaishima. So, wow! A cycling path across a sea? How can we miss this? And here we go, bye-bye Shikoku!
The first bridge that we cross is spectacular, below us the sea is full of whirlpools. It's a beautiful archipelago, hundreds of green islands. The part of the path within the islands is a bit disappointing though.
Perhaps to make it shorter, avoid uphills, and boost the local economy the road follows the flat area and there is not much to see, mainly villages with plenty of convenience stores ("combini" in Japanese).
Since we're not in a rush we often decide to leave the fixed path and cycle along the coast, this happens to be a good choice, some beautiful golden sand beaches await the explorers!
And really there's no need to rush, the islands are dotted with plenty of free campgrounds, some with barbecue spots, all with toilets.
We meet a Japanese touring cyclist who traveled almost everywhere in Japan and in many countries abroad as well, we give each other appointment at a nearby camping spot but we go to the wrong one, a pity, would have been great to exchange information with such an experienced traveler!
However we end up in a completely desert wooden campground overlooking the sea, there is a beach downstair and we enjoy watching the many boats, big and small, that stroll between the island under an astounding red sunset.
In the morning we hit the Shimanami Kaido again, the bridges are always spectacular, especially the last one, a bit scary, the bike path goes under the car highway, as usual for Japan a masterpiece of architecture.
The noise of the traffic above sounds psychedelic from below. We sleep on the last island in a playground before the sea. Tomorrow we'll find ourselves in the bustling Honshu and could not be so easy to find a place to camp.
Our opinion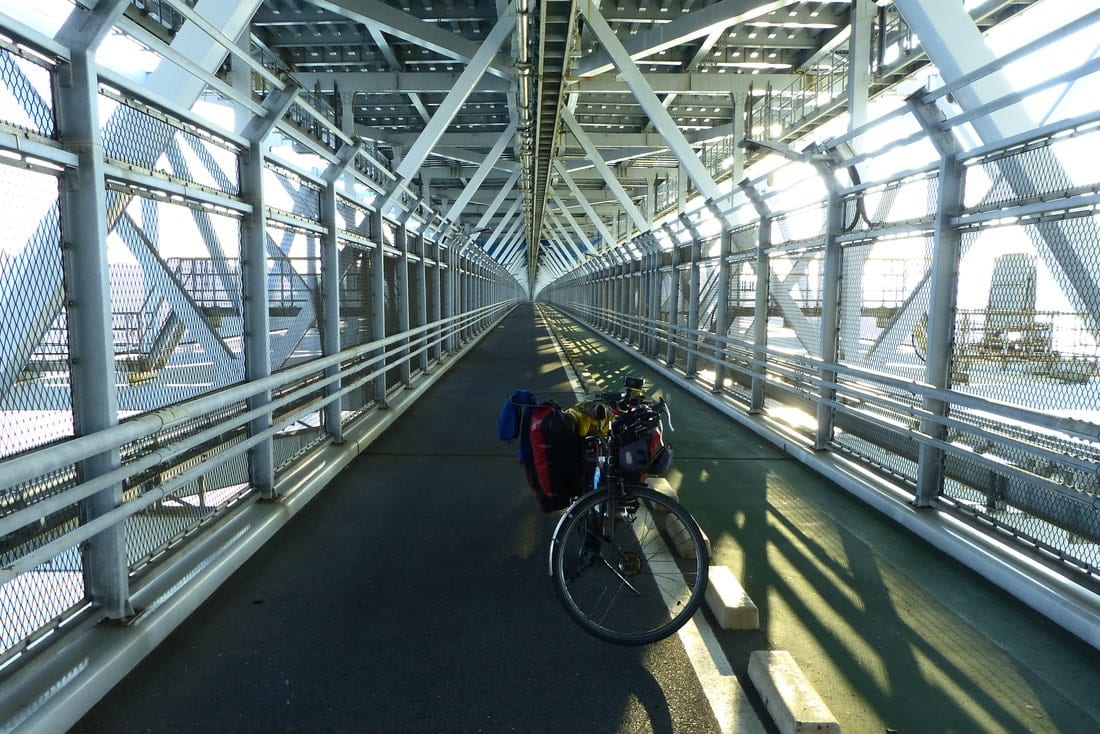 Shimanami Kaido is for sure a very cool cycling destination, great for one or two days off, but if you're cycling long distances in Japan there're a few things to consider:
The Honshu area where you'll end up (or pass before reaching the Shimanami Kaido), is very very busy and not pleasant to cycle at all.
A seamless urban area comprising Hiroshima, Fukuyama, Okayama, Kobe, and Osaka, several days in the busiest roads of Japan is needed to get out of this. Himeji and Ako area is the only part where the traffic relaxes a bit, but it's still an urban area.
Unless you decide to hit the north coast of Honshu, which is supposed to be very nice (we haven't been there). Keep in mind that taking bikes on trains or buses in Japan is almost impossible.
In hindsight, we would rather have cycled more of Shikoku to reach Honshu later by boat around Himeji or Osaka area. There are two more bridges connecting Honshu and Shikoku, among which are the longest suspended bridges in the world, but apparently, they are forbidden to bicycles.
A good alternative, if you want to cycle some smaller islands, is the Amakusa archipelago, in the Gulf of Kyushu, way less touristy but maybe even more spectacular.
There are also many more islands in the Seto Inland Sea, among them the most interesting are the Art Islands, Naoshima, Teshima, and others, filled with surreal art installations, cutting edge museums, and architectural gems.
Rental System
Info was taken from Japan-Guide.com

"Two separate bicycle rental systems are offered along the Shimanami Kaido: the regular rental system features over a dozen terminals dotted along the cycling course, while a newer one is operated by bicycle manufacturer Giant with two terminals. Both systems allow tourists to rent their bicycles at one end of the route and drop it off at the other end, or – in case of the regular system – to stop anywhere in between when they become tired and take a bus for the rest of their journey.
The regular rental system is much cheaper and offers more terminals. The rental fee is 1,000 yen per day. A 1,000 yen deposit is charged and will be returned unless you drop off the bicycle at a terminal on a different island. Various types of bicycles are available, but some of the smaller terminals may only have a limited selection. Tandems (1,200 yen per day) and electric-assist bicycles (1,500 yen for 6 hours) are available at some terminals and must be returned to the terminal from which they were rented. Advance reservations are not necessary.
The Giant rental system is much more expensive and has only two terminals: one at Imabari Station and the other at Onomichi Station. Various high-quality bicycles are available for 4,000 to 13,000 yen per day. Drop-off at the other terminal is only possible with road bicycles, requires prior reservation and costs an additional 3,000 yen."
More about Japan
We rode the Shimanami Kaido as part of our Japanese three-month leg during our two years Asian bicycle trip.
For hints and trip about traveling in Japan on a very tight budget (less than 10USD per day) read our guide here.
To have a panoramic of our Japanese bicycle touring project, check our itinerary in this other article.
Have a look at these amazing places to visit in Japan you might never heard about!
Please comment, like and share on social networks if you like!
Shimanami Kaido bicycle route
Follow us
Stay in touch while we get lost! Follow us on Social Media