The best day trips from Tokyo
for those on a budget
Get out of Tokyo for 1 day to
7 GORGEOUS nearby attractions
worth a side trip
Nature/culture/architecture!
Tokyo is great, I know. The majority of people who visit would agree as well, but have you ever tried exploring places outside of the city?
You might wonder what the best day trips from Tokyo are, well there's plenty of attractions that are absolutely worth visiting near Tokyo.
How about chilling at the beaches down south in Enoshima, or relaxing on a pleasurable onsen at Kusatsu.
If you're not a city person and do not want to stay locked in your Tokyo Airbnb, then why not head to Hakone or Nikko and enjoy the beautiful nature and the local Japanese culture in an authentic rural town and enjoy the beautiful shrines and the authentic-looking town.
There are many affordable destinations on the outskirts of Tokyo and here, we'll introduce some of our favorite spots!
This article is contributed by our friend Danny Kang!

Danny moved to Tokyo in 2017 and has been living there ever since. While maintaining his full-
time job, he has traveled all over Japan, from the winter island of Hokkaido to the tropical
beaches in Okinawa.

Together with his partner Tomomi, they write about their travel experiences and provide travel guides over at their blog www.kumastation.com
Cheap Day Trips from Tokyo in a Nutshell
Kusatsu Onsen Village – [Great Onsen/Hot Spring near Tokyo]
Yokohama – [Best Day Trip from Tokyo for Modern Architecture]
Kawasaki – [Cool place near Tokyo for Vintage Videogame Fans]
Hakone – [Simply the Best Day Trip from Tokyo – Great Views of Mt.Fuji]
Kamakura – [Best for Traditional Houses and Buddhist Temples]
Enoshima – [Top 1-Day Gataway to the Beach from Tokyo]
Kawagoe – [Cheap Day Trip from Tokyo for Cultural Heritage]
Tokorozawa – [Best Day Out of Tokyo for Miyazaki Anime Fans, Totoro]
Nikko – [Best Tokyo Day Trip for Nature Lovers]
Disclosure: Some of our articles contain affiliate links. This comes at no additional cost for you and helps us keep this website up and running. (as Amazon Associates we earn commission from qualifying purchases)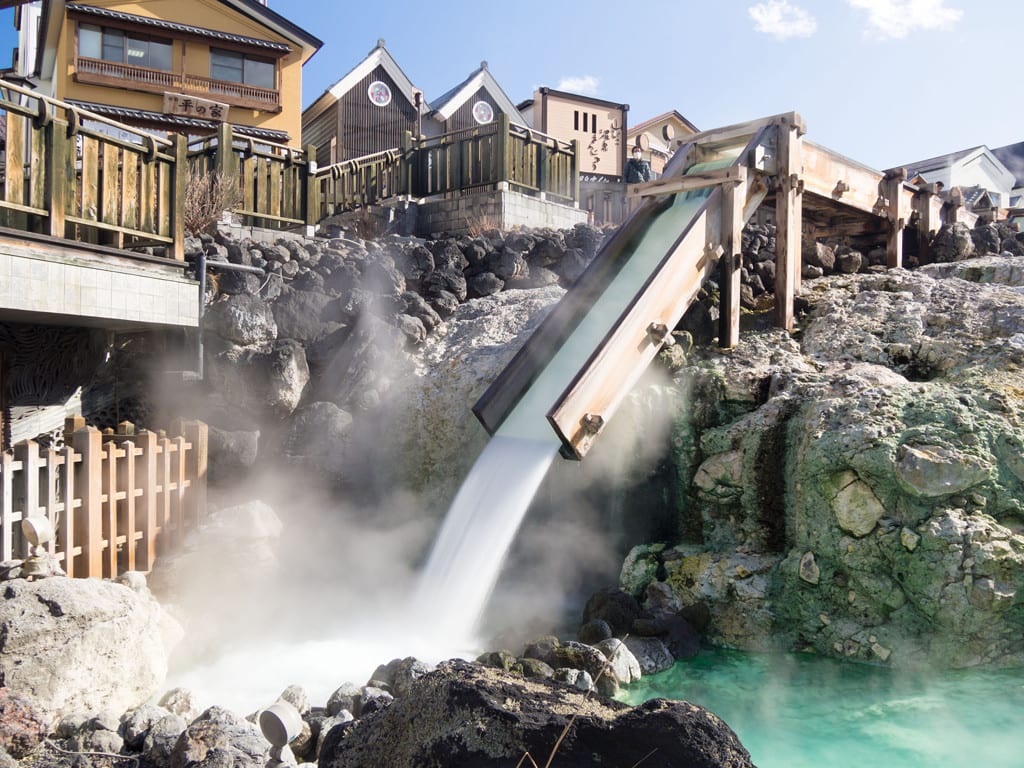 Kusatsu Onsen Village
[Great Onsen/Hot Spring near Tokyo]
3 hours (¥5,600) Takasaki Line (2 transfer) Akagi Limited Express; Naganohara-Kusatsuguchi station via bus
The Kusatsu Onsen Village is one of Japan's most famous onsen (hot springs), where there are many resorts for tourists to stay for the weekend. The hot spring is about 1,200 meters above sea level from the mountains located at Gunma prefecture.
Locals say that the quality of the hot spring is so rich that it can help cure your sickness. Near Kusatsu is Mt. Shirane, where you can go hiking in the summer and winter sports in the winter.
To get to Kusatsu, you may have to transfer from train to bus, so it is quite a long day-trip from Tokyo. But once you get there, it's definitely worth the travel, the hot springs will take your fatigue away.
Yokohama
[Best Day Trip from Tokyo for Modern Architecture]
40 minutes (¥480) Tōkaidō Line
Yokohama, Japan's original jazz city, is where you can find numerous places with entertainment. If you go towards Minatomirai, you can find the famous Red Brick Warehouse, where there's a festival every month.
Speaking of themes, if you love theme parks, head down to Cosmo World, where you can play games, ride a disappearing rollercoaster, and much more! Next to the theme park is the cup of noodle museum, whereas you can make your own customized cup of noodle.
Yokohama also has Kanto's biggest Chinatown, where you can have some authentic Chinese food including Xiao Long Bao and Mabu Tofu.
Kawasaki
[Cool place near Tokyo for Vintage Videogame Fans]
20 minutes (¥310) Tōkaidō Line
On the way back to Tokyo from your day-trip to Yokohama, you might as well stop by Kawasaki too! Kawasaki is known for holding many festivals during spring time, that includes, the Kanamara Festival and the Morimori Food Festival, so if you're going to be here during April, I recommend checking it out!
If you're a fan of arcade games, then I highly suggest that you go to Dystopian Warehouse Amusement Arcade, you can play Tekken, while the atmosphere feels like you're in China, back in the 1950s. Seriously feels like you're in a real life Mortal Kombat scene.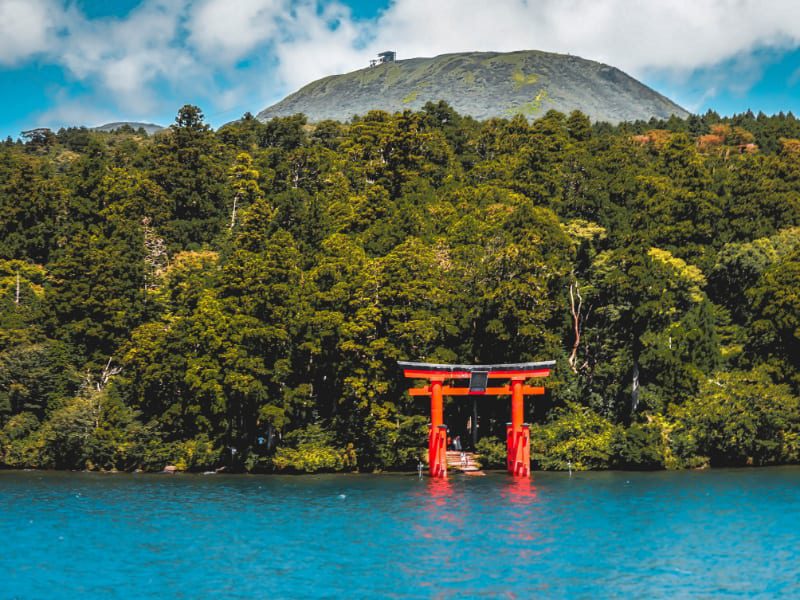 Hakone
[Simply the Best Day Trip from Tokyo – Great Views of Mt.Fuji]
1 hour 30 minutes (¥1,840) Tōkaidō Line (1 transfer) Hakonetozan Line
Have you ever seen those Instagram photos of people next to a lake with a giant shrine by them? Well it's at Hakone, which is one the best places to visit for natural beauty everywhere.
The only kicker is, you have to head to that shrine early morning, or else you'll stumble upon a long line of people, trying to shoot the same photos as you. If you want something alternative why not visiting the Open Air Museum? Honestly, if you feel lazy, hot springs and a view of Lake Ashinoko and Mount Fuji is all you need.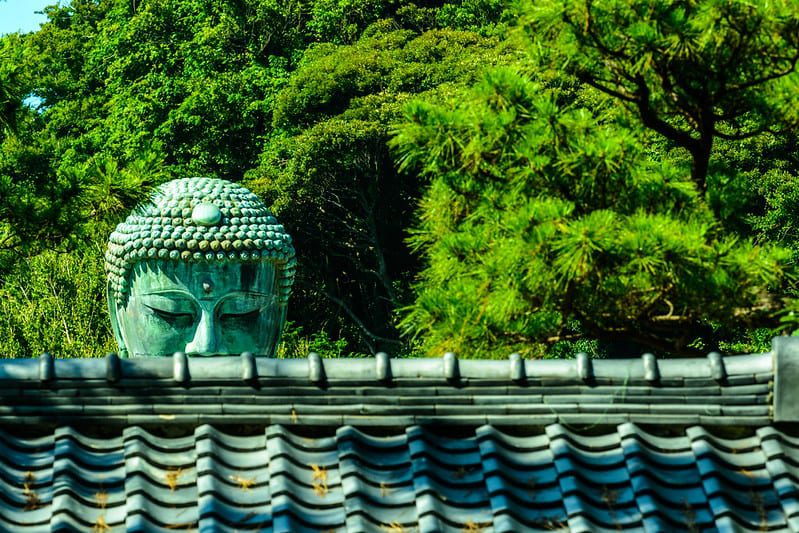 Kamakura
[Best for Traditional Houses and Buddhist Temples]
1 hour (¥940) Yokosuka Line
You know what's cool? A Buddah statue, but do you know what's even cooler? A bigger Buddha statue! Kamakura is known for its countless shrines and their giant Buddha statue, which is the second largest monumental Buddha in Japan.
Check out the local restaurants and try a shirasu, white sardines that can be eaten raw, or cooked in a rice bowl. If you want to go to Kyoto but can't afford it or ran out of time, then Kamakura will give you that Kyoto-style vibe.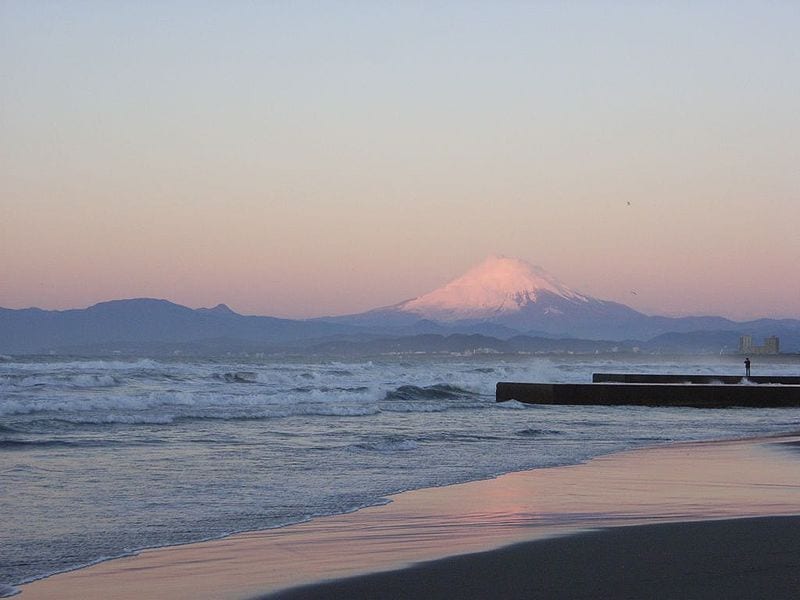 Enoshima
[Top 1-Day Gataway to the Beach from Tokyo]
1 hour 15 minutes (¥1,200) Yokosuka Line (1 transfer) Shonan Monorail
While you're at Kamakura, why not head towards Enoshima, since they are both next to each other. As a person who used to live in Southern California, I always miss kicking it at the beach.
Enoshima, however, kind of reminds me a little bit of home, a relaxing spot to take your kids or your girlfriend/boyfriend to the beach. Hey, if you have time, go take a trip to the bridge that takes you to another island. Over there, you can find dwelling caves, plenty of shrines and an observation tower.
Kawagoe
[Cheap Day Trip from Tokyo for Cultural Heritage]
1 hour (¥680) Yamanote Line (1 transfer) Tobu-Tojo Line
Now, let's focus on Saitama prefecture, whereas it lays north away from Tokyo. The best suggestion for a day trip out of Tokyo in this area is to visit Kawagoe, the heart of Saitama, where there is a lot of historical buildings and cultural heritage around the city.
Local streets that have amazing food and fascinating architecture that was built long ago. Also notable for sweet potatoes, which are sold everywhere in Kawagoe. Kawagoe and its temples are also a picturesque location where to admire the famous Japanese cherry blossom.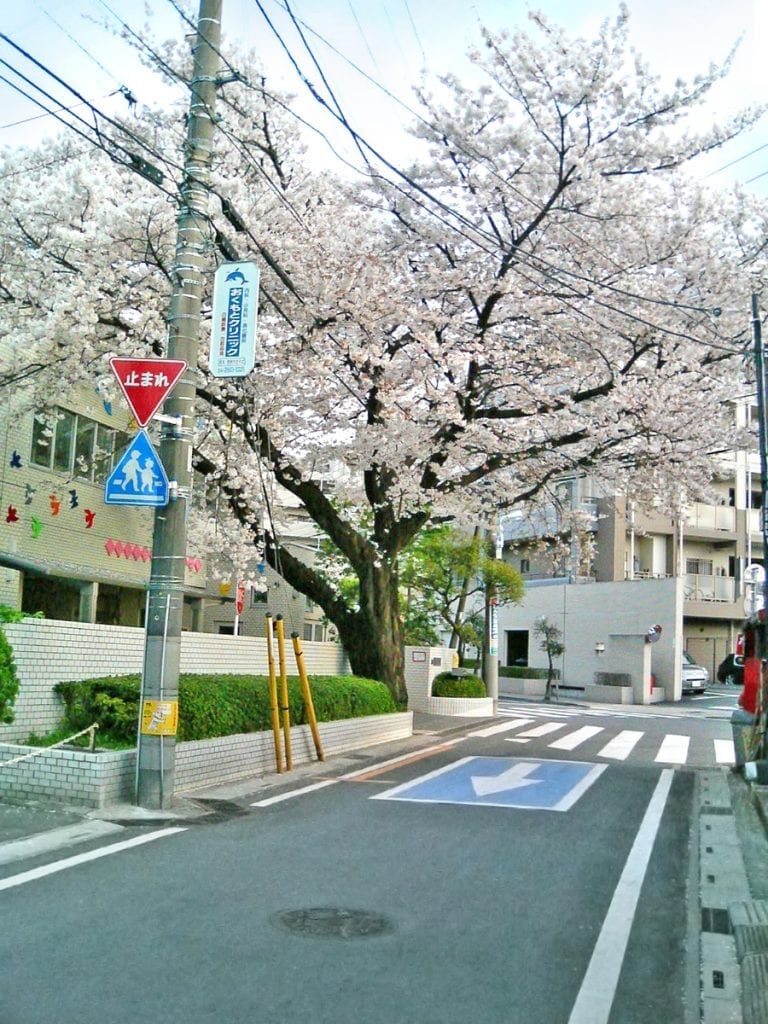 Tokorozawa
[Best Day Out of Tokyo for Miyazaki Anime Fans, Totoro]
45 minutes (¥550) Marunouchi Line (1 transfer) Ikebukuro Line
Have you ever watched Ghibli's famous film called Totoro? Well this city was inspired by such an amazing anime. Tokorozawa is a small town, based in Saitama, also known for its big department stores across the whole shopping street named Prope.
Tokorozawa has many historical museums, such as the Japanese aviation, where it displays multiple air crafts and goes into details about the history of planes. One of the best alternative day-trips from Tokyo.
Nikko
[Best Tokyo Day Trip for Nature Lovers]
2 hours (¥3000) Nikko-Kinugawa Line from Asakusa Station
Nikko is one of the best places to go near Tokyo when it comes to nature spots. There's a big lake called Chuzenji Lake, where you can relax and take in the serene atmosphere.
Conversely, you can take the ferry boat across the lake to see the roaring Ryuzu Falls. To the north is Nikko's most symbolic Kinugawa River. The river runs through various canyons and has carved an incredibly beautiful landscape.
One of the most popular experiences here is to stay at a ryokan and enjoy a relaxing outdoor onsen by the river.
Alternatively, if you just want a quick day trip onsen, you can do so at Yunishigawa Onsen Station. There are also other attractions in Nikko, such as Tobu World Square, where they have detailed figure exhibits of famous landmarks around the world.
Stay in touch while we get lost! Follow us on Social Media