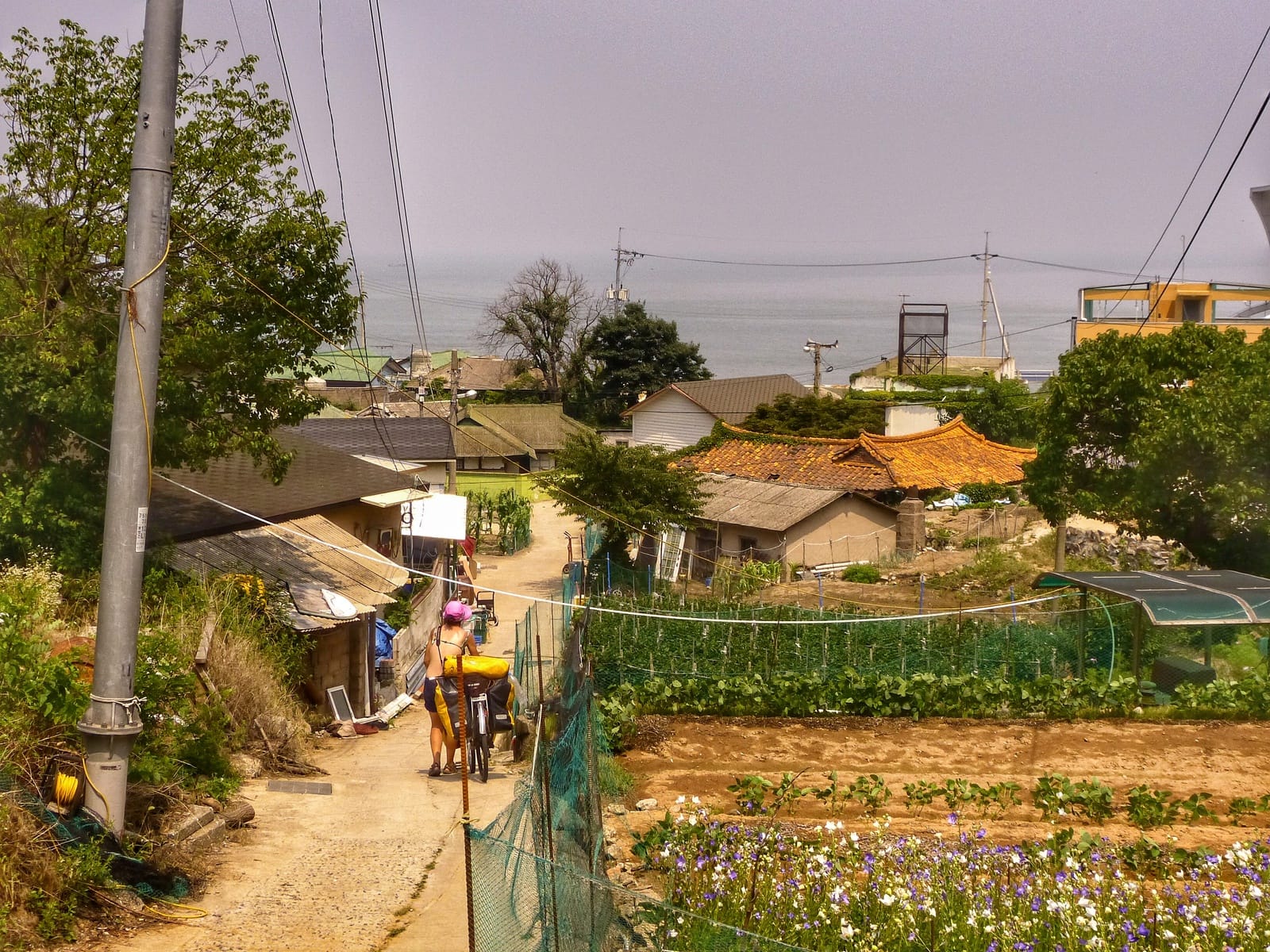 Cycling in South Korea – roads, weather, camping, food, tips, advice – plus a long bicycle itinerary of the Korean Peninsula. 4000 words, first-hand info!
Cycling in South Korea is really amusing, definitely a bike trip that can suit anyone, from experienced bike tourers to those who never used a bike beyond short commuting.
South Korea is a very small country, gives most nationality a free 90 days visa, is one of the safest and most camping friendly places in the world, and has an extensive network of bike paths and quiet secondary roads.
Cycling Korea will bring you along amazing coastlines, stunning beaches, thousands of islands, many lakes, and a lush green interior that is sure to leave great memories for a lifetime.
The only downside of bike touring in South Korea is the costs, this is not the usual cheap Asian country.
Despite this, it is still possible to travel Korea by bicycle on a very tight budget (we had less than 10US a day each when we cycled here), thanks to its many free campsites and ubiquitous convenience store. You'll have to give up a bit in terms of food quality, which is a pity in a country with such amazing cuisine!
In this blog article, we'll try to give you all the information needed to cycle South Korea, plus an itinerary off the usual abused and quite boring 4-rivers-cycling-path.
Although Seoul and Jeju island are gorgeous places for sure, there are many more places to see in South Korea that are too often overlooked by tourists.
Check Also Cycling Japan! Cheap Bike Touring Hacks + 9-Stages Itinerary
Cycling Tour of South Korea in a Nutshell
1. Starting the bike trip in Incheon
2. Cycling the islands of Yeongjongdo, Muui-do, and Somuui-do
3. Cycling through Seoul
4. From Seoul to Boryeong via Yedang Reservoir – 180km
5. Cycling the Byeonsan Peninsula
6. A random ferry to the tiny Sangnagwol-ri/Hanakwol-ri Islands
7. More islands and coastline – Ttangkkeut, Wando, and Songho Beach
8. Exploring more amazing islands by bike – Doegudo, Geumildo, Saengildo, Soryangdo
9. Cycling the Korean South Coast – Suncheon Bay, Yeosu, Namhae do
10. Cycling Busan's coastline
The 4 Rivers Bike Path and why I don't recommend it
Disclosure: Some of our articles contain affiliate links. This comes at no additional cost for you and helps us keep this website up and running. (as Amazon Associates we earn commission from qualifying purchases)
When Googling about cycling in Korea, you are likely to come across plenty of stuff about the famous 4 Rivers Cycling Path. This is a 633 km-long dedicated bicycle path connecting the major Korean cities of Seoul and Busan, it runs through the interiors of the country along the Hangang, Nakdonggang, Geoumgang, and Yeonsangang rivers.
The Four Rivers Path became increasingly popular in recent years, thus helping a lot in promoting bicycle tourism in South Korea. That's, of course, good but should you stick to that when exploring Korea on a bicycle?
My answer is a firm NO, and here's why:
The path hits the coastline only in Seoul and Busan, the Korean coast is beautiful and definitely one of the most interesting things to experience in Korea – so why avoiding it?
It doesn't go through any of the thousands of Korean Islands. The islands are where the Korean culture is most authentic, why miss them?
The path is a single, long, signposted road. Are you sure you don't want to make your own way through the country and explore more?
The 4 Rivers is certainly a nice and easy cycling trip, but I honestly think there's much more to see in South Korea. That's why I recommend a totally different itinerary (ours) but also invite you to just take a bit of inspiration – or even totally ignore it – and make your own way through this beautiful country.
Best time to cycle South Korea

The Korean peninsula stands at a quite northern latitude, look at a map, that's almost Siberia! The overall close proximity of the sea though mitigates the temperatures so it rarely gets as cold as Russia. Winters anyway are very rigid, especially in the north, while the southern coast is still bearable, expect snow everywhere though in the coldest months (January/February).
The Summers can be very hot, we cycled here in July/August and sweated quite a bit, although nights were (almost) always nice enough to allow undisturbed sleeping.
Overall, I'll say the best period to cycle South Korea is late spring (May/June) and early Autumn (September). Summer is also the monsoon season, and it can be quite wet, we often had rainy days but those were rarely unbearable – sometimes a bit of "sky-juice" is almost welcome, and almost always you'll be thankful for a cloudy sky.
Roads in South Korea

There are tons of long-distance bike paths in Korea and that is just absolutely great but, believe me, you don't have to stick on that. Actually, Korea has a very good road network and is so easy to find alternative roads that will be almost all for yourself. I find cycling Korean bike paths quite boring, not really adventurous, just follow it and that's it. Not for me, thanks.
Take side roads, go where people tell you there's nothing to see, is there that you will find the real South Korea. Anyway, roads are sealed and well maintained, the only "real" mountains are in the north but South Korea is a constant up and down that could be quite challenging for your legs.
South Korea is a country that deserves to be explored beyond the usual touristic routes, and a bike is certainly the best way to do it.
Getting to South Korea by ferry
While most people would probably just fly in, most likely on the beautiful Incheon Airport, for those who find themselves in China, Russia, or Japan there are ferry options available – cheap, convenient, and very enjoyable.
There are though very interesting ferry connections with many cities in China (we came to Incheon by ferry from Qingdao), with Vladivostok in Russia and a few ferry routes for Japan, we went from Busan to Fukuoka for less than 40€ on a beautiful ship.
Coming to South Korea overland, instead, is almost impossible. North Korea is in the way and there's almost no chance to get across. It appears that by paying a crazy amount of money, you could arrange a military escort across North Korea – it might be interesting if you can afford it but… do you really want to support such a terrible regime with your money?
Taking public transports with a bike in South Korea
Buses are plentiful and economical. A bike can go in the trunk of the bus for free without any packaging. This is great for jumping from one route to another. Average price ₩35,000 to cross the country by bus.
A very modern train takes you from inside the airport to the beginning of the cross country bike path in 20 minutes. Stay on for 20 more minutes to Seoul. It's just ₩8,000 and bike goes aboard free and fully assembled. Weekends and holidays only.
Ferries connect all of the islands not served by bridges. Sometimes it can be hard to understand the routes, especially in minor ports where you'll hardly find any English spoken.
But don't let this put you down, explore the islands, especially the less known ones, they are some of the most amazing and pure parts of South Korea. Once we took a random ferry, one other time we pointed a little island on a map and went there, both times we didn't regret.
Small fees apply for bicycles but they can go aboard fully assembled.
Where to sleep in South Korea
Free camping in South Korea

Nothing can beat free camping in South Korea! This is definitively the most camping friendly country we have visited so far, Koreans love to camp, they do it every time they have the chance. There are plenty of free camping structures in South Korea, literally everywhere. Usually, those structures are fully serviced with toilets, showers, and shaded tent spots.
But even when there are no such facilities, camping in South Korea is easy, legal and can even easily lead to meeting friendly locals and so experiencing Korean culture in all its fascinating aspects.
South Korea is dotted by thousands of nice and well maintained wooden gazebo, you will find those at every corner, and they are purposely made for resting, so why don't just rest there? We even camped in one of these gazebos in the center of Seoul!
Most of these are wide enough to pitch a small tent inside, so to have a comfortable shelter – great for rainy nights and scorching hot mornings.
Even when these gazebos are in very exposed positions, you really don't need to worry, there's a good chance of some kind Korean delivering you coffee in the morning straight to your tent!
At least this was our personal experience, and not only once but really several times! You'll be a fool and end up missing out on the best of Korean kindness if you won't bring a tent with you!
---
Sleeping at local people's houses in South Korea
Although Koreans are among the nicest people on earth, especially in the countryside, it's unfortunately not common to be invited to sleep at some stranger's house.
More than once we had been treated meals, once a fellow cyclist even gave us some money (he didn't have time to eat lunch with us) but we have never been invited for the night.
Warmshowers and Couchsurfing are widespread in Korea but many members don't speak English and so often are just too shy to host you. Give it a try anyway, we met very beautiful people.
There are also many volunteering opportunities available through Workaway or similar websites if you are willing to take a break and spend more time exploring a certain area and getting to know the Korean lifestyle.
Accommodation in South Korea
In the bigger cities and most touristic places, it's not hard to find rooms for less than 25USD and beds in hostel dorms for as low as 9 dollars.
Proper accommodation outside those areas though, is not so cheap in South Korea, hard to find a room for less than 35USD per night, and even those prices are very rare.
Another weird but interesting option is to sleep in Jimjilbang, Korean public baths. For about 5US you'll be allowed to sleep on the floor in large common rooms (divided by gender) and have a nice hot bath if you're not too shy to get naked in front of other people.
Getting water in South Korea
Drinking water it's available everywhere, tap water is perfectly safe in South Korea. Gas stations also have toilets and sometimes showers or just a plastic hose.
Public baths are widespread but not so easy to recognize (memorize 찜질방), in the countryside, we often used to quickly soak in rice fields irrigation channels, may seem not too polite but usually, Koreans just laugh at it. Overall you won't need to spend a dime on drinking water in South Korea.
Where to eat while cycling Korea
Korean food is amazing, a huge variety of stuff – every region has its own peculiar specialties – but be warned, it is among the spiciest cuisines on this planet.
The average cost of a meal in a cheap restaurant can be compared to Western European prices, 10 to 15€ per person. It's possible to find cheaper restaurants, especially in big cities, where to eat for as low as 5$ per person.
The great thing about this kind of restaurant is that just ordering a single dish you will get many side dishes for free, and you can ask for (almost) unlimited refills of those!
Another option is convenience stores, there are many brands in South Korea (7Eleven, FamilyMart, and others), they are everywhere. They have a decent choice of pre-cooked meals for fairly cheap (3€), but the quality though is not great.
There are frozen meals, rice with meat, gimbap and so on, often with a discount on products close to the expiring date. Hot water and microwave are always available.
Instant noodles are for sure the cheapest option but beware to don't abuse it, they are very unhealthy (we experienced that ourselves, after making those out primary food source for two months).
Korean supermarkets are nothing like the Japanese ones, no bento (ready-made meals), not wide choices. There are though decent varieties of canned food, frozen tteokbokki, cold noodles with powdered sauces, cooked white rice and curry, and so on.
Unlike Japanese supermarket though, there are no microwaves here, so you must use your own cooking gear to heat this stuff up. Fresh fruit and vegetables are quite expensive, beer is around 1.50€ for a 500cl can.
But the best way to experience real Korean cuisine is to have a Korean person cooking especially for you, so make friends! Koreans are very hospitable persons and backpacking or cycling around off the beaten path areas is likely to get you invitations for meals.
---
Our Cycle Route in South Korea
This is the itinerary of our bike trip in South Korea, it's about 1700km long and we did it in approximately 2 months, including a one week stop in Seoul and an 8-days one in Busan. We also took several rest days and sometimes cycled less than 40km in one day.
The long visa allowance and small territory really make Korea an ideal destination for a leisure bike trip, that's if you have enough time of course. We visited many islands and some were the highlights of our journey.
We feel like recommending this itinerary to those who are interested in exploring the most hidden sides of South Korea, while experiencing the real culture of this amazing country.
Each of these paragraphs links to an in-depth article describing the route and our personal experience.
Getting your bike from Incheon Airport to Seoul by public transports – a quick note
No subway lines take bikes on weekdays. If it's boxed you might be ok, first or last car. Buses from Incheon do accept boxed bikes but if you are unlucky you may be told by several buses in a row your bike box is too big with all other passengers' luggage.
I was forced to wait & re-buy tickets 3 times once. Other people have had no problems so… it's a lottery. If busy time then you need luck. *source – FB group: cycling in Korea
1. Starting the bike trip in Incheon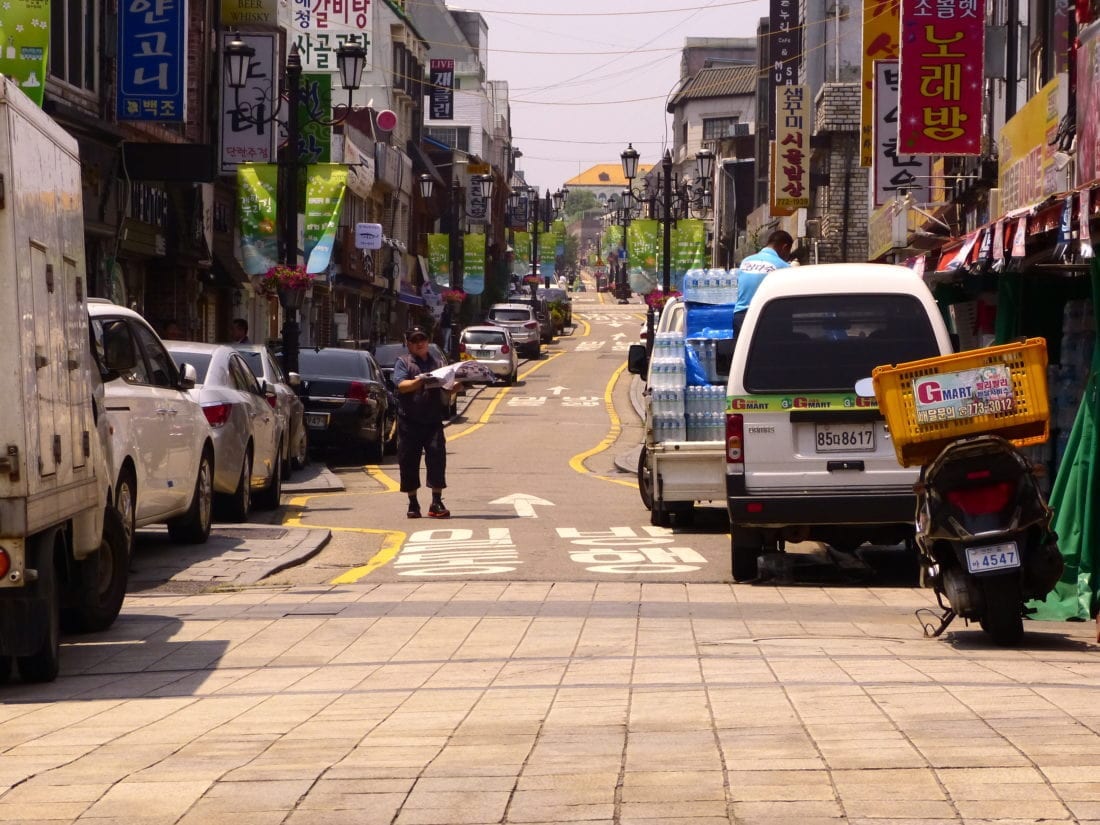 Incheon is South Korea's third most populous city after Seoul and Busan. Its 3 million citizens are considered in the Seoul Capital Area, the fourth largest metropolitan area in the world, with a population of 25 million people.
When cycling South Korea you're more likely to start or finish here, either the biggest international airport and the most important seaport area in Incheon.
Incheon itself is a really interesting city, full of hills and nice hidden neighborhoods, but maybe the most interesting parts to cycle in are the nearby islands.
Check our article about Things to do in Incheon
2. Cycling the islands of Yeongjongdo, Muui-do, and Somuui-do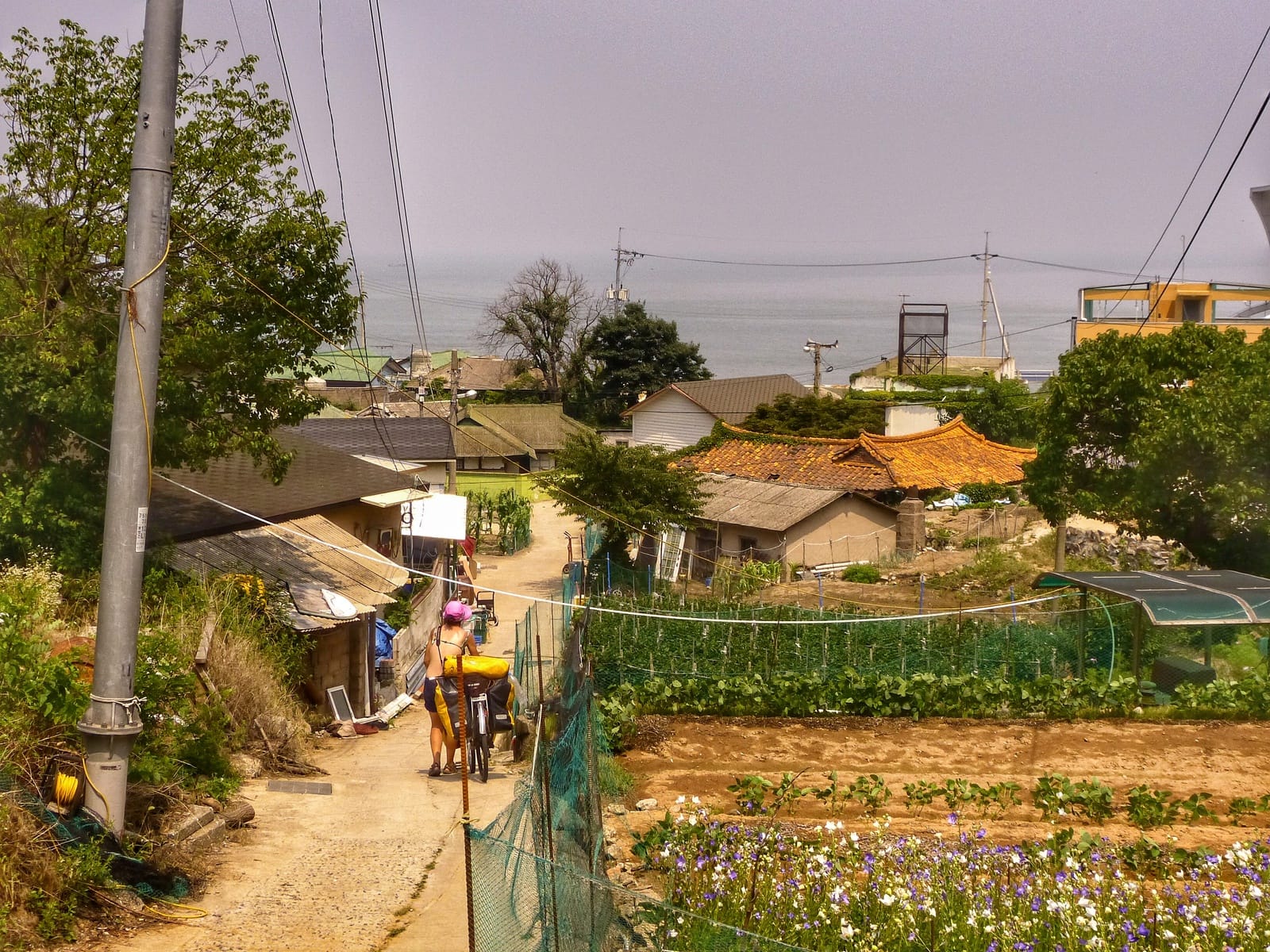 One hundred out of the 3358 islands of South Korea are in the Incheon area, among those we visited three: Yeongjong-do, Muui-do, and Somuui-do (do means island).
Those three of very interesting islands are well connected with each other:
Yeongjongdo is the island where the airport stays, it's big and unpopulated, there are wide streets with brand new traffic lights but no cars, and a perfect bike path. When there is low tide, the sea retires hundreds of meters, making the atmosphere even more surreal.
It's an expanse of mud with many herons and other birds, that makes it a great place for occasional birdwatching. The extra-long Incheon bridge is really massive, an architectural masterpiece. Unfortunately, you're not allowed to cycle it.
Muui-do island is small and mountainous, lush green, with so much forest and loud cicadas, a tiny village of cozy houses dotting the landscape now and then, very beautiful. Hanaggae Beach is the best sandy beach nearby Seoul.
Somuuido island is Muuido's little sister, connected by a pedestrian bridge to Muuido. It's really very small. There is a small village which begins at the harbor and climbs on the only road of the islet. On the other side is a beautiful pebble beach.
3. Cycling through Seoul
Seoul is one of our favorite cities in Asia. It's huge and pretty diverse, with a lot of things to do. We spent a whole week here exploring the city by bike but also walking around.
Seoul is quite cycle-friendly, impressive is the long bike path along the immense Han River, be careful though because very few of the bridges allow you to cross by bike without big detours, we ended up being stuck on one side without finding a way to get across.
Have a look at the Best and Cheapest Accommodation on Seoul.
Check our article about things to do in Seoul
4. From Seoul to Boryeong via Yedang Reservoir – 180km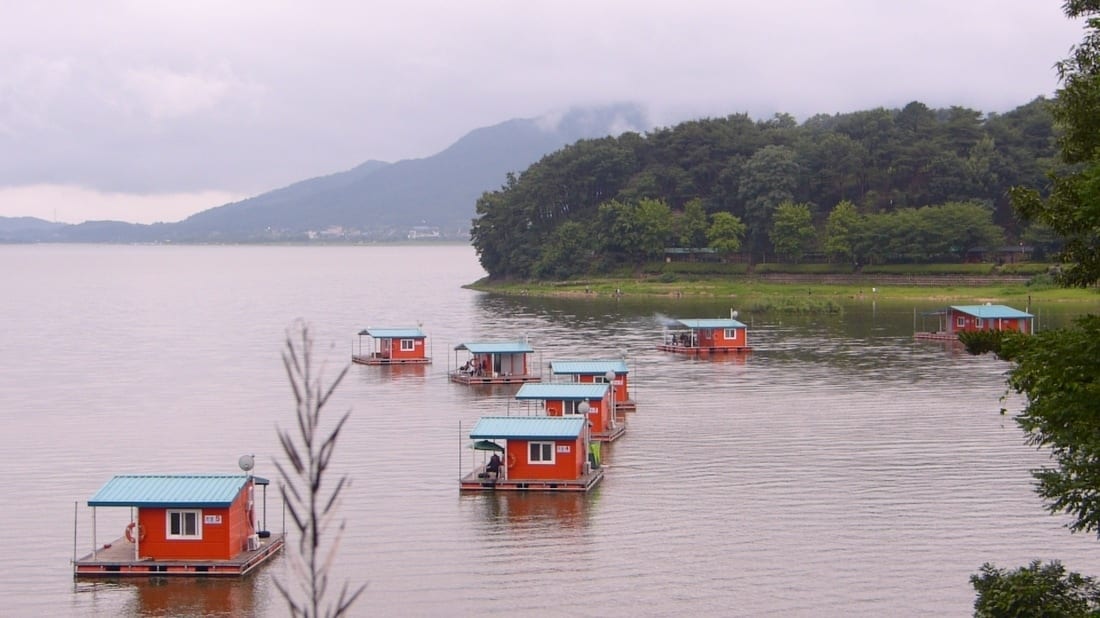 Exiting Seoul through the bike path to Suwon it's easy and quick. From Suwon, there's no dedicated bike path but a lot of secondary roads with very low traffic. You'll start enjoying the Korean countryside, our route can be seen on the above map but there are many options from here to Boryeong.
We absolutely advise though passing by the idyllic Yedang reservoir. On this artificial lake, the biggest in South Korea, there are very nice floating houses used for fishing, if you ever saw the Kim Ki Duk movie, the Isle you know how they look (if you didn't, watch it).
You can sleep in one of these cozy houses, but there's also a free campsite on the shore, equipped with toilets, shades, and grill facilities. There's no shower but a hose in the toilet will do if you're cycling Korea in summer.
From there to Boryeong the road is a bit less interesting. Boryeong is a resort town with a huge beach (famous for the yearly Mud Fest), this can be crowded in peak season, but there are a few smaller ones that are more tranquil. One also has a campsite, not free but cheap enough.
Here the best hotels in Boryeong
5. Cycling the Byeonsan Peninsula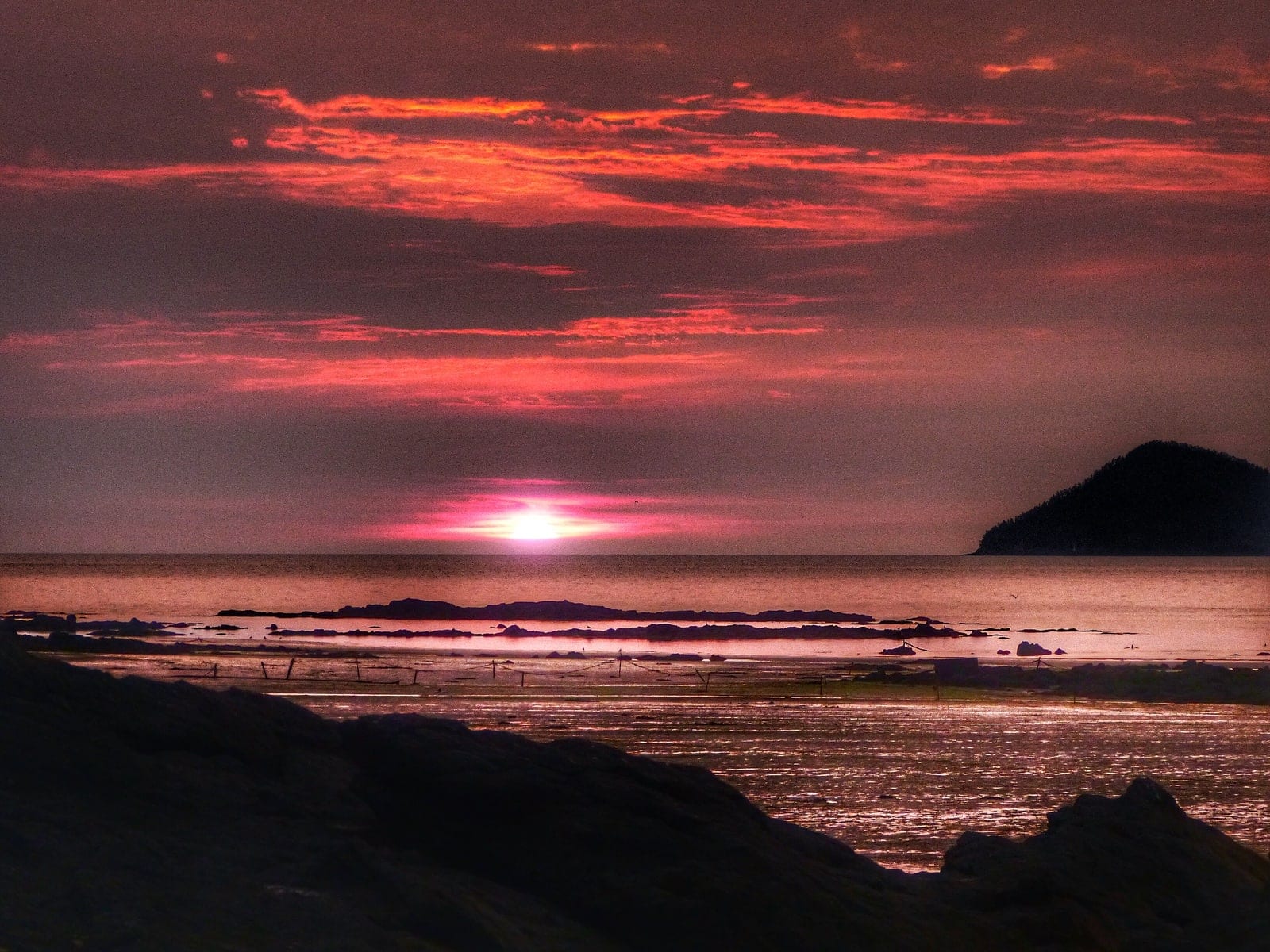 A nice-enough 120km will bring you from Boryeong to one of the (many) highlights of our Korean cycle trip: the Byeonsan Peninsula. This small but gorgeous region of South Korea is a concentrate of marvels, really worth to be included in your cycling itinerary.
Attractions include the Byeonsan National Park, the huge and clean Byeonsan beach, the amazing Chaeseokgang cliff in Gyeokpo village, the Hanok village (fake but nice), and a small island reachable by foot in low tide.
More cultural places to visit are Naesosa Temple (available for temple stays), the SilkWorm museum, and the shamanist Fisherman Temple (one of the few shamanist temples left in South Korea). The best though is the scenic ride along the coast, with sights of many tiny islands.
We spent three days exploring the peninsula, leaving almost all of our gear at a wild camping spot and cycling around, just for you to understand how safe South Korea is.
Check our full article about Byeonsan National Park
Check Byeonsan Peninsula Pictures and Reviews
6. A random ferry to the tiny Sangnagwol-ri/Hanakwol-ri Islands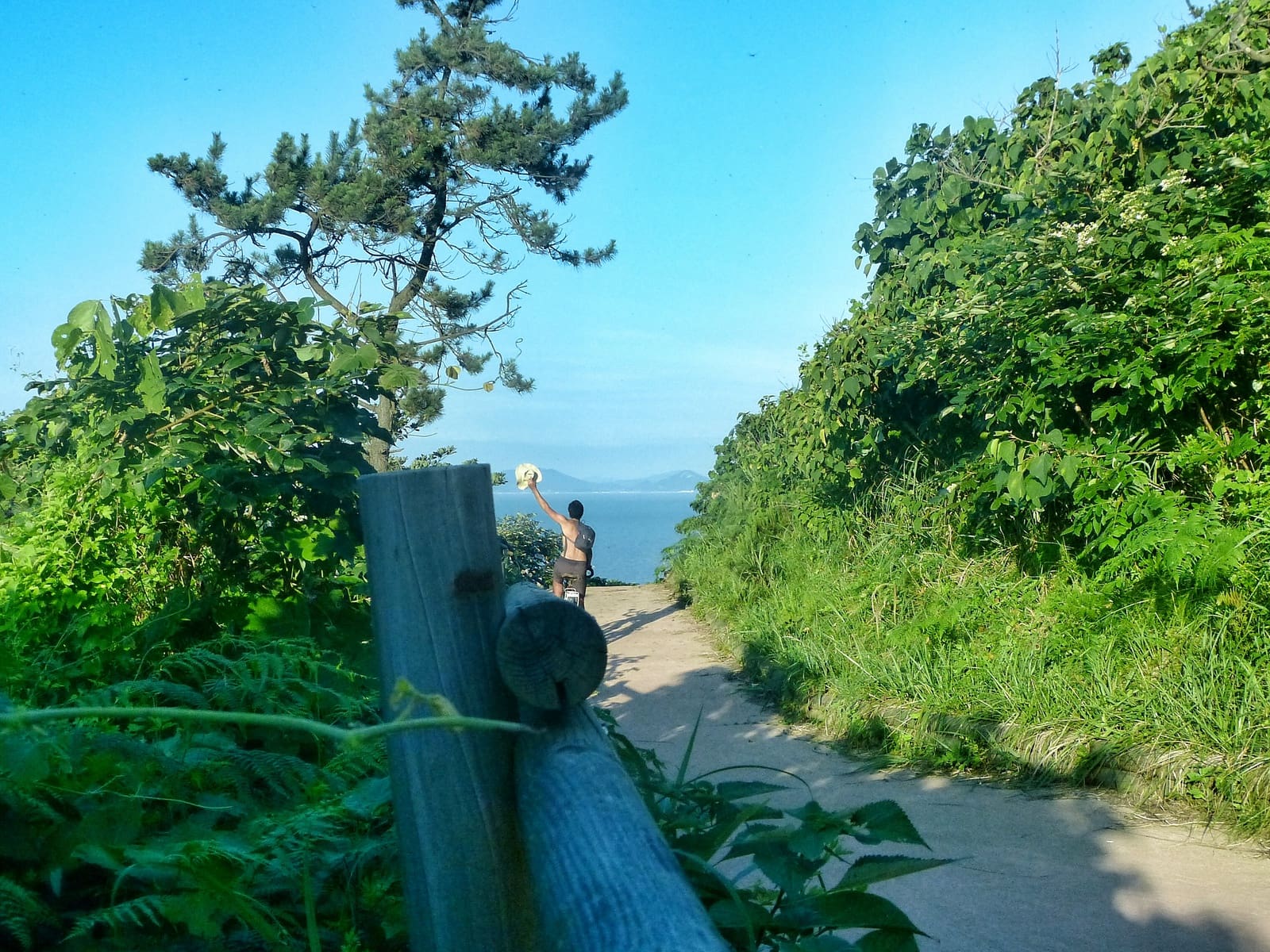 With the amazing marvels of Byeonsan peninsula behind our backs, we resume bicycle touring South Korea west coast, always heading south.
We cross from the Jeonllabuk region into Jeollanam, rice paddies as far as the eye can see. There (check map) you can find a jetty where RoRo ferries depart for many islands, we took a random one and ended up in paradise.
Getting to such small islands is really the best way to get in touch with the traditional lifestyle of Korean fishermen, Hanakwol-ri and Sangnagwol-ri are two interconnected rocks, hardly visited by any tourists and inhabited by just a bunch of people. There are two very nice beaches, one has an official campsite while the other has a wooden gazebo and toilets.
7. More islands and coastline – Ttangkkeut, Wando, and Songho Beach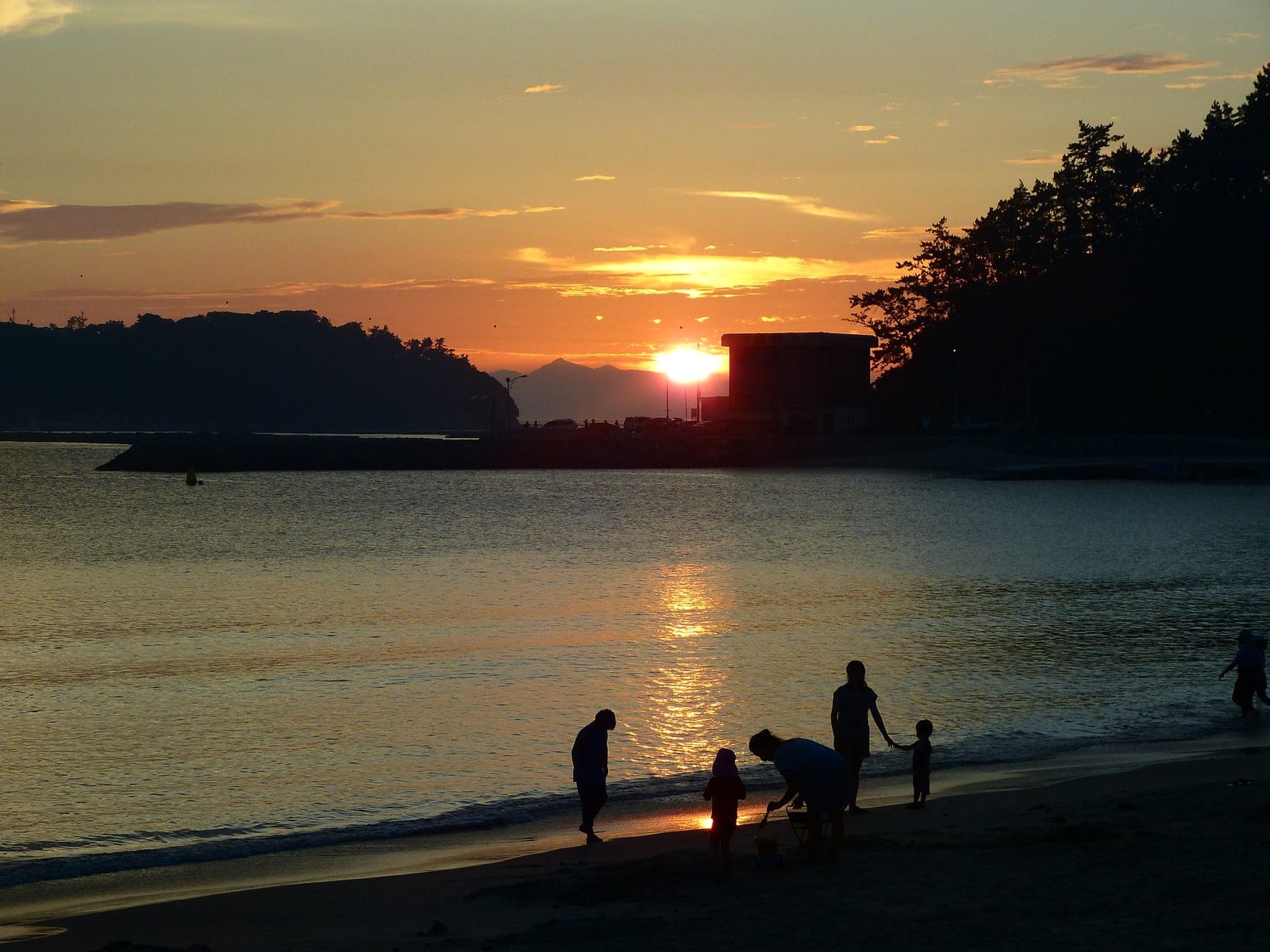 Leaving the above small islands the only option is to go back to where we caught the ferry. On the road south, we pass by the large beach of Dolmeori. With the usual camping facilities and the usual low tide. From the peninsula of Unnam Myeon, we reach the neighboring island connected by a bridge, Apae Do.
A little more islands hopping through bridges to reach the port city of Mokpo, a major ferry terminal from where you can reach a lot of islands. We skip the chance this time riding instead the Songji-Myeon area, towards the scenic peninsula of Shongo-ri.
After the usual ups and downs and a cool panoramic ride along the coast, we come to a seaside village with a beautiful beach and pine forest where you can camp for free. The beach is called Songho beach, and of course, it has a free campsite.
This is the southernmost part of South Korea, a very scenic region, a rough coastline dotted with hundreds of islands. Ttangkkeut, the real southern tip, is a very nice fishing village, full of dried-fish vendors.
From there, our itinerary reaches Wando, another island connected by a bridge to the mainland. Some gorgeous views, a couple of nice beaches, and two traditional villages.
8. Exploring more amazing islands by bike – Doegudo, Geumildo, Saengildo, Soryangdo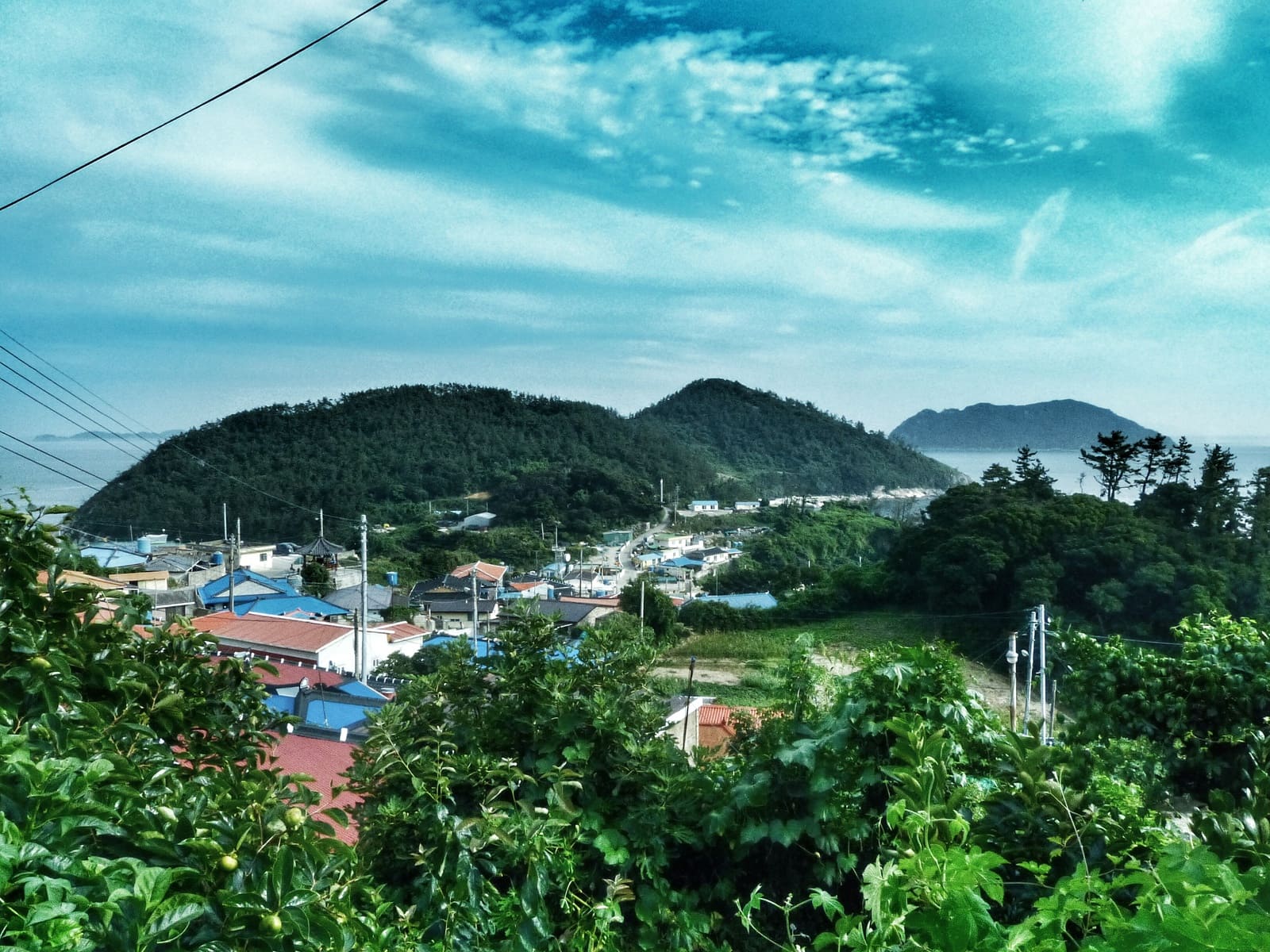 The port of Wando is smaller than the one in Mokpo, more bicycle-friendly, and there are fewer boats. Easier for picking up a random destination. Having managed to get a map at the information center we decide to go to DoeguDo, another tiny rock unknown to tourists.
Doegu-Do island is wild and beautiful, the few roads have slopes around 25%, maybe one km of tar on the whole island. There is a small village hanged on the steep slope of the hill, probably a few hundred people in total, living on shellfish, seaweed farming, and traditional fishing. No beaches here.
From there we took a ferry to SaengilDo, a larger island with a beautiful scenic route. Geumgok Beach is a huge and stunning, next to a forest, and with clear green water.
From Saengil there are easy ferry connections to Geumildo, its bigger sister, with schools and supermarkets, maybe 4/5000 inhabitants. Geumilmyeongsa is the best beach here. Soryang Do, the nearby island connected by a bridge, is even more interesting.
The village of Sadong-ri is very beautiful, drywalls, colored roofs, and narrow alleys. A true fisherman atmosphere.
Read also: 4 best off-the-beaten-path islands in southern South Korea
9. Cycling the Korean South Coast – Suncheon Bay, Yeosu, Namhae do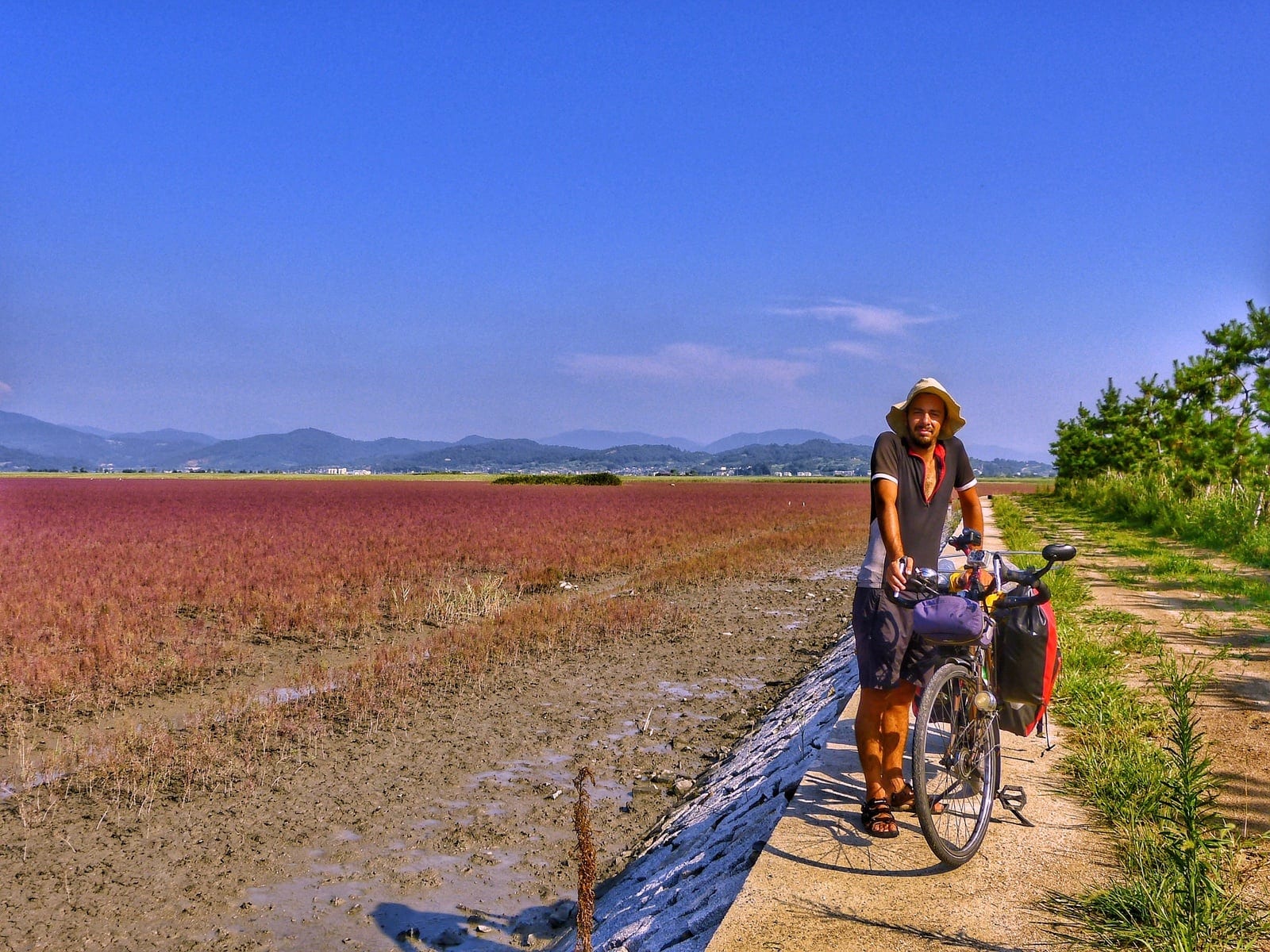 Back on the mainland, we hit a boring main road out of Goheung peninsula before reaching Suncheon Bay. The official touristic spot is a bit overpriced but there are amazing routes through the wetland where to enjoy some alien-looking landscapes.
The route goes on towards Yeosu, a fairly large city. It has four cool beaches nearby and the atmosphere of a modern city. Some good riding also here, with a few climbs (tough for Korean standards).
After all this beauty we find ourselves amidst an industrial area, not the usual highlight but we found it quite interesting, full of weird buildings straight out from a sci-fi movie.
Finally released by the industrial "development" we resume to the waterfront that is muddy again and full of mudfish hunters, hermit crabs and don't know what else. We get on another Island called Namhae do, connected by a bridge.
It's the fifth-largest island in South Korea and, apparently, it even has some tourism. A beautiful ride along the sea, here you can witness a fishing technique typical of Namhae do. It's called Jukbangryeom and practiced only in the Jijok Strait of Namhae. The local fishermen use traps placed at the points.
Unfortunately, we had a mechanical problem and were forced to take a bus to Busan, so we can't describe this last section of the route.
10. Cycling Busan's coastline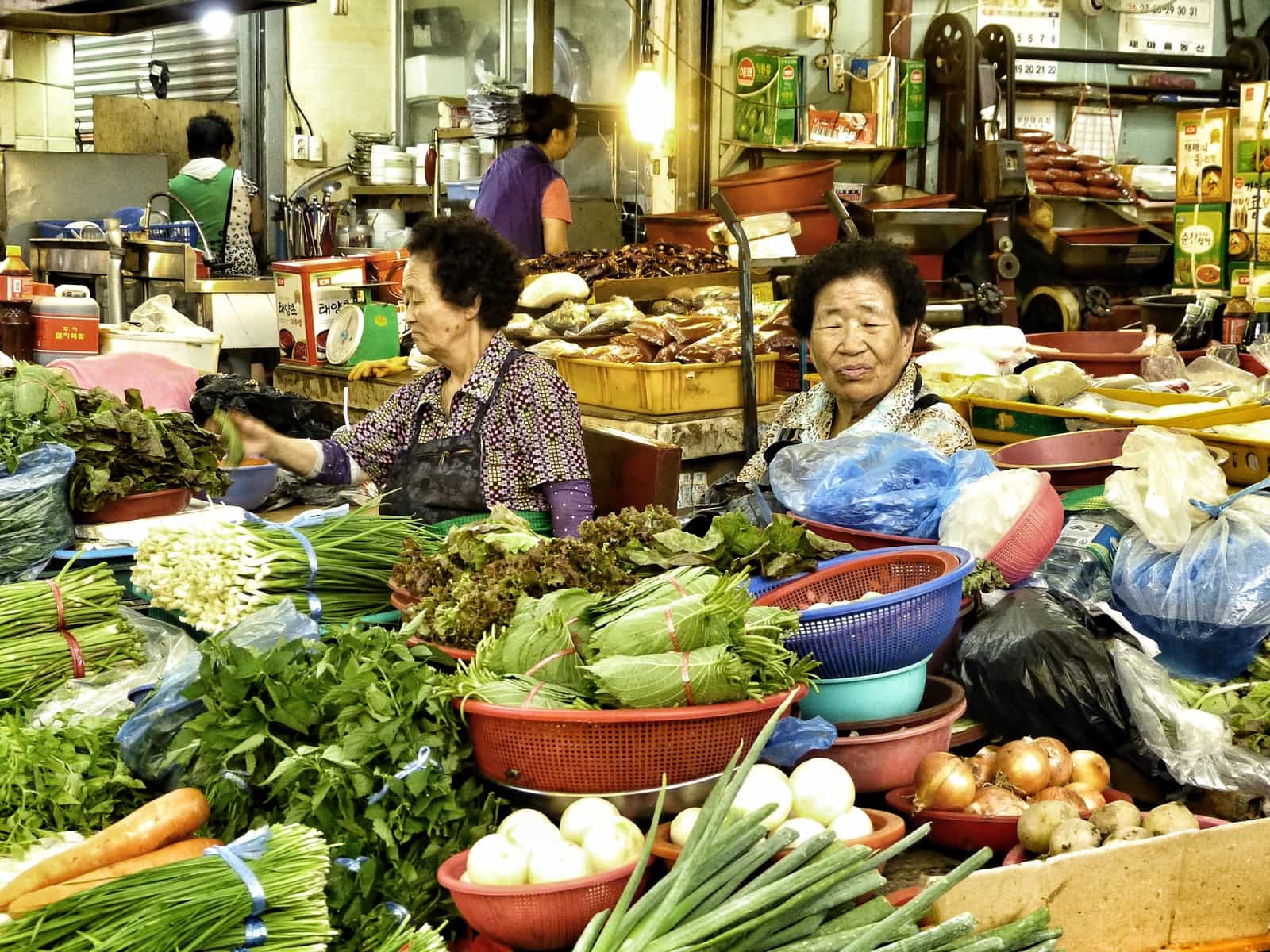 Busan is the second-largest city in South Korea, a very pleasant place with a bustling nightlife, wide beaches, and amazing markets. Cycling in Busan is not really easy, the city is very hilly but if you're up for a few climbs the views will be totally worth it.
While waiting for the ferry to Japan (check schedule and prices here) we went to visit the beaches on the east coast. We took the cycling path along the Nakdong River (the longest in South Korea) to get out of Busan, there are tennis and badminton courts, all for free.
Overall a pleasant but not impressive ride to the beach of Imnog, where we spent a few days.
Check The Best Hotels and Things to do in Busan
Have you been cycling in South Korea? Any tips or places to add here?
You're very welcome to contribute in the comments!
Stay in touch while we get lost! Follow us on Social Media