Get started with bicycle touring
Find your first cycling holiday destination
Let's say you heard about bicycle touring and you would really like to see what it's like to travel by bicycle, but you have never done it before, and you're not sure it's for you. Maybe you're a complete beginner in the world of cycling overall, do you want to start easy.
Although I've seen people starting off straight to hardcore destinations like the Himalayas, that might be not for everybody. So you could pick one of these easy destinations for your first bicycle holiday, to be sure you won't suffer too much, get the feel of bicycle touring and see if you like it.
As Lisi says below, probably the easiest option for your first bike tour is to just get out of your doorstep and start cycling. No packing needed, and you'll be in familiar surroundings.
But if you want to try bicycle touring, you might want to go somewhere you've never been, so we asked some experienced bicycle travelers what's their best destination for an easy bicycle trip for beginners.
We always advise experiencing bike touring on your own, but if you're looking for organized tours, take a look at these great guided bike tours.
If you have any other destination you would like us to include into this list, let us know in the comments section below.
9 great destinations for your first bicycle holiday
United Kingdom
Disclosure: Some of our articles contain affiliate links. This comes at no additional cost for you and helps us keep this website up and running. (as Amazon Associates we earn commission from qualifying purchases)
By Andy Johnson – cyclelejog.com
---
For anyone looking to do their first cycle tour then the UK is perfect! It's got a great choice of routes, anything from the iconic Land's End to John o'Groats (around 1000miles) to the coast-to-coast challenge (about 150 miles) – or simply wander among our beautiful countryside and make your own route up!
There's a great choice of scenery such as the wild hills of the Scottish highlands and the Yorkshire Dales (where the Tour de France started from in 2014), the flat Norfolk broads with its canals, and the beautiful coastlines of Wales & Northumberland. There's plenty of traffic-free cycle routes all across the country too (check out the National Cycle Network by Sustrans).
It's not just the scenery that makes the UK great as a first tour but the practical aspects. It's easy to get to from other countries (and easy to get around within the country), cheap accommodation of all types is plentiful, and there are plenty of bike shops everywhere in case you run into trouble.
We're also a nation of cyclists and you'll never be short of friendly people wanting to stop & chat! And if you head through Clitheroe (in Lancashire, northern England) around early May, you could even pop by the Cycle Touring Festival and meet fellow tourers from around the world, swap stories & share tips! http://www.cyclelejog.com/
Check also
> Cycling Holiday in the UK? 11 (or 12) Best Bike Trails for Everyone
Northern Ireland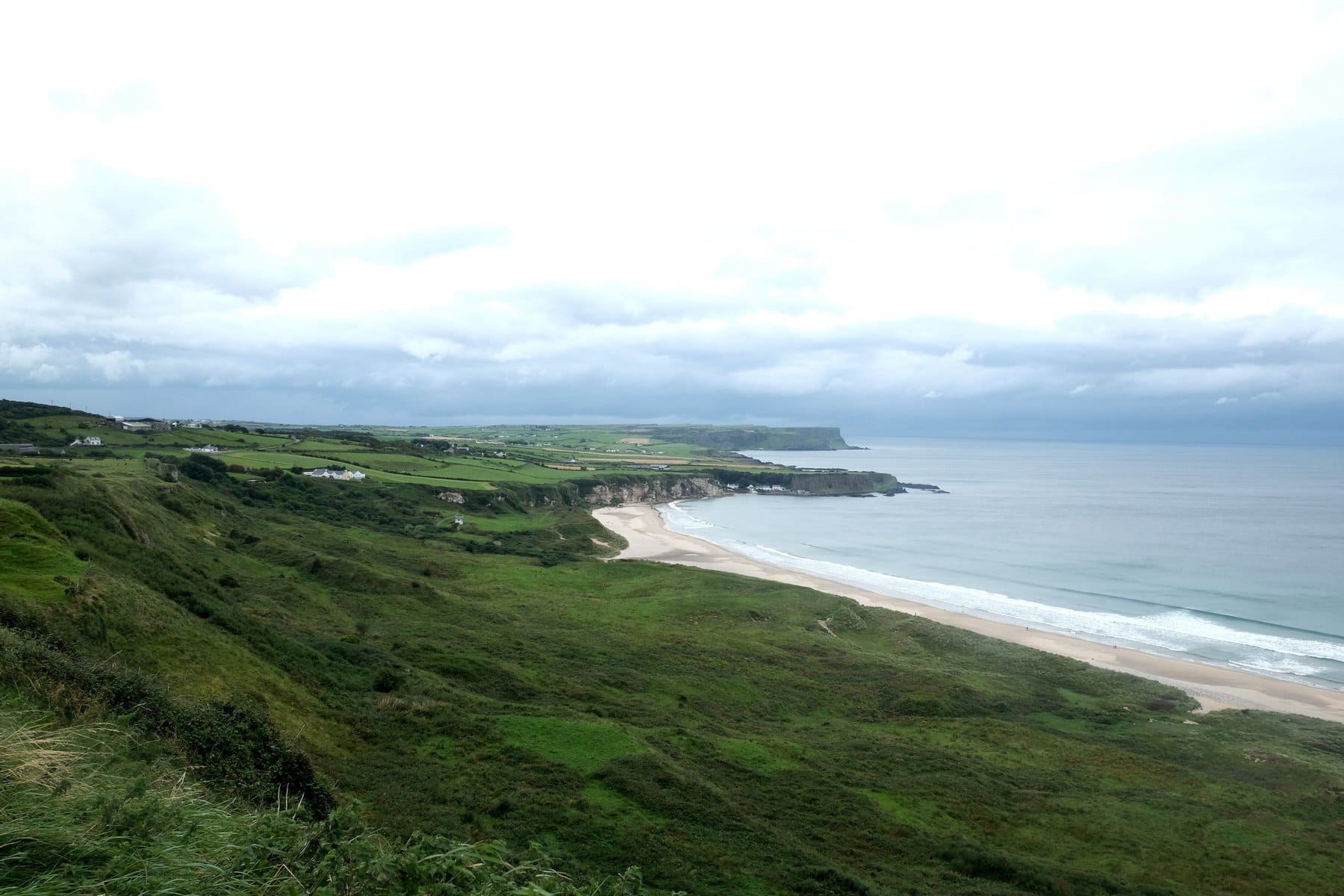 By Jessilyn Calderwood – The Ways We Came
---
Northern Ireland is renowned for its stunning beauty, and the Causeway Coastal Route, in particular, features a little bit of everything that makes it great. On one side, the restless Irish Sea. On the other, an ever-changing landscape of mountains, glens, cliffs, castles, and bizarre rock formations.
There really is something new and breathtaking around every corner. Being next to the sea, most of the route is pretty flat, making it perfect for beginners (although there are some really tough climbs if you go looking for them), and distances are short.
The stretch between Ballycastle and Portrush is especially blessed with picturesque sights, which helps to break up your day in the saddle. There's many a small town with a pub where friendly locals will enjoy hearing your stories and have plenty of their own. Take your time and drink it all in – you won't ever find anything quite like it.
Check the Northern Ireland cycling adventures from The Ways We Came
Check Also
> Ireland: The Wild Atlantic Way by Bicycle
Germany

By Dave Briggs – Dave's Travel Pages – facebook.com/davestravelpages
---
I've cycled either in or through Germany on a number of occasions, and each time I have come away more impressed than the last. It's a great cycling destination for a number of reasons – Good biking infrastructure, interesting towns, history, and more importantly, cycling seems to be ingrained into the culture. For bike touring, it doesn't get much better than in Germany!
The most popular route for bike touring in Germany is along the Danube Cycling Path. It's a well-signposted bike route that follows the River Danube from its source and flows all the way to the Black Sea a few thousand kilometers later. There are also several spur cycle routes, such as the Danube to Lake Constance Cycle Path.
The German section of the Danube cycle route is particularly ideal for beginners wanting a taste of bicycle touring, as it has everything you need along the way. There are plenty of accommodation options, ranging from camping to guesthouses, the route is for the most part on dedicated cycle paths, and there are bike repair shops. I even saw dispensing machines selling inner tubes at some points!
Perhaps the best thing for beginners to bike touring though is that you don't even need your own bike. You can rent a bike at different points along the way, picking it up at one town and dropping it off at another.
If you aren't sure whether or not bike touring is for you, pick a section of the River Danube to cycle in Germany and see what you think. I'm sure you'll love it!
---
Italy to Austria – The Adige/Etsch Cycle Route

by Jonas Kassigkeit – I Bike Europe – facebook.com/ibikeurope
---
The Adige/Etsch Cycle Route in South Tirol and Trentino region is a great cycle path for beginner touring cyclists. From Verona (Italy) to Landeck (Austria) it's a 345 km long paved route, which is mostly flat except the climb up to the Reschenpass, but you can take a bus up there without a problem.
The path is well signed and it's nearly impossible to get lost. Cycling along the beautiful Adige river, through the apple plantations in South Tirol and being surrounded by the Alps makes this trip to a unique bicycle adventure.
Along the bike path, you will find many rest places, fountains with drinkable water, and bicycle repair stations to fix smaller bike problems on your own. There is also free public wifi in some villages.
In larger towns like Bolzano and Merano, you can discover the old towns, grab an ice cream or stay in a hotel. But if you prefer camping, there are also many campsites along the route. All in all, you will have a really enjoyable and relaxing bicycle adventure on the Adige / Etsch Cycle Route.
The Nederlands

By Daniele Giannotta – Cycloscope – Facebook.com/cycloscope
---
If the aim of this post would have been to rank the easiest countries in the world for a bike trip, Holland would've ranked first.
No place can compare to The Nederlands when it comes to cycling path network and bicycle culture in general. Not just there's always a dedicated cycling path, but you more than often have several options for going from A to B. Cycling paths are always perfectly maintained and signposted.
Moreover, Holland is flat, can't find a flatter place in the world, the only slopes you'll ever climb are bridges going over canals, and occasionally some big sand dune.
There are many campsites scattered everywhere around the country, where you can pitch your tent and spend the night for cheap fees. Bike mechanics are everywhere, there's even a call service to get someone to fix your bike everywhere you are.
You can easily rent all kind of bicycles in Holland, each small town has its rental place. Adding a cycle trip to your Nederland vacation will make a nice break alternative to the bustling nightlife and the strenuous museum visits to experience the most famous painters in the world.
Japan
By Daniele Giannotta – Cycloscope – Facebook.com/cycloscope
---
Japan it's a dream destination for many, but often I've heard people considering it impossible because of the high costs. But there's a way to cut down all the costs and explore Japan at its best, and this way is called bicycle touring.
Nothing can beat the freedom of traveling by bicycle, Japan it's a very easy destination for bicycle touring beginners.
Japan is way more than Tokyo, Osaka, Kyoto, and slow travel it's the best way to completely experience this magic country. The real Japan is in the countryside and the small towns, and those are good places to go for a budget traveler.
Free camping is definitely the best choice in Japan. It's allowed and it's easy to find so many beautiful spots, especially if you're out of the urban areas.
We slept often in Jinja (Shinto shrines). They are everywhere and you often can find a roof to stay dry and a water pipe, sometimes even electric plugs. Cemeteries are also another option.
Anyway, we never really had problems finding somewhere to pitch the tent (even though in the urban areas it could be hard and less nice, with highway bridges being the most obvious option).
Japan has among the best supermarkets in the world, according to my experience. Here you can find almost everything you are dreaming of. Most of them, not just the biggest, have a kitchen and they prepare their bento on the spot.
Stuff is usually very fresh and it's very easy to find eight very good pieces of sushi for 3€. A lot of choices not much different from what you could find in a cheap/budget restaurant.
Having a proper shower is not hard, onsen and public baths are everywhere and can be very cheap, ranging from 1€ (even free in Beppu, maybe also elsewhere). You can stay here as long as you want, until closing time (usually in the evening).
If you are in Kyushu during the warm season, you can enjoy plenty of waterfalls and rivers where to rinse yourself from the sweat.
Generally speaking, roads in Japan are quite good, though is not rare to find potholes in secondary roads. Long cycling paths are not as common as in South Korea and roads could be sometimes very narrow and with medium/heavy traffic. However, it's often possible to stick to minor roads, which are usually beautiful and with fewer vehicles.
Japan is so safe that you can literally leave your wallet on the park bench, go for a ride, come back and find it there. Zero worries about being robbed here.
Japan, though, is very hilly so it might be challenging for beginners in some areas. Consider cycling the Amakusa Islands in Kyushu and the Shimanami Kaido if you are looking for a short, easy, and scenic ride.
South Korea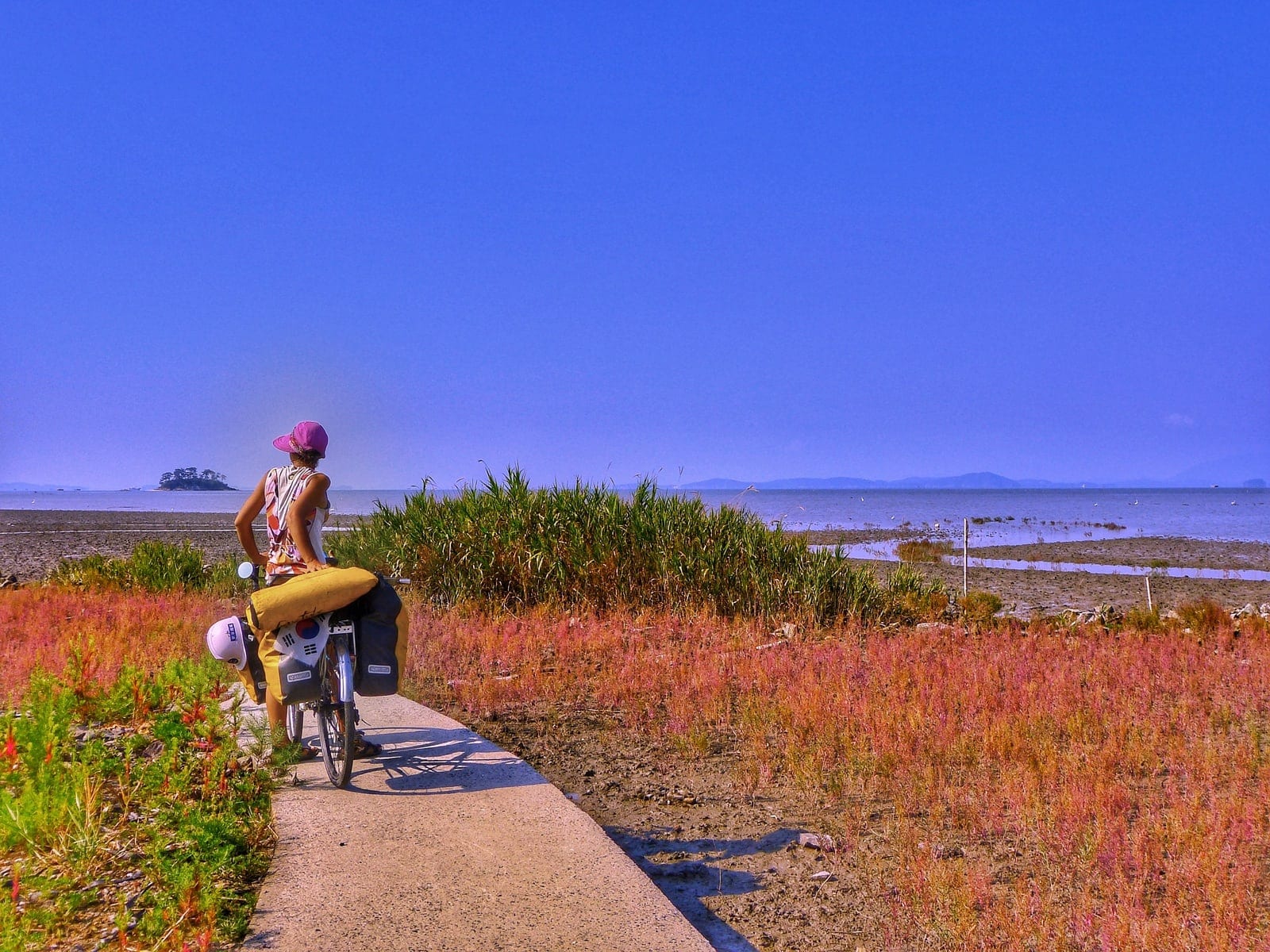 By Daniele Giannotta – Cycloscope – Facebook.com/cycloscope
---
There is much more to see in South Korea than Seoul and Busan, and as it goes for cycling, a lot more than the 4 rivers bike path.
South Korea it's a perfect country for an easy bicycle trip, there are thousands of kilometers of dedicated cycling paths, but it's not necessary to stick to these.
The road network in South Korea is vast and tentacular, with a lot of options to go from point A to point B. Some of these secondary roads, hardly see any traffic and they are usually more scenic, passing through small villages where you can get the real feeling of the Korean lifestyle.
Camping culture in South Korea is huge, Koreans just love to camp, whenever they can and wherever they might be. There are a lot of free campsites scattered everywhere, from the coastal areas to the interiors, usually next to beaches or lakes.
There are no big mountains in South Korea, the landscape is rolling up-and-downs, it may be a bit tiring but nothing compared to climbing real hills.
South Korea is also one of the safest countries in Asia and in the whole world. Petty crime is almost non-existent.
We advise riding the west and south coasts, the less touristic areas, which are incredibly interesting, with thousands of islands worth exploring.
Thailand

By Lisi Aimer – wanderingthoughts.org – facebook.com/wanderingthoughtscyclinghome
---
While I would generally recommend starting cycle touring right outside your front door, there are just so many reasons that make Thailand a perfect place for a beginner's cycle tour:
Firstly, navigation is easily done with Google Maps and you can find so many awesome small roads that are even mostly paved. If you want an easy start, go for the flat beaches in the south and stop for a bath whenever you feel like it.
If you want something more adventurous – the mountains in the north await you. Whenever you feel the first pangs of hunger, the next food stall or beach restaurant is usually not far away.
For sleeping choose between ubiquitous guest houses, ask at a temple, set up your tent on the beach or the jungle or ask at one of the many police stations that offer free camping to cyclists.
It's almost too good to be true! Just one last thing: don't do the thing that we did and cycle in the hot season (around April). While it might make you tougher in the end, cycling in Thailand is just so much more enjoyable in December or January.
The Philippines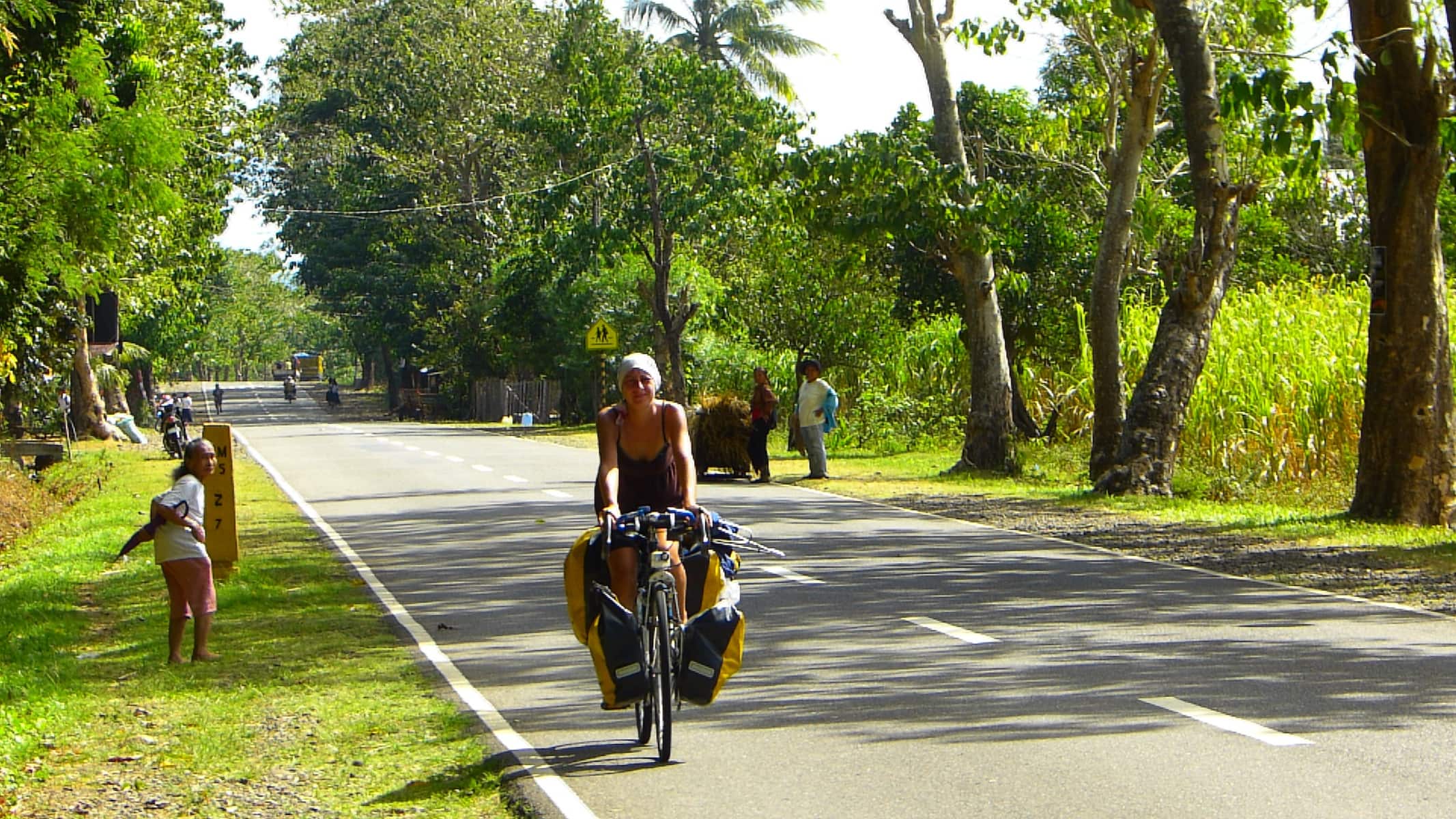 By Cycloscope – Facebook.com/cycloscope
---
The Philippines are a great destination for cycling holidays! We had our bicycle trip in the Visayas islands and it was beautiful and easy. Cebu, Bohol, Negros, Guimaraes, and Panay are all easy places for bicycle touring.
Following the coastlines the roads are mostly flat, always paved, and the traffic is not heavy. Moreover, you'll never be too far from the shore, which is great to cool yourself down and rinse the sweat several times a day, so to beat your worst enemy when cycling in the Philippines, the heat.
Accommodation is plentiful and very cheap along the Visayas coasts, whit some great value beachfront bungalows waiting for you to relax after a long cycling day. Another great point for the Philippines is that there's no language barrier, everybody speaks perfect English here!
We absolutely advise, though, against cycling in Manila and its surroundings. The traffic is crazy up there and the stink of the carbon monoxide can choke you.
The island of Mindanao is said to be very dangerous right now, so not exactly the best place to go for a beginner.
If you're looking for guided bike tours in the Philippines, check Bugoy Bikers.
Stay Safe – Always Get Travel Insurance
Even if you chose an easy destination for your first bike trip, things can always happen. We advise getting insurance to travel worry-free.
Here you can ask for a quote from one of the most trusted travel insurance in the market
If you're just approaching this world, you may also want to check
Getting Started with Bicycle Touring
The essential bicycle touring or bikepacking gear
30 Rules (or advice) fo follow when traveling by bicycle
How to turn a scrapyard frame into a touring machine for less than 100$
18 Great Touring Bikes Under 2,000$
21 Best Touring Bicycles Under 1,000$
10 Great Woman Specific Touring Bikes
Have also a look at
The Best Online Stores for Bicycle Touring and Bikepacking
The list of the safest cycling helmets
Self Guided and Guided Bike Tours Ideas
Slovenia! The 12 Best Bike Tours & Cycling Holidays
13 Best Bike Tours And Trips Around The World
5 Easy rides in Australia for Bike Touring Beginners
How to Travel by Bicycle: a Beginners' Guide to Start Bike Touring
Follow us on Social Networks & Subscribe to our Newsletter
Stay in touch while we get lost! Follow us on Social Media