A couple of things to do in Busan when you're done bicycle touring. Don't miss the best bicycle repairman and shop in Asia, and the super-cool Bujeon Market
Bicycle touring in Korea seem to have come to and end in Sacheon, when my speed hub decided to fail. There's no choice left to us than to take a bus to Busan, the natural end of our road trip through South Korea.
Busan is the second biggest city in South Korea, populated by 3.5 million people. It has a much warmer climate than Seoul, and some great beaches inside the city itself, making it thus very attractive for many expats that decide to settle here.
It is surrounded by hills, and therefore there are some very steep alleys to explore, from where to get great views.
Upon awakening I send requests for couchsurfing in Busan, a boy named Adam answers us immediately and accepts the request. Luckily!
The bus costs 10,100 won per head, and we can load bikes and luggage without arguing with the driver and without having to pay bribes to anyone, marvelous.
Busan
To ride from the bus station to Busan city center is a struggle for Daniele (check the previous article to learn about the mechanical problem). We meet an old cyclist who takes us to a repair man, but even this one only sells new bikes and the mechanic doesn't know anything.
Let's go to internet cafe to search for addresses of bike shops, it is full of people who play video games. Here video games are considered as real sports (eSports, or Electronic sports), the best players are paid as professionals and major tournaments attract tens of thousands of spectators in the arenas and millions online. In fact, here almost all the players are playing the same games, the most popular, perhaps hoping to become champions.
Add this to the 3 weird things about South Korea we mentioned before.
Then we go to the place of the appointment with the guy that will host us. We're early, we leave the bikes and take a walk around the neighborhood. It's full of stalls serving fried things and the mythical tteokbokki.
We eat Mandou (dumplings) and fried noodles with a black sauce which I think is soy.
And one last thing you should know, and you probably do, but if you don't you really must so here it is
Adam is an American English teacher and has lived here for about 5 years. His apartment is only one room but is in the center. After a nice shower we walk around downtown to drink beer and soju (and what else?).
We are sitting in front of a 7Eleven, drinking and chatting, when suddenly arrives a girl, sits in front of me and says, "you have a small face!"
…I look at Adam, he tells me that is a compliment, so "thank you".
She adds, "I want a small face", which sounded more like "I want your face"!
Scary, the obsession for plastic surgery and for "small faces" is incredible.
In my opinion, people who reject their physical features so much should probably seek professional advice from a therapist (your can find some great ones here), before undergoing these kind of extreme cosmetic surgeries.
Then we go by taxi to a pub with pool table and gin and tonic.
We choose the music to put on and then the memories are a bit blurred…
2 ways to fix a wheel
Disclosure: Some of our articles contain affiliate links. This comes at no additional cost for you and helps us keep this website up and running. (as Amazon Associates we earn commission from qualifying purchases)
Adam wakes up at 8 and goes to work, we proceeded sleeping until 1pm, Daniele looks for a bike mechanic and I write the blog.
The problem is the size of the wheel (26 x 1 3/8), it seems impossible to find here. Finally, he finds a real mechanics that, as they say, "knows his shit" and moreover speaks English. There are various options:
rebuild wheel, same rim, new hub, need to order new spokes and takes more time.
new wheel, but different size (standard 26) and try to adapt it.
We select option 2, and we realize also a cut in the tire, probably when we put the bike on the bus. Must order everything and wait about 2 days.
Busan best market – Bujeon Market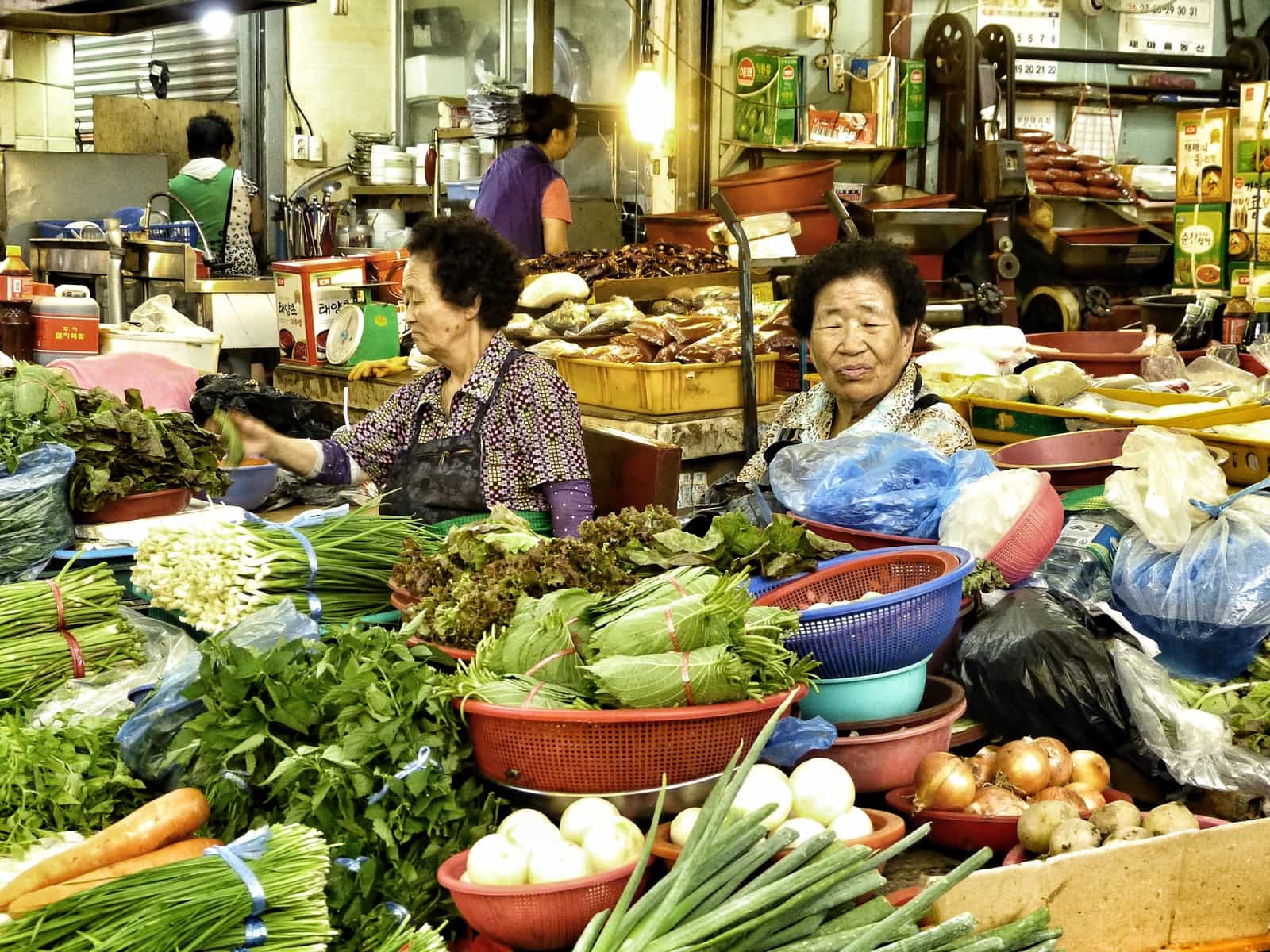 While waiting we visit the city, we go to the market of Bujeon, beautiful and very big: seaweed, dried fish, a thousand kinds of kimchi, fresh fish, fruit, vegetables, huge gimbap for one euro. Maybe the best market in Asia so far!
Getting drunk and terminator
We buy mussels and clams and 30 eggs (here they only sell in family packs). We cook for Adam seafood spaghetti. The next day is relaxing, I'm at home and Daniele goes out with Adam and other friends, they go to a place where you can make teams and you must answer the quiz but it is all based on American stuff of which Daniele does not know anything.
Then they go to a jam session and try to play together, but there is the typical guitar player that feels like a rock star and mess up everything…
Then the beach and eat again in a traditional restaurant of which Daniel does not remember anything. He says "there is a bone and rice and a bowl of clay (???). I wake up at 7 am and at home there is no one, at 9 I am concerned and I write to Adam, meanwhile Daniele arrives, he had fall asleep in Adam's girlfriend house watching Terminator 3 or 2.
Best bicycle repairman in Asia
When Daniele resurrects, we go to retrieve the bikes. All settled, wheels tuned, new brakes, finally fixed my back V-brake behind with the travel agent, set the derailleur, replace some spokes, and new handlebar tape.
The best mechanic ever met. In the evening we go together for a beer and a long chat. Oh I forgot, he also gives us his old phone!
Adam's girlfriend is back and so we have to go, we move to one of his friends, Bal, who instead has a beautiful and huge house.
We go to the port to buy the ticket for Japan, if we do it online discount is 40%, not bad. It goes to Japan with 40 euros. At home I cook for Bal: rice, potatoes and mussels which is a blockbuster.
Out of Busan for a few days
Tired of being a burden to our hosts, we go for a few days at the beach while waiting for the ferry. We take the cycling path along the Nakdong River (the longest in South Korea) to get out of Busan, there are tennis and badminton courts, all for free.
After the path we arrive on a busy highway, moments of panic, it's dark, "where do we go now?" But we found a street and then the usual pavilion in front of the building of the Freedom League (no idea of what that is).
Imnog Beach
The next day Daniele is sick, stomach ache. We try to get to the sea to find a place to rest for a few days. The road is very busy, and Daniele is dizzy, 20 km of suffering.
We arrive at the beach Imnog, there is a gazebo in a restaurant, it is now closed and Daniel gets to sleep. There comes a lifeguard, their office is next door, bringing us a full first aid kit, fruit, and pads of a traditional medicine. Daniele sleeps all day. The next day he is a bit better.
On this beach people are slightly undressed and there are also people who swim. Very weird for South Korea. Let's do some beach life. Lifeguards invite us for lunch: raw fish in a soup of apples and other stuff. And then a soup with seaweed. Finally, we can use again our super lifesaver (that we found near Ttangkkeut). Here there are waves and it is a lot of fun. In a few days we will reluctantly say goodbye to South Korea.
Stay in touch while we get lost! Follow us on Social Media