The Best Women Touring Bikes in 2022 – Long Distgance Adventure Bikepacking Bikes for Short and Tall Ladies From Cheap to Top – Reviewed

Women touring bikes? Are they even a thing? Is there something such as the best touring bike for women?
What is the difference between a man and a women-specific bicycle? Do I need to buy a woman's bike for my tour? These questions often come up when ladies begin thinking about a bicycle tour.
Let's start from this: it's an absolute truth that women can ride any "men's" bicycle, just adapting the contact points to fit the unicity of your body, just like everyone needs to do, no matter the gender.
So don't be afraid to purchase a bike that you like just because it is supposed to be a man's frame. If you're looking for a new bike and are not willing to sell a kidney you can also check our article about 21 great touring bicycles under 1000$.
So, if I can ride every kind of bicycle, what's the meaning of having women-specific models? Well, while sometimes it can mostly be a matter of marketing, it's undebatable that, generically speaking, women and men have different physiologies.
Women usually have a comparatively shorter torso and arms, longer legs, narrower shoulders, and less muscular mass (some say they are also usually shorter, but I think it strongly depends on ethnicity, when I was living in Nederland my Italian boyfriend looked like a dwarf compared to most women).
So bicycle brands built woman-specific frames and bikes with these generic parameters in mind, meaning a shorter reach (distance from the saddle to the handlebars), shorter top tube, smaller frame sizes, narrower handlebars, and so on…
Keep in mind that this might not be your case, so always try to have at least a test ride before buying a new bicycle.
Check Also
> 15+1 Best Bikepacking Bikes in 2022: Gravel, Touring, Plus, MTB Hardtail, Fat, Full-Suspension & Folding
Disclosure: Some of our articles contain affiliate links. This comes at no additional cost for you and helps us keep this website up and running. (as Amazon Associates we earn commission from qualifying purchases)
How we compile our gear guides: during the almost 10 years of cycloscope.net our team personally tested dozens of similar pieces of gear. For what we can't test personally, we involve other people in the cycling community to give their feedback and opinion about gear they have used. Our decade-long experience in bicycle touring enables us to find the key cons and pros of every product we mention.
The best ladies touring bike in a nutshell
Stanforth Kibo – (+/- $2,000)

Best customizable touring bike for women

Bombtrack Beyond Expedition Bicycle (+/- $1,800)

Best adventure bikepacking bike for ladies

Cube Travel Trapeze (+/- $950)

Best cheap touring bike for women

Trek 920 (+/- $2,000)

Great woman touring bike for fast off-road touring

Cannondale Topstone Alloy – (+/- $1,500)

Best woman's gravel/tourer

Creme Echo Mixte Solo (+/- $800)

Cheapest female light-touring bike

Cinelli Hobootleg Geo (+/- $2,200)

Best Plus-Mountain touring bike for girls

Trek 520 Grando (+/- $1,400)

Classic long-distance touring bike for women

Salsa Fargo Tiagra -(+/- $2,400)

Great touring bike for shorter women

Kona Sutra LTD (+/- $1,600)

Affordable multi-purpose touring bike

Santos Travelmaster 3+ (from $3,000)

Best touring bike for senior women
About Trapeze Frames or Step-Through Frames
Back in the early days of bicycle manufacturing, women use to wear skirts much more often than nowadays, and they were long skirts, usually to the ankle.
That's the main reason for the so-called Step-Through frames, the kind of frame geometry where the top tube goes diagonally that are usually recognized as women's frames.
Nowadays there's almost no reason (besides the skirt/dress fact) for a step-through frame to be used exclusively by women, but still, people see them as girly bikes, that's why many brands still produce women's specific bikes in this fashion.
The main advantage of this geometry (also called "Trapeze") is the easiness to mount on, you don't have to stretch your leg above the whole bike (and panniers!) it can thus be great for senior ladies or women with hip impairments.
The main downsides are an alleged weakness and less stiffness, compared to a diamond frame, which basically results in a few hundred grams more steel to match the diamond geometry's features.
Check also
> 6 Best Bikes For Plus Size Women
> The best chamois creams to solve chafing problems
The 11 Best Women Touring Bikes in 2022
Stanforth Kibo – (+/- $2,000)
Best customizable touring bike for women
The Kibo is Stanforth's touring tank, a 26″ wheeled expedition bike designed to carry heavy loads, for long distances, on every kind of terrain – a great touring bike for ladies, what I used for our European Lap and our tour of Southern Africa.
Like all Stanforth bikes, the Kibo can be customized to suit any preference, from gearing to handlebars, stem, brakes, and even geometry.
This means all sizes are possible, which is great for a short woman. Simon and his team will take your body measures and build a really tailored bike.
Kibo frames are hand-made in England from air-hardened Reynolds 631 steel. The frames are assembled with the highest degree of skills and care to maximize their strength.
The components are top-notch, carefully selected with expedition bike touring in mind. They include quality parts from Nitto, Velo Orange, Shimano, Paul Components, and Brooks.
Check our full review of the Stanforth Kibo for detailed info. 
A completely customizable tourer for women
| | |
| --- | --- |
| max tire clearance | 26 x 2.4″ |
| gearing | Shimano Deore XT triple 44/32/22 + 9 speed 11-34 |
| weight | 13.2 kg (size M) |
Bombtrack Beyond Expedition Bicycle (+/- $1,800)
Best adventure bikepacking bike for ladies
This expedition machine has been one of our favorites since it was introduced in 2016.
The Bombtrack Beyond features a single-speed chainring (30T) and a 12 speed 10-52T as the drive train of choice, a great set of gears capable of bringing you up the steepest and roughest hills.
The carbon fork reduces the weight but still offers triple fork cage mounts.
Although Bombtrack still offers different handlebar options, the Jones Loop Bar will be the standard now. They might seem a little weird, but they offer more hand positions, helping the shoulders and upper body stay relaxed for hours in the saddle.
Designed as a bikepackers dream, the Beyond features mounting options for front and rear racks as well as up to five water bottle cages.
Bomtrack comes in aid to short riders and small women by providing an XS version of the frame, with 27.5″ wheels. This will fit riders down to 150cm tall.
The Bombtrack Beyond is the best women touring bike for off-road bikepacking expeditions
| | |
| --- | --- |
| max tire clearance | 29" x 2.1" |
| frame & fork | Chromoly Steel / BOMBTRACK BPC full carbon, TA, 1.1/2" – 1.1/8", triple cage mounts, internal hub dynamo cable routing |
| gearing | 1 x 30 T / 12-speed, 10 – 52 T |
| weight | 12.9 kg (size M) |
Cube Travel Trapeze (+/- $950)
Best cheap touring bike for women
The Cube Travel is not only one of the several bicycles the well-known German company assembles in its massive factory, but it is probably the most convenient bicycle on the market at the moment if you are looking for a flat bar 29er touring ready bike.
The Cube Travel Series is assembled with a unique combination of smart solutions that bring together all capabilities of the latest adventure bike models but adapted to fit limited budgets.
It's a classy 29er bicycle equipped with all desirable gadgets for a conventional touring setup, as it comes ready to ride with lights, fenders, and a rear rack.
The frame is made with the patented Cube technology called "Aluminium Superlite'', using 7005 alloy tubes.
The rigid aluminum fork is as solid as a tree trunk. It is composed of two symmetric and aerodynamic blades with a massive crown the same size as the head tube, resulting in both an accurate and versatile fork with enough clearance to run 29er tires up to 2.15 inches wide.
The fork has eyelets to mount low rider racks for a classic touring setup, but it doesn't support the cages which would be most convenient for bike-packing purposes.
The Cube Travel comes in a step-through version specifically designed to be a ladies touring bike (called Trapeze, the one in the picture), or with a traditional diamond frame, which is also perfect for women. The different builds for 2022 are priced this way:
Cube Travel – Price: $949
Cube Travel PRO – Price: $1,099
Cube Travel EXC – Price: $1,299
Cube Travel SL – Price: $1,899
| | |
| --- | --- |
| max tire clearance | 29" x 2.15" |
| frame & fork | Aluminium Superlite |
| gearing | 3×9 48/36/26t x 11-34t |
| weight | 15.2 kg / 35 lbs (size M) |
Trek 920 (+/- $2,000)
Great woman's touring bike for fast off-road touring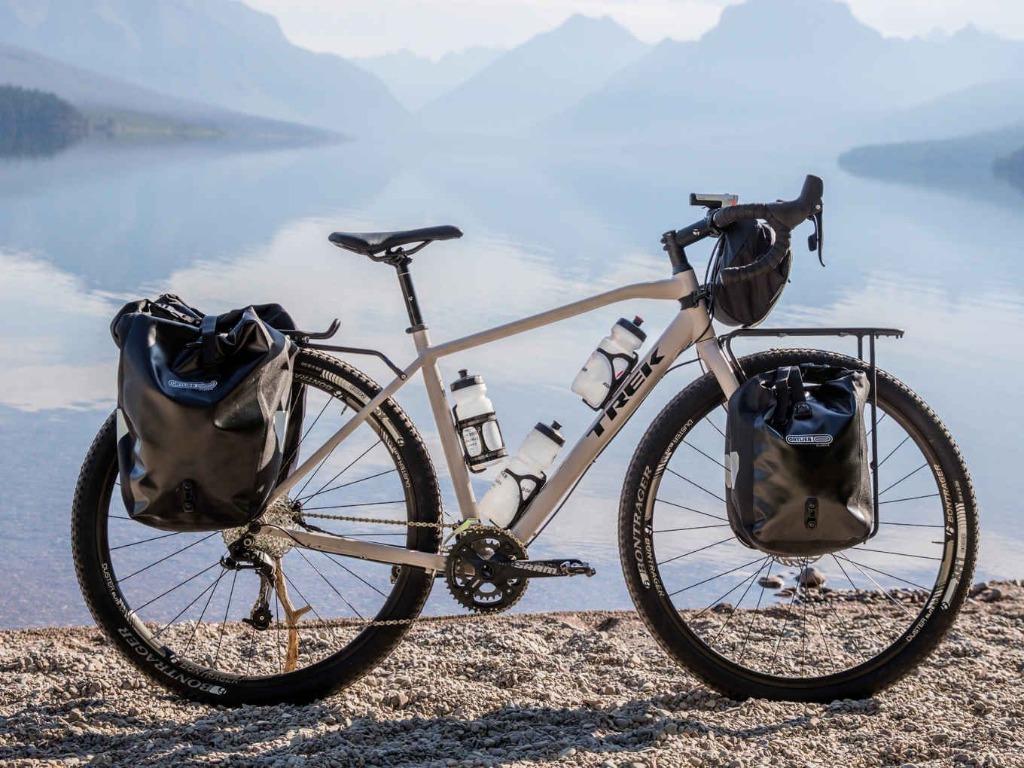 The 2022 Trek 920 has already earned the thumbs up from all keen cyclists looking for a bike that's worth an upgrade from their current beloved two-wheeler.
Trek 920 was launched back in 2015. Seven years don't look much on paper, but nowadays the bicycle industry makes progress in leaps and bounds, and since its first appearance the 920 has stretched to perfection all its main characteristics.
The 920 is the middle sister among the trekking and touring bike family proposed by Trek. It sits precisely in the middle between the classic steel tourer Trek 520 and the ultimate adventure bike Trek 1150.
The 920 here is definitely the most enjoyable and adaptable of the three. It has a rock-solid modern style, aggressive shapes, and an organic but elegant color, the Matte Sandstorm.
Is it really built for stability above all? Hell yeah, the chainstay at 465mm is pretty damn long and the bottom bracket drop is low.
These two details alone are enough to define this bike as the opposite of nimble, but stability isn't the opposite of fun: with the Trek 920 you can just stop dodging stuff and simply smash through any road.
The geometry of this rig focuses on giving excellent pace and responsiveness on gravel and tarmac, and it lacks a punch of nimbleness only on MTB trails.
The smallest available size is a 48cm, perfect for female riders under 5″ or 150cm.
| | |
| --- | --- |
| Tyre Clearance | 29″x2.25″ / max 55mm |
| Gearing | 42/-28T x 11-36t / 10 speed |
| Weight | 12.9kg (M-Size) |
Cannondale Topstone Alloy – (+/- $1500)
Best women gravel/tourer
The Cannondale Topstone is a highly versatile bicycle. Although sitting firmly in the gravel category it's more than capable of loaded touring.
Being designed to be the ultimate combination of road racing and cyclocross bicycles, it can be considered a mixed-surface tourer as well as a 4 seasons commute bike.
At any time, with only a few adjustments, you can set up your rig for a bike camping trip, or join the group of your roadie girlfriends.
The big tire clearance allows plenty of room for bike touring tires up to 42mm wide for comfort grip and adventurous capability.
Although the front fork does not support any eyelets for cages on either side, it is a beautiful piece of carbon fiber, with a longer-than-usual rake (55mm) for stability and hidden full-fender mounts. It is a light and performing fork, rare on a bike at this price range.
With mounts for three water bottles plus mounts for top tube storage Topstone is ready to go long. Multiple bottle cage positions on the downtube mount let you configure for big frame bags.
Read our Cannondale Topstone Sora Full Review
| | |
| --- | --- |
| max tire clearance | 700c x 45mm/1.77″ |
| gearing | 46/30 x 11-34, 9-speed |
| weight | 10.3 kg (size M) |
Creme Echo Mixte Solo (+/- $ 800)
Cheapest female light-touring bike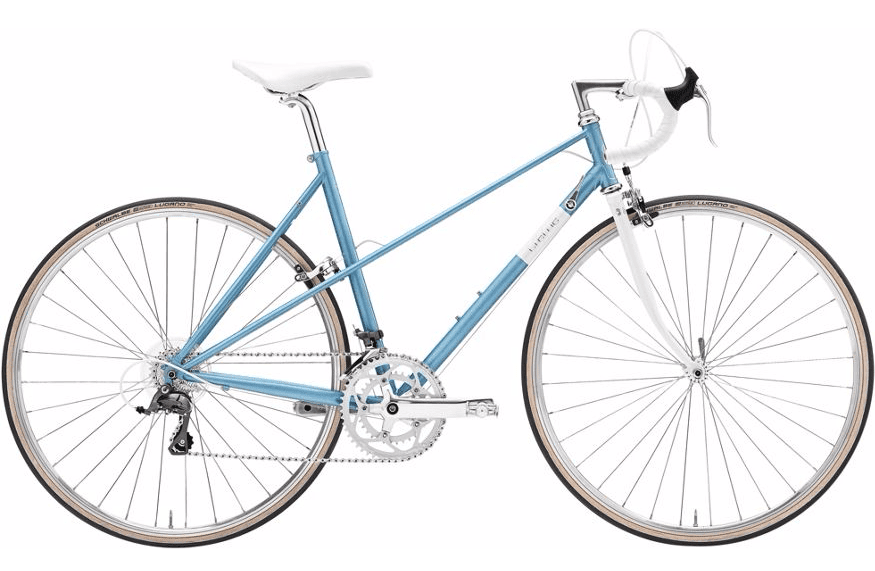 Here we go with another step-through frame, not really a touring bike, in this case, more of a commuter/randonneur that performs great for bike touring holidays.
The Echo Mixte Solo Bike is built around a lugged mixte frame with a CrMo front triangle for fine handling and great looks.
The bike features a 16-speed drive-train with reliable components, and you will find some nice touches such as polished rims and a classic 1" quill stem. Not a lot of gears, but enough if you're not planning to climb Alpine passes.
The Echo Mixte Solo Bike is suited for light touring, because of the restricted gear range (of course upgradable) and the narrow tire clearance.
It could be the perfect bike if you're planning to cycle the Danube trail or other similar easy cycle touring destinations.
| | |
| --- | --- |
| frame & fork | Lugged steel frame with Chromoly front triangle |
| max tire clearance | 700c x 25c |
| gearing | Shimano Claris 50/34 x 11-25, 8-speed |
| weight | 10.3 kg (size M) |
Cinelli Hobootleg Geo
Best Plus-Mountain touring bike for girls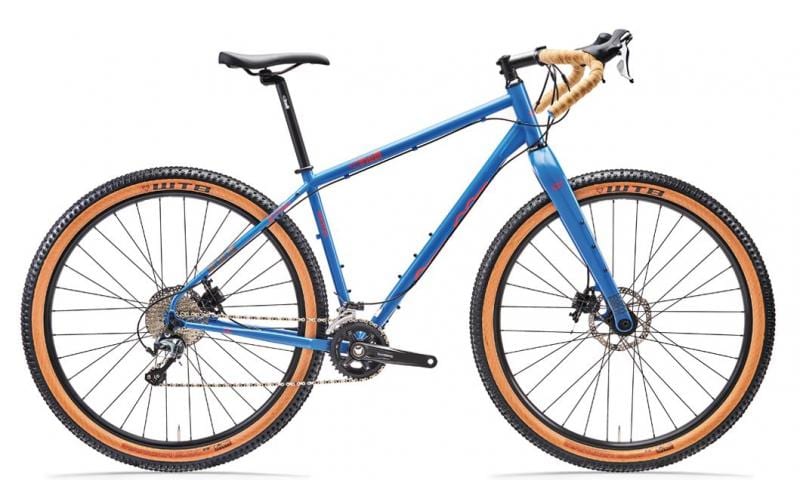 The Cinelli Hobootleg Geo is the latest release of the historical Italian bike manufacturer – big tires, and aggressive off-road geometry – it really is an interesting rig for bikepacking, but not just that.
Simona from BeCycling rode all the versions of this marvelous rig through Asia and the Americas, with plenty of different setups on any kind of terrain – she was never disappointed.
This style of hybrid bikes, half-gravel, half-touring, half-MTB are a more and more common sight nowadays. They are often referred to as Plus Bicycles.
Catering to the raising bikepacking scene, the Hobo Geo by Cinelli fulfills all the latest trends, and with the added appeal of the "Italian design" is most likely to become a dream bike for many.
The sloping frameset is made of Columbus Cromor triple-butted steel, this means no-bullshit great-quality Italian steel.
The frame is treated with anti-corrosion to provide reliable protection against the elements, adventure bikes shouldn't rust. It features three bottle-cage and CNC rear dropouts, designed to support the disc-brake clamps. It has the obvious eyelets for a rear rack and fender that every bike designed for touring should have.
The maximum tire clearance allows up to 3.0″ tire to fit in, with a choice between 29 and 27.5 for shorter riders – of course tubeless-ready.
The use of mudguards or certain models of rear carriers will reduce the clearance a few inches (of course), unfortunately Cinelli doesn't state the max clearance with fenders.
The New Carbon fork has 4 lateral eyelets and two bottom ones for each side, "anything you need eyelet" they say, it certainly offers a lot of options for bikepacking cages and low-rider front racks. Cable routing is external.
A fantastic rig ready for mountain bike touring
| | |
| --- | --- |
| frame & fork | Chromoly Steel / Carbon |
| max tire clearance | 700c x 3″ |
| gearing | Shimano DEORE 36/26T x 11-34t |
| weight | 12.9 kg (size M) |
Trek 520 Grando – Touring Bike (+/- $1,400)
Classic long-distance touring bike for women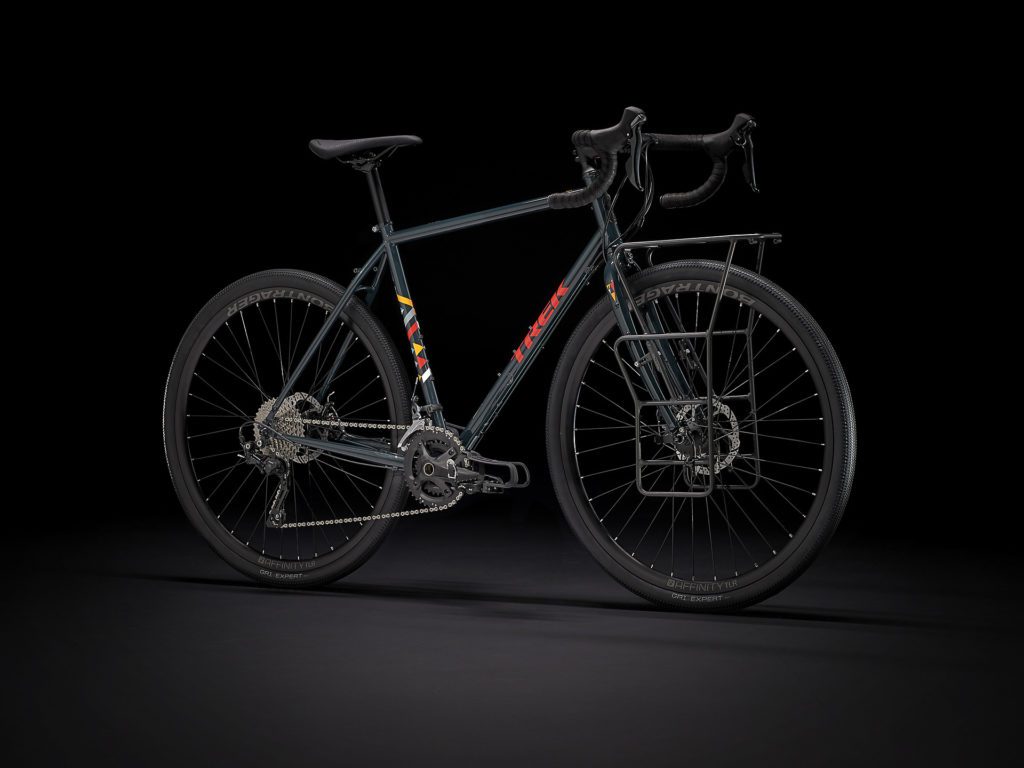 The classic of the classics revised in a 2022 sauce. Ah, how many round-the-world female bicycle travelers we've seen riding this Trek touring bike…
The Trek 520 is a steel touring bike made for the open road. It's the longest-running model in Trek's lineup, and it's built to carry rider and bulky gear on long journeys.
Rack and mudguard mounts, a wide range of gearing for climbing (48X36X26T x 11/36t), and a stable touring geometry make it suited for loaded cross-continent trips and comfortable all-day adventures.
Built of a combo of materials, Chromoly steel frame/alloy disc touring fork, it features mid-range but reliable components.
Shimano Sora brakes and shift levers, Bontrager Tubeless Ready wheels with puncture-resistant tyres, an included front and rear carrier rack, and all-weather disc brakes.
The 520 is a comfortable steel workhorse that's capable of everything from daily rides to expedition tours. It's ready for adventure right out of the box.
Classic and tested mid-range long-distance touring bike – lighter in 2022 thanks to the alloy fork
| | |
| --- | --- |
| frame & fork | Chromoly Steel / Alloy |
| max tire clearance | 700c x 38c |
| gearing | Shimano Sora 48/36/26T x 11-36t |
| weight | 13.2 kg / 29 lbs (size M) |
Salsa Fargo Tiagra – Bikepacking/Gravel (+/- $2,400)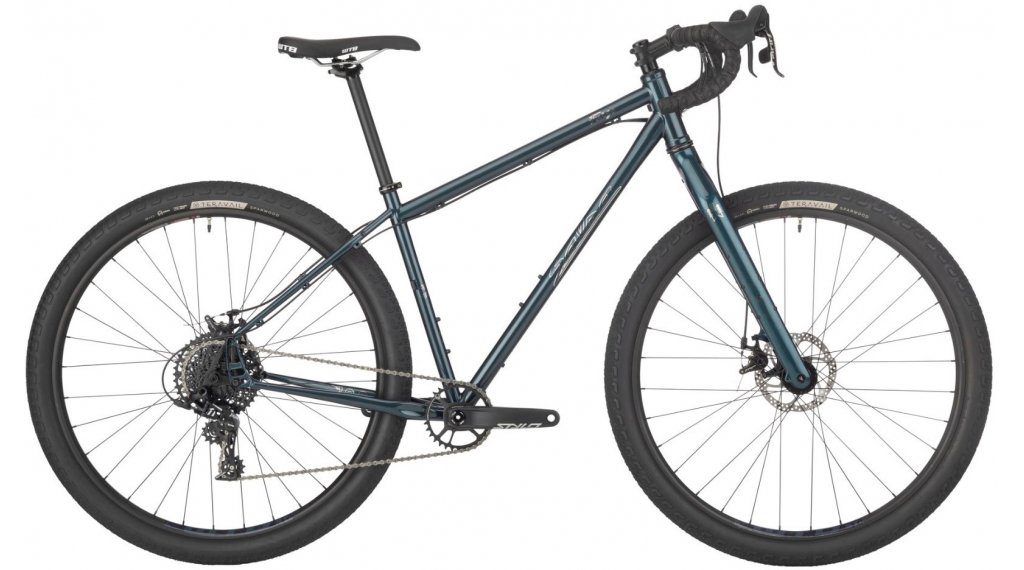 Salsa attacks frontally the ladies' touring bike market with its latest version of the classic Fargo. A bikpacking style bike that could fall in the Plus category.
Far from the traditional geometries that characterized the Salsa Fargo in the past, since 2019 the Fargo has met or anticipated all the latest market trends for off-road touring: wide tyres (up to 3.0″), small chainrings (36/26t), and big grannies in the back (10 speed 11-34), an aggressive geometry, and carbon fork.
The new Salsa Fargo gives the rider a well-balanced mix of rollover, traction, and bump absorption. Rolling nice and smooth on dirt, it's got a great traction also on steep gradient (>15%) rocky climbs.
The Firestarter 110 carbon fork, has a dual sets of Three-Pack mounts on each fork leg, low rider rack mounts, and internal dynamo hub wire routing.
Features the Salsa trademark Woodchipper handlebars. The frame is available in all sizes, fitting short female riders down to 150cm / 5″.
An amazing off-road adventure machine – great for extreme bikepacking trips
| | |
| --- | --- |
| max tire clearance | 29" x 3.0" / max 58mm |
| gearing | 26-36t T / 12-speed, 10 – 52 T |
| weight | 11 kg / 24.5 lbs (size M) |
Kona Sutra LTD (+/- $1,600)
Affordable multi-purpose touring bike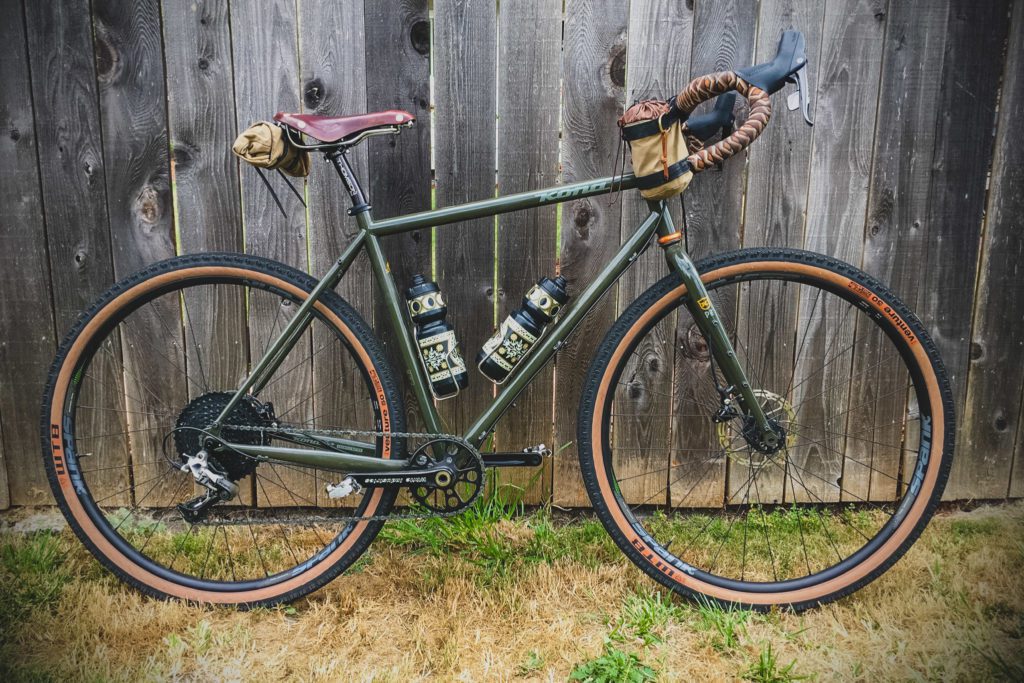 The Kona Sutra LTD is well known and appreciated in the universe of long-distance bicycle touring. It's a reliable machine that has delivered adventurers in the most remote corners of the world.
The range of components are just perfect for bike touring, Shimano stuff is easy to find everywhere in the world, so no hassle for replacement and servicing.
The 2019 version available on CycleStore features SRAM components instead of the classic Shimano. SRAM is by no means inferior in quality, but availability might be rarer.
The smallest size is fits riders from 4'10"-5'1″, 147-155cm, one of the smallest available options for short female adventurers.
This is a bike we met often during our bike trips around the world, a real classic
Santos Travelmaster 3+ (from $3,000)
Best touring bike for senior women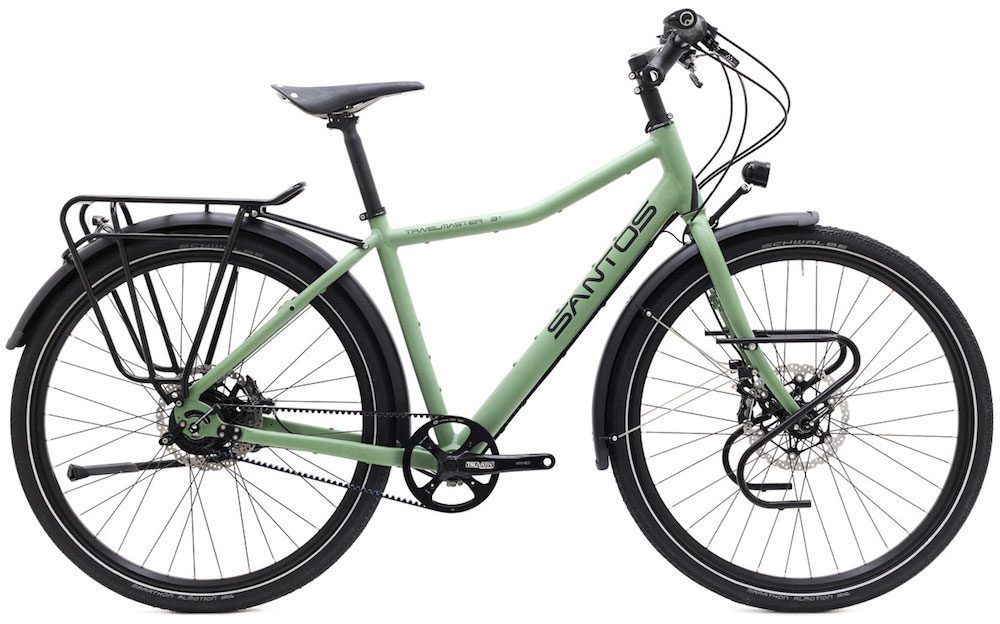 Santos Travelmaster series encompasses the greatest Dutch achievements in the field of bicycle craftsmanship.
Such inclination added to a long history of exploration and high technological standards has been leading the to reach top-notch quality in design and manufacturing.
Right from the long tradition of Dutch bicycle industry, Santos roots its own philosophy to deliver to its customers ideal bicycles built by cyclists for cyclists. This means unprecedented level of customization.
TravelMaster 2,9 and 3+ are indeed fully customizable to the smallest details; they are packed with all kinds of accessories you won't anymore do without once you have tried them.
Robust yet agile, beautifully designed yet solid, these bicycles are sturdy pieces of art naturally equipped to nest the Rohloff gear hub or the Pinion gearbox.
Santos wanted a frame that would fit a 29'er suspension fork as well as a fixed front fork, that's why the front of the bike is higher.
In addition, the head tube has been designed to be as long as possible, because that results in a stiffer frame and therefore more stability with full luggage.
Both frame cables run outside, in order to make their replacement easier. Furthermore, as much thread as possible has been kept outside the frame, also to save the frame from damage. No need to worry to get stuck with mud in your fenders!
Santos offers a particularly detailed build program that allows you to customize the Travel Master just the way you want it. Not only do you get a choice of wheel sizes – 26″ or 700c – but you also get to choose frame material – aluminum or Chromoly steel.
A step-through frame design is also available, which would cover the needs of any physique. Indeed a Santos, with its level of customization, could be the best touring bike for senior women.
The price asked for these indestructible rigs is quite stellar for a touring bike, but well worth it. Tiphaine rode it through Asia with her partner Marco (Cyclolenti) and the bike never failed.
Visit our YouTube channel
Looking for a Travel Bike? Check these!
Check Also
Enjoyed it? Follow us on Social Media!
Stay in touch while we get lost! Follow us on Social Media