Bikepacking vs Cycle Touring? Which style is better?
The pros and cons of a Pannier Setup against Bikepacking Bags
+ some hybrid setup ideas
Bikepacking vs touring has been one of the hottest topics on cycle touring forums for quite a while. Everyone is ready to defend their setups, some even with a hint of silly fundamentalism, but as often is the case, there's no absolute winner in the struggle between bikepacking bags and touring panniers setups.
The scope of the trip, the personal taste of the rider, the purpose of the setup, the type of roads to be tackled, the length of the journey, the amount of gear needed… these are just a few of the factors that you should consider when choosing between classic touring panniers and a slick and trendy bikepacking setup.
Of course it hasn't have to be black or white, hybrid setups are also an option. You'll find our thoughts at the end of this blog post.
Bikepacking vs Pannier Touring in a Nutshell
Better for:
Endurance races | short bike trips | multi-day trail-riding | fast-paced credit-card touring
Wind Handling without Framebag
92
Wind Handling with Framebag
75
Pro
more agility
lighter
ride almost any trail
Cons
lower storage capacity
more expensive
hard to pack
Better For:
Long-distance expeditions | cross-continent self-supported touring | Nomadic Life
Pro
almost limitless storage capacity
cheaper
lower center of gravity
ease of gear access
Cons
bulkier and heavier
harder to control on rough terrain
less aerodynamic
What are the differences between cycle touring and bikepacking?
In traditional style bicycle touring, the luggage is stored mostly in lateral bags called bike panniers. Those need a rack to be hanged on to (a rear rack, a front one, or both), so they inevitably make the bike-rider system much wider.
A wider rig means less agility, making the bike more difficult to control, especially on rough terrain. Panniers also hang pretty low, so they are prone to be caught by obstacles, which may result in damage to our panniers or even in risky fallings.
Bikepacking style is instead modular, it uses a combination of specific types of bags especially designed not to widen the rig's profile.
By using any possible space within the bike frame, bikepacking bags make the rider able to tackle the narrowest single-tracks without the need to worry about balance and obstacles.
While loaded touring requires a more specific touring bike, many bicycles can perform well as bikepacking bikes, just be sure they have adequate wheels for your load, or update your wheelset.
Advantages and disadvantages of bikepacking
A bikepacking setup is lighter and slicker than a cycle touring one, it is ideal for off-road use, even the most extreme trail can be tackled with the right gear setup.
Bikepacking bags also do not need racks, which saves considerable weight (up to 1.5kg for both a front and rear rack). Bikepacking "packs" are directly attached to the frame or other essential components of the bike (such as seatpost or handlebars).
This means that a bicycle doesn't need to be rack-ready to be a travel bike! This is pretty revolutionary if you think about it, you can now take your full-suspension MTB or even your road bike on a multi-day self-supported cycling adventure, this is bikepacking!
The advantages of weight saving, improved maneuverability, and better aerodynamics are evident, but there are also some drawbacks in bikepacking, first will be your storage capacity and ease of access.
Check the best gravel bikes for bikepacking
Storage Capacity: Bikepacking Bags vs Touring Panniers
Storage capacity is probably the first factor to consider when choosing between a bikepacking vs a touring setup.
The storage capacity of a complete set of bikepacking bags will never match the 110 liters of 4 MSX panniers. This is certainly is an incentive to go minimal, which is cool… but some years-long cycling trips definitely require more storage.
Long-distance bike travel usually means going through all sorts of weather conditions, from hot tropical climates to freezing desert winters. If that's your case, you probably need more gear (unless you properly organize to ship your gear ahead.
When we plan a year-long (or even longer) bike journey, we are basically living on the road – that means sometimes the essentials won't be enough to live an enjoyable life, unless you're a hardcore minimalist. You might want a bigger tent, a warmer sleeping bag, cooking gear, a laptop, and whatnot.
Shorter but more extreme routes are often better-tackled with a bikepacking setup, if your journey is just a couple of weeks to one-month-long, giving up on luxury is easier for a short timespan. Essential camping gear can still be stored bikepacking bags if you pack them right.
Also, if you don't plan on camping and have a decent-enough budget to afford credit-card touring, a bikepacking setup is probably the right choice for you.
How much gear can you store in bikepacking bags?
Total: up to 70 litres (with the biggest bags)
Although I'm not a fan, many bikepackers increase their storage capacity by using cycling backpacks – I feel like recommending the use of rucksacks not bigger than 20l, and not heavier than 5kg.
Final Total: up to 90l
How much gear can you store with a cycle touring pannier setup?
Total: 158l
Of course you can still expand a pannier-setup with top tube bags, frame bags and such, or even a trailer… if you really need to carry an entire house with you. A classic touring setup has basically no storage limits – only your legs will decide that.
How to pack your gear in bikepacking setups vs panniers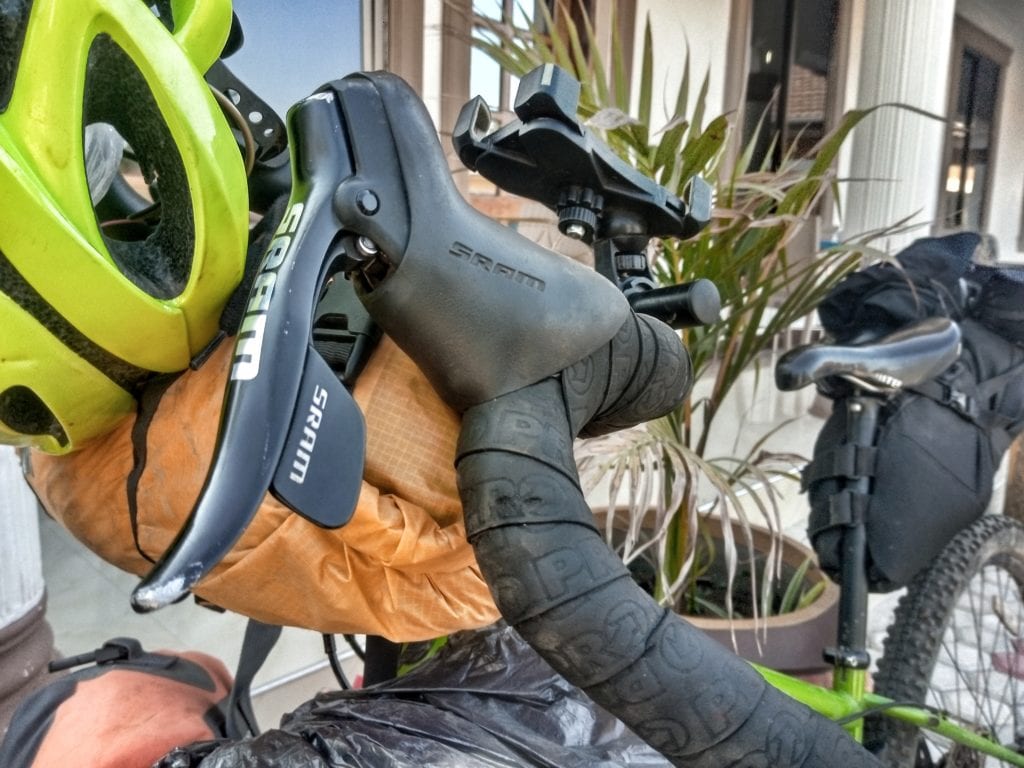 Bikepacking bags are narrow and streamlined in order to minimize their impact on aerodynamics. The problem is that some pieces of gear ar not streamlined at all!
Think about cooking gear and especially your food stock! Fitting canned chickpeas, packs of pasta, cooking oil, and oranges in a bikepacking setup can be a brain-burning puzzle.
At the same time, all the rest of your gear has to be packed as tight as possible and have its own fixed place for you not to go nuts when re-packing every morning.
Panniers are more like dumpsters, the exact opposites – you can throw in your gear without having to think too much about the bulk. Here though, is the weight balance that is fundamental (refer to our beginner's guide for cycle touring for more about this).
Water storage
With a frame bag taking all the space inside the diamond of your frame, water storage has to go creative in bikepacking. Bottle-bags are often attached to the handlebars, or cargo-cages are used as bottle-cages in the front or rear fork.
Water storage is clearly more straight-forward in a touring style, a big frame can easily carry 3.5 liters inside.
Both setups allow for an additional bottle cage on the lower side of the downtube (the only place no-one tried to put a bag… yet).
Bicycle Touring vs Bikepacking: Riding Feelings
Aerodynamics and Wind Handling
Wind is an essential component in cycle travel, head and side wind conditions are often harsh and frustrating obstacles to overcome.
A classic touring setup with panniers definitely has a larger overall rig surface, is less aerodynamic and offers more resistance to the wind. A strong headwind might be a nightmare when touring with large panniers, and side winds can destabilise the rider and result in dangerous accidents.
A minimalistic bikepacking setup offers much less surface to the wind and normally handles better both side and headwinds. If you're carrying lots of stuff though, your rig might not be so streamlined after all.
Frame bags in particular, can be a nightmare in side-winds, creating a "sail effect" that can wipe you out of the road if a strong gust gets you.
Center of gravity
Pannier bags are positioned much lower on the frame compared to bikepacking bags, this lowers the overall center of gravity of your rider-rig system.
A lower center of gravity means more stability, you will notice how a properly loaded touring bike would feel extremely stable even on high-speed descents.
With a bikepacking setup, the center of gravity is much higher, basically at waist-height. A gravel bike loaded with bikepacking bags will never feel as glued to the road as a pannier-loaded tourer.
Obstacle avoidance
A lower center of gravity though, means that your bags are nearer to the road surface. Panniers can easily get caught in bushes, thorns, big rocks, and other obstacles. Whatever the skills of the rider, some single tracks are just not rideable with side panniers.
A slick bikepacking rig, with is slim profile and high-up bags, doesn't have this problem. If you go minimal and use the proper gear, bikepacking bags will never get in the way of your off-road riding.
Costs of setups
Although more and more budget brands are coming into the bikepacking world (Rosewheel and Rockbros are two good examples), the overall cost of a full bikepacking setup is still higher than what you will spend by buying panniers and racks of samilar quality.
Steering and off-road capabilities
According to a popular legend, a bikepacking setup is much better than a pannier one when riding off the pavement. Let me get one thing straight, a properly loaded touring bike can handle rocky and bumpy roads even better than a bikepacking rig.
Of course, the quality of the pannier bags, especially of the attachment systems, is diriment when it comes to rough roads – weak mounting point can break or just detach from the rack, letting you panniers fly away and potentially resulting in a nasty crasher (Elena had a similar experience with Crosso panniers in South Africa).
Attachment systems are also important for bikepacking bags, especially saddle-bags. Some seat packs are prone to swinging from side to side or drop low towards the back wheel. This might be due to the poor quality of the bag but also to a wrong installation or unfortunate packing.
The steering on a bikepacking rig is faster, while usually touring bikes have lazy forks, which are less reactive – together with the front panniers weighing on the fork, a touring setup makes the steering definitely slower.
The difference is that a proper touring tank can often just smash through rocks without the need of zig-zag-ing through them, thanks to the lower center of gravity and greater overall stability.
Hybrid Setups
Mixing panniers and bikepacking bags is not blasphemy, it can absolutely be done with quite succesful results – the secret is trial and experimentation.
A trend in long-distance touring has been emerging, to move most of the weight on the front wheel by using front panniers and large handlebar packs while leaving only a seat-pack (although usually a large one) on the back.
Using small panniers on a rear rack, a frame bag, a large handlebar pack and front cargo cages is also becoming pretty common.
Discussing the advantages of this kind of setups is beyond the scope of this article, we'll dedicate a special post to setups soon.
Stay in touch while we get lost! Follow us on Social Media