Crosso Dry Bicycle Panniers Review
after 25,000km – 2 years of daily use
Plus a preview of the new Crosso Twist and Expert
We've been using Crosso DRY panniers since 2014, they carried our gear for about 25,000km, from Italy across the whole length of Asia. During these years we've been able to test the Crosso bike panniers almost in all possible conditions, extreme heat, biblical downpours, brain-shaking washboard roads, hail storms, and so on.
Our Crosso DRY bicycle bags have been subjected to any kind of stress, handled by rude porters, bitten by mice, covered in thick layers of mud. I think it is time for us to write a review and tell you our honest opinion about Crosso Panniers.
Disclosure: Some of our articles contain affiliate links. This comes at no additional cost for you and helps us keep this website up and running. (as Amazon Associates we earn commission from qualifying purchases)
Check also
23 top bicycle touring panniers compared
19 best handlebar bags
Essential Gear for Cycle Touring
About Crosso
Crosso is a relatively small company from Poland which totally dedicates to manufacturing waterproof bicycle panniers specifically designed for bike touring.
Crosso, like many companies, was started in a garage but it hasn't taken the flight away yet, Crosso is still run by a handful of people, and you'll feel this intimacy once you get in touch with them.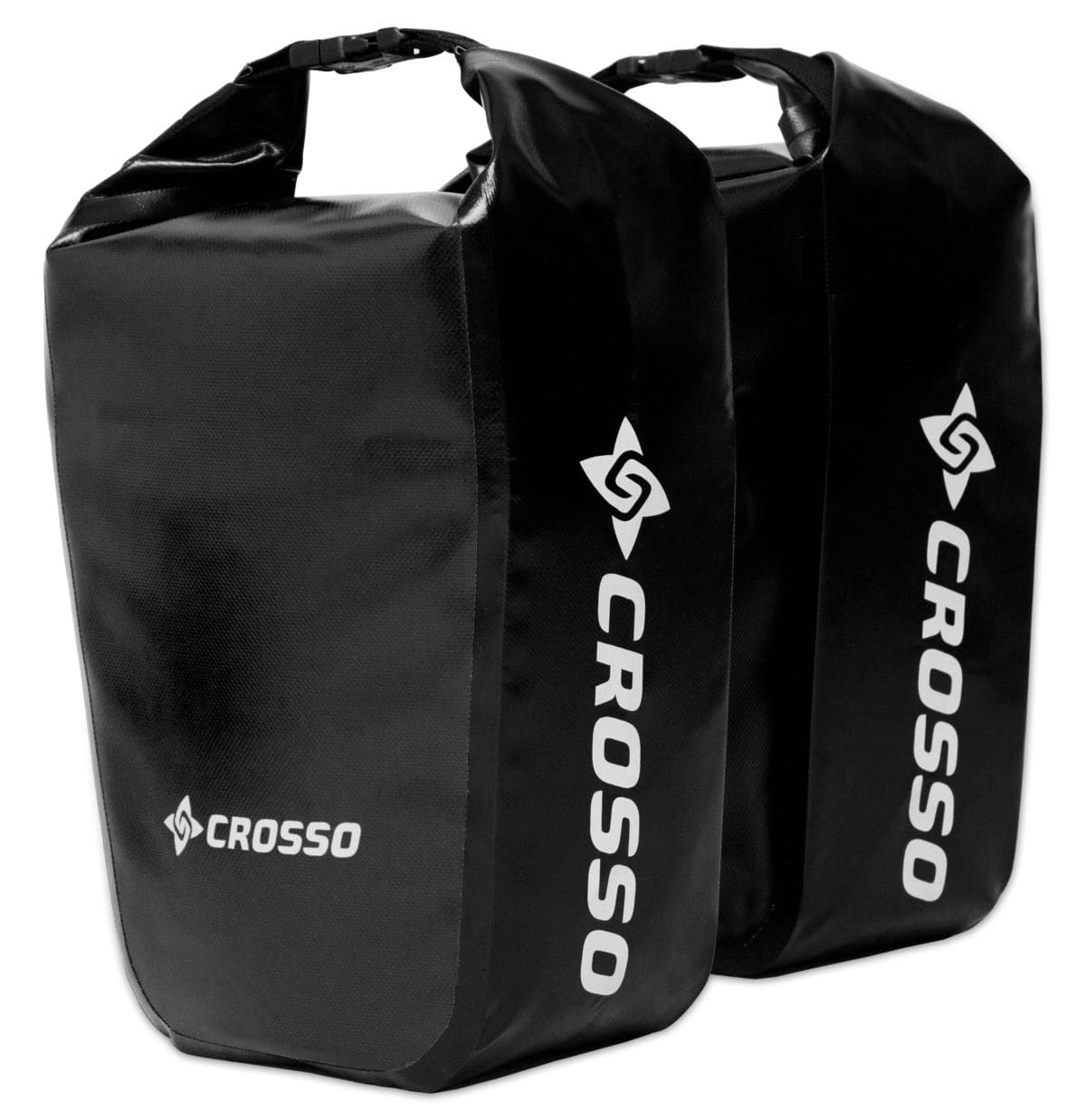 Crosso DRY Panniers' Materials
Fabric: tarpaulin fabrics named Polymar and Plastel. Tarpaulin is not as robust as Cordura® but thanks to the perfectly smooth coating of PVC, it is more water resistant and easy to keep clean. Tarpaulin is used in the Dry series panniers, where the fabric is precisely welded to provide totally watertight joints. This fabric is also used for the back panels of Cordura based panniers.
Crosso DRY are made of Cordura, a branded type of fabric designed specifically for military and extended outdoor use. Cordura is basically made of nylon, often blended with cotton or other natural fibers. Cordura fabric is meant to be tear resistant, totally waterproof, and color retaining.
Stiffener Panel: The back panel of Crosso Panniers is made of polypropylene, 2 mm or 3 mm thick, unbreakable, with "shape memory". Made in Poland.
Threads: Polyamide, Made in Poland.
Crosso DRY panniers mount reflective panels, firmly attached to the material, visible from up to 600 meters. The reflective panels are made by Swedish producer.
1750g Height after three times rolling – ca 44cm, Lenght – 35cm, Length- 29cm, Width – 16cm
Minimum distance between the bottom eyelet and rack top tube – 28,5cm, Outer hooks track – 21.5cm
Crosso DRY panniers are available in red, blue, yellow, black, orange, grey, and two different greens – no other brand has such a vast choice of colors!
Internal design and pannier capacity
Crosso Dry panniers come in two sizes, the small 15L (called Dry 30, meaning 30L of capacity for a couple) and the big 30L (called Dry 60). The Crosso Dry 60 are among the biggest panniers available on the market, making them a good choice if you have a lot of gear to haul around.
Inside they have just one big compartment, no pockets or dividers of any sort, leaving up to you the task of how to organize your gear. I honestly like this approach, which leaves me more freedom and allows me to fit bulkier items in the pannier.
We use light cloth bags to store our items of equipment and keep them organized, some like to use smaller waterproof bags for added precaution, but I find this unnecessary, if not for electronic gear such as laptop or DSLR camera.
Crosso Mounting Systems
The classic mounting system of Crosso panniers is very simple, it basically consists of 2 steel hooks fixed with screws to the top back of the pannier and a third hook, also made of steel, which is connected to an adjustable strap.
This third hook is meant to be fixed to the bottom of your rack to prevent the pannier from jumping out. The strap is split in half by a rubber ring, which regulates the tension. This rubber ring is the only week point of an otherwise very sturdy construction, we indeed experienced the failure of one of those, Crosso sent us replacements to Japan free of charge.
I have to say that I like this simple solution a lot, Crosso also provides you with rubber pads to be put between the hooks and your rack, to avoid scratching it. Although this mounting system fits most of the bike racks on the market, it might not be suitable for 100% of those, so recently Crosso came up with a new mounting system that you can choose for a not-so-little surcharge, about 25€ for the couple.
This new mounting system, named Click System, has been developed by the German manufacturer Rixen+Kaul features a hook track along which the hooks can move to adjust the distance from each other. Those hooks also lock to the rack tube, in a similar way that Ortlieb hooks do; the whole mounting system can be detached from the pannier, allegedly for more comfortable handling, although I hardly see can foresee myself doing this. This whole thing is made of plastic instead of steel.
I honestly like the simpler system more, and even Crosso advice to purchase the cheaper one if it fits your rack.


Are they really waterproof?
Yes, they are, as long as you treat them right and close them properly. Crosso Dry panniers feature a pretty common roll-top type of closure, you basically join the top margins of the pannier and then roll them together and close the buckle, just as you do with common dry bags.
To reach full waterproofness you'll have to roll the top at least three times, although it will take a prolonged tropical downpour, or submerging the pannier into the water, for your stuff to get wet, even if you roll them just twice.
The Dry series panniers and bags are welded using High-Frequency technology, this guarantees no leaks even after overuse… until the fabric gets punctured; which brings us to the next topic.
Durability – Crosso Panniers
Generally speaking, Crosso Dry bags are very durable. The hooks and stiffener panel are sturdy and didn't suffer any fail during our 2-years test, also the buckles are very resistant.
The fabric wore out a bit near the buckles though and we had some major scratches, a hole, and a big cut due to accidents during which the pannier rubbed hard surfaces… they are not indestructible, no pannier is. Our Ortlieb classic suffered very similarly. The hi-frequence welding are still perfect as the first day.
The only weak part is the rubber ring used to tension the strap attaching the pannier to the bottom part of the rack, two of these broke during our trip but Crosso was very quick in sending the replacements.
This small issue was solved by the introduction of the new Click System, which uses a method similar to Ortlieb's to keep the pannier attached to the rack. The Click System though replaced the steel top hooks with adjustable plastic ones, that's why I still prefer the old system, which also comes cheaper.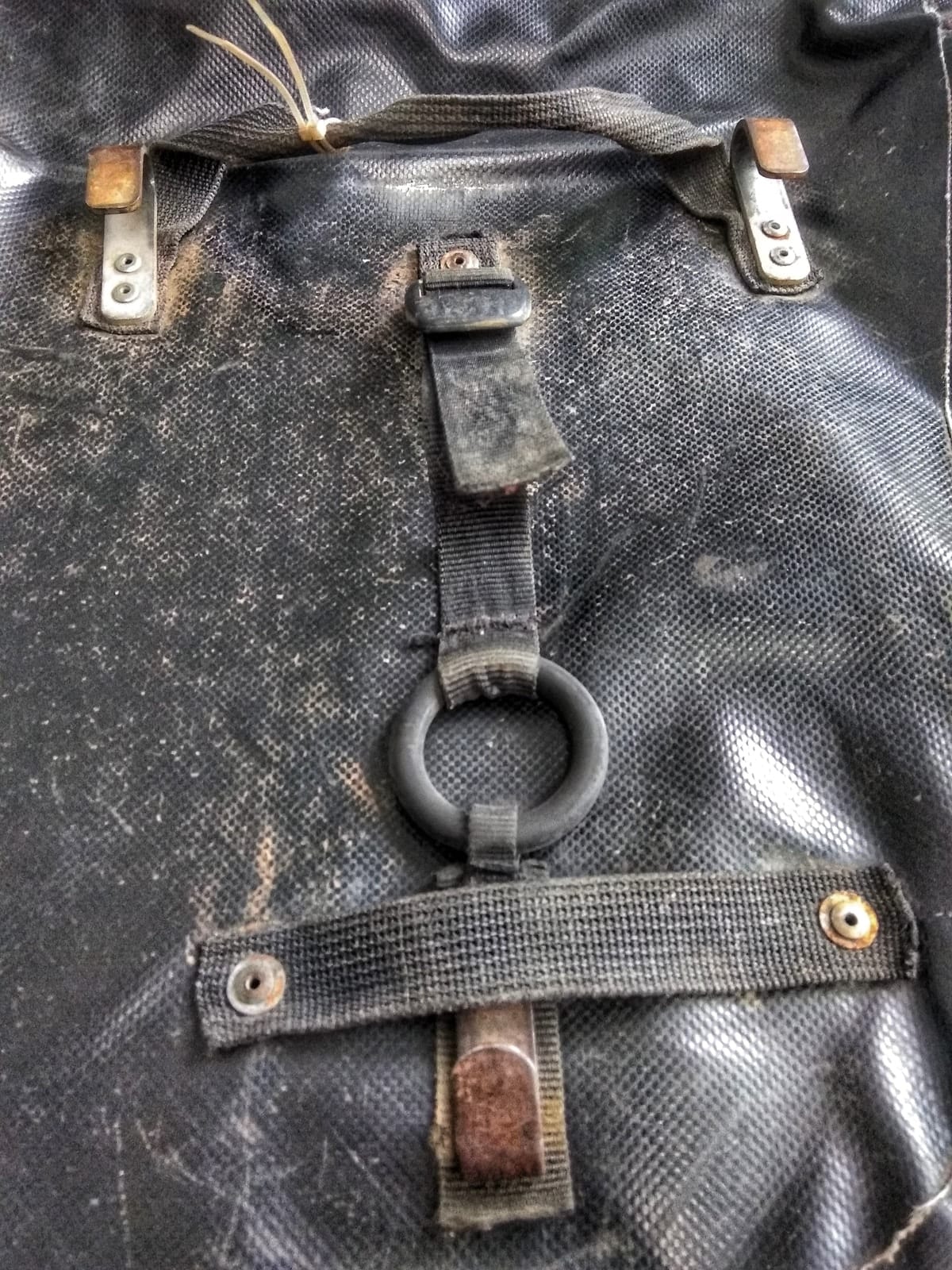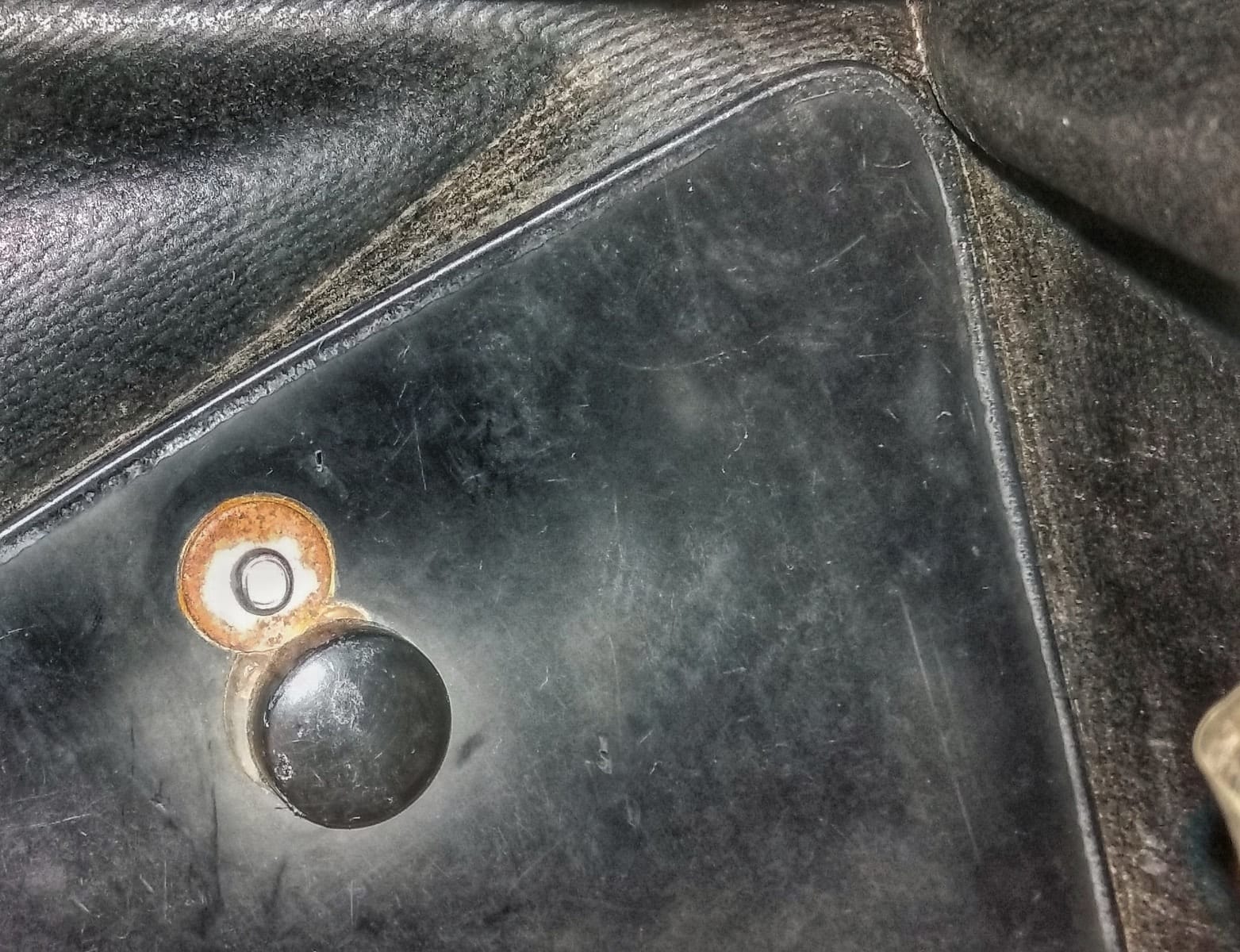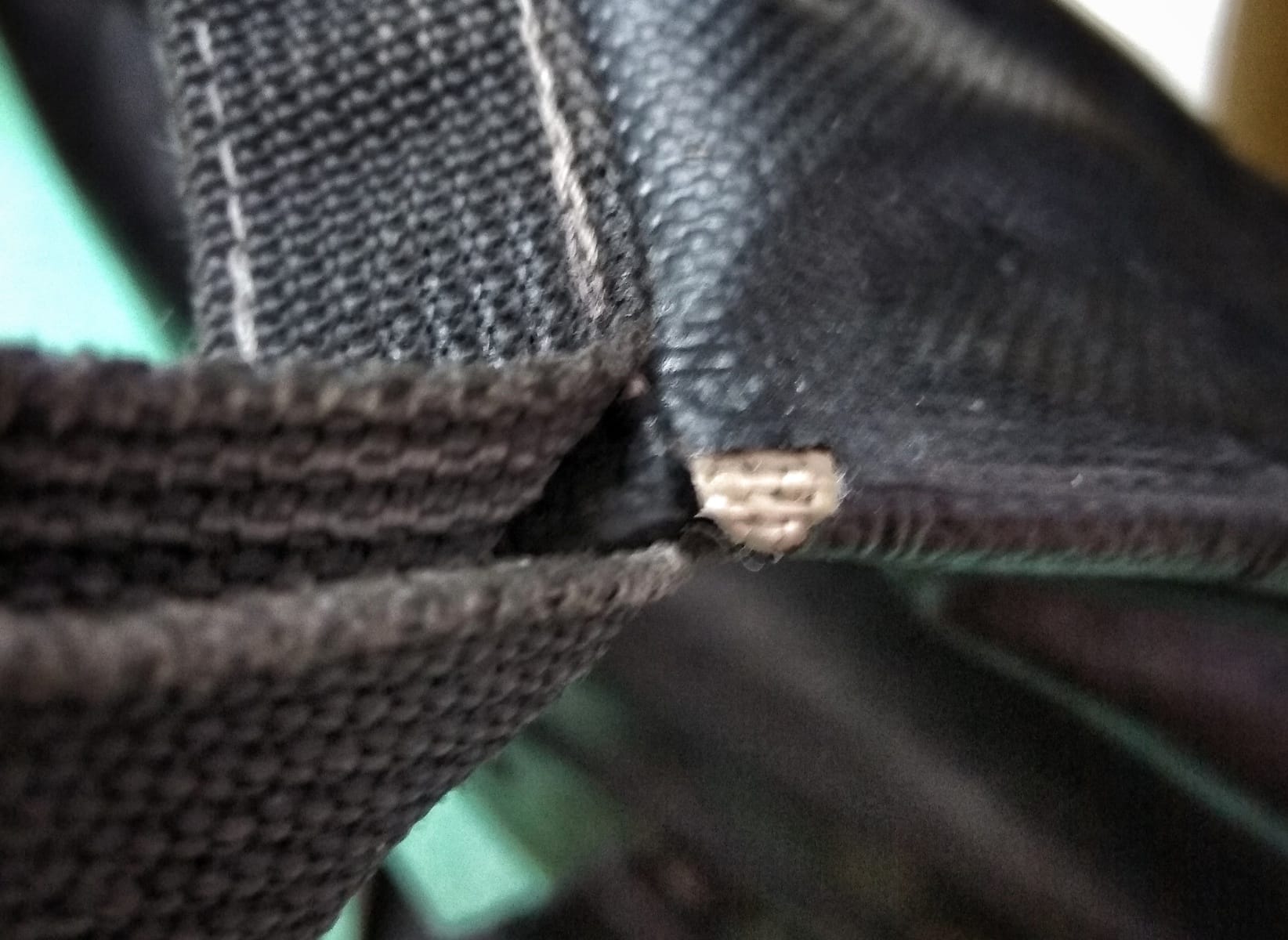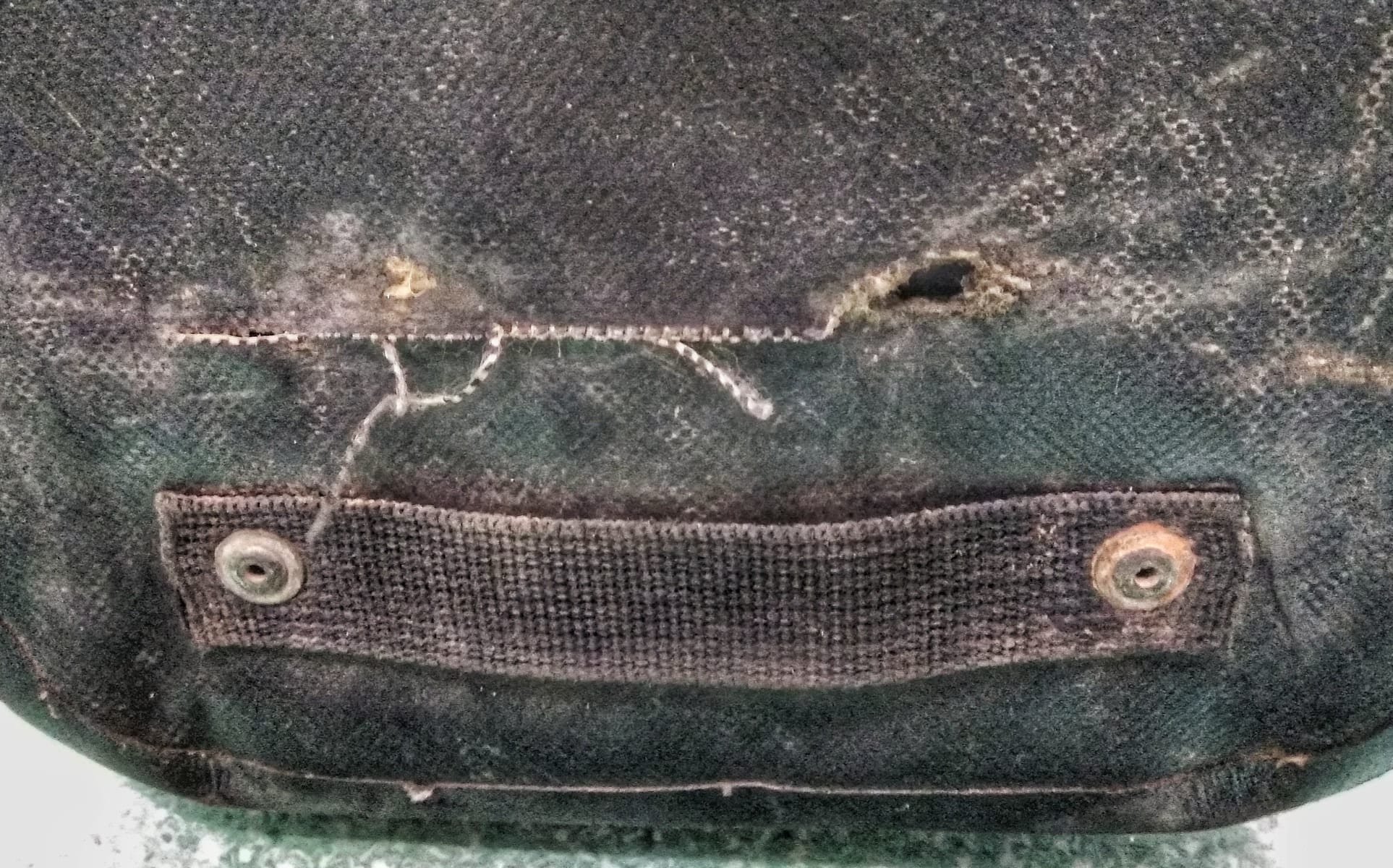 Crosso Dry Bags
Crosso also produces basic but very reliable dry bags for all uses (boating, cycle touring…), we have used the 20 and the 30L versions for the whole length of our trip in Asia and, besides the obvious stains, they are still like brand new.
The Dry Bags come with a shoulder strap, which can be used also to fix the bags above the rear rack of the bicycle. The choice of sizes and colors available are sure to cover anybody's needs.
The New Crosso Expert and Crosso Twist
Crosso recently launched the restyled versions of their higher-end panniers, the Twist and the Expert. We are going to the test them both during our upcoming trip but we'll give our first impressions here.
The new Crosso Expert and Twist are available in black, red, and blue color.
The New Crosso Twist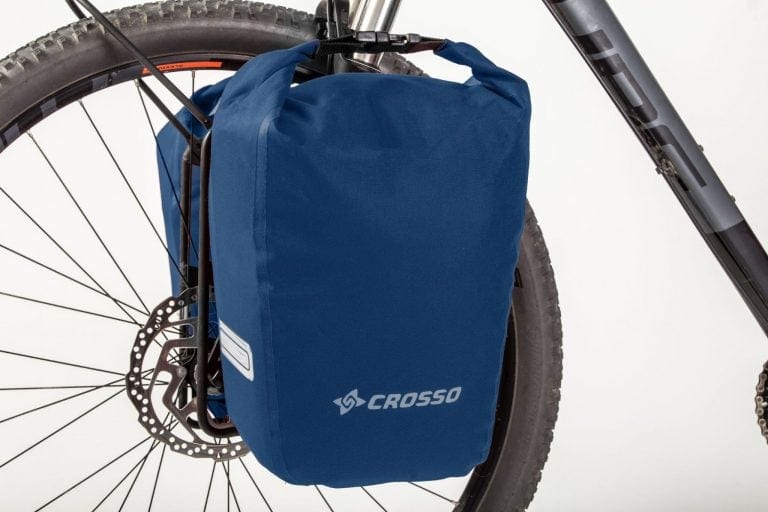 The new Crosso Twist Bicycle Panniers are basically a Cordura version of the Crosso Dry. The Cordura should be more resistant to abrasions, while a new internal PU coating will improve even more the alright high impermeability.
They come in two sizes, 30L and 60L, and with a choice available between the Click and the Standard mounting system. A pair weights a bit more than the Dry at 1.5kg, the minimum distance between the lower and upper mounting point is 28.5 cm, the spacing of hooks is 21.50 cm.
Prices (for a couple):
60L Standard: 92€
60L Click System: 117€
30L Standard: 67€
30L Click System: 92€
The New Crosso Expert
The Crosso Expert Panniers are the top of gamma for Crosso production, the new version, launched in April 2018 is based on the Crosso Twist, made with Cordura fabric, but we some interesting add-ons.
First comes the double closing system, with the Twist's roll-top covered by a hood – Crosso claims this system to be watertight also in full immersion. The top hood also features a zip pocket for small items.
The Expert brings the single pannier capacity to 66 liters of capacity, thanks to the Pocket 3 external pockets attached to the wall of the pannier with a special harness. This system provides easy access to the contents of the pockets as well as quickly removing the entire pouch and taking it with you.
Thanks to the attached shoulder strap, it becomes a convenient bag for things that you must always have with you when shopping or sightseeing. The pocket harness can be used to transport other items weighing up to 1.5 kg, it works great as a container for a bottle of water.
All these new features add of course some weight to the panniers – 2295g for the couple. The minimum distance between the lower and upper mounting point is 28.5 cm, the spacing of hooks is 21.50 cm.
Prices (for a pair):
Expert 66L Standard: 140€
Expert 66L Click System: 162€
Conclusion
Crosso DRY are superb panniers for the price, they are reliable, waterproof, and sturdy. With the new Expert and Twist models, they now have options to satisfy basically any need. Highly recommended.
You might also like
23 top bicycle touring panniers compared
19 best handlebar bags
Essential Gear for Cycle Touring
Top 10 Best Instant Pop Up Tent for Couple or Families
Stay in touch while we get lost! Follow us on Social Media