The best frame bags for cycling reviewed
Bikepacking frame packs, half-frame, road bike, and full-suspension mountain bike frame bags.
Ortlieb, Revelate, Blackburn… COMPARED!
Bicycle frame bags are not an absolute novelty, they are around since before the term "bikepacking" was invented. The concept was used for example by the Swiss army during WWII.
With the rise of bikepacking though, more and more people are looking to gear up with the best bike frame bag, or bikepacking frame pack for the nerds.
Cycling frame bags though require a bit more attention when purchased, compared to other bikepacking gear. That's because all bikes are different in geometry and size, so not all of these frame packs would fit.
In this article, we'll give you several options for all bike riding styles, with the 7 best bikepacking frame-packs, 2 great frame bags for road biking, and 3 frame bags for full-suspension MTB.
Why a frame bag?
Modern-day bikepacking setups try to use all the possible space for storage without compromising the profile. They usually include a combination of:
So frame bags are not to be confused with top tube bags (those that go above the top tube), bike bags that might go on the handlebars, or hanging from the back of the saddle.
Frame bags fit inside the frame diamond of your bike, making sure you can carry your personal items without the obstacle of puffy panniers.
Bikepacking frame bags give you additional storage space at a relatively low center of gravity, thus allowing the rider to pack heavier items in this location. A good frame bag is suitable for both everyday commutes and weekend getaways.
In the world of frame bags, size varies by bike type and your needs. To help you navigate this realm and to help you choose the best frame bag for you, here's a selection of the best ones on the market.
14 Best Frame Bags in a Nutshell
Disclosure: Some of our articles contain affiliate links. This comes at no additional cost for you and helps us keep this website up and running. (as Amazon Associates we earn commission from qualifying purchases)
How we compile our gear guides: during the almost 10 years of cycloscope.net our team personally tested dozens of similar pieces of gear. For what we can't test personally, we involve other people in the cycling community to give their feedback and opinion about gear they have used. Our decade-long experience in bicycle touring enables us to find the key cons and pros of every product we mention.
9 Best Frame Bags for Bikepacking
Obova Triangle Frame Bag – best for tools and accessories
Revelate Tangle – best half-frame bikepacking bag
Blackburn Outpost Elite – best to carry more mission-critical gear
Craft Cadence – best for commuting and short trips
Rockbros Triangle Bike Frame – budget and waterproof
Ortlieb Frame-Pack – top capacity and waterproofness
RNS Triangle Frame Bag – cheap and stylish
Moosetreks Trail – amazing durability
Revelate Ranger – a great classic
2 Best Road Bike Frame Bags
MOOCi Bicycle Triangle Bag – best for aerodynamics
Ibera Triangle – best for quick access
3 Best Full Suspension Mountain Bike Frame Bags
The Evoc Multi – great style and quality fabric
Revelate Designs Full Suspension Frame Bag – top MTB frame bag for capacity
Salsa EXP Full Suspension – great quality/price ratio
8 Best Frame Bags for Bikepacking
Multi-day bicycle touring trips need to be comfortable and fun, without any hurdles. The best bikepacking frame bags will allow you to easily access your personal items such as phones and chargers and to easily store your bike equipment.
Obova Frame Bag
Best for tools and accessories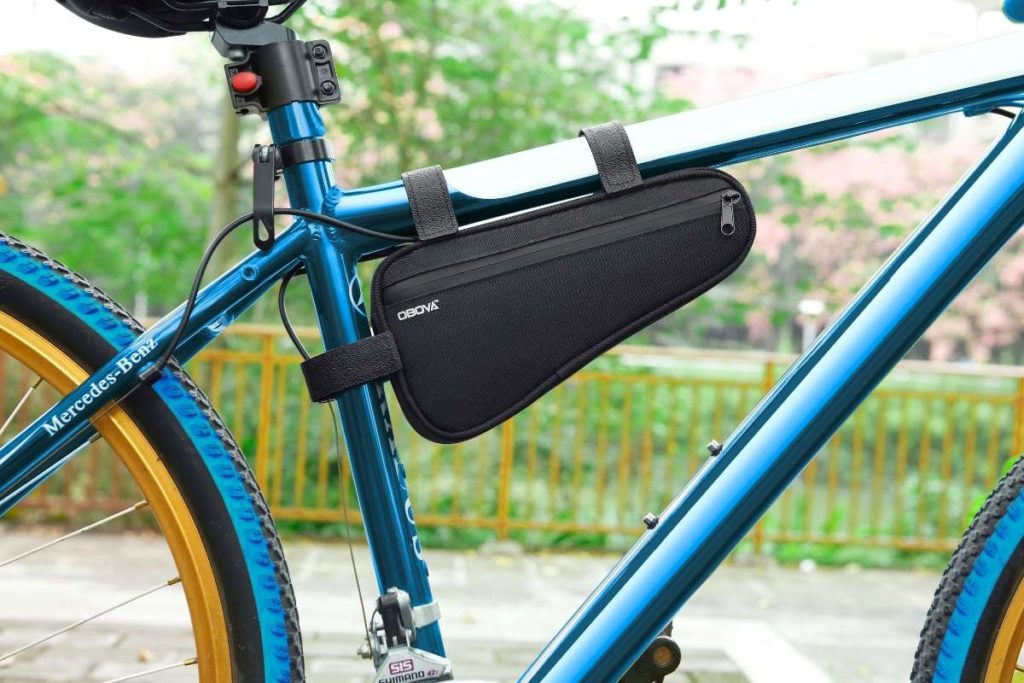 | | |
| --- | --- |
| Capacity | 1.2 L |
| Weight | 0.24 Lb |
Features:
Spacious & ultra lightweight 0.24 Lb
Plenty of storage 10.57 FlOz/1.2 L capacity
No sagging with the internal 3D frame
No swaying, sturdy on all terrains
No encroaching water bottle space
Water-resistant outer fabric
Two-layered waterproof lining
Foam padding
Waterproof zipper
Easy Installation, quick release
24/7 Customer Support
Revelate Tangle Half-Frame Bag
Best half-frame bikepacking bag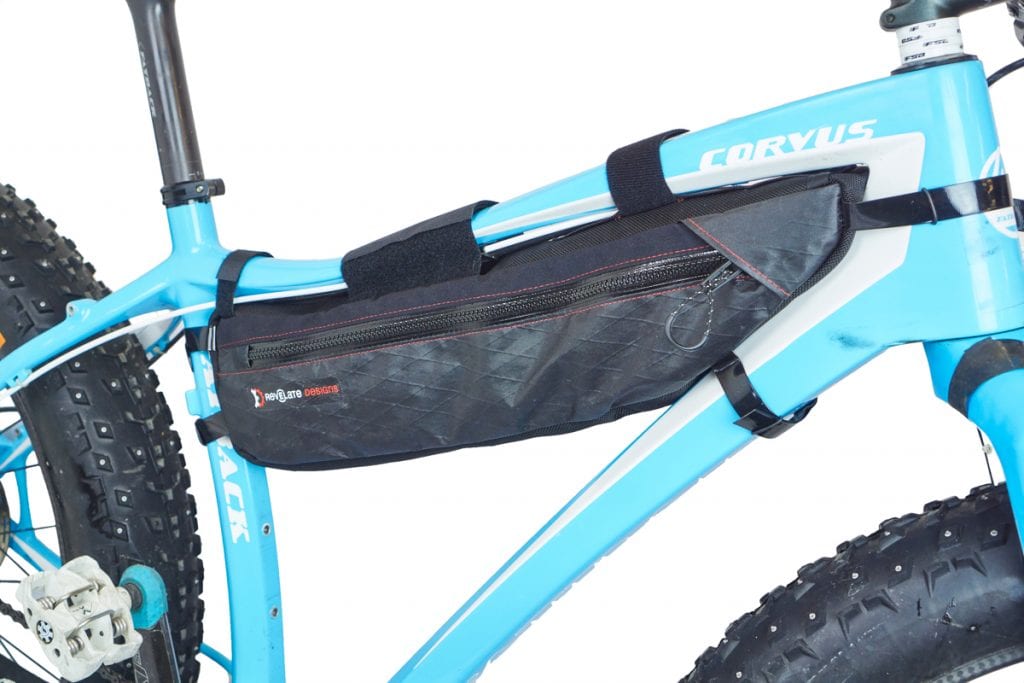 Capacity: 4 L
Weight: 8.8 ounces
From bikepacking pioneer brand Revelate Design here's our favorite half-frame bag. Coated with urethane tape, this backpacking frame bag withstands grit, dirt, and water, making it perfect to ride in any weather conditions.
The Tangle comes in only one size, able to fit in almost any frame. This cycling frame bag is the best one to carry all your belongings in a safe place while keeping some free space for a water bottle.
Every owner of this Revelate frame bag says it: it fits all the snacks you can possibly imagine. The capacity of this bag makes it perfect for bikepacking trips with the family, to store all the guilty pleasures adults and kids alike enjoy. Since you might want to enjoy your favorite snack without stopping, the Revelate Tangle features Zipstretch construction for easy access.
The Blackburn Outpost Elite
Best to carry more mission-critical gear
S 3.37L // M-SHORT 3.65L // M-TALL 5.15L // L 6.76L
S 205g // M-SHORT 246g // M-TALL 264g // L 306g
Blackburn manufactures one of the best full-triangle frame bags, featuring removable Hypalon straps that protect your bike's frame.
Thanks to the adjustable mounting systems, this frame bag fits on any bike and it is expandable, which allows you to carry even more equipment and items. The Blackburn Outpost Elite also features a water bladder hydration port.
This frame bag isn't just waterproof, but it has two external pockets with drain holes for when things get damp. This is a great bikepacking frame bag, with a lot of capacity to stow your water supply, a removable internal divider to organize your gear, and enough sizes to fit all bikes.
Craft Cadence Triangle Bag
The Best Frame Bag for Commuting and Short Trips
| | |
| --- | --- |
| Dimensions | 25.5 X 18.9 X 6.4 cm |
| Weight | 170 gr |
This is the best frame bag for combining commuting or city use with short weekend trips. Craft Cadence is known for some of the best bike commuting bags but their frame bags are great for bike packing trips as well.
Featuring versatile features such as removable straps and internal mesh pockets for organization, this frame bag can be installed on the front or back of the triangle of the frame.
What makes the bag stand out is that a large portion of the bag is covered with reflective material, which lights up during the night, adding to its visibility and hence rider safety.
The bag is made from rainproof Oxford PU and is only 170 grams.
At 4 liters, this bag is perfect for those weekend bike packing trips where you need a compact solution that holds the essentials without being too bulky.
Rockbros Triangle Frame Bag
Budget and waterproof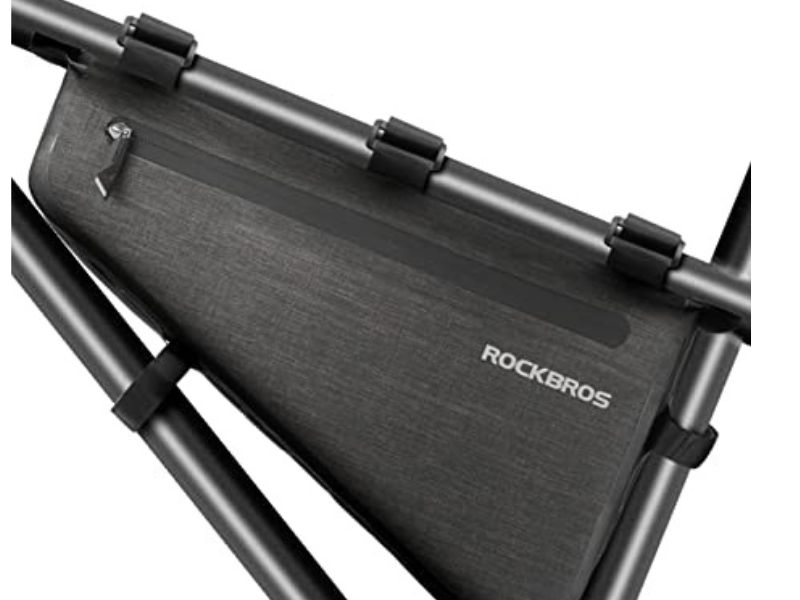 Large: 8 L / Medium: 5 L
Weight: 276 grams
The fact that this is the cheapest bikepacking frame bag on the list shouldn't fool you. Affordable doesn't equal lower quality, at least in Rockbros' case.
This frame bag is easy to mount thanks to its 5 velcro straps and 11 install holes. The outer nylon fabric makes the frame bag fully waterproof and the stiff bottom plate ensures your items don't get squeezed or lose shape.
With zippers on both sides, the Rockbros bag frame is easily accessible and the velcro straps ensure you can get off the bike and quickly dismount the bag to take it with you.
Ortlieb Frame-Pack
Top capacity and waterproofness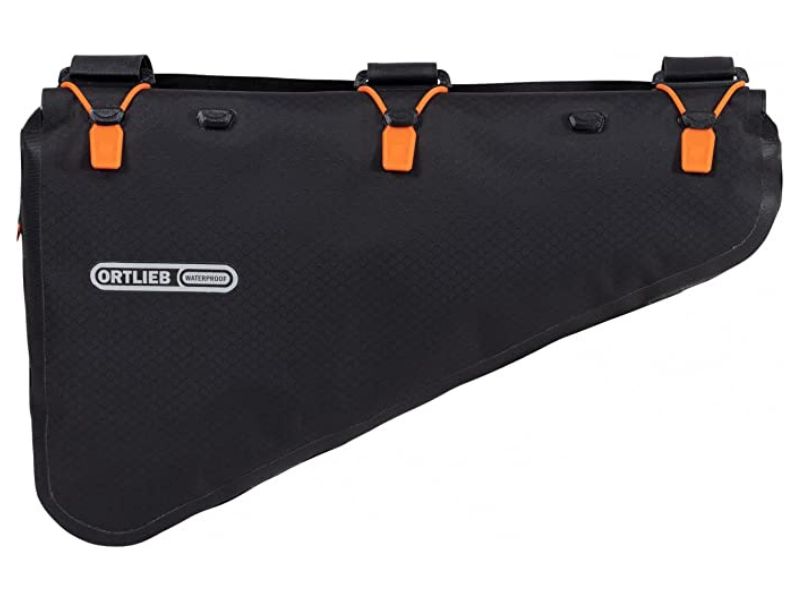 Total Volume: 4 liters, 6 liters
Weight: 186g (medium), 232g (large)
In a couple of years, Ortlieb smashed full-speed into the bikepacking market. This frame bag from the legendary German brand comes in two volumes and in two colors (black matt and slate), which make it both spacious and stylish.
It is one of the best frame bags for bikepacking trips since it allows you to store as many items as you need and to look cool while doing it. Like all Ortleb products, waterproofness is total and reliable.
The center of gravity is low on the bike's tube, meaning that you can even store heavy items in this Ortlieb, such as camping stoves and tools.
Featuring ultra-strong Velcro straps, nylon fabric on the outside, and waterproof zippers, this frame bag is ideal for long cycle-touring adventures. It can face any weather and it is easy to mount, perfect for cyclists who are always on the go.
RNS Triangle Frame Bag
Cheap and stylish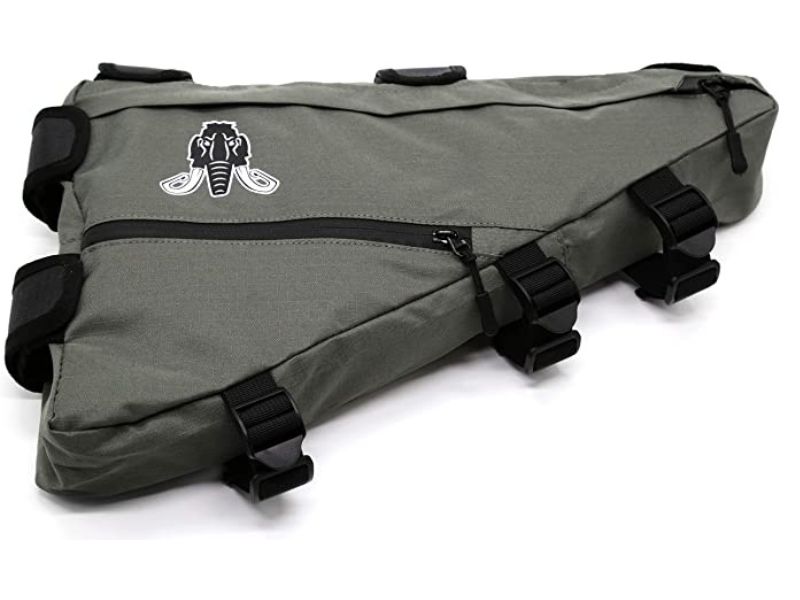 Dimensions: 10 x 16 x 18 inches
Weight: 140 gr
This is the best frame bag if you are looking for both space and style, but still want to stay on the cheaper side. You can choose between black, gray, and fatigue, a nice camo color that blends with the landscape and gives your bike a touch of glamour.
It is made of high-duty polyester fabric, which makes this triangle frame bag easy to clean and water-resistant. Inside, the multiple compartments make sure you can organize your gear and items.
Thanks to the adjustable hook and loop fasteners, this frame bag adapts to most bike geometries. One of the best cheap frame bags available on the market right now.
The Moosetreks Trail
Amazing durability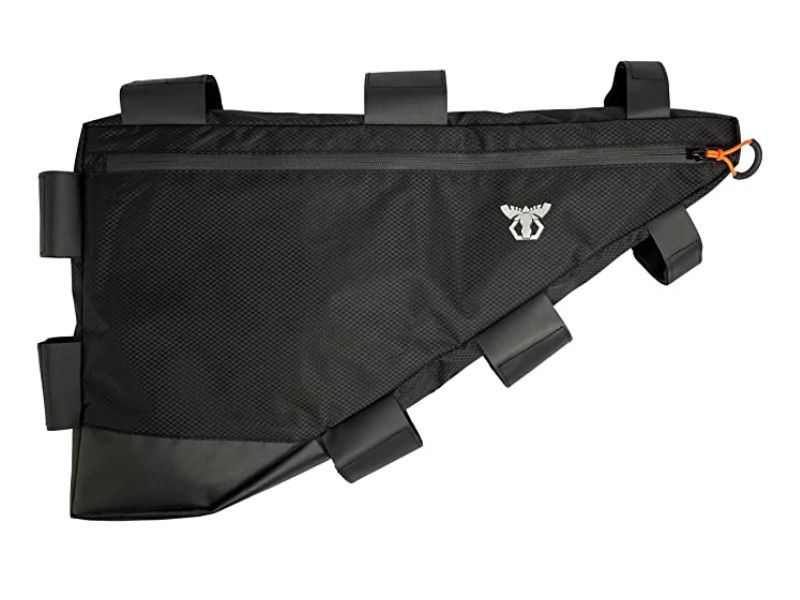 Small – 6.5L, Medium – 12L, Large – 14L
Weight: 207g – 404g
This cycling frame bag is another great budget choice for bikepacking, it's durable and extremely water-resistant, made from a ripstop nylon laminated fabric with thermoplastic polyurethane coating.
Thanks to the bag's six available sizes, the Moosetreks Trail fits on any bike frame and has an even load balance, perfect for long cycling trips.
This frame bag features velcro straps and a velcro divider, creating comfortable compartments in the Moosetreks. The Trail frame bag isn't just perfect for long-lasting use, but also for e-bikes, since it can carry batteries and controllers, heavy items that fit in the Moosetreks Trail.
2 Best Road Bike Bag Frames
The best road bike frame bags are small yet spacious. They are designed to incorporate the bike's look and style, to let you carry all the essentials, and to respect aerodynamics. These frame bags are perfect for day trips: you can store your phone to take pictures and you can fit a map, to make sure you are back home for dinner.
The MOOCi Bicycle Frame Bag 2023
Best for Aerodynamics
Weight: 50 gr, 5.30 oz
Size: 26cm (10.2in) * 11cm (4.3in) * 5cm (2.0in)
Speaking of aerodynamics, the MOOCi frame bag is the perfect option. It's made of 600D twill fabric, which is sturdy and stylish. This is a sturdy and reliable road bike frame bag that also looks great on any rig.
It features a side zipper that gives you easy access as you speed on the road and a universal angle, which makes the MOOCi frame bag suitable for most bikes.
Like most frame bags, the MOOCi triangle bag is aerodynamic. It fits the width and airflow of the frame with a smooth surface, meaning it won't increase the front face area of your bike.
This bag is created for cyclists who love a free lifestyle while carrying the right tools. You can stash a short pump, multitool, spare tube, patch kit, snacks, and whatnot.
Ibera Triangle Road Bike Frame Bag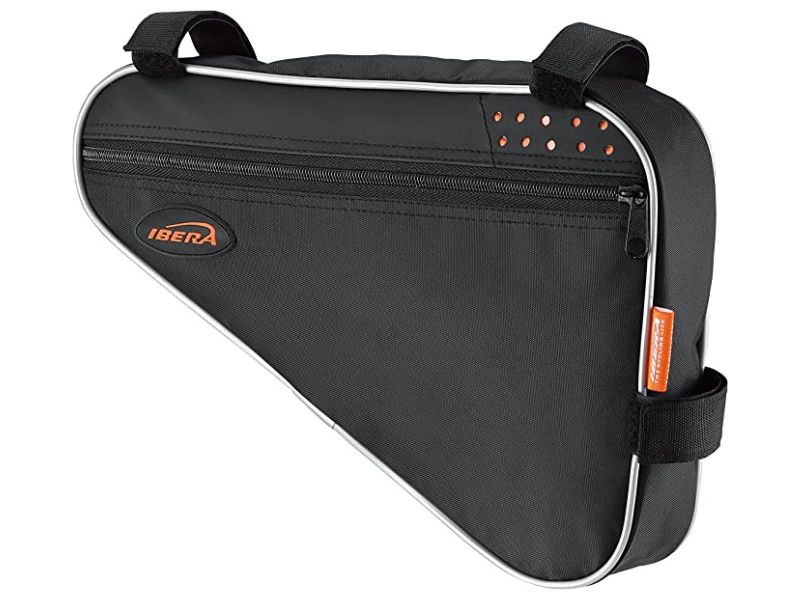 M (1 Zipper): 12 in x 13 in x 8 in
L (2 Zippers): 16 in x 17 in x 11 in
This triangle frame bag by Ibera is made of anti-abrasive 420D Nylon fabric, which ensures durability and resistance.
Thanks to the slim body design, the Ibera Triangle bike frame fits the aerodynamics of your bicycle, making sure it doesn't turn into an obstacle and that it minimizes wind resistance. 
The Ibera bike frame is also easy to access since it features a top zipper and velcro strap attachments. With this frame bike, you can carry all your gear in an easy-to-reach place, made for comfort. It comes with reflective elements for low-light rides, and multiple compartments to stow your gear in a tidy fashion.
3 Best Full Suspension MTB Frame Bags
The best mountain bike frame bags are lightweight and super-durable, created to withstand the roughest trails. They are designed to fit the small frame space of full-suspension rigs, allowing you multi-day adventures on the remotest single tracks.
Some of them allow you to get rid of the hydration pack since they have water bladder hydration ports. By taking the weight off your shoulders, your MTB adventure will become more enjoyable and less painful.
The Evoc Multi Frame Pack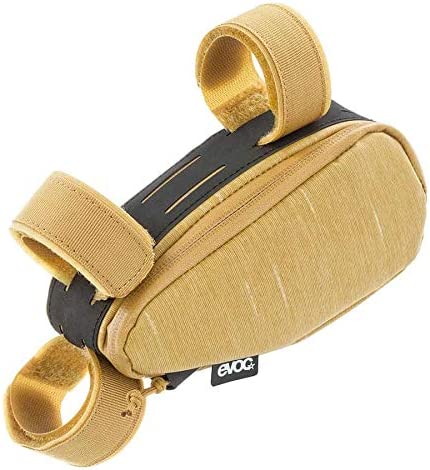 Evoc likes small and stylish bike bags, we know that. Their quality is prime and prices are somehow high but always worth it.
Made in two sizes and in two colors (the glamorous carbon grey and the colorful loam), this stylish and heavy-duty frame bag is suitable for gravel and full-suspension MTB alike.
It mounts on 4 hook-and-loop straps and it closes with a waterproof zipper. With the Evoc, you can carry your essentials in an easy-to-access frame bag.
Since this whole small frame bag is water-resistant, it ensures your tools and gear won't get wet during the unexpected storms typical of the mountains. For final and even greater protection, Evoc's Multi Frame Pack comes with transparent frame protection strips.
Full Suspension Frame Bag by Revelate Designs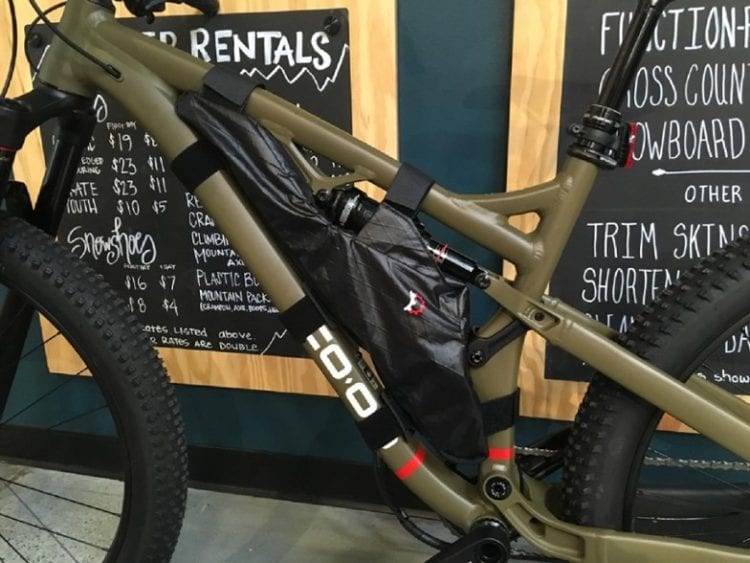 From 2.5L to 4.1 L (84 oz to 139 oz)
Revelate Designs produces some of the best bike frame bags like this Full Suspension proof. This is one the best full-suspension frame bag for capacity and comfort.
You can choose between three sizes and, to take the weight off your shoulders, this frame bag plays with horizontal shock placement to fill up dead space on your bike.
It features Revelate's exclusive RevX-PAC panels that are two times as abrasion resistant as standard fabrics. Even more exclusive is the zipper: Zipstretch construction, molded-tooth zipper with urethane-coated tape, waterproof.
Without a doubt, this is one of the best frame bags in the market to hit those lonely trails you've always dreamed of.
Salsa EXP Series Full Suspension Frame Pack
| | |
| --- | --- |
| Capacity | M: 4.5 L // L: 5.7 L // 3: 3.7 liters |
From the inventors of the Anything Cages, here comes this absolute beauty. The Salsa EXP series Full Suspension Frame Bag is built with waterproof fabric (although the seams are not sealed), has all the proper padding in the right places, and has an optimal capacity of sturdy velcro loops.
At just 100$, this MTB frame bag is quite a deal, considering the construction quality and the design.
The Salsa EXP is perfectly compatible with almost any full-suspension frame, but if you own a Salsa mountain bike (Horsethief or Spearfish), then it will just fit like a glove.
Wrap up
Nowadays, with so many cyclists turning into bikepackers, the race to manufacture the best bike frame bag on the market has become fierce and restless.
The best frame bags for bikepacking have to be comfortable, sturdy, and possibly even stylish.
Frame bags allow you to store your items, taking them off your shoulders or bulky side panniers, allowing a better balance and a more aerodynamic profile.
Bikepacking frame bags are perfect for cycle touring vacations, to enjoy days of riding from town to town, from hills to beaches, from one country to the next… always on your bike.
The frame is a great spot where to store your belongings, not just for bikepackers but also for road cyclists, bike commuters, and mountain bikers. You just have to pick the right bag for your discipline and for the size of your bike.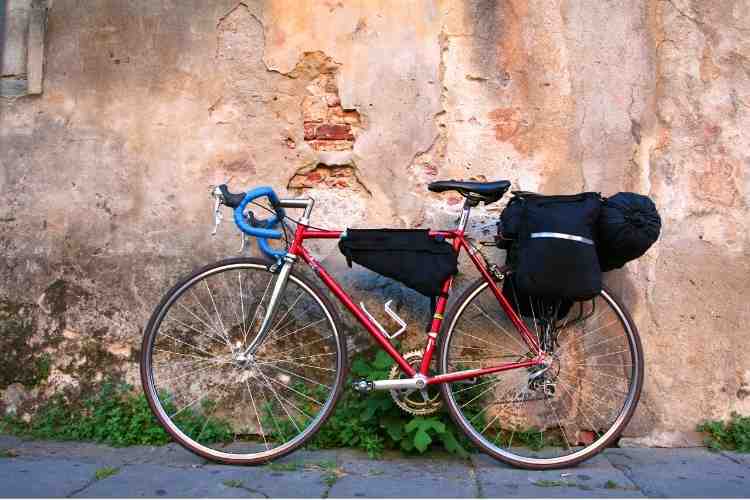 Frequently Asked Questions about Frame Bags
What do you put inside a bike frame bag?
Depending on the volume and size. In a half-frame bag, you can fit a pump, a small water bladder, multi-tools, cycling glasses, a phone, a map, and some snacks. A full-triangle frame bag could also hold a change of clothes and even your tent poles.
Do frame bags fit all bikes?
Absolutely not. Bike geometries and sizes are very different so you should purchase a frame bag that is adaptable to your bike. Smaller road-bike-style frame bags fit inside the diamond of most rigs. Full suspension MTB requires very specific frame packs.
Looking for your ideal set-up? Have a look at these!
Stay in touch while we get lost! Follow us on Social Media