12 best bicycle saddlebags for all budgets compared
Waterproof bikepacking & commuting seat packs, road bike & dropper seatpost MTB tool-bags from cheap to top
If you landed here you're probably looking for the best bike saddle bag out there, but is there a single cycling seat bag that can claim to be the best for everyone?
Of course not, one size can't certainly fit all. From huge bikepacking seat packs designed for touring expeditions, to tiny aerodynamic saddle bags for road bikes, from dropper post compatible for MTB users, to stylish and roomy seat bags for commuters… every type of cyclist has his/her needs, and manufacturers know that.
In this article, we'll try to help you figure out what kind of bicycle saddle bag is the best for you, by featuring a comprehensive list of products for different uses. You'll realize many of these bags are actually very versatile and could fulfill various tasks.
We'll start by comparing the best bike saddle bags for each cycling style, in each category's introduction you'll find a buying guide to give you a basic understanding of the various features you should consider before buying a saddle bag or seat pack.
Check also:
> The best saddles for cycle touring and bikepacking
12 Best Saddle Bags in a nutshell
Disclosure: Some of our articles contain affiliate links. This comes at no additional cost for you and helps us keep this website up and running. (as Amazon Associates we earn commission from qualifying purchases)
How we compile our gear guides: during the almost 10 years of cycloscope.net our team personally tested dozens of similar pieces of gear. For what we can't test personally, we involve other people in the cycling community to give their feedback and opinion about gear they have used. Our decade-long experience in bicycle touring enables us to find the key cons and pros of every product we mention.
5 best small seat bags for road bikes
OBOVA Waterproof Saddle Bag [1.1 L] – Best Saddle Bag on a Budget
Ortlieb Micro Two Saddle Bag [0.5L] – Best waterproof road bike saddlebag
Topeak Wedge Drybag [0.6 – 1.5L] – Best large saddle bag for road bike
ROCKBROS 3D Shell [1.5L] – Best budget road bike saddle bag
Lezyne Pod Caddy Quick Release [0.3 – 0.5L] – Best ultra-compact saddle bag for road bike
2 Best mountain bike saddle bag
Evoc Boa MTB Seat Pack [1 – 2 – 3 L] – Best MTB seat pack for overnight MTB rides
Revelate Designs Shrew Seat Bag [3L] – Best dropper post seat bag
3 Best bikepacking seat packs
Ortlieb Bikepacking Seat-Pack [16.5 L] – Best bikepacking saddle bag overall
ROCKBROS Waterproof Bikepacking [14 L] – Best budget bikepacking seat pack
Blackburn Outpost Elite Universal – Best harness+bag system for bikepacking
2 Top bike commuting saddlebags
Topeak BackLoader [6 – 10 – 15 L] – Best bike saddlebag for commuting
Lixada Bicycle Saddle Bag [3 to 10L] – Best cheap bikepacking saddle bag
5 best small seat bags for road bikes
If a small and unnoticeable saddle bag for your fast road rides is what you're looking for, this is the right section for you.
When training on a road bike you don't want any unnecessary bulk to slow you down, but you still need to carry some essentials with you – a flat repair-kit and pump at least, maybe even a packable jacket for those fast downhills.
This four bags are our picks when it comes to the best saddle bags for road bikes.
OBOVA Waterproof Saddle Bag
Best Saddle Bag on a Budget
8.26 x 3.54 x 4.5 inches
Material Tarpaulin
Color Black
Ultra lightweight 0.32 lb
Capacity 37.2 Fl.Oz / 1.1L
This small bicycle saddle bag is simple, elegant and roomy. With a 1.1 L (37.2 OZ) capacity, is one of most performative in our selection.
The material, tarpaulin, is easy to clean and water resistant.
OBOVA added 3 inner mesh pockets and a a key hook to organise better your belongings.
The velcro strap for the attach are compatible to most bicycles, MTB, Gravel, Touring, and foldable.
Ortlieb Micro Two Saddle Bag [0.5L]
Best waterproof road bike saddlebag
Ortlieb aimed for the most essential minimalism for this ultra-lightweight seat pack for road bikes and mountain bikes.
The Ortlieb Micro 2 is the smallest of Ortlieb saddle bags, designed for those rides where every gram count and only the essentials will be carried. There is enough space for a few critical items such a replacement tube, a multitool, or first aid materials.
Like all Ortlieb bags, the Micro 2 is 100% waterproof, and made with heavy-duty PVC-free, PU coated nylon fabric, extremely resistant and long-lasting.
The roll closure, together with the elastic drawstrings, allow you to collapse this saddlebag down to the most compact size possible. You won't notice its presence even on your higher-end race bike.
The clicking systems allows for one-handed attach and detach, making this seat bag a masterpiece in usability and performance.
Topeak Wedge Drybag [0.6 – 1.5L]
Best large saddle bag for road bike
Wt. 140 g / 4.93 oz
Capacity 0.6 L / 36 ci
Material 210 Denier and 420 Denier Nylon Waterproof Fabric, Sonically Welded Seams
Insulation Rigid EVA Foam
Topeak's constant innovation effort cannot be ignored, they really make some of the best bike gear out there, indeed they are featured twice in this list.
The Wedge Saddlebag by Topeak comes in three different sizes (0.6L, 1L, and 1.6L) and two different mounting options, straps and QuickClick. While the smallest is probably what you'll want for your road bike, the larger versions are versatile enough to be used for commuting and credit-card overnights.
The Topeak Wedge is totally waterproof, thanks to the sonically-welded and seam-sealed construction, and the roll closure. Buckles and fabrics are durable and high-quality. The QuickClick version costs a few dimes more and adds a unnotieceable weight, but it sure is nice to attach and remove your saddlebag so easily.
ROCKBROS 3D Shell Waterproof Seat Bag [1.5L]
Best budget road bike saddle bag
RockBros is a brand that is constantly climbing up the market of bike accessories with a line of cheap and constantly refreshed products proven to be efficient by thousands of heavy users.
This compact road bike saddle bag is actually pretty sophisticated for its price tag. It features three internal mesh compartments to keep your essentials tidy and nicely separated, with enough space to hold your mini pump, CO2 cartridges, tools, and keys.
The Rock Bros 3D shell is constructed with a waterproof fabric and taped zipper, the stitches though are not waterproof and things can still get a bit wet under a long downpour. The inner side is padded to provide shock absorption.
Lezyne Pod Caddy Quick Release Saddle Bag [0.3 – 0.5L]
Best ultra-compact saddle bag for road bike
0.48L capacity
Semi-rigid EVA foam
Water-resistant
Quick-release mount
If you are looking for something even more compact than the Ortlieb Micro 2, the Lezyne Pod Caddy is as small as it can get.
This seat bag by Lezyne comes into two different sizes, 0.3L and 0.5L. Although you can still fit your flat kit, tools, and wallet in the 0.3L version, this is really ultra small and will not be enough to keep a tube larger than a road bike one.
The Pod Caddy is made from a water-resistant semi-rigid EVA foam and features a weatherproof zipper to protect your gear from rain and splashes.
The compartment of the Lezyne Pod Caddy is equipped with a mesh divider for tidier organizing and works well also with a dropper seat, for those minimalist mountain bikers.
2 Best Mountain Bike Saddle Bag
What differs a MTB saddle bag from a road bike one? Well, for starters, mountain bike tires are much bulkier than road ones, meaning that they might not fit inside a small bag meant for race bikes.
Secondly, when you're mountain biking you're likely to find yourself in the middle of nowhere and far from civilization. You might need to carry a few more essentials with you, for example a first-aid kit and more snacks, that's another reason for you to buy a larger bag.
The third reason has nothing to do with size, but with the mounting style. Many mountain bikers use dropper post or suspension posts, if you're one of them you should be sure the bag of your choice can be mounted on those sorts of posts. You'll find several in this article, even outside this category.
Evoc Boa MTB Seat Pack [1 – 2 – 3 L]
Best MTB seat pack for overnight MTB rides
Material: waterproof ripstop
Volume: [small] 1L, [medium] 2L, [large] 3L
Closure: roll-top
This very interesting seat pack from Evo is not only good-looking, but also 100% waterproof, incredibly sturdy, and stable.
The mounting system is very easy to use and fits any seat post length while also working perfectly with dropper posts.
The Evoc Boa's capacity can be adjusted via the roll-top closure, allowing you more space if required. It comes in three different sizes: small (1L), medium (2L), and large (3L). The medium version has already enough volume to allow adding a change of clothes to the basic essentials for your MTB ride.
Revelate Designs Shrew Seat Bag [3L]
Best dropper post seat bag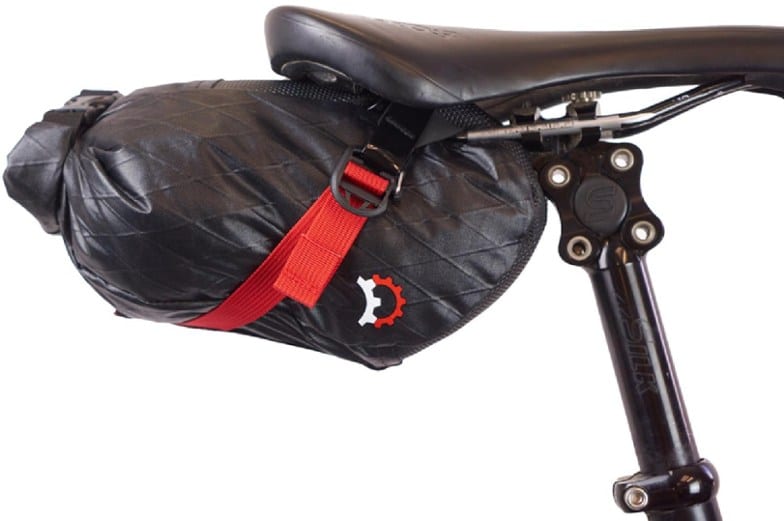 Weight: 4.5 oz; 128 g
Volume: 3 L;
Materials: Waterproof RevX-Pac Fabric
Revelate is one of the pioneers in bikepacking bags, their products set-up the industry standard and are still greatly valued by bikepacking lovers.
The Revelate Shrew is their smallest seat bag yet and works with just two straps, on any bike and any seatpost (including of course dropper and suspension posts).
The stays are reinforced with fiberglass to add stability and compression, while the RevX-PAC panels are twice as abrasion-resistant compared to standard VX material, increasing the bag's durability.
This compact saddlebag is especially designed for day rides on full-suspension rigs with dropper posts (and not much room), but it also works great with any kind of bike.
3 Best Bikepacking Seat Packs
In the world of bikepacking, saddlebags are often referred as seat packs, and they are an essential part of a bikepacking set-up.
Bikepacking seat packs are large enough to store essential camping gear for a solo trip.
They must be totally waterproof, and solidly anchored to their mounting points, to prevent them from swaying from side to side.
You need to be extra-careful when packing a large bikepacking seat pack. Make sure it is packed tightly, or otherwise you'll risk it sagging down and wearing on the rear tyre.
We'll talk more about bikepacking saddle bags in our buying guide at the bottom of this article, for now, let's dive into the products.
Ortlieb Seat-Pack Saddle Bag [16.5 L]
Best bikepacking saddle bag overall
Ideal for bikepacking, and bicycle touring
Maximum capacity: 11 lbs/5kg
Note: In order to meet IP64 waterproofness standards the closure must be rolled 3 – 4 times
After a few years ignoring the bikepacking market, Ortlieb dove straight into it with a line of products whose quality stands firmly in the top category. Nothing less to expect from what has been the best bike bags brand in the world.
The Ortlieb bikepacking seat-pack has a variable volume that can be adjusted from 8 to 16.5L thanks to the roll-top closure, an air-release valve easily purges the bag of trapped air, allowing for tighter compression.
The materials are a lightweight yet abrasion-resistant polyurethane-laminated ripstop nylon, reinforced with extra heavy-duty fabric near the mounting points. The rigid polyethylene inner stiffener keeps the bag's shape properly.
The hooks and straps have a tough grip on the seatpost surface, they are stable and do not let the bag sway if properly packed. They are compativle with any kind of seat-post, including dropper
The Ortlieb bikepacking saddle bag includes 3M Scotchlite reflectors for improved visibility in low light, elastic cord on the outside to quickly stash light gear, and a daisy chain with 7 loops running along the underside of the bag, allowing a rear light to be fixed.
A great bikepacking bag that stays in place on rough trails, is pretty easy to pack, and features an impressive volume.
ROCKBROS Waterproof Bikepacking Seat Pack [14 L]
Best budget bikepacking seat pack
The budget-friendly ROCK BROS bike saddle bag is another product that caught our attention. Made of 600D nylon and TPU waterproof film covering, this bag is sturdy and completely waterproof.
The whole tail-bag capacity is about 14L, which allows you to put in a light jacket, pants, even your small sleeping bag, and sleeping pad. It meets the needs of heavy commuters, bikepackers, and long-distance cyclists.
The saddle post adapters offer great versatility, allowing the bag to be mounted on almost any seat post. The only issue is that the clips that hook below the saddle might loosen over time and so you'll need to tighten them in order to keep the bag from swaying from side to side.
The usual elastic cord is provided helping you attaching extra gear on the top of the bag.
Blackburn Outpost Elite Universal Seat Pack and Dry Bike Bag
Best harness+bag system for bikepacking
Among the best bikepacking saddle bags available nowadays is certainly the Blackburn Outpost Elite, a rock-solid mount and general construction for a seat pack that stands up amidst the crowd of bikepacking gear manufacturers.
The t6061 aluminum wing bolts steadily clamp to the seat rails ensuring your cargo won't move around even on the roughest trails. The mount is also dropper-compatible.
The most interesting feature is its harness system: basically, the bag is separated from the harness system, allowing the user to remove the bag from the bike in a totally hassle-free manner.
The Blackburn Outpost Elite waterproof dry bag features a scuba style air bleed valve so to pack your bag as tight as you need, without worrying about leaks.
The seams are welded both in the interior and exterior of the bag, so as to ensure total waterproofness.
Top 2 bike commuting saddlebags
Are you still bike commuting with a backpack on your shoulders? Have you ever considered the advantages of a seat bag?
Cycling with a backpack is no great fun, your posture will be affected and your back will sweat, carrying a heavy backpack on a bike can even cause physical problems.
A saddle bag is a great solution for bike commuting, you can store all your essentials tightly and secure them from rain and splashes without even feeling they are there.
Topeak BackLoader Seat Bag [6 – 10 – 15 L]
Best bike saddlebag for commuting
Waterproof inner bag rating of 10,000mm
Max load: 5 kg / 11 lb.
And here we go with the second Topeak saddle-bag of our buying guide. The BackLoader is a large capacity seat bag specially designed for everyday commuters and occasional bikepackers.
It comes in three different sizes: the smallest is a 6 liters that would be enough for commuters needing to carry maybe a change of clothes and some more essentials. The 10 and 15 liters are great for bikepacking, with sufficient capacity to hold a whole sleeping-set.
The construction is lightweight, durable, and highly water-resistant but this is not a totally waterproof bag, it won't withstand a long thunderstorm, keep in mind that. It features though an inner waterproof dry bag that can be easily inserted and removed.
The saddle mount system, in conjunction with compression straps, reduces the swaying effect associated with heavy loads.
Available for the UK on Tredz.co.uk
Lixada Bicycle Saddle Bag [3 to 10L]
Best cheap bikepacking saddle bag
This amazingly cheap and versatile bike seat bag is a real bang for the buck. The Lixada saddle bag features a roll down-closure system can shrink the bag down to 3L for daily use, or expands to 10L for multi-day trips.
The ripstop nylon fabric with TPU lining ensures reliable waterproofness to protect your items from water and mud on rainy days.
An interior board gives the bag a strong enough support to avoid it rubbing with your back tyre, while the external elastic cord are useful to secure extra items on the fly.
Bike Saddle Bags – Frequently Asked Questions
What should go in a bike saddle bag?
It depends! On a small roadbike saddlebag you can fit a spare tube, multitool, pump, and patch-kit. A larger saddle bag for commuting can carry your change of clothes for when you arrive at your workplace. Big bikepacking seat packs can carry clothes or camping gear.
How do you attach saddle bags?
Depends on the model. Smaller saddlebag attach at the railing of your saddle via straps or plastic quick-release mounts. Larger saddle bag clamp to your seatpost tube.
Stay in touch while we get lost! Follow us on Social Media