A Buying Guide to The Best Bicycle Tool Kits You Can Find in The Market in 2024 + How to Customize a Personal Set of Bike Tools for Repair and Maintenance
Bicycles are beautiful because it's simple: it doesn't require fanatic attention, great competence, or loads of money, but only some basic care.
In fact, a bicycle can roll along the street with a rusty chain, loose headset, wobbling wheels, and even a bent frame.
Bearing the wildest level of negligence, your loyal boneshaker can keep chauffeuring you around for an undefined time, until one day an inadequate wrench will strip out a rusty bolt breaking the teetering balance of the squeaking jalopy.
Definitely, to keep your low-maintenance machine happily rolling you need to use the proper tool.
To be sure, it's all about the right tool: there are no YouTube videos and tutorials that can do better than a solid 5mm Allen key, a needle nose plier, and a spray of WD40. Even paired with the most unskilled hands, the right tool can work like a magic wand.
So, roll up your sleeves and dust off your DIY attitude: a work-stand and a tool kit are all that you need to get started.
In the following, we will first define the perfect tool kit every keen cyclist may need and how to build your own, choosing the right tools for do-it-yourself bicycle maintenance.
We are going to present what are the most important tools and why it is better to go to a professional mechanic if you don't have any of them. In the end, we will review the best bicycle tool kits you can find in the market.
Disclosure: Some of our articles contain affiliate links. This comes at no additional cost for you and helps us keep this website up and running. (as Amazon Associates we earn commission from qualifying purchases)
How we compile our gear guides: during the almost 10 years of cycloscope.net our team personally tested dozens of similar pieces of gear. For what we can't test personally, we involve other people in the cycling community to give their feedback and opinion about gear they have used. Our decade-long experience in bicycle touring enables us to find the key cons and pros of every product we mention.
List of the Best Bicycle Tool Kits Reviewed
If you are a newcomer in the DIY universe, you may want to have a look at these ready-to-use good-quality bicycle tool kits reviewed in this article.
Lumintrail 42
Bikehand 17
Park Tool AK-4
Topeak Prepbox 18
Unior Pro Tool Kit
Park Tool EK-3
The 6 Best Bicycle Tool Kits
1. Lumintrail 42 – Best Entry Level Toolkit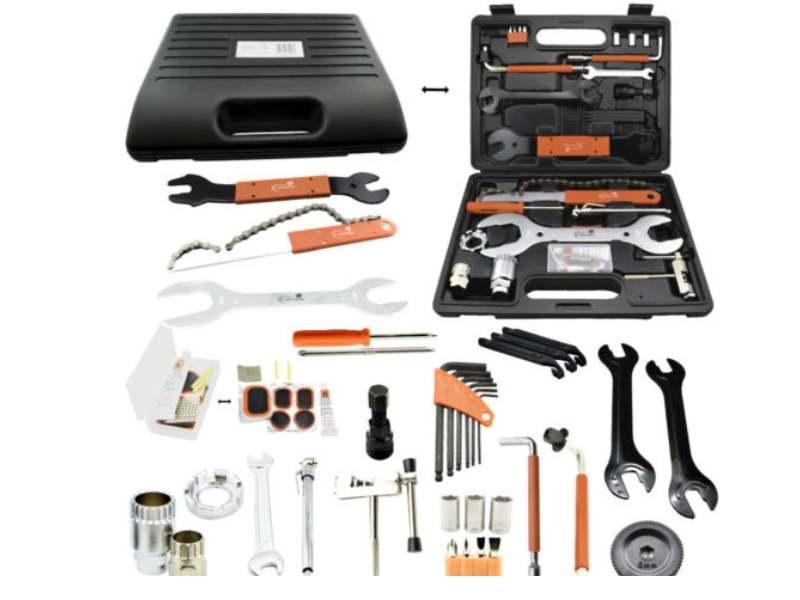 Weight: 2.6 kg • 42 tools • Size: 32 x 25 x 7.5 cm
Lumintrail is an entry-level tool kit with no expectations.  Significantly more affordable than all other tool kits listed here, it doesn't attain the same good quality. Tools are not made with tempered steel, but if used occasionally, with all due care, on well-lubricated bolts, they could last quite a bit of time without damage.
Before purchasing this tool kit, it is better to consider that there are some tools (like the freewheel remover and the headset wrench) that are not commonly used anymore on modern bicycles. Also, the L-shaped auxiliary wrench with adaptor and bits doesn't look to be overall practical.
2. Bikehand 17 – Best Value for Money Bike Toolkit
Weight: 2.3 kg • 17 tools • Size: 33 x 24 x 8 cm
Bikehand is a Taiwanese company specializing in bike tools. Unlike her fancy bigger sister Topeak, all Bikehand efforts are concentrated on quality and maintaining prices low.
The material grade doesn't match the Topeak brand's high standards, but it still offers excellent value for money. It is a well-balanced tool kit for entry-level bike repair.
The box includes pedal wrenches, a set of cone spanners to open hubs apart, a crank puller, and a spoke wrench.  At a great price tag, it's the best buy for occasional cyclists or outdated bicycle' owners.
3. Park Tool AK-4 – Best Semiprofessional Bike Toolkit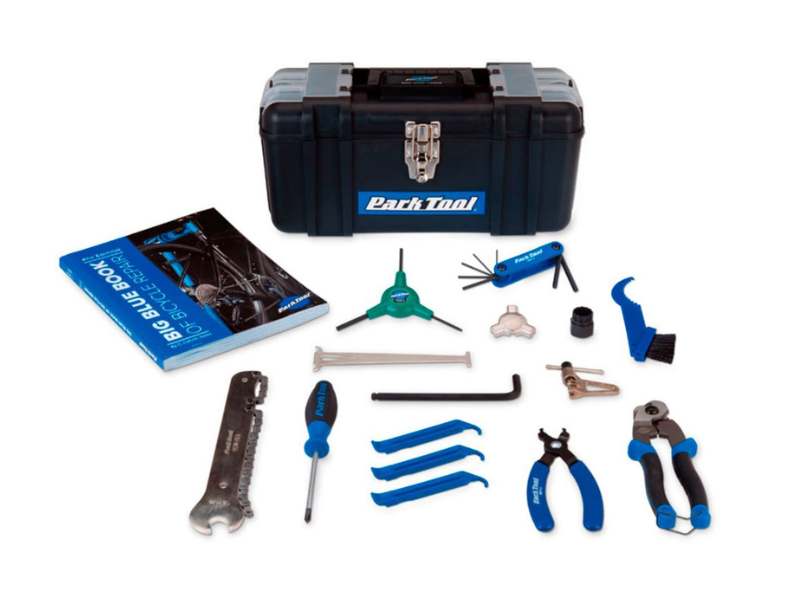 Weight: 6.1 kg • 40 tools • Size: 43.5 x 26 x 24 cm
Few bike shops out there don't own a Park Tool set. The AK-4 Advanced Mechanic tool kit is a set of over 30 professional-level tools for a wide variety of common bike repairs and maintenance procedures.
It's a great set for the home mechanic who wants to go a step further. The super-tough case features extra room to be filled with all the tools you can dream of. Of course, included in the box it's a Park Tool bottle opener.
4. Topeak Prepbox – Best bike tools for Pro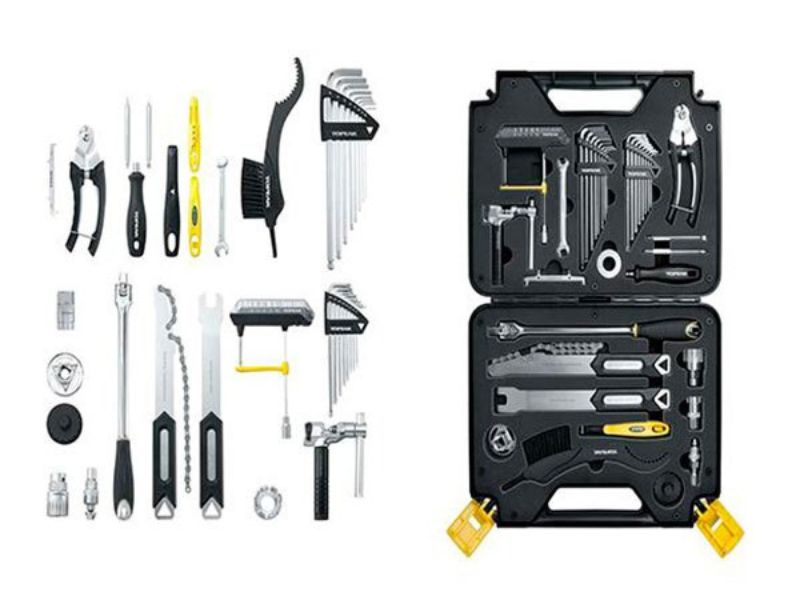 Weight: 4.6 kg • 36 tools • Size: 40.5 x 32 x 11.5 cm
Topeak is an awarded company famous for its multi-tool kits and mini-pumps.  Topeak Prepbox comes in a very tough case that contains all the most used tools inside.
Every tool is firmly secured and maniacally displayed; it is like a super-power briefcase arranged with the harmonious aesthetic of a Taiwanese Bento box.
It includes a full set of L-shaped Allen keys and Torx wrenches, bottom bracket tools to fit the most common models, an unusual torque wrench with a selection of bits, a full-size workshop chain tool with an extra driver pin, and other handy stuff.
Unior Pro tool kit
Great Find!
Weight: 11.6 kg • 48 tools
Unior is a Slovenian company producing forged tools since 1919. Based in Zreče, in an area traditionally known for its rich blacksmith heritage, Unior produces high-end hand tools renowned worldwide.
In recent years, the company has been developing a broad program of specialized bicycle tools, supplying racing teams and big bike brands' workshop service.
Trademarked in Europe with blue-colored handles, Unior bike tools are distributed in the US market with red and orange design, not to overlap leading competitor ParkTool's interests.
Unior Pro tool kit includes all kinds of professional standard tools made of high-grade materials to last a long time.
Park Tool EK-3
For the professional bike mechanic
Weight: 13.1 kg • 56 tools • Size: 50 x 43 x 23.5 cm
The EK-3 Professional Travel and Event kit is a set-up of over 50 tools carefully selected for the mechanic working in the garage or on the go at events or races.
The first thing that pops into my mind, here, is: among all these professional devices, that include utility pliers and bottle opener, where is my beloved pair of needle-nose pliers?
To settle down my nerve, the shining Park Tool blue box impressively keeps all the tools in immaculate order.
It is a durable, strongly built case with dozens of pockets and extra room to expand the tool collection limitlessly.
Check Availability and Latest Price
The 7 Essentials Tools to Have in Your Homemade Bicycle Tool Kit
1. Cleaning Material
Car sponge, bucket and clothes (the last are never enough) are basic essentials of your home repairing lab. A clean bicycle looks better, feels better and works better.
Just remember how many times martial arts students have to run up and down the stairs with buckets cram-full of water to polish up all the temple and you won't feel as much compelled.
Shaolin masters teach the most important tip: if all the bicycle's components are regularly cleaned, the ride is going to feel always tip-top.
2. Bike Stand
Keeping the bicycle on the floor or simply turning it upside down to make primary repairs is ok if something happens on the road.
At home, however, having all the bike components at eye level and working on the maintenance in a comfortable position is a blessing.
A bike stand (or something that can keep the bike hanging from the ceiling) is the best way to access all the corners of the bicycle comfortably.
It offers the best point of view and gives all the ease to the amateur mechanic, who needs even more concentration than an expert one, especially when working on modern carbon frames.
Adding a feeling of professionalism to the job, it can relax and boost the self-confidence of nervous beginners.
When the bike stands firmly, spinning the wheel to set gears, tightening bolts, or just cleaning the components becomes a real pleasure.
Just play some music, pour yourself a drink, and hang your bicycle: it will be much harder now to do any damage.
Since not every house has enough space to keep a bicycle stand open all the time, we are looking for portability.
A bike stand that can easily be moved outside is perfect for cleaning chain, cassette, and crankset with no hassle.
Check out our Bike Work Stands Guide
3. Tire Levers
Tire levers are the most ordinary tools ever, a must for every cyclist. Repairing a flat can be as smooth as cycling itself, but without the right tool removing a very tight tire from its rim can be frustrating.
It is definitely possible to remove a tire using a spoon, or – even worst – a knife if you are a sushi master-chef or you can cope with a damaged rim.
The best tire levers in our opinion are made of plastic: if they are used correctly, they are solid enough to remove all kinds of tires, and most importantly, they do not by any means damage the rim.
They are usually also pocketable so that it's easy to keep them always on the bike in order to repair the random flat on the road.
Here you can find an example of quality tire levers
4. Chain Checker
The major downside of maintaining a bicycle is the chain. It can get very dirty, to the point of marking the athlete's waxed naked skin or the Sunday rider's favorite trousers.
Cleaning the chain regularly and checking out the wear is probably the second thing to learn about the bike after repairing a flat.
Even though you can measure the chain wear with a ruler, a chain checker is more likely ideal.
It is as simple as it gets: if the chain is worn, the tool will drop into the link and sit flush along the chain; or if it's not worn, the tool will sit above the link.
Some professional racers use to change their chain daily for every stage of the Giro. For us common cyclists, there are two approaches to manage the lifetime of chain and cassette.
The first involves constant checking and cleaning for the bike to run smoothly. In this case, chains are usually changed every 2000km.
If instead, you don't care about obtaining always the best performance, it is possible to just completely ignore the chain until it is definitely the time to replace it.
5. Needle-Nose Pliers
For a novice, it is surprising to know how many functions a simple pair of needle-nose pliers can fulfill.
With a bit of practice, this kind of pliers can do the job and therefore take the place of several tools, including clamp pliers, side cutter pliers, master link pliers, and utility pliers.
In addition, they are always useful to grasp anything, even small components. They are definitely a priority in every toolbox.
There's a high probability, however, that the uninitiated will end up buying a cheap pair of needle-nose pliers running into a totally disappointing experience.
It is perfectly possible to dent the cutting blade of cheap pliers just at the first attempt. Buying a professional model is at any rate advisable and a great gift for everyone.
Park Tool has adapted its needle-nose plier for bicycle maintenance purposes.
It's made of forged heat-treated cro-moly steel, with an invisible spring and soft-touch dual-density grips, featuring five different crimping/grasping areas and a cutting blade.
6. Allen Keys
The idea of hex keys dates back to 1909, when W.G. Allenfiled the first related patent for its hex-driven safety screws. Since then, the terms "Allen wrench" and "Allen key" are commonly used.
Allen keys are universally convenient general tools with hundreds of different applications. They are crucial on every bicycle, from the old rusty steel rig to the lightest carbon beauty.
Allen keys are widely used to tighten bolts of the seat post, bottle cages, racks, fenders, and crankset. Recently, also the cone wrench used for pedals and headset has been replaced by Allen keys.
Allen keys can be SAE or metric; for bicycle repairing, the ones to buy are the metric. There are different configurations of Allen wrenches. Normal L-shaped Allen keys are definitely the most versatile.
In the Wera HF Multicolor Allen keys set, the Hex-plus profile allows hexagonal socket screws to live longer, the ball end consents to approach the bolt from different angles and its holding function is a great plus.
Check Availability and Latest Price
7. Screw Drivers
Screwdrivers are absolutely essential for all handy people. They are older than the bicycle itself and are tremendously useful in every situation.
In 1770, the English instrument's maker Jesse Ramsden created the first satisfactory screw-cutting lathe, inspiring other inventors.
Screwdrivers have been used exponentially ever since. The most common are Phillips cross-head screwdrivers and flat blade types.
On the bicycle, screwdrivers are used to fix derailleurs, some brake systems, certain shifters, and accessories. A decent screwdriver never fails and lasts forever.
Check Availability and Latest Price
Second stage – 4 Advanced Bike Tools
8. Torque Wrench
Torque wrench sets are the real treasures of bicycle workshops that all mechanics are most jealous of.
Getting a torque wrench out of its box has already the power of infusing the self-assurance of doing a good job.
Torque wrench serves the purpose of tightening bolts to the correct level of tension.
Tightness – or torque – is measured in Newton Metres (Nm), and most bike components have the appropriate level of torque expressed somewhere near the bolt.
There are few different types of torque wrenches; the most common have an internal clutch mechanism that "clicks" out when the preset torque is touched.
9. Torx Wrenches
Small size torx wrenches, largely employed in electronics and cars repairing, have been recently earning the trust of bicycle industry.
A torx wrench is used exactly the same way as a hex wrench (Allen key), but instead of a hexagonal shape, it has a six-point star-shaped pattern.
Just as an Allen keys set, a torx wrenches set comes with different sizes to handle jobs of all kinds.
Torx wrenches are mostly used to tighten disk rotors, aero bar, and gear shifter. The most common torx wrenches are the T25. Better not to go for the cheapest.
Check Availability and Latest Price
10. Chain Whip and Cassette Lockring
To remove the bike cassette from the hub, you will need at least two tools: a chain whip and a lockring removal tool.
Any chain whip will work on both the free-wheel and the cassette systems, while there are specific kinds of lockring tools to be used on each of these two systems and their many variations.
On the cassette system, there are two main kinds of lockrings. One is the Campagnolo owned lockring, while the other is commonly mounted by big brands like Shimano and Sram.
On the free-wheel system, there are no less than seven different types of lockrings. Free-wheel employs older technology, found only on old, entry-level, and single speed bikes.
Luckily, things are getting easier; the cassette system is nowadays the most common.
Check Availability and Latest Price
11. Bottom Bracket Tools
Here it comes the jungle. There are so many kinds of bottom bracket tools, that it will take a fair bit of study just not to lose your bearings.
The bottom bracket sits directly on the line of fire, getting lots of stress and dirt from the front wheel.
Once the maintenance of the bottom bracket is accomplished, hell yeah it's time for break-dancing and leaping for joy.
To make sure what kind of bottom bracket is installed on the bicycle, it is always better to search for the right information online or from a trusted bike shop.
Once the proper tools are found, they will undoubtedly last long time.
Check some bottom brackets tools on Amazon
How to Judge the Quality of a Bike Tool?
Nowadays department stores display huge sections of tool kits of all sizes and colors meant to tickle home-improvement addicts' curiosity.
Better not to trust supermarket bike tools though, because even if they are aimed exclusively to occasional cyclists, they are a waste of money by all accounts.
There is nothing wrong with embarking on home-based bicycle maintenance. Repairing something for ourselves can be very satisfying.
Actually, in most cases what's needed to solve any problems is not a professional, but a professional tool kit.
If you are a DIY fan, you will have already something available at home; otherwise, and in any case, consider investing a bit more in a professional single tool rather than cry out on a pile of cheap crappy knick-knacks that are likely to bend at the first use.
Some tools are like irreplaceable friends, always reliable and universally useful.
Using a solid, trustworthy pair of needle nose pliers or a great set of Allen keys, for example, can literally change the day, from a sequence of curses to a relaxing time with family or friends.
Judging the overall quality of a tool isn't always immediate. Sometimes only long-term use assesses the tool's durability, but the first impression can usually give a fair evaluation.
Examine material and shape, checking whether the metal seems sturdy or flimsy and the finishing appears neat or uneven.
Bad quality tools look and feel shoddy, like a light, thin and bendable blade made of low-grade steel in comparison with a solid knife made of tempered stainless steel.
Conclusion
It is possible to build your own tool set, tailored to any mechanical need, for far less the money than a ready-to-use bike tool kit would normally cost. It will only take a bit of time, research and passion.
The equipment you can buy since the very beginning includes the most used tools.
Getting a great Allen keys set with hex-plus profile and ball end, paired with a decent bike stand to work comfortably on your bicycle, is a great investment to start building a tool kit customized to yourself.
Visit our YouTube channel
Stay in touch while we get lost! Follow us on Social Media