A complete list of the best commuting and bicycle touring pannier bags, from the cheapest to the fanciest
Despite being dominated mostly by Ortlieb, the bike panniers market is very lively, either for commuting, bicycle touring, and bikepacking, with dozens of brands manufacturing very good alternatives to Ortlieb, most of the time for a fraction of the price.
We compiled this list of the best bike pannier bags for touring and commuting in 2021/2022 hoping to help you figure out which pannier to buy.
How to choose the right bike pannier
What is the best bike pannier for you?
When making the decision on which bicycle pannier to buy there are a few factors to keep in mind. The first is for sure the use we intend to make of these panniers.
Daily groceries, commuting, and occasional short touring? You can stay cheap, maybe buying water-resistant (not 100% waterproof) low-cost panniers and use a rain cover when touring. Some prefer to use a commuter's backpack.
Long-term bicycle expeditions? You'll want something sturdy and 100% waterproof. You also might want to consider getting a dry bag or going for a bikepacking setup.
Then there are the different type of closure systems, which can give quicker or slower access to the gear inside the pannier (I personally prefer roll-top), the mounting system and compatibility with your bike rack, which should be checked before purchasing a pannier.
Some like smaller compartments and pockets, some prefer one single big chamber to carry also the bulkier items. Then there's the price factor.
In the end, is up to you and your personal tastes. What we've done here is put together some of the most interesting bike panniers on the market, creating a table of comparison which can help you find the similarities and differences between expensive and cheap bike panniers on a glance.
We decided not to include prices since these vary a lot, you can click on the "check the latest price button.
Check Also
Bikepacking VS Touring with Panniers: which setup is better?
Disclosure: Some of our articles contain affiliate links. This comes at no additional cost for you and helps us keep this website up and running. (as Amazon Associates we earn commission from qualifying purchases)
How we compile our gear guides: during the almost 10 years of cycloscope.net our team personally tested dozens of similar pieces of gear. For what we can't test personally, we involve other people in the cycling community to give their feedback and opinion about gear they have used. Our decade-long experience in bicycle touring enables us to find the key cons and pros of every product we mention.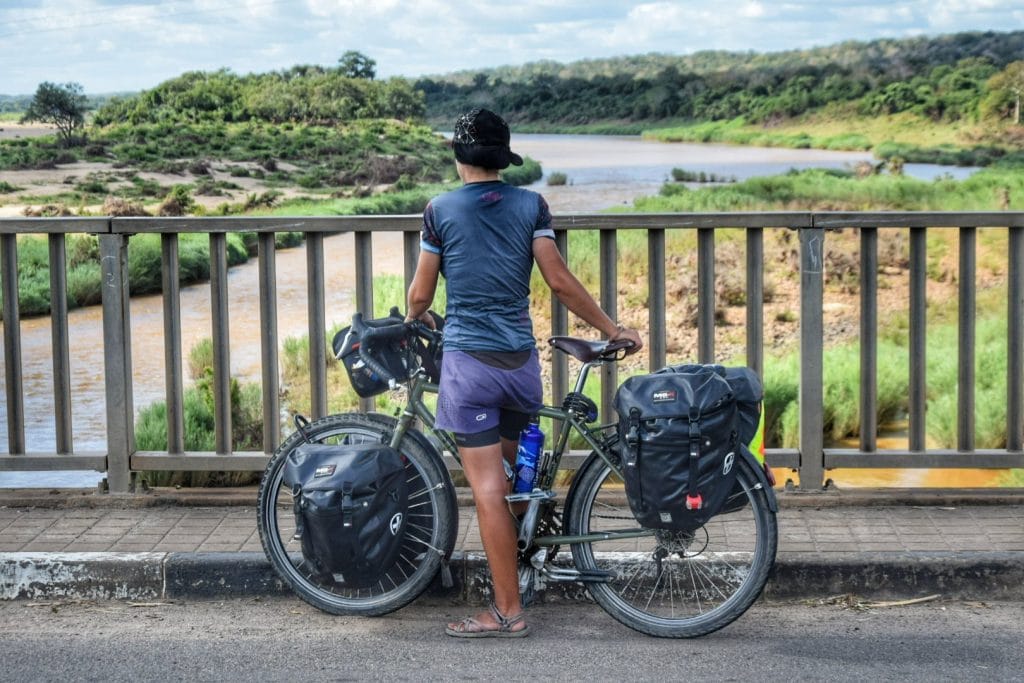 The Best Bike Panniers in 2022 in Detail
Ready? Here our selection of the best bike panniers available with all their technical characteristics, find the model that best meets your needs and check the price. If you have other models to suggest, contribute to the comments section at the end of this article!
Blackburn Barrier
MSX Mainstream
Arkel Orca 35L
Crosso Dry
Topeak DryBag DX
Ibera PakRak
Vaude Aqua Back Plus
Green Guru High Roller
Thule Pack'n Pedal Tote
Lone Peak Millcreek Pannier
Axiom Seymour
Ortlieb Back-Roller Classic
Ortlieb Back-Roller Plus
RockBros Waterproof
Blackburn Barrier
The Blackburn barrier is an affordable bike pannier with a lot of qualities. The welded-seam waterproof construction and roll-top, zipped openings protect your gear from all kinds of weather.
These panniers are spacious, able to fir even a large double camping mat, a two person tent, and a compact sleeping bag in one single pannier.
The compression and load system offers an improved level of safety for your equipment.
MSX Mainstream
For our African bicycle expedition, we wanted to have the sturdier and most reliable panniers available, road conditions vary from terrible to worst here and we don't want to worry about bags jumping off or being torn apart by the ubiquitous thorn trees.
Early this year (2019) MSX Mainstream launched its new line of panniers and bikepacking bags. It consists of:
The SLR 55 MX – Front Controller Bags: 26 liters capacity bike pannier with roll-up magnetic closure
SL 55 ZX luggage carrier bags: 26 liters capacity pannier with roll-up closure, top flap cover, internal pockets, and front zipper
Aqualung saddlebag: 18 liters reducible to 9 liters
The CLS 55 MX handlebar bag: 8.8 liters, rigid frame
They also manufacture a bikepacking-style handlebar bag and a waterproof backpack which we won't treat in this article. All of these products, including the saddlebag and the handlebar bag, are 100% waterproof.
Read our complete MSX Mainstream review here
DIN 60529 Conical Toploader
reinforced roll-top
QuickLock system with one-hand operation. Three-point mounting OTS-V 8 pipe Ø 8mm to Ø 16.5mm
100% water and dustproof
26 liters/unit
Reflective security elements: PLUS-MINUS symbol elements
1250g
Arkel Orca 35L
Arkel front or rear waterproof bike panniers ORCA 35 come equipped with Arkel's patented Cam-Lock® mounting system. Welded-seam technology ensures that the bag will stay dry, patented Cam-Lock® mounting system will keep the bags on the rack, regardless of the load or road conditions.
Many smaller details make this bag unique, an internal organizer for easy access to documents, maps, tablet, wallet, etc. This means you won't have to empty half the bag to reach these.
A plastic protector at the bottom backside of the pannier adds protection between the bag and the rack and will avoid any premature wear caused by friction against the rack. Arkel also added D-rings for an optional shoulder strap.
Crosso Dry
Our pick, the best fusion of quality, customer service, and price. The fully waterproof tarpaulin is ready to fight against fearsome enemies: mud, water, and dust.
Armed with welded panels, seals, and rolling closure will keep your stuff dry even in rainstorms and stream crossings.
Other advantages of Dry series are low price and weight and impressive capacity, you can store all your camping gear in one single bag. When your ride ends you will appreciate how easy it is to clean them.
It's just enough to spray them with water. Made in Poland. We used Crosso Panniers for several years, here's our personal review.
Topeak DryBag DX
The Topeak Pannier DryBag DX is a large capacity, waterproof pannier featuring a sonically welded and fully seam-sealed 420 denier and 840 denier exterior.
A watertight roll-top closure provides maximum protection from road spray and wet weather. Its quick-release Hook and Lock system attaches the pannier securely to the rack and makes installation and removal quick and easy.
It is perfect for touring in wet conditions or for daily commuting.
Ibera PakRak
The Taiwanese brand Ibera was established in 2004. Like is lately happening a lot in China, Massload, the firm behind the brand has been in business manufacturing bicycle parts under contract for major American and European companies for many years, has decided to establish his own brand.
The PakRak bicycle panniers feature 2 large reinforced compartments, 2 side pockets, Hand-carry strap, Reflective trim. They are among the cheapest bikepacking panniers, but not fully waterproof.
Vaude Aqua Back Plus
The waterproof rear panniers Aqua Back Plus are manufactured at the German VAUDE company headquarters near Lake Constance with durable, PVC-free tarpaulin material.
With a roll closure that allows you to customize the size of the bag and seal it so that it's watertight. An extra inside pocket and outer welded pocket makes it easy to store things separately.
The bags are securely attached to the right and left sides of the back gear rack with the QMR 2.0 system, which also allows for easy adjustment and quick on-and-off.
With a bike lock, they can be directly locked onto the QMR hook, making them the safest cycle touring panniers. Reflective elements ensure also high visibility in traffic and low light conditions rides.
Green Guru High Roller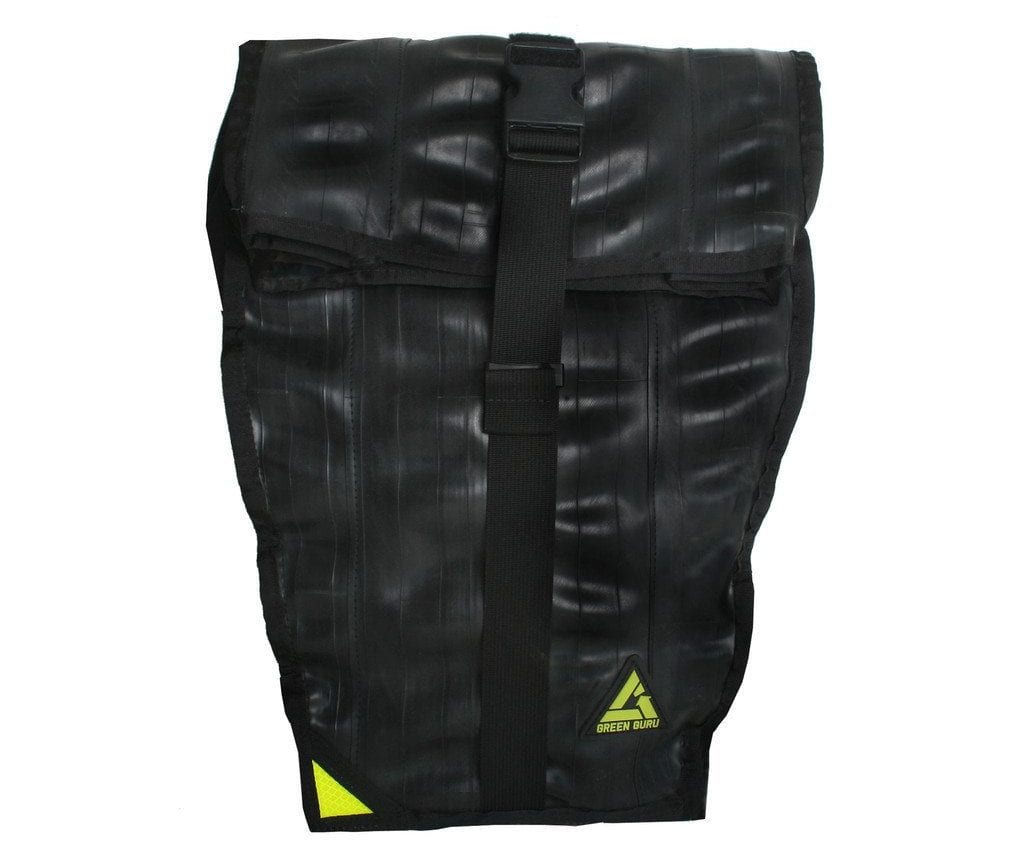 The High Roller is a super durable and sleek bike pannier, made from upcycled bicycle inner tubes and recycled fabric, that serves as a backpack off the bike.
With its stormproof construction and striking good looks, it keeps the elements at bay while you ride. The quick-mount system secures to virtually any rack system.
Another great feature if this pannier bag is that it comes with backpack straps! The price tag though is pretty high, and it is also among the heaviest bicycle panniers on this list.
Thule Pack'n Pedal Tote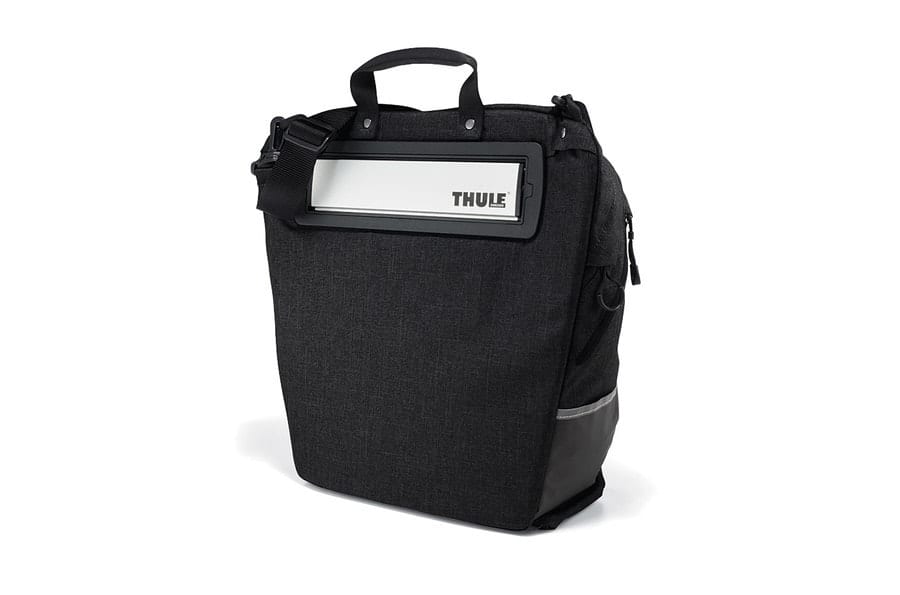 A urban-style bike bag that easily transforms into a carry bag with comfortable handles or shoulder strap.
A great bike commuting pannier featuring a very cool locking system that hides behind a panel for more comfortable portability.
Lone Peak Millcreek Pannier
This bike pannier by Lone Peak has the interesting feature of opening up completely, like a suitcase. Very handy when it comes to organizing and fetching gear.
The fabric though, is not really waterproof, just water-resistant, so it will require a waterproof cover in case of heavy rains.
Axiom Seymour
Every bag in the Seymour series uses a new fabric which they call Oceanweave, that contributes to reducing the amount of plastic in our oceans.
These bags are the world's only cycling bags to be made out of recycled fishing nets. They hope this product will inspire others to become a part of a solution to this environmental crisis.
Ortlieb Back-Roller Classic
Ortlieb doesn't need any introduction. These German bike panniers are leading the market for decades, at least when it comes to bicycle touring and bikepacking.
The Ortlieb Back-Roller Classic is probably the most sold bike pannier in the world. They have been tested by thousands of tourers all around the world, in the most extreme conditions.
The price though is not super friendly, and there have been some complaints about quality not being the same as before. Still probably the best bikepacking panniers.
Ortlieb Back-Roller Plus
Basically the same as the Back-Roller Classic, but using Cordura instead of polyester as the main material. Cordura makes these full waterproof bicycle panniers even sturdier.
Ortlieb Bike-Packer Plus
Another Ortleb update, these sturdy waterproof pannier feature also a front pocket. The closure system is a rucksack style underneath a flap.
Like the Back-Roller Plus, these panniers are also made of Cordura. They are though among the most expansive panniers out there, priced around 250USD for the pair.
RockBros Waterproof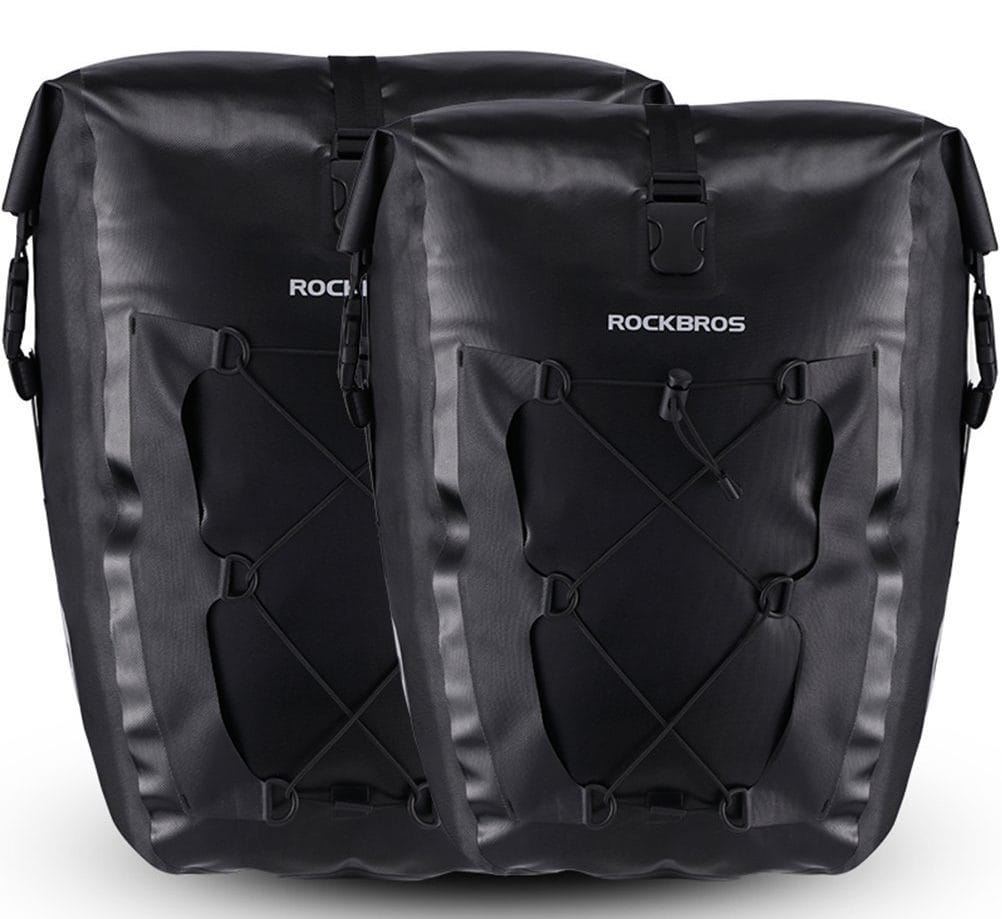 A good alternative to Crosso Dry, this waterproof panniers feature a useful drawstring bag for storing wet cloth. Priced around 50USD each.
FAQs About Bike Panniers
Can a pannier go on any bike?
To be attached to the bike, bicycle panniers need a carrier, also known indeed as pannier rack.
Be sure your bike's frame has the correct mounting points (called braze-ons) to fit the pannier rack of your choice. Most panniers can be mounted on any rear rack, while front racks can usually support only small panniers (this depending on the pannier bags' mounting system).
Stay in touch while we get lost! Follow us on Social Media