Explore the best rear panniers for bike touring
Large, small, waterproof, cheap, top, and budget-value cycle expedition pannier bags [updated for 2023/2024]
Looking for the best panniers for touring? You landed on the right page. Whether you're looking for the cheapest panniers for your first cycle touring trip, affordable/budget waterproof pannier bags that you can rely on for an extended bike trip, or the very best touring panniers on the market, here we've got you covered!
Despite the latest trends in bikepacking, touring panniers are still going strong and – in my humble opinion – remain the best option for those adventurers embarking in long-distance bike touring expeditions.
Although still mostly dominated by Ortlieb, the bike panniers market is very lively, either for commuting, bicycle touring, and bikepacking, with dozens of brands manufacturing very good alternatives to Ortlieb, most of the time for a fraction of the price.
We compiled this list of the best bike pannier bags for touring in 2023, hoping to help you figure out which pannier to buy.
Check Also
> Bikepacking VS Touring with Panniers: which setup is better?
> 14 Best Pannier Racks and Carriers for Cycle Touring and Bikepacking
> 9 Best Commuting Panniers! Waterproof Bike Bags For Work, Groceries, Gym & More
Disclosure: Some of our articles contain affiliate links. This comes at no additional cost for you and helps us keep this website up and running. (as Amazon Associates we earn commission from qualifying purchases)
How we compile our gear guides: during the almost 10 years of cycloscope.net our team personally tested dozens of similar pieces of gear. For what we can't test personally, we involve other people in the cycling community to give their feedback and opinion about gear they have used. Our decade-long experience in bicycle touring enables us to find the key cons and pros of every product we mention.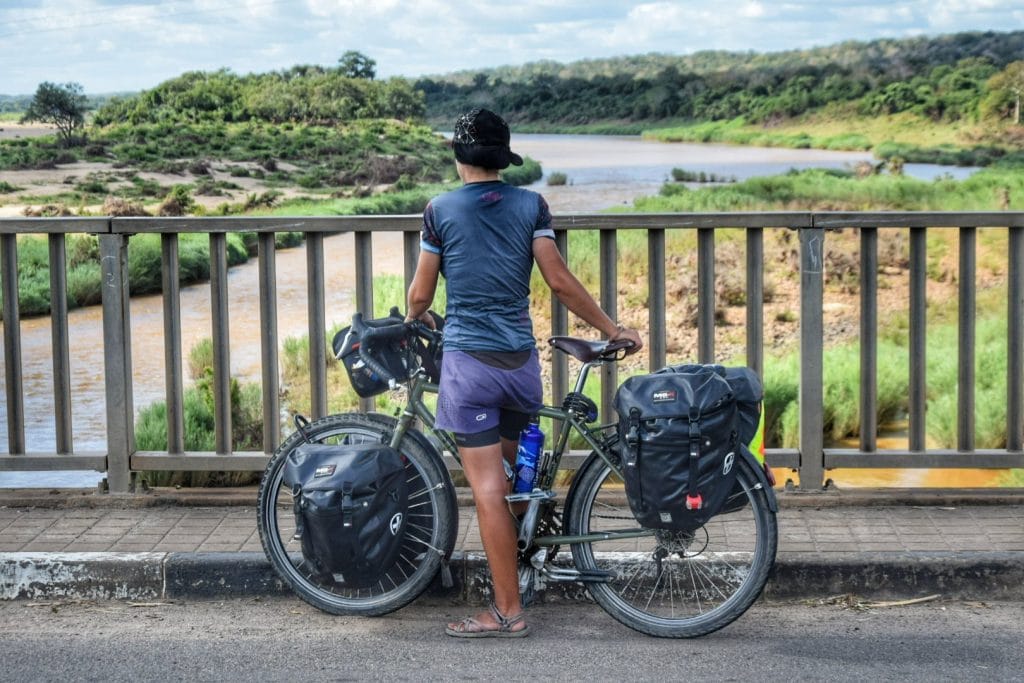 11 best touring panniers in a nutshell
6 best waterproof panniers for touring
2 great water-resistant bike panniers
3 best Ortlieb panniers for touring
2 cheap bike pannier
The 11 Best Bike Panniers For Cycle Touring
Ready? Here is our selection of the best bike panniers available with all their technical characteristics, find the model that best meets your needs and check the price. If you have other models to suggest, contribute to the comments section at the end of this article!
check also
> The best front panniers and mini pannier bagscfor bikepacking
6 best waterproof panniers for touring
Topeak Drybag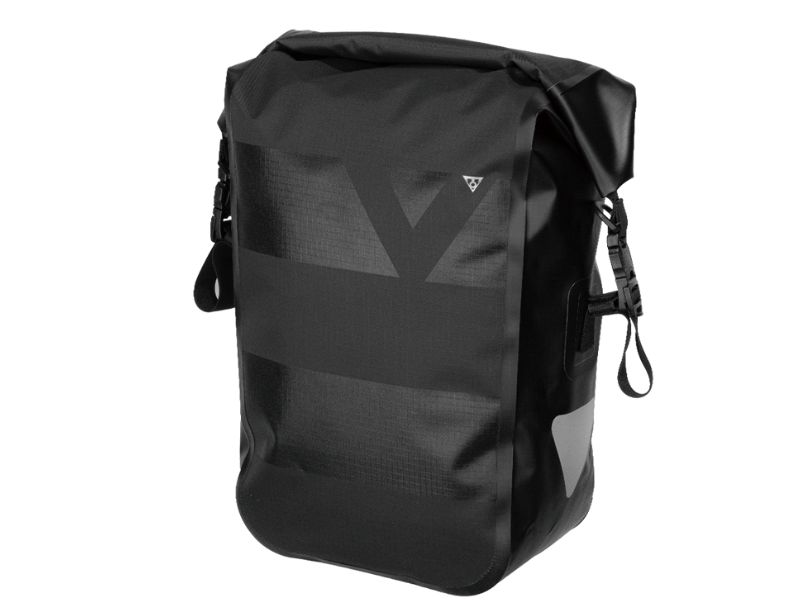 When Topeak does something, you can be sure it's of great quality and meant to last.
The Topeak Pannier Drybag might not be the shiniest and most pleasant of the touring panniers but it's a no-nonsense piece of gear sure to last for many years and miles.
Available in 15 or 20L size, this waterproof pannier is made of a sonically welded and fully seam-sealed 100% polyurethane-coated polyester
A watertight roll-top closure provides maximum protection from road spray and wet weather. Its quick-release Hook and Lock system attaches the pannier securely to the rack and makes installation and removal quick and easy, it's also adjustable to fit most pannier racks on the market.
It is perfect for touring in wet conditions or for daily commuting.
Thule Shield
Another brand that's synonymous with quality, Thule is famous for its car bike carriers but their bikepacking bags are really standing ground in the competition with the most popular brands.
These 25 liter touring panniers are real bang for the buck at only 150$ per pair – they are solid, 100% waterproof, feature adjustable hooks and lower locking system to make them compatible with almost any bike luggage rack. An internal pocket is also available.
Thule Shield panniers come in four different sizes, 13L, 17L, 22L, 25L.
Vaude Aqua Plus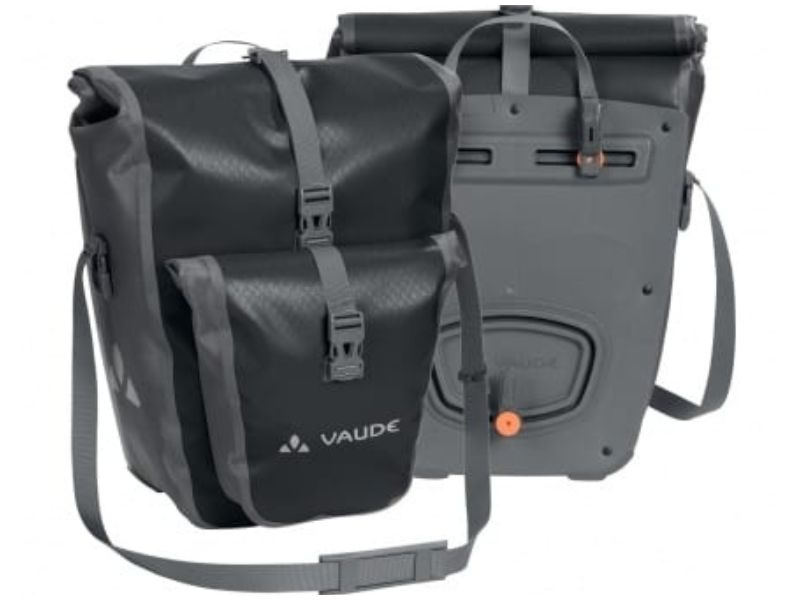 In a market where prices are on the rise, Vaude stands out by offering the Aqua Plus waterproof rear panniers at an affordable $70 each, making it just $140 for a pair.
Crafted at the German VAUDE headquarters near Lake Constance, these panniers are constructed from durable, PVC-free tarpaulin material, contributing to their climate-neutral manufacturing.
The roll closure system enables customization of the bag's size while ensuring a watertight seal. Additional practicality comes from the inside and outer welded pockets for organized storage.
Attachment is secure and hassle-free with the QMR 2.0 system, allowing easy adjustments and quick attachment and detachment from the rear gear rack.
Furthermore, the panniers can be directly locked onto the QMR hook using a bike lock, making them a secure choice for cycle touring.
Reflective elements enhance visibility during low-light and nighttime rides.
Notably, the VAUDE label's 'PVC-free' assurance guarantees a product free from harmful PVC materials.
The panniers boast features like a spacious main compartment, removable shoulder strap that doubles as a packing strap, and the user-friendly QMR 2.0 attachment system.
Although not the lightest option available, their optimized shape, adjustable guiding hooks, non-slip feet, and improved stability make them a reliable choice.
As a brand committed to ethical practices, VAUDE is a member of the Fair Wear Foundation, striving for good working conditions and fair wages across its production facilities.
The Aqua Plus panniers have a maximum load weight capacity of 25 kg, making them among the largest bike touring panniers available.
Green Guru High Roller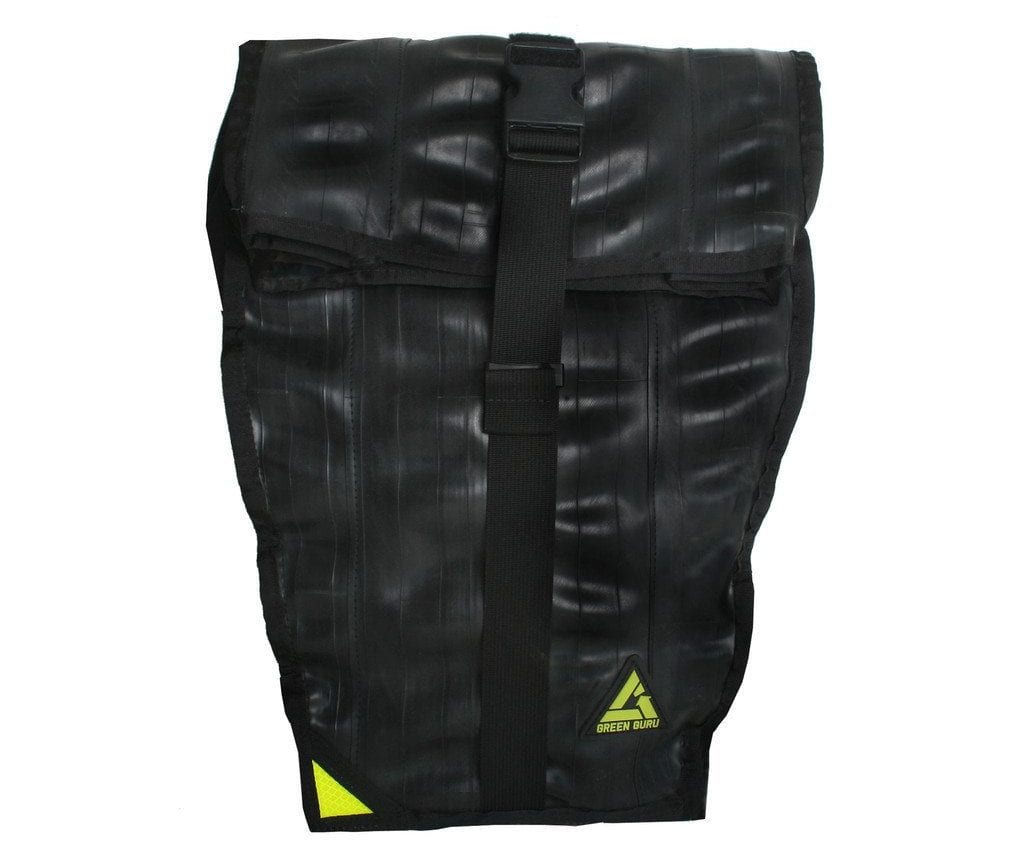 The Green Guru High Roller stands out as a super durable bike pannier crafted from upcycled bicycle inner tubes and recycled fabric. It doubles as a sleek backpack off the bike, offering both functionality and sustainability.
The backpack harness can be stashed conveniently within a Velcro-sealed compartment, allowing effortless transition from pannier to backpack and vice versa. However, using it as a backpack for longer distances with heavy loads might not be the most comfortable option.
Crafted in the U.S. with durability in mind, the pannier features a ten-ounce vinyl waterproof tarp material, reinforced by recycled bicycle inner tubes, contributing to environmental conservation.
Its weather-resistant envelope-top closure, secured with heavy Velcro, ensures waterproofness. Reflective elements enhance visibility, while outer side pockets hold essentials like bike locks or water bottles. It's important to note that the pockets are not stretchy and might not securely hold larger items.
Its stormproof construction keeps the elements at bay, making it an excellent choice for various cycling journeys.
Equipped with a quick-mount system, the pannier attaches to almost any rack system, the hooks need a little caution and the bag should be strapped on as it can come off on bumps occasionally.
The price point is relatively high, and it's one of the heavier options on the list, weighing around 2.14 pounds (approximately 0.97 kg). The Green Guru High Roller's capacity is advertised as 36L but functionally offers 28L, extending to 36L when fully open.
While not really fit for rugged off-road expeditions, it's well-suited for recreational touring, making it a notable inclusion among the best touring panniers for those who like made-in-USA and ethical products.
2 great water-resistant bike panniers
Lone Peak Millcreek Pannier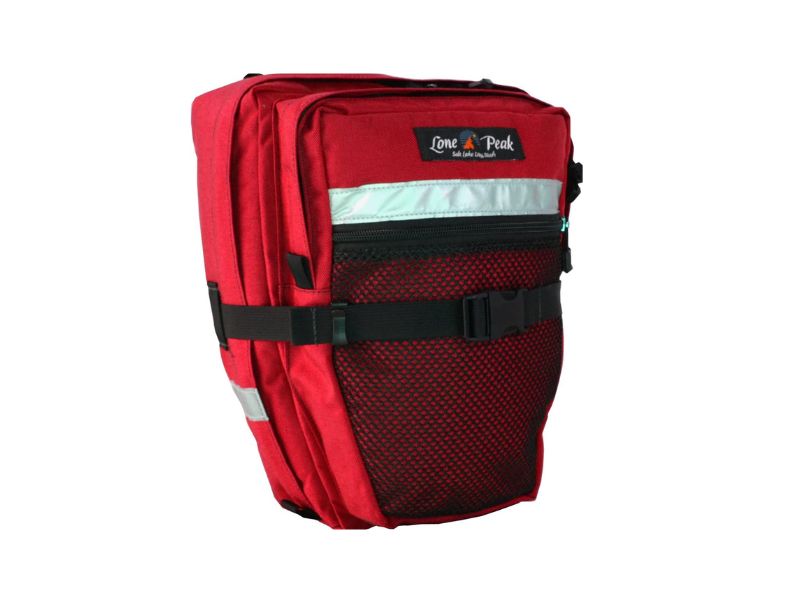 From 190$ (Pair)
This budget-friendly bike pannier by Lone Peak has the interesting feature of opening up completely, like a suitcase. Very handy when it comes to organizing and fetching gear.
They are among the lightest touring panniers available, at only 2.6 lbs for a pair, of course, they are also small though, only 16L, ideal to be used as front panniers or for those who can do with minimal bike touring gear.
The Lone Peak Pannier means business with its 1000 D Nylon construction – tough as nails. The pannier hooks, available in 10mm or 8mm width, might not be the flashiest, but they're reliable. YKK zippers ensure durability, and 3M reflective details boost visibility.
Inside, you'll find a spacious main compartment, a front pocket for easy access, and a mesh half-pocket for extras.
It's not just rugged; it's practical too, featuring a rear grab handle, an 18oz tarp for rain protection, and an adjustable bungee system.
With a center cinch strap to keep things secure, it's versatile enough for either side of your bike rack. Specs? 2000 cubic inches or 32.7 liters per pair. The price covers both bags. Dimensions are 10 inches wide, 13 inches tall, and 8 inches deep. Weight? 2.6 pounds per pair.
The fabric though, is not really waterproof, just water-resistant, so it will require a waterproof cover in case of heavy rains (included).
Established in 1979 in the USA, Lone Peak knows their stuff and all their production is still done in the United States. Don't judge the hooks by looks; they're dependable. This pannier is a trusty companion for your cycling escapades.
You might also what to have a look at their newer Lone Peak Mount Rainer model, another step forward in the field of organized gear.
Axiom Seymour
From 120$ (Pair)
Now this are some panniers I really love! Affordable, organizable, ultralight and eco-friendly – what more would you want from a bike touring pannier?
And yet Axiom is still unknown to most, maybe because they don't invest so much in marketing.
Every bag in the Seymour series uses a new fabric which they call Oceanweave, a material born from the repurposing of discarded fishing nets – this eco-conscious approach not only reduces ocean plastic but also paves the way for a more responsible future.
Functionality meets design with these bags, tailored to accommodate light bike touring and daily commuting needs.
Their robust build comprises OCEANWEAVE® 600D reclaimed fishnet polyester, fortified with a waterproof polyurethane coating.
The Rixen & Kaul® VARIO 1 hooks combined with the SLIDE-LOCK rail and FLIP-LOCK ensure a secure and hassle-free mounting experience.
Practicality is paramount, showcased by features like the drawstring closure, mesh side pocket, zippered rear pocket, and a front mesh pocket for optimal organization. Enhanced visibility is facilitated through 3M® triangle rear logos and reflective stripes.
With a combined volume of 32.7 liters, these bags are a middleway between small mini-panniers and large traditional rear panniers, catering toward the needs of more minimalist bike tourers.
Installation is straightforward, although some rack adjustments might be necessary. The bungee pockets exhibit mixed utility based on load capacity. Although primarily designed to withstand minimal rain exposure, these bags offer a great level of weather resistance.
Further enhancing their utility, they come equipped with external pockets and provisions for LED lights.
Priced at approximately $120, this investment aligns value with principles, catering to those with a penchant for adventure and an appreciation for ethical consumption.
3 best Ortlieb panniers for touring
Ortlieb is the big name in the world of touring panniers. Because they have so many models, we decided to pick up our favorite three and make them a category apart.
All Ortlieb bags can be turned into a backpack using the Ortlieb carrying system for panniers
Ortlieb Back-Roller Classic
Ortlieb doesn't need any introduction. These German bike panniers are leading the market for decades, at least when it comes to bicycle touring and bikepacking.
The Ortlieb Back-Roller Classic is probably the most-sold bike pannier in the world. They have been tested by thousands of tourers all around the world, in the most extreme conditions.
The price though is not super friendly, and there have been some complaints about quality not being the same as before. Still probably the best bikepacking panniers.
If you want an even stronger and lighter bike pannier, check the Ortlieb Back Roller Plus, made of cordura instead of Polyester.
Ortlieb Bike-Packer Plus
From $280 (pair)
Another Ortleb best-selling classic, these sturdy waterproof pannier feature also a front pocket.
An outstanding feature is their exceptional waterproofness. Constructed from durable, waterproof Cordura fabric, and secured by a double drawstring closure and sealing flap, that guarantees a watertight seal.
Enhancing their durability is the reinforced side nearest to the bike, maintaining the panniers' shape during use.
Multiple pockets, including a convenient fold-over exterior pocket, contribute to organized storage.
Inside the spacious main compartment, an internal sleeve behind a zippered pocket accommodates laptops or tablets, adding versatility to your journeys.
Compression straps further enhance utility, allowing adjustments for lighter loads or attaching extra items.
The unique design, wider at the top than the bottom, prevents interference while pedaling. A game-changer is the innovative Ortlieb QL2 mounting system, streamlining attachment and removal.
A practical handle ensures easy transport when not on the bike, while an optional shoulder strap offers hands-free convenience.
Reflective accents enhance visibility in low light, contributing to safety. Available in an array of colors, these meticulously crafted panniers reflect Germany's commitment to quality.
For those seeking reliable, stylish, and functional panniers, the Ortlieb Bike-Packer Plus Touring Panniers are the ultimate choice, combining durability, functionality, and design to elevate your cycling adventures.
Ortlieb Back Roller Pro Plus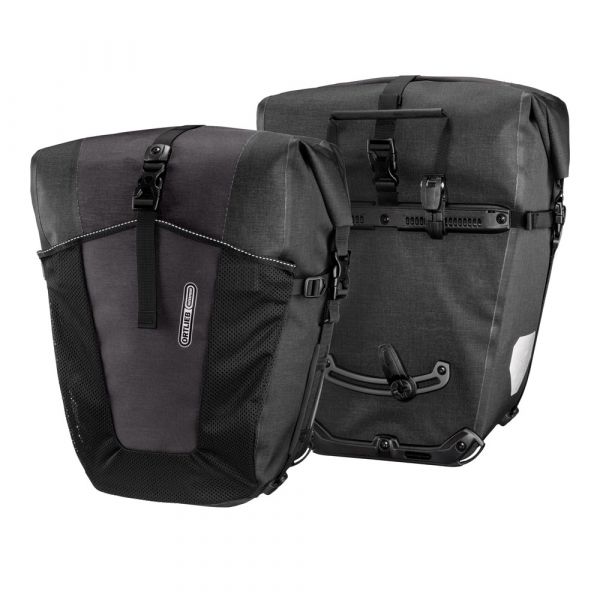 From $250 (pair)
If you've ever struggled with the age-old travel dilemma of deciding if to bring that extra T-shirt or pairs of shoes, ORTLIEB comes to the rescuewith the Back-Roller Pro Plus, the XL variant of the well-loved Back-Roller Plus touring pannier.
Boasting an impressive 70-liter capacity per pair, the Back-Roller Pro Plus provides nearly double the storage room than its more famous counterpart.
This version also introduces a front pocket. Although not fully waterproof, this pocket is remarkably practical, offering 4 liters of space for damp items, sunscreen, dirty tools, or whatever.
Crafted from durable Cordura fabric, these bags showcase an upscale woven appearance and are entirely PVC-free.
The proven roll closure system ensures that the contents within remain clean and dry, no matter the conditions.
The QL2.1 system with its self-closing hooks facilitates easy attachment to nearly any bike rack, thanks to its tool-free adjustability (fits tubes with diameters up to 16 mm).
Additional features include an integrated interior pocket, a shoulder strap for convenient carrying, high-visibility reflectors on both sides for safety, and the flexibility of mounting on either side.
2 cheap bike pannier
RockBros Waterproof Panniers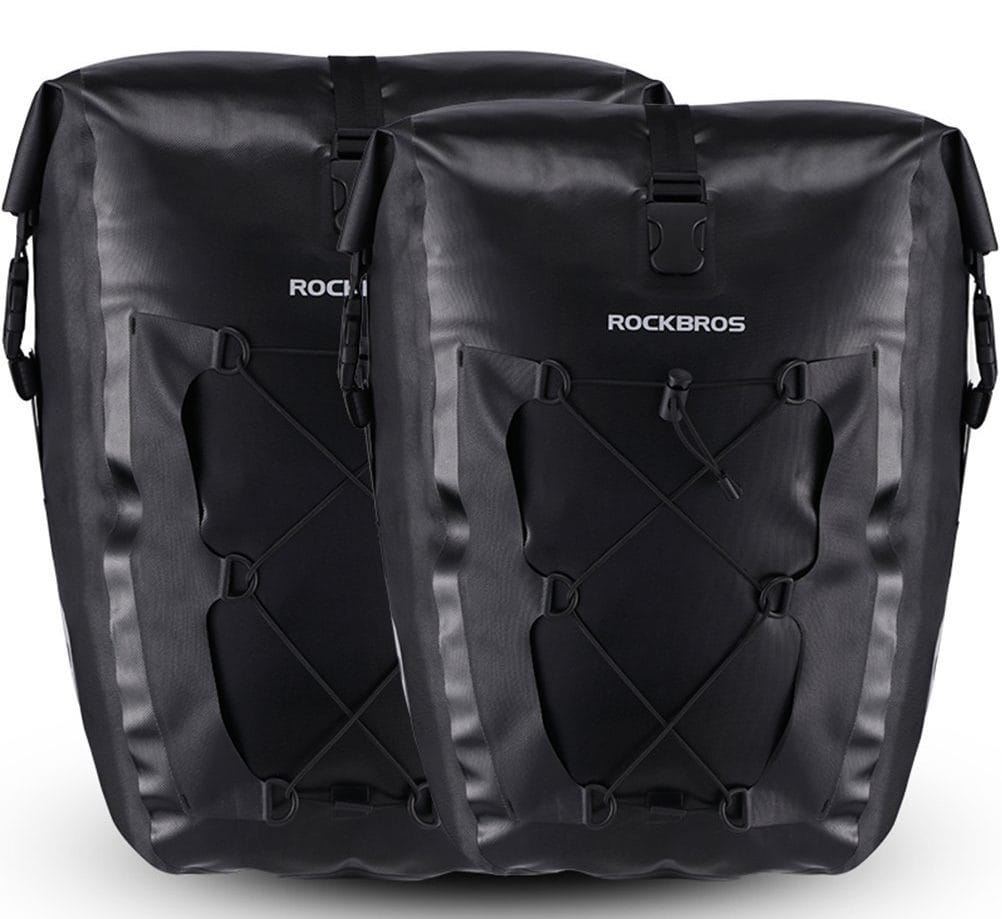 As one of those Chinese brands that made it into the global market with credible, durable, convenient, and great value products, Rockbros wins the spot of the best cheap touring pannier for riders on a budget.
A good alternative to Ortileb and similarly priced bags, these waterproof panniers feature a useful drawstring bag for storing wet cloth. Priced at around 50 USD each, their capacity is enormous at 27 liters per bag, making them second only to the king-size Ortlieb Back Roller Pro Plus.
The Rockbros waterproof have all the features of the most expensive panniers for a fraction of the price: radiofrequency welding for 100% waterproofness, adjustable hooks, internal pocket, plus an external cord to hang wet clothes or similar items you might not want to store inside the bag.
A large capacity touring pannier that's really a bang for the buck.
Ibera PakRak
The Taiwanese brand Ibera was established in 2004. As is lately happening a lot in China, Massload, the firm behind the brand has been in business manufacturing bicycle parts under contract for major American and European companies for many years and has decided to establish its own brand.
The PakRak bicycle panniers feature 2 large reinforced compartments, 2 side pockets, a Hand-carry strap, and Reflective trim. They are among the cheapest bikepacking panniers, but not fully waterproof.
Nowadays, Ibera makes a bunch of different pannier bags, including a model that is 100% waterproof and slightly more expensive, you might want to check that out too.
How to choose the best rear bike pannier for touring
What is the best bike pannier for you?
When making the decision on which bicycle pannier to buy there are a few factors to keep in mind. The first is for sure the use we intend to make of these panniers.
Daily groceries, commuting, and occasional short touring? You can stay cheap, maybe buying water-resistant (not 100% waterproof) low-cost panniers and using a rain cover when touring. Some prefer to use a commuter's backpack.
Long-term bicycle expeditions? You'll want something sturdy and 100% waterproof. You also might want to consider getting a dry bag or going for a bikepacking setup.
Then there are the different types of closure systems, which can give quicker or slower access to the gear inside the pannier (I personally prefer roll-top), the mounting system, and compatibility with your bike rack, which should be checked before purchasing a pannier.
Some like smaller compartments and pockets, and some prefer one single big chamber to carry the bulkier items. Then there's the price factor.
In the end, is up to you and your personal tastes, except one thing: compatibility! The only thing you should be sure of is your pannier fitting on your bike's carrier rack!
Most racks have a tube diameter of about 10 to 15mm, and all panniers shall be able to fit there. Some racks though are as thin as 8 mm (weak rack, except if titanium do not tour with that) or as fat as 23mm. If your rack is of an odd size, be sure to check the manufacturer's specs before purchasing a pannier bag.
What we've done here is put together some of the most interesting bike panniers on the market, creating a table of comparison that can help you find the similarities and differences between expensive and cheap bike panniers at a glance.
FAQs About Bike Panniers
Can a pannier go on any bike?
To be attached to the bike, bicycle panniers need a carrier, also known as a pannier rack.
Be sure your bike's frame has the correct mounting points (called braze-ons) to fit the pannier rack of your choice. Most panniers can be mounted on any rear rack, while front racks can usually support only small panniers (this depends on the pannier bags' mounting system).
Is it OK to ride with one pannier?
Yes, it's absolutely okay to ride with just one pannier for a short while, just be sure not to make it too heavy and compromise stability. Riding with one pannier though will make your bike asymmetric, so it's not a recommended solution for extended bike touring.
It is completely ok for short commutes, occasional leisure tours, grocery runs, and other similarly simple endeavors.
Stay in touch while we get lost! Follow us on Social Media