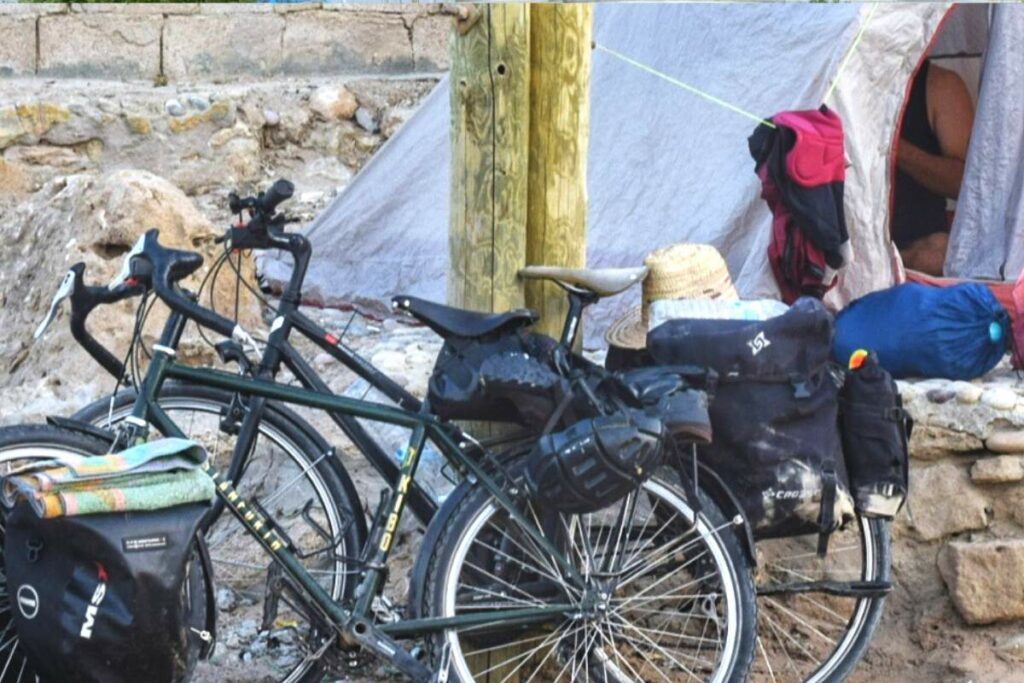 The best bikepacking saddles for cycle touring. The 11 most comfortable seats for women and men, reviewed and compared. The best Brooks & more
Let's begin with the most important statement, there's no such thing as the best bikepacking saddle or the best cycle touring saddle. The best bike saddle is what it's more comfortable for you, and you only.
Among all the components of a bike, saddles are the most intimate and personal, and recommending a saddle to anyone is an almost impossible task.
For our first 20,000km, I cycled with a refurbished leather saddle dated 1936, and Elena with a cheap foam saddle from l'Idle. When we swapped for the super-hyped Brooks B-17 we were not happy at all, and even after many km and many different saddles tried, we still miss our first ones.
That said, in the cycle touring and bikepacking world, some saddles have become the staple, being used by thousands and thousands of bike adventurers every day – that means there must be something to them.
In this article, we'll review the basic characteristics of what is considered the best saddles for bikepacking and cycle touring, the most commonly used, and the latest technological finds.
We'll also try to give you some advice on how to choose the best bike saddle for your personal and unique sit-bone shape.
So, let's clip on and get on this wild ride!
Check also
> 11 Best Gravel Bike Saddles – Performance & Comfort for Long Rides
11 Best touring Bike Saddles in a Nutshell
Disclosure: Some of our articles contain affiliate links. This comes at no additional cost for you and helps us keep this website up and running. (as Amazon Associates we earn commission from qualifying purchases)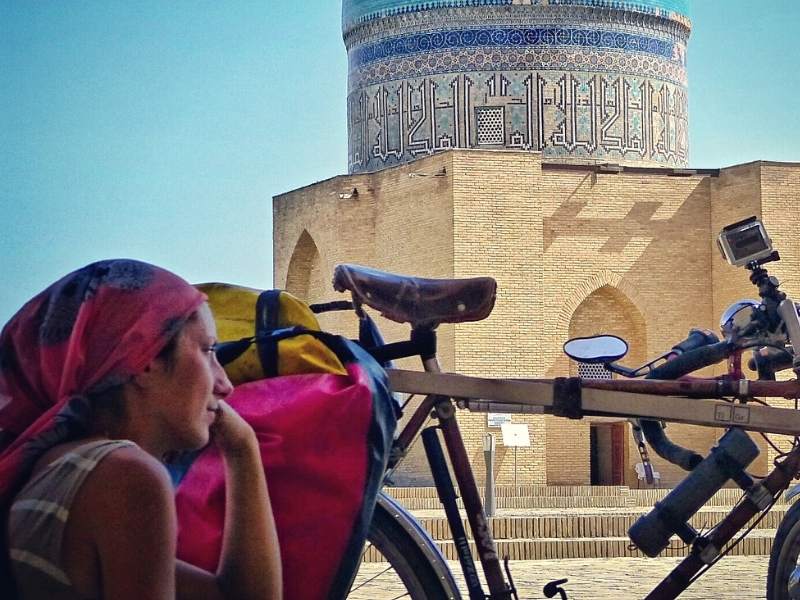 Best Brooks leather saddles
Brooks B17 – most popular bike touring saddle
Brooks Flyer – best touring bike saddle for an upright riding position
2 Best Brooks Cambium Saddles
Best Non-Brooks Saddles for Touring and Bikepacking
The Best Brooks Saddles for Touring & Gravel Bikepacking
Cambium Vs Leather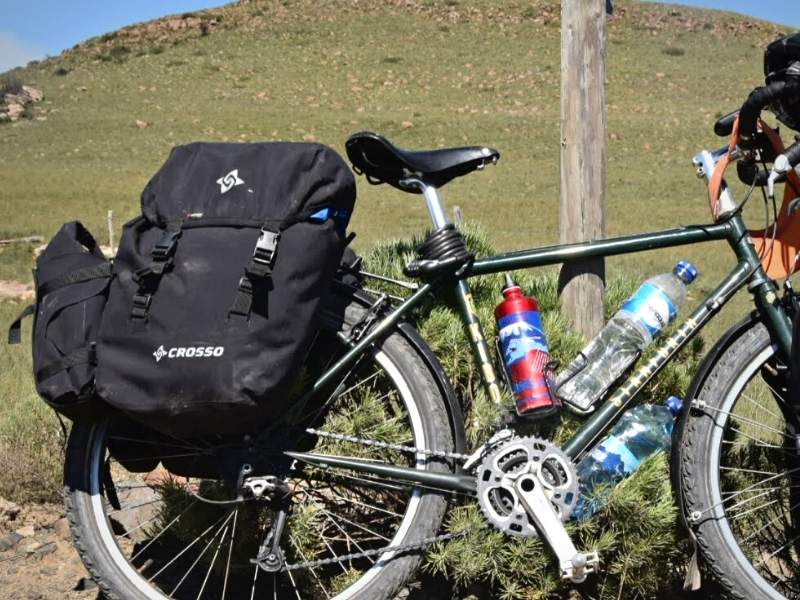 Brooks is without any doubt the most popular saddle brand in the world of cycle touring and bikepacking – this historical brand has been around manufacturing the finest leather saddles since 1866!
Nowadays Brooks has two main lines of saddles, the classic leather saddles, and the new cambium gamma, made from vulcanized natural rubber and organic cotton canvas.
The main difference between leather and cambium is that leather saddles "break in", which means they slowly adapt to the shape of your bottom, thus becoming more comfortable the more you ride on them, this happens also with good-quality foam saddles.
Cambium saddles don't break in, and although flexible, recreating the hammock-style elasticity of the leather, they retain their shape forever. That means if you find them uncomfortable they are not gonna get better with time.
The advantage of cambium saddles is their waterproofness, lighter weight, high durability, and sleek look.
2 Best Brooks Leather Saddles
All Brooks leather saddles come in at least 4 versions:
Carved – with a long cut in the middle, meant to relieve pressure from the perineum and increase airflow. My favorite version.
Short – indicated for women and shorter riders
Special – featuring hand-hammered copper rivets for an extended lifespan
Softened – with treated leather, it faster to break in but also to wear out
combinations of the above
Brooks B17
Most popular bike touring saddle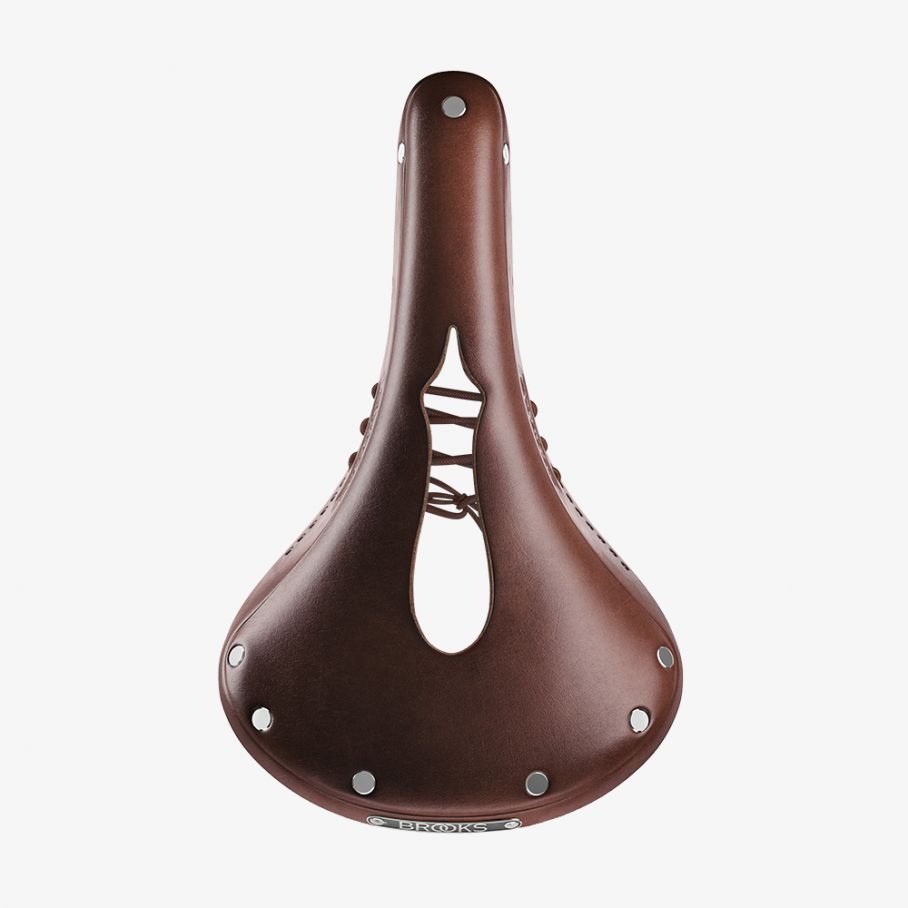 The classic of the classics, the B17 is definitely the most popular saddle in the bike touring world, and many agree, one of the most comfortable bikepacking saddles.
I've used a B17 on my Stanforth Kibo for the whole of my Northern Europe trip and for my crossing of East Africa and I've been quite happy with it.
It definitely took more than a few hundred kilometers to break in, during which I experienced numbness and a pretty sore butt – but after that, it became one of the most comfortable touring saddles I've ever ridden.
Although some claim to feel great riding it even without padded bike shorts, that's not the case for me – while I could ride my 1936 Royal Nord saddle for 7 hours without padding, I don't enjoy the B17 unpadded for more than a couple of hours.
Leather Brooks saddles are very durable and able to take a lot of beating from the weather without really wearing out, just give them a small dose of Brooks leather cream (Proofide Dressing) once or twice a year.
What actually I had problems with was the tensioning screw, which mysteriously lost the thread and needed to be replaced. The tensioning is really fundamental, as the leather keeps on stretching even after years and needs to be tensioned every now and then.
The B17 comes in many versions, I've been using the standard one but trying the carved one made me want to swap for that, a nice relief for the perineum.
The short version is also wider and it's the proper choice for women and folks with wider seat bones.
The narrow is more performative, dedicated to randonneur racers or competitive bikepackers, if you a really looking for performance then the titanium version is your cup of tea.
Brooks Flyer
best touring bike saddle for an upright riding position
The Brooks Flyer is in all aspects a B17 with spring suspension. All the good and the bad we said about the Brooks B17 in the previous paragraph can be said for the Flyer.
The basic difference is indeed the springs, which make it definitely heavier but also more comfortable and cushioned.
We recommend the brooks Flyer for those who like a more upright riding position but still want to tackle all the most challenging offroad tracks.
The Flyer comes in the same options as the B17, except the more performative titanium and narrow versions – this is a saddle for comfort, not for competition.
2 Best Brooks Cambium Saddles
Brooks Cambium saddles come in many different colors and patterns – besides that, they also have carved versions, standard versions, and copper rivets.
We favor the carved version even more for the cambium than the leather Brooks. Being more rigid, the middle cut adds a little of welcomed elasticity.
Brooks Cambium C17
Best bikepacking Brooks saddle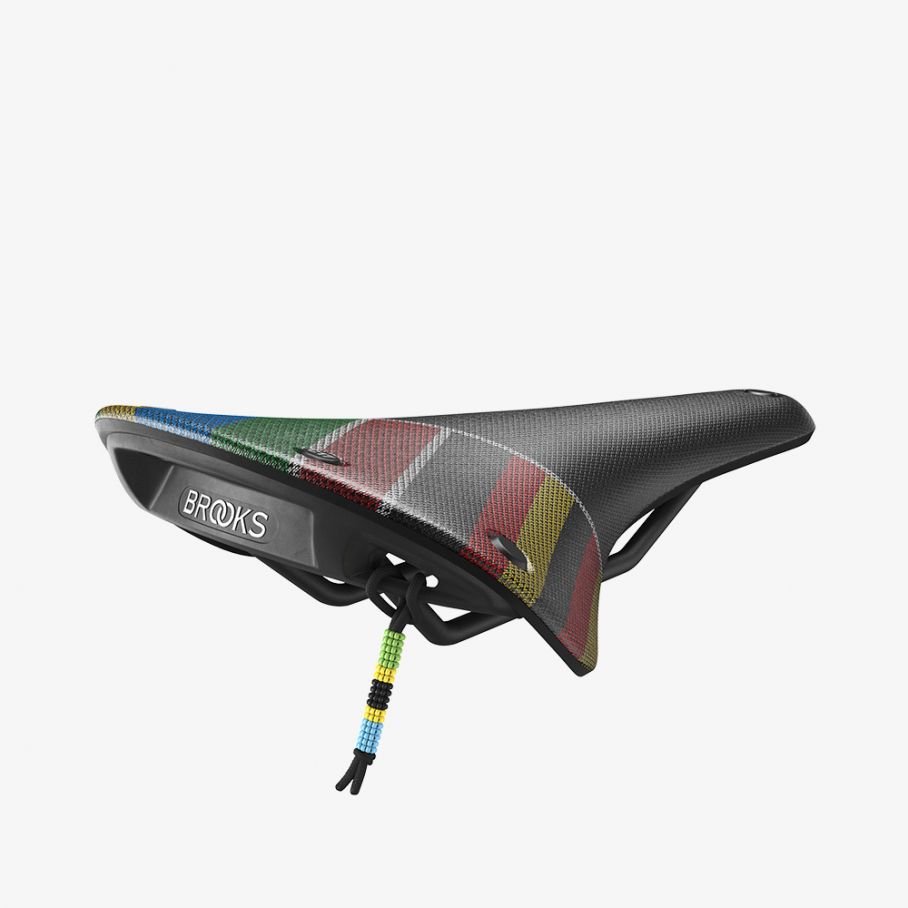 Price: $104 / Made in Italy
The Brooks C17 is the cambium version of the B17. Although the shape and dimension change slightly (164mm width Vs 175mm of the B17), this saddle has the same characteristics as a classic B17 with the main difference being the material.
A good middle point between flexibility and firmness is reached thanks to the vulcanized rubber that constitutes the main material of the saddle.
Slightly lighter than a B17, with a weight of 464g, the C17 can't still be considered a lightweight saddle, but do really a few grams more on the saddle matter when traveling by bike?
About durability, the nylon top of the Cambium saddles, although weatherproof, won't really last like leather.
The C17 is compatible with bikepacking seatpacks and traditional saddlebags too.
Brooks Cambium C19
Price: $94 / Made in Italy
An even wider option at 184mm is the C19, a saddle that I've been seeing more and more often on the touring rigs of fellow bike travelers. Like the whole Cambium series, the C19 is entirely waterproof, featuring strong aluminum rivets, and manufactured using 100% Organic (vegan) cotton canvas. The latter is certainly a thing to consider if you want a "cruelty-free" Brooks saddle.
The seat is made of vulcanized rubber and topped with nylon canvas, suspended over a sturdy steel rail.
The Cambium saddles don't break in but are comfortable from day one (or they'll never be). The carved version adds more flexibility and relieves pressure from the pelvic floor.
Best Non-Brooks Saddles for Touring and Bikepacking
Brooks saddles are so common in the bikepacking and touring world that it's easy to wonder if other brands even exist – well, they do! And some great and very comfortable saddles come from them. Let's have a look at some of the best bikepacking saddles not made by brooks.
Selle Anatomica H1
best non-brooks leather saddle
If there's a brand that can be considered a direct Brooks' rival, that is certainly Selle Anatomica. Despite the Italian name, all saddles from this brand are manufactured in San Diego, California, USA.
Although similar in look to the Brooks, Selle Anatomica saddles are quite differently designed.
First of all, while Brooks leather is soaked in water, cold-molded at room temperature to the proper shape, and then baked in an oven – Selle Anatomica is hot-molded dry, without the use of water.
What does that mean? It means Brooks leather is much harder, while Selle Anatomica's is much softer, thus adapting quickly to your rear shape.
A downside of this though, is the durability of the leather top: yes, Brooks might take a very long time to break in, but they last a lifetime. SA leather being soft needs to be tensioned more often or it will conform to a sort of hammock shape, after a few years of tension the leather could just be weakened.
If you don't mind that though, we've found the H1 (and H2) to be more comfortable than a Brooks.
Another special characteristic of the Selle Anatomica touring saddles is the long and wide cut-out, we'll talk about it on this page in our review of the X2 saddle.
WTB Pure
great bikepacking saddle on a budget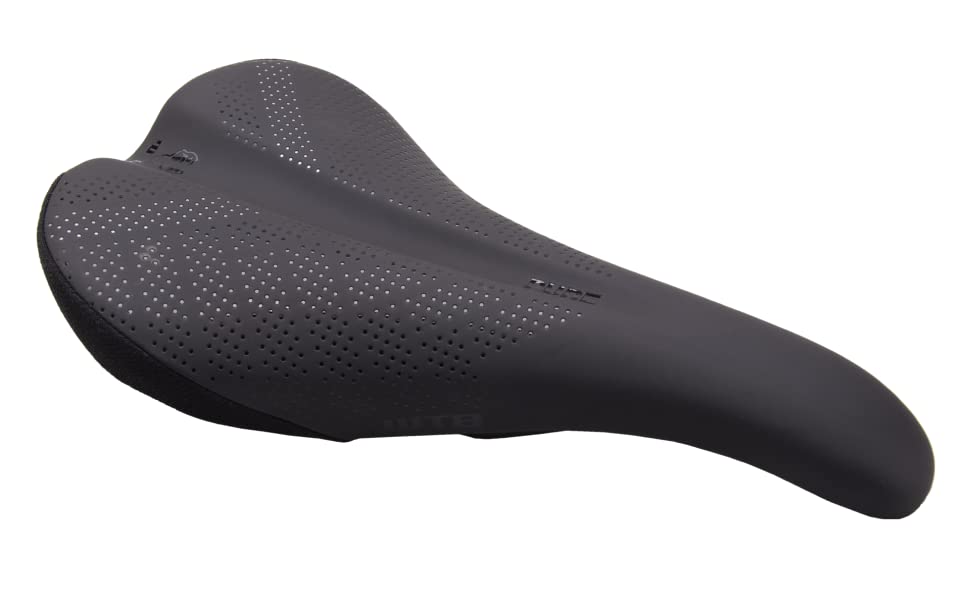 Simple, affordable, lightweight – the Pure by WTB has many fans in the touring and bikepacking world, but also in the gravel riding and MTB scene.
The slightly dropped nose is a feature I love, together with the narrow width it allows for a more aggressive riding position without squashing the genitals.
The firm foam is suited for long days on the saddle and has proven to be quite durable compared to competitors in the same price range.
The WTB Pure's frame comes in steel (345g), Chromoly (340g), and titanium (239g) versions, the width is average at 148mm, fitting sit bones between 102-130mm. The length is 275mm.
Selle SMP Pro
best touring saddle with sloped point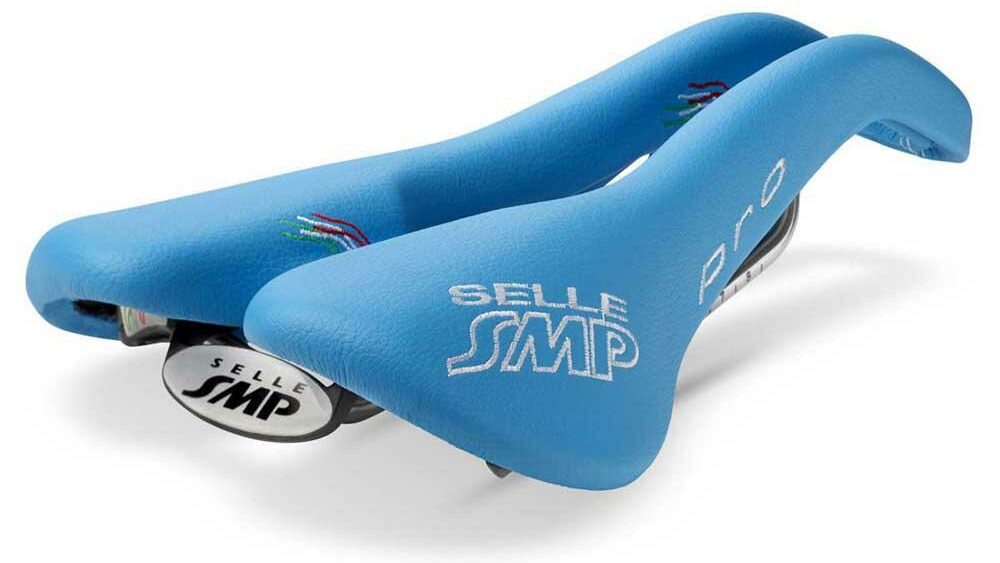 The sloping shape of the Selle SMP saddles is their distinctive tract and a unicum among the saddle makers' scene. The sloped point, together with one of the widest cut-outs on the market, make this saddle the winner in the pressure point relief competition, although not for everyone.
Each of us being unique, this kind of shape might not work in the same way for everyone, although Selle SMP has a wide gamma of sizes. In some cases, playing with the saddle position though is enough to find the sweet spot and let this saddle do its work, which is to be comfy with every riding position, including the most aggressive ones.
The materials are top notch and the construction is really well made – which is expected for this price tag.
Chromag Trailmaster DT
great touring bike saddle for off-road riding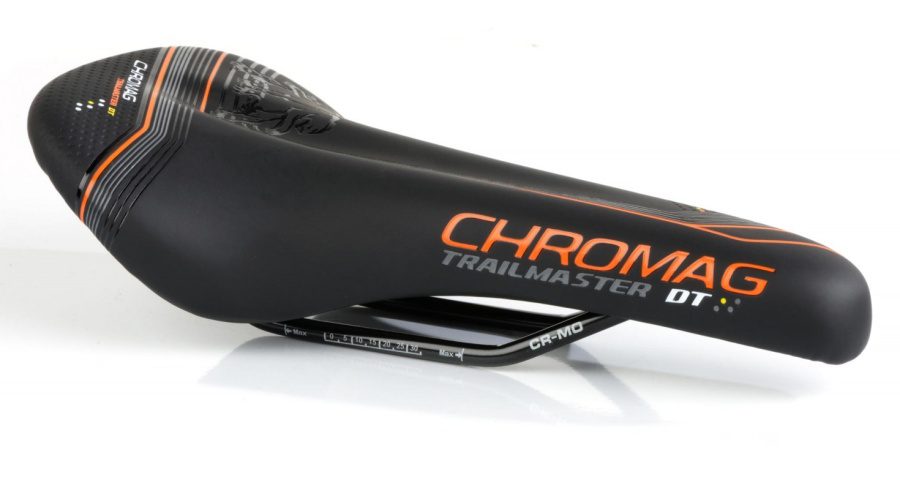 The Chromag Trailmaster DT is not as famous as other saddles described above, but with its low price tag and solid construction is definitely a player to consider.
Its main peculiarity is the extended length, which can result in better control on technical terrains, making this a great pick for off-road lovers.
The synthetic top makes it totally weather resistant and the generous padding ensures comfort even when riding a bit off-center.
Ergon SMC
best all-rounder cycle touring saddle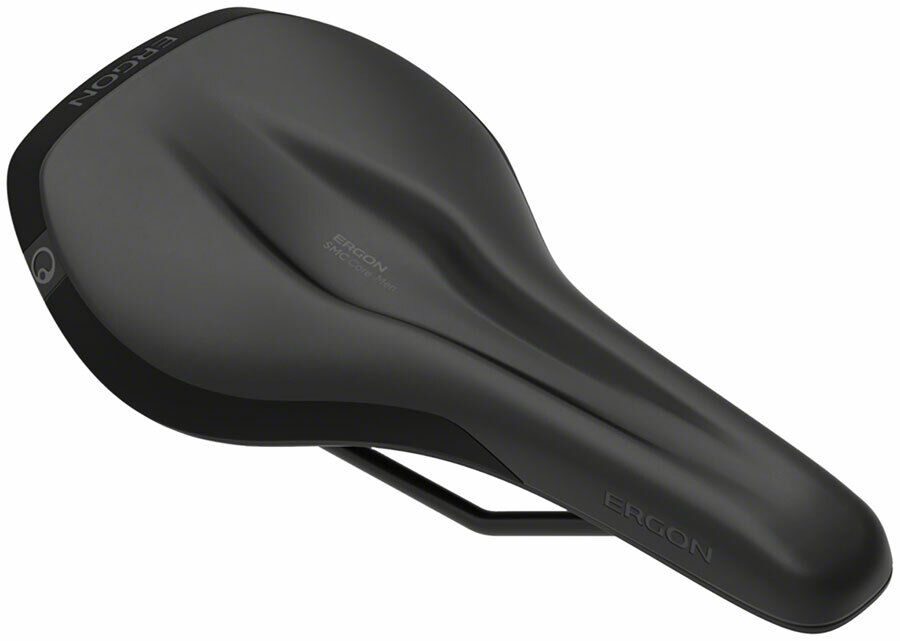 Here's another popular saddle I've seen on dozens of touring bikes, tried it myself for a quite extended ride and I was genuinely impressed.
This saddle is a great all-rounder, comfy on trails as well as on pavements. It might be thanks to the "Core and TwinShell technology". That's an innovation made by Ergon that puts together a thick layer of closed-cell particle foam sandwiched by two nylon composite shells. This makes the saddle shift sideways following the rider's hips movements.
This technology, together with well-designed pressure relief channels, greatly mitigates the eternal problem of numbness and sore butts. Ergon saddles are made in Germany.
Selle Anatomica X2
best touring bike saddle for ergonomics
Another gorgeous leather saddle by Selle Anatomica. The X2 is a great pick for those who are looking for comfort from day 1 (see the H1 review above) and don't wanna give up on style.
While we've already talked about how Selle Anatomica treats its leathers, we haven't yet discussed its most unique design feature.
The wide slot/cut in the middle is "the most important part of our suspended leather design" according to Selle Anatomica themselves.
The concept behind it is that the two sides of our bodies move independently, and an anatomically-designed saddle should move with them. That's indeed the function of the wide slot, which makes the left and right sides independent from each other, thus following the sit-bones movements in the alternating movement of pedaling. This way, sit bone pain and perineal pressure are greatly reduced.
The X2 has a modular frame that allows for leather replacement when will wear. The other difference with the H2 is the softer top, while the H2 is thicker and thus stiffer.
Charge Spoon Saddle
best cheap touring saddle
If you are looking for a budget touring bike saddle, this might be the one for you!
The Charge Spoon costs less than 35 bucks, it's comfortable from day one and has very little to envy from much more expensive models.
Light, comfy, durable, and cheap, this saddle is quite a bargain and might be worth trying even if you are already pretty much satisfied with what you have.
The profile is quite average, not too wide, not too narrow, not too long, and not too short. The relief channel is a bit shallow and the padding is not as thick as others, but I've found it quite comfortable although I rode on it for just a 70km mixed surface ride.
What saddle has worked best for you? Let us know in the conversation below!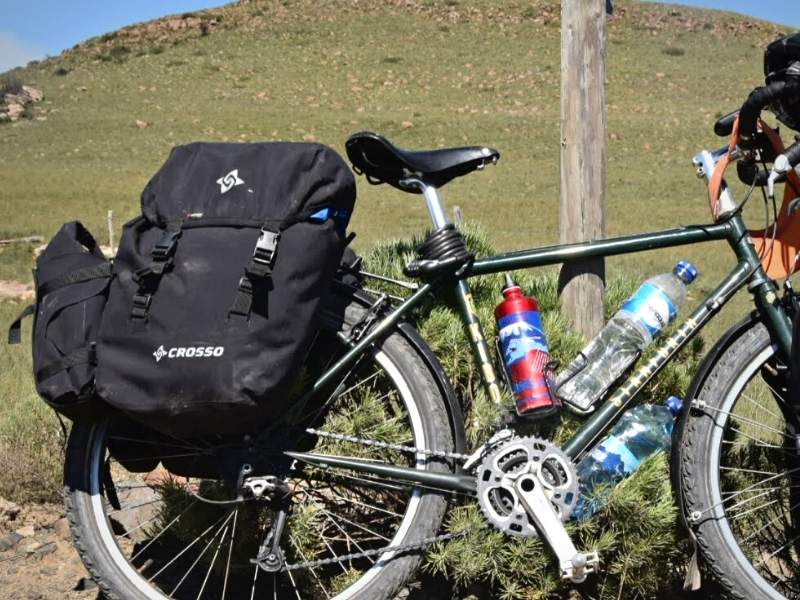 How to pick the best bikepacking saddle for your comfort
After you've gone through our personal selection of the best saddles for touring and bikepacking, it's time to really consider how to pick the best one for you!
As already mentioned, there's no such thing as the best touring saddle, we are all different and what works for me might be hell for you, and vice-versa.
We'll try to give you some tips on how to pick what could be the most comfortable bike saddle for your bikepacking adventures, but nothing will ever beat getting your ass on it, so be ready to try a few before finding your comfy bike touring companion.
What's the best touring bike saddle for women?
Women have wider sit bones compared to men and thus need slightly wider bike saddles. Some companies manufacture versions of their saddles specifically designed for women, go for it if that's available, otherwise just measure your sit bones as described below and choose a bikepacking saddle adequate to your size.
Another key difference between men's and women's saddles stands in the widths of the central groove. As women have more exposed soft tissues, a wider cut-out is generally appreciated by girls.
Women's saddles are also usually shorter than men's ones
Besides these points, all the information you'll find below and above this paragraph are valid both for men and for women.
How do I choose a comfortable bike saddle?
Among the worst discomforts bike tourers experience on their adventures, saddle sores, chafing, numbness, and irritation are maybe the most common and less pleasing.
Let me say this straight if you're not used to sitting for many hours on a saddle, and for many days in a row, you'll have to cope with it. Even the best bike saddles will give you pain if your butt is not hardened enough.
But don't worry too much, the pain will alleviate with time, and we'll now give you a lot of advice on how to make it go away faster.
Before we even start: never change a winning team
If you're happy and comfortable with your current saddle but need a new one because that's worn out or broken, just get the same saddle or something very similar.
First things first: get a proper bike fitting
Bike fittings are proper regulations of the distance between your points of contact with the bike (saddle, handlebar, pedals) to your body measures and for your riding style. They are done by professionals and are the best thing you can gift yourself if you're an avid bike rider.
A professional bike fit will really change your cycling life, solving or greatly easing all the physical discomforts bike riding can cause lower back pain, shoulder tightness, wrist pain, and, even saddle sores.
Tip: ask your bike fitter if saddle pressure mapping will be part of the process. If there's swelling or pain off the bike, a trip to your physician is also advised.
Second: Study yourself
What's wrong with your current saddle? What are the issues?
is it rubbing? Maybe the saddle is too wide
Is it numbness? Maybe the saddle is too hard, too long, or doesn't have a deep enough pressure relief channel. Or maybe your position is not correct (try playing with the rails getting your saddle backward or forward, or go to point one, get a bike fit).
Also, what's your riding style? Are you leaning forward in an aggressive road-style position? Or are you more of a leisurely upright rider? In case 1, get a wider and more cushioned saddle, in case two get a saddle more road-oriented.
Measure your sit bones to get the right saddle size and shape
Measuring your sit bones is a great step you can take towards riding comfort, it will allow you to get the right saddle size for your body, which is very important.
What you want to measure you want is the distance between the centers of your ischial tuberosities.
Confused?
These are the pointy lower parts of your pelvic bone on either side. Touch your bum from a seated position and look for those bones, you'll find them easily.
How do I measure my sit bones at home?
There are a few methods to get the distance between your sit bones for saddle selection:
Place two small objects (ie. erasers) under your butt, move them until you feel like you're sitting on your bones, then measure the distance between the objects

Place some aluminum foil over a soft surface (i.e. a carpet) and mimic a riding position. Measure the distance between the deepest impressions left on the foil
Fill a large Ziploc bag with icing sugar (or flour), squeeze the air out, and seal it safely. Sit on it and mimic a riding position. Then measure the impressions.
Let someone you don't mind touching measure them for you while you sit on a bike. They are easy to feel.
If none of these work, read more here or go to a bike shop that's got the proper tool.
Once you've got this measure, match it with the saddle size. Usually, the manufacturers state something like "ideal for 110/120cm". Typical sit bone widths stay between 100mm and 150mm.
Different shapes of bike saddles
Bike saddles have different shapes according to the riding style.
Performance-oriented road saddles are narrower and harder
Endurance/touring saddles are a bit wider and more cushioned
Recreational (city/trekking) saddles are the widest for a more upright position
MTB saddles are flatter on the back, for a more backward position, slightly wider (more upright rider) and a bit more cushioned to absorb bumps.
A gravel saddle is something between a road and an MTB one.
Saddle padding
Logic seems to suggest a softer saddle will be more comfortable, don't you think?
Well, absolutely not. A saddle that's too soft will let your bum sink and cause chafing, so don't get a saddle just because it feels good sitting on it. You'll need to ride, get that legs and hips and pelvis going in motion for a little while to really judge the comfortability of a saddle.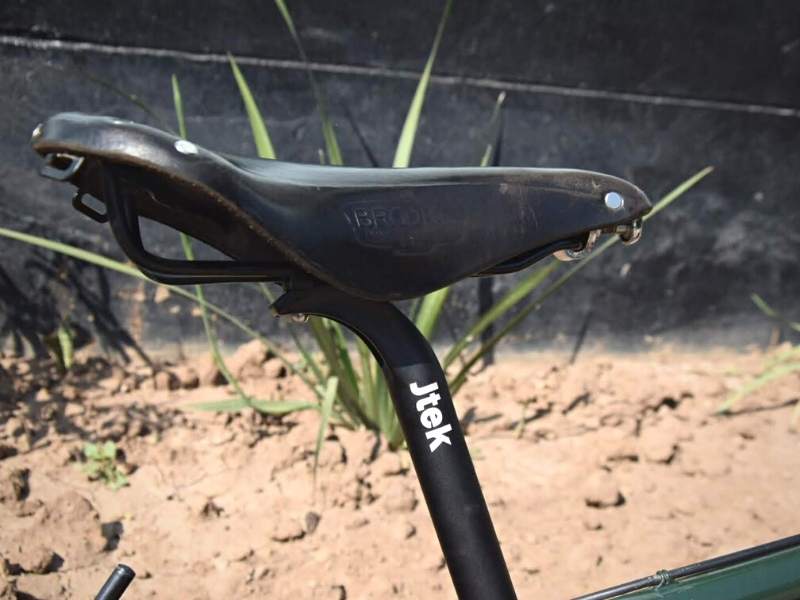 Leather VS Synthetic: what's the best material for a bike touring saddle?
Again, there's no best in saddles.
Synthetic saddles are low maintenance, lighter, and weatherproof.
Leather saddles adapt to your body shape and are more comfortable in the long run.
Cut-out saddles
Some of the best touring bike saddles come with a central cutout. They are designed to relieve pressure from your perineum, the pelvic floor, the part of your body between your genitals and your anus.
The perineum is a very important plexus, it hosts some of the lowest nerves of the spinal cord which control your legs and are very sensitive.
Relieving this pressure can greatly help with numbness problems.
Providing a nice airflow underneath is another benefit of cut-out saddles, more ventilation, less sweat, less chafing.
FAQs about the best touring bike saddles
Are the Brooks saddles really that comfortable?
Brooks leather saddles are comfortable once they break in. But that's not a universal statement. I've met several bike tourers who hated their Brooks saddles and swapped for something else.
Are leather bike saddles better?
No. There's no better or worst when it comes to bike saddles. Leather saddle get the shape of your own bum, and thus can result in more comfort, while synthetic saddles require less maintenance and are weatherprrof
Stay in touch while we get lost! Follow us on Social Media