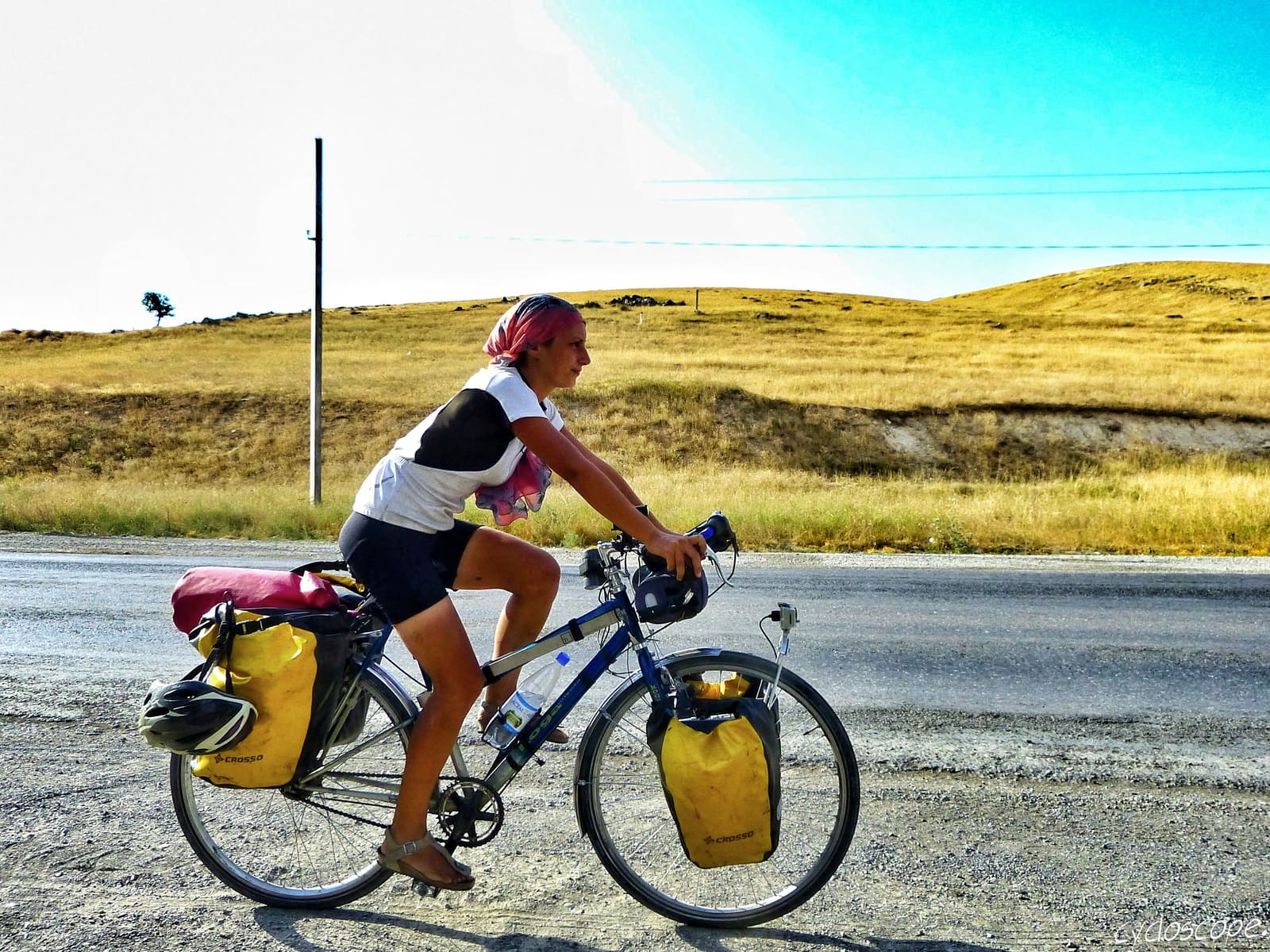 How to Travel by Bicycle: a Beginners' Guide to Start Bike Touring
How to plan your first bicycle trip on a budget.
Find a touring bicycle, gear up, plan your route, and start traveling the world by bicycle.
We are often asked what are the first steps to get started in bicycle touring, and that's why we wrote this series of bicycle touring guides.
So, how to travel by bike?
Well, there's a short answer to that: find a bike, pick a destination (or better, just a direction), pack some stuff, and go cycling.
Traveling by bicycle really is for (almost) everybody, no matter your age, physical conditions, weight, training, cycling experience, mechanical skills, or budget. Many bicycle tourists travel with kids and even with their pets.
When we started bicycle touring and bikepacking we were tobacco smokers, alcohol drinkers, out of shape, ignorant about mechanics, and almost broke.
And guess what, we still are almost the same, just less broke, since bike touring surprisingly made us find many working opportunities. There's only one thing you really need to start bicycle touring, and that is time.
We're not going to tell you to leave your job unless you really want to start a different life, bike travel may be done in any time frame: you have only a week off during the year? Then plan a bikepacking loop around your backyard.
We met people traveling with less than what we rely on, bike touring is doable with any budget, it just requires a strong sense of adventure and the will to adapt to some discomfort. However, you could always use title loans to cover some of the costs of a bike tour.
Let's get started!
Guide: how to find a suitable touring bike for your first bike trip
Unless you plan to cycle really challenging roads and pack a lot of gear, any bike will do. Literally, we saw people touring long distances with granny bikes and even cheap folding ones.
However, the better the bike, the greater the comfort, and the higher the enjoyment. You can check our lists of:
If you really don't have a budget to invest in a touring bike, you can use what you have
How to do touring with a road or gravel bike
Do you have a road bike? Surprise, you can tour with it. The main problem with traveling on race bikes is that they don't handle the load well, plus the usually narrow tires won't be good on dirt roads.
What you can do:
Some good bike trailers are Bob Yak, Topeak Journey, and the one of my choice, the Extrawheel Trailer.
Gravel bikes can also be suitable for touring, there are more and more models out there that cater to the needs of bikepackers. Check out our in-depth article about Gravel Bike Touring – The Why and the 6 Best Gravel Bikes for Touring and Bikepacking.
Check also this
> What is Bikepacking? Everything you need to know
Bicycle Touring with a MTB
Old mountain bikes from the nineties are perfect for bike touring, they usually have strong steel frames and can handle a bit of load. Try to avoid suspension forks, and even more full suspension systems: they break easily if they are cheap ones.
Modern hardtail and even full-suspension MTBs can be used for special types of touring. Check our guide about:
> Mountain Bike Touring – The MTB Set-Ups for Bikepacking & Cycle Camping
Travel On a Scrapyard Bike
Don't you have a bike? Go to second-hand shops, or even to the scrapyard indeed. You'll probably find a decent frame for a few bucks, or even for free. In the end, that's how I started.
Don't forget though, to be sure the bike is safe enough, riding safely should come first on the list of your priorities, an accident can always happen and put an abrupt stop to your tour, and it's, of course, more likely to happen if your ride isn't safe.
And by the way, having a cycling insurance policy is always a good idea, no matter what rig are you riding.
Disclosure: Some of our articles contain affiliate links. This comes at no additional cost for you and helps us keep this website up and running. (as Amazon Associates we earn commission from qualifying purchases)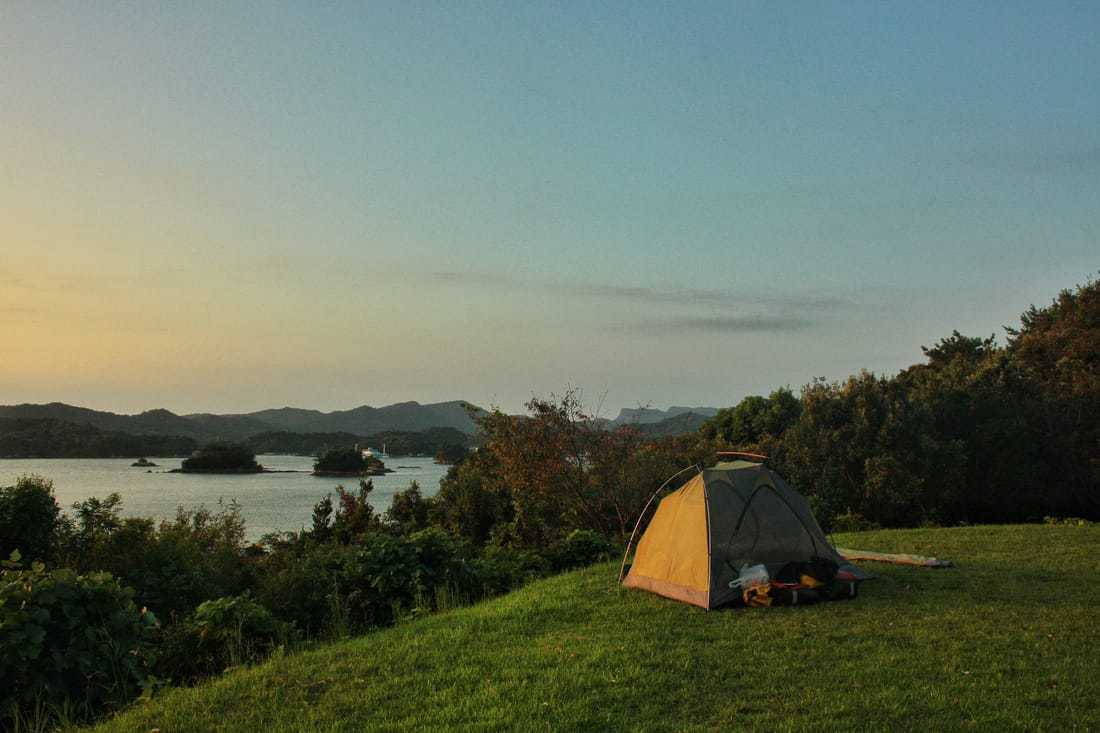 How to pick a destination for your first bike trip
Where to go mostly depends on the time you have, if you don't have much of this precious resource, why not start local? Get out of your house and start cycling. If you have a bit more time (I would say at least 2 weeks), you can think of taking a train or a flight and cycle the country of your dreams. Learn here a few useful tips on how to fly with your bike.
Great destinations for bicycle touring first-timers are, for example, Japan and South Korea, both super safe, camping-friendly, and beautiful, and the great thing is that you can travel to these expensive countries with a very low budget if you travel by bicycle.
Check out our hints on how to budget travel in South Korea and how to travel in Japan for less than 10$ per day. Another very easy destination can be Holland, with its incredible network of cycling paths, that's where I developed my passion for cycle touring, or the beautiful Serbian part of the Danube river.
Croatia, nestled in the heart of Europe, has emerged as another cycle-friendly destination for avid travelers and cyclists alike. With its stunning coastline, well-preserved medieval towns, and picturesque landscapes, it serves as an idyllic backdrop for unparalleled cycling adventures.
Cycling Croatia cruises provides an exceptional opportunity to traverse the charming country while experiencing a unique blend of leisure and adventure. You can check out more about cycling Croatia cruises here and head for a thrilling biking adventure.
Anyway, don't be afraid to go cycling also on a more difficult destination, it might be challenging at first but you'll make it, and the reward will be enormous. Check Kyrgyzstan for example, if you love mountains it won't disappoint you, you could do a complete tour around the Issyk Kul in less than 10 relaxed days.
For more inspiration have also a look at the bicycle touring adventures of our friends from My Five Acres.
Plan your route
When we first started our long-haul bicycle trip, we carefully planned all the stages of the first ten months, downloaded the GPX tracks, and used them on our GPS device.
Let me say straight that this was the biggest mistake we ever made. We tried to stick to this schedule and missed a lot, cycled for too long on some days, and stopped early on good days when we could have gone further, ignoring suggestions from local people.
While, in our humble opinion, planning too much is useless and even counterproductive on long-term tours (more than one month), it becomes very important when your time is limited. If you have a return plane from a city on a certain date you must be there then.
So here is some advice on how to plan a bicycle tour:
If you want the help of a little technology to plan your route check this list of the best apps for offline bicycle touring navigation.
Check some more: Advice about bicycle touring on this semi-serious list of 30 rules.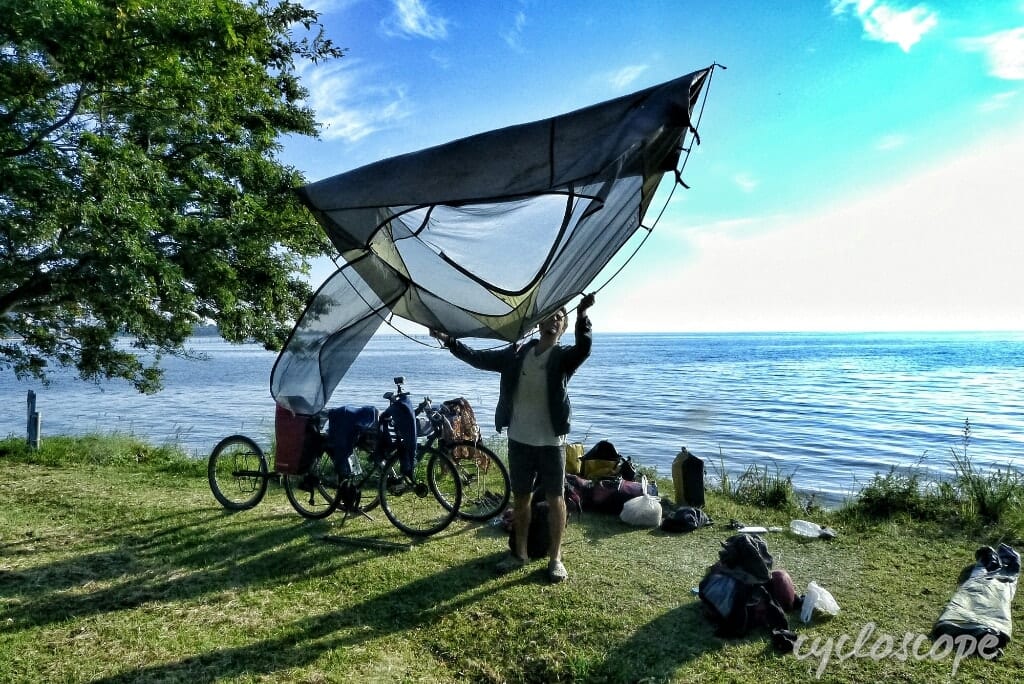 Gear Up
As for the bike, having good gear is, of course, nice but not necessary at all. If you're on a budget just use what you have, cheap tent and the sleeping bag might be a little heavier, but who cares?
If you can't afford to buy those cool Ortlieb panniers, you can make a pair of waterproof bags out of plastic buckets.
Here below are all the articles from our series about bicycle touring gear essentials (and not essentials).
Find Out Your Bike Touring Budget
Bicycle touring is seriously the cheapest way to travel, maybe only walking can be compared. We always traveled with 10$ a day each, sometimes we spent a bit more, sometimes a bit less, this makes for 3600$ per year, not an impossible amount to save!
The crazy thing is that you may end up spending less in more expensive countries, at least that was true for us.
If you can't afford the sleep in a hotel in Japan you simply won't do it, while is very hard to resist those beachfront bungalows in the Philippines, they look so cheap at 5 to 10$ per night but this will affect your wallet in the long run.
The same is true for restaurants, some places are so dirt cheap that you'll end up eating in restaurants every day, and that's not cheap anymore.
We met people traveling with less than what we rely on, bike touring is doable with any budget, it just requires a strong sense of adventure and the will to adapt to some discomfort.
So, what are you waiting for? The big, beautiful, crazy world is out there waiting for you to cycle it!
Learn More
> How Much Does it Cost to Travel the World by Bicycle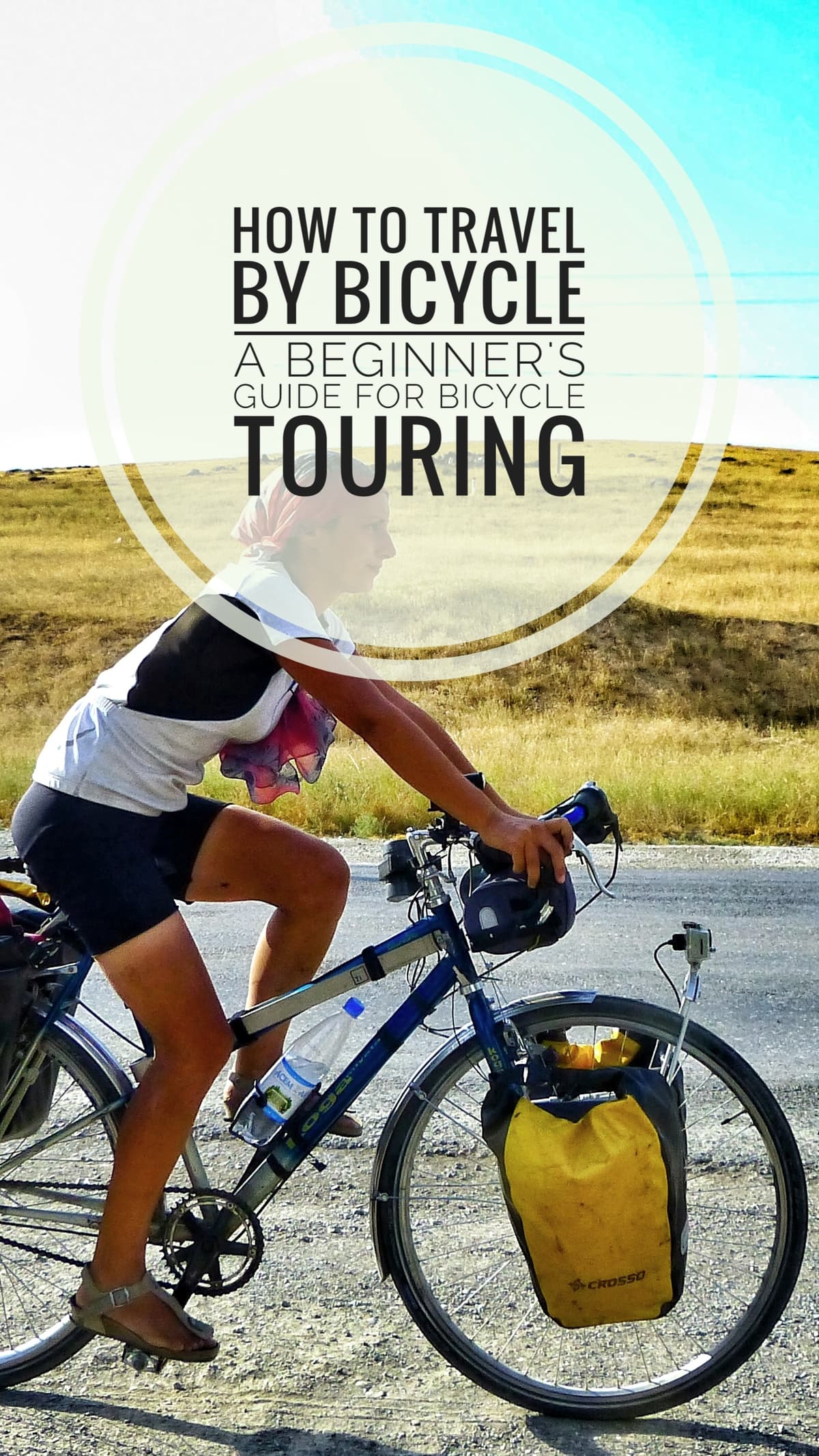 Found this useful?
Follow Us on Social Networks and Subscribe to Our Newsletter
Stay in touch while we get lost! Follow us on Social Media