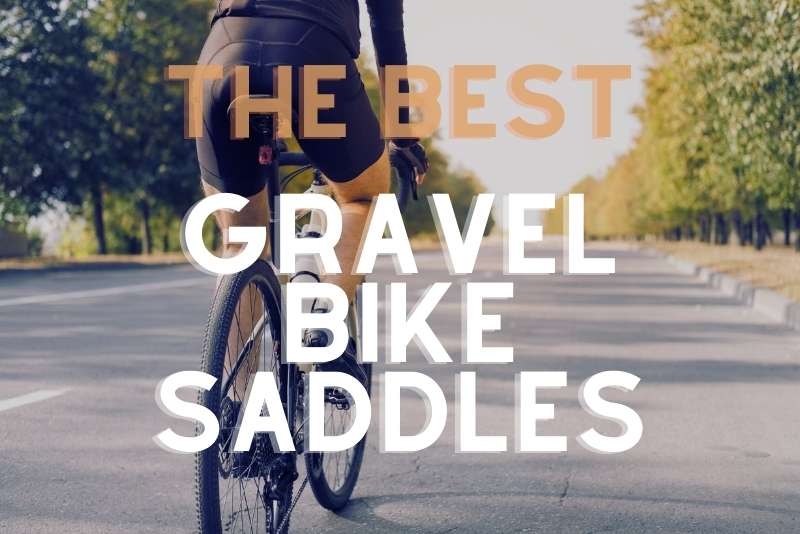 Gravel Saddles! The best gravel bike saddles for long rides compared!
Performance, comfort, with extra padding, for men and women! The 11 best saddles for gravel riding in 2023!
Is there such a thing as the best gravel bike saddle? Of course, the simple answer is "no' – when it comes to bike saddles there are just so many variants to the shape of our booties to make a one-size-fits-all choice impossible.
The long answer though is this article, where we'll try to suggest the best gravel saddles for all types of body, styles of riding, and typical preferences.
But first, what makes a saddle into a gravel saddle?
Well, if you ride on gravel you should be familiar with the vexing vibration your behind is subject to, those are transferred all the way from that rough surface through your tires, wheels, and frame, to your saddle and thus your bum.
While vibration dampening is a combination of indeed the width and pressure of the tires, and the elasticity of your wheels and frame, the saddle, as the most important contact point between bike and rider, has an enormous impact on it.
But shock absorption is not the only important design element in a gravel saddle (as we'll see at the end of this article). A gravel rider's position is usually slightly more upright than a roadie's, the sit bones have a wider print when extending the spine, thus the need for gravel-specific saddles, or to know what to look for when buying a saddle that you'll use on gravel.
There are several bike saddles that are specifically designed for gravel riding. These saddles often have features that are tailored to the unique demands of gravel biking, such as a wider and more padded design for increased comfort on rough terrain, or a more durable cover to withstand the rigors of off-road riding.
Some MTB saddles, road saddles, and even touring bike saddles anyway are perfectly suited for gravel riding, you'll see some of them in this blog post.
So let's dive into the comparison between our favorite gravel saddles, always keeping in mind that nothing beats personal experience, it's always a good idea to try out a few different saddles to find the one that works best for you.
The best saddle for gravel biking will depend on the individual rider's body shape, riding style, and personal preferences.
The best gravel saddles in a Nutshell
11 Best Gravel Saddles in 2023
Disclosure: Some of our articles contain affiliate links. This comes at no additional cost for you and helps us keep this website up and running. (as Amazon Associates we earn commission from qualifying purchases)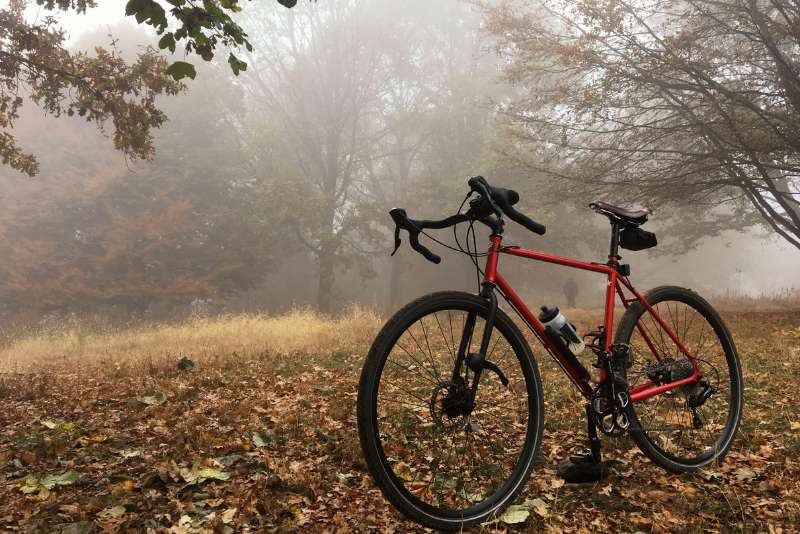 Specialized Power Expert
Best budget performance gravel saddle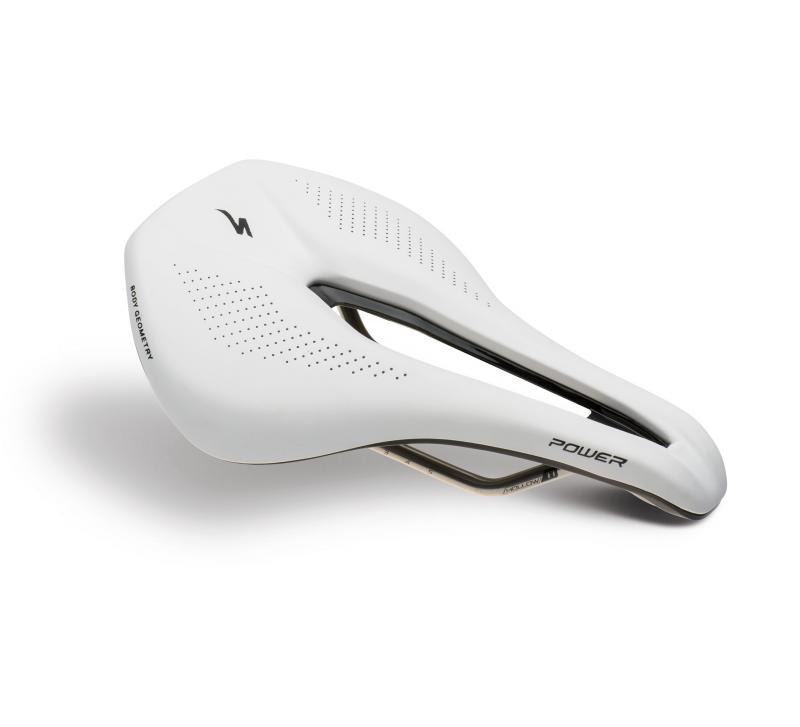 SPECS
Rails: Titanium (7x9mm)
Widths available: 130, 143, 155, 168mm
Weight: 238g (S3)
Price: 100$
As saddles have got shorter, Specialized has been at the forefront with its Power saddle range. A unisex saddle, it was actually initially designed as a women-specific model, however, the shape translated across both genders equally.
The Power Expert is a high-performance saddle designed for road cycling and mountain biking. It is made with a lightweight, stiff carbon-reinforced shell and features a narrow, elongated shape to provide a more efficient and comfortable pedaling position.
The saddle also has a pressure-relieving cutout and is padded with lightweight foam to help reduce numbness and discomfort.
In terms of durability, the saddle is reinforced in carbon fiber, features bulletproof titanium railings, and it's protected by a weather-resistant and wear-resistant cover to help it withstand the rigors of daily use.
The Specialized Power Expert saddle is a popular choice among gravel riders looking for a comfortable and efficient saddle that can withstand the demands of long rides and rough terrain.
Selle San Marco "Shortfit Supercomfort Racing"
Best for performance and light gravel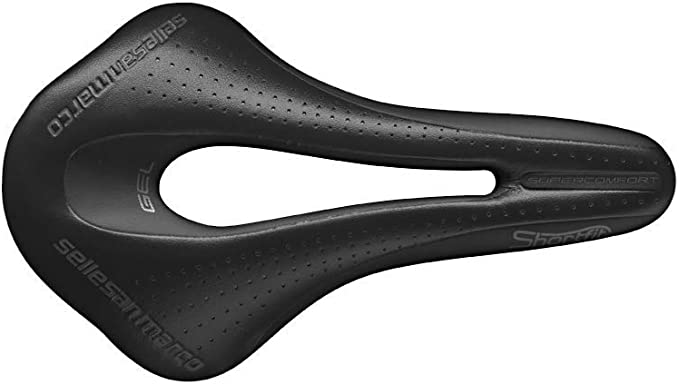 SPECS
Rails: Carbon
Shell: Carbon-reinforced nylon
Widths available: 146mm
Weight: 160g
Price: +/- $130
A performance-oriented carbon saddle for those who like their gravel not too spicy. The profile keeps the rider in place for the powerful pedal stroke, without leaving too much room for hip movement.
Add this to the relatively thin padding and you'll see why this is not really an off-road saddle.
If you're looking for performance though, the Selle San Marco Shortfit might be the one gravel saddle for you. Lightweight at 160g, short-nosed to allow more aggressive riding positions, with a wide cutout to relieve perineal pressure.
Construction is also sturdy: thick Cordura edges protect the carbon-reinforced nylon shell of the saddle in case of fall.
Selle Italia X-LR Kit Carbonio Superflow
Lightest gravel saddle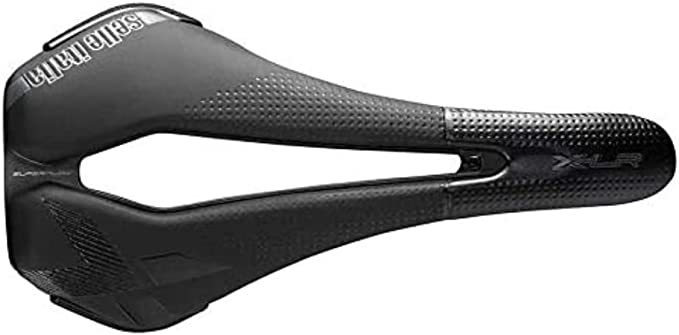 SPECS
Rails: Fibra-Tek Carbon (7x9mm)
Widths available: S3 (125mm), L3 (140mm)
Weight: 130g (S3)
Price: 170/200$
Among the lightest off-road saddles out there, the Selle Italia X-LR Kit Carbonio Superflow competes in weight with the lightest road-racing saddles in the market, while still managing to be as comfortable as any MTB saddle should be.
It weighs 130g, although the wider version adds an additional 15g and packs in double-density padding that I found quite comfortable, protective bumpers along the shoulders, and a shock absorber built into the carbon rails.
The shape is that of a classic mountain bike saddle, allowing for movement to help distribute weight on the steepest climbs.
A great saddle for ultra-cycling races, where performance is the goal and every gram counts, but certainly not the best bikepacking saddle.
Fizik Terra Argo X1
Gravel-specific saddle with great vibration absorption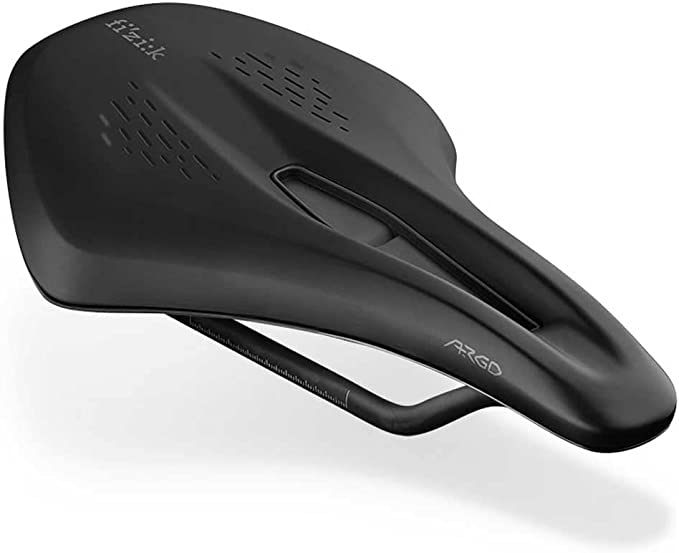 SPECS
Rails: Carbon rail (7x10mm)
Widths available: 150mm, 160mm
Weight: 214g (150mm)
Price: +/- 200$
I have personally tested the Fizik Terra Argo X1 saddle on my budget gravel bike and love the incredible vibration dampening.
The X1 is the lightest in the Terra Argo range, and it is specifically designed for gravel riding, aiming to offer as much shock absorption as possible.
It's a fairly long saddle at 270mm and has a wide center channel that goes almost to the tip, as well as a wedge-like shape. The sides and edges are flared to allow movement on the saddle.
The carbon rails make the X1 lighter and slightly more rigid than the X3 and X5, which have metal rails. The rails attach to a carbon-reinforced nylon shell with Fizik's Wingflex design to further dampen vibrations. The foam is soft and provides progressive cushioning for support.
The X1 is a comfortable saddle that absorbs vibrations well and provides support on both gravel and mountain bike rides. The slope at the sides allows flexibility and the rise at the back provides leverage on climbs.
The carbon rails do not add noticeable rigidity and the saddle only saves 30g over the X3. While it performs well, the X1 is expensive, especially compared to its cheaper siblings which are similar except for the rails.
Prologo SCRATCH PRO X20 TiRox
Best gravel saddle for maneuverability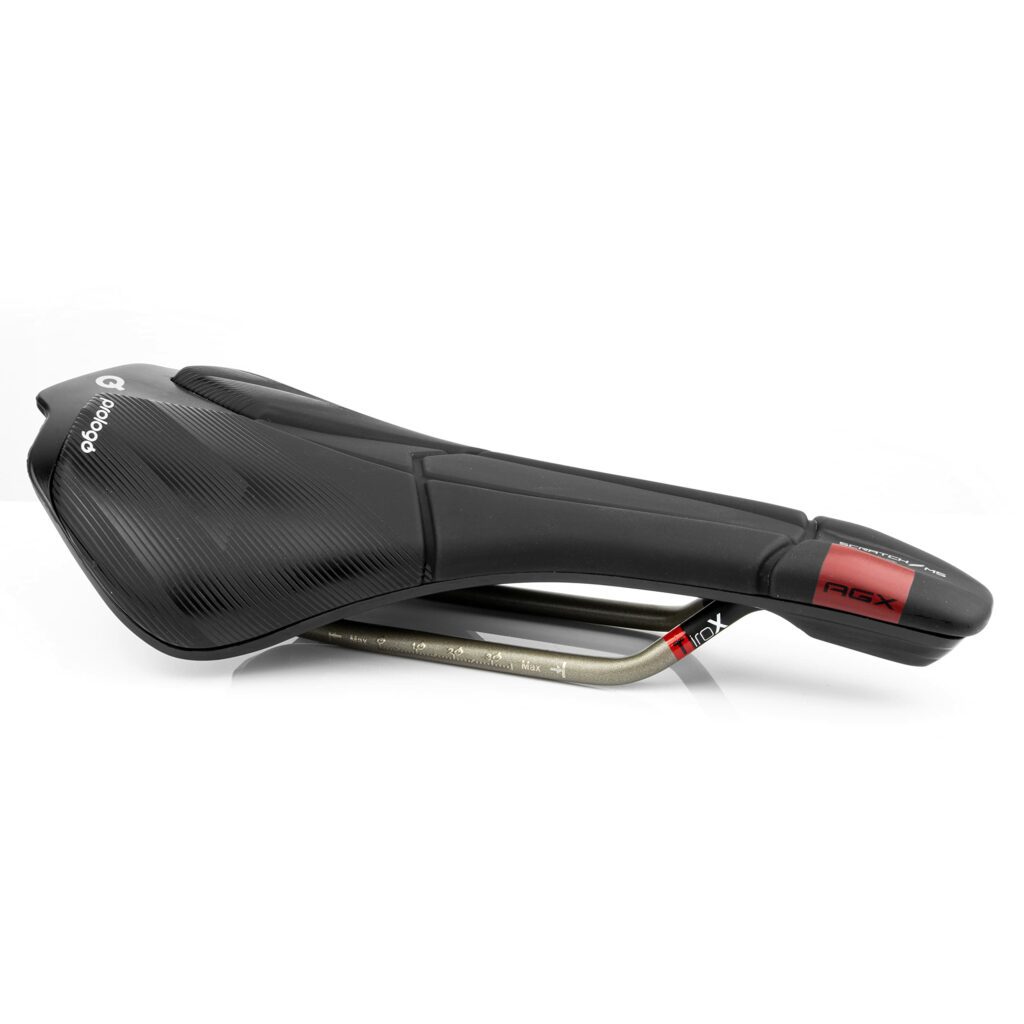 SPECS
Rails: Tirox alloy (7x7mm)
Widths available: 140mm
Weight: 201g
Price: +/- 130$
Prologo's popular T-shape saddles got an Adventure, Gravel, and CX makeover for 2023. The Scratch series covers multiple disciplines, but the AGX version introduced here has been specifically tuned for gravel riding.
If you're looking for a gravel-specific saddle the AGX won't disappoint you, with its raised graphics on the back to increase grip, a thicker foam for vibration dampening, and a more flexible base to improve compliance.
Prologo has patented what they call a Multi-Sector System design, which basically assigned a different degree of padding for different areas of the saddle and makes them shift independently from each other.
Overall, I really like this gravel saddle: the long nose makes it easy to maneuver while keeping the perineal pressure at an acceptable degree thanks to the downward curve. It's grippy but still lets you move around when needed, for example when facing steep gradients. The main drawback is the lack of a cut-out option.
Selle Italia S5 Superflow
best for budget gravel saddle for comfort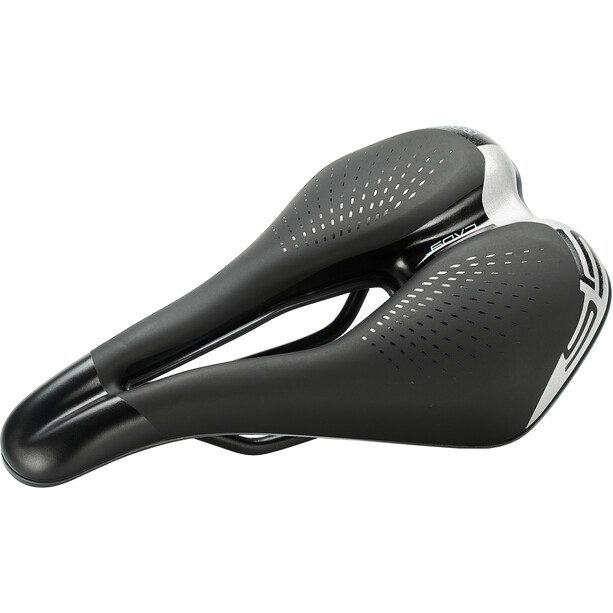 SPECS
Rails: Steel
Widths available: 145/160mm
Weight: 174g
Price: +/- 70$
With its large cut-out, the Selle Italia S5 Superflow saddle is designed to help reduce pressure on the sensitive perineal area and improve blood flow. Together with Its flexible base and significant padding to help to absorb shock, these features make it an incredibly comfortable saddle for most riders, meant to reduce fatigue during long rides.
Talking materials and accessories, the S5 Superflow saddle features a lightweight carbon fiber shell, a microfiber cover, and a removable waterproof cover to protect the saddle from the elements.
The S5 Superflow is available in a range of sizes to ensure a proper fit for riders of different body types.
Overall, the Selle Italia S5 Superflow saddle has received positive reviews from hundreds of gravel riders for its comfortable and efficient design.
Fizik Vento Argo R3 Adaptive
best 3d printed gravel saddle
SPECS
Rails: lightweight carbon, Kium, or S-alloy 7x10mm (not standard)
Widths available: 140/150mm
Weight: 224g
Price: +/- 260$
A unique 3D-printed performance saddle who's wins the king title for breathability. The Fizik Vento Argo R3 Adaptive saddle has a short nose and a wide platform, giving the rider all the room to move around when needed.
Designed for long-distance comfort, it features a relatively wide and flat shape, with a sort of false cutout in the center, which alleviates perineal pressure but still gives a point of support for more aggressive riding positions.
The Vento Argo R3 Adaptive is made with a combination of foam and a flexible carbon-reinforced spine, which is softer than typical performance saddles while allowing it to flex and move with the rider's movements.
One of the standout features of the Vento Argo R3 Adaptive saddle is its "Adaptive" technology, which consists of a series of small, flexible dimples on the saddle's surface. These dimples are designed to move and adjust to the rider's weight distribution, providing a more comfortable and supportive ride.
Our tester noted that the saddle's cutout and flexible spine help to reduce pressure and improve blood flow, while the Adaptive technology helps to distribute the rider's weight more evenly.
Online feedback about its durability is common, a gravel saddle that holds up well over time.
Specialized Power Pro Elaston Mimic
best pro gravel saddle for comfort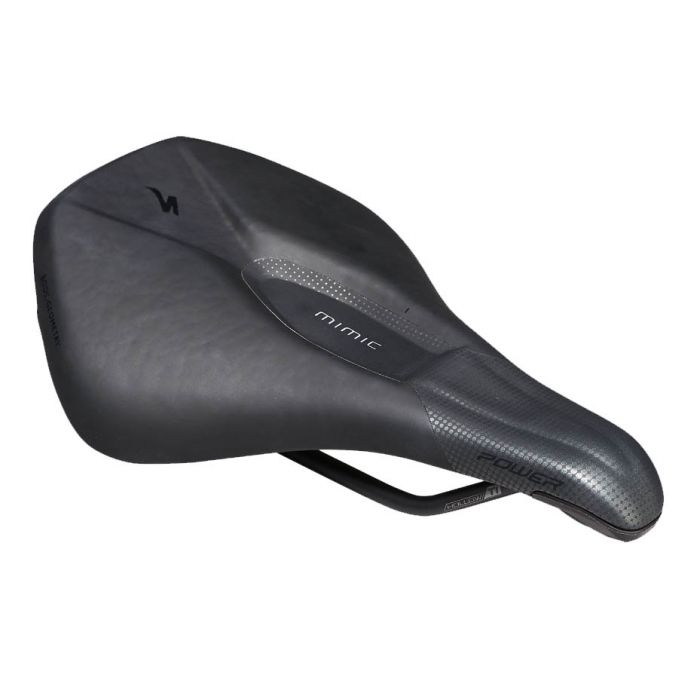 SPECS:
Rails: titanium.
Shell: FACT Carbon.
Cover: MIMIC.
Widths available: 143mm, 155mm.
Weight: [143mm] 231g, [155mm] 235g
Price: 280$
By combining three of their best saddle innovations: Mimic foam, Power shape, and Elaston technology, Specialized managed to design an super comfy and supportive performance saddle.
Made with a lightweight, stiff carbon-reinforced shell and featuring a pressure-relieving cutout to help reduce numbness and discomfort during rides, the Specialized Power Pro Elaston Mimic excels in comfort more than any other.
The power shape is perfect for almost any ride position. The short, truncated nose relieves pressure, while the wide back end provides the best support for sit bones.
The Elaston technology is like a built-in comfort shield that feels incredibly comfortable to sit on and springs back after use for longevity. It is a special type of foam that is designed to mimic the feel of a traditional saddle but with the added benefit of being softer and more flexible.
The Mimic foam perfectly imitates the density of soft tissues, helping to support the undercarriage without crushing delicate parts. It even gradually molds into shape for long-lasting and personalized support.
The Titanium rails and FACT carbon shell help to damp vibrations, like a shock absorber.
The only downside is that it requires an investment, but it's worth every penny. It's slightly heavier than competitors, but that's the price you pay for ultimate comfort.
Velo Angel TT
great performance gravel saddle for comfort
SPECS:
Rails: titanium or carbon.
Widths available: 143mm
Weight: 196g
Price: $189 (Ti Alloy) / $290 (Carbon)
For those gravel riders always on the challenge to improve their performances, here comes the Velo Angel TT saddle.
Engineered with a lightweight, carbon-reinforced shell and a narrow, elongated shape, this saddle is designed for optimal pedaling efficiency and comfort. The textured surface adds a touch of grip and the patented Y-cutout relieves pressure on sensitive areas, allowing for just the right amount of flex to keep you comfortable on long rides.
The Crn/Ti-Alloy rails are both lightweight and durable, and the weather-resistant cover ensures longevity.
With a retail price of $198 to $290, this saddle is quite an investment. Meant for serious triathletes and time trialists, it is also a great option for gravel bike riding, it just depends on the ride you're planning.
I've ridden over 20 saddles in my lifetime, and I can confidently say that the Velo Angel TT is among the most comfortable performance saddles I've used, especially for rides in the 25 to 75-mile range.
The patented Y cut-out and the dense foam make this saddle a great choice for a long-distance ride.
The saddle only comes in one width of 143mm, so it may not be suitable for riders with different sit bone widths.
Overall, the Velo Angel TT is a top-performing saddle that provides unparalleled comfort and durability, making it a great choice for serious cyclists looking to take their riding to the next level.
Selle SMP Pro
best gravel saddle with a sloped nose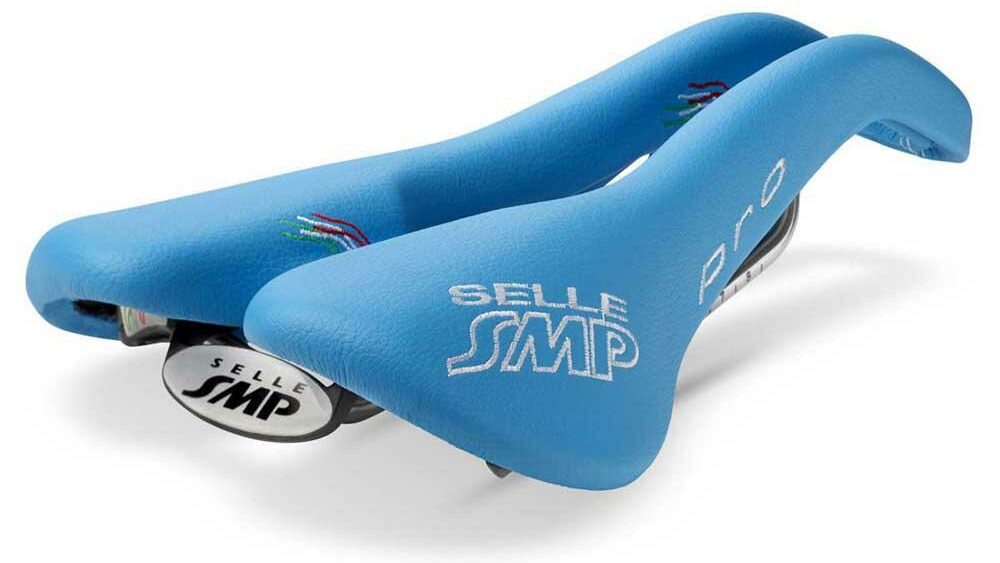 SPECS:
Rails: steel or carbon.
Widths available: 126/150mm
Weight: 295/350g
Price: +/- $270 / $450 (Carbon)
Riding on the wild side with the Selle SMP Pro saddle – a unique and versatile option for those seeking pressure relief on their rides.
With its dramatic cutout design and sloping profile, this saddle is designed to provide comfort in a wide variety of riding positions. The materials and construction are top-notch, with a carbon-reinforced nylon shell, steel alloy 304 rails, and a choice of premium leather or Lorica microfiber cover.
However, not everyone may find the unique shape of the saddle comfortable, and it may take some adjustments to find the right position. The design focuses on pressure relief on the soft tissues, but it may lead to some uncomfortable pressure points for riders whose sit bones don't align well with the seating platforms.
It's also a heavier option compared to some other high-end models and comes with a premium price tag.
But if you're someone like me, who typically experiences discomfort in sensitive areas, and are willing to invest in finding the perfect fit, the Selle SMP Pro could be a game-changer for you as it has been for me.
It strikes a balance between power transfer, flex, and anatomically-friendly design, making it a top pick for pressure relief. With proper care and maintenance, the Selle SMP Pro saddle should last for several seasons and be worth the investment.
Brooks Cambium C17
best bikepacking Brooks saddle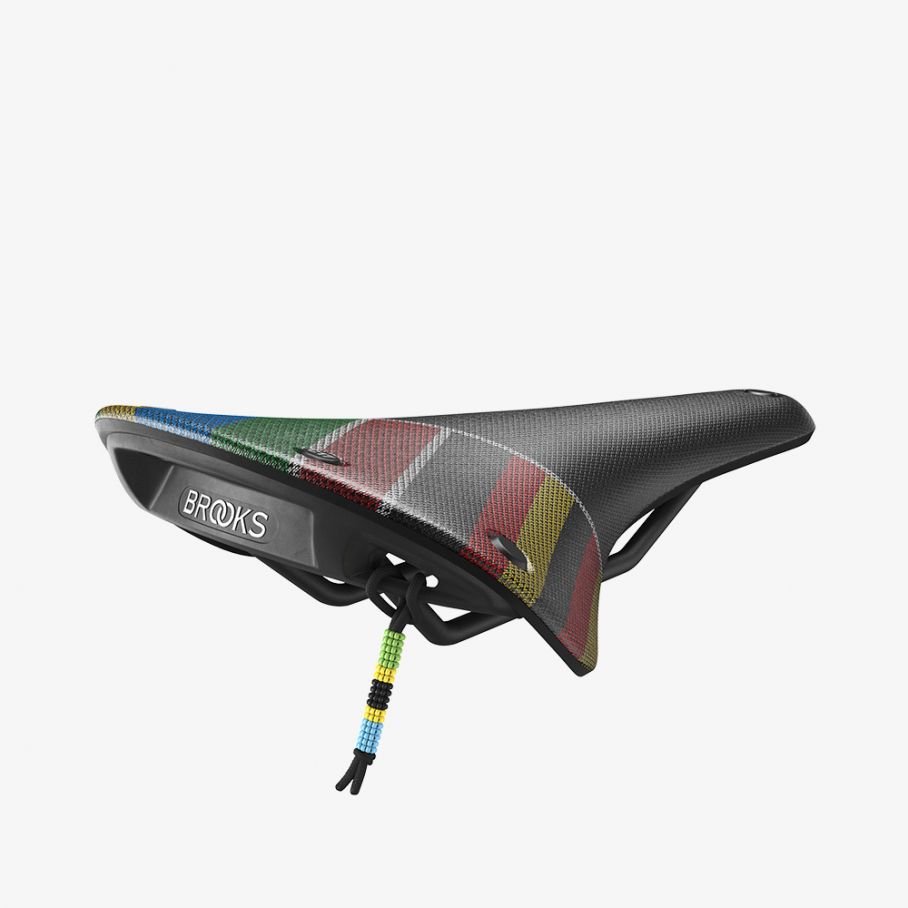 SPECS
Rails: steel
Widths available: 164mm
Weight: 446g
Price: +/- $105
The Brooks C17 is the cambium version of the ultra-famous and iconic B17 leather saddle and what I currently use for my bikepacking trips.
Although the shape and dimension change slightly (164mm width Vs 175mm of the B17), this saddle has the same characteristics as a classic B17 with the main difference being the material.
A good middle point between flexibility and firmness is reached thanks to the vulcanized rubber that constitutes the main material of the saddle.
Slightly lighter than a B17, with a weight of 464g, the C17 can't still be considered a lightweight saddle, it's a saddle made for bikepacking more than for performance, and it feels like it.
About durability, the nylon top of the Cambium saddles, although weatherproof, won't really last like leather.
The C17 is compatible with bikepacking seatpacks and traditional saddlebags too.
Hot to choose the best gravel saddle
Alright folks, listen up! We're talkin' saddles, but not just any old saddles, we're talkin' gravel-specific saddles.
Now, I know what you might be thinkin', "But bro, I thought saddles were just saddles?" Well, my dear friends, you'd be wrong.
See, gravel cycling is a whole different ball game, and you need a saddle that can keep your personals comfy on rough and rocky terrain while ensuring that your performance doesn't suck, especially on those calf-killer hills.
Width of a gravel saddle
First things first, when buying a gravel saddle, you gotta keep an eye on your riding position. Gravel cycling often involves a more upright position, which means your pelvis will be spreadin' out a bit. So, measure those sit bones, folks!
As you'll sit slightly more upright compared to when riding a roadie, you can consider one or two millimeters more than your actual road bike measure. Keep in mind that a saddle that is too wide can cause chafing and discomfort, while a saddle that is too narrow can put pressure on sensitive areas.
To measure your sit bone width, you can use a sit bone measurement tool or try a simple DIY method.
Sit on a hard surface, like a wooden chair or a cardboard box, with your feet flat on the ground.
Take two objects like a book or a phone and place them under your hips, one on either side of your sit bones. Make sure they are level and close to your body.
Stand up and measure the distance between the two objects. This will give you an approximate measurement of your sit bone width, which you can then use to select a saddle that will fit your unique shape.
There are many more ways to do a proper sit-bone measurement, we mention them in our article about the best bikepacking and cycle touring saddles – the best way though is to let a pro measure your butt for you.
Grip, traction, and padding
Next up, you gotta think about all the movin' and shakin' you'll be doin' on your saddle. Traction and balance are key on all that dirt, mud, and gravel. So, a mountain bike saddle might be the way to go. They're popular with gravel cyclists because they can handle all that shifting around.
And let's not forget, when the terrain gets steep, you're gonna be sittin' a lot more. So, you'll want a comfortable, shock-absorbing saddle. And don't forget about those gravel-specific features like covers for the cutout or luggage fitments.
The amount of padding you need will depend on your personal preference and the type of terrain you'll be riding on. A saddle with more padding can be more comfortable for long rides on rough gravel, but it may also be less efficient for shorter, more intense rides. A heavily padded saddle may not provide enough support for the rider's sit bones, leading to chafing and/or irritation.
Flat or curved saddle for gravel riding?
Now, let's talk about that flat vs curved debate. It's all about how much you like to move around on your saddle. If you're a mover and a shaker, go for a flat saddle. But, if you like to stay put, a waved saddle will do the trick.
Rails materials in gravel saddles
And finally, let's talk about those saddle rails. They come in all sorts of materials, but the most common are steel. They're cheap and heavy, but they're also hard-wearing. So, if you're a rough-and-tumble gravel cyclist, steel rails might be the way to go.
Carbon fiber rails are generally the lightest and most expensive option, if saving a few dozen grams is meaningful for you and you're willing to take the impact on your wallet then go for it, keeping in mind that carbon is not as sturdy as steel.
Road VS gravel saddles
Racing saddles are designed to be lightweight and streamlined so that they don't add unnecessary weight to the bike. They also tend to have a more aggressive, forward-leaning position to allow for a more efficient pedaling motion.
Some common features of racing saddles include a narrow profile, a cutout or channel in the center to relieve pressure on sensitive areas, and a stiff shell to provide support and power transfer.
A good mountain bike saddle it's got to have padding that's thicker than a sumo wrestler's thighs, to help absorb shock and reduce pressure on sensitive areas. This is like having a built-in cushion for your tush, so you don't have to worry about getting a sore behind after a long ride.
It should also have grooves or cutouts that make it look like it's been attacked by a giant cheese grater, to help reduce pressure on sensitive areas and increase blood flow. This will ensure you don't end up feeling numb and tingly, like a foot that's fallen asleep.
The materials they are made from should be tougher than a bull's hide, to withstand the wear and tear of off-road riding. They also usually have reinforced edges, like armor plating, to protect them from scratching and tearing when falling and increase overall durability.
A good MTB saddle should have the ability to move with your body providing a more comfortable and natural ride. And last but not least, It should be lightweight and long-nosed, so you can maneuver through the trails like a ninja.
Gravel saddles are somehow in between racing and MTB saddles. As vibration is transmitted from the road surface to your buttcheeks, you'll want at least a tad bit of padding, to try to avoid that sore butt that is kinda standard when bike riding on uneven surfaces.
On the other hand, gravel bike saddles are designed for long-distance riding on mixed terrain. These saddles are generally more sleek and streamlined than MTB saddles, and they typically have less padding. This is because gravel riding often involves long periods of sitting, and the rider needs less cushioning than in mountain biking.
Gravel bike saddles are usually designed to be more comfortable for longer rides, with a more supportive shape to help keep the rider in the right position.
Wrap Up
It's important to choose a saddle that is comfortable and well-suited to your riding style and needs. Some people may find a particular saddle to be very comfortable, while others may not. It can be helpful to try out a saddle before making a purchase or to seek the advice of a cycling coach or bike fitter.
So, there you have it folks, the ins, and outs of buying a gravel-specific saddle. Now, get out there and tackle that gravel like a boss!"
Check Also
> 11 Top Gravel Bikes for Less Than 1000/1500$ – Reviewed for 2023
> 11+1 Best Gravel Bikes for Women – Gravel Grinding for All Budgets
> Gravel Wheelsets: 11 Best Wheels for Gravel Rides and Bikepacking
> Gravel Bike Shoes: 9 Best Cycling SPD Shoes for Gravel Riding

Why not traveling with your gravel? Check this!
> Gravel Bike Touring – The Why and the 6 Best Gravel Bikes for Touring and Bikepacking
Stay in touch while we get lost! Follow us on Social Media