Gravel bike touring. The pros and cons of touring and bikepacking on a gravel bike
+ the 6 best gravel bikes for bikepacking and bicycle touring
Gravel bikes are one of the hype of these times. Agile, light, and versatile they are certainly funny rigs. But What about cycle touring on a gravel bike? Or should we say gravel bikepacking?
Gravel bikes are an explosive market, with so many new brands and redesigned old bicycle models from the big players like Giant and Specialized, but how do they perform on an extended bicycle trip?
This article aims to give an answer to all those questions, so please read on.
Check also
> 11 best gravel bikes under 1500$
What's a gravel bike?
In between the frenzy and performance-driven worlds of road cycling and cyclocross, sits the more leisurely and versatile category of gravel bikes.
Some say gravel bikes are a mix between the two, but they are actually something more. Happy both on tarmac and on mud, gravel bikes are adventure machines where a bit of performance is set aside in favour of improved comfort, trail resilience, and sturdiness.
The geometry of a gravel bike is more relaxed compared to a race bike. The head tube is often taller and the head angle is slicker for more relaxed steering (less twitchy than a racing bike, less responsive on technical off-road sections than a cyclocross), somehow similar to that of an aggressive touring bike, a world from which gravel designers drew a lot of inspiration. And here we could start to list the many advantages of touring on a gravel bike.
Disclosure: Some of our articles contain affiliate links. This comes at no additional cost for you and helps us keep this website up and running. (as Amazon Associates we earn commission from qualifying purchases)
How we compile our gear guides: during the almost 10 years of cycloscope.net our team personally tested dozens of similar pieces of gear. For what we can't test personally, we involve other people in the cycling community to give their feedback and opinion about gear they have used. Our decade-long experience in bicycle touring enables us to find the key cons and pros of every product we mention.
Are gravel bikes good for touring?
Short answer: yes. Real answer: it of course depends on many factors. Let's start by listing some features of gravel bikes that make them similar to touring dedicated bicycles.
One of these is the longer wheelbase, found in many gravel bikes, it's a fundamental characteristic of a touring bike.
The aim of a long wheelbase is to make the bike more stable both on asphalt and dirt, to provide extra comfort over long distances, and to handle medium-heavy loads. It is a feature that works great for multi-day bikepacking trips.
Disc brakes, fatter tires, eyelets and mounting points that you won't find on a road bike make most gravel bicycles ideal machines for the increasingly trendy discipline of bikepacking.
A sloping top tube offers more stand-over height, which is useful in a get-off, while taller head tubes than what you'd expect to see on a 'cross' or race bike allow for greater comfort in a more upright rider position. The bottom bracket will usually be a little lower than a cyclo-cross bike but still high enough not to get bumps on most rocky trails.
Most gravel bicycles mount drop-bars, but flat bars and alternative handlebars like Jones Loop H are becoming more and more common on gravels, giving more space for MTB computers, phone mounts, or GPS navigators.
The gearing is also pretty unique, while cyclocross requires a narrower gear range (short circuits can't have big long climbs), gravel riding is done on more varied terrain: steep mountains, flat and smooth tarmac, farm roads, single track… this calls for a much wider choice of gear. The choice is usually towards 2×11 or 1×10, often with the bigger sprocket going up to 36 or even 42T.
Although the initial purpose of gravel bikes is to compete in a cycling discipline called gravel grinding (long races on varied terrain, mostly off the sealed road), their versatility makes them indeed a great solution for multiple cycling pursuits, including extended bicycle touring trips.
They are suitable for all but the fastest of road riding, while the wider tires and wider-range gearing make off-road trails, gravel and single tracks manageable. When you buy a gravel you get a commuter, a racer, a tourer, and a cross-country all in one – of course with the due compromises.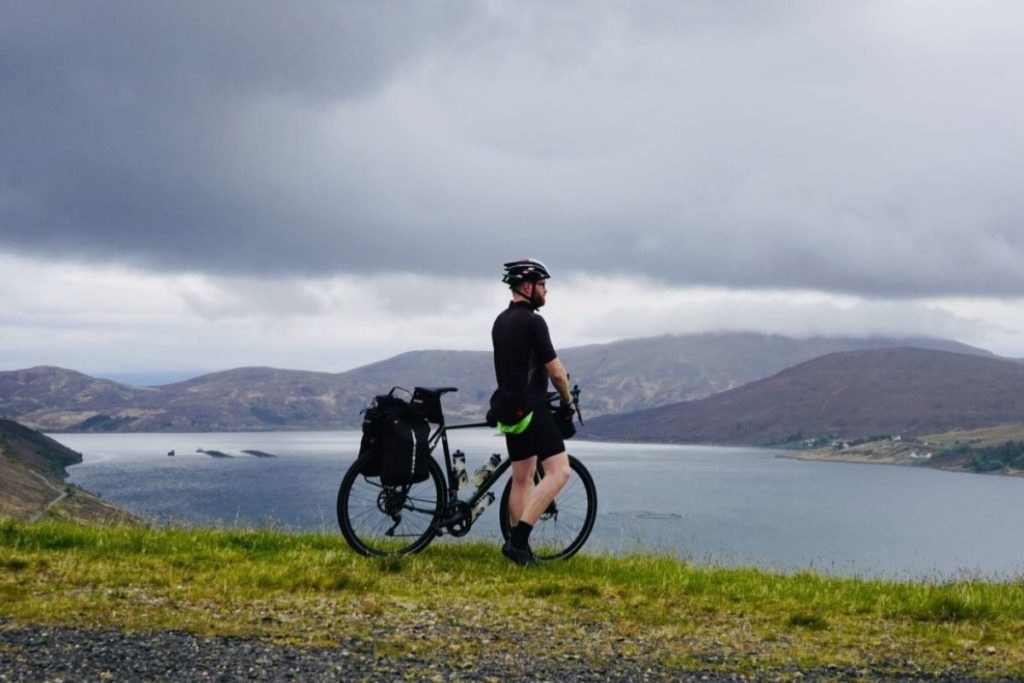 Downsides of gravel bike touring
From what we have said in the previous pretty technical paragraph, it seems gravel bikes are as good as touring bikes for traveling. But of course, that's not the case, gravel bike touring is somehow restricted to a certain kind of adventure, let's see why.
Gravel bikes are not meant to really carry loads for long periods of time, they can hold a light bikepacking setup but we'll suffer under four loaded bike panniers plus maybe a trunk bag, almost to the point of becoming unrideable.
A touring bike indeed performs at its best with loads on, that's when its stability is maxxed, and so it's the control. Bikes that are not meant to carry panniers perform very poorly when loaded laterally.
Tire clearance is another factor. It certainly is wider than a roadie but not as fat as a modern touring bike. Big tires improve traction on unsteady surfaces like rocks and sand, where a gravel bike will meet its limitations.
One more thing to consider is wheels and spoke count. Extended touring and bikepacking require strong wheels, possibly at least 36 spokes and solid rims.
Most gravel bikes are performance-oriented, designed to be lighter, with fewer spokes and sometimes carbon rims. Great gravel wheelsets don't necessarily mean they are suited for touring.
So what kind of touring are gravel bikes good at?
Gravel bikes are ultimately great for light bikepacking expeditions, loaded with streamlined bikepacking bags such as frame packs, top tube packs, saddlebags, and cargo cages.
If you're not going too far and do not need to carry a lot of stuff a similar setup will work perfectly and be great fun on a gravel bike.
Also, consider what types of roads you'll tackle. If you plan to stay on tar for most of the time then a gravel will do great, also some light off-road would be welcomed and enjoyable to cycle.
If instead, you expect sandy or rocky roads, or in general terrible trail conditions, resorting to a gravel would just give you pain and stress. Get something with fatter tires and a geometry more adapt to off-road riding.
5 best gravel bikes for touring and bikepacking
Here I selected my personal favourites, trying to keep a bit of variety in the design and geometries while considering everything we just said about what's important to consider when buying a gravel bike for bikepacking or cycle touring.
It is by no means a complete list, so feel free to contribute more ideas in the comment section.
1. Specialized Diverge E5
Less than 1,000$
Available in Uk and Europe from Tredz
One of the most popular gravel bikes around, and also one of the most affordable. Yes you can get a Specialized Diverge for under 1,000$ if you go for the E5, mounting a Shimano Claris 8-speed groupset and Axis Sport Disc wheelset.
The Diverge by Specialized is a very sporty bike with a geometry slightly more compact than most competitors. It's a responsive and agile bike that goes fast on the tarmac and grinds the gravel pretty smoothly, with a max tire clearance of 42mm, pretty standard on gravel bikes.
You can think of the Diverge's geometry as a road version of a modern trail bike. It cuts the corners and skids on dirt quite playfully but keeps stiffness up enough to satisfy your inner-racer.
To achieve this, Specialized lowered the bottom bracket (over a half-centimeter lower than the previous Diverge), slacked out the head tube angle, shortened the chainstays and the overall wheelbase.
The aluminum frameset and carbon fiber fork are high quality, but for its geometry and general building, the Diverge is certainly not a bike meant to carry heavy loads.
A great gravel bike for long day adventures on mixed surface or ultralight bikepacking trips, it's not though what you'll want for a real bike tour.
Specialized Diverge E5 Specs:
| | |
| --- | --- |
| Frame | Specialized E5 Premium Aluminum, Open Road Geometry, threaded BB, 12x142mm thru-axle, flat-mount disc |
| Fork | Specialized FACT carbon, flat-mount disc, 12x100mm thru-axle |
| Bars | Specialized Shallow Drop, 6061, 70x125mm, 31.8mm clamp |
| Brakes | Tektro Mira, flat-mount, mechanical disc |
| Speeds | 16 – Shimano Claris R200 46/34T / SunRace, 8-speed, 11-34t |
| Derailleurs | Shimano Claris, 8-speed |
| Shifters | Shimano Claris 2000, 8-speed |
| Rims | Axis Sport Disc |
| Tyres | Specialized Roadsport, 60TPI, wire bead, Flak Jacket protection, 700x35mm |
| Tyre Clearance | Max 42mm |
| Weight | 9.3kg (M-Size) |
2. Cannondale Topstone Alloy Gravel Bike 2022
+/- $1500
Here's one of our favorites. The Cannondale Topstone is a highly versatile bicycle that sits firmly in the gravel category.
Its svelte lines make an impression of elegance seasoned with a pinch of adventure and are clearly meant to convey tremendously enjoyable riding in all kinds of road and weather conditions.
Since it's designed to be the ultimate combination of road racing and cyclocross bicycles, it can be considered a mixed-surface tourer as well as a 4 seasons commute bike. At any time, with only a few adjustments, you can set up your rig for a camping bike trip, or join the group of your roadie friends.
The big tire clearance allows plenty of room for tires up to 42mm wide for comfort grip and adventurous capability.
Although the front fork does not support any eyelets for cages on either side, it is a beautiful piece of carbon fiber, with a longer-than-usual rake (55mm) for stability and hidden full-fender mounts. It is a light and performing fork, rare on a bike at this price range.
With mounts for three water bottles plus mounts for top tube storage Topstone is ready to go long. Multiple bottle cage positions on the downtube mount let you configure for big frame bags.
Read our
> Cannondale Topstone Sora Full Review
Cannondale Topstone Tiagra Specs
Frame
SmartForm C2 Alloy, 142×12 thru-axle, tapered headtube, flat mount disc, StraightShot internal cable routing, multiple gear/bottle mounts
Fork
Full Carbon, 1-1/8″ to 1-1/4″ steerer, 55mm OutFront offset, flat mount disc, internal routing, 12×100 thru axle
Front Derailleur
SHIMANO GRX 400
Rear Derailleur
SHIMANO GRX 400, 2×10 46/30t x 11-34t
Number of Gears
20
Shifters
SHIMANO GRX 400
Bottom Bracket
FSA Cartridge
Cassette
Shimano HG500, 11-34, 10-speed
Chain
KMC X10, 10-speed
Brakeset
Shimano Tiagra hydro disc, 160/160mm RT54 rotors
Brake Levers
Shimano Tiagra hydro disc
Handlebars
Cannondale 3, butted 6061 alloy, 16 deg flare drop
Stem
Cannondale 3, 6061 alloy, 7Deg
Headset
Topstone Si, 25mm Alloy top cap
Grips
Cannondale Grip Bar Tape w/Gel, 3.5mm
Rims
WTB ST i23 TCS, 28h, tubeless ready
Hubs
(F) Formula CL-712, 12×100 centerlock (R) Formula RXC-400
Spokes
Stainless steel, 14g
Tyres
WTB Riddler TCS Light, 700 x 37c, tubeless ready
Saddle
Fabric Scoop Radius Sport, steel rails
Seatpost
Cannondale C3, 6061 Alloy, 27.2
Weight
9.98kg
(Aproximate weight for size Medium with no pedals)
3. Genesis Vagabond
above 2,000$
Another bike that made it into this list without being exactly what most of us will call a gravel bike. The Genesis Vagabond is a monster-cross in the loosest sense of the term, "the illegitimate lovechild of a road and mountain bike, a frankenbike…" thus Genesis poetically describes the 2020 version of the Vagabond.
A 29er with a humongous tire clearance that can accommodate up to 3″ (it comes with 2.1″), a bulletproof Seamless/Double-Butted/Cromoly-Steel frame, and a range of gear able to bring you where most of the best gravel bikes in this list can't. The ultimate gravel bike touring rig?
It's indeed powered by a SRAM GX 2×10 speed drivetrain 42-28T/11-36, complemented by reliable and tested TRP Spyre-C 2-piston mechanical disc brake.
The Genesis Vagabond can work as a loaded tourer, a fast and comfortable commuter, a mountain trail bike, and the ultimate bikepacking machine with a simple tyre swap.
The raised stem and sloped geometry put the rider in a more upright position, sacrificing a bit of speed on tar in favor of a more comfortable feeling, also nice for looking at the scenery on easy tracks when your hands are on the hoods.
Of course, the Genesis Vagabond, with its steel frame, is not as light as the usual gravel, ranging between 11 and 13kg according to the size and choice of pedals.
The Genesis Vagabond 2020 is an all-rounder gravel/mountain bike which makes a great buy for those who like to practice different cycling disciplines but can't afford multiple bikes
Genesis Vagabond 2021 Specs:
| | |
| --- | --- |
| Frame | Genesis Mjolnir Seamless Double-Butted Cromoly |
| Fork | Cr-Mo Unicrown Disc |
| Front Derailleur | Sram X5 |
| Rear Derailleur | Sram GX / Long cage |
| Shifters & Levers | Sram Apex / 2×10 speed |
| Chain set | Sram X5 / 42-28T / S, 170mm / M-XL, 175mm |
| Cassette | Sram PG-1020 / 11-36T |
| Brakeset | TRP Spyre-C 2-piston mechanical disc brake w/160mm TR160 rotor |
| Handlebars | Genesis Adventure / 12deg Flare / S-M, 440mm / L, 460mm / XL, 480mm |
| Stem | Genesis AS-007 / + – 15deg / S-XL, 100mm |
| Rims | Jalco XCD25 / 32h TR |
| Hubs | KT K-68F/68R 32h / 6-bolt |
| Tyres | WTB Nano 29×2.1″ |
| Weight | 12kg (M-Size, no pedals) |
+/- $1,400
This is a very interesting and innovative bike, with amazing specs and a great price tag. The Adventure 725 by the British manufacturer Ribble Cycles (in business since 1897) features a weird-looking thin Reynolds 725 tubing with a very "contemporary geometry".
It's quite hard to consider this really a gravel bike, but since we are looking for touring/gravel ideas I think the Ribble Adventure definitely deserves a place here.
The mammoth tire clearance for tires up to 2.8" on its 27.5 wheels is absolutely great for those who want to venture on sandy tracks, this is one of the widest tire options in this list.
Added versatility is given by the several mounting points for racks (that can be doubled to use bikepacking cages like the Blackburn Cargo), three bottle mounts, and fender mounts.
The 11/42T 10-speed cassette gives a great granny gear that should be able to bring you up the steepest tracks.
Read our
> in-depth review of the Ribble Adventure 725
Ribble Adventure 725 Deore Specs
| | |
| --- | --- |
| Shifters – Deore M6000 Rapidfire 10spd | |
| Brake Levers / Brakes – Shimano BL- MT201 / BR-UR300 | |
| Chainset – Deore 175 36/26T | |
| Cassette – Shimano HG500 11/42T | |
| Front Derailleur – Deore M6020 LCTSDP 34.9mm | |
| Rear Derailleur – Deore M6000 Shadow+ GS | |
| Rotors – Shimano RT66 6-Bolt 160mm | |
| Wheels – Mavic Crossmax 650b 15×100 / 12×148 (Boost Rear) | |
| Tyres – WTB Ranger 2.8 | |
| Bars – Level Loop Alloy, Black | |
| Stem – Level Gravel Alloy, Black | |
| Seatpost – Level 1 Alloy 27.2mm, 350mm, Black | |
| Saddle – WTB Koda Race 142mm | |
5. Kona Rove LTD
above 2,000$
For a much higher price tag we need to mention this superstar of the gravel-travel world. The new Rove LTD by Kona has a wide gear range that makes it ideally for touring and hardcore bikepacking.
Mounting a gravel specific Shimano GRX 800 groupset. With Shimano GRX 810, 30/46t crank and Shimano 105 11-34t 11spd cassette. A gear range of 23.35″ to 110.92″ or 475%.
A combination of steel frame and carbon fork with a decent tire clearance and an outstanding look.
Kona Rove LTD specs
| | |
| --- | --- |
| FRAME MATERIAL | Kona Butted Cromoly |
| SIZES | 48, 50, 52, 54, 56, 58 |
| FORK | Kona Rove Verso Full Carbon Flat Mount Disc |
| CRANKARMS | Shimano GRX 810 |
| CHAINRINGS | 31/48t |
| B/B | Shimano 68mm |
| FREEWHEEL | Shimano 105 or Sunrace RX 11-34t 11spd |
| F/D | Shimano GRX 810 |
| R/D | Shimano GRX 810 |
| SHIFTERS & BRAKE LEVERS | Shimano GRX 600 |
| BRAKE CALIPERS | Shimano GRX 400 |
| BRAKE ROTORS | Shimano RT54 160mm (centerlock) |
| HANDLEBAR | Kona Road |
| SEATPOST | Kona Deluxe Thumb w/Offset 27.2mm |
| SADDLE | WTB Volt |
| FRONT HUB | Shimano 105 or KT 100x12mm (centerlock) |
| REAR HUB | Shimano 105 or KT 142x12mm (centerlock) |
| SPOKES | Stainless Black 14g |
| RIMS | WTB KOM Team i23 TCS |
6. Cinelli Hobootleg Geo
about 2,000$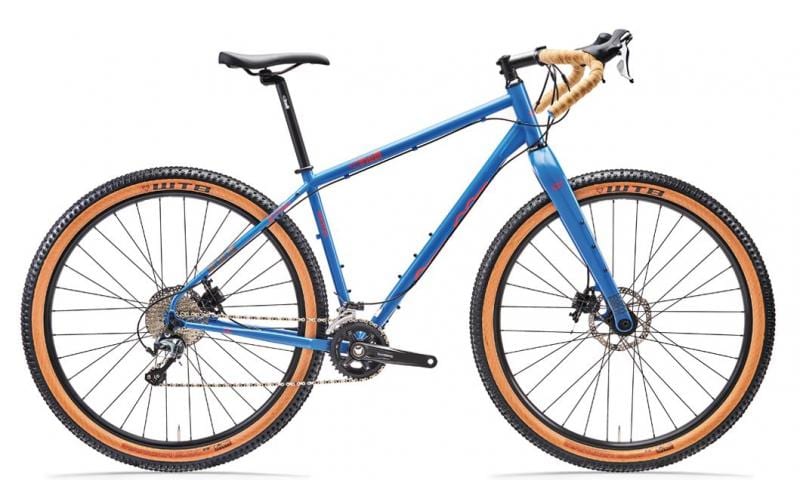 Last but not least, one of my absolute favourite. You might have noticed I love this kind of geometry for gravel touring.
The Cinelli Hobootleg Geo features a sloping frameset made of Columbus Cromor triple-butted steel, this means no-bullshit great-quality Italian steel – definitely another tier compared to the Taiwanese materials used by many bike manufacturers.
Three bottle cages and CNC rear dropouts, designed to support the disc-brake clamps, all the eyelets for rear rack and fender that every gravel designed for touring shouldn't miss.
The maximum tyre clearance allows up to 3.0″ tire to fit in, with a choice between 29 and 27.5 – of course tubeless-ready.
The New Carbon fork has four lateral eyelets and two bottom ones for each side, "anything you need eyelet" they say, it certainly offers a lot of options for bikepacking cages and low-rider front racks.
The gear range is ample, with a 36/26t double chainring in the front and an 11-34t 10-speed cassette, derailleurs are Shimano Deore in the front and Tiagra in the rear.
Cinelli Hobootleg Geo 2021 Specs
Frame: Columbus Cromor Double Butted Steel
Fork: Columbus Futura Adventure Carbon Tapered
Tire Clearance: Up To 29×3.0 / 27,5×3.0
Handlebar: Cinelli Largo / Ø 31,8 / 560mm (S/m/l/xl)
Crankset: Shimano Deore / 36/26t – Size 170 (S/m) 175 (L/xl)
Ft. Derailleur: Shimano Deore Fd-m4100-m / Side Swing / Front Pull
Rear Derailleur: Shimano Tiagra / 10 Speed / Long Cage
Cassette: Shimano / 10 Speed / 11-34t
Shifters: Shimano Tiagra
Brakes: Trp Hy-rd (Md-c705c) / Trp Tr29 160mm Rotors
Wheels: Shining / 29″ / Formula Hubs / 6 Bolt
Tyres: Wtb Ranger / 29×2,25 / Tan Sidewall
Weight: Frame 2500g / Fork 550g (Uncut)
Stay in touch while we get lost! Follow us on Social Media