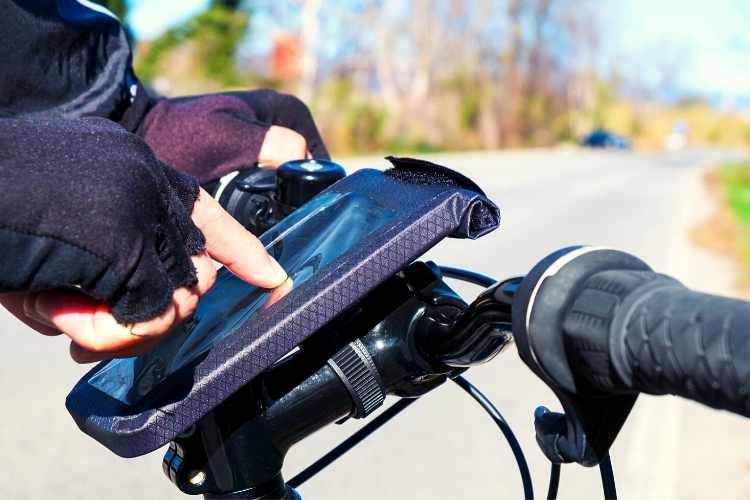 The 11 Best Bike Phone Mount In 2023. The Best Bike Phone Holder for Commuting, MTB, Bikepacking
Case Mounts, Universal Mounts & Top Tube Bags for your Smartphone
Smartphones have become an essential part of cycling, many riders use them for mapping, tracking, and recording their routes, listening to music, and loads of other purposes, just like MTB computers but more powerful!
If you're one of those, having the best bike phone mount for your needs is a great idea to safeguard your smartphone and have all the functions you might need within easy reach.
But what is the best bike phone holder?
First, you have to ensure compatibility, not all phones are made equal and you'll need the right bike phone mount for your model.
Second, you want to be sure your device will stay firmly attached, you don't want to risk destroying that nice iPhone you just bought with your hard-earned money.
Especially if you love to hit the trail, you'll need a steady phone mount able to withstand and absorb the bumps of a mountain bike ride and the hardships of a bikepacking trip.
Pulling your phone out of your pocket while riding, is not just inconvenient but really even hazardous. Not only you'll put your phone at risk, but your own life.
To help set you on the right path, we have compiled our list of top-rated mobile phone holders for bikes. Whether you've iPhone or Android phone, I'm sure you'll find the best bike phone mount for your needs.
11 best bike phone mounts in a nutshell
Disclosure: Some of our articles contain affiliate links. This comes at no additional cost for you and helps us keep this website up and running. (as Amazon Associates we earn commission from qualifying purchases)
How we compile our gear guides: during the almost 10 years of cycloscope.net our team personally tested dozens of similar pieces of gear. For what we can't test personally, we involve other people in the cycling community to give their feedback and opinion about gear they have used. Our decade-long experience in bicycle touring enables us to find the key cons and pros of every product we mention.
3 Different Types of Bike Phone Mounts
Generally speaking, there are 3 types of bike phone mounts:
Case Mounts
Universal Mounts
Top Tube Bags
The sort of holder you'll need to buy generally depends on your phone model, your favorite cycling discipline, and where you want to mount it.
1. Case mounts
These mounts are specific to the phone model.
So, if you've iPhone at that point you will likely require an iPhone case, the same goes for a Samsung system; your phone is held in a case that is specific to the size and amount of your phone. 
Pros
This sort of mount will allow you to align your phone in either portrait or landscape orientation. And you will be able to detach your phone from the bike in a snap, but a case still secures it.
Cons
You'll need a new mount when you change your smartphone
2. Universal mount
These are similar to the above mount, but they use a universal mounting system attached to your handlebar or stem, these will grip practically any phone.
Pros
The advantage of the universal bike phone mount is that you don't need to buy a new mount when you change your phone.
Cons
none
3. Top Tube Bags
Several models of top tube bags feature a specific phone pocket, usually waterproof or water-resistant. They are great phone holders for bicycle touring.
Pros
Protects your phone from rain and splashes while providing some storage space for additional items you might need to carry on a ride.
Cons
They can be bulky, and reduce the functions of your phone due to the plastic protection layers.
4 Best Universal Handlebar Phone Mount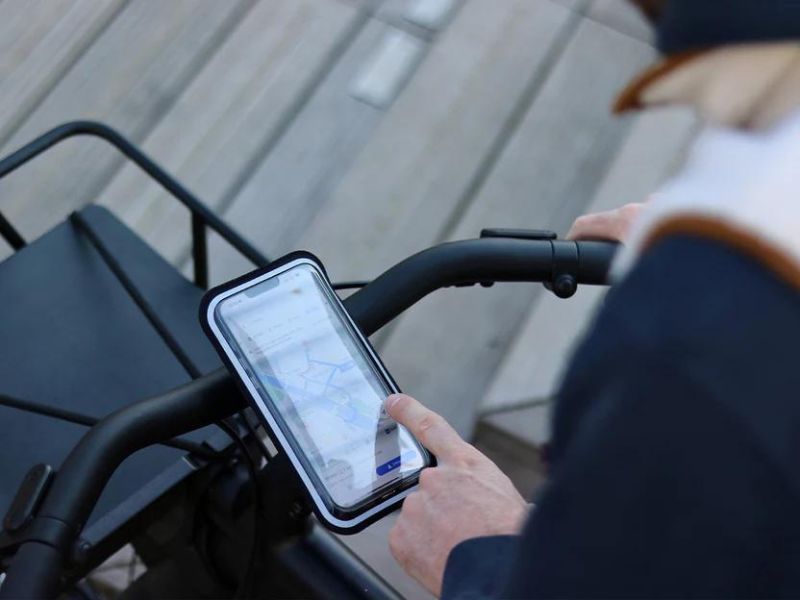 The new Shapeheart bicycle mount is really universal, it is compatible with a wide range of smartphones, including iPhones and Android devices.
You can attach it to your handlebar, but also to your stroller or to your bike, basically for any active individuals who want to keep their phone secure and easily accessible while exercising.
Shapeheart phone mount is designed with a magnetic case that attaches to the mount, making it easy to attach and detach your phone when you need it.
The mount is made from high-quality materials and is built to last, even during intense bike rides. You can easily change your phone position from landscape to portrait, Shapeheart is 360° rotatable
Lamicall enters the phone mount market with a complete series of holders for all purposes. Their All Lock Phone Mount is our favorite for this year.
It uses a circular sticker adapter that has to be glued to the phone case or body which in turn attaches to the large main body. It also comes with dedicated anti-drop cases but they are only available for iPhones at the present moment.
The phone is secured by four magnetic metal bars snapping on the adapter and secured by the dedicated safety lock – the system is capable of holding the phone against a force of up to 20kg.
A perfectly placed magnet array makes aligning and snapping your phone into place a breeze. And don't worry about it falling out, the automatic locking system has got you covered with four fancy free-moving bolts. Twist in either direction for an instant release.
After our bumpy ride test, we are happy to say the phone stays in place and feels completely locked to the mount while still able to be rotated 360 degrees with a one-handed action.
The clamp is a tad large compared to other models but its clumsiness is compensated by the remarkable ease of use – it's super easy to install and remove thanks to the simple but effective and solid tightening knob.
If you want a mount that will be able to handle all of the phones you'll be going through, the GUB Bike Phone Mount gives you that.
The GUB phone holder features three aluminum clamps on either side of the phone, which guarantees noteworthy security and peace of mind.
There are also sponge pads in the mount ensuring beyond any doubt your phone won't be scratched.
Its length and adjustment range go from 4 inches to 7 inches, which means that phones as big as 7 inches will encounter no issues.
The GUB can be mounted on many types of handlebars, including motorbikes, and can be rotated 360 degrees.
The only con of BUB mount is that it requires Allen keys to mount/unmount.
This phone holder is known for its unique mounting system, which attaches the phone with a dual-stage mechanism.
Featuring a patented dual-stage lock system the quad lock mount has many differences from its iPhone-specialized mount, as it's made to be more universal.
This mount can be installed on any handlebar or bicycle tube measuring 25 to 40mm in diameter.
The twist-and-lock system guarantees your phone is secure, indeed more, secure than the quad-lock iPhone mount.
The drawback of this mount is that it comes at a high price, is non-rotatable, and requires a screwdriver to rotate.
Okra bike phone mount is another great universal cellphone holder. The mount is silicon-strap-based and very easy to set up.
When you are going to install this mount, you first have to choose to mount it either vertically or horizontally, once it's mounted, you can't rotate it. The mount is universal, cheap, and easy to put on.
Remember that there is no clamp in this mount, so it's definitely not the best for mountain bikes or bumpy rides.
The Agoz is another universal, silicon-based phone mount. The design of the silicon strap in the Agoz mount is different from the Okra bike phone mount, the corner of your screen will be obstructed a bit. 
This mount can be installed on various handlebars, and its adjustments ranging is from 4.5 to 6 inches. It allows you to mount the holder either vertically or horizontally, but once it's installed, it is not rotatable.
It is a good budget phone holder but might not be ideal for cyclocross and other shock-heavy activities, it might not hold the angle and the straps are not the most solid around.
3 Best iPhone Bicycle Mounts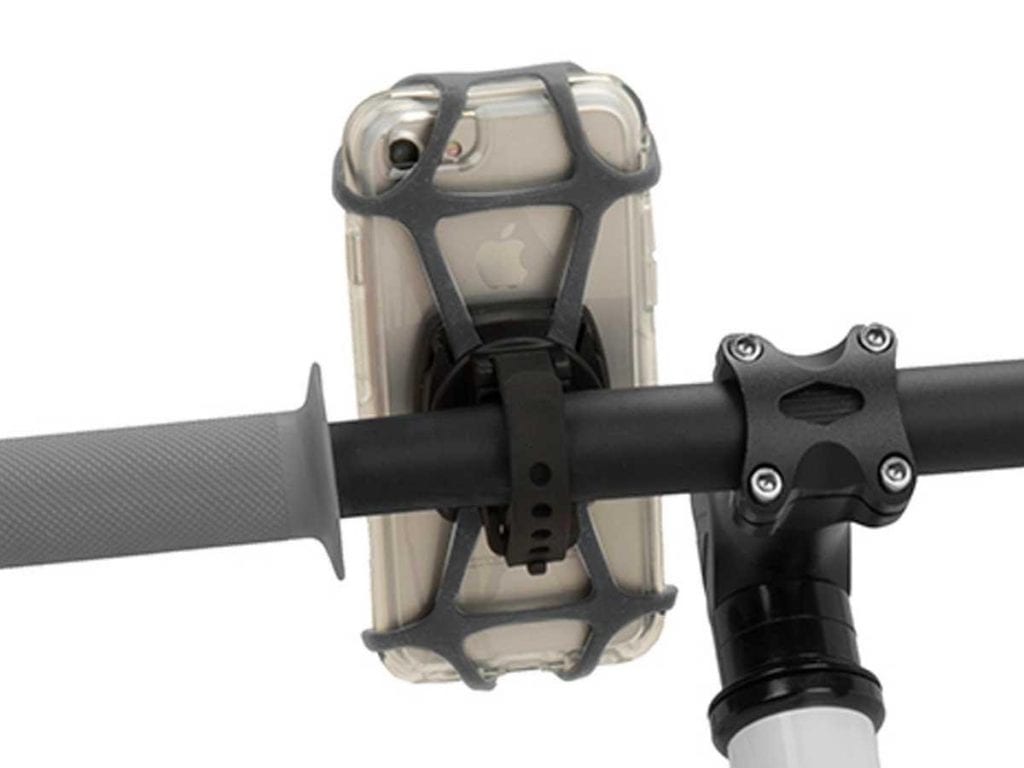 If you want to be able to hold your phone on a bike while riding on smooth roads, the Nite Ize Wrapter provides a simple solution. It is a very convenient product, as it uses a simple strap to attach to any handlebar.
The adaptable silicone strap that grips the phone securely holds it while providing shock absorption.
The mount can be installed on most handlebars and rotates 360 degrees, which means you'll be able to turn the phone from portrait to landscape.
Best Phone Mount for Mountain Biking
Ram mount is built with strong materials and a good design for taking on high-speed and bumpy roads. Having a unique X shape, this MTB phone mount offers supreme holding power.
The product is made of aluminum which provides durability while the powder-coating will make sure your phone stays unscratched. You can also mount silicon straps for extra security.
Safest iPhone Holder for Gravel and MTB
The quad lock mount is another excellent option for versatility. The protective case is slim and comfortable in your hand, it's fast to get on and off if you want to take a quick photo or remove your phone for any other reason.
This iPhone mount is lightweight and features a dual-stage lock that is specifically designed to hold your phone in place in the most secure way possible.
The system allows for both horizontal and vertical orientation. This is one of the safest bike phone mounts available on the market.
2 Best Universal Bike Frame Bags
Rockbros made this cool and convenient top tube bag with a phone case holder included. The bag is attached using Velcro straps and it's easy enough to put on and off, it can be even mounted on your handlebar.
This phone mount bag protects your phone while providing also a little bit of extra storage, for essentials such as keys, wallet, and snacks.
Rockbros bike phone mount features with sensitive touchscreen and is found in 5.8 and 6.0 sizes. The rubberized zipper improves its waterproofness by protecting also the bag content.
The Timbuk2 Goody Box is another excellent product for those looking for a bike-phone-holder/top-tube-bag solution.
It not only offers plenty of space for your personal belongings but has multiple pockets for your credit cards and Ids.
It is made with a waterproof TPU liner and its "hope-and-loop" straps ensure a secure connection. The phone case is touch-sensitive and can also be used with gloves.
How to choose the best bike phone holder for your needs
Having been in the market for a phone holder myself, I reckon it's easy to get lost among the thousands of similar products available. So after long research and many tests and failures, I've compiled a simple list of some important features to consider when buying a bike phone mount:
Security: The holder should securely hold the phone in place, even on bumpy or rough roads. Especially if you love mountain biking or tough gravel riding, look for holders that have multiple points of contact with the phone, such as clamps or straps, to ensure it won't fall out.
Adjustability: The holder should be adjustable to fit different phone sizes and should also be able to rotate or pivot to provide different viewing angles.
Durability: The holder should be made of strong and durable materials that can withstand the rigors of cycling.
Ease of use: The holder should be easy to install, remove and adjust. I hate having to take my multitool out just to tighten the grip or move it slightly on the handlebars.
Compatibility: It should fit the size of your phone and should be compatible with your bike handlebar.
Protection: The holder should provide protection for your phone, including from scratches, dust, and possibly water.
Ease of access: The holder should be easy to access your phone when you need, without having to remove the phone from the holder.
Brand reputation: It's always good to buy a product from a reputable brand. you can check the customer reviews and ratings on the product you intend to buy.
By considering these factors, you can find a bike phone holder that will meet your specific needs and keep your phone secure and accessible while cycling.
FAQs about bicycle phone holders
How can I secure my phone while cycling?
Your jersey pocket is not the safest place for your phone, it can always slip and fall without you noticing (personal experience here). Handlebar bags are a good place to store your smartphone while riding, but the best solution is certainly a phone mount or a waterproof top tube phone bag.
More Bike Accessories? Have a look at:
Stay in touch while we get lost! Follow us on Social Media