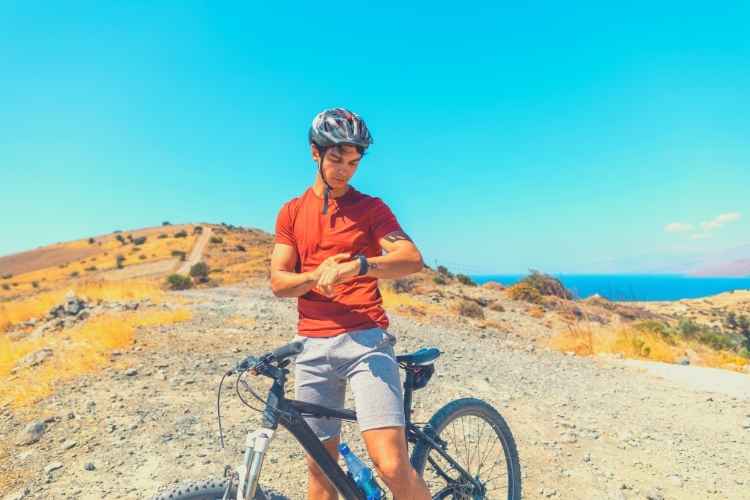 The best cycling watches from cheap to top
Garmin smartwatches, GPS fitness trackers, Strava pairing. Wearables for road & mountain biking for all budgets
Hi there you bike-tech geeks, we got you! Are you looking for the best cycling watches? Do you want a smartwatch that can be paired with your Garmin or with Strava and other phone apps for biking? Or maybe you need a sports watch that can also be used for running, swimming and as a fitness tracker? Are you on a budget or looking for the ultimate watch for cycling or MTB? Whatever your needs are, we got you covered, read on!
Watches have always embodied a sophisticated expression of elegance and having a nice timepiece at the wrist has been a much-coveted dream for many.
Today even watches have got smart, and a less-than-a-thousand-bucks digital jewel is still an unequivocal sign of polished grooming and yet totally able to impress as much as a golden rollie was in the past.
Maybe less charming than their glamorous mechanical predecessors, smartwatches are nevertheless on the verge of becoming the next level of nowadays addictive "always-on" culture.
Tiny gearwheels of time being replaced by even cuter electronic bits, smartwatches display a potential capable of exceeding Futurists' most rosy expectations. Anyone fond of simplicity could be put off by smartwatches' overwhelming list of functionalities.
If you are already worried about the flurry of notifications the new electronic gadget could fire at you, better to do some research beforehand.
The Best Cycling Watch of 2023 in a Nutshell
Disclosure: Some of our articles contain affiliate links. This comes at no additional cost for you and helps us keep this website up and running. (as Amazon Associates we earn commission from qualifying purchases)
How we compile our gear guides: during the almost 10 years of cycloscope.net our team personally tested dozens of similar pieces of gear. For what we can't test personally, we involve other people in the cycling community to give their feedback and opinion about gear they have used. Our decade-long experience in bicycle touring enables us to find the key cons and pros of every product we mention.
Best outdoor and fitness smartwatches
Are you a cycling addict who doesn't give up a ride just because of some bad weather? Outdoor watches are the best for hardcore biking, they are waterproof (or at least water-resistant), heavy-duty, and able to track your fitness through Strava, Garmin computers, and many other sports apps.
Amazfit T-Rex
Best cheap MTB watch
Amazfit T-Rex is a cheap yet useful smartwatch that will delight budget-conscious cycling and outdoor fans, as it boasts a far longer battery life than the other upper-crust brands (we are talking about 20 hours of continuous GPS tracking).
You would miss the chance to get to play with a mesmerizing plethora of high-quality functionalities at a fair price of 140$.
It is a large device to wear for a small wrist, but the plastic band is incredibly comfortable, so don't judge before trying it.
It is only possible to record your track but not to navigate to a target. Not much as a downside, since you can use the larger display of your smartphone for easier navigation.
Garmin Vivo Active 4
Best Garmin smartwatch and fitness tracker
The build quality and design of the Garmin Vivo Active 4 waterproof cycling smartwatch are high-end. The gunmetal type stainless steel makes the sporty nature of this wristwatch slide into a more classic appeal.
Primarily made with carbon fiber, it's a fitness tracker that weighs only 40g. Comfort throughout all day is a major win. It's available in two sizes: Active 4 is 45mm, while Active 4S is the smallest at 40mm.
On the back, you will find an ox sensor (blood oxygen saturation level) and an optical heart rate sensor.
It features a trans reflective memory in pixel display, which is a low battery consumption type of display that is always on.
Smart notification is excellent on the Vivo Active; it is specially optimized for Android pairing.
Suunto 7
Best watch for cycling, running, and swimming
In recent times, Suunto was struggling to keep the pace of the market. With Suunto 7, they've established a partnership with Google installing the Wear Os.
The watch is running plenty of Google apps, has optimized functionalities useful for everyday use.
On top of that, the Suunto proprietary software has dozens of options to track most workout activities in the realm of fitness. Running, swimming, biking, whatever your activity range, this watch gets you covered.
It's durable and waterproof, with good battery life and decent GPS chip and sensors.
Apple Watch 6
Best bike smartwatch for iPhone users
Apple Watch 6 looks familiar, but on the outside displays a whimsical bunch of new colors while the tech improvements inside are the new S6 chip, the 5 gigahertz wi-fi support, and a couple of original sensors.
S6 is a dual-core chip that cranks the always-on display up to be twice as bright as the series 5 while keeping the same battery and performance. The series 6 watch will charge from 0 to 100% in one hour and a half, enough juice for one and a half days of battery life.
The device boasts an unprecedented blood oxygen sensor, that is literally using infrared photography to measure the color of blood and therefore the percentage of oxygen. It is not medical grade, but it's cool and it works.
In addition, the new edition features an altimeter using barometric air pressure to tell the elevation down the meter, a useful asset for all outdoor activities, not just cycling.
Classic smartwatches good for cycling
Classic-style smartwatches might not be specifically designed for cycling or other sport activities, nevertheless they boast most functionalities present in fitness watches.
Samsung Galaxy Watch 3
Best Android cycling watch for style
Samsung Galaxy Watch 3 is one of the most stylish smartwatches around.
Its classy watch band is made of authentic leather and the click of its rotating bezel ensures the same kind of comfort delivered by wearing a high-end suit at an important business meeting.
It is packed with all appropriate sensors that monitor sleep and keep track of workout, which makes it great for cycling. Contactless payment is possible with Samsung pay.
Even if Google integrations aren't its best point, Samsung Watch 3 is running the open-source Tyzen OS, which makes this device very intuitive to use and snappy to respond.
Fossil Gen 5
Best retro-style smartwhatch for Android
When Tom Kartsotis founded Fossil in 1984, their main products were fashion watches with a retro look. No wonder that Fossil brought its signature classic style into digital models.
The new Gen 5 Smartwatch is running Google's Wear OS. For your bike rides, you can count on a heart rate monitor, GPS and NFC nicely packed into a refined design. There is a built-in speaker that lets you take phone calls, interact with Google Assistant, and play music from the watch itself.
It's a solid choice if you are set on a Wear OS smartwatch, although the watch only comes in one 44mm case for larger wrist and it's on the pricey side at $295.
Best Hybrid Watches
Not sure what you exactly need? Check these ones!
Withings Scanwatch
A hybrid smartwatch packed with sensors
Tech-savvy nostalgics will fall in love with this French-designed smartwatch.
Withings ScanWatch boasts a medical-grade ECG, an oximeter for SpO2 measures, and an exceptional battery life that lasts up to 30 days! It has a built-in GPS that could be used as an external GPS to sync up with your favorite app.
Hard to admit, but French inventors have perfectly coordinated their efforts in this device. Everything is gorgeous: from the strap to the stainless steel case and the minimalistic design.
All for less than 300 dollars. A great watch for bikepacking and road cycling alike!
Garmin Vivomove style
Best watch to pair with Strava
Garmin Vivomove Style is small, light, and with a minimalistic design.
Behind the mechanic hands, there is a digital screen that shows all the parameters about health and sleeps tracking, with heart rate pulse and the like.
It can display notifications and phone calls and boasts a connected GPS. On top of that, it features Garmin Pay.
Battery life is 5 to 7 days for the smartwatch components, while the actual analog hands last significantly longer. It comes in three different sizes.
Honorable mentions
Here are a few more watches that are great for road cycling, running, swimming, and even mountain biking.
LAD-WEATHER Swiss Sensor Watch
Best budget cycling watch
Lad-Weather is not, strictly speaking, a smartwatch, but it's worth to be mentioned in this list because it embraces all the essential functionalities of an advanced ABC model.
In addition, it's extremely cheap and mounts a battery that lasts a month.
For less than a hundred bucks, this watch shows the most important data to discover the outdoor.
The essential – yet complete – technology packed inside, inclusive of altimeter, barometer, and compass values, makes Lad-Weather an inestimable asset for all bike travelers with a flair for adventure.
XIAOMI HAYLOU LS02
Cheapest smartwatch ever
Below the 50 dollars price tag, this is the cheapest smartwatch on the list.
The new Xiaomi Haylou LS02 has improved screen resolution and battery life in comparison with the previous generation.
Simple and elegant, the LS02 body can fit even the tiniest wrist: definitely ideal for bony girls or kids.
None of the sensors installed inside are calibrated to deliver accurate data.
There's neither GPS nor NFC, but it could nevertheless be a wise choice for many hesitant buyers who need yet to understand what they really want from a smartwatch.
Things to consider when buying
Like most advanced technology devices, smartwatches are tremendously useful and fun to use. Unleashing all the potential of a new gizmo should bring substantial improvements to our work, hobbies, and daily life, with no drawbacks whatsoever.
To achieve that result, the first step is figuring out what we want to do with the smartwatch and which functionalities best comply with our intended use.
Outdoor and cycling enthusiasts shall probably opt for a rugged device equipped with barometer, thermometer, great GPS accuracy, and long-lasting battery life.
More fashion-conscious types, on the other hand, will be equally spoiled by an attractive choice of alluring watches that are a win-win not only glamour-wise but also considering their fitness and outdoor features.
Whatever category suits you, to get tip-top from your choice, the single thing you must check before anything else is compatibility.
All the functions of the smartwatch will be at the top only if the smartphone it's been paired with has all the right requirements.
In a word, don't take an Apple watch if your smartphone runs Android and vice versa, obviously.
A piece of advice, here. Even if some models already feature LTE, we are still far from having a smartwatch that can totally replace a smartphone.
Better think twice before buying something full-optional and focus instead on selecting those top-notch functionalities that prove most useful to our purpose, whether it will be cycling, mountain biking, running, swimming, or any range of sports activities you might enjoy.
Cycling Watches: OS explained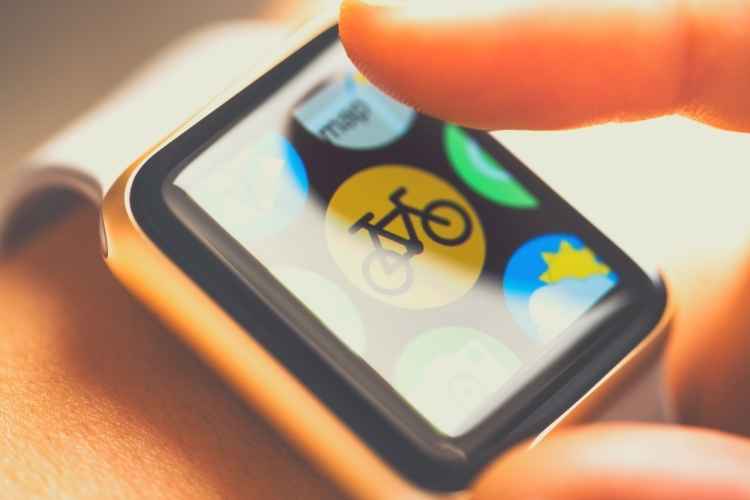 Let's start with some notions about Os.
Most of the currently available smartwatches use WearOS, Google's operating system for wearables.
Apple Os doesn't need any comments, as iPhones' fans (and probably also their detractors) would surely agree.
The third most common OS, Tizen OS, is an open-source operating system mostly used by Samsung, with an intuitive layout similar to Wear OS (Google).
There is no Google play store on Tizen OS, but due to its lightweight code, Tizen Os is snappier and smoother to scroll than Wear OS.
If Google play store and notification features are vital tools for you, then Wear OS platform-based smartwatches are the ones you should go for.
Otherwise, Tizen OS makes an excellent choice for Android users.
Smartwatches for Cycling
How to choose the best cycling smartwatch, the model we really need, avoiding the overlap between smartphones, GPS cycling computers, and cycling smartwatches?
Every seasoned wanderlust knows the importance of being minimal, especially when traveling by bicycle or carrying only basic gears.
The truth is that a smartwatch will make things a lot easier in any off-the-beaten-path kind of experience, and prove to be an essential tool for lightweight travel.
Just think about pairing a smartwatch for cycling: that can double as GPS tracker, thermometer, altimeter, AND health parameters' measuring sensor with a smartphone able to display all that data: a combination all explorers – backpackers, cyclists, bikepacker, and hikers alike – should have on their bucket list.
Unfortunately, it is not that easy to find the ideal cycling smartwatch that can satisfy everyone's different needs and styles. So, let's dig into some good electronics here, and get those itchy feet ready for the next adventure.
Different categories of Smart-Watches in cycling
Apart from the cores where the operative system works, the other elements to take into account when selecting a smartwatch for cycling are categories.
Classic smartwatches
Classic smartwatches are ideal for everyday use. Bike commuting, long road-cycling rides, gravel adventures, and leisure strolls as well as your ordinary task, all these activities can be augmented by a classic smartwatch.
Packed with tons of functions, they offer full integration with any kind of smartphone. They represent engineers' first attempt to pack a computer on a wrist, hence they include the models with more software and hardware implementation.
Don't be fooled by the tag 'classic', though; their look is rather inelegant. You'll mostly see them on tech geeks.
Hybrid watches
Hybrid watches have analog hands on the front and the smartwatch on the back.
They feature longer battery life and a sleeker style in comparison with representatives of the first category.
Thanks to their glossy design and mechanical facade, it is hard to distinguish them at first glance from standard watches. They are meant to intrigue urbane types hooked on innovation.
Fitness watches, ideal for cycling?
Fitness models are for active guys and health buffs. They are certainly the right watch choice for hardcore cycling training.
They are able to closely track health parameters and would please sports fanatics in the quest of pushing past their limits as well as anyone ready to use wellness as an excuse to own a fancy electronic gadget.
Outdoor smartwatches
Outdoor and ABC smartwatches are for outdoor lovers. The right choice for bikepacking, cycle touring, and mountain biking.
ABC stands for Altimeter-Barometer-Compass and includes in fact all functions to measure altitude for orientation in the mountains, air pressure to predict the weather, and compass to point the right direction. To get lost on purpose.
Wrap Up
Cycling watches are certainly great gadgets for road cyclists, bikepackers, and mountain bikers alike.
The Smartwatch technology though is still far from being mature.
Engineers haven't yet properly figured out how to implement their inventions, and the resulting experimental phase sometimes ends up in an absurd menu interface, awful design, or flawed hardware.
To be sure to get a durable and useful piece of electronics and to enjoy all its potential, it is definitely advisable taking a bit more time to explore the functionalities that can best satisfy our specific needs.
In exchange for that little effort, you can enjoy the emotion of wearing at your wrist an entertaining gadget feasible of becoming one of the future prototypical tech classics.
Stay in touch while we get lost! Follow us on Social Media