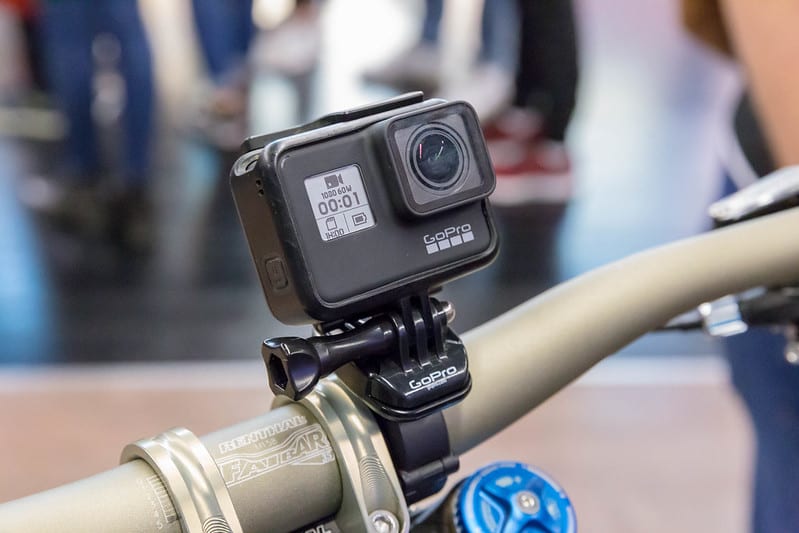 The Best Cameras for Cycling Compared: from cheap to top.
Where to mount a bike cam (handlebar, helmet, & more…), how to choose an action cam, and some 360 models
So what is the best camera for cycling? Is there a product that can claim to be the best bike action cam? Let's see what we find out for the year 2023.
Recently action cameras have turned into the staple of mountain biking, many bicycle tourers and bikepackers went intensively into vlogging, and even road cyclists are starting to use action cams, especially cycling safety cams.
You rarely see a single rider who doesn't have one of these strapped on his/her helmet or on the handlebars (or chest, or… we'll see).
Due to this huge and ever-growing demand, there are many manufacturers who have introduced new action cameras on the market. GoPro is a world-renowned brand, but are still GoPro the best bicycle cameras?
There are many others like Sony, Garmin, and Olympus which are coming out with impressive stuff. And then a plethora of cheap Chinese brands that are getting better and better.
We put together a list of the best action cameras (in our opinion) for cycling. Several of these we tried ourselves in our numerous touring and bikepacking trips, while for others we relied on reviews from friends and online. Read on to find the one to capture the most thrilling moments of your biking life.
Disclosure: Some of our articles contain affiliate links. This comes at no additional cost for you and helps us keep this website up and running. (as Amazon Associates we earn commission from qualifying purchases)
How we compile our gear guides: during the almost 10 years of cycloscope.net our team personally tested dozens of similar pieces of gear. For what we can't test personally, we involve other people in the cycling community to give their feedback and opinion about gear they have used. Our decade-long experience in bicycle touring enables us to find the key cons and pros of every product we mention.
11 Best Cycling Cameras in a Nutshell
2 Cheap Action Camera for Biking
5 Top Cameras for Cycling – The Very Best
2 Best Cycling Safety Cam
2 Best 360 Cameras For Cycling
Best Bike Cams – Comparison Chart
2 Cheap Action Cameras for Biking
Best Budget Helmet Cam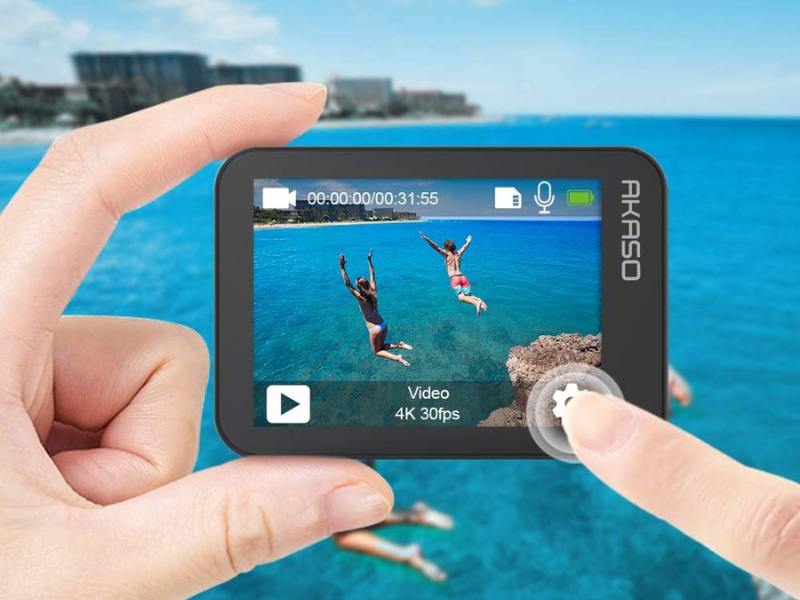 Akaso started as one of many Chinese action cam brands, but while many have failed, they managed to keep it up and quickly became one of the best brands for budget action cams, with their V50 and Brave series.
So, if you're a bike rider and looking for the best helmet camera to record your trips but you don't want to sell a kidney, the AKASO V50 action camera is our recommendation, probably the best budget camera for cycling for the specs (updated for 2023 to 20MP and 4K with a 60-fps image).
Due to the great price-to-quality ratio, the Akaso is also a great gift for travelers of all kinds, not just a great gift for cyclists.
In a nutshell, the Akaso V50 Elite is an affordable action camera packed with impressive features. With its compact dimensions and lightweight build, it's easy to handle.
The camera's 4K/60FPS video capability, 20MP images, and included accessories make it an attractive option for both beginners and casual users.
However, there are some minor drawbacks such as touchscreen responsiveness issues and the performance of the Akaso DV app. Despite these quirks, the V50 Elite offers excellent value for money and serves as a great entry point into the world of action cameras.
Pros:
High-quality 4K/60FPS video and 20MP images
Compact and lightweight design
Comes with essential accessories and two batteries
Intuitive touchscreen and button controls
Voice control and remote for easy operation
Great value for the price
Suitable for beginners and casual users
Cons:
Some touchscreen responsiveness and OS speed issues
Akaso DV app can be laggy and prone to crashing
Navigating the app to connect to the camera can be cumbersome
Not natively waterproof, requires a case for water activities
Video Resolution: 4K/60FPS
Image Resolution: 20MP with 8x digital zoom
Dimensions: 2.36" x 1.57" x 1.18"
Weight: 78g
Waterproof: With Case, up to 131ft/40m
Internal Mic
WiFi: Yes
Bluetooth: No
Waterproof case
Remote control with wristband
Battery charger and USB cable
Two 1050mAh batteries
Various mounts (bicycle, helmet, etc.)
Lens cloth
Quick Reference Guide
Best bikepacking cam for number of mounts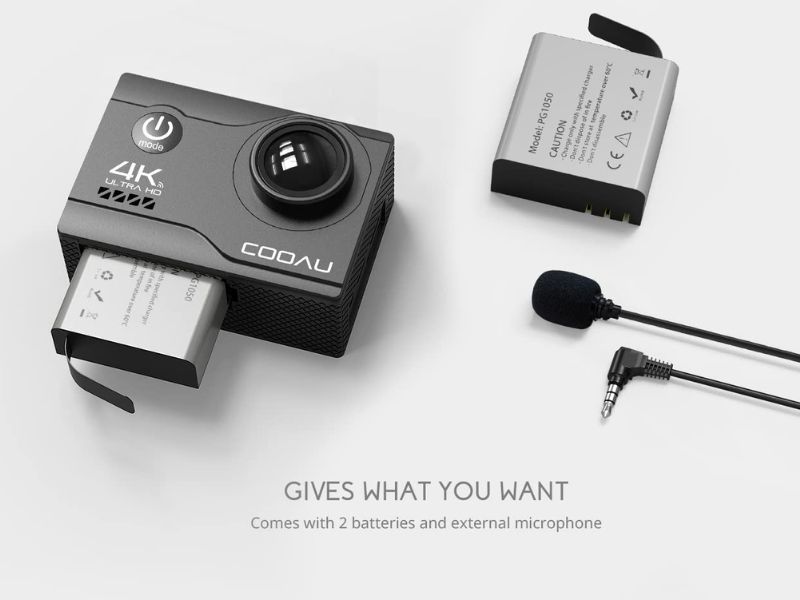 For those seeking an affordable action camera with reliable performance, the COOAU Cool Series SPC 05 is a contender to consider. While its battery life might fall short for longer recording sessions (more than 40min), its kit includes an incredible array of mounts and accessories that cater to various shooting scenarios.
The COOAU Cool Series SPC 05 is powered by the Sony 0V4689 20MP sensor, delivering impressive results across its various video resolutions, including 4K 30fps, 2.7K 30fps, and 1080P 30fps. Its 170-degree fisheye effect captures a wide field of view.
The action camera boasts a 7G lens with f/2, supporting resolutions like 4K at 30fps and 1080P at 60fps. The camera's extensive settings allow users to fine-tune parameters such as shutter speed, ISO, white balance, and more. Wi-Fi connectivity enables easy control via the smartphone app.
With dimensions of 59 x 30 x 41 mm and a weight of 66g, it's conveniently portable. The camera is encased in a waterproof housing, allowing depths of up to 40m (updated for 2023).
Equipped with a 1200mAh lithium-ion battery, the COOAU Cool Series SPC 05 offers longer runtime compared to similar models but still falls quite short for those needing long recording times. The package includes two batteries and a remote control battery. The battery compartment provides easy access for quick swaps.
The camera offers EIS stabilization for smoother footage, although a gimbal is recommended for optimal stability. The action cam also supports various functions like slow motion, time-lapse, and video loop.
The COOAU captures images at 20 megapixels and offers adjustable settings like ISO and exposure time. It supports RAW format and different aspect ratios. Video recording includes resolutions up to 1080p at 60fps and 4K at 30fps, accompanied by EIS.
The Cool Series SPC 05 by COOAU is an excellent budget-friendly choice for those entering the world of action cameras.
With remarkable 4K recording capabilities, extensive settings, and a host of accessories, it's a solid option for beginners.
Pros:
Records videos in up to 4K at 30fps
Includes an external microphone
Decent battery life with two included batteries
Wide-angle lens for expansive shots
Wi-Fi connectivity and remote control for convenience
Comes with multiple mounting options and accessories
Cons:
Lacks a touch screen interface
Requires a separate purchase of an SD card
Needs a waterproof case for underwater use
Video Resolution: 4K 60fps, 4K 30fps, 2.7K 60fps, 2.7K 30fps, 1080P 120fps, 1080P 60fps, 720P 240fps, 720P 120fps
Image Resolution: 24MP, 20MP, 14MP, 12MP, 10MP
Viewing Angle: 170° Wide-Angle
Screen: 2-inch IPS Screen
Memory: Up to 128 GB Micro SD card
Wi-Fi: Yes
Remote Control: Yes
External Microphone: Yes
Batteries: 1050mAh*2
Camera
User Manual
Quick Guide
Batteries (2)
Buckle Straps (2)
Adhesive Straps (2)
Double-sided Spare Films (2)
Waterproof Case
Base Screw
Waterproof Shell Case
Tripod Seat (2)
Remote Control (2)
Remote Control Backup Battery
Remote Control Strap (2)
Bike Base
90-Degree Short Shaft
Helmet Base
Type-C USB Cable
External Microphone
5 Top Cameras for Cycling – The Very Best
Best GoPro for Cycling
You can't mention action cameras without thinking about GoPro. The Hero 11 is the newest flagship from action-camera's inventors GoPro, an innovative model that comes with quite a few updated features.
With the late 2022's model Hero 10, GoPro had already made some major changes to its most popular product, namely a front-facing color LCD screen, which finally solves the issue of framing yourself while vlogging, a larger back screen, and the usual improvements in resolution and image stabilization.
When comparing the 2022 Hero 11 vs Hero 10, it mostly goes down to the all-new GP2 processor, which speeds up the user interface, doubles the frame rates, and powers up what is probably the best image stabilization algorithm in the world of action cams.
The resolution reaches 5.3K up to 60fps (4K video: up to 120fps, 1080P: up to 240fps) with an impressive 24.7MP for stills. Battery life is slightly improved and highly dependent on the use, from 1 to 32hrs estimate, but more so is low-light performance, the Hero 11 gives really satisfying results in dim environments.
The new camera-to-app cable makes it super-quick to transfer content and upload videos and photos to the cloud while the GoPro recharges.
Since already the Hero 7 era, GoPro's cutting-edge construction makes them waterproof up to 10m even without a case, so finally eliminating the issue of muffled audio.
The built-in microphone has indeed been improved, even though it is still mono and not comparable to the Sony.
Software controls have been introduced, such as exposure control, protune, touch zoom, and others.
Pros:
Both portrait and landscape orientation is accessible
24.7MP can capture a detailed and vivid image even in burst mode
Best image stabilization feature, ideal for recording your cycling tricks
Built-in GPS
Waterproof without a case
Improved Audio
Cons:
Batteries not compatible with Hero 8 and previous models
Expensive
Dimensions (W x H x D): 71.8 mm x 50.8 mm x 33.6 mm
Weight (Camera w/Mounting Fingers + Battery): 154g
Battery: Removable 1720mAh Enduro Battery
Rugged + Waterproof: Up to 10m (33ft)
System Processor: GP2
Image Sensor: 1/1.9″ CMOS
Max Video Resolution: 5.3K at various aspect ratios
Photo Megapixels: 27.13MP (5568 x 4872)
Time Lapse: Includes Timewarp, Star Trails, Light Painting, and more
Audio Features: 3-mics, 3.5mm audio mic input with Media Mod for HERO11 Black or Pro 3.5 mic adapter (sold separately), RAW audio capture (.WAV format)
Built-in Mounting with Folding Fingers
Rear Display Size: 2.27″ Touch LCD
Front Display Size: 1.4″ Color LCD
Connected Features: Uploads automatically to the cloud, get a highlight video automatically with GoPro subscription, Wi-Fi, and Bluetooth
Voice Control with 14 commands (11 languages with 6 accents)
HERO11 Black Camera
Rechargeable Enduro Battery
Curved Adhesive Mount
Mounting Buckle
USB-C Cable
Thumb Screw
Camera Case
Key Accessories (not included):
Volta, The Remote, Quik App, and over 40 other accessories
Best GoPro for the money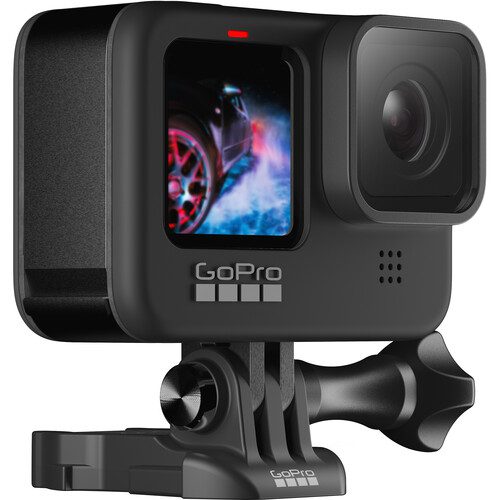 While GoPro has discontinued our favourite model, the Hero 8 Black, they still sell the Hero 9.
Although an aging model, the Hero 9 is still a great action cam, and it's now offered at an attractive price.
It's waterproof without a case and has got manual software controls, an improved microphone plus a front facing mic and front facing LCD.
The built-in microphone has indeed been improved, even though it is still mono and not comparable to the Sony.
If you don't need the best but still a good quality camera that can shoot professional-looking videos, then the GoPro Hero 9 is one of your best options.
Pros:
20MP
Front facing LCD
Built-in GPS
Waterproof without a case
Improved Audio
Cons:
Dimensions: 2.8 x 2.2 x 1.3 inches
Weight: 5.6 oz
Type: Action Camera
Sensor Resolution: 20 MP
Sensor Type: CMOS
Memory Card Slots: 1
Memory Card Format: microSD, microSDHC, microSDXC
Stabilization: Digital
Display Size: 2.3 inches
Touch Screen: Yes
Connectivity: Bluetooth, GPS, Wi-Fi, USB-C
Maximum Waterproof Depth: 33 feet
Video Resolution: 5K
HDMI Output: None
Flat Profile
HERO9 Black Camera
Carrying Case
Rechargeable Battery
Curved Adhesive Mount
Mounting Buckle + Thumb Screw
USB-C Cable
Stunning 5K video and 20-megapixel photos
Advanced video stabilization with HyperSmooth 3.0
Waterproof up to 33 feet and built tough
Detachable lens and mod compatibility for customization and creativity
Dual screens with front display for selfies and rear touch display for intuitive control
TimeWarp 3.0 and 8X Slo-Mo, along with other features for versatile shooting
Compatibility with the Quik app for editing and sharing
Compatible with over 30 mounts and accessories for various setups
Front facing microphone
Best Cam for Cycling in the Rain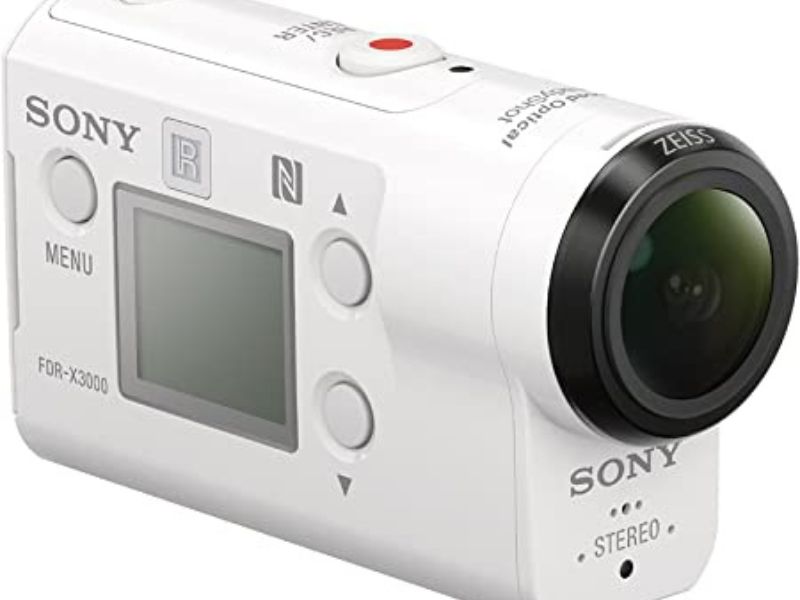 We used the FDRX3000 camera and were quite happy and impressed, especially with the audio features and image stabilization, that's why this action cam has been our editor's pick quite a long time.
Now Sony comes out with a new Live-View remote finally fixing the biggest issue of its action cam series, the lack of a display.
This LCD can be mounted separately, for example on your handlebars, or on a selfie stick for handy vlogging. Unfortunately, it doesn't come cheap.
Zeiss lens, 3x Zoom, splashproof and waterproof up to 60m with the case, stereo audio and noise reduction, GPS and a combination of NFC, Bluetooth, and Wi-Fi connectivity.
You can choose from 3 different viewing angles (medium, narrow, and wide) as per your requirements and are able to capture fast-moving objects through the multiple burst mode setting.
The inbuilt microphone that records high-quality stereo audio without any wind noise, one of my favourite features.
Pros:
HDMI, USB, and microphone jacks are placed on the back of the camera for ease of connection
Inbuilt GPS
Great audio
Image stabilization couldn't be better
Cons:
Short battery life
LCD not included
Very pricey
Not compatible with GoPro accessories
Sensor Resolution: 12 MP
35mm-Equivalent Focal Length: 17mm Wide, 23mm Medium, 32mm Narrow
Maximum Aperture: f/2.8
Minimum Focus Distance: 20.0″ / 50.0 cm
Video Formats: 4K, 1080p, 720p at various frame rates and bit rates
Microphone: 2.0-Channel Stereo
Shutter Speed: 1/30 – 1/10000 Second (Video)
Exposure Modes: Auto, Compensation: -2 EV to +2 EV
Image Stabilization: Optical & Digital
Burst Photo: 10 Photos / 1 Second
Outputs: Micro-HDMI (Type D), Composite Video (requires cable), USB Micro-B
Battery: Rechargeable Lithium-Ion Battery Pack, 1240 mAh
Dimensions: 1.2 x 1.9 x 3.3″ / 29.4 x 47.0 x 83.0 mm
Weight: 3.14 oz / 89 g without battery, 4.02 oz / 114 g with battery
Attachment Buckle.
Micro USB cable.
Rechargeable battery pack (NP-BX1)
Startup guide.
Underwater Housing (MPK-UWH1)
Microphone Input
Wi-Fi
Built-In Speaker
Best Bike Camera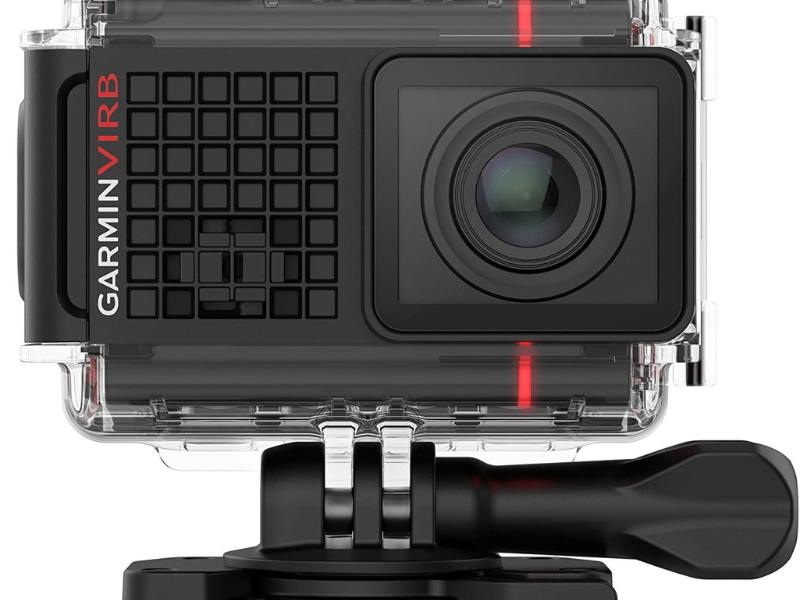 Garmin recently went into the action camp market with a couple of models, which are quite interesting and present an innovative approach.
The VIRB Beach Camera has voice control, built-in GPS (of course) and external sensors with connectivity to Garmin devices, able to capture performance data like speed, elevation, heart rate, and G-force – to prove how fast, how high, and how far you went.
It has one of the best bike camera display (1.75-inch touch screen) and a bundle of included accessories that make most competitors pale in comparison. You can record ultra-high-definition 4K/30-fps footage also underwater with the waterproof case.
It is equipped with three-axis image stabilization, which permits you to capture steady and smooth videos. You can also use a free desktop application to edit, compile, and share your footage from a camera. The high-sensitive mono microphone records clear audio, although this is not the main selling point here.
Your purchase comes with a SanDisk micro-SDHC 32-GB memory card, case, chest harness, floating handle, helmet/head strap, bike handlebar mount, and anti-fog kit.
Pros:
control it with your voice due to Sensory TrulyHandsfree technology
built-in GPS and sensors
Loads of mounts and accessories
Smooth and high-quality video
Cons:
bad editing software
pitiable battery performance
overpriced
Sensor Type: 1-Chip 1/2.3″ CMOS
Sensor Resolution: 12 MP
Maximum Aperture: f/2.6
Minimum Focus Distance: 23.6″ / 60 cm
Video Formats: 4K, 1080p, 720p at various frame rates
Aspect Ratio: 16:9
Audio: 2.0-Channel Stereo, AAC format
Shutter Speed: 1/30 – 1/30000 Second (Video)
Exposure Modes: Auto
Image Stabilization: Digital
VIRB Ultra 30
dive case
lithium-ion battery
charging/data cable
flat & curved adhesive mounts
standard & vertical mount adapters
short & long screws
short &long extension arms
wrench
documentation
Garmin VIRB sticker
Wi-Fi
Built-In Mic
Built-In Speaker
GPS
Outputs – micro HDMI, USB Type-C
Best bicycle camera for stabilization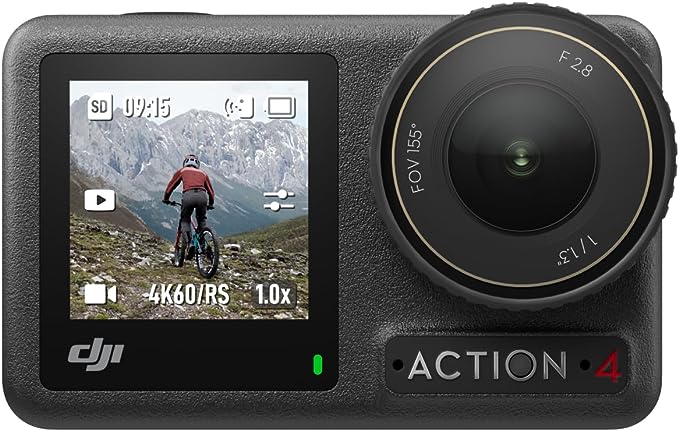 World-leading brand in commercial drones, DJI manufactures one of the best 4K action cameras for cycling.
Super-small and compact, it packs a lot of hi-tech, including 2 LCD displays (DJI Osmo Action was the first action cam with a selfie screen).
The Osmo Action 4 sets itself apart with a groundbreaking feature – its 1/1.3-inch image sensor, offering exceptional low-light performance and higher image quality.
This, coupled with DJI's innovative image stabilization technologies, waterproofing up to 18 meters, and advanced shooting options, makes it a formidable contender in the action camera market.
In terms of performance, the Osmo Action 4 excels in capturing detailed images and videos, particularly in challenging lighting conditions while the device's integration with the DJI Mimo app enhances its capabilities, enabling features like live streaming and remote control.
However, it faces tough competition from GoPro Hero 11, which offers a slightly more refined ecosystem and higher resolution options.
While the Osmo Action 4 surpasses the Hero 11 in low-light situations, the latter excels in certain use cases. Both cameras are priced similarly, making the choice a matter of prioritizing features.
However, users seeking the highest resolution might consider alternatives in the market. DJI has certainly raised the bar with the Osmo Action 4, putting pressure on competitors like GoPro to innovate further.
Pros:
Superb low-light image quality
Impressive waterproof depth
Advanced image stabilization options
Access to DJI's extensive accessory lineup
High-quality phone control app
Slow-motion capabilities up to 240fps at 1080P
Cons:
Limited to 4K resolution, lacking GoPro's 5.3K option
Horizon balance feature not available at maximum frame rates
Magnetic clips can be problematic
Relatively expensive
Image Sensor: 1/1.3-inch CMOS
Field of View: 155˚
Max Video Resolution: 4K
Max Frame Rate: 120fps at 4K, 240fps at 1080P
Waterproof: 18m / 60ft
Microphones: 3
Weight: 145g
Dimensions: 71 x 44 x 33mm
Outstanding low-light performance thanks to the larger image sensor
Effective image stabilization including HorizonSteady and RockSteady 3.0+
Video capture in 10-bit D-Log M for versatile editing
Three-microphone system with noise cancellation
Excellent phone control app for live streaming and remote camera control
Water-resistant design up to 18 meters
Fast-charging battery with up to 2.5 hours of recording time
2 Best Cycling Safety Cam
1. Olympus TG-Tracker Camera
Best Cam to Track your Bike Rides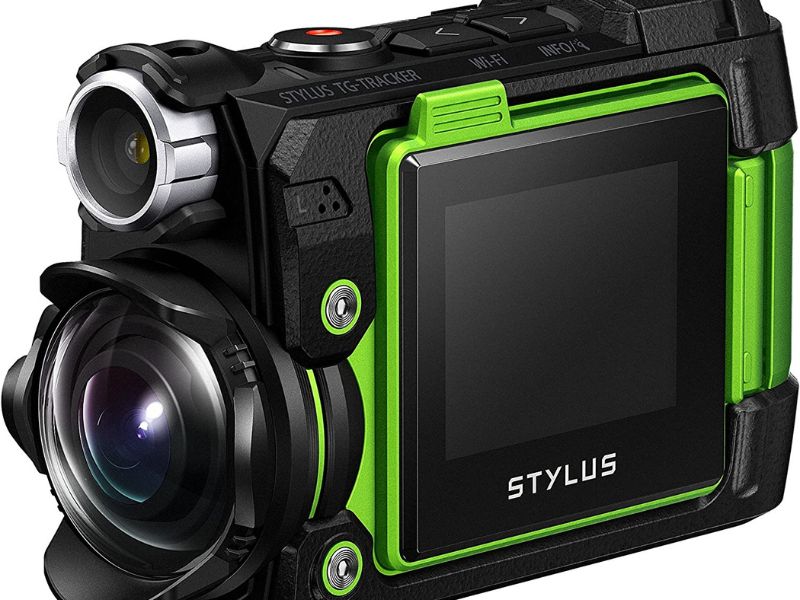 The Olympus TG-Tracker is a rugged and bulky action camera with a lot of interesting features and an affordable price tag. Designed like a mini camcorder, the Olympus (6.35 ounces) is more than twice as heavy as the GoPro and almost double its size.
But it also has a foldable and orientable display, a lot of external controls, and it's waterproof without a case of up to 30 meters/100ft.
With all these tracking capabilities, the Olympus TG Tracker can also be used as a great-performing cycling safety cam.
It is equipped with five inbuilt action track sensors that automatically capture extra data to compel your audio and video. These include GPS and an accelerometer. e-compass, temperature sensor, and barometric pressure sensor.
The Olympus TG-Tracker records your ride like a cycling computer (and even better)! All these data can also be recorded independently from the video and viewed in the app.
The only cycling cam in this review to have a 204 degrees FoV, really ultra-wide and immersive, maybe too much. While it is great to have more surroundings in your capture, this is also harder to manage, and some unwanted stuff can get into the frame.
There is an option to change the FoV to a handier 157 degrees, although it is a bit hidden in the menus.
Olympus TG-Tracker action camera comes with a 1.5-inch LCD tilt-out monitor screen, no other action cam has that. You can view your photos and videos as well as customize multiple settings according to your requirements.
Pros:
Impressive sensors pack – tracks everything.
Tilt screen.
Excellent electronic image stabilization and image quality even in low light.
Built-in 60-lumen light.
Comes with three-pronged mount adapters.
Cons:
Bulky and heavy – Limited mounting options.
Awkward mechanics.
The field of view may be too wide and hard to change.
Occasional fog buildup on the lens.
Field of View: 204/155˚

Image Sensor: 1/2.3-inch CMOS sensor
Effective Pixels: 7.2 million dots
Lens Construction: 7 groups, 7 elements (Aspherical lens: 5)
Focal Length (35mm equivalent): 1.58mm (13.9mm)
Aperture: f/2.0
Shooting Range: 0.2m to ∞
Digital Zoom: Wide, Underwater
LCD Monitor: 1.5-inch TFT colour LCD with 115200 dots
Camera unit
LI-92B Lithium Ion Rechargeable Battery
USB cable
Hand strap
Manuals and documentation
Versatile shooting with various interval options for stills
Movie recording formats: 4K (30p), 1080p (60p, 30p), 720p (240p, 120p, 60p, 30p), 480p (240p, 120p, 60p, 30p)
Built-in image stabilization: Digital 5 axis
Toughness features: Waterproof up to 30m, Dustproof, Freezeproof down to -10℃, Crushproof up to 100kgf, Shockproof (Drop height) of 2.1m
Built-in field sensors: GPS (GLONASS, QZSS), Orientation sensor, Atmospheric pressure sensor, Temperature sensor, Acceleration sensor
Built-in headlight with varying illumination levels
Connectivity: Wi-Fi (IEEE 802.11b/g/n), Micro USB terminal, HDMI Micro Connector
Power supply: LI-92B Lithium Ion Rechargeable Battery
Maximum Number of Shots (CIPA standards): Approx. 480
Size: 35.0mm x 56.6mm x 93.2mm
Weight: 180g (Including battery and card)
2. Fly12 CYCLIQ Cycling Dash Cam
Best Cycling Safety Camera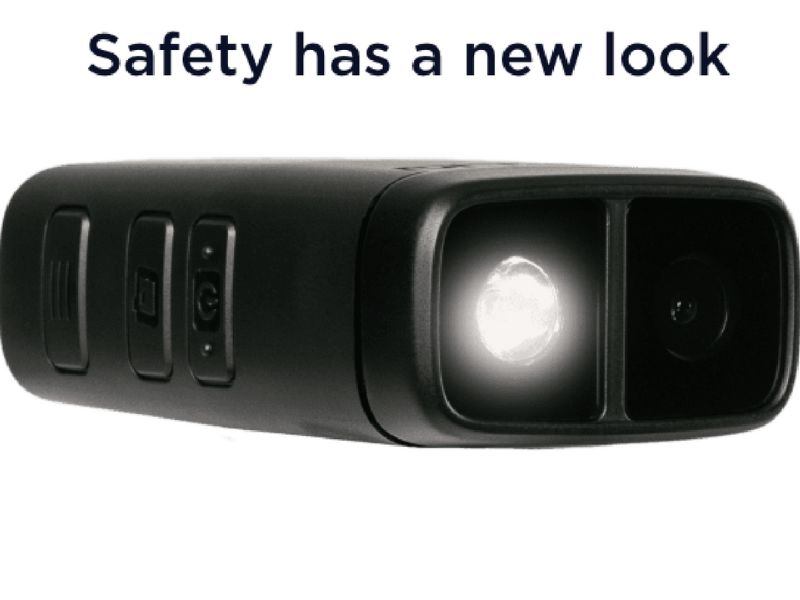 The Cycliq Fly12 Sport, now in its third generation, offers cyclists a reliable incident-capture camera that excels in ease of use and footage quality.
With compact dimensions and weighing just 150g, it's a great addition to your setup. While the light output has slightly diminished, resulting in a smaller form factor, its battery life and performance still impress, though it's influenced by riding habits.
The Cycliq Fly12 Sport is a straightforward yet effective cyclist's dashcam that excels in capturing essential footage for incident documentation.
Its simplicity, combined with strong build quality and advanced features like image stabilization and incident detection, make it a dependable choice for riders seeking reliable evidence in case of road incidents.
While not as versatile as some action cameras, the Fly12 Sport's straightforward operation and quality performance make it a compelling option for cyclists who prioritize safety and accountability.
However, riders looking for extensive video editing capabilities or high-end action camera features might find it lacking in those aspects. Overall, the Fly12 Sport serves its purpose well as a reliable cycling companion for capturing and documenting rides.
Now, if you also want to document what's happening behind you, you should also get the Fly6, Cycliq rear dash cam.
Pros:
Seamless usability with intuitive controls and easy setup
High-quality recording options suitable for incident evidence
Advanced incident detection and manual file locking
Reliable water and dust protection with strong build quality
Effective lighting options for both emergency and be-seen situations
Strong battery performance, influenced by riding conditions
Comes with a 64GB card, providing ample storage capacity
Cons:
Diminished light output compared to previous generation
Limited editing capabilities within the desktop app
Footage quality may vary in low-light or nighttime conditions
Effective Pixels: 7.2 million dots

Lens Construction: 7 groups, 7 elements (Aspherical lens: 5)

Aperture: f/2.0

Recording Formats: 2880x2160p @ 24fps, 2560x1440p QHD @ 30fps, 1920x1080p FHD @ 60fps, 1920x1080p HDR @ 30fps, 1280x720p HD @ 120fps

Toughness: Waterproof up to 30m, Dustproof, Freezeproof down to -10℃, Crushproof up to 100kgf, Shockproof (Drop height) of 2.1m

Field Sensors: GPS (GLONASS, QZSS), Orientation sensor, Atmospheric pressure sensor, Temperature sensor, Acceleration sensor
Cycliq Fly12 Sport Camera
LI-92B Lithium Ion Rechargeable Battery
USB-C Cable
Hand Strap
Manuals and Documentation
Effortless operation with simple buttons for easy setup and use
Various interval options for stills and multiple video recording modes
Built-in image stabilization and advanced incident detection
Mobile app customization for light, sound, and recording settings
Efficient battery charging in just over two hours
Water-resistant and robust design suitable for cycling environments
Five recording settings with Electronic Image Stabilization (EIS)
OLED screen for battery status and light mode indication
3 Best 360 Cameras For Cycling
Best 360 bike cam
The Insta360 One RS presents an innovative modular approach to action cameras, comprising a Core display piece, lens modules, and a battery base.
Its adaptability allows it to transform into different camera types using three available lens modules: 5.7K 360-degree, 4K Boost, and a 1-inch Wide Angle. This is an amazing and unique flexibility that caters to various shooting needs.
The Insta360 One RS truly shines due to its unique modular design, which allows you to switch between various lens modules. This innovation makes it incredibly versatile, perfect for capturing diverse perspectives in different situations. With its 360-degree lens, you can create immersive content and later edit it creatively by changing the frame. On the flip side, the 4K Boost lens offers superior image quality, ensuring your shots look sharp and clear.
What's fantastic is how user-friendly it is. The waterproof feature, along with the mounting bracket, provides an extra layer of convenience. The package also includes useful accessories that add to its overall value. However, it's essential to note that if you're a professional seeking top-tier image quality, this camera might not meet all your expectations.
One aspect to consider is its modular system. While it's a fantastic concept for versatility, it introduces some durability concerns when compared to all-in-one action cameras. Yet, despite its limitations, the Insta360 One RS remains an excellent choice, especially for content creators who want a camera that balances adaptability with ease of use. It's all about finding that sweet spot between creativity and practicality.
Now, if you want to splurge with top professional quality, check the Insta 360 ONE RS 1-inch, with its 1-inch sensor (the biggest for any action cam) it boosts unparalleled image definition.
Pros:
Versatile camera system with interchangeable lenses
Easy-to-use modular design with secure attachment mechanisms
Modular system adds flexibility and adaptability
Waterproof up to 16 feet when used with the mounting bracket
Efficient battery life with 1.2 hours runtime per charge
The 4K Boost lens offers improved image quality over the 360-degree lens
User-friendly editing capabilities with Insta360 Studio app
Optional battery modules available for extended usage
Cons:
Image quality, especially with the 360-degree lens, might not meet high standards
Limited improvement in image quality compared to earlier models
360-degree lens stitching is sometimes visible in final reframed footage
Modular system may be less robust than all-in-one action cameras
Cover for the 360-degree lens is prone to getting lost easily
Lens Modules: 5.7K 360-degree, 4K Boost, 1-inch Wide Angle

Waterproof: Up to 16 feet (4.9 meters)

Display: Fixed LCD

Video Formats: 6016x2560p at 24/25fps, 3840x2160p at 60fps, 1920x1080p at 200fps

Photo Formats: DNG, JPEG, Raw (up to 8000×6000 resolution)

Battery: Rechargeable Lithium-Ion Battery Pack, 1445 mAh

Connectivity: USB-C 3.1/3.2 Gen 2
Insta360 One RS Core Display
Lens Modules (depending on package)
Battery Base
Mounting Bracket
USB-C Cable
Microphone Windscreen Cover
Manuals and Documentation
Modular design with interchangeable lens modules
User-friendly attachment and detachment process
Water-resistant design (16 feet underwater with mounting bracket)
Included mounting bracket with accessory attachment point
Core module has a fixed LCD display for easy control
Capture 360-degree footage for unique perspectives
Multiple frame rates and resolution options
Advanced FlowState Stabilization
HDR video and image capabilities
2. GoPro MAX Action Camera
Best for Live Streaming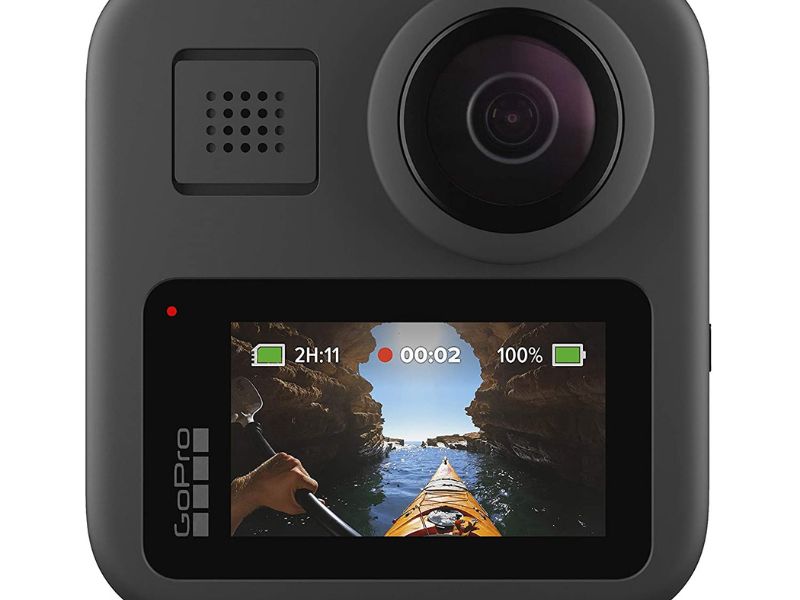 GoPro MAX is the 360 model from GoPro, designed for versatility. As opposed to most 360 cams, here you have the option to shoot traditional GoPro angles, with a choice of 13mm, 16mm, 19mm, and 27mm.
An unbreakable stabilization feature, a user-friendly app, and full manual controls (bitrate, shutter speed, white balance, exposure, and so forth), make this expensive cam a great choice for those who can afford it.
Its front-facing display is a fundamental feature in the 360 cams world, and with its large one, GoPro made the MAX the ultimate product for cycling vloggers, also thanks to the reliable live-streaming capabilities.
The camera has two lenses, like every 360 cam, but can multiply them to four through a digital lens function, allowing shooting in any direction without moving the camera.
These lenses include narrow, wide, Max SuperView, and distortion-free linear. All the field of you at your fingertips.
MAX's HyperSmooth is the king of stabilization, which delivers the clearest and smoothest video when compared to other action cameras (except maybe the sadly discontinued Xiaomi MADV). You can also change its horizon leveling whenever required.  
Using the mobile GoPro app, you can easily transform 360-degree footage into conventional photos and videos. You can edit, playback, and share this content with your friends, family, and social media. 
Directional audio in Hero mode lets you prioritize sound from either side of the camera, no matter which lens you're using perfect for logging.
Pros:
Max HyperSmooth stabilization really performs well
16MP at 5.6K30fps delivers great-quality photos
Interesting Time-Warp mode (able to take panorama cam movements)
This waterproof camera can capture memorizing moments  
Cons:
Poor focus in low light
Stitching lines are sometimes visible
Dimensions: 2.7 x 2.5 x 1.6 inches
Weight: 5.8 oz
Sensor Resolution: 18 MP CMOS
Memory Card Slot: 1 (microSDXC, microSD, microSDHC)
Battery Type: GoPro ACBAT-001
ISO Range: 400 – 6400
Stabilization: Digital (Max HyperSmooth)
Display Size: 1.7 inches
Connectivity: USB-C, Wi-Fi, Bluetooth
Waterproof Depth: 16 feet
Video Resolution: 5.6K
GoPro MAX Camera
Rechargeable Battery
Curved Adhesive Mount
2 Protective Lenses
2 Lens Caps
Microfiber Bag
Mounting Buckle plus Thumb Screw
USB-C Cable
Carrying Case
Three Cameras in One: Traditional Hero-style, immersive 360 footage, and vlogging capabilities
Max HyperSmooth: Unbreakable stabilization using 180-degree capture
Live Streaming: Broadcast in 1080p with Max HyperSmooth stabilization
Horizon Leveling: Smooth cinematic look even during dynamic motion
PowerPano: Distortion-free 270-degree panoramic photos
Premium 360 plus Stereo Audio: Six mics for true-to-life 360 audio
Digital Lenses: Choose from Narrow, Linear, Wide, and Max SuperView modes
Max TimeWarp: Stabilized time-lapse videos while moving
Includes: Camera, Rechargeable Battery, Mounts, Lenses, Microfiber Bag, USB-C Cable, Carrying Case
Things to Consider When Buying a Cam for Cycling
Image Stabilization
This is pretty much the standard feature on every action camera on the market. But not all of them perform the same, and you have to keep in mind that image stabilization is maybe the key feature when using a cam for cycling.
Especially for mountain bikers, but not just for them, the bumps can make your footage incredibly shaky, to the point of being unusable. You want the best image stabilization ever, even at the cost of sacrificing image quality.
The technology that is used for image stabilization in most cases is gyro or optical. Gyro has a sensor for electronic movement for the eradication of shakes.
On the other hand, optical image stabilization has lens movers that counteract any jerks or shakes. But none of them both are better than the other.
Size & Weight
The best action camera for cycling needs to be lightweight and it doesn't need to be that big either. No matter how you use it, your camera needs to be lightweight and small in size for ease in use.
Video & Photo Quality
It is obvious that going for a better image quality will require paying for it, quite a high price if you want the best.
The minimum resolution on a modern action cam is 1080p but you should go for a 4k if a (semi)professional-looking quality is what you want to achieve.
The top cams nowadays can record 6K footage, but do you really need that? Do you have a computer capable of editing that footage? 6K quality is much higher than 4k or FHD but not all displays can reproduce it, the file sizes are huge, and the battery drains faster.
Yes, you must keep in mind that with better image quality battery life will get influenced heavily.
On the other hand, 6k and 4K resolutions enable you to crop the video and still have an FHD video. (4K is 3840 x 2160 pixels, against the 1920 x 1080 pixels of FHD), which opens interesting video-editing possibilities.
But if you're not a pro videomaker, just want to try out recording some bike adventures, and don't want to spend too much, we recommend going for a 4k or even a FHD (1080px) action camera.
Where to Mount a Bike Cam
Primarily, there are two main mounts that you can use for your action camera on a bike: handlebar and helmet.
With the helmet mount, you will get a more immersive experience. The angle will change as you turn your head and the video will be a lot more engaging, but also a bit confusing if you move your head too much.
The video from the handlebar mount is not very engaging but the view will be a lot more stable. You will have to compromise on the shock absorption feature, cause the handlebar gets all the bumps.
On the other hand, you can easily turn a handlebar camera on yourself, and even talk into it while you're cycling – cycle-vlogging – pretty trendy… but you'll need good audio features for that (more about audio later).
Very popular among mountain bikers is the chest strap camera mount, which shows the front of the bike and the terrain in detail. Cool angle for tricks and action footage.
There are many other ways to mount an action cam on a bike: using selfie sticks (tied with zip-ties or such), or movable clamps – just to mention a couple.
The availability, compatibility, and variety of the mounts should be taken into account when choosing a video camera for cycling. GoPro-compatible mounts became the standard, with many Chinese brands using the system.
Classic camera screw-mounts, on the other hand, enable compatibility with tripods and selfie sticks. Adapters screw/GoPro are also easy to find and cheap.
Does a Cycling Cam need to be Waterproof?
Most of the bike cameras mentioned here can easily survive a big splash of water and even medium-light rain. This should be enough for most cyclists.
Some of the cameras also come with depth capabilities and they are inherently waterproof, some require an underwater case, which usually compromises the audio recording, while other up-market models have a full impermeable construction
Ease of Use
The user-friendly factor of a cycling action camera is a big deal for us cyclists. It's not just about convenience; it's about safety and staying in the moment. Think about it – when we're out on the road, our hands are often covered with gloves for warmth and protection. So, having a camera that we can easily control without fumbling or taking off our gloves is a game-changer. It means we can capture those breathtaking views, unexpected moments, or even just switch on and off without missing a beat.
And let's not forget about the ride itself. We're focused on the road, the wind, the rhythm of our pedals – not fussing around with complicated controls. When the ride is done, we want to relive those memories without the hassle. That's where the simplicity comes into play again. Being able to quickly review and share our adventures without a tech struggle is a real win.
So, yeah, ease of use isn't just a feature; it's like a riding buddy that's got your back – helping you stay safe, keeping things simple, and letting you focus on what you love most: the ride.
Inbuilt GPS
If you like to map new horizons then you should go for an inbuilt GPS feature as well. This is not going to be the primary feature of your camera but it's nice to know where each picture was taken.
Built-in GPS indeed, adds a geotag to each of your shots, making it ultra-easy to create nice photo maps with apps like Komoot or Strava.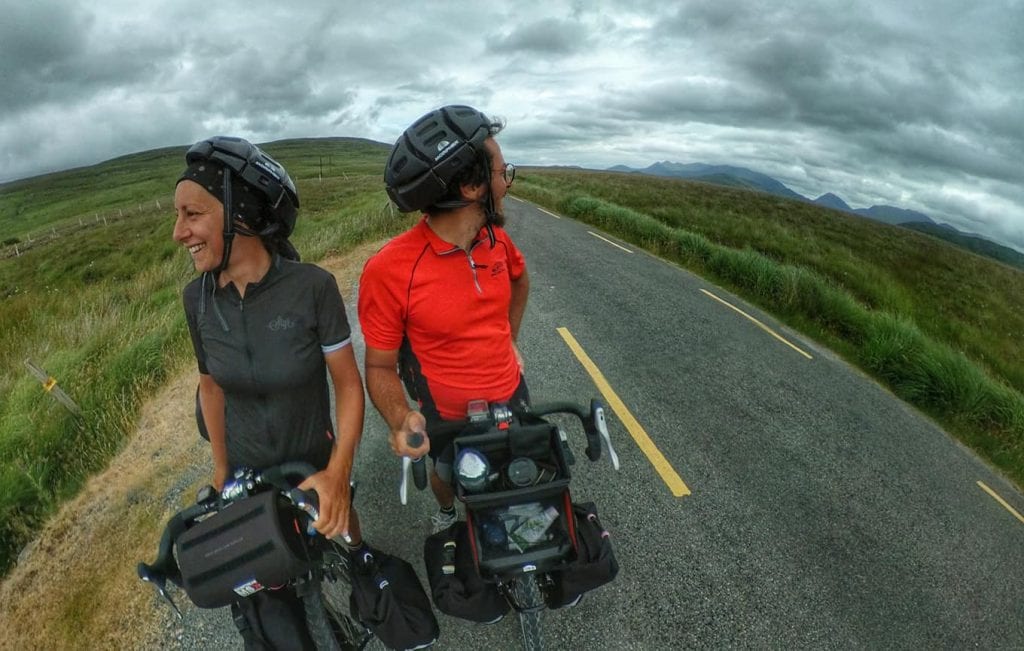 Storage capacity
All modern action cams work with SD cards, but not some don't support 64GB or 128GB cards.
A big storage capacity is always good but if you are not the type to film your entire 4-hour ride, and can remember to frequently transfer media between your devices, then even a memory of 32GB will work well for you.
Battery Life
Another important point for you to consider before buying the best action camera for cycling is battery life. As there is an increased demand for lighter, smaller cameras with power packed in their lens, batteries will always have a hard time.
The battery technology is the one that really lags behind in all technology. Therefore, our options are going to be limited here, you won't find a high-quality cam that will last more than 4 hours of continuous recording in the highest settings.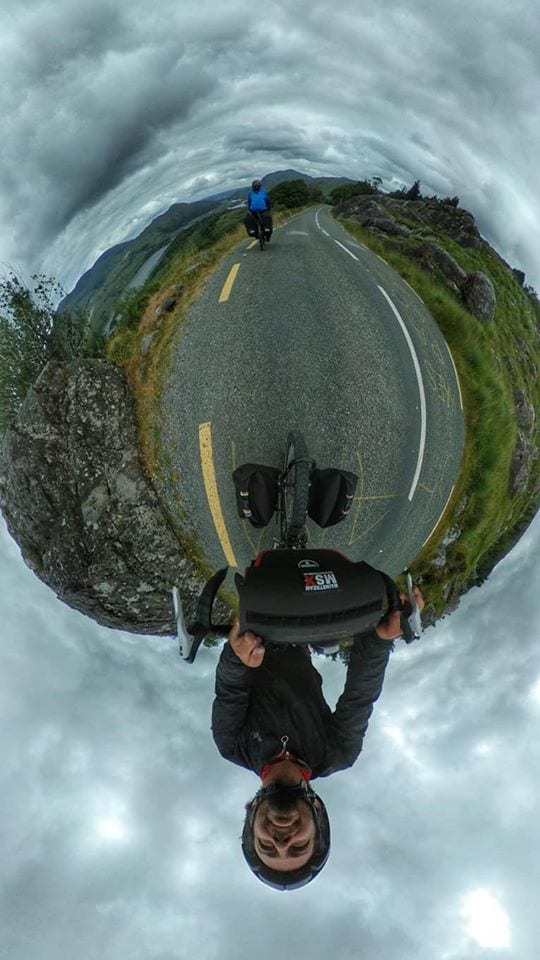 Field of View
Field of View is a parameter measured from the front lens and expressed in degrees. It is the equivalent of focal length in traditional photography.
A 140-degree FoV means that the camera is able to cover 70° from either side of the lens as well as up and down. A lens with a 10mm focal length has a Horizontal FoV angle of 120°, and a Vertical FoV of 100°.
An action camera is by definition, a camera that can capture as much action as possible without you having to aim, thus the wide Field of View.
Typical FOV values are (Linear 90° → Wide 130° → Superview 170°), by including more surroundings, the result is a more immersive video.
Technically, the FoV is determined by the amount of space between lens and image sensor (the further the lens is from the image sensor, the narrower the FOV). On GoPro, the field of view is determined digitally by cropping and scaling the widest possible image.
Wide angles though distort the image. Most action cameras, however, have distortion control settings built into them that slightly reduce FOV but take away 95% of the distortion, without noticeably reducing quality.
360 cams have a 360° field of view, like a sphere, which means they capture everything around them. The result is odd, but you can then crop the image obtaining any angle you like, any perspective of the surroundings. Of course the narrower you crop, the more resolution you lose. 360 cams are great for bikepacking videos and cycle touring vlogs.
Connectivity
If you are looking at high-end options then you will have Bluetooth, ANT+, Wi-Fi, and NFC. However, these connectivity options are not mandatory for normal operation but with these, you can live stream or watch your ride after connecting your action camera with other devices.
Conclusions
It's hard to come out with a winner here, is there really such a thing as the best bike camera? It really depends on your intended use and your budget.
Looking for a Travel Bike? Check these!
Check Also
Visit our YouTube channel
Frequently Asked Questions
How an action camera is different from other rugged or traditional cameras?
Action cameras are specifically built for sports. A very sturdy construction, small size, and a lightweight are the most important characteristics. Most of them can shoot slow-motion videos at a high framerate and have wide lens angles. Action cameras are built for action and to be used in action. The controls on these cameras are straightforward to access and in some cases, you can use them completely hands-free too. The rugged or traditional cameras are larger and more delicate, they are not designed to be used in action situations.
Where should I mount my cycling camera?
Primarily, there are two main mounts that you can use for your action camera on a bike: handlebar and helmet.
With the helmet mount, you will get a more immersive experience. The angle will change as you turn your head and the video will be a lot more engaging, but also a bit confusing if you move your head too much.
The video from the handlebar mount is not very engaging but the view will be a lot more stable. You will have to compromise on the shock absorption feature, cause the handlebar gets all the bumps.
On the other hand, you can easily turn a handlebar camera on yourself, and even talk into it while you're cycling – cycle-vlogging – pretty trendy… but you'll need good audio features for that (more about audio later).
Very popular among the mountain bikers is the chest strap camera mount, which shows the front of the bike and the terrain in detail. Cool angle for tricks and action footage.
There are many other ways to mount an action cam on a bike: using selfie sticks (tied with zip-ties or such), or movable clamps – just to mention a couple.
Read more on our full article!
Box style, cube styles, bullet-style: what's the difference and which one is the best?
A majority of the camera for cycling fall into the category of Box style. They also come in a vast range of resolutions. On average their FoV is around 160-degree.
The cube style is compact and you can mount it in a small area. These are extremely lightweight and there is only one button on them to start and stop the recording. The average FoV here is around 140-degree. You might not find many resolution options though.
These action cameras are very sleek and long in design but there are no major brands on the market that specialize in this style of action camera. There are some Chinese models available but quality is going to be slightly off. 
Should I go for FHD, UHD, 4K, or 5k?
It is totally up to you, which resolution you should consider for your rides. The best in class is 4K and the video quality is going to be exceptional. This is again the case with UHD as well but both these formats also consume a lot of battery. 
FHD and HD are good choices for you if you go on long rides because they are good with picture quality and also don't consume much battery. 
Read more in our full article!
Stay in touch while we get lost! Follow us on Social Media