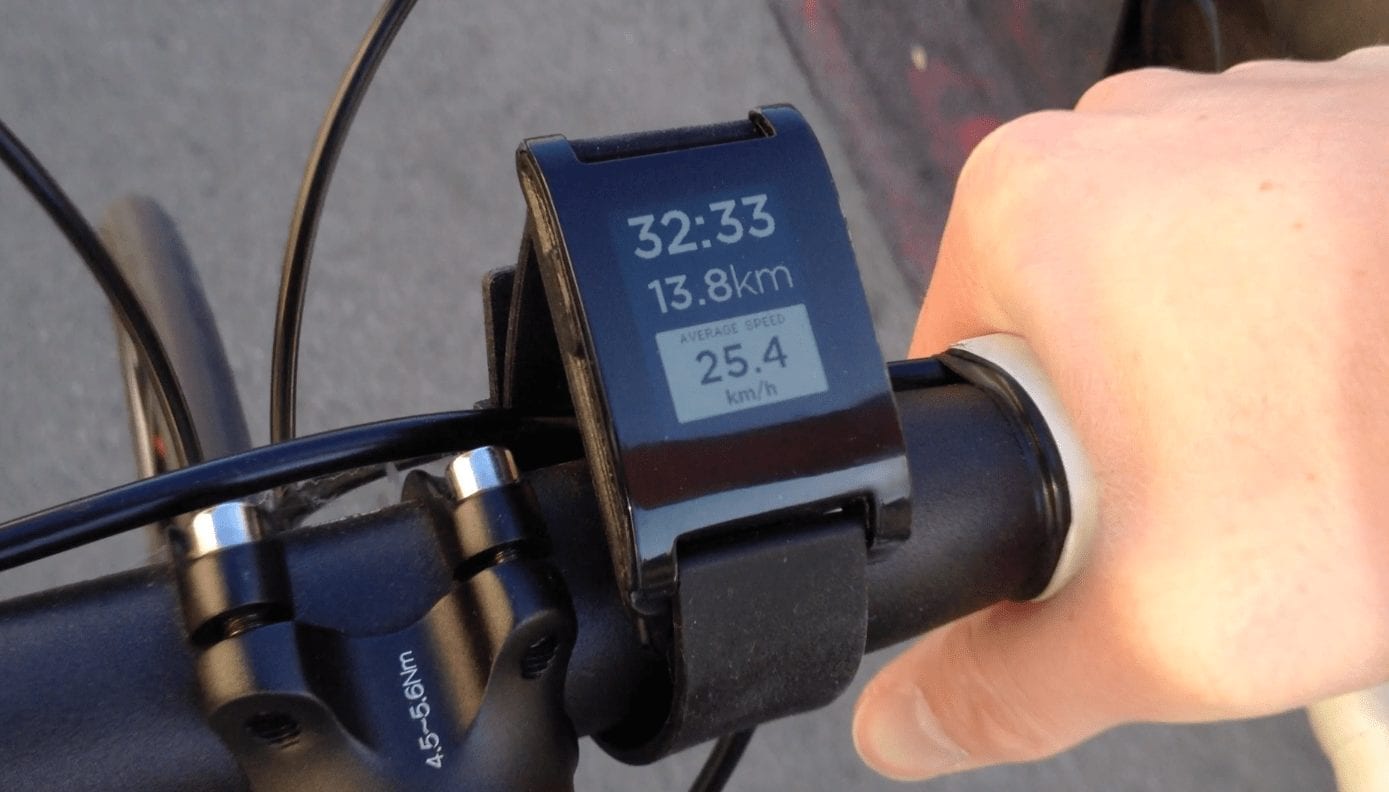 Learn today how to choose the best MTB computer! A through comparison of the top MTB GPS devices
Whether you approach mountain biking as a hobby or a sport, keep track of your routes and performances with an integrated GPS cycling device
Whether you approach mountain biking as a hobby or a sport, chances are you still want to keep tabs on your performance. But what is the best mountain bike computer? Why should you use a GPS device?
While roadies and bikepacking enthusiast might as well opt for one of the many smartphone apps, for the mountain bikers having a dedicated bike computer is almost mandatory, unless you want to replace your phone every month.
An integrated computer is a highly efficient device. Sturdy, lightweight, equipped with powerful batteries, these incredibly handy small gadget can provide you with accurate data on anything about your bike ride, from speed to location and altitude, and of course a lot more.
This blog article aims to guide you through the choice of the perfect MTB computer for your need.
Let's dive into the products first, the list of the best bike GPS models to date. while at the end of this guide you'll find out "how" to choose the right one for you.
Let us learn today how to choose the best MTB computer!
Disclosure: Some of our articles contain affiliate links. This comes at no additional cost for you and helps us keep this website up and running. (as Amazon Associates we earn commission from qualifying purchases)
How we compile our gear guides: during the almost 10 years of cycloscope.net our team personally tested dozens of similar pieces of gear. For what we can't test personally, we involve other people in the cycling community to give their feedback and opinion about gear they have used. Our decade-long experience in bicycle touring enables us to find the key cons and pros of every product we mention.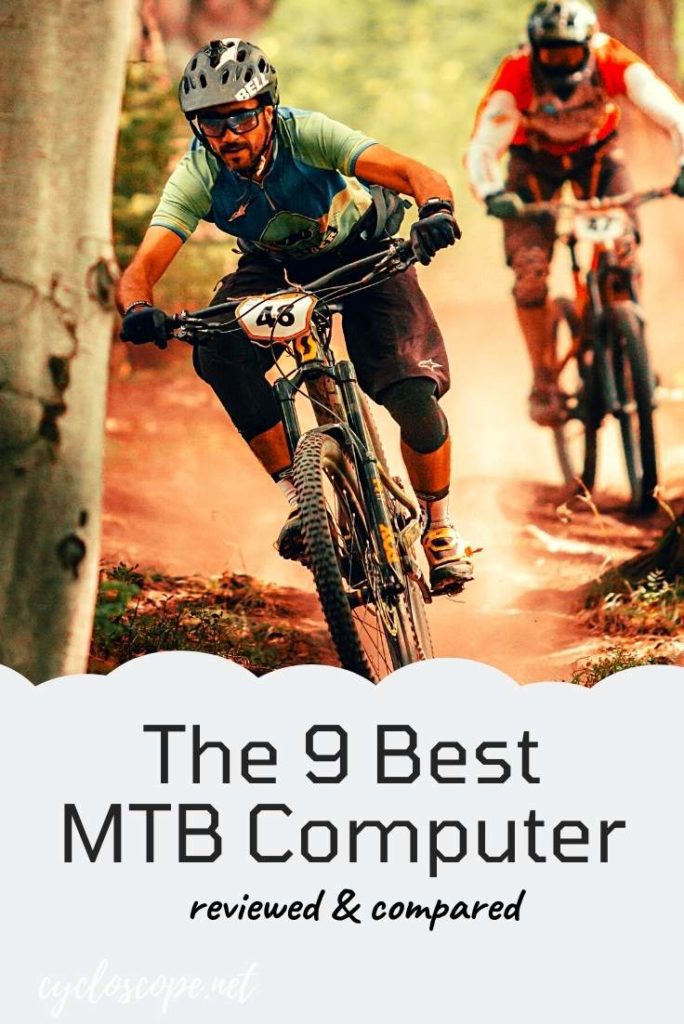 The 9 best MTB computers
in-a-nutshell
Garmin eTrex 30x
Garmin Edge 1030
Garmin Edge 530/530 plus
Garmin Edge 830/Explore 830
Wahoo ELEMNT
Bryton Rider 410/450
Garmin Edge Explore
Mio Cyclo 505
Garmin Edge Touring Plus
The best MTB cyclo-computers
compared by price and technical specs
Bryton Rider 410/450
A fairly inexpensive alternative is the Bryton GPS Rider 450, with a black and white but rather large and bright screen.
The interface allows indeed up to 10 data per page to allow a better understanding of performance in real-time.
Moreover, this is the first cartographic unit by Bryton, and comes with preloaded OSM maps (Open Street Map).
Rider 450 now supports the electronic gearbox system, including Shimano Di2, Campagnolo's EPS, and SRAM eTap. Instead of checking your crank and cassette, you can get all the gear information directly, such as the gear ratio, gear combination, and even the battery life of the ESS.
It is able to receive European, Russian, Chinese, and Japanese satellites. It is equipped with an altimeter and good rechargeable batteries will keep it up to an astounding 32 hours.
PROS: stunning battery life, cheaper than others, good phone app, barometric altimeter.
CONS: basic routing, no touchscreen, B/W display.
Who is this for?
The Bryton Rider 410 and 450 are absolutely no-bullshit MTB computers. Reliable and quick satellite reception and the longest battery life on the market of cartographic GPS for bikes, make this a great and cheap choice for those who like to get lost for days… or weeks… or years.
Garmin Edge 1030
The smartphone-sized Garmin Edge 1030 is probably the best MTB computer for real nerds. Being designed specifically for pro cyclists, it's the most powerful cycling computer in this list, with tons of functions.
The amount of data provided by this device is astounding – maybe even overkill for an amateur – while the integration with smartphone apps opens a new world of possibilities.
The Popularity Routing function gathers all Garmin Connect data to give you a live heat map of the most popular routes, while the Strava Segment app lets you compare your performance in real-time with other users.
PROS: everything you might ever want from a cycling computer and riding GPS device
CONS: very expansive (around 600 bucks)
USB rechargeable lithium-ion battery – up to 17h
Altimeter, Compass, Strava segment, WiFi, Bluetooth, SD card slot
(3.6″) 240 x 400 px multitouch screen
Garmin Edge 530/530 plus
The 530 is the little brother of the Edge family. The differences between the Edge 530 and the 530 plus are marked: while the 530 is more "training-oriented" it has very limited navigation features.
In these relatively cheap devices (250-280 USD), the screen is not touch operated but has some buttons on both sides.
Both devices are compatible with Varia bike radar and lights and Strava Segments, feature advanced performance and power analysis, including new Time in Zone, FTP tracking, cycling-specific VO2 and recovery, and cycling dynamics.
They can operate at temperatures between -20°C to +55°C, are able to be paired with a smartphone via Bluetooth.
Only the 530 plus though, is preloaded with Garmin Cycle Maps, can display heat maps from Garmin Connect, and calculate routes (including round trips).
The real issue with the 530 series is the lack of SD card slot and the ridiculous internal memory (51MB?! Are we in the 90s?) which makes it impossible to upload larger maps.
PROS: altimeter, improved connectivity, round-trip navigation
CONS: no SD card slot, 51 MB built-int in memory, short battery life, no touch screen (not sure that's a pro or a con)
Who is this for?
The Edge 520 plus is a good-value cycling computer for mountain bikers who don't venture too far. The USB charged battery allows to charge the device with a basic solar panel or battery pack.
USB rechargeable lithium-ion battery – up to 15h
Altimeter, Garmin Connect, No SD card slot
2.3″ 200 x 265 px multitouch screen
Garmin Edge 830/Explore 830
If the Edge 530 is the little brother, then the 830 is the one in-between. The two units are the exact same size of the 530 series but a few more features, the most important are: touchscreen (instead of buttons), 16GB built-in memory.
The Garmin Edge Explore 830 is the basic version, while the Edge 830 presents all those training and workout features most race-bike-riders are fond of.
An interesting feature, available also on the 530, is the accident detection… a combination of sensors that should understand if you just had a crash, thus automatically notifying a contact of your choice via SMS.
PROS: altimeter, improved connectivity, round-trip navigation
CONS: no SD card slot, short battery life
Who is this for?
The Edge 830 and Explore 830 are the upgraded version of the 530. Thanks to the large-enough built-in memory, these units can finally be considered by the most adventurous mountain bike travellers. Worth the 80/100$ more (compared to the 530).
USB rechargeable lithium-ion battery – up to 15h
Altimeter, Garmin Connect, No SD card slot
2.3″ 200 x 265 px multitouch screen
Wahoo ELEMNT
Another good-value GPS bike computer, the recently launched ELMNT (or Element) by Wahoo is more a training device than a navigator. Even so, it comes preloaded with a detailed world base map and can guide you through your rides or follow a loaded track (no turn-by-turn, although it seems they are integrating it with the use of the App).
An interesting function is the planned route elevation on the climbing page, which lets you know how long you'll still have to suffer. The unit also allows automatic downloads and uploads from/to the major cycling socials, like Strava or RideWithGPS.
The unit must be paired with the Element smartphone app to fully customize your device, the connection is done in a very smooth way by means of a QR code.
PROS: cheaper than others, good phone app, barometric altimeter, magnetic compass, comes with 3 different mounts
CONS: basic routing, no touchscreen, B/W display
Who is this for?
The Wahoo Element is a newcomer with a lot of potentials. Although not as sophisticated as a Garmin it is a very interesting device. For those who are sick of Garmin.
USB rechargeable lithium-ion battery – up to 17h
Bar. Altimeter, magnetic compass, preloaded world base map
2.7″ 240 x 400 pixels, BW, no touchscreen
Garmin Edge Explore
Ok, this is getting insane, so many different Garmin models with very similar features, it is honestly though to understand the differences. Compared to its more expensive sibling, the Edge 1030, there's less emphasis on training, no Strava Live Segments, no Virtual Partner, no Advanced Workouts.
It does feature an accelerometer for Incident Detection, it supports e-bike monitoring and has a top-notch routing, shaded base map, and navigation engine (the same found on the Edge 1030).
It seems a pretty interesting GPS bike computer but there are downsides, mainly the VERY SHORT battery life. Although it states a not-impressive 15h, this is only true if no other function besides the very basics is on, which includes GLONASS reception, Bluetooth, and WiFi. If these battery-draining features could shorten your juice down to a miserable 5h, not even a whole day ride.
PROS: altimeter, WiFi, great routing
CONS: no SD card slot, very short battery life, expensive
Who is this for?
The Edge Explore 1000 could've been the perfect bike touring computer if just it had decent battery life. It can still be a good choice if you own a Solar Charger or a couple of Power Banks.
USB rechargeable lithium-ion battery – up to 15h
Altimeter, Garmin Connect, No SD card slot
3″ 240 x 400 pixels, color touchscreen
Magellan Mio Cyclo 505
For about half the price of a Garmin Edge 820, the Mio/Magellan Cyclo 505 has almost all the same functionality plus some more. It can display a lot of data, including barometric altitude and road gradient, right-left power balance, and pedaling efficiency.
It can be synced to a smartphone for calls and messages notifications, can auto-upload data via Bluetooth or WiFi to Strava and it can control your phone music from the dashboard. Battery life is between 8 and 12 hours even when paired to various devices, the heart rate strap comes included with the unit.
The Mio Cyclo 505 is more oriented towards the touring side in comparison to the training aspects.
It's routing and mapping are pretty evolved, providing turn-by-turn directions to streets, postcodes or points of interest. You can also download and follow pre-planned routes in GPX form, manually choose to avoid a specific road, and ride Strava Live Segments.
It comes preloaded with a detailed map of Western Europe OR Australia OR North America… and here comes the main flaw: NO MAPS CAN BE ADDED TO THE PREEXISTING ONES, no OSM (OpenStreetMap) support, neither the chance to buy the maps for the rest of the world.
PROS: Very cheap, very clear and readable screen and base map, advanced routing, and connectivity
CONS: no possibility to add maps
Who is this for?
The Magellan Mio Cyclo 505 is a perfect cycling GPS navigator for those planning to travel only their own continent.
USB rechargeable lithium-ion battery – up to 12h
Barometric altimeter, WiFi, Bluetooth
3″ 240 x 400 pixels, colour touchscreen
Garmin eTrex 30x
The Garmin eTrex 30x GPS is a durable and waterproof device with a 2.2-inch 65K anti-glare color screen. Although meant for hiking, it works great as sturdy MTB computer.
Of course you won't have all the functions of a dedicated bike computers, but the eTrek30x will give you everything you need about navigation.
The new electronic compass works perfectly even when stationary or inclined, and the very precise altimeter always tell your altitude with accuracy.
The eTrex series, like most of the latest Garmin models, can detect both GPS and GLONASS satellites simultaneously. The eTrex 30x already contains the new Garmin TopoActive map of Western Europe.
PROS: relatively cheap, sturdy, no touch screen, waterproofness IPX7, compass, barometric altimeter
CONS: only hardware connectivity (USB 2)
Who is this for?
The eTrex 30x is a complete GPS device, doesn't cost an eye, and has all the basic functions a mountain biker might need, no fuss – plus, it doubles perfectly as a hiking unit. Best for those who want a solid and reliable device.
The price is around 250$. Check the latest price using the button below.
2 AA NiMH batteries – up to 25h
Internal memory 4GB, microSD card slot. Altimeter, Compass
Display 2,2″ Hi.Res, 65K colors
Garmin Edge Touring Plus
Edge Touring Plus is a multifunctional GPS navigator specifically designed for touring cyclists but with an interface similar to that of a car GPS navigator. So you can use both in the car and on your bike rides.
Like the other models listed above, it is equipped with a RoundTrip function that allows you to plan a route choosing from three different options.
The Plus version has an altimeter, while both versions only have a GPS compass (not ideal, won't work when still). Both devices record data that can then be transferred (only via USB cable) to a PC or shared with other users. At the same time, you can download routes and itineraries uploaded by other travelers on Garmin Connect or Garmin Adventures. Both these applications are completely free.
The Edge operating system is different from the handheld ones (such as eTrex and Oregon), designed with the rider in mind. We recently purchased a Garmin Edge Touring Plus, we'll review it more extensively as soon as possible.
PROS: bright screen, waterproofness IPX7, altimeter, designed for bikers, lightweight
CONS: shorter battery life (17h), no built-in storage
Who is this for?
The Edge Touring Plus is an ideal bike touring GPS, perfect for the short rides but also for the long adventures in remote areas. The absence of a magnetic compass is not really a deal-breaker to us, and the USB charged battery allows to charge the device with a basic solar panel or battery pack.
Although discontinued, the Garmin Edge Touring Plus is still available on Amazon and on Garmin's website.
USB rechargeable lithium-ion battery – up to 17h
SD card slot, Garmin Cycle Map, altimeter
2.6″ 160 x 240 pixels color touchscreen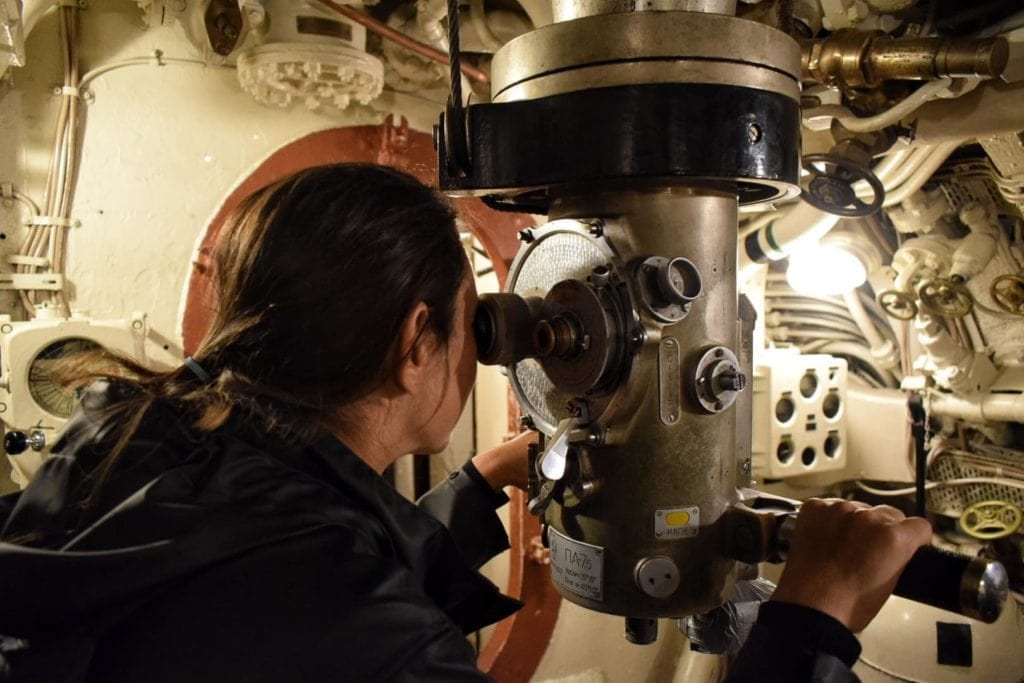 How to Choose the Best Computer for Your Mountain Bike
Many people still believe that adding a computer to your MTB setup is a hassle. reality couldn't be more different. Mountain bike computers are neither large nor intrusive. They might have been at first, but a lot about them has improved since then.
Now, riders from all over the world can benefit from real-time data provided by a compact and elegant computer, able to track time, speed, distance, elevation, and more.
The best part about attaching one to your mountain bike is that such a gadget might be enough to improve anyone's skill set. Here are the most significant things you need to know about choosing the right MTB computer for you.
Bike Computer VS Smartphone
Although smartphones apps have pretty evolved functionalities, and bike phone holders have become safer, this combo is still far from matching the convenience of a cycling computer.
Mountain bike computers are built to take all the hardships of the road without flinching. They last forever, and so do their batteries when compared to a phone tracking a route.
It is not always easy to find a place to recharge, especially if you are bikepacking in the wild. Of course, there are battery packs or portable solar panels that can guarantee you a few days of battery life, but… nothing compared to the life of the best GPS MTB computer, which can reach up to 72 hours in constant use.
Another reason is that all cycling computers are fully waterproof. Let's say the same can't be told about smartphones, except or some heavy-duty models.
With a dedicated device, all the info will always be on hand: you can track your position, your average speed, your ETA, and even your cadence.
Some of the most advanced cycling computers can also give you informations about your gears and their ratio, your heartbeat, they can even upload in real time on Strava!
So, to summarize, the strengths MTB computers are:
resistance to falls, impacts, and accidents in general;
battery life;
water resistance
possibility to save and share tracks.
Pro tip: use apps on smartphone or PC to create routes and itinerary, then import it to your GPS device to follow it.
What Type of Rider Are You?
The first step in choosing the perfect mountain bike computer to suit your needs is to determine the type of rider you are. Depending on your skill level, performance, and the amount of time you allot to the activity, you are either a beginner, a casual biker, an enthusiast, or a competitive athlete.
How to Choose MTB Computers for Beginners
As a rule, beginner mountain bikers do not need to visualize too much data. Therefore, a primary computer that displays total distance, average speed, and duration is more than enough. It is also mostly right for casual riders.
Pick a basic unit that is small, lightweight, with long battery life;
For essential purposes, you can find affordable models that will meet your needs entirely.
How to Choose MTB Computers for Advanced/Enthusiasts
When it comes to enthusiastic riders that see MTB as a hobby, things tend to change a little.
Belonging in this category means that you most likely made a habit out of hitting the trails during the weekend.
You might even be training to expand your skillset and become stronger in regard to the sport.
For this reason, you will benefit from supplementary data such as speed and cadence sensor and a heart rate indicator.
Pick a device featuring such additions to the basic package; they will turn your mountain bike computer into a reliable ally on your journey towards peak performance.
Keep in mind that the device's interface has to be user-friendly, meaning that you can access any information you want with great ease.
Such MTB computers may be larger and heavier than their simpler brethren may, and probably more expensive. However, if you want reliable metrics to smoothen your path from "enthusiast" to "professional," such investments will pay off. You have to know a few more things before we tackle the "expert" category of riders.
If you have an interest in collecting collateral data related to your rides, such as heart rate, pedaling cadence, and power, you need connectivity and peripherals for your device. Of course, you can buy cadence sensors and heart rate straps as extra gadgets or together with a GPS bundle unit.
Remember, however, that you will probably have to pay more for power meters.
How to Choose MTB Computers for Pros
Finally, it is time to discuss the needs of the professional athlete. If you perform MTB professionally, then you already know that a basic gadget or one with minor extra features won't be enough.
Smartphone connectivity, tracking, WiFi, navigation, temperature, and altimeters are thus required at this point;
You should not forget the ANT+ interface – a feature you will find useful and often encounter in the majority of new GPS units.
Fulfilling Your Tech Needs
Another aspect to keep in mind when choosing your mountain bike computers has to do with the fulfillment of tech needs.
Many casual riders feel like the investment is a superfluous one, as everyone has a smartphone nowadays that can easily substitute for such a gadget via a specialized app.
While it is true that these apps can perform essential functions such as track distance or speed, they are counterproductive in the long run.
Not only do most additional features require paying an extra fee, but they quickly take a toll on your phone's battery life.
After a while, you might find your device depleted mid-ride, with all your previous progress lost.
While the sensors inform you of aspects such as speed, heart rate, or cadence, the GPS calculates distance, aids your navigation, and lets you know what the altitude is as well. With all this information, you are bound to perfect your riding style and become more than a casual or enthusiastic mountain biker, but only if that's what you want, of course.
Moreover, they need individual cases to mount the phones on the handlebars in the correct position, and these cases are not cheap.
Using a smartphone instead of an MTB computer comes with many other drawbacks (accidents destroying your expensive phone being just the tip of the iceberg). For this reason, your best bet is purchasing a wireless computer. They are relatively inexpensive, and they manage to do the job accurately thanks to integrated sensors. Moreover, they come with a solid build and resistance to wear, tear, and everything cool mountain biking involves.
For added functionality, choose one with an inbuilt GPS system, and do not forget about the ANT+ interface you will not find in most smartphones.
The advanced versions of computers also include data collection and provision regarding: calories burned, smart alerts including weather, turn-by-turn navigation, on-screen text messages, emails, and phone-call notifications, Bluetooth connectivity (besides the ANT+), incident alerts, battery save mode and stress score, among others.
The Bottom Line
Mountain bike computers are hardly the bulky devices they once were. With the progress of technology, riders now benefit from sleek and optimized gadgets that can track anything from speed to heart rate and tell you exactly where you are at all times.
Depending on the type of biker you are, and the tech needs you have, you will undoubtedly find something out there that works for you and with you in perfect balance.
Check our article
The Best GPS for Bike Touring and Bikepacking
Did you like this article? Maybe you could also be interested in
Stay in touch while we get lost! Follow us on Social Media