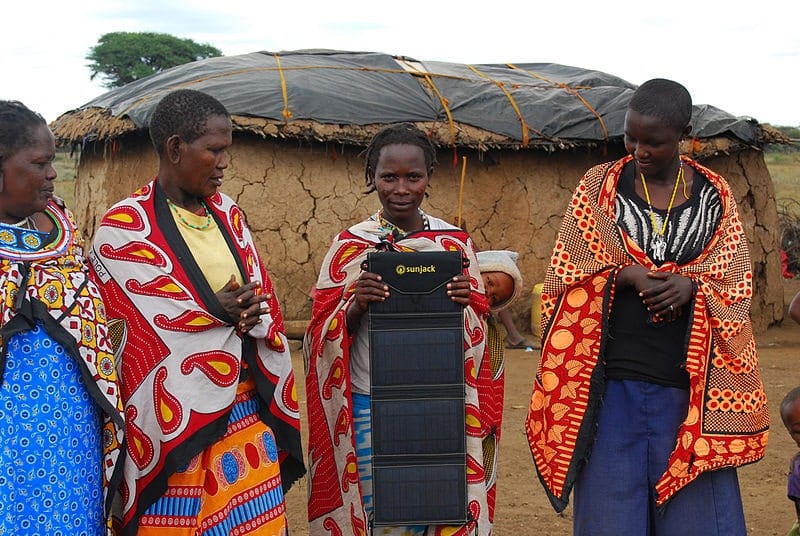 9 Best Bikepacking Solar Panels – Ultralight camping solar chargers for bike touring and cycling adventures + solar power banks for phones, tablets, laptops, cams, and more!
Keeping your phone, laptop, and electronics charged while bikepacking or bike touring remote areas can be a challenge.
The best solar chargers for bikepacking or cycling are the same panels and battery sets as those for backpacking, the needs of hikers and cycle tourers are alike – but choosing the best camping solar panel and power bank for your needs requires a fair bit of research.
We did it for you, comparing the specs of cheap, budget, and more expensive solar panels and batteries to help you choose what to buy.
Let's try to understand a bit about how solar chargers work, but first of all, for those in a hurry, a quick list of the best solar panel chargers for bike touring.
Best bikepacking solar panels in a nutshell
Goal Zero Nomad 10 – New Model 2023!
Anker Solix PS30 – New Model 2023!

Editor's choice for the best cycle touring solar charger

Biolite Solar Panel 10+ 2.0
Nekteck 28W Solar Charger
X-DRAGON 40W

Best Budget Bikepacking Solar Charger for Laptops

LuminAID PackLite Titan
SunJack 15W Solar Charger + 10,000mAh Power Bank
Hiluckey Outdoor 15W

best compact solar panel + power bank

Voltaic Systems Arc 20W + 19,000mA Power Bank

Best Heavy-Duty Bike Touring Solar Charger for Laptops
Solar Panel output power
The electrical power is measured in Watts, a unit used to quantify the rate of energy transfer. The power is the product of Voltage and magnitude of electric current (measured in Ampere "A") W=V*A.
Given that the output voltage of a USB port is always 5V, the more ampere the Solar Panel generates, the more power (Watts) it delivers, the faster your device will charge (assuming it can take higher Amperage, which most devices can do).
More solar cells generate more current, but that means usually means larger and heavier solar panels. The efficiency of solar cells also plays a huge role, but most of the solar chargers listed here share similar solar cell specifications.
Power Banks and Battery Packs Capacity
The capacity of a battery is measured in Amper per hour, Ah, although the milliampere is more often used (mAh). A battery with a capacity rating of 3500 mAh could deliver a current of 3500mA for one hour. Higher mAh ratings for the same battery type will generally mean longer run times.
check our
> Stay Powered On The Go: 9 Best Power Banks For Bikepacking, Backpacking, And Cycle Touring
Disclosure: Some of our articles contain affiliate links. This comes at no additional cost for you and helps us keep this website up and running. (as Amazon Associates we earn commission from qualifying purchases)
How we compile our gear guides: during the almost 10 years of cycloscope.net our team personally tested dozens of similar pieces of gear. For what we can't test personally, we involve other people in the cycling community to give their feedback and opinion about gear they have used. Our decade-long experience in bicycle touring enables us to find the key cons and pros of every product we mention.
The purpose of solar chargers
To choose the best camping solar panel charger for your needs you must first assess what those needs are.
Do you plan on spending days and days in a row hiking or cycle touring in remote areas without any chance to find a power outlet? Will you use your phone and electronic devices constantly, for hiking or bikepacking navigation, taking pictures and video with your action cam, listening to music, or whatever? Will you rely on the solar panel as your only source of electricity to keep those devices juiced?
If the answer to these questions is "yes", then you need a more powerful solar charger, and possibly a high-capacity power bank.
If instead, you plan to use the power of the sun only in emergency cases, to keep your phone alive, you can go for a smaller and lighter solar charger.
Solar Chargers interruption issues
Most of these solar panels may stop charging if there's not enough sunlight (in the shade for example), the interruption recovery speed is the ability of the panel to resume charging when the sun hits it again.
Some of the cheapest panels might fail to resume charging, so it can be necessary to unplug the device and then plug it again, this is quite annoying, especially when you're not looking at the charger.
Some solar chargers perform very well in overcast weather, while some don't.
Ok, now that we have an idea of how they work, let's dive into product comparison. Don't forget that solar chargers also make great gifts for hikers, cycle tourers, and outdoor lovers in general.
9 Best Solar Panel Chargers for Bikepacking, Cycle-Touring, Backpacking – Compared!
Probably the most famous bikepacking solar chargers brand, GoalZero panels are a little pricey but very efficient.
The new Nomad comes in three versions, the ultralight (350g) and compact Nomad 5 (5 Watts), the efficient Nomad 10, and the larger Nomad 20 (20 Watts). 
The NOMAD 10 has been recently enhanced for optimal user experience. The redesigned product now features a built-in Flip Power Bank dock, a power-flow indicator, and an adjustable kickstand to keep the panel at the perfect angle, ensuring effortless charging and added stability. Moreover, the integrated USB port enables small device charging wherever there is sunlight.
The new auto-restart feature tracks power flow history and knows the difference between a device that is fully charged and one that disconnects due to environmental causes like lack of sunlight.
If a device is disconnected before fully charged the NOMAD 10 will reconnect and begin charging once the sunlight returns. Ideal for phones, GPS, headlamps, wireless headphones, and all those little tech gedget for bikepacking.
You can choose between different packages, the solar charger only, with Venture 35 or Venture 75 power banks, or even with the Guide 12 battery pack if you wish to charge AA batteries.
Charges an iPhone 6 from 0 to 100% in 2/3 hours in perfect sunny conditions, and works well even with an overcast sky.
Dimensions (unfolded): 9.5 x 14.5 x 0.75 in (24.1 x 36.8 x 1.9 cm)
Dimensions (folded): 9.5 x 7.2 x 1.25 in (24.1 x 18.4 x 3.2 cm)
Editor's choice for the best cycle touring solar charger
The Anker Solis PS30 is the new solar charger by the popular brand. The weird decision by Anker to discontinue their best-selling Power Port Lite 15w has left many fans stranded – that was our panel of choice for those on a budget and one of the most popular solar chargers for bicycle touring, bikepacking, camping, and hiking.
This Solis PS30 though, is a fabulous heir, very well suited for those adventurers that like to get as far away in the wilderness as they can. 30w of charging power plus a 3A output ensures this little beast will be able to juice up even the neediest of smartphones or tablets.
With half the price of a Goal Zero 20W, Anker keeps its price advantage over the competitors, while at the same time improving the overall quality and durability of their product. All this while still staying slightly under 1kg, quite impressive for a 30W solar charger.
The compact size (10.7 × 8.8 folded) and elastic loops on each corner allow easy attachment to backpacks, trees, or tents.
The panel is very light, but remember the weight doesn't include any battery, which should be purchased separately (in case you want it).
Charges a 10000mAh power bank in 4 hours (ideal conditions) and, similarly to the Goal Zero, resume charging automatically when sunlight conditions change.
Dimensions (Folded): 10.7 × 8.8 × 1.7 in
Dimension (Unfolded): 35.6 × 10.7 × 0.7 in
This High-efficiency monocrystalline solar-panel comes in two versions, the 10+ (10-watt USB output) and the Biolite 5+ (5 watts), both are great to charge phones, cameras, and other gear in 1/2 to 3 hours – although a little pricey for performance offered.
It comes with a somehow low capacity 3,200mAh integrated rechargeable battery so your power is available even when the sun goes down, and micro USB Charge Input allows you to get a head start on your power by filling up the battery at home.
The ultra-slim weather-resistant design and increased efficiency through heat dissipation make it a good all-in-one choice for bicycle tourers and bikepackers.
It also features a charge strength indicator, so you see the strength of the sun to measure your panel capacity, and how much juice you have. The integrated kickstand helps to catch the best sunlight.
The onboard 3,200 mAh rechargeable battery charges fully in direct sunlight in 2 hrs, and has been rendered much lighter on the new 2.0 version.
Dimensions: 10.1 x 8.2 x 1″
Biolite Solar Panel 10+
1.8 lb
820 g
1A
10W
Battery: 3,200mA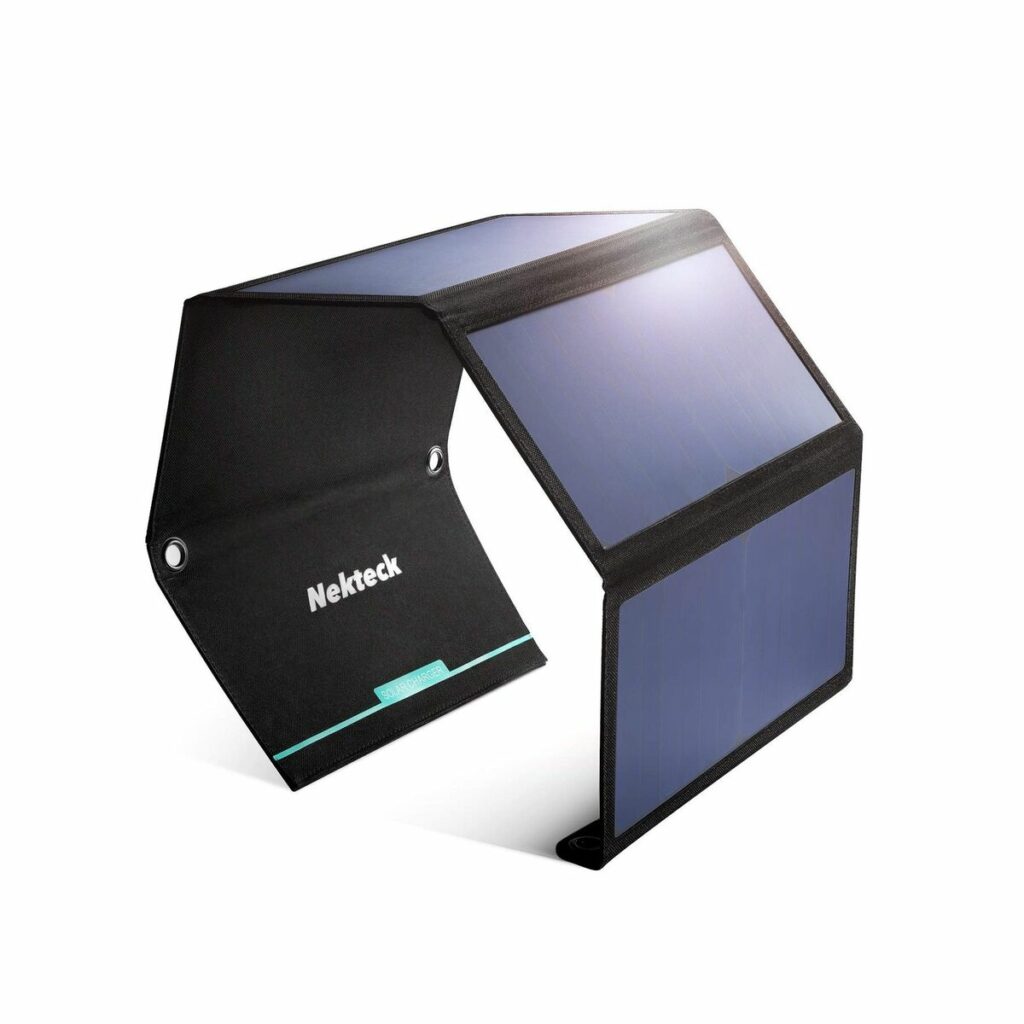 The recently upgraded Nekteck 28W is a cheap but sturdy camping solar charger with a few downsides.
The biggest of them is that the Nekteck has trouble getting back to charge after being shaded intermittently. Some devices might need to be unplugged and then replugged for the charging to resume. This can also cause damage to more sensitive devices, so it's a good idea to use the Neckteck to charge a power bank, and in turn charge your precious electronics with that.
Still, this panel is a pretty good choice for those on a budget, it's ultralight for a 28W and the its bungee loops help attach it to your bikepacking bags, dual USB charging ports allow up to two devices to recharge at once at a maximum output current of 3 Amps total.
It outputs up to 3A (one USB port used) and 3A when two USB ports are used simultaneously. In ideal conditions, it is able to charge an iPhone in about 3 hours.
Dimensions: 6.3x 11.1x 1.06″ folded, 26.3x 11.1″ opened
X-DRAGON 40W – Best Budget Bikepacking Solar Charger for Laptops
If you, like us, are a cycling digital nomad – or simply need to bring your laptop along for any reason – then this budget solar panel charger is a great addition to your bike touring gear.
The X-Dragon 40W indeed offers a dual-port output system: one USB port (5V/2A) is available for charging 5V-powered gadgets, while the 18V DC output (18V/2A) is designed to charge laptops or other 18V-powered devices.
Another cool feature is the SolarIQ Technology, featuring a built-in smart IC chip that automatically adjusts the current and voltage to optimize power output. This results in the fastest possible charging current of up to 2.8A under direct sunlight.
Its high efficiency is attributed to the integration of made-in-USA SUNPOWER solar cells, offering an impressive 22%-25% efficiency, which surpasses the majority of panels available in the market, usually around 15% efficiency.
This affordable solar panel charger is designed to withstand the hardships of the trail, featuring PET solar panels with rugged high-wear Oxford fabric, providing weather resistance.
Also safety protections are quite advanced, with surge and short circuit protection incorporated to ensure the safety of both users and devices.
The package includes a 40W Foldable Solar Charger along with 5 laptop connectors, DC cable, USB cables, carabiners, and instruction manual.
Furthermore, the product is backed by an 18-month no-worry warranty and offers friendly customer service for added peace of mind.
All this power packed in just 1kg (2.2 lbs) of weight and for under 120$, quite a bargain! Of course, there are some downsides though – It turns charging on and off if not in direct sunlight (beware of possible device damage, use a power bank in this situation), also laptops should be turned off when charging. To stay on the safe side we recommend charging external batteries always.
A very compact and lightweight solution, the LuminAID PackLite Titan is a multipurpose device: camping lamp, solar panel, and power bank.
The relatively low capacity 4,000mAh battery fully charges in under 16–20 hours of sunlight (or through micro-USB input in 4 hours) for 100 hours of total run time.
This powerful lantern features a 5V USB output, ensuring you stay connected by recharging your phone or tablet up to 1-2 times, taking about 2-4 hours for a full charge.
Not just a charger, this lantern also illuminates your path with its versatile light settings. With a brilliant 300-lumen mode, you'll have ample brightness to light up your surroundings. Additionally, a new red light mode is thoughtfully integrated, providing enhanced visibility for night activities, making it a great camping companion.
The lantern's thoughtful design includes a hook-and-loop strap, allowing easy hanging at your campsite and the option to attach it to your pack for on-the-go charging convenience. When it's time to move, its collapsible design collapses down to a mere 6 x 6 and 1.3 inches tall, making it highly portable and easy to carry and pack.
Built to withstand any outdoor condition, the LuminAID PackLite Titan is made of heavy-duty TPU (thermoplastic polyurethane), waterproof and shatterproof.
LuminAID PackLite Titan
0.77 lb
355 g
Battery: 4,000mAh
SunJack 15W Solar Charger + 10,000mAh Power Bank
SunJack is a Kickstarter-funded company manufacturing two different solar chargers, this 15W listed here, and a 25 watts version.
The SunJack 15W Solar Charger comes with a large capacity 10,000mAh battery pack (charges iPhones and most smartphones up to 5 times).
The four solar panels pump out up to 2.8 Amps of USB power, with a built-in smart IC chip to intelligently identify your device and maximize charging speed while protecting it from overcharging.
This solar charger is one of the most efficient in this list, capable of charging the 10,000mAh battery in about 4 hours of direct sunlight, it also performs very well in overcast weather.
SunJack also manufactures a cheap USB AA battery charger and the 10,000mA power bank can also be purchased as a stand-alone. Backed by a 12-month hassle-free warranty.
Folded: 9×6.5×1.75″ (23×16.5×4.5cm)
Unfolded: 9x31x1″ (23x79x2.5cm)
SunJack 15W
+ 10000mAhPower Bank
2.2 lb
1 Kg
(w Battery)
10,000mAh
15W
2.8A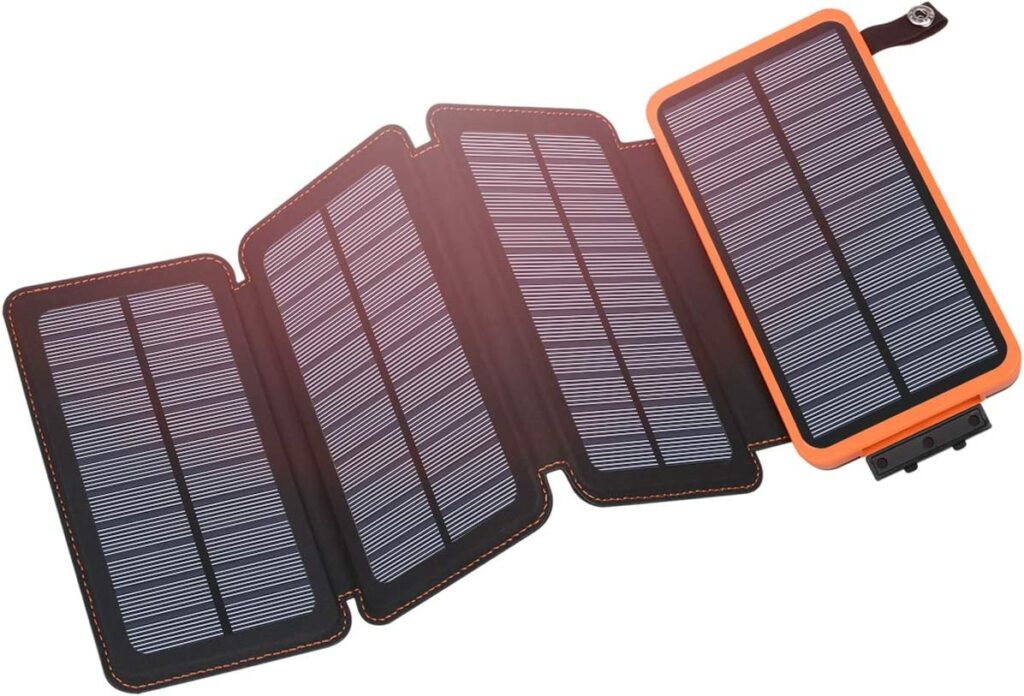 Lightweight and compact, this solar charger with a huge integrated 24,000mAh power bank is not the highest quality but definitely gets the job done multiple times.
Equipped with four large solar panels, reaching 6W in direct sunlight, it claims uninterrupted phone charging. It can juice up an iPhone up to 6 times, Samsung S23 4 times, and an average tablet about 2.5 times.
Thanks to the upgraded 15W output, this portable solar charger by Hilukey can charge an iPhone up to 50% in just 30 minutes. With one USB C port and dual USB A ports, it enables simultaneous charging for three devices.
While it lacks a built-in hook for backpack hanging, the snap on the loop allows you to utilize it with a compatible hook. Just be aware that the loop is not centered, which may cause the power bank not to hang straight down.
The USB C port supports both input and output, providing 2.5X faster recharging when used with a PD fast charger (not included). Additionally, an internal security system safeguards your devices from potential damage.
Bulkier than a power bank but much more compact than the average solar panel charger, the Hilukey is a good bet if you want to stay compact and on a budget.
Lastly, be mindful of its fragility as it is not made of high-impact plastic; a single drop could render the device inoperable.
Dimensions: 6.18 x 3.54 x 1.38 inches
Hiluckey Outdoor 15W
1.36 lb
616 g
Battery: 24,000mAh
Output: 600mAh/3W
Last but not least, here comes the beast! For all digital nomads who need their laptops even when roaming the remote emptiness of the outback, here comes this monster.
With a 19,000mAh/73Wh battery pack that can fully charge the average laptop one time and a standard smartphone up to 6 times, this combination is one of the most powerful bicycle touring solar chargers available.
The Voltaic Arc 20W takes 7-8 hours to fully charge a MacBook Pro in good sun, it can also charge DSLR and drone batteries.
Of course, don't expect this kit to be lightweight, with 3.5 lb (total) it is the heaviest in this list. It comes with many different laptop adapters.
Dimensions:

Open: 33.9 x 10.0 x 0.1 inches

Folded

: 7.5 x 10.0 x 0.8″

Battery: 0.63 x 7.28 x 4.92″
Voltaic Systems Arc 20
Watt Rapid Solar Charger for Laptops

3.5 lb
1600 g
(w Battery)
Battery weight: 1.2 lb
20W
19,000mAh/73Wh
battery pack
Frequently Asked Questions about Solar Panel Chargers
Are solar chargers worth it for camping?
If you plan to stay for consecutive days out in the wild, a camping solar charger is definitely worth the expense and extra luggage. If you're planning to go back to civilization every other day, then you can just carry a powed bank.
How do I choose a solar charger?
You should have your needs in mind when choosing the best solar chargers for you. How long are you staying in the wild? What do you need to keep charged? What's the Wattage of your gear? You should keep thee questions in mind when choosing a solar panel and charger.
What does mAh mean on solar chargers?
mAh is the symbol used to measure the capacity of a battery. Battery capacity is measured in Ampere per hour, Ah, although the Milliampere (mAh) is more often used in the case of solar chargers. I.e. a battery with a capacity rating of 5000 mAh could deliver a current of 5000mA for one hour. Higher mAh ratings for the same battery type will generally mean longer running time.
Wrap Up – can you really rely on a lightweight solar panel charger to keep your device charged when bikepacking?
While lightweight solar panel chargers can provide a convenient and eco-friendly way to charge devices during bikepacking, their reliability depends on several factors. In areas with ample sunlight, a well-designed and efficient solar charger can keep your device charged. However, their performance may be impacted by weather conditions, limited sunlight, and the charger's capacity.
For optimal results, choose a high-quality solar charger with efficient panels and sufficient capacity. It's best to view lightweight solar chargers as a supplementary charging solution rather than the sole source of power during extended bikepacking trips. Combining them with traditional power banks ensures a reliable backup for continuous device charging, providing peace of mind during outdoor adventures.
Stay in touch while we get lost! Follow us on Social Media