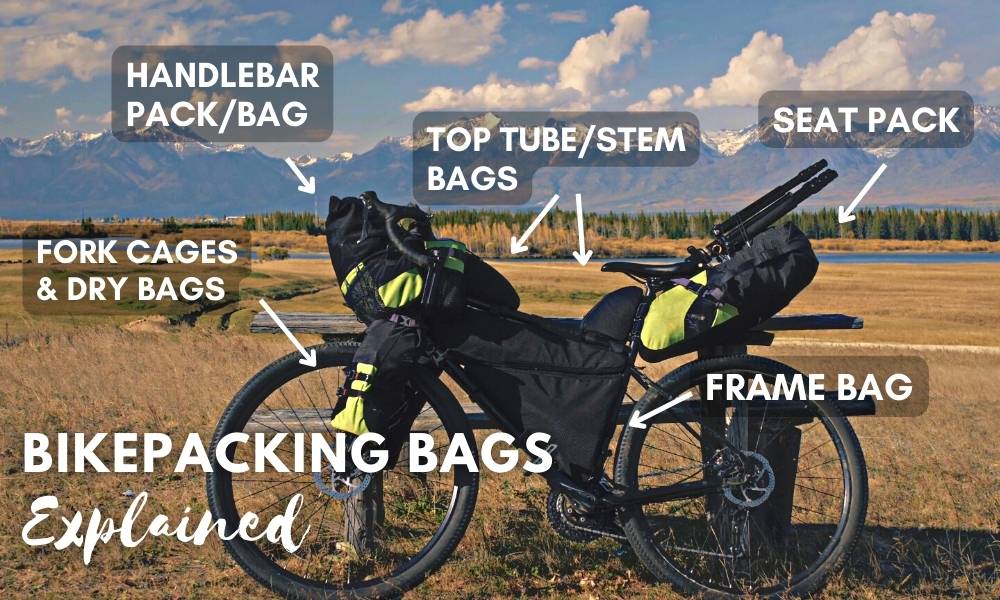 All the different types of bikepacking bags – explained!
+ The Best bikepacking bags for all budgets, cherry-picked for each category from cheap to the top!
Seat Packs / Handlebar Bags / Frame Packs / Top Tube / Fork Cages and Dry Bags/ Backpacks /
What are the best bikepacking bags? In this article, we'll go through all the types of bikepacking bags, give our opinion on what to pack in each bikepacking bag in your kit, and provide you with our top 3 for each category.
In traditional-style bicycle touring, the luggage is stored mostly in lateral bags called bike panniers. Those need a rack to be hung on to (a rear rack, a front one, or both), so they inevitably make the bike-rider system much wider.
But then touring changed, with the introduction (or maybe the re-invention) of the bikepacking setup and the desire to go more off-road.
Although some use "bikepacking" as a term for off-road cycle touring, that's not really correct. Bikepacking is a bicycle setup that can be used with great advantages both on tar and off-road.
Advantages of Bikepacking Bags
Disclosure: Some of our articles contain affiliate links. This comes at no additional cost for you and helps us keep this website up and running. (as Amazon Associates we earn commission from qualifying purchases)
How we compile our gear guides: during the almost 10 years of cycloscope.net our team personally tested dozens of similar pieces of gear. For what we can't test personally, we involve other people in the cycling community to give their feedback and opinion about gear they have used. Our decade-long experience in bicycle touring enables us to find the key cons and pros of every product we mention.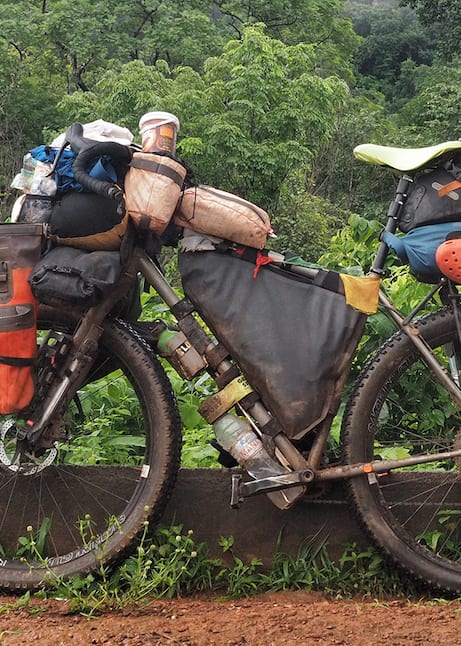 The bikepacking style is indeed modular, it uses a combination of specific types of bags properly designed not to widen the rig's profile.
By using any possible space within the bike frame, bikepacking bags make the rider able to tackle the narrowest single tracks without the need to worry about balance and obstacles.
As we've seen, what really defines modern bikepacking is the kind of bags used. Bikepacking uses specific bags, that don't need racks and are designed to be attached to specific spots on the bike – as bikes are all different, bikepacking bags are less universal than touring panniers.
That's a reason why we see a lot of small brands making custom-made bikepacking bags in small factories, and sometimes even in their garage – this is a great thing about bikepacking!
Bikepacking bags can be used differently according to your bikepacking style. Styles are of course not codified, but we identify these four broad categories:
endurance races and long-distance ultra-cycling
minimal setup [seatpack, top tube bag, handlebar]
mountain-bike camping
requires camping gear [seatpack, handlebar bag, half-frame bag, top tube]
credit-card leisure bikepacking holidays
road bike or gravel, minimal setup [seatpack, half-frame bag, top tube]
expedition bikepacking journey
requires more gear [all bikepacking bags + panniers/backpack]
Let's go through all the categories of bikepacking bags, our favorites for each category, and some resources to explore more and really find the best bikepacking bags for your tour.
The Best Bikepacking Bags In A Nutshell
1. Seat packs
Attached to saddle and seat post [up to 20l]
Best ones: Ortlieb, Rockbros, Blackburn
2. Handlebar pack/bag
Mounted on the front hand of the handlebars [up to 15l]
Best bags: Ortlieb, Revelate, Rockbros
3. Frame Bags
Inserted in the diamond of the frame [up to 14l]
Best ones: Ortlieb, Moosetreks, Revelate
4. Top Tube and Stem Bags
Locked on top of the top tube, near the stem or the seat post, can mount 2 [up to 5l x 2]
Our favorites: Blackburn, Topeak, Revelate
5. Cargo Cages and Dry Bags
Attached to the front or rear fork eyelets [up to 16l x 2]
Best ones: Blackburn, Salsa, DOM Gorilla
6. Backpacks
On your shoulders [up to 20l]
Best backpacks: Evoc Trail, Camelback KUDU, Camelback Octane
1. Seat Packs
Attached to saddle and seat post [up to 20l]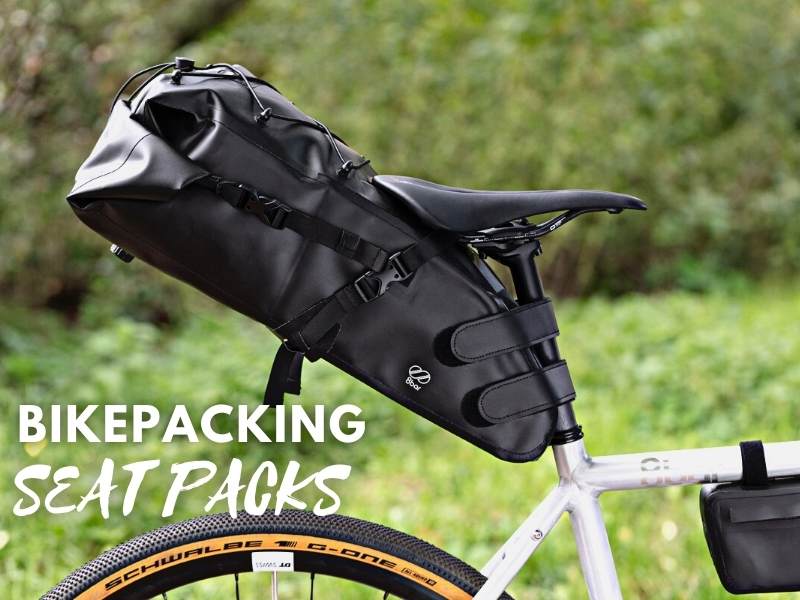 Old-style saddle bags gone oversize is the concept behind bikepacking seat packs. This particular type of bikepacking bag is an essential part of a bikepacking set-up.
Bikepacking seat packs are large enough to store a minimal bikepacking kit for a short solo trip without the aid of any additional bag.
A good seat pack should be totally waterproof and solidly anchored to its mounting points, to prevent them from swaying from side to side.
Backpacking saddle bags usually feature external straps and cords to secure additional gear, great for shoes, and to have a raincoat handy.
Please be extra careful when packing a large bikepacking seat pack. Make sure it is packed tightly and put the heavier items closer to the seat post, to avoid the risk of it sagging down and wearing on the rear tire.
Pros & Cons of Bikepacking Seat Packs
+ Large volume [up to 20l]
+ Aerodynamic profile
– A higher center of gravity
– Prone to swaying
Bikepacking seat packs are ideal to store camping gear and spare shoes
Learn more about
> 12 Best Saddle Bags in 2022. Road, MTB, Gravel, Bikepacking
Our favorite bikepacking seat packs:
Ortlieb Seat-Pack Saddle Bag [16.5 L]
Best bikepacking saddle bag overall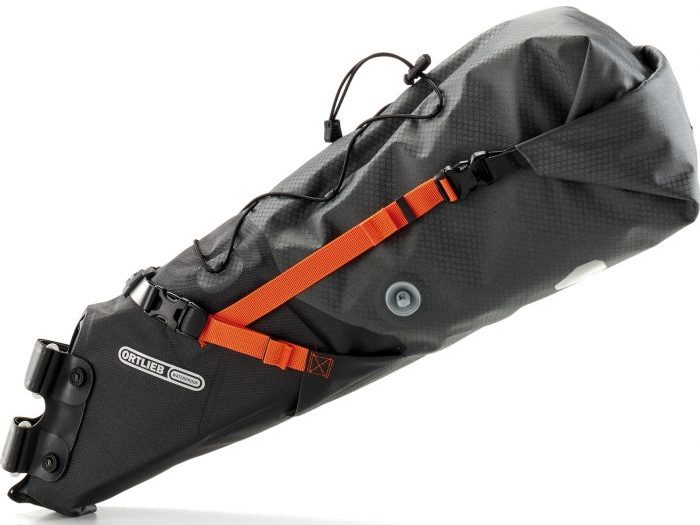 Maximum capacity: 11 lbs/5kg

Note: In order to meet IP64 waterproofness standards the closure must be rolled 3 – 4 times
After a few years of ignoring the bikepacking market, Ortlieb dove straight into it with a line of products whose quality stands firmly in the top category. Nothing less to expect from what has been the best bike bag brand in the world for a long while.
The Ortlieb bikepacking seat-pack has a variable volume that can be adjusted from 8 to 16.5L thanks to the roll-top closure, an air-release valve easily purges the bag of trapped air, allowing for tighter compression.
The materials are lightweight yet abrasion-resistant polyurethane-laminated ripstop nylon, reinforced with extra heavy-duty fabric near the mounting points. The rigid polyethylene inner stiffener keeps the bag's shape properly.
The hooks and straps have a tough grip on the seat post surface, they are stable and do not let the bag sway if properly packed. They are compatible with any kind of seat post, including dropper seat posts.
The Ortlieb bikepacking saddle bag includes 3M Scotchlite reflectors for improved visibility in low light, an elastic cord on the outside to quickly stash light gear, and a daisy chain with 7 loops running along the underside of the bag, allowing a rear light to be fixed.
A great bikepacking bag that stays in place on rough trails, is pretty easy to pack and features an impressive volume.
ROCKBROS Waterproof Bikepacking Seat Pack [14 L]
best budget bikepacking seat pack
The budget-friendly ROCK BROS bike saddle bag is a great bang for the buck. Made of 600D nylon and TPU waterproof film covering, this bag is sturdy and completely waterproof.
The whole tail-bag capacity is about 14L, which allows you to put in a light jacket, pants, and even your small sleeping bag, and sleeping pad. It meets the needs of heavy commuters, bikepackers, and long-distance cyclists.
The saddle post adapters offer great versatility, allowing the bag to be mounted on almost any seat post. The only issue is that the clips that hook below the saddle might loosen over time and so you'll need to tighten them in order to keep the bag from swaying from side to side.
The usual elastic cord is provided to help you attach extra gear to the top of the bag.
Blackburn Outpost Elite Universal Seat Pack & Dry Bike Bag
best harness + bag system for bikepacking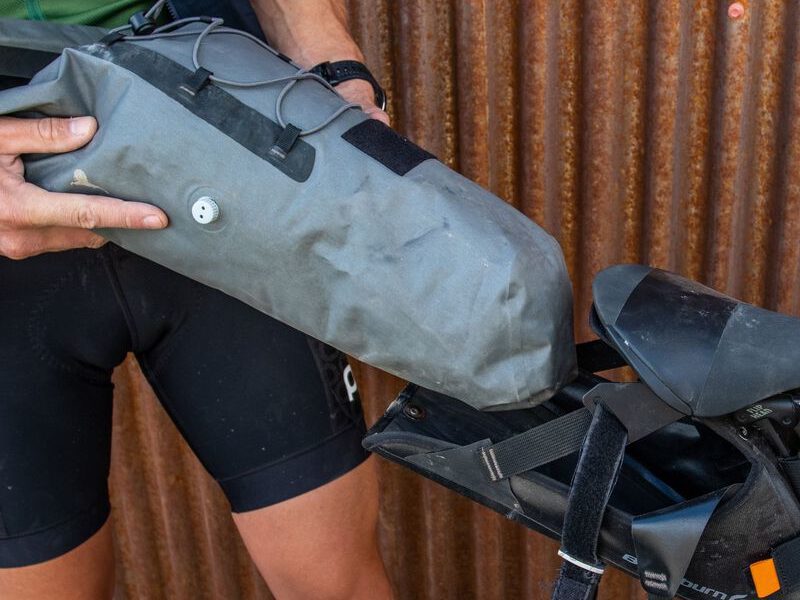 You'll see quite a few Blackburn products here, that's because they're amongst the best bikepacking bags available nowadays.
The Blackburn Outpost Elite has a rock-solid mount and sturdy and smart construction that makes it stand out from the seat pack crowd.
The most interesting feature is its harness system: basically, the bag is separated from the harness system, allowing the user to remove the bag from the bike in a totally hassle-free manner.
The t6061 aluminum wing bolts steadily clamp to the seat rails ensuring your cargo won't move around even on the roughest trails. The mount is also dropper-compatible.
The Blackburn Outpost Elite waterproof dry bag features a scuba-style air bleed valve so as to pack your bag as tight as you need, without worrying about leaks.
The seams are welded both in the interior and exterior of the bag, so as to ensure total waterproofness.
Learn more:
> 12 Best Saddle Bags in 2022. Road, MTB, Gravel, Bikepacking
2. Handlebar packs and bags
Mounted on the front hand of the handlebars [up to 15l]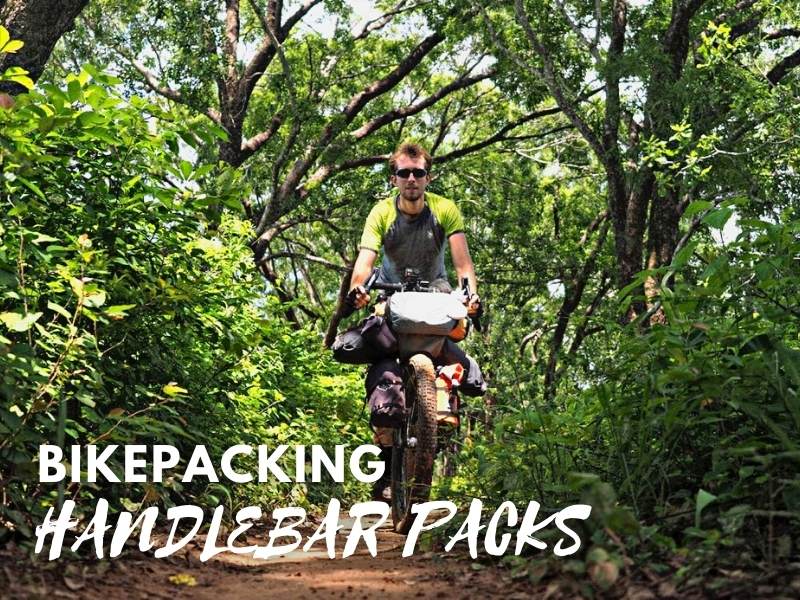 The front of the handlebar is a classic location where to store gear, historically used both in military setups and classic bicycle touring style.
Choosing the best handlebar bag for bikepacking is not easy, there are quite a few out there with pretty different characteristics: classic bike touring handlebar bags are still great for minimal setups, but if you need to store more gear – at the cost of giving up some accessibility – you're probably gonna need a proper bikepacking handlebar pack.
With the rise of the bikepacking style indeed, a new generation of handlebar bags has come out, and more and more people are considering the handlebars as a perfect space to store the bulk of your gear.
According to many bikepackers and cycle tourers, load on the front helps with handling and it's much better than the load on the rear – I can say I agree with this for the most part (there should always be a balance).
The new generation of bikepacking handlebar packs is mostly rolled waterproof bags using a harness to attach them to the bars. They are generally used to store a sleeping bag or even a small tarp tent.
Pros & Cons of Bikepacking Handlebar Bags
+ Large volume [up to 15l]
+ Good center of gravity
– Difficult to access
– Non-aerodynamic profile
Bikepacking handlebar packs are ideal to store your camping tent or clothes
Traditional handlebar bags are great for valuables such as passports, money, and camera
Learn more about
> 21 Best Bike Handlebar Bags in 2021 – For Bicycle Touring and Bikepacking Compared
Our favorite Handlebar Packs:
Ortlieb Handlebar-Pack 15L
the best handlebar pack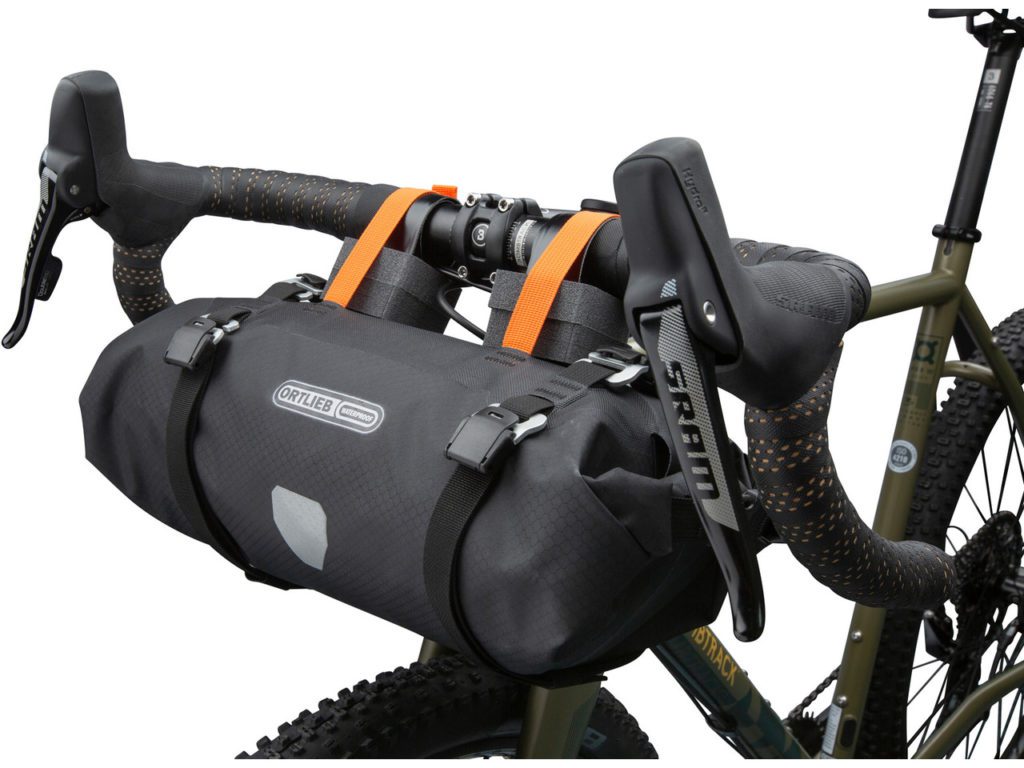 Looking for the best bikepacking handlebar pack to carry essentials for your weekend trip? Well, Ortlieb Handlebar Pack is a no-fuss choice.
This brilliantly designed handlebar drybag from the bike panniers leader brand has a massive 15 liters volume that is enough to adjust your sleeping bag, sleeping pad, and other small accessories.
If we talk about accessibility, the two-side roll closures make everything in the bag easily accessible. Moreover, you can easily attach extra equipment with the attached compression belts and drawstrings. If in any case, there is a requirement for more volume, you can attach the accessory bag to it.
Lastly, the mounting system of the pack has spacers and two straps that feature extra-long velcro closures. These help in attaching the bag to the handlebar while maintaining balance and stability. It is also suitable for carbon handlebars.
Recently, Ortlieb came out with a new handlebar bag that can either be used as a stand-alone or as an extension of this handlebar pack. The Ortlieb Handlebar Pack QR – is definitely worth a look!
Features:
Material: PS21R
Weight: 417 g
Dimensions: 20 x 58 x 20 cm
Volume: 15 Liters
Revelate Designs Sweetroll Handlebar Bag
great for expedition bikepacking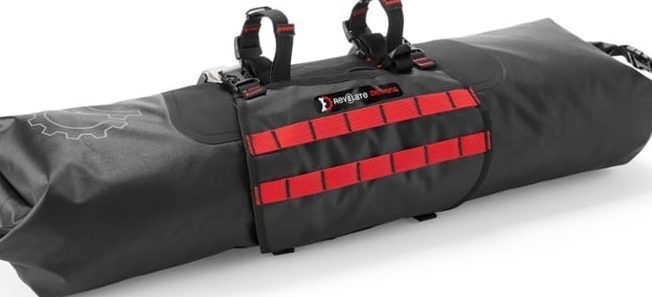 This handlebar bag is another great product to opt for if you are heading out for an extended bikepacking trip. Its various state-of-the-art features make it one of our favorites.
The waterproof design with RF welded seams, the solid four-point bungee attachment, the fiberglass cross stiffeners provide strength to the fixing area, the adjustable "shovit" flap for carrying extra load, a modular front system with extra pockets for storage, and lastly, the dual entry ensures ease of access to all the stored items.
Revelate is a legend in bikepacking bags, with great frame bags, stem bags, and seat packs in their catalog.
Features:
Material: Dual coated 210 deniers waterproof TPU laminated nylon; 420 Denier Dual Coated TPU
Weight: 437 – 465 g
Dimensions: 15 x 56 cm (H x W)
Volume: 14-18 Liters
Rock Bros Handlebar Bag
cheap and convenient
Now, this is a product that has it all! Yeah, this awesome product from Rock Bros offers you a variety of bags in case of volume. You can get anyone between 7-14 liters of volume. Other than that, it provides the ultimate convenience of accessing your gear via its dual roll-down closure at each end. This allows for instant and easy access at any time.
Moreover, the bag can be easily secured to the handlebar of the bag with 2 nylon straps that also have side-release buttons. The extra-large velcro straps with spacers allow you to add extra gear if required.
This roll-down type bag also packs another small add-on pouch of 6 liters. It can be used to store some necessary handy items like snacks, gloves, headlamps, etc. All these features make it a sure short choice for bike riders and explorers, thus the best bikepacking handlebar packs.
Features:
Material: 600D Nylon + TPU waterproof coating
Weight: 538 g
Dimensions: 50 x 15 x 15 cm
Volume: 7 to 14 Liters
Comes with an add-on pouch for storing handy items.
Long velcro straps for attaching extra gear on the outside.
Flexible mount with adjustable height.
See more options here:
> 21 Best Bike Handlebar Bags in 2022 – For Bicycle Touring and Bikepacking Compared
3. Frame Bags
Inserted in the diamond of the frame [up to 14l]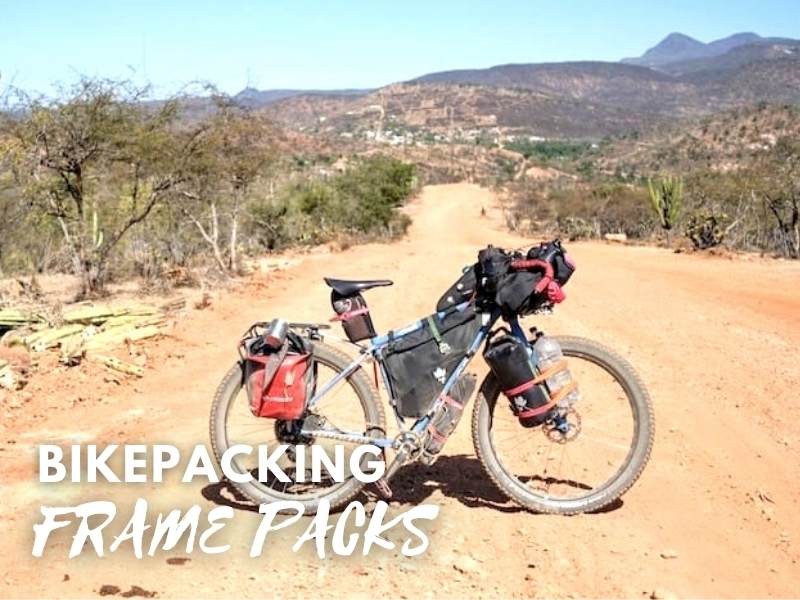 Frame bags fit inside the frame diamond of your bike, they are ideal to store heavy things like tools and spares, or fragile stuff such as small laptops, tablets, or ebook readers.
Bicycle frame bags are not an absolute novelty, they are around since before the term "bikepacking" was invented. The concept was used for example by the Swiss army during WWII.
In the 80s and 90s, small, triangular frame bags were a common sight on road bikes and hardtail MTBs alike. With the rise of bikepacking though, they become as big as taking the whole of the inner diamond of the frame.
Bikepacking frame bags give you additional storage space at a relatively low center of gravity, thus allowing the rider to pack heavier items in this location.
Bikepackinbg frame bags though require a bit more attention when purchased, compared to other bikepacking gear. That's because all bikes are different in geometry and size, so not all of these frame packs would fit.
Pros & Cons of Bikepacking Frame Bags
+ Protected location
+ Good center of gravity
– affects riding in case of side winds
– must find the right size for your bike
– takes the place of water bottles
Bikepacking frame bags are ideal to store heavy or fragile stuff (tools, spares, electronics)
Check also
> The Best Frame Bags for Bikepacking and Cycle Touring
Our favorite Frame Bags:
Ortlieb Frame-Pack
Top capacity and waterproofness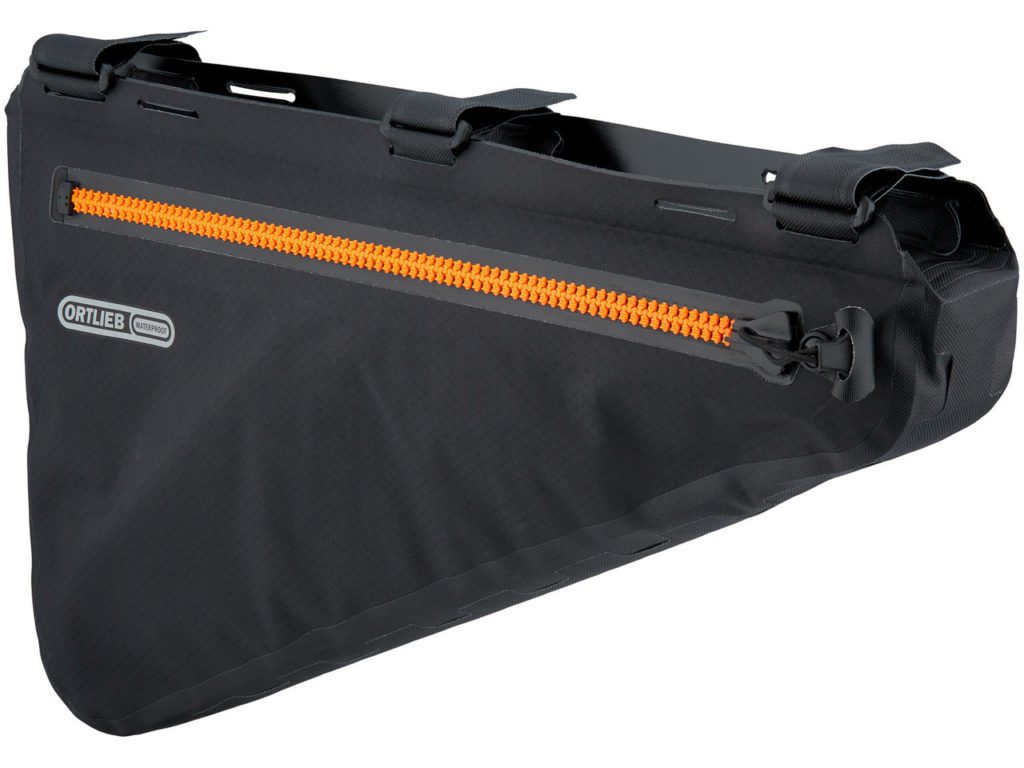 This frame bag from the legendary German brand comes in two volumes and in two colors (black matt and slate), which make it both spacious and stylish.
It is one of the best frame bags for bikepacking trips since it allows you to store as many items as you need and look cool while doing it. Like all Ortleb products, waterproofness is total and reliable.
The center of gravity is low on the bike's tube, meaning that you can even store heavy items in this Ortlieb, such as camping stoves and tools.
Featuring ultra-strong Velcro straps, nylon fabric on the outside, and waterproof zippers, this frame bag is ideal for long cycle-touring adventures. It can face any weather and it is easy to mount, perfect for cyclists who are always on the go.
Total Volume: 4 liters, 6 liters
Weight: 186g (medium), 232g (large)
The Moosetreks Trail
Amazing durability
This cycling frame bag is another great budget choice for bikepacking, it's durable and extremely water-resistant, made from a ripstop nylon laminated fabric with thermoplastic polyurethane coating.
Thanks to the bag's six available sizes, the Moosetreks Trail fits on any bike frame and has an even load balance, perfect for long cycling trips.
This frame bag features velcro straps and a velcro divider, creating comfortable compartments in the Moosetreks. The Trail frame bag isn't just perfect for long-lasting use, but also for e-bikes, since it can carry batteries and controllers, heavy items that fit in the Moosetreks Trail.
Small – 6.5L, Medium – 12L, Large – 14L
Weight: 207g – 404g
Revelate Ranger Frame Pack
a great bikepacking classic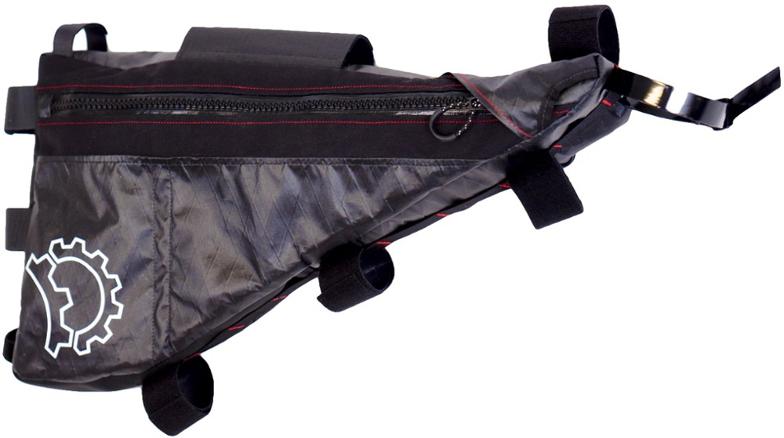 Another great add-on to your bikepacking set-up comes, once again, from Revelate Design. The Ranger bikepacking frame pack is coated with urethane tape for scratch resistance and near-total waterproofness (still, don't throw it into the river).
The Ranger comes in four sizes with different capacities and measures which can fit in almost any frame. It boasts a wide main compartment with vertical dividers, an exit port to route out a hydration tube or battery wires, and an internal strap providing an attachment point for a pump at the inner top of the bag.
Easy to wash and incredibly lightweight, the large size bag can fit a U-lock, a 14oz water bottle, a pair of shoes, a phone, and a wallet, with room to spare for a few more small items.
From 6 L to 10 L, (12 oz to 17 oz)
4. Top Tube & Stem Bikepacking Bags
Locked on top of the top tube, near the stem or the seat post, can mount 2 [up to 5l x 2]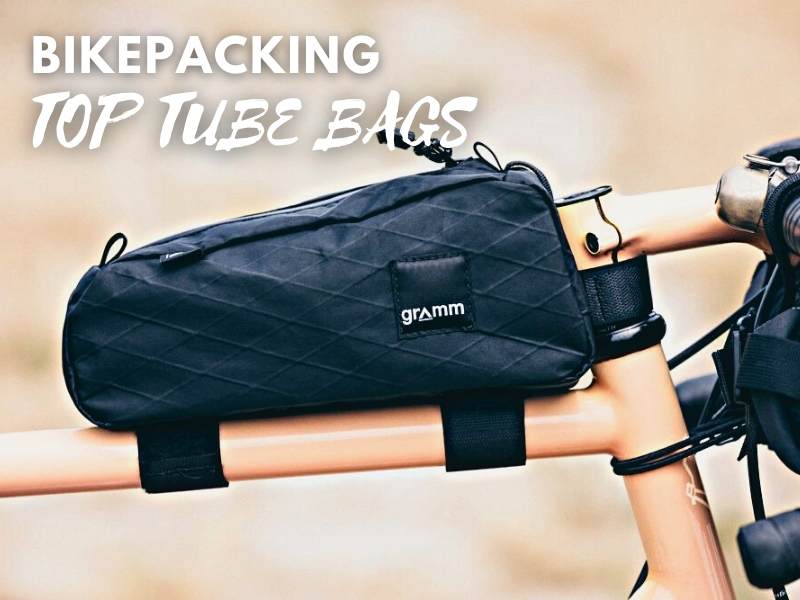 The top of the top tube is another underrated storage space that doesn't get in the way of riding. A slick top-tube bag is a great place to store stuff, very accessible and comfortable to reach.
The whole concept of bikepacking stands for using all the free corners of space on your bike for storage, without compromising aerodynamics and stability. A top tube bikepacking bag is a great addition to a bikepacking bag kit. A top tube pack occupies the space just behind the head tube and is secured by 2 or 3 Velcro straps (or bolts).
Thanks to a teardrop shape reminiscent of 1970s dirt bikes, we often hear top tube bags referred to as 'gas tanks'. It's worth noting, however, that Revelate Designs coined and trademarked the name.
While the fabric of most top tube bags is waterproof, water does enter through seams when exposed to sustained rain, due to the stitching process used to assemble the product. Thus, we recommend using an internal dry bag for contents that must remain 100% dry.
Pros & Cons of Bikepacking Top Tube Packs
+ Ease of access
+ Unnoticeable
– small volume
Bikepacking top tube bags are ideal to store stuff you might need at hand – snacks, a cellphone, and a small camera are good examples
learn more
> The 13 Best Top Tube and Stem Bags for Bikepacking, Road, MTB, and Gravel Riding
Our favorite top tube & stem bikepacking bags
#1 – Blackburn Outpost Top Tube Bike Bag
solid and versatile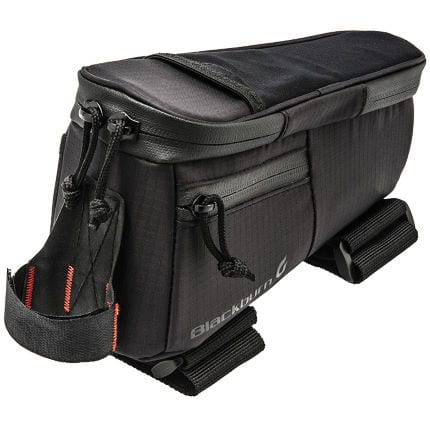 Blackburn offers something unique in its Outpost top tube bag design. They let you have a stronger fastening on the stem and tubes of your bike with the use of bolts. Plus they went the extra mile of considering the likely things you will store in their bag and segmented the bag accordingly.
They consider what's put in each of their bags and tailor the compartments to ensure a place for every piece.
You get a divider to split the interior compartment into two sections, and its big room accommodated a phone, wallet, keys, and a couple of snacks. It also comprised a mesh compartment on the top and two small pockets on either side – one zips and one uses an elastic band.
For a clean look and stout mount, two reinforced m5 grommets hold the bag to your front frame.
#2 – Topeak Fuel Tank with Charging Cable Hole
ease of access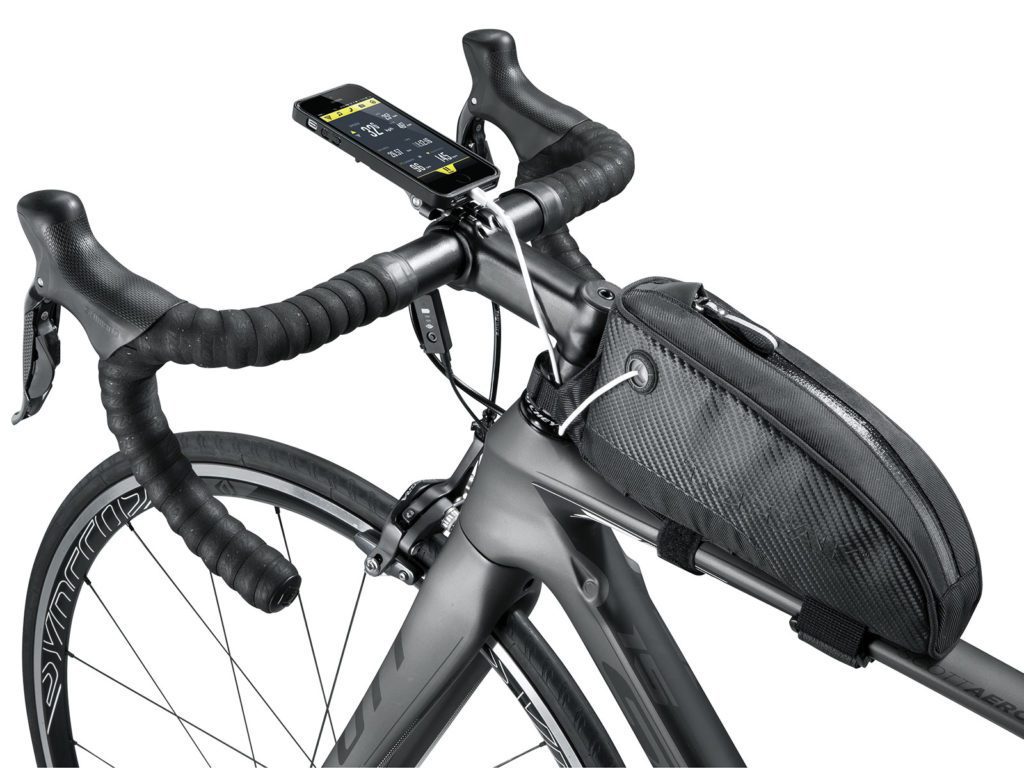 As a leader in the bike bags world, the Fuel Tank Topeak boasts of a large storage room and a dedicated opening for earbud's cables shouldn't go unnoticed.
Yopeak Fuel Tank's one-handed operation helps navigate squirrelly gravel without losing momentum, and the zip down the middle works for quick, safe access. The bag remains solid even when opened all the way.
I rode a 100-mile century ride with the large one, it carried so much and stayed out of the pedaling. The big room lets you carry spare batteries, cables for charging, a watch, a bike computer, a phone, a travel-size lotion, chafing cream, and a few packets of Gu.
To hold things like wallets, keys, etc., the Fuel Tank top tube bag has nice mesh pouches built into its inner walls.
There is a grommet, used to fit a USB cable or earbud cable, built into the side of this Topeak bag.
#3 – Revelate Designs Mag Tank Stem Bag
Price: +/- $60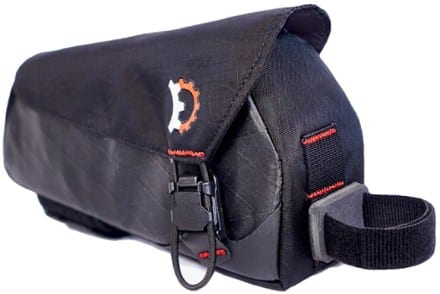 Revelate is a pioneer in the ever-expanding bikepacking bags world. When testing the Revelate top tube storage, I was looking for a bag that stays out of the leg's way and opens at a flip. The fact that it was sturdy and spacious were welcomed pluses.
In one go, it held my phone, bike tool, tire levers, patches, and keys. It does not rub against the knee when pedaling because of its sleek design, and while riding, it has a magnetic latch for easy opening and closing. I adore it! It takes no effort and can be done in motion.
I was also surprised by how well this bag stays in place. It snugs tightly on the top tube while riding. It's a bit pricey but well worth those few more bucks.
5. Fork Cages & Dry Bags
Attached to the front or rear fork eyelets [up to 16l x 2]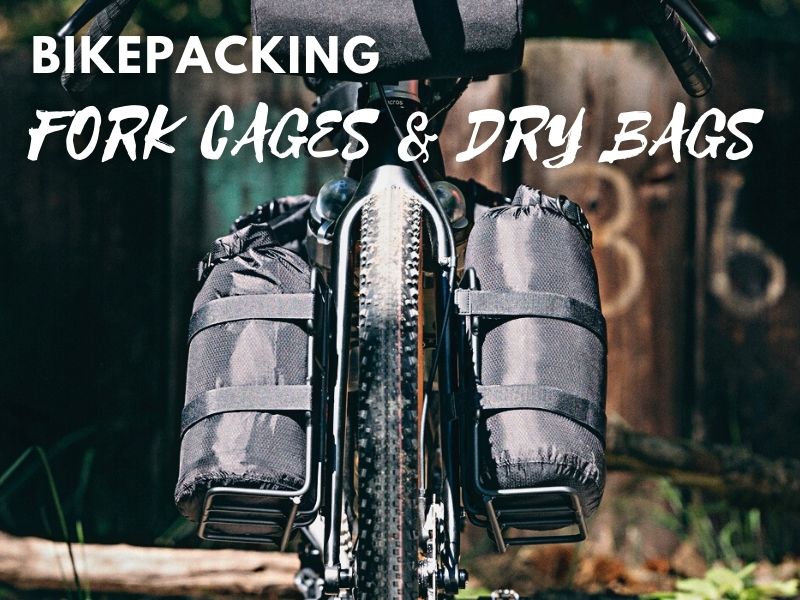 In the world of bikepacking, cargo cages have become the staple of fork-mounted luggage, taking away the place traditional assigned to front pannier racks.
A concept invented by Salsa in 2010 with the anything cage, a bike cargo cage is a utilitarian attachment that can be fixed on the frame or fork of your bike. It might be used to carry additional water, or store gear (usually in dry bags).
Called also bikepacking front fork mounts, gorilla cages, or fork cages – they are similar to oversized bottle cages, but also able to hold a 6+ liter dry bag or other gear in a secure fashion by attaching it to the cargo cage via straps.
This way the front fork has a decent cargo capacity without the need for a rack. Some of the best bikepacking cages come with their own fork dry bags, like Gorilla Cage, Specialized Burra Burra, and Salsa Anything – but many kinds of bags could be attached to fork mounts.
Pros & Cons of Bikepacking Top Tube Packs
+ lightweight
+ no rack needed
– requires special braze-one on the fork
Bikepacking dry bags and fork cargo cages are ideal to store camping gear such as a sleeping pad or sleeping bag. Spare clothes can also find a place here.
Check our dedicated article about
> The Best Bikepacking Cargo Cages & Fork Dry Bags – "Anything" Fork Mounts
Our favorite bikepacking dry bags & fork cages
#1. Blackburn Outpost Cargo Cage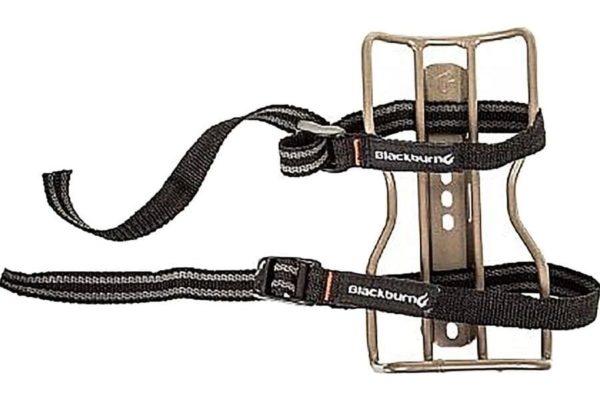 Pros
Highly durable
High weight capacity
Simple attaching mechanism
Here comes the master of cargo cages. This brilliantly designed Blackburn bottle cage has a sturdy and durable construction that will secure all your necessary gears with ease.
Other than being exceptionally strong, the Blackburn outpost cargo cage comes with straps included. These are long enough to hold oversized dry bags up to 7l.
When it comes to attachment, the outpost cargo cage can be easily attached to the frame or fork of the bike with its three-set mounting holes.
Tube diameter: 6 mm
Straps included: Yes
Weight Capacity: 8.8 lbs
#2. Salsa Exp Series Anything Cage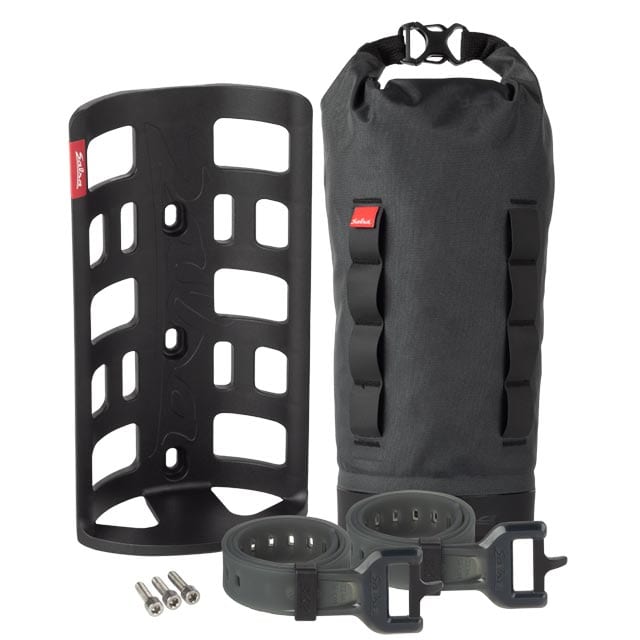 Pros
straps come included
bag bundle
easy to mount
awesome durability
lightweight
Cons
Expensive
low weight-bearing capacity
The inventors of the thing. In 2010 Salsa came up with this awesome, anything cage for bike packing. Now this cage has probably been the most tested by bikepackers around the world, and it rarely failed even the most extreme missions.
The glass-filled nylon construction is lightweight and provides immense durability and can handle up to 3 kilograms of weight.
Moreover, this new Anything Cage comes with two EXP rubber straps that you can use to secure lightweight gears to your bike's frame or fork.
Material: Glass-filled Nylon, Rubber
Weight capacity: 6.6 lbs
Three holes mounts
Straps included: Yes
Weight: 149 grams
#3. DOM Gorilla Cage II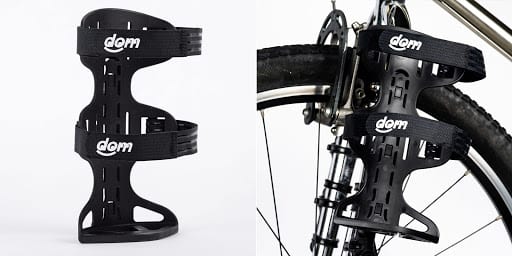 Pros
Stays sturdy in cold weather
Extremely lightweight
Fit for sleeping pads, bottles, and dry bags
The aspect that distinguishes this cargo cage from the others is its three wings wrap system. These wraps perfectly secure your gear bags, dry bags, or water bottles with zero chance of dropping or moving.
Other than this, you can easily mount it to the frame of the fork of your bike with a simple slide-down movement (you have to screw the base of the cage to the frame first).
The cage is made from engineering-grade polymer that makes the cage fit for even freezing cold weather. Thus, making it extremely sturdy.
Material: Engineering grade polymer
Weight: 0.28 lbs
Weight capacity: 5.5 lbs
Wing Wraps: 3
6. Bikapacking Backpacks & Hydration Packs
On your shoulders [up to 20l]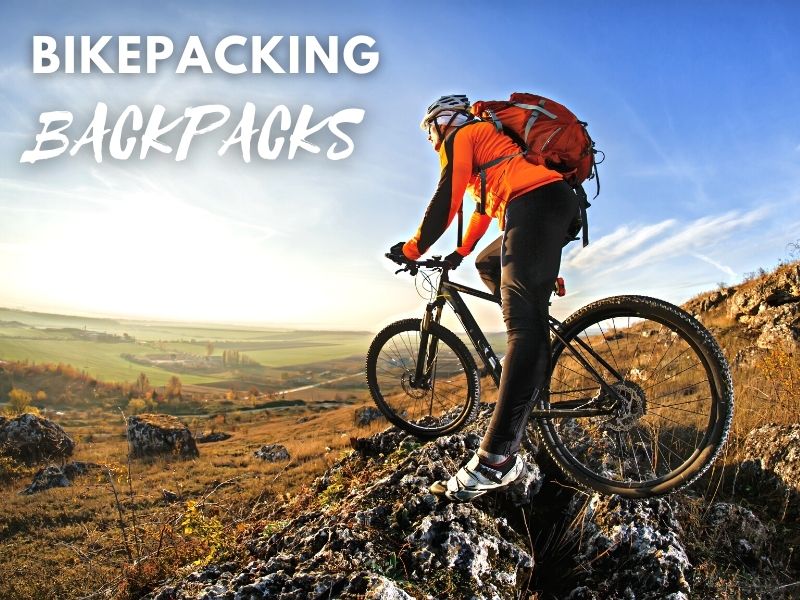 Although most bikepackers lean towards bikepacking bags, storing all your gear in a frame bag, a handlebar bag, a seatpack, and some cargo cages might not work for a long-distance cycling trip – food and water especially can be very bulky to carry – that's when you will need the best bikepacking backpack.
Cycling backpacks often feature a water bladder, a clever solution to storing water – while the rest of the backpack can easily be used to stash bulky food, rain gear, or whatever suits your setup.
On the other hand, serious bikepacking has spread all over with the advent of Enduro racing and some genuinely clever ways to carry spares and tools. Sometimes, however, no amount of tools stashed inside steerer tubes or Velcro straps can tote what you need on a ride, and sometimes you need to carry a lot of stuff.
Pros & Cons of Bikepacking Backpacks
+ large capacity
+ water bladders
– not pleasant on the back and shoulders
– blocks perspiration
Bikepacking backpacks are ideal to store food provisions and water
Our favorite bike backpacks and hydration packs
Evoc Trail Builder Performance Backpack [30L]
Best for trail building
You can carry your trail building workshop on your back with Evoc Trail Builder. The backpack, designed with trail builders in mind, offers a carrying system that provides balanced load distribution, making it ideal for comfortably transporting heavy loads.
Evoc Trail Builder is one of the best mountain bike backpacks for carrying your goods and foods on trails with your mountain bike or gravel rig.
This large Evoc backpack sits securely on your back while you ride, differently from non-cycling backpacks that tend to wobble around as you cycle.
In addition to this, it also features a rear light tab and reflective strips to improve night-time visibility. While this cycling backpack comes without hydration bladders, it features a bladder pocket ready to take one.
CamelBak K.U.D.U. Protector 20 Hydration Pack [20L]
for full suspension MTB camping adventures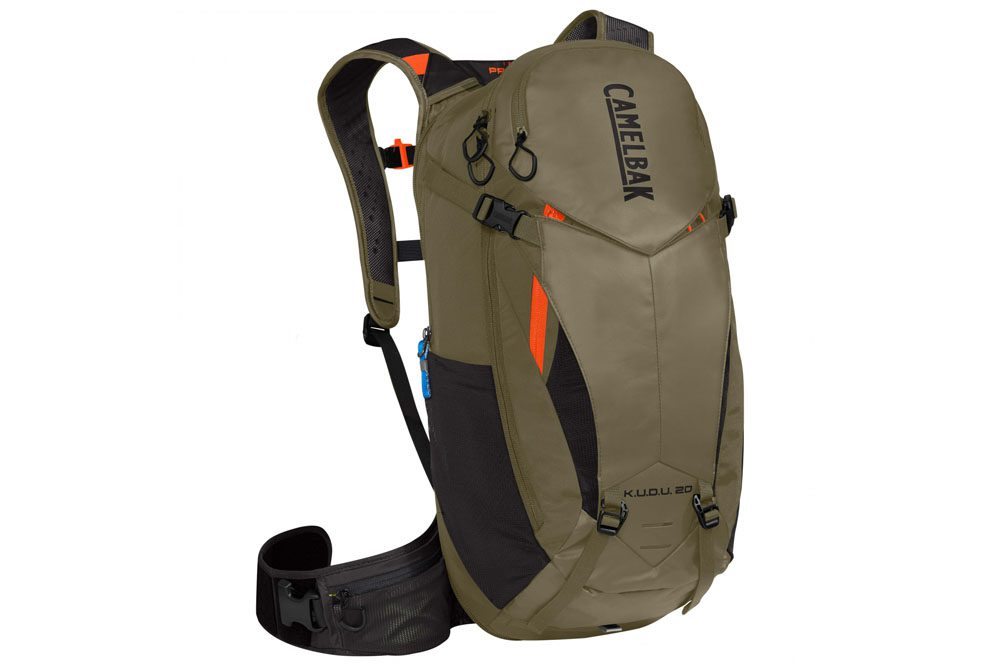 Awesome and spacious, CamelBak has many straps to secure it to your body and it possesses a built-in back protector. The full-back Level II protector shields you against minor injuries and absorbs impact in a crash. The pack has lots of pockets too. It includes a 3-liter hydration pack as well.
You can find a pack that ventilates better or weighs lighter than CamelBak, but you will hardly encounter a backpack that fits as securely as it does. You can put snacks, spare tubes, multi-tool, a hand pump, a first aid kit, and a light jacket with ample room to spare.
It fits great and looks even better.
CamelBak Octane 10 Hydration Pack [10L]
small and compact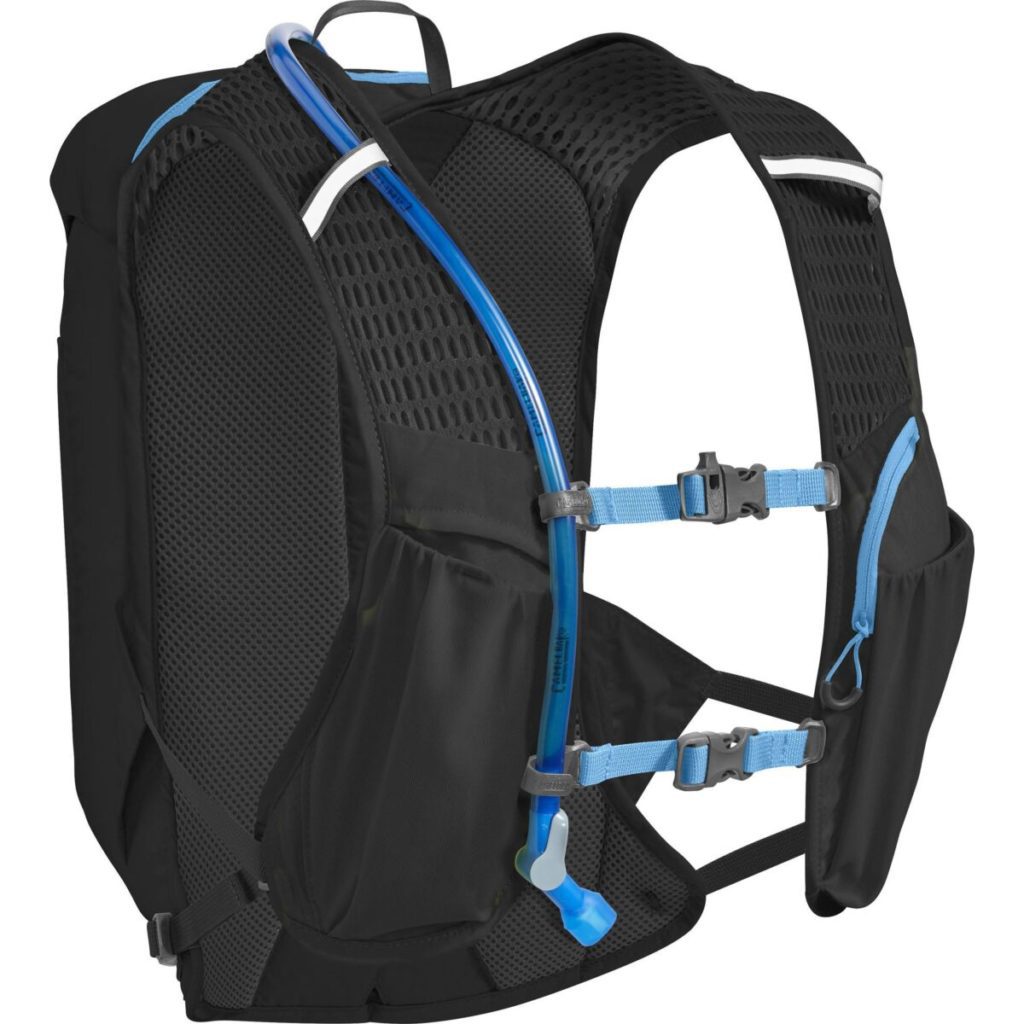 CamelBak ranks as one of the best MTB backpack manufacturers because it offers no real shortcoming. It's a little intimidating to adjust, but it feels like another part of your body once done. It doesn't bounce or move around.
It's light despite the 2L bladder. You will love the 2-liter water reserve as it will keep you from exhausting it in trail runs and longer Spartan races.
It has a huge amount of storage between the handy "snack pouches" on each shoulder strap and the backpack compartment itself. This means you can store things like energy gels and protein bars in the shoulder straps and a headlamp and your phone or keys in the back, and you rarely need to remove the pack even when you need to refuel during a run.
Learn more
> 13 Best Cycling Backpack: Mountain Bike, Commuting, Bikepacking
Chack also:
> The best saddles for cycle touring and bikepacking
FAQs about Bikepacking Bags
What bags do you need for bikepacking?
For a minimalist and ultralight bikepacking setup you could use just a setback, a top tube bag, and a handlebar bag or roll-pack.
If you're planning a self-sufficient trip or going long distance, you should also add a frame bag and fork cages, and dry bags to the setup.
Do you wear a backpack while bikepacking?
Cycling with a backpack can cause back pain and fatigue. Although most backpackers prefer not to wear any backpack, for some long-distance trips backpacks are fundamental if you don't want to use lateral panniers.
How do you pack food for bikepacking?
Rice, pasta, and other basic mealies can be stored at the bottom of a seat pack. Canned food and light stuff such as instant noodles are best placed in the frame bag or in dry bags mounted on the fork. Snacks to be consumed while cycling have their right place in top tube packs or handlebar bags.
Stay in touch while we get lost! Follow us on Social Media