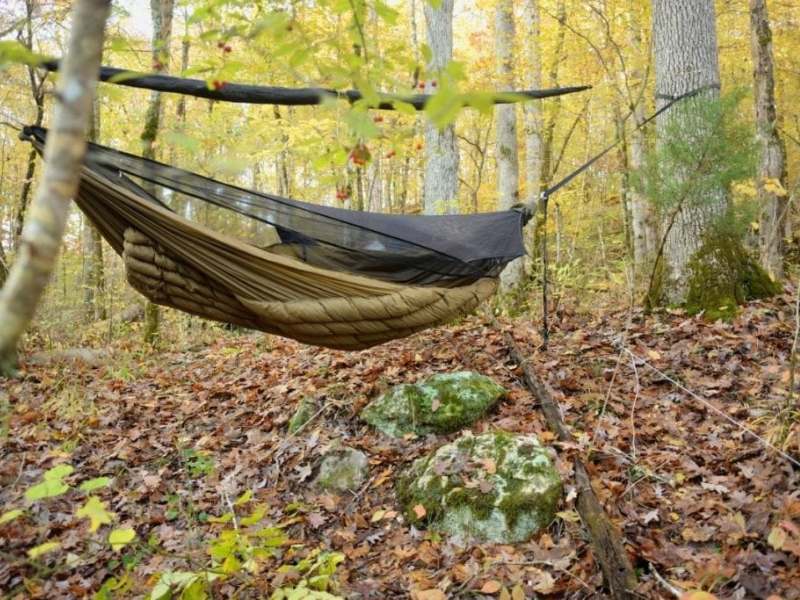 The best sleeping pads for hammock camping
A thorough comparison and review of the top ultralight hammock air mats & pads for unusual adventures and daily leisure
Hammock camping has gained more and more popularity in the last few years, maybe the hype for minimalistic backpacking/bikepacking, or the added coolness of sleeping on a hammock, the fact is more and more travelers are now looking for the best hammock sleeping pads.
Whatever purpose you're mounting a hammock for, you certainly can do with more cushion – usually obtained through a hammock sleeping pad or underquilts.
When you need to set up a place to sleep as a bikepacker on the road or a camper, however, you need much more than a cushion: you also need heat insulation and, on rarer occasions, water resistance. This is why you need a hammock mattress pad or an underquilt to support your hammock.
Although only a few brands have started manufacturing air mattresses specifically designed for hammock camping, some traditional sleeping pads work great on a hammock.
Which ones? Read on!
Check Also

> Top 5 Underquilts for Hammock Camping
> 13 Best Double Mattress for Camping – Self inflatable pad, Air Beds, Lightweight Mats
The Best Hammock Sleeping Pads in a Nutshell
Disclosure: Some of our articles contain affiliate links. This comes at no additional cost for you and helps us keep this website up and running. (as Amazon Associates we earn commission from qualifying purchases)
How we compile our gear guides: during the almost 10 years of cycloscope.net our team personally tested dozens of similar pieces of gear. For what we can't test personally, we involve other people in the cycling community to give their feedback and opinion about gear they have used. Our decade-long experience in bicycle touring enables us to find the key cons and pros of every product we mention.
Best Hammock Sleeping Pad: Top Six for 2023
Here are the best sleeping pads that you can use on a hammock:
1. Outdoorsman Lab Ultralight Sleeping Pad
best budget hammock sleeping pad
Recently, I was looking for an ultralight replacement and gave my Thermarest to my girlfriend for her solo cycle touring trip. At first, I was a little skeptical about this sleeping pad because of the cell design, but I was very mistaken.
This pad is incredible! I'm 5'5 and 150 and had, on an ultralight pad, one of the best night's sleep I've ever had.
The valve design is excellent. It has a one-way large mouth valve that doesn't leak in between breaths and fills up quickly.
Deflating it is as easy as popping your finger in there and squeezing out the air. I managed to pack it right back down to the same size it came in.
Want more non-hammock-specific air matrasses? Check the best lightweight sleeping pads for all budgets
2. Klymit Insulated Static V Sleeping Pad
best-insulated mattress for hammocks
After 7 months of living on the Appalachian Trail, this pad was serviceable for me. It did well on a hammock or in shelters for 2200 miles under various conditions.
I slept from 90+ to freezing temps. It did the job of cushioning my nighty nights and keeping, in the woods, cold at bay. It is the best sleeping pad for hammock camping I've owned.
Over 7 months, I have inflated, deflated, unpacked, and packed this pad hundreds of times; with no leaks. I did wear out the carry bag, however. But I emailed Klymit, and they sent a new one within a week, free.
Want to enjoy a double hammock with your loved one? Read about the best double matrasses for camping!
3. Klymit Hammock V Sleeping Pad
the only real hammock sleeping pad
Even the strongest hammock setup is a disaster if you can't stay warm while on a trail. With Klymalite lofted synthetic insulation and non-slip zones, Insulated Hammock V boasts 180 degrees of protection from drafts and cold air.
This is definitely the best sleeping pad for hammock camping, being specifically designed for this purpose.
And, for just two pounds of weight, you can get all the warmth you need because the pad features incredibly light, soft-touch fabric.
It fits all standard hammocks, double wide or single. Furthermore, the pad, with its intelligent ergonomics, wraps around the body and creates a barrier that prevents cold from creeping in from the bottom and sides.
The V-chamber design limits air movement, keeping you comfy. The manufacturers included a patch for emergency repairs.
Downsides: cannot be used as a regular sleeping pad.
4. Sea to Summit Comfort Light Insulated Mat
Most comfortable ultralight camping mat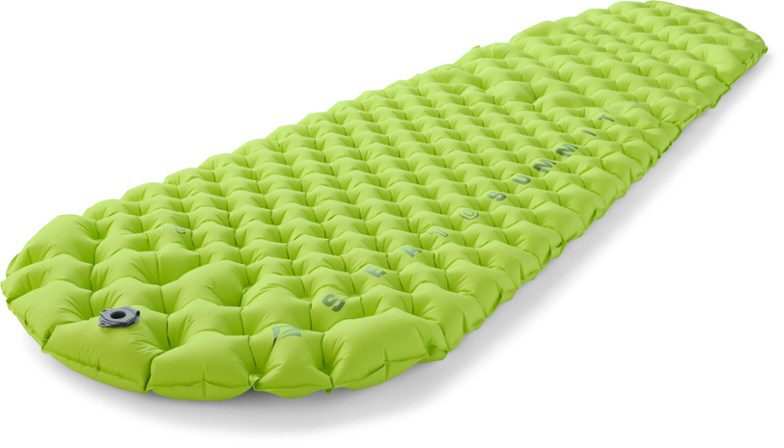 R-Value: 4.2
Weight: 21.8oz 618g
Sea to Summit Sleeping Mats offers the most advanced technology available, providing comfort levels, ease of use, and durability which made the brand a point of reference for outdoor lovers worldwide.
The innovative Air Sprung Cells, formed by a matrix of dot-welds, function like individual coils in a pocket-sprung mattress.
Pressure on one cell does not affect the surrounding cells. These Air Sprung Cells evenly distribute weight and contour perfectly to the body.
A patent-pending, multi-function low profile valve allows fine-tuning of the comfort level and inflation and very fast deflation, while the inflation takes 30 to 60 seconds with a Sea to Summit pump; mouth inflation requires only 8-12 full breaths.
The liquid-extruded anti-microbial TPU bonds permanently to the shell fabric, virtually eliminating the delamination and preventing internal mold growth from mouth inflation. Internal convection is prevented by Thermolite, radiant heat-loss by non-woven, silent Exkin Platinum.
The COMFORT LIGHT SERIES features a hybrid layer construction for low weight and packed volume. In the torso area the mat is divided into upper and lower chambers – offset dot-welds in this area double the resolution of cells, providing greater support and insulation.
In the head and leg areas, where less support is needed, the construction is a single chamber for reduced overall weight and smaller packed volume. The downsides? Loud like a Therm-A-Rest and with a very high price tag.
5. Klymit Inertia O Zone
Best sleeping pad for minimalist bikepacking/backpacking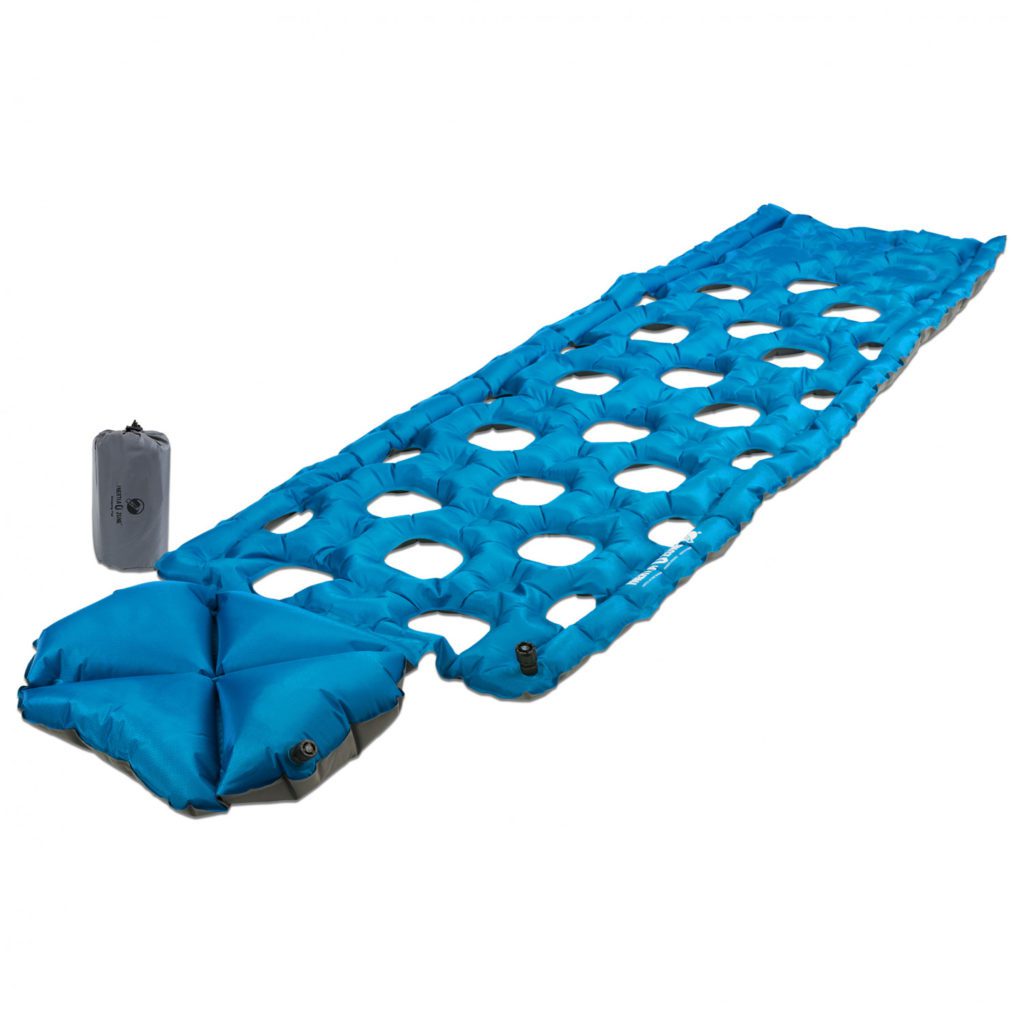 Weight: 12.2oz 350g
R-Value: N/A
Size: 72 x 21.5 x 1.75″ / 183 x 54.6 x 4.4 cm
Packed: 3.5 x 6″8 / 9 x 15.2 cm
Klymit has a knack for innovation, and their Inertia series is the definitive proof. This series of ultralight sleeping pads are designed to suit the needs of the lightweight addict, perfect for flashpackers and minimalist bikepackers.
The Inertia series takes a radically different approach to sleeping comfortably on air, by providing support at key pressure points while eliminating every ounce of "unnecessary" material. It works especially well inside a sleeping bag, where the empty spaces between the chambers serve as expansion zones that allow your sleeping bag to fully loft beneath you, maximizing its thermal performance.
At just 12.2oz, the Inertia O Zone inflatable camping pad is the heaviest of the Inertia series but still the lightest pad on this list. Combining the comfort of the Static line with the weight savings and warmth from the Inertia series, with an integrated 4-inch tall pillow, ample tossing room, and a loft pocket profile.
Inflation and Deflation: The pad rapidly inflates in as few as 4-7 breaths, and a hand pump is included for more rapid inflation and the ability to reach a higher PSI. The valve's intelligent design allows for micro-adjustments to fine-tune pressure and comfort.
Downsides: do not expect any kind of insulation from this sleeping pad, it's ideal for ultralight backpacking trips in warm climates but when it gets cooler you'll regret not having carried that 100g more.
6. Therm-A-Rest ProLite
Best ultralight self-inflating backpacking pad
Weight: 17oz 470g
R-Value: 2.3
Size: 72 x 20 x 1″ / 183 x 51 x 2.5cm
Packed: 11 x 4.1″ / 28 x 10.4 cm
Therm-A-Rest is the most popular brand for lightweight backpacking sleeping pads, a reputation gained over years of experience serving thousands of adventurers also on extreme expeditions.
The ProLite is the lightest and most compact self-inflating mattress available. Self-inflation keeps set-up super-easy and its die-cut foam packs small, easily fitting inside most ultralight backpacks it's ideal for high-mileage bicycle touring journeys where every gram counts. Stuff sack included.
Despite being a summer sleeping mat, it still has a respectable R-Value of 2.3, which should keep you warm enough even in near-freezing temperatures (given a proper sleeping bag, of course).
Some users complain about it being a little noisy, and 1″ thickness surely isn't the most comfortable for side sleepers, whose hips might touch the ground beneath.
It comes in four sizes, 2 full-length, and 2 half-length for ultralight addicts.
Frequently Asked Questions about Hammock Sleeping Pads
Hammock sleeping pad vs. underquilt, which one should I go for?
By creating an insulated air space underneath you, a sleeping pad solves the heat-loss problem, on the ground. Underquilts, on the other hand, are specifically designed to fit certain hammock models, even though a pad can perform the same function in a hammock. You will also discover adjustable underquilts that can fit a wide range of hammocks.
What is R-Value in Sleeping Pads?
The R-value is the unit of measure of a sleeping pad's ability to insulate, the measurement of a material's thermal resistance. The higher the R-value, the warmer it will be.
For example, Therm-a-rest's NeoAir XTherm has an impressive R-value of 5.7, while the Klymit Static V only has an R-value of 1.3.
How do I know if a sleeping pad can be used for hammock camping?
To use a regular lightweight air mat on a hammock you'll need a pad that's not too thick, ideally a maximum of 3cm or 2.3″. This is a usual characteristic of self-inflating sleeping pads. A thicker mattress will be more rigid and won't adapt to the curve of your hammock
Stay in touch while we get lost! Follow us on Social Media