The best hammock underquilts for all budgets in 2023! Ultralight, warm for winter, cheap and expedition-grade quilts for hammock camping. Reviewed and compared!
An underquilt is simply an insulated quilt designed to hang underneath your hammock to prevent heat loss – a fundamental piece of equipment for hammock camping even in mildly cold weather.
In this article, we're going to review the best hammock underquilts on the market for 2023, with the aim of guiding you in the purchase of the right underquilt for you.
Whatever purpose you're mounting a hammock for, you certainly can do with more cushion – usually obtained through a hammock sleeping pad or underquilts.
When you need to set up a place to sleep as a bikepacker on the road or a camper, however, you need much more than a cushion: you also need heat insulation and to be protected from moisture.
This is why you need a hammock mattress pad and/or an underquilt to help you stay comfy for your hammock-camping nights.
To purchase the best hammock pad and underquilts, read our passionately curated guide.
What are Underquilts? Are they better than sleeping pads for hammocks?
Disclosure: Some of our articles contain affiliate links. This comes at no additional cost for you and helps us keep this website up and running. (as Amazon Associates we earn commission from qualifying purchases)
How we compile our gear guides: during the almost 10 years of cycloscope.net our team personally tested dozens of similar pieces of gear. For what we can't test personally, we involve other people in the cycling community to give their feedback and opinion about gear they have used. Our decade-long experience in bicycle touring enables us to find the key cons and pros of every product we mention.
Hammock underquilts are sorts of quilts designed to hang underneath your hammock to prevent heat loss. They look like sleeping bags and like those are filled with dawn or synthetic insulation. They hug your hammock tightly with the use of adjustable straps and are a great help in keeping a hammock camper warm on a chilly night.
While a sleeping pad can similarly solve the heat-loss problem by creating an insulated air space underneath you, underquilts are specifically designed for hammock camping and adapt snugly to your hammock's shape.
If you're planning to camp in low temperatures, using both an underquilt and a sleeping pad might be advisable.
Check our
> 6 Best Hammock Sleeping Pads for Camping
The 5 best Quilts for Hammock Camping in a Nutshell
The 5 Best Hammock Underquilts for all budgets
The following are the best hammock under quilts available in the online sphere:
1. ENO Vulcan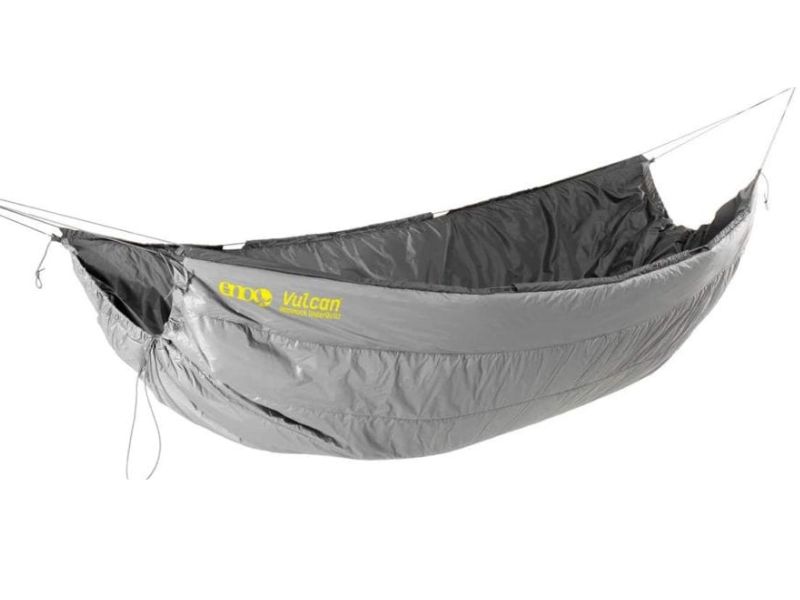 The Vulcan UnderQuilt, while keeping you warm and snug in your hammock, protects you from inclement weather.
To protect you from the elements, it features a ripstop nylon shell with a water-repellent finish.
Two layers of Primaloft insulation, with an offset quilted construction, provide the best hammock insulation.
The manufacturer's updated ENO Vulcan with a fully adjustable shock cord suspension system that's easy to set up works with any standard hammock and adapts to any sleeping position.
The Vulcan UnderQuilt fits users up to 6'2" and includes a large mesh storage bag.
2. OneTigris Hammock Underquilt
OneTigiris Hammock Underquilt offers a unique experience and you won't get enough of it.
The winter underquilt is ideal for 23°F to 41°F and the 3 seasons underquilt is ideal for temperatures from 40°F to 68°F.
It is shaped to fit a hanging hammock made of materials that keeps you warmly cocooned and shield you from the wind.
It also shrinks to a small size to fit in any rucksack and weighs very little. Keep the cold off your back with this highly serviceable piece of gear.
Looking for a lightweight sleeping bag without investing a fortune? Have a look at the best budget sleeping bags on the market.
3. Outdoor Vitals Aerie
How do you sleep comfy without packing a car full of gear? The answer is simple: Outdoor Vitals Aerie 5-in-1!
The manufacturers designed the Aerie 5-in-1 Down Sleeping Bag in the rugged backcountry of Southern Utah. They field-tested it at 12,000+ foot peaks, all the way to desert floors and slot canyons.
From there, they sourced IDFL certified and RDS-sourced down, YKK zippers, and quality milled ripstop fabrics, to put together components for premium performance.
Last, they flew around the world and met with manufacturers to ensure their gear was made in ethical and quality manufacturing facilities! The result is an ultralight-down sleeping bag that will cut weight out of your pack, costs only a few bucks, and keep you warm!
4. Snugpak Hammock Cocoon
The Snugpak Hammock Cocoon does its job of being a heat-repellant underquilt. Although it restricts diagonal lay slightly, it offers no disappointment because that's expected.
The bag will be better with a suspension point attached to a ridgeline to hold the head-end off the face, and I have emailed Snugpak to inform them about this.
It works fine at 14°F/0°C with light wear and socks and no inner bag or pad. I am yet to test it in colder conditions but, you can easily supplement it with extra clothes, an inner sleeping bag, etc.
5. ENO Eagles
There's an updated version of Blaze Underquilt right now by the manufacturers (ENO). They enhanced the old one with DownTek water repellent down.
With the shock cord suspension rails, you will easily set it up, and so you stay warm all night, the differentially cut design will match your every contour.
When unfolded, it spreads out in a dimension of (L x W) 6′ 6″x 4′. It weighs 24 ounces. You can pack it up into a stuff sack that measures 14'' by 7'' when you're done using this underquilt.
Besides the regular stuff sack, ENO included a larger storage sack to store your ENO Eagles when you're doing without it for extended periods.
ENO recommends that you use the storage sack rather than the stuff sack because the storage sack will extend the life of your underquilt.
Air mattress or underquilt for hammock camping?
Consider the following points to choosing between the two:
| | |
| --- | --- |
| Underquilt pros | Sleeping pad pros |
| Won't interfere with your natural hammock sleeping position | Though the hammock fit can be less than ideal, you can use it in both a tent and a hammock. |
| Models with high-loft fills provide superior warmth | For a better fit, get models designed for use in hammocks |
| | You can deflate air pads, slightly, in a hammock for a better fit (deflate too low, and you'll have cold spots; deflate too high, and your setup can get a little tippy) |
Frequently Asked Questions about Hammock Underquilts
Hammock sleeping pad vs. underquilt, which one should I go for?
By creating an insulated air space underneath you, a sleeping pad solves the heat-loss problem, on the ground. Underquilts, on the other hand, are specifically designed to fit certain hammock models, even though a pad can perform the same function in a hammock. You will also discover adjustable underquilts that can fit a wide range of hammocks.
How to set up an underquilt?
Each underquilt comes with instructions, so that's your first source for a fit recommendation. The following universal tips, however, will help you create the warmest possible setup for your underquilt:
1. Lay the quilt inside the hammock to start to prevent it from getting wet or dirty on the ground, then attach the ends and remove enough slack so that it suspends at the desired height when you slide it out of and under the hammock.
2. With you in the hammock, minimize the air space between the hammock and the top of the quilt. Snug up the adjustments to ensure the quilt is close, but not too close so that your body won't compress it.
3. To prevent air from flowing through, snug each end tightly.
4. To prevent airflow gaps from forming there, secure any attachments along the sides.
Stay in touch while we get lost! Follow us on Social Media