12 Best Double Sleeping Pads for Camping in 2023 – Self-inflatable Pads, Air Beds, Lightweight Mats. Inflatable vs Self-inflating vs Foam, Weight vs Comfort.
As a camping-loving couple, the choice of the best camping double bed really depends on your style and needs. If you are an adventurous backpacking couple or are exploring the world by bicycle, you need to wake up feeling vibrant to continue your exciting exploration, but at the same time, you'll want an ultralight solution.
If instead, your style is more relaxed, you're maybe an overlander sleeping in a rooftop tent, or a holiday camper bringing your family around, weight is not much of an issue, and you'll focus on comfort when choosing the best double camping mattress for your needs.
When it comes to the best sleeping pads for couples, you have quite a wide options of camp beds to choose from.
The kind of mattress you choose will depend largely on how much space you have, your budget, and the level of comfort you seek.
Cheap options like airbeds are great for short, infrequent camping and for those on a budget. Whilst regular campers will find that investing in a good quality double self-inflating mat makes more sense.
Double Sleeping Pads – LIGHTWEIGHT – In a Nutshell
Disclosure: Some of our articles contain affiliate links. This comes at no additional cost for you and helps us keep this website up and running. (as Amazon Associates we earn commission from qualifying purchases)
How we compile our gear guides: during the almost 10 years of cycloscope.net our team personally tested dozens of similar pieces of gear. For what we can't test personally, we involve other people in the cycling community to give their feedback and opinion about gear they have used. Our decade-long experience in bicycle touring enables us to find the key cons and pros of every product we mention.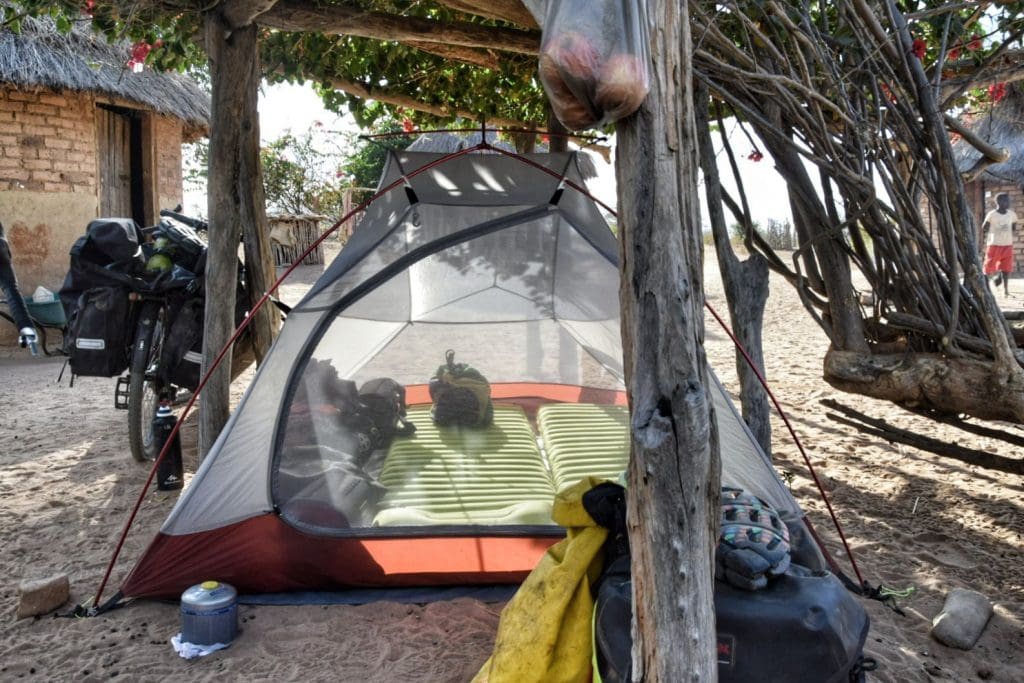 The selling points of a double self-inflating mattress are that they provide excellent insulation, are packable, and afford you the comfort of sharing your mattress with your better half. They also provide an excellent cushion.
7 Best Self-Inflating Double Sleeping Pads
5 Best Air Beds (Heavy for Car Camping)
1. Elegear Ultralight Self-Inflating Camping Pad 2 Person with Pillow 4″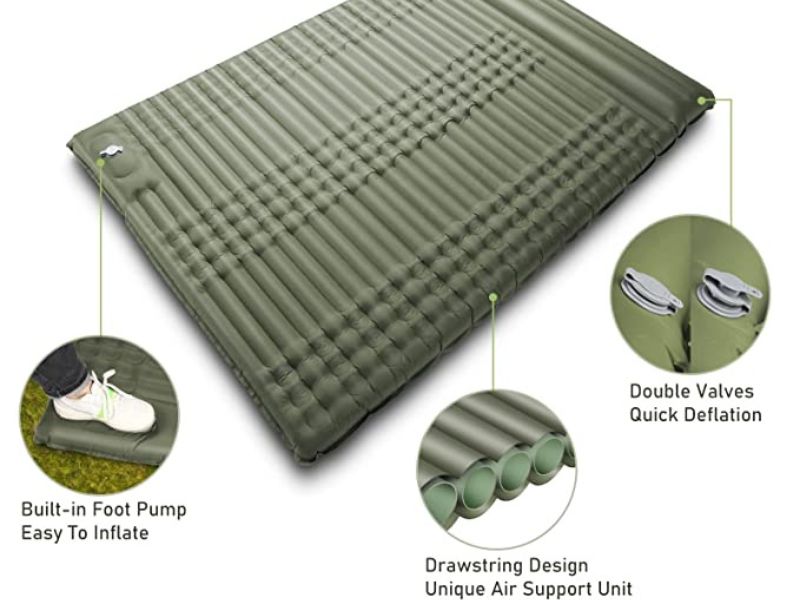 This double sleeping pad measures 79″ x 55″ x 4″ after inflation, much wider and thicker than other camping sleeping pads on the market.
Unlike other cheap thin sleeping pads, this 4-inch thick self-inflating sleeping pad will keep you away from the hard ground and won't touch the ground no matter how you flip. You will feel the comfort and security of lying on a home mattress.
Different from ordinary thermoformed sleeping pads, this sleeping pad adopts a unique drawstring support technology, loads up to 800lbs, is very comfortable, and will give you top-of-the-line comfort.
The built-in foot pump makes it easy to inflate, you'll just need 2 minutes to fully inflate, easy and clean, and even kids can finish inflating. And it uses ultra-thick durable materials to prevent air leakage.
The folded version is pretty small and weighs only 5.5 lbs, ideal for backpacking trips in couples.
2. ALPS Mountaineering Lightweight Self-Inflating Double Air Pad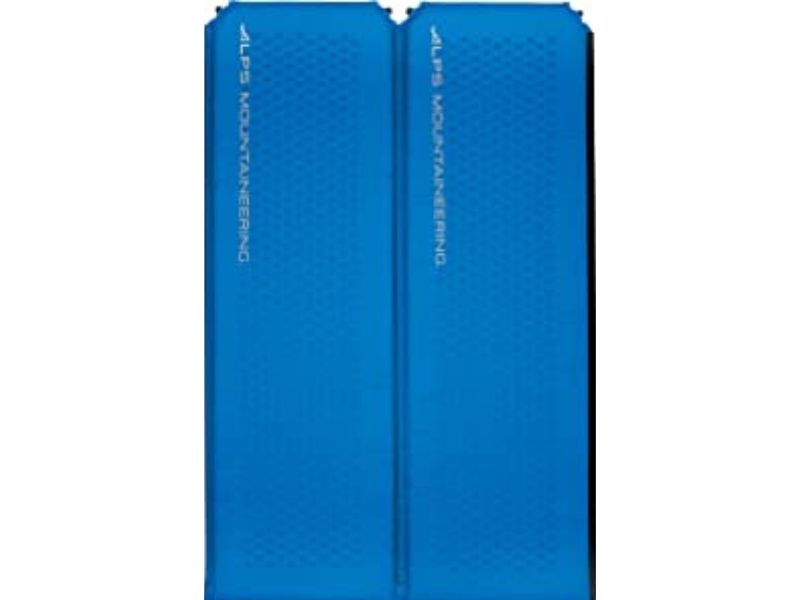 When you're each using individual air pads, have you and your sweetheart ever tried snuggling up to each other? Someone usually ends up in the crack.
The ALPS Mountaineering Double Air Pad solves this problem, like any other double air pad. It accomplishes this by means of a Velcro that attaches two separate air pads together.
Another great benefit of the ALPS Mountaineering Double Air Pad is that you can use each pad independently.
When you're out on your own, you will have a nice 3″ thick pad. When you decide to fold them on top of each, you will have a maximum comfort of 6″!
3. Therm-a-Rest NeoAir® Camper™ Duo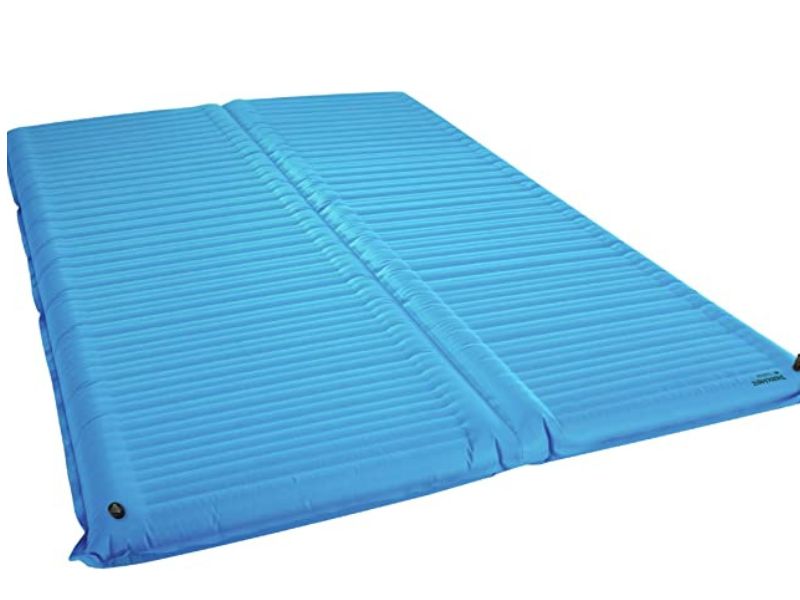 The Camper Duo delivers a 2.5 R-value that's suitable for three seasons (the R-value measures a material's ability to insulate; the warmer the sleeping pad, the higher the R-value). 
This double camp bed has two separate chambers for customized support. To prevent bouncing your partner during the night, it has a consistent sleeping surface between the two chambers.
It features a stable WaveCore construction that inflates up to 3 inches, making the pad great for side sleepers. It also is able to inflate 3 times faster, thanks to a rugged WingLock valve.
4. Kelty Tru.Comfort Camp Bed Double-Wide Inflatable Sleeping Pad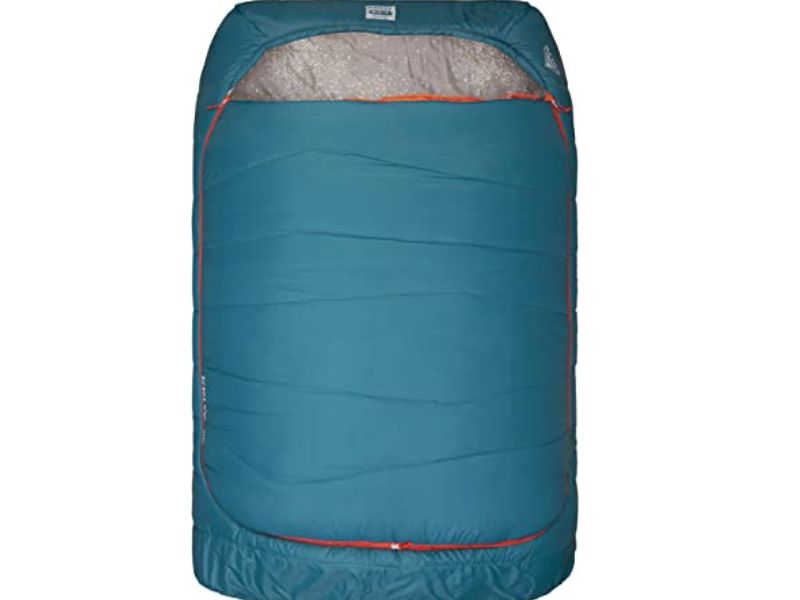 The Kelby Tru Comfort Doublewide sleeping pad is the best camping mattress queen.
The Kelby Tru Comfort Doublewide sleeping pad is the goldilocks of a couple's camping comfort: it is neither too warm nor too cold. It is neither too small nor bulky either.
It is fully equipped for two independent sleepers. It has a removable zip-off top layer for humid summer nights. It also has two built-in blankets to adjust the level of comfort.
Two-way zip vents allow you to have your feet outside the covers without freezing your companion.
For at-home level comfort in the outdoors, it features a large hood that fits two standard-size pillows.
With a wider profile than a queen-sized bed and a length to fit up to 6ft. 6in, you have plenty of room to frolic with the best camping mattress for couples.
5. KingCamp Luxury 3D Double Self-Inflating Sleeping Pad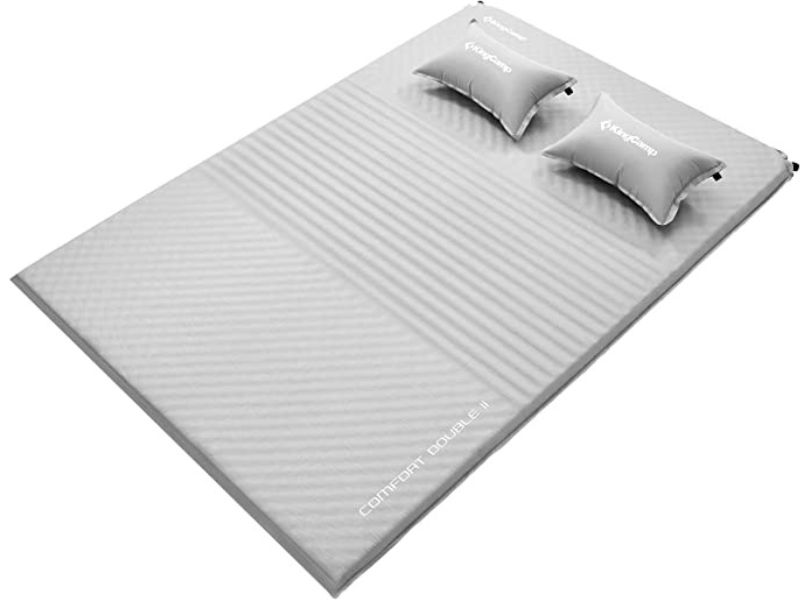 This double camping mat has a full inflating size of 78" x 51.2" x 1.6". It features a Triple zone design, an advanced feature, which makes this pad more comfortable than an average self-inflating double-air bed.
Quality 75D polyester fabric makes it durable and waterproof. It is soft and compact because of an insulating sponge filling: the pad packs down in a 27.6"×7.9"×7.9" carry bag. Lastly, it comes with two pillows, which are also self-inflating.
All in all, the package includes one camping mat, one carry bag, one repair kit (glue not included), two banding belts, and two pillows.
 Klymit Double V Sleeping Pad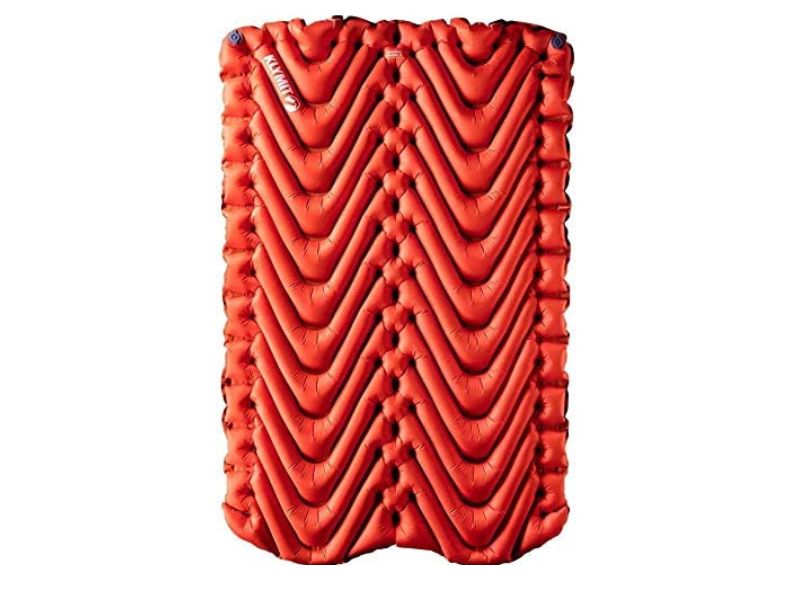 The Klymit Double V Sleeping Pad is good thermal performance, accomplished through Klymalite Synthetic insulation and Deep Weld Patterning.
Deep Welds, unlike traditional pads that flatten the bag's fill, create expansion zones that allow your bag, for improved thermal comfort, to fully loft beneath you. It has side rails integrated into the construction and patterning.
The side rails provide a comfortable, secure sleep by centering you on the pad and inhibiting air movement while turning and tossing.
This extra wide sleeping pad also features Anti Microbial Laminate, which permeates the inside laminate to prevent the growth of microorganisms such as fungi and bacteria that can cause material damage and odors.
For emergency repairs, a patch is included.
YOUKADA Sleeping Pad Foam Self-Inflating Camping Mat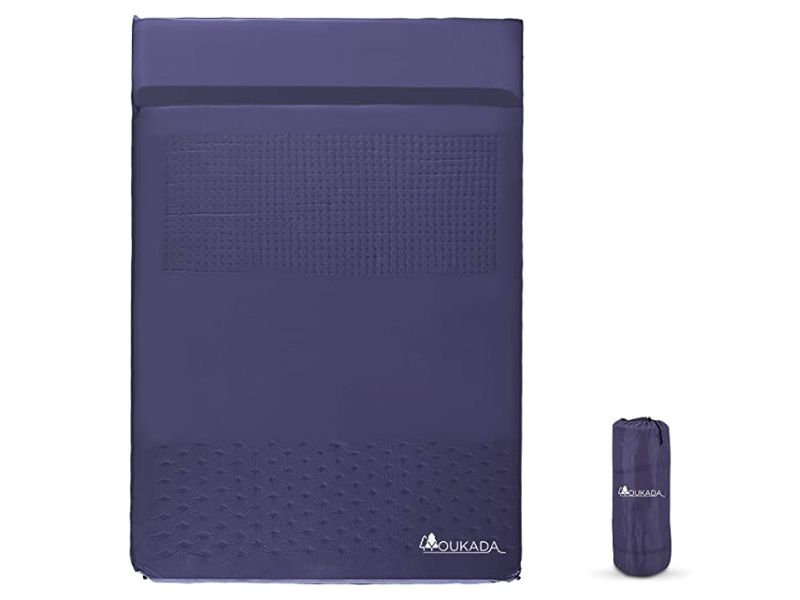 This multipurpose double-wide sleeping pad is designed for both outdoor camping and indoor daily use. When you travel, use it as your outdoor sleeping pad.
And if you travel by an estate car, use it as your car sleeping bed. At home, on the other hand, simply use it as a sleeping mat.
Built-in pillow and 1.4-inch foam provide a generous comfortable sleeping area. A large sleeping area makes it perfect for you to camp with your family or sleep under the stars in the backyard.
In addition to camping, it is suitable for hiking, home activities, and other outdoor activities.
5 Best Air Beds (Heavy for Car Camping)
The selling points of air beds are that they provide the best insulation, they pack down great (although not as much as self-inflatable mats), and they're affordable. But they're heavy, bulkier, need a pump, and are often less durable.
SoundAsleep Dream Series Air Mattress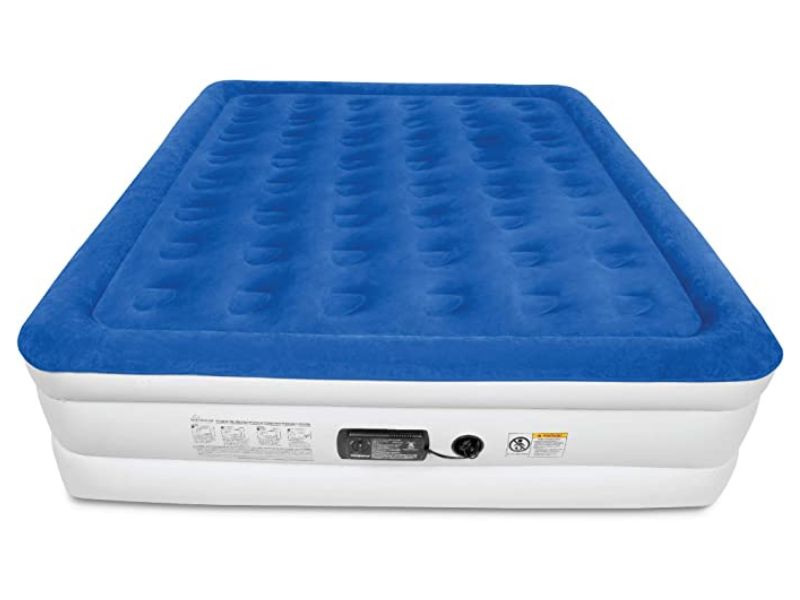 This is a high-end air mattress and is arguably the best camping bed for two. The Dream Series provides the comfort of a traditional mattress with the portability of an air mattress.
It features a multi-layered flocked top and 15 gauge material to create a comfortable sleeping surface.
It has a built-in pump, which allows a One-click toggle to quickly inflate or deflate the air bed. The proprietary pump design is 20% quieter than competing motors and completes inflation in 4 minutes.
The 4-minute deflation function evacuates all the air from the bed, allowing for quick, easy, and compact folding. Lastly, by means of a patented SureGrip technology, the Dream Series prevents unwanted sliding on flat surfaces that are prone to mattress movement.
Intex Comfort Plush Elevated Dura-Beam Airbed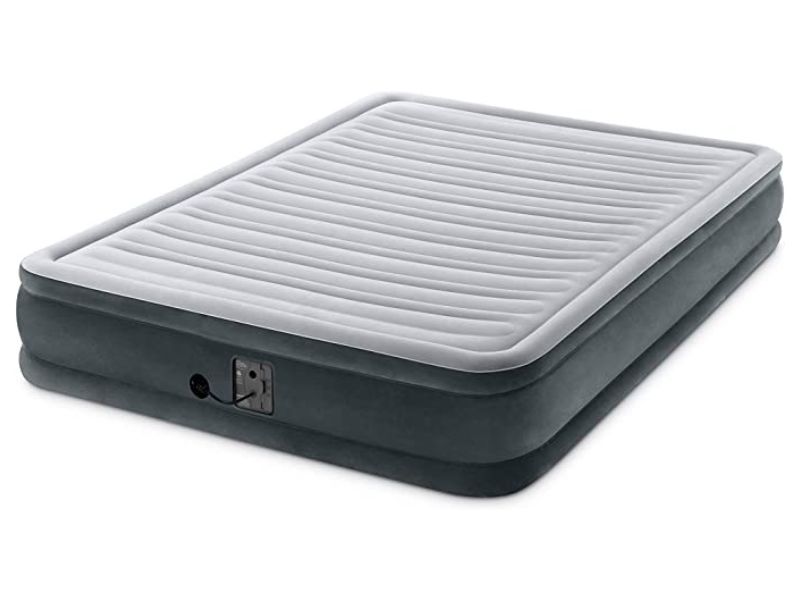 With Dura-Beam Series airbeds, standard interior construction has been enhanced with high-strength, lightweight fibers for comfort and amazing durability.
Thousands of polyester fibers stuff each support beam in the Fiber-Tech Construction, providing additional support and stability to the entire bed.
The bed also features a unique edge construction for mattress stability and more sleeping space. The indented sides prevent fitted sheets from slipping, providing a snug, comfy fit.
It comes with a plush air pillowtop system for added sleeping comfort. The velvety sides are more puncture and abrasion resistant.
 Insta-Bed Raised Air Mattress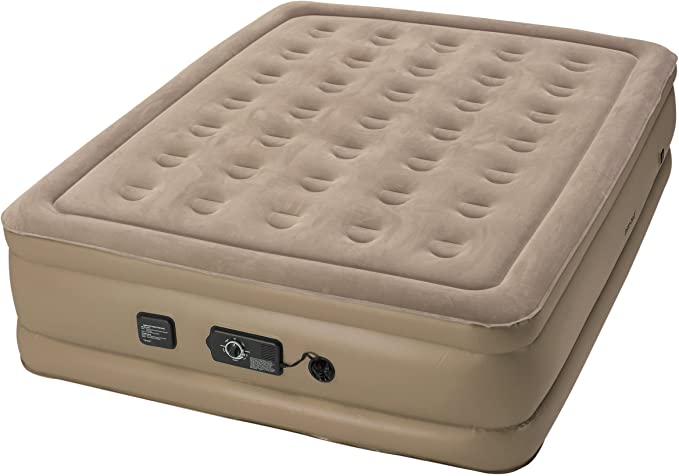 The Insta-Bed Raised Air Bed is able to maintain air pressure throughout the night. Its patent Never Flat eliminates the loss of air pressure and sagging that's so common to airbeds.
You have the flexibility to choose your desired comfort level: Plush, Medium, or Firm. The primary pump then inflates the bed to this specified level.
Once inflated, the Secondary Pump kicks in and monitors the pressure level. In order to maintain the specified comfort level throughout the night, the secondary pump senses when it needs to silently engage. The primary pump is also the one responsible for the effortless deflation of the air bed.
King Koil Luxury Air Mattress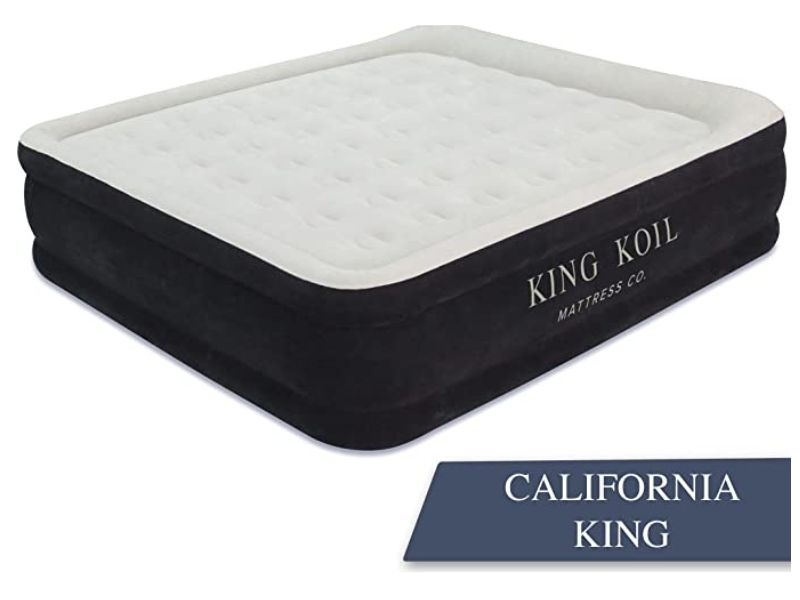 The King Koil Luxury Air Mattress features state-of-the-art coils that maintain the bed's firmness and shape over time.
Utilizing puncture-resistant and durable material, the bed doesn't wear and tear like the average air mattress.
It features a durable PVC combined with soft flocking, which creates a waterproof and durable airbed meant to stand the test of time. Unlike other air mattresses, the King Koil air bed is fully flocked with velvety soft material on both top and sides.
A built-in high-speed pump easily maintains and adjusts the blow-up bed's firmness.
EasyStay 4-N-1 Airbed
This air mattress is great for use as an extra bed in the house or while camping outdoors. Its versatile, convertible design allows it to be positioned in a variety of ways.
Use the air bed as a king-size bed, two separate twin beds, or as a double-high twin bed for extra inflated support.
The bed's ComfortStrong coil construction provides superior comfort and better support. With this bed, you will have to buy the pump to use for inflation separately.
It features an AirTight system and Double Lock valve that keeps the mattress at the set firmness level. You can quickly roll, fold, and store the air bed by virtue of the integrated Wrap 'N' Roll system.
Inflatable vs Self-inflating vs Foam
Air beds are meant for comfort, their weight and size makes them suitable only for car camping.
Foam mats and lightweight inflatable pads work well in different outdoor activities. The compact size of some backpacking sleeping pads makes them great for cycle touring and ultralight hiking, but they are prone to failure by leeking and puncture.
A foam mat is ideal for thru-hiking since it's more durable than an inflatable bed. The pad can withstand the long haul. It will also give you the freedom to rest on any terrain. The bulk anyway, is a big downside.
When going to remote camping destinations, you can decide to carry a foam mat with you for insurance and insulation in case the air bed gets a puncture or starts leaking.
When camping on snow, you'll need a sleeping pad that provides more insulation. In this case, you should carry both a foam pad and a high insulation inflatable mat..
Self-inflating camping pad (or double camping pad),on the other hand, uses a combination of open-cell foam and air insulation. To make it more comfortable the pad itself is contained within a fabric shell.
When the valve opens, air rushes in and fills the inflatable spaces in between the foam. Extra air is then manually blown into the pad to adjust the level of comfort.
For those who prefer backpacking and camping in the deep woods, maybe on hammocks, a double self-inflating camping mattress is an excellent choice. Other pads are bulkier and more rigid. So those will be more suitable for casual campers who prefer to drive to their site.
Due to its fabric exterior, self-inflating sleeping pads are stronger and less susceptible to tears and rips than air beds. This attribute makes them a great choice for campers who plan to have dogs or children in their tent.
One of the selling points of the self-inflating sleeping pad is right in its name. For most models, you unscrew a valve and let the mattress do the work for you rather than needing to inflate it with a small pump or your breath. After a long day or for those who value convenience, this quality can be a real cherry.
Weight vs Comfort
Most sleeping pads are lightweight with backpacking in mind, while others are the ones you'd buy if you were camping for a few days in the same place – the kind you wouldn't want to lug across somewhere wild.
And that's the first decision to make: what will you be using your pad for? Sleeping pads all sit on a scale between comfort and weight, but bear in mind the temperature you're expecting.
If you're going to be using it exclusively for long-distance backpacking, then you want to consider weight over comfort – you will go for a foam mat or double sleeping mat.
If, however, you're just going to be staying in one place for a few nights or camping in a car, then comfort wins, but it will be at the expense of weight – you will be purchasing an air bed.
Backpacking and Cycle Touring Pads
Before the rubber meets the gravel/ road/dirt, there are three different types of pads that all bikepackers will want to consider:
1. Closed Cell Foam (or foam mats): These pads being extremely affordable and virtually indestructible, you can take a seat while eating dinner or kneel on them while changing a flat. They unfortunately don't pack down and only offer little cushion. Since they're so lightweight, they're easily lashed outside of a pack or bike bag.
2. Self-Inflating sleeping pad: Reliable and compressible, self-inflating sleeping pads are a favorite amongst bikepackers. Bikers love their packability, ruggedness, and warmth.
3. Lightweight air mats: Air beds are some of the most compressible sleeping pads. They're also some of the thickest and warmest. They're a bit more expensive, however, and can be punctured.
Car camping/Family Mattress
The focus here is on comfort instead of weight, since this is about transporting a pad in a car. So the list includes either very wide pads (air beds or double backpacking sleeping pads) or very thick pads (single self-inflating pads).
If you have a car, you will in all probability have a bigger tent and not some tiny shelter, so these bigger pads will fit well and you will feel comfortable.
Some more camping gear articles
Stay in touch while we get lost! Follow us on Social Media