Thermarest ProLite Review
Everything you need to know before buying
Compare ProLite Plus (ProLite 4), Apex, Standard
The Thermarest ProLite was the first good quality camping mat we ever used, our previous mats being some of those nasty blue roll-up mats that you probably used as a kid and which we had picked up in Mexico with few other options available.
And what a difference the ProLite made to our camping experience! We had not realised how poorly we had been sleeping until we tried them. Overall these mats are clearly of very good quality, and we would certainly recommend them to others.
However, it comes with a pretty high price tag, and there are a few issues we have experienced with them, which together have motivated us to try alternatives for our next long-distance bike tour.
This Thermarest ProLite Review is contributed By Chris Ferguson and Ebba Kirwan
Chris and Ebba are from the UK, and started bike touring in 2012 with a somewhat impromptu four month trip from Guatemala to Costa Rica.

Since then they have toured in Scandinavia, Germany, The Netherlands, Italy, and around the UK, and are about to embark on their longest trip yet from the UK to Japan.

When at home Ebba is an occupational therapist working in mental health, and Chris is mulling his life choices after finishing his PhD in social and political thought.
Thermarest ProLite Review
Disclosure: Some of our articles contain affiliate links. This comes at no additional cost for you and helps us keep this website up and running. (as Amazon Associates we earn commission from qualifying purchases)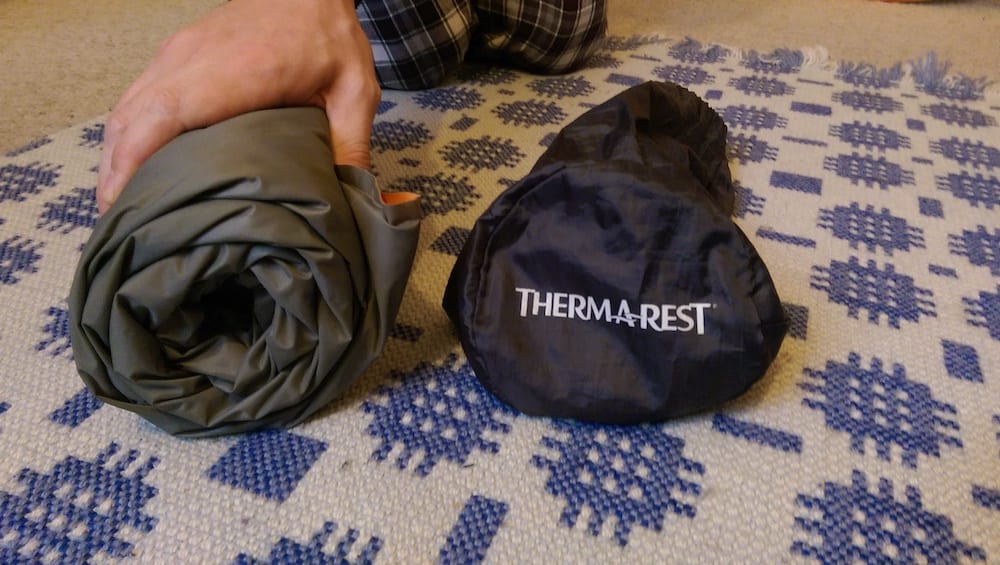 Inflation
The Thermarest ProLite is a self-inflating mat, meaning that to inflate it you simply have to unscrew the valve and unroll it into your tent.
While you then get on with other things (e.g. cooking your weight in pasta), a foam inside the mat expands, drawing air into the mat and saving you the headache of inflating it by mouth or footpump. It then requires just a few breaths/pumps to top it up to full firmness.
This generally works well, with two caveats. First, to achieve the level of firmness that one of us finds comfortable, you have to blow pretty hard, screwing the valve shut mid-blow to prevent any air escaping.
This is something that some other mats we've since looked at, such as the Sea-to-Summit Ultralight Insulated, seem to have got around by having unidirectional valves.
Second, the self-inflating foam seems to have given up the ghost somewhat, and we now have to more or less inflate them the whole way manually.
This happened despite having been stored as recommended when not in use, i.e. not stored rolled up which apparently makes the foam lose its shape, and after less time than we would have expected given the price (probably about a year and a half or two years).
This doesn't affect the comfort of the mat, just how long it takes to blow it up, but it does, therefore, nullify one of the key selling points of this mat.
Size and weight
The Thermarest ProLite rolls up easily to a very satisfactory size—around 28 x 10.4 cm or the size of a small loaf of bread—, slotting easily down the side of a pannier.
It fits without difficulty into the bag that comes with it, with no fear of damaging it by squashing it in. In comparison to our previous mats, the weight is also extraordinary, weighing just 470g (less than a small bottle of water!), although it is heavier than several non-self-inflating models.
Comfort
As we said above, the Thermarest ProLite initially blew our minds in comparison to the crappy roll mats we had been using previously.
However, over time it became clear that one of us found it considerably comfier than the other, due to our different sleeping positions.
Chris, who tends to sleep on his back or front, finds it very comfortable and sleeps like a log (although he has a tendency to sleep like that more or less anywhere!).
Ebba, who sleeps on her side, found that the mat does not support her shoulders when fully inflated, waking with stiff and painful joints, and waking multiple times in the night to adjust her position.
We've recently been told that putting a little less air in can prevent this but then she is more likely to touch the floor beneath the mat given its small 1 inch thickness.
One other possible contributing factor is having a soft pillow and we are looking into more supportive camping pillows which may also improve her sleep.
Warmth & R-Rating – Thermarest ProLite
We have used the Therm-a-rest Prolite on several trips before this review, although generally in the summer. This includes three months in Scandinavia, and several smaller trips in Italy and around the UK (so take "summer" with a pinch of salt).
The only time we really got to test it in properly cold weather was a few nights next to glaciers in Scandinavia, including in snow at the top of the Rallarvegen in Norway.
Given that we only had light sleeping bags with us, we slept in all the clothes and thermals we had and managed to sleep well enough.
However, if you are looking for a mat for regular use in cold weather, you would probably want to look at a mat with a higher R-rating – Daniele and Elena explain more about R-ratings here, and say that for a winter mat you would want an R-rating of at least 3.0, whereas the ProLite has an R-rating of 2.3.
Durability
We have not experienced any punctures, despite camping in several pretty spiky-floored forests: they are definitely well made and durable. Thermarest sells repair kits for all of their mats, both a Permanent Home Repair Kit for long-term fixes and a Field Repair Kit for quick puncture repairs while on the road.
We have already mentioned above the demise of the self-inflating foam in our mats. Another issue—perhaps causally connected?—is that our mats both seem to have developed small amounts of black mold on the outside: it is hard to tell whether this is just on the surface or a symptom of mold inside the mat.
It's possible this was caused by being stored in our chilly and occasionally damp flat when not in use (although this seems unlikely as nothing else in the room in which they were stored has been similarly affected), or — as one person we spoke to suggested — perhaps a result of the fact that we had been inflating them by mouth: apparently the moisture in your breath can cause problems inside the mat, easily avoided by using a stuff sack pump (a piece of information we wish we had been told when purchasing!).
The amount of mold is relatively small and doesn't affect the performance (unless it is the cause of the demise of the foam inside), but it is a little concerning.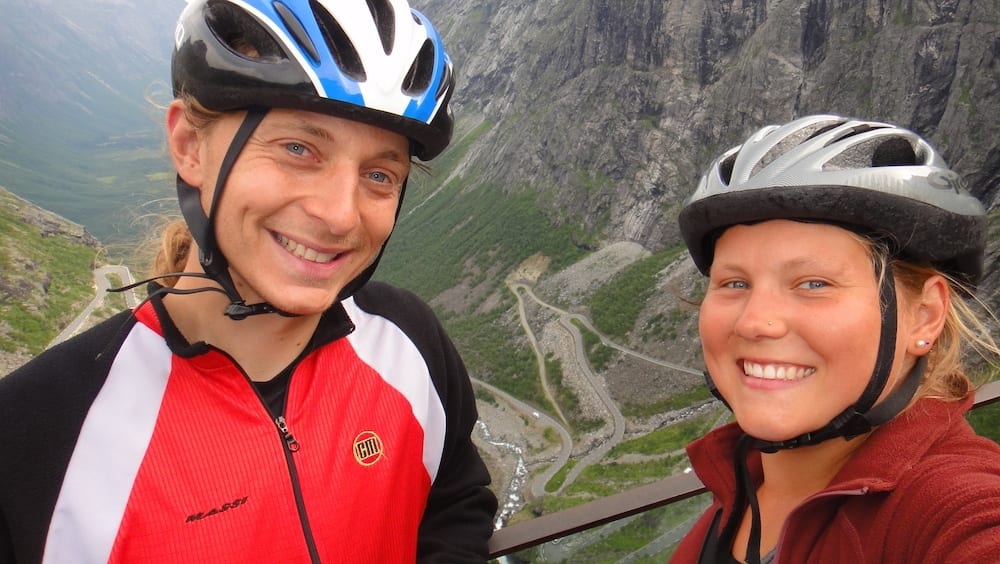 Conclusion
Overall, the Thermarest ProLite is a well-made, light, and compact mat that we found to be very comfortable for those who sleep on their back or front.
If you are a side-sleeper then we would recommend trying one out in a shop before you commit, trying it with less air than you might intuitively put in, and seeing if you make any contact with the floor underneath, and pairing it with a supportive pillow.
If you primarily camp in spring, summer or autumn then it would be a good fit; if you are planning on doing any winter camping, then you might want to look at alternatives with a higher R-rating.
We had issues with mold and—potentially connected—issues with the self-inflating foam not lasting for more than a couple of years, but we cannot speak to the causes of this, and you might want to survey other users to see if they have had similar issues. But these mats have served us very well and we would highly recommend them if you can afford the price!
Pros
Light and compact – good for long-distance, multiday bike touring
Self-inflation
Durable
Comfortable for back or front sleepers
Warm for 3 season camping
Cons
Pricey
Not as comfortable for side sleepers
Can lose self-inflation over a couple of years of use
Inflation by mouth may cause mold
R-value < 3 so may not be insulated enough for winter use
Thermarest ProLite Specs in Pills
R-Rating: 2.4
Weight: 0.51kg (1 lbs 2 oz)
Size: 51x183x2.5 cm (20x72x1″)
Packed Size: 28×10 cm (11×4.1″)
Type: Self-Inflatable
Valve: Bi-directional
Average Price: 60/70USD
Thermarest ProLite Specs Compared
| | | | |
| --- | --- | --- | --- |
| | SMALL | REGULAR | LARGE |
| R-Value | 2.4 | 2.4 | 2.4 |
| Weight (Standard) | 12 oz | 1 lbs 2 oz | 1 lbs 8 oz |
| Weight (Metric) | 0.35 kg | 0.51 kg | 0.69 kg |
| Width (Standard) | 20 in | 20 in | 25 in |
| Width (Metric) | 51 cm | 51 cm | 63 cm |
| Length (Standard) | 47 in | 72 in | 77 in |
| Length (Metric) | 119 cm | 183 cm | 196 cm |
| Thickness (Standard) | 1 in | 1 in | 1 in |
| Thickness (Metric) | 2.5 cm | 2.5 cm | 2.5 cm |
| Packed dimension (Standard) | 11 in x 3.3 in | 11 in x 4.1 in | 13 in x 4.5 in |
| Packed dimension (Metric) | 28 cm x 8 cm | 28 cm x 10 cm | 33 cm x 11 cm |
| Top fabric type | 50D mini hex rip polyester | 50D mini hex rip polyester | 50D mini hex rip polyester |
| Bottom fabric type | 50D mini hex rip polyester | 50D mini hex rip polyester | 50D mini hex rip polyester |
| Foam type | Urethane Foam | Urethane Foam | Urethane Foam |
| Country of Origin | USA*Built of the Finest U.S. and Global Materials | USA*Built of the Finest U.S. and Global Materials | USA*Built of the Finest U.S. and Global Materials |
The different models of Therm-a-rest ProLite
This Thermarest ProLite review refers to the basic model of Thermarest ProLite, there are though a few different versions of this Therm-a-rest sleeping pad:
The woman version of the Thermarest ProLite features an increased R-Rate of 3.0, compared to the standard model at 2.4. All the other specs are identical. The cost difference is not really significant.
The Therm-a-rest ProLite Plus is a 4-seasons version with an R-Rate of 3.4 and a thickness of 3.8cm (compared to the 2.5cm of the standard version). It normally costs 10$ more than the standard but it's often discounted on Amazon.
There's also a woman model of the Thermarest ProLite Plus, which has actually the highest R-Rate on the ProLite family at 4.2! The thickness is the same at 3.8cm, the price is higher and the mat is harder to find.
The Apex is the newest ProLite model, a version of the Plus on steroids! A 4-season sleeping pad with an R-Rating of 4.0 (+0.6), and a regular weight of 0.63kg (same) and 1.2cm thicker compared to the Plus (3.8 vs 5cm) – it just packs slightly bigger (33x13cm) and costs a bit more.
What Sizes are Available for the Thermarest Prolite?
Stay in touch while we get lost! Follow us on Social Media