A thorough comparison of the best and brightest headlamps for camping, hiking, cycling, backpacking, running, repair, house
Should you really worry about LUMENS?
Looking for the brightest headlamp on the market? Do you want the best headlight for camping, outdoor activities, car repair, cycling, hard-hat night work… in short the top multipurpose headlamp?
Then look no further! In this article, we will compare the best head-flashlights for all budgets. In the first part, we'll have a closer look at some interesting cheap headlights on Amazon and other retailers, while in the second we'll introduce you to the non-plus-ultra of head-lamps, the best on the market (in our opinion).
If you're looking for the brightest headlamp your best bet is going for Amazon, even if the majority of these products are cheap-budget-oriented flashlights, mostly made in China.
If you really want the best headlamp on the market for your extreme camping trips (bikepacking, cycle touring, or hiking… doesn't matter), you should head to a more technical shop like REI, where you can find the best outdoor/camping headlights. REI ships worldwide!
Disclosure: Some of our articles contain affiliate links. This comes at no additional cost for you and helps us keep this website up and running. (as Amazon Associates we earn commission from qualifying purchases)
How we compile our gear guides: during the almost 10 years of cycloscope.net our team personally tested dozens of similar pieces of gear. For what we can't test personally, we involve other people in the cycling community to give their feedback and opinion about gear they have used. Our decade-long experience in bicycle touring enables us to find the key cons and pros of every product we mention.
The Best & "Brightest" Headlamps in a Nutshell
The Best & "Brightest" Budget/Cheap Headlights – Review
1. Vont Spark Headlamp [+/- 10$]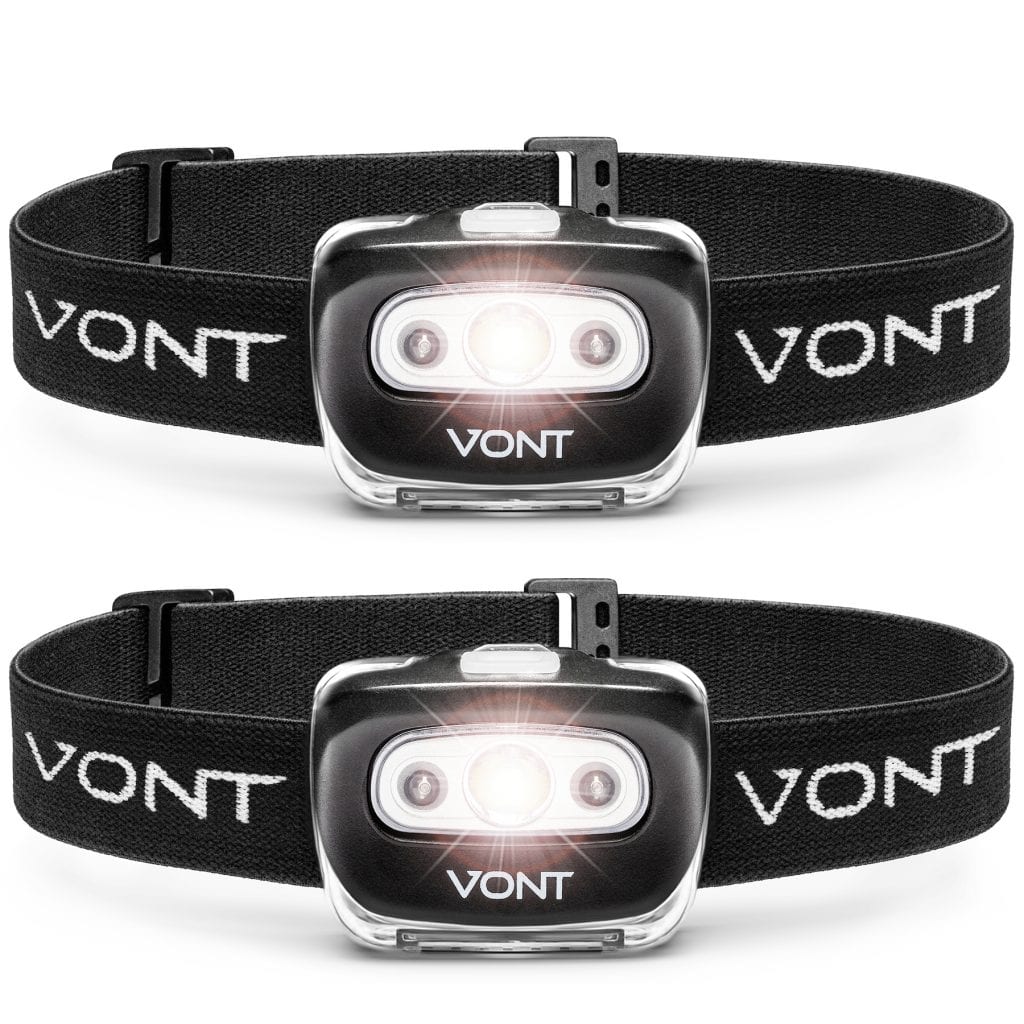 When you're looking for total versatility in your headlamp, then the Spark Headlamp from Vont comes second to none in the competition!
No doubt the Vont Spark Headlamp could be the last one you'd be buying and it'll definitely be your favorite portable light for everything! Whether you're into a range of outdoor sports like hunting, caving, or snowboarding or you're always keeping yourself fit and healthy with rock climbing, biking, or running, this 200 lumens power-packed LED headlamp will be your reliable light partner.
Thanks to its military-grade construction and materials, this monster of a headlamp from Vont's innovative product line, boasts of being water and drop resistant, both features have been heavily tested to ensure the product still works even under extreme conditions.
That makes it a must-have for every home and car for all those emergency cases. The Spark Headlamp is ideal for use when you have to go out into the storm or be on the road to check the hood when your car breaks down, or go down in the basement to fix something during a power outage.
You don't even have to worry about straining your neck using it as it's been ergonomically designed with a 45-degree light throw and its good-quality strap provides a comfortable and sturdy stretch!
All that plus the lifetime promise of outstanding quality that the Spark Headlamp carries (along with the rest of the products from Vont), this masterpiece is without question the best deal you will definitely get for a 2-pack for no more than $10!
Key Features:
Super bright 200-lumens vLEDs.
Drop and water-resistant.
Lightweight but compact design.
Specifications:
Brand: Vont.
Model: VNT-SHL01.
Weight: 45.5 grams.
Pros:
Super bright 200-lumens vLEDs.
Drop and water-resistant.
Lightweight but compact design.
Comfortable, adjustable strap with sturdy stretch.
One-touch toggle through 7 light modes.
Lifetime quality guarantee.
Cons:
2. Soft Digits: Brightest 5 LED Headlight – 12000 Lumen [+/- 18$]
No overheating after using for hours. 90-degree tilting head reduces neck fatigue. It claims to produce 12000 lumens of light to 500 meters, with high performance 5 led Bulbs, good to light the way for a car in the dark. A very interesting budget headlight! (Although the claimed brightness of 12000 lumens it is probably closer to 1200)
Soft Digits Headlamp has a zoom function and 4 modes of lighting. You'll get the exact level of brightness (low/medium/high/flash) and focus lighting you need for any use in the dark. Easily change between them with a single switch.
The USB rechargeable batteries provide for hours using-time (Main light mode: About 8 hours – Four lights mode: About 6 hours – All bright mode: About 4 hours – Flashing mode: 10 hours), while an IPX4 water-resistant grade makes it safe to use even when it's raining.
This versatile and incredibly cheap headlamp suitable for nighttime walking, running, bicycling, hiking, camping, climbing, fishing. It weighs about 340g (12oz) pretty heavy for outdoor. Best headlamp for night working.
It runs on two Lithium-ion batteries (included) and comes with a 12-month warranty.
Pros
Zoom function.
Super Bright.
Long Distance Beam.
Cons:
Bulky and Heavy.
Not Really Waterproof.
3. Sofirn SP40: USB Rechargeable Headlamp – 1200 Lumen [+/-35$]
Our Pick! Best for running and car-repair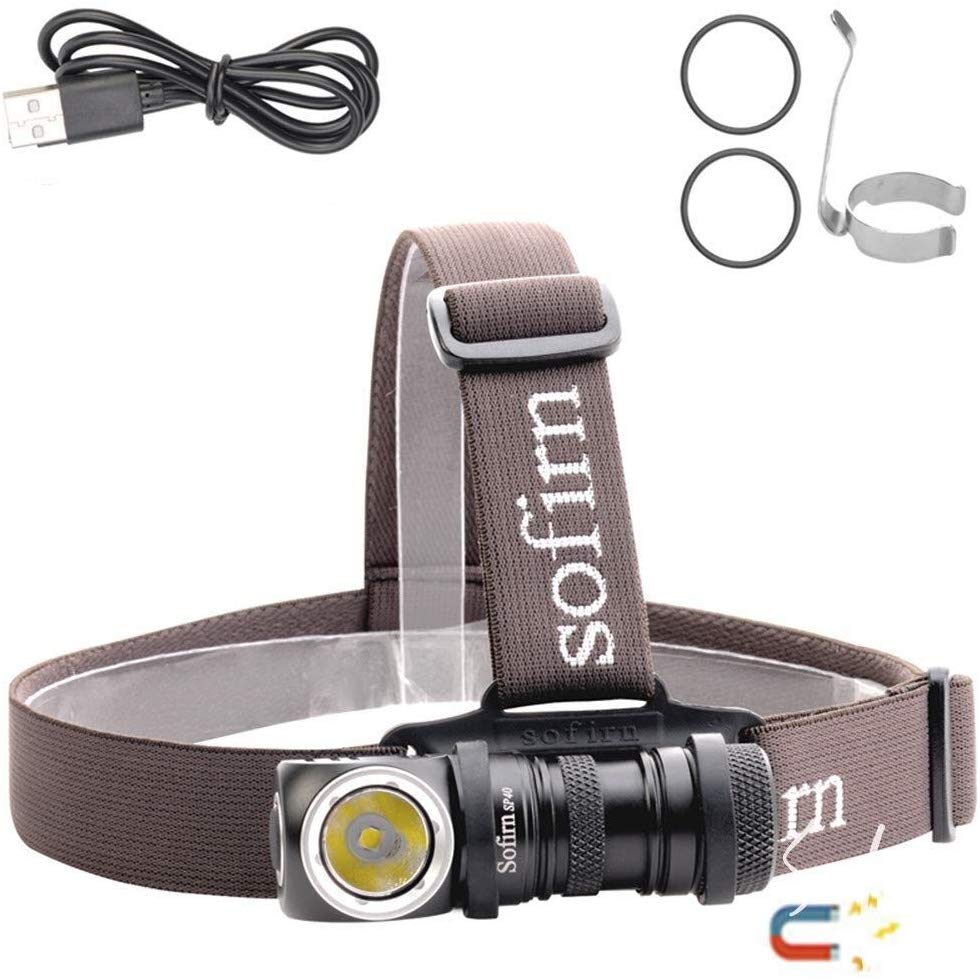 Sofirn SP40 is an excellent headlight that can also work as a handheld light. This is another very versatile headlamp – with its very compact size, this lightweight but powerful headlamp is powered by just one 18650 battery lithium-ion battery.
The L shape design is nothing new in the flashlight world but not a very common thing nowadays. This shape allows the light to work as a headlamp or as a handheld light, and even to stand on a flat surface.
The CREE XPL LED outputs 1200 Lumen at Turbo-Mode, bright enough to lights up a football arena. By selecting among 3 different brightness levels, the SP40 is well suited for camping, hiking, and car or bike repair but especially great for running and climbing, where the lightweight makes a difference.
With the built-in charging port and provided USB cable, you can rechargeable the lamp via a charging adapter (NOT INCLUDED), laptop, or power bank.
Another great feature of this very interesting headlamp is that it's waterproof & tough: the charging port is sealed, giving this lamp an IPX7 waterproof rate! It even works well up to 1 meter underwater (for a very limited time though), so heavy rain and heavy sweat shouldn't worry you. All Sofirn lights passed 12 different tests to make sure it works well in different environments.
Cool stuff! Check their Brand Page
The Sofirn's ATR technology allows the SP40 headlamp to automatically adjust its brightness when the temperature reaches 55℃ or above to prevent overheating and prolong the led lifetime and battery runtime. The switch led indicates battery powerful status, it turns to flash RED to indicate low power.
If you like early morning or evening running, and you want a lightweight, comfortable, and cheap headlamp, SP40 is your choice. If you like hiking or camping, the powerful 1200 lumens lamp gives you a bright and wide beam, chasing the darkness out of your way. Either wear it as a headlamp or clip it in your chest pocket, it can be a great tool also for repairing a vehicle or machine.
Interestingly this light can run through a MicroUSB port without a battery! This can be useful as an emergency light or camping light connecting to a battery bank.
The light can last almost 5 hours when running at the high setting continuously with the included 3000mAh battery. Low voltage red light indicator will start to flash after 2 hours but the light is still useful long after.
The tint of the light is neutral or warm. The light pattern is wide with an orange peel reflector. The light can still easily light up 140+ meters away at a turbo setting.
Sofirn includes a 18350 short body tube with the light kit to use a 18350 or CR123 battery and make this light even smaller in profile.
Some downsides of this great and cheap headlight. With a maximum output of 1200 lumen, the SP40 is not the brightest L-shape headlamp and after a couple of minutes it will drop down to 450 lumens to protect the light from overheating.
What You Get: 1x Headlamp, 1x USB Cable, 2 x Spare O rings, 1 x Headband, 1 x Clip, 1 X 18650 Tube, 1 X 18350 Battery Inserted.
Overall Sofrin SP40 is an excellent inexpensive light and is one of our everyday carry flashlights
Led: CREE XP-L LED.
Dimension: 78mm (length) × 25mm (head diameter).
Weight: 60±1 gram (lamp without battery).
Water Resistance: IPX7 (submersion up to a maximum depth of 1m underwater for up to 30 minutes).
Mode memory: Yes.
Mode: Low, Mid, High, Turbo.
Mode Selection:
Click the switch to turn it on / off. While the headlamp is on, press and hold to choose from: Low/Mid/High, double click to Turbo, another click returns to the previous mode.
Pros:
Lightweight.
Waterproof.
Versatile.
Cons:
Not so durable.
Not as bright as advertised.
4. Boruit RJ 3001: Super Output Bright HeadLamp – 6000 Lm [+/- 68$]
Another very bright headlamp with a claimed output of 6000 lumens. It has a higher price tag than those headlamps mentioned above and a sturdy design and a very long battery life.
Dimensions are 83 x 37 x 58mm and weight 219g – it comes with 2 x Boruit 18650 4000mAh hi-quality rechargeable batteries. One button switches among the 4 available modes: 1x Cree XM-L T6/ 2x Cree XM-l T6/ 3x Cree XM-L T6/ Flashing, USB line you can use All USB interface
Package Includes:
1 x Boruit 3x CREE XM-L T6 LED 6000Lm Rechargeable Headlamp.
1 x USB Line.
1 x AC charger for the headlamp 85v-265v.
Pros:
Comfortable to wear.
Bright as hell.
Battery lasts a while.
Cons:
Poor quality control for this price tag.
No zoom.
5. HMAN Spotlight: Best Long Shot Headlight – 35,000 Lm [+/-38$]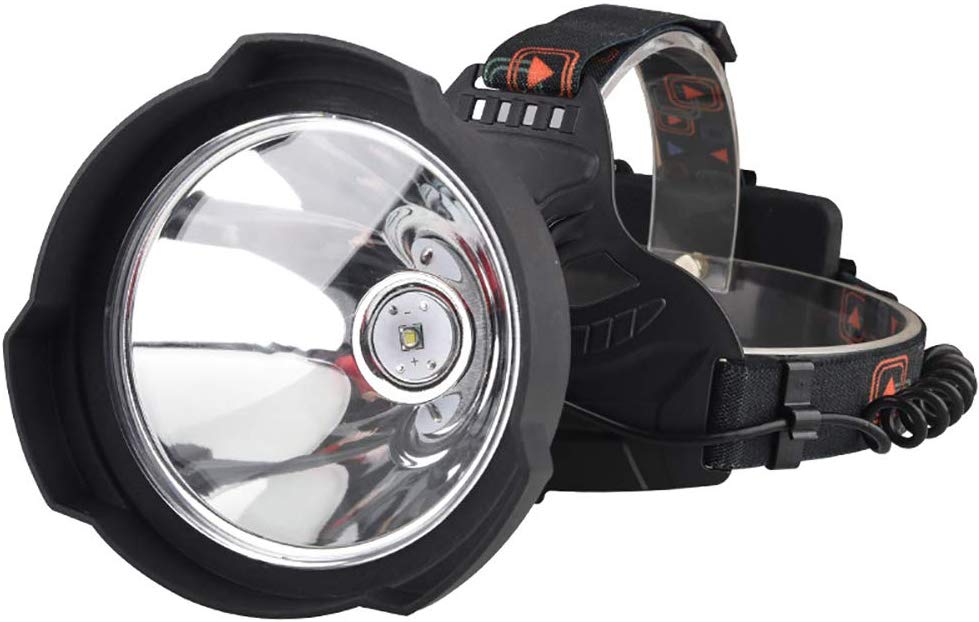 The HKYMBM Spotlight looks all the way like a miner's lamp. Large diameter light cup concentrated long shot long-lasting battery life.
The claimed output is again astonishing at 35,000 lumens, close to an airport light – unless you need to light the way for a plane to land, you'll most likely never gonna need so much power. But don't worry, the real output is more like 5000 lumens, maybe.
Running on 3*18650 lithium batteries it can last for 6-8 hours at strong mode, can be charged via USB. With its high-brightness chip, long-range beam, high energy, and low consumption, it's a good option if you're looking for the brightest headlamp and are not concerned by the bulk and weight of this one.
The IP4 waterproof rating means it is protected against splashing water from all angles, suitable for the outdoor environment under adverse weather conditions.
Weight: 500 g / 1.1 pounds.
Running time: 8 to 10 hours.
Includes: lamp * 1; USB charging cable * 1; headstrap * 1.
Pros:
Cons:
Ultra-bulky.
Ultra-heavy.
2-modes only.
The 4 Very-Best Head Lamps – Review
6. UltrAspire 3.0: The Best Waist Light – 600 Lumen [+/- 160$]
Our Pick! The Ultimate Running Light!

The UltraAspire 30 features patent-pending features like the UltrAspire 3D Lighting™, which casts shadows across uneven surfaces, giving you a better understanding of your terrain.
The 600 lumens of WideBeam™ flood-cone lighting eliminates tunnel vision, letting your eyes roam freely without adjusting between light and dark areas.
The proportional weight distribution on the item, combined with the conical belt shape and limited-stretch elastic, prevents any bump or movement when running.
The light itself is now 30% smaller in size and weight compared to the previous Lumen 600 2.0. Lightweight components and materials create an almost unnoticeable on-the-body feel without compromising durability.
The 3-mode light beam is steady and smooth, preventing eye fatigue by maintaining a steady output that does not dim until the battery is very low.
Another great idea, which makes the UltraAspire standoff is the removable pocket, that you can put on to carry extra essentials (such as a phone or energy-bars) or remove for a more minimalist feel. It seems the perfect all-in-one running light!
The angle is also adjustable, straight or down to suit your terrain, illuminating your path while keeping your head and body in a natural running position.
The large buttons and quick-release buckles are designed to allow easy operation in extreme circumstances. IPX7-waterproof can withstand submersion in water up to 1m deep for up to 30 min.
The sturdy aluminum construction provides excellent durability and improved hot and cold tolerance, while the heat-dispersing fins mounted around the light passively dissipate heat, keeping you and the item cool.
The average running times are High: 4 hrs.; low: 10 hrs.; flashing: 7 hrs.
Includes:
1 rechargeable 18650 battery.
USB charging cable.
7. Petzl NAO+: Smart Headlamp – 750 Lumens [+/-200$]
Our pick! Best Headlight for Backpacking!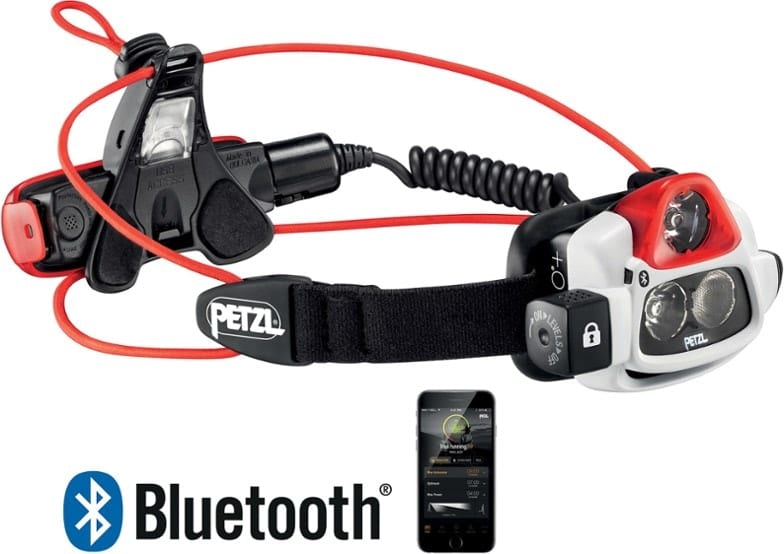 The Petzl NAO+ is a really smart headlamp, one of the most interesting in this review! It's integrated via Bluetooth with a phone app that allows the users to customize their beam patterns, burn times, and brightness.
The amount of data you'll have on the app is just amazing:
Access remaining burn time
adjust brightness and burn time
create up to 4 lighting profiles to suit different activities
You can choose the burn time between 6.5 and 12 hrs, the brightness automatically self-regulates in optimizing battery use with minimal to no handling.
The Petzl Neo+ combines a wide beam for proximity lighting with a focused beam for long-range vision, giving a great and natural vision field.
It runs on a rechargeable 2,600 mAh lithium-ion battery with a micro-USB port, a charge indicator, and a blue signal for Bluetooth activation; recharge time is 5 hrs. It has a lock function to avoid accidentally turning on the headlamp during transit or storage.
Petzl is a very cool brand, have a look at their product line on REI.com (they ship worldwide) or on their Amazon shop
Petzl also offers additional accessories for the NAO+, like the Belt Kit to move the battery to a waistbelt and reduce the weight on your head (those are sold separately).
You can charge extra batteries via micro-USB and then bring them along for multiday hikes or other adventures in the wilderness.to recharge your NAO+ headlamp. The Petzl NAO+ comes with a 3-year warranty.
The best uses of a Petzl NAO+, according to the reviews, are running, backpacking, fishing, hiking – definitely one of the best headlamps for these activities.
Pros:
Lot of control via app.
Smart features.
Water-Resistance IPX4.
Lightweight (180g w. batteries).
Cons:
Only 120 lumens at low mode.
Beam distance 140/65m (Low/High).
No strobo-mode.
8. Silva Trail Runner 4 Ultra: Running Headlamp – 350 Lumens [+/-130$]
Our Pick! Top-notch lightweight headlamp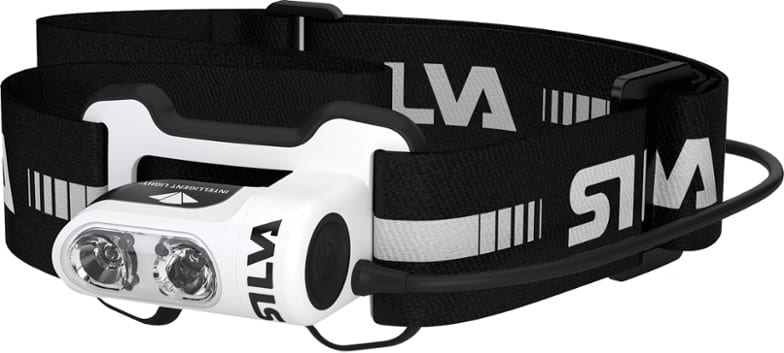 Another great hiking and running lamp that also works very well for spelunking and caving. Like the Petzl mentioned above in this review, it combines a wide floodlight with a long spot beam for less head movement and fatigue, better control, and improved balance.
The IPX5 rating means this is moderately water-resistant; it can withstand low-pressure water streams from any angle, so no worries under any kind of rain.
A blend of performance, low weight, and comfortable fit create a small size and powerful output to give back a remarkable ratio of lumens per gram.
A great feature is the dual battery pack, including a 2.4Ah USB-rechargeable battery with multiple attachment options and a 3x AAA compact battery case for extra power (AAA batteries not included).
Silva brand specializes in headlamps, they really produce the best, check out all the Silva products
The battery pack also comes with an extension cord, allowing it to be carried in your pocket to save battery life by keeping it warm, while also reducing weight on your head. It charges in 4 hours via USB and runs for 4 up to 18 hours if using the USB battery, and 40 to 90 hours when using the AAA.
Pros:
Astounding battery life.
Dual battery.
IPX5 rating.
Ultra-Lightweight: 85 grams!
Cons:
Low output – 350 lumens Max.
Short distance – 75m.
9. Fenix HM50R: Headlamp/Flashlight – 500 Lumens [+/-60$]
Our Pick! Best headlamp for Wild Camping!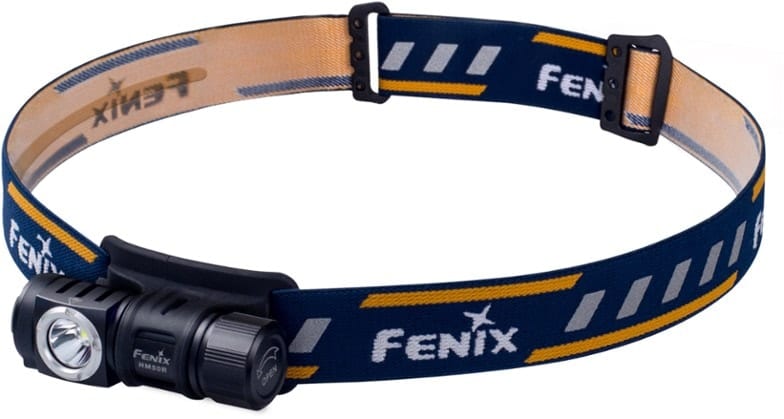 The Fenix HM50R is another hybrid headlamp/flashlight featuring a high-quality Cree XM-L2 LED, capable of outputting 500 lumens on turbo, 130 lumens on high, 30 lumens on medium, and 4 lumens on low.
This is a great range, going from very dim light to a very bright beam, all this running with only a 16340 700mAh rechargeable battery, which can be replaced with a disposable CR123A battery (not included) for backup.
The memory circuit automatically recalls the last-used output level, while the regulated output maintains consistent light output over the lifetime of the battery.
Great about handheld flashlights check their shop on REI.com and their Amazon listing
Running times are – Turbo: 2 hours; high: 14 hours; medium: 28 hours; low: 128 hours. Charges quickly and easily via a USB port.
An astounding IPX8 water-resistance rating ensures protection against dust and prolonged immersion in up to 2m of water. The rugged, aircraft-grade aluminum body with knurled finish resists rolling and enhances grip
Includes:
1 x 16340 rechargeable battery.
Spare O-rings, spare USB cover.
Spare silicone headlamp attachment.
USB charging cable.
The HM50R carries a lifetime guarantee from Fenix against defects in materials or workmanship and a 5-year free repair guarantee on damage related to normal use.
Pros:
Hybrid handheld/headlamp.
Wide light range.
IPX8 waterproofing.
Cons:
Short life at Turbo.
Short beam distance.
What are Lumens?
The Lumen (symbol: lm) is the unit used to measure the total quantity of visible light emitted by a source, just as the gram is a basic unit for measuring mass.
With the difference though of the Lumen being weighted according to a model of the human eye's sensitivity to various wavelengths. Lumens are related to lux, one lux is one lumen per square meter.
Lamps used for lighting are commonly labeled with their light output in lumens; in many jurisdictions, this is required by law. In 2010, a European Union legislation came into force mandating that lighting equipment must be labeled primarily in terms of luminous flux (lm), instead of electric power (W).
For example, an energy-efficient bulb that claims to be the equivalent of a 60 W tungsten bulb must have a minimum light output of 700 lm, a typical light bulb in your home might produce about 1000 lumens.
---
Should you really mind lumens when choosing the best headlamp for your needs? Is "the brightest" also "the best"
We have already seen that the typical home bulb usually outputs about 1000 lumen, isn't that enough light for your purposes? Most likely yes.
So why should you go for a brighter headlamp? Maybe you need a long-range headlight, if you focus the light into a very bright center of only 10°, the beam will arrive further. How further do you need to go? As far as the eye can see, which is most likely no more than 500 meters. In this case, you need to find a headlamp with a zoom option.
The light should never be so bright to blind you or to whiten out your target. So, the brightest headlamp won't help you in most cases, you'll never fix your car flashing a 3000-lumen beam.
You need something in between, a beam to be spread out in a wide enough area and capable of lighting clearly without kicking hard your eyes.
For running, for example, the Petzl Actik Core beams are ideal, with only 350 lumens. Their beams are more vertical, helping you see exactly what you're running into. Petzl Nao+ is also very good.
The temperature of the light beam also affects the user experience dramatically. 1000 lumens of white light will do what only 2500 lumens of yellow light could do.
Be aware when buying "the brightest headlamp"

Cheap Headlamp Companies choose any number for their lumens output, in this article we'll report what the companies state, but you should look with suspicion a 40,000 lumens headlamp. The real output is most likely 1/10 of that, which is anyway very powerful.
One-thousand lumens in a narrow beam will show you a wild-boar at 400 meters. If you get a light three times that strong, it won't enable your eyes to see another 800 meters – your eyes are incapable of picking out an animal at that distance. The brightest headlamp claims mean little unless you really want to light up a football stadium.
Tips for Headlamps Maintenance
Avoiding using your headlamp while charging.
If the light becomes dark, Please recharge in time.
Take the battery out if you don't use it for a long time.
Please be carefully check the negative and positive of the battery compartment when loading the batteries.
Please do not look directly with the eyes. The ultra-high brightness will hurt the eyes.
Keep the inner clean. Do not wipe with your hands or hard objects. Wipe the fingerprints off the lens with cotton sticks and soft tools.
---
How to evaluate waterproofness of a headlamp – IPX explained
Looking around to choose your next headlight you will often find yourself reading the data on the impermeability of the devices in question.
To get an idea of what those letters and numbers mean, let's start by saying that there are two parameters to measure the resistance of the device; one concerns the resistance to the impact with solid bodies, the other the protection from liquids. In both cases, you will find the acronym "IPX" followed by a number.
IP is the name of the standard developed by the International Electrotechnical Commission (IEC) to determine the resistance of an electrical device to freshwater and common materials such as dirt, dust, and sand.
The first digit after IPX is the classification that the IEC has assigned to a unit for its resistance to solids. In this case, the maximum level is 6, which means that no "harmful" dust or dirt has penetrated the headlamp after being in direct contact with the material for eight hours. In particular:
IPX1: protection from contact with a large surface, such as the back of a hand, but no protection against intentional contact with a part of the body;
IPX2: protection against small objects, including fingers;
IPX3: protection against tools, such as screwdrivers, thick wires, or similar objects;
IPX4: protection from most wires, screws, and nails;
IPX5: partial protection from contact with harmful dust, ie the powder is able to penetrate into the device but will not be able to compromise its operation;
IPX6: total protection from contact with harmful dust – in this case, dust cannot enter the device.
As for the resistance to water, whether it is using the headlamp in the rain or unluckily drop it into the lake, the meaning of the classification codes is this:
IPX1: Protection against water dripping vertically on the device;
IPX2: Protection against vertically dripping water when the device is inclined at an angle up to 15 °;
IPX3: Protection against direct splashes of water when the device is inclined at an angle up to 60 °;
IPX4: Protection against rain and splashes of water regardless of direction and inclination;
IPX5: Protection against low-pressure water sprayed by a nozzle with a diameter of 6.3 mm;
IPX6: Protection from water fired in powerful jets by a nozzle with an opening of 12.5 mm in diameter;
IPX7: Protection against immersion in water at a maximum depth of 1 meter for a maximum of 30 minutes;
IPX8: Protected from immersion in water at a depth of more than 1 meter (the manufacturer must specify the exact depth at which the device is not damaged).
So an IPX45 means IPX4 resistance and IPX5 waterproofness. If only one number is found, that usually refers to the water-resistance parameter.
Check Also
Stay in touch while we get lost! Follow us on Social Media