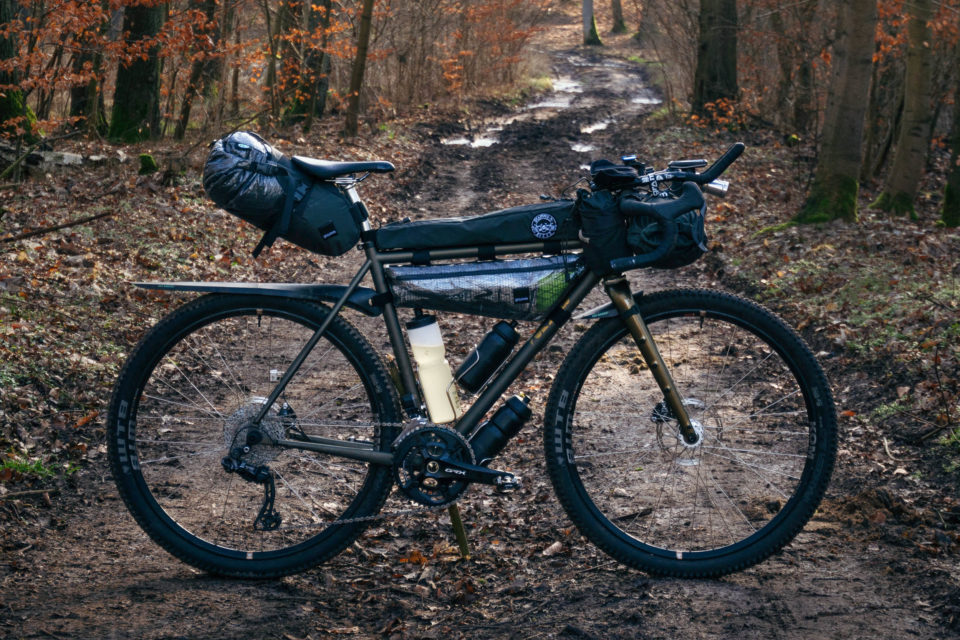 The best bike top tube bags reviewed
Bikepacking tube packs, road, and mountain bike stem storage, waterproof phone holder bags for gravel and cycle touring
What kind of bike rider needs a top tube bag? Well, any kind of cyclist could benefit from using the best top tube bags for his/her needs and bikes.
Would you like to get storage space that doesn't get in the way of riding, on the top tube of your bike? That's the whole essence of top tube bags! They provide you a means of storing stuff on your bike where you'd expect the less: on the top tube, next to the stem.
Why this location? The whole concept of bikepacking stands for using all the free corners of space on your bike for storage, without compromising aerodynamics and stability. A stem bag on the top tube guarantees maximum ease of access.
But you don't need to be a bikepacker to make use of a top tube bag: bike commuters, road racers, mountain bikers, gravel addicts… basically any kind of cyclist could add a bike top tube to their riding setup.
If you need to get the best top tube bag for your riding style, our curated list will offer you the needed insights. Remember, there's no good or bad top tube bag, all you need is to just pick the best for your needs.
Disclosure: Some of our articles contain affiliate links. This comes at no additional cost for you and helps us keep this website up and running. (as Amazon Associates we earn commission from qualifying purchases)
How we compile our gear guides: during the almost 10 years of cycloscope.net our team personally tested dozens of similar pieces of gear. For what we can't test personally, we involve other people in the cycling community to give their feedback and opinion about gear they have used. Our decade-long experience in bicycle touring enables us to find the key cons and pros of every product we mention.
What is a top tube bag?
A top tube bag is a handy addition to a bikepacking kit or bike luggage setup. A top tube pack occupies the space just behind the head tube and is secured by 2 or 3 Velcro straps (or bolts).
Thanks to a teardrop shape reminiscent of 1970s dirt bikes, we often hear top tube bags referred to as 'gas tanks'. It's worth noting, however, that Revelate Designs coined and trademarked the name.
While the fabric of most top tube bags is waterproof, water does enter through seams when exposed to sustained rain, due to the stitching process used to assemble the product. Thus, we recommend using an internal dry bag for contents that must remain 100% dry.
What to store in a top tube or stem bag?
The great advantage of top tube bags is certainly not capacity, but their convenient position on the rig, easy to access also while riding.
My favourite things to store in a top-tube/stem bikepacking bag are:
Snacks (nuts, dry fruit, energy bars)
Camera (if a compact one)
Eyewear cleaner
Rain Poncho (in a large top tube bag)
Multitool
Check also: The Best Gravel Bikes Under 1500/100$
Our 13 best bike top tube and stem bags in a nutshell
If you are in a rush, here's a quick answer, we recommend reading the reviews of the products below.
Bikepacking Top Tube Packs

#1 – Topeak Fuel Tank with Charging Cable Hole
#2 – Craft Cadence Waterproof Top Tube Bag
#3 – Revelate Designs Mag Tank Top Tube Bag
#4 – Birzman Packman Travel Top Tube Pack
#5 – Blackburn Outpost Top Tube Bike Bag

Road Bike & Gravel Top Tube Bags

#6 – Roswheel Race Series Bike Frame Bag

Bike Top Tube Bags with Phone Holder

#7 -WILDMAN Bike Phone Mount Bag
#8 – WATERFLY Bike Frame Bag
#9 – Sireck Phone Holder Bike Bag

Top Tube Bags for MTB

#10 – Rhinowalk Bike Bag
#11 – ROCKBROS Bike Top Tube Bag
#12 – Evoc Top Tube Pack
Bikepacking Top Tube Packs
There are a ton of bikepacking bag brands out there, we chose our favorite 6 top tube bags based on features, price, and availability.
#1 – Topeak Fuel Tank with Charging Cable Hole
Price: +/- $50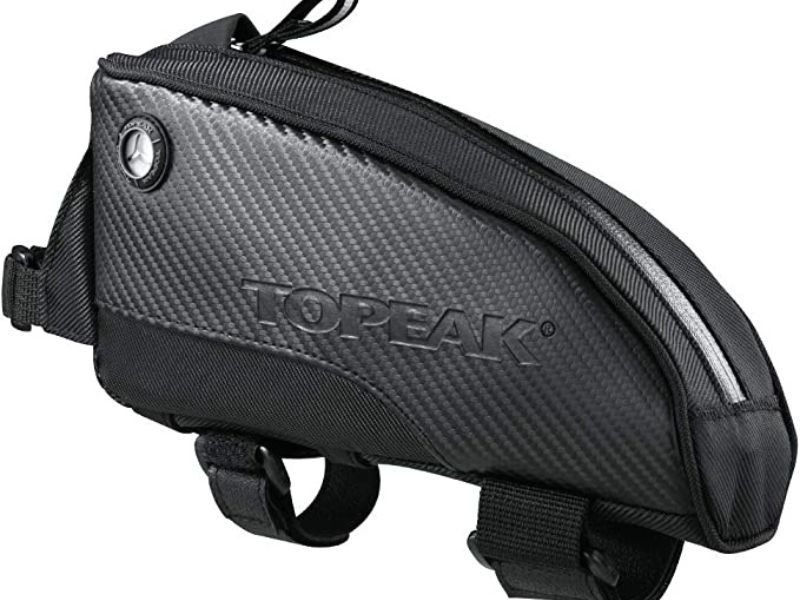 As a leader in the bike bags world, the Fuel Tank Topeak boasts a large storage room and a dedicated opening for earbud cables that shouldn't go unnoticed.
Yopeak Fuel Tank's one-handed operation helps navigate squirrelly gravel without lost momentum, and the zip down the middle works for quick, safe access. The bag remains solid even when opened all the way.
I rode a 100-mile century ride with the large one, it carried so much and stayed out of the pedaling. The big room lets you carry spare batteries, cables for charging, a watch, a bike computer, a phone, travel-size lotion, chafing cream, and a few packets of Gu.
To hold things like wallets, keys, etc., the Fuel Tank top tube bag has nice mesh pouches built into its inner walls.
There is a grommet, used to fit a USB cable or earbud cable, built into the side of this Topeak bag.
#2 – Craft Cadence Waterproof Top Tube Bag
Price: +/- $55
Craft Cadence is an up-and-coming UK brand that ships worldwide with very reasonable shipping rates from their outposts in UK, EU, and Asia. We were intrigued by their innovative new Top Tube Bag offering, which includes a zipperless, seam-welded waterproof construction with a magnetic enclosure reinforced by velcro.
The bag is capacious (1.5 liters) while being only 5cm (1.97 inches) wide, which means you won't have problems with knee rub. It can hold your tools, snacks, and accessories and is great for electronics through its cable outlet with a rain cover.
The straps are carefully thought out with anti-slip rubber grippers and the front strap can even be removed for those who have slammed stems. The bag is a treat to ride with, very stable and the best thing is the easy access, which involves flipping the bag open which you can do in one hand while riding. Inside, there is even a small zipped pocket for easy organization.
What's extra cool is that the top of the bag is actually flat, unlike other bags on the market. Craft Cadence has included a loop which means that a smartphone or a cycling computer can be mounted on top of the bag using the included elastic bands that come with computer mounts.
Overall, considering the features and quality the Craft Cadence bag is competitively priced with great customer service for cyclists anywhere in the world.
#3 – Revelate Designs Mag Tank Stem Bag
Price: +/- $60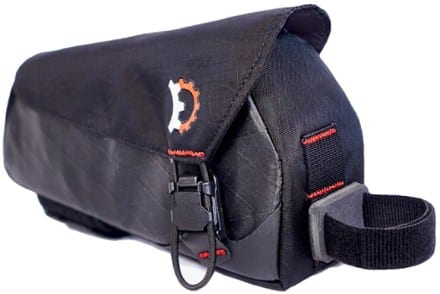 Revelate is a pioneer in the ever-expanding bikepacking bags world. When testing the Revelate top tube storage, I was looking for a bag that stays out of the leg's way and opens at a flip. The fact that it was sturdy and spacious was a welcomed plus.
In one go, it held my phone, bike tool, tire levers, patches, and keys. It does not rub against the knee when pedaling because of its sleek design, and while riding, it has a magnetic latch for easy opening and closing. I adore it! It takes no effort and can be done in motion.
I was also surprised by how well this bag stays in place. It snugs tightly on the top tube while riding. It's a bit pricey but well worth those few more bucks.
#4 – Birzman Packman Travel Top Tube Pack
Price: +/- $34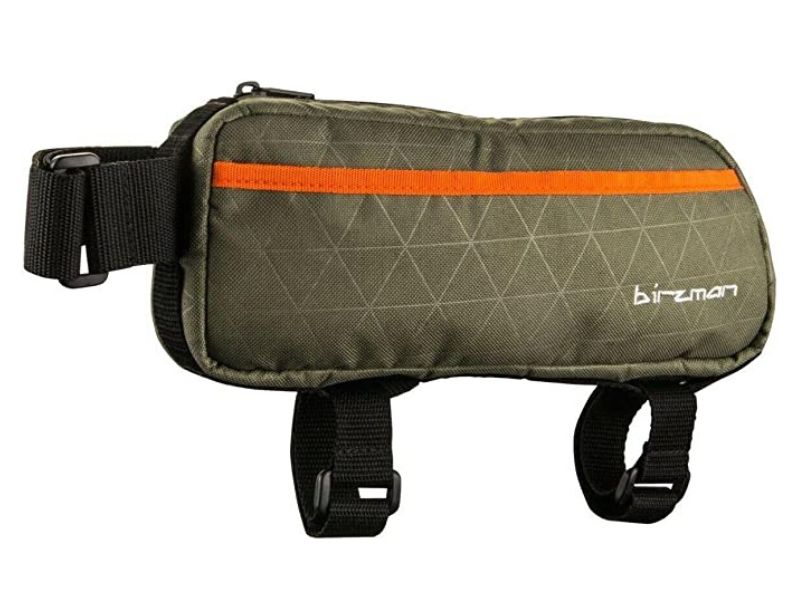 This top-tube bag repels water under heavy rain and carries a lot of stuff. It's definitely a proper bikepacking top tube back to bring in your gravel adventures.
It clasps on different frame sizes because of hook-and-loop straps. It resists abrasion and repels water because of tough fabrics.
At 0.8L (48.8cu in) and 10.2in x 3.9in x 6.3in, it has a lot of room. You will have easy access to nutrition and supplies through external pockets. A total of 1 zippered main compartment, and 3 exterior pockets to keep your belongings tidy and nicely organized.
#5 – Blackburn Outpost Top Tube Bike Bag
Price: $50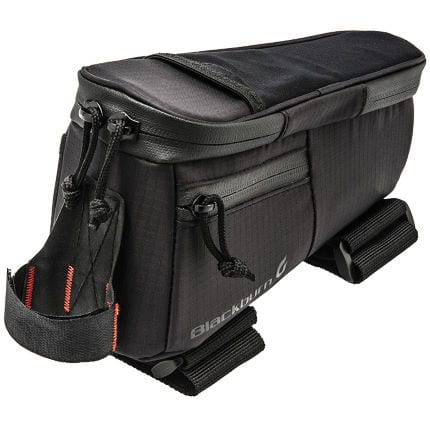 Blackburn offers something unique in its Outpost top tube bag design. They let you have a stronger fastening on the stem and tubes of your bike with the use of bolts. Plus they went the extra mile of considering the likely things you will store in their bag and segmented the bag accordingly.
They consider what's put in each of their bags and tailor the compartments to ensure a place for every piece.
You get a divider to split the interior compartment into two sections, and its big room accommodated a phone, wallet, keys, and a couple of snacks. It also comprised a mesh compartment on the top and two small pockets on either side – one zip and one uses an elastic band.
For a clean look and stout mount, two reinforced m5 grommets hold the bag to your front frame.
Road Bike & Gravel Top Tube Bags
#6 – Roswheel Race Series Bike Frame Bag
Price: +/- $17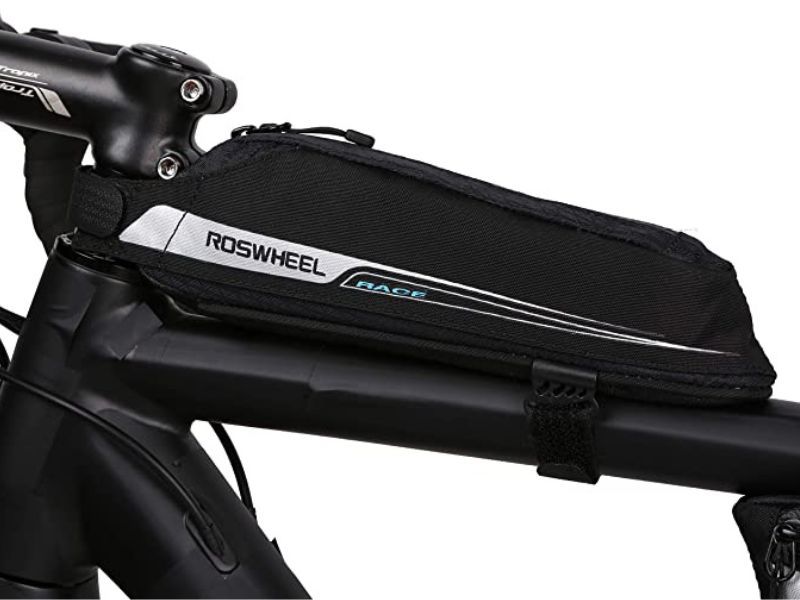 Aerodynamics is an important factor for professional road bikers. If you need a top-tube bag with an aerodynamic design to store tools, snacks, and the like, then this bag is a wonderful option. It's quality made and has insignificant weight.
The bag carries little but its aero design is ideal for race day and training on your road bike; perhaps you will find it a slim bag useful for carrying a tube, a few tools, and CO2 cartridges. It has no room for an iPhone though – yes, that's how small it is!
Using water-resistant materials for its construction, it is fully padded and insulated (note: it does not have sealed seams so a small amount of water still percolates).
By minimizing wind resistance, its streamlined design supports speed. It adopts ultralight fabric, which is 30% lighter than the same thick polyester materials.
It's secured by quality Velcro straps. In order to increase your visibility during night riding, it features reflective elements and a tail light loop.
Bike Top Tube Bags with Phone Holder
#7 -WILDMAN Bike Phone Mount Bag
Price: +/- 17$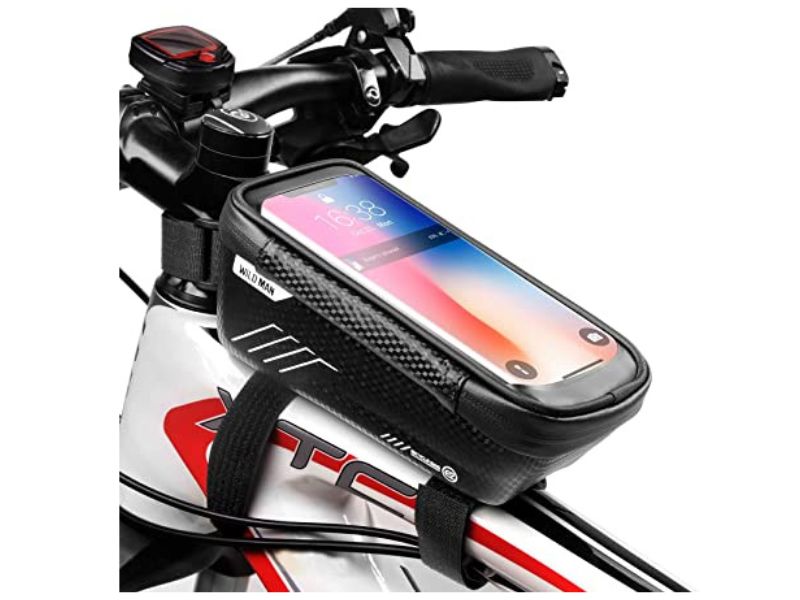 The most important quality in a bike phone mount bag is touch screen sensitivity. This bike phone mount bag does a great job in this regard and is one of the best top tube bags for road bikes. Plus it is quality made and stylish.
Surprisingly, it carries a lot too! Its adjustable Velcro straps accommodate a wide range of bikes.
With a TPU transparent touch screen case, this bicycle phone bag allows you to see the screen clearly and operate your smartphone without taking it out while riding, using GPS, using Strava, using maps, or answering your phone.
This top tube phone bag by Wild Man is made with 3D die-casting and tough EVA, so the bike bag looks stiff at all times. The Outer material, Carbon fiber, is abrasion-proof and durable. Therefore, this bike handlebar bag is stylish, dynamic, durable, and shake-proof.
The 3 Velcro straps on the back and bottom are adjustable, so they will clasp the bicycle frames. It fits most types of bikes as well – 3 Velcro straps: 2 Velcro commuter straps on the lower bottom, and 1 Velcro commuter strap on the front. The Wild Bag bag stays in place even if you ride on a bumpy or rocky road.
#8 – WATERFLY Bike Frame Bag
Price: +/- $18
Another nice top tube bag with a phone holder. The big selling points of this tube bag from Waterfly are a sensitive touch screen, waterproof material, hidden earphone hole, and reflective tape.
The touch screen face responds to a slight touch, and a headphone cord will snake through the hole at the base. Its reflective PVC edge, which is visible in the dark, enhances night cycling.
The case is compact but fits keys, a wallet, and sunglass. It's rigid and stays out of the leg's way while riding.
Some people prefer their phones on the handlebar, but there's no denying a tube bag like this offers better protection.
Any layman can install it, and it will secure your belongings properly. Because of the sunny hot weather on the day, we tested it, however, and the fact that we neglected the fabric screen cover, the phone overheated (after approximately 7 hours of use, so not surprising!). Use this product with intelligence, and you will find it great.
#9 – Sireck Phone Holder Bike Bag
Price: +/- $18
Here's another favorite for people who prioritize waterproofness. Plus, it has the much-needed sensitive touchscreen for a phone bag. As a bonus, it has a large capacity and highlights reflective stripe… and it's one of the cheapest bike top tub bags available.
This bag's three pockets offer an opportunity to put more things – its main pocket is in the middle, with two small pockets on both sides. It is a good bicycling accessory. To enhance safe riding at the night, it features a reflective stripe on both sides.
The bicycle bag is made of water-resistant fabric with a taped waterproof process zipper. With all that said, it repels water to only about 90%. I have been caught in the rain twice and everything inside remained dry.
You will be able to operate your cellphone while riding because the phone holder bag features a high sensitivity touch screen TPU film. It remains static because solid Velcro straps hold it in place.
Use the main pocket to store things like tools, lightweight jackets, gloves, and headlamps, while you can use side pockets to store snacks, keys, and the like.
Top Tube Bags for MTB
#10 – Rhinowalk Bike Bag
Price: +/- 23$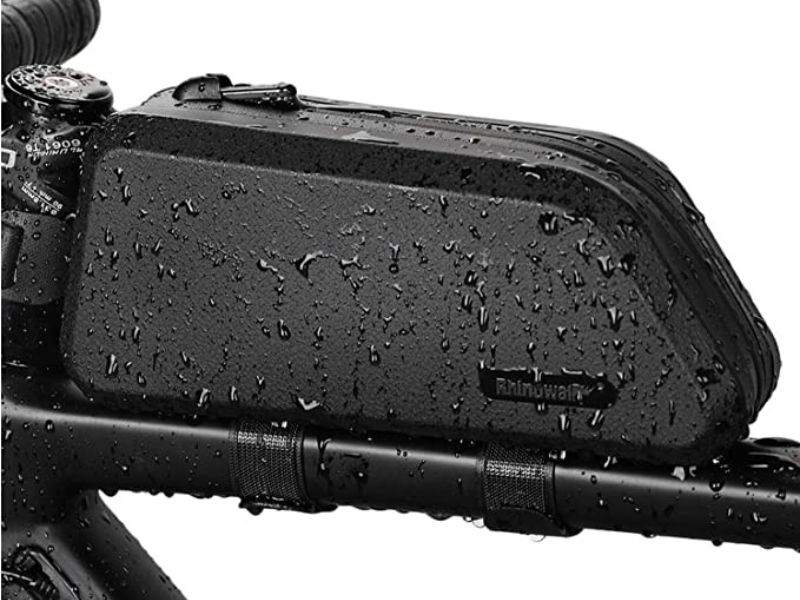 If you've had experience with tube bags that bulge later after extended use and want to keep away, then this is your go-to top tube bag. It also offers better protection against rain than most top tube bags. Considering it's pretty affordable, this is a promising bag. It incorporates an easy-to-open design as well.
The bag is made of TPU material and takes a 3D shape. Benefit from the high mechanical strength of TPU. TPU material maximizes space, is elastic, and absorbs shock or impact.
The zipper's rubberized shroud protects your stuff in case you get caught in the rain. Zippers are connected by a quality nylon cable, which makes it easier for you to get your goods.
Three adjust rail systems keep the bag in place. The long straps snug the bag tightly against the front and top tube, and the non-slip soft leather reduces friction on bike tubes.
#11 – ROCKBROS Bike Top Tube Bag
Price: +/- $26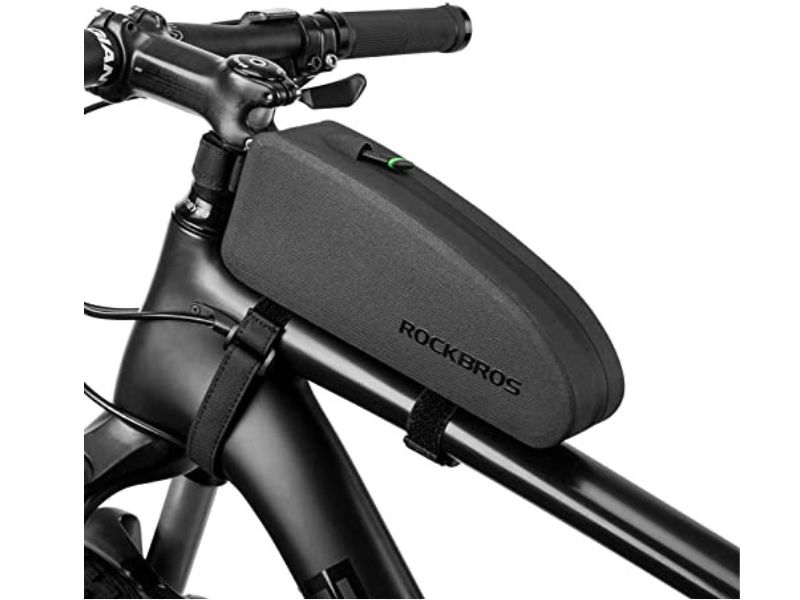 Rockbros is a household bike bag manufacturer. They always come with innovative top tube bags. In this case, they made a durable top tube bag that is waterproof. The bag's large capacity is a huge plus. It offers ease of installation and convenience.
It suits more road bikes because its hook is adjustable. The main material 840D nylon is abrasion-proof and durable. The bag retains its shape as a result of stiff sidewalls, so you shouldn't worry about deformation sooner or later.
In one go, this roomy bag will store your wallet, energy gel, inner tube, mobile phone, gloves, repair bike tool, and power bank. Size L: 9.25 * 4.13 * 2.55 inches, Size M: 8.48 * 3.35 *2.16 inches.
It takes on mud and rain and holds up greatly. Plus solid Velcro straps won't come loose. It stays out of the leg's way even when climbing on big hills because of its small size. A great top tube bag for gravel, MTB, bikepacking, and road cycling alike.
#12 – Evoc Top Tube Pack
Price: +/- $40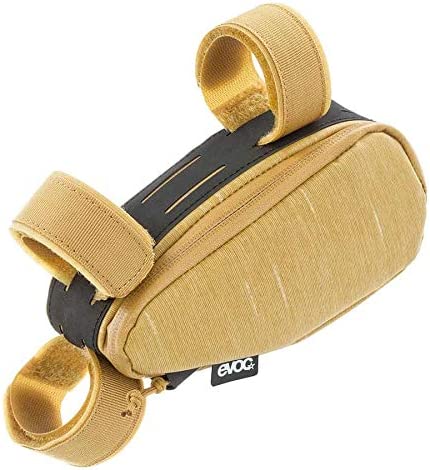 If you need a top tube bag to hold your phone or any large object, steer clear of this tube bag! If, however, you want to store tiny stuff like keys or a multitool, then you will find good value in this top tube bag that stays out of the leg's way.
It is well-built and stays in place due to beefy straps. At 6.1 x 3.1 x 2.2in and .5L, it comes in a small dimension, which only fits keys and a pair of gels.
The fabric is, however, quality, and the zipper is as well. The manufacturers ship it with clear stickers to protect your bike from wear under the strap.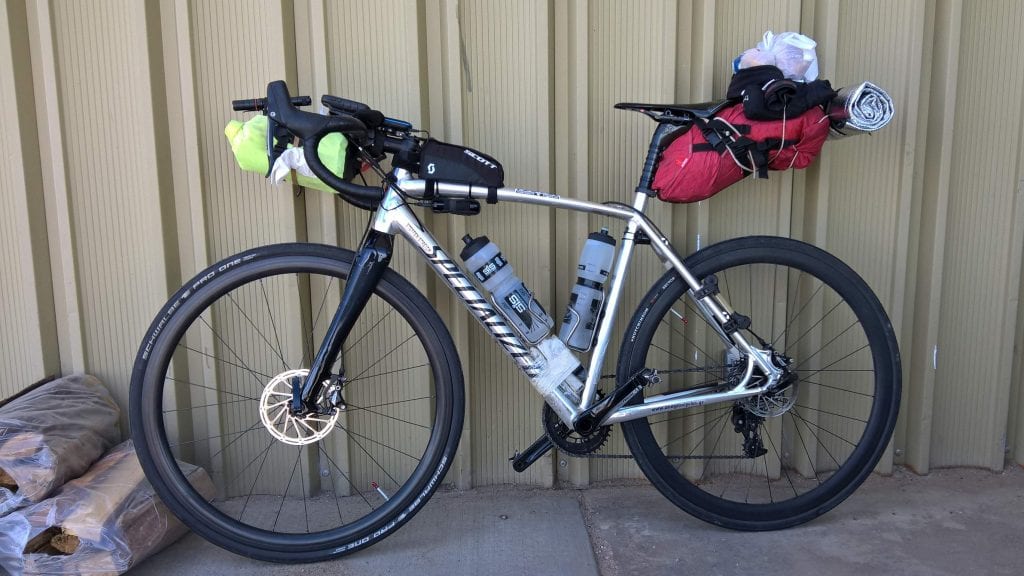 Frequently Asked Questions
What's stored in a top tube bag?
Bikepacking top tube bags offer high-volume storage and one-handed access to snacks and energy bars. So that you don't always have to root around for your phone, they offer a practical solution for storing smartphones (or other items for that matter).
Whether navigating a challenging trail or on a daily commute, a top tube pack is a convenient space to store frequently used items.
If you get the waterproof type, you can store contents that are sensitive to water. Closed-cell foams are used to pad the interior of most top tube bags and safeguard items against impact. Consequently, top tube bags store items that are susceptible to shock.
They are great for other items that warrant easy access, such as a multitool, cellphone, light, trail mix, half-eaten burrito, or even an ice-cold beer. 
At one go, others have used it to store a RavPower 20,000 mAh power bank, Samsung Note 9, Gerber multi-tool, wallet, charging cable, tire patch kit, 2 tire levers, and flashlight.
Another acquaintance used his top tube bag, not at one go, to store a phone, battery, glasses, gloves, earphones, mini-flashlight, energy gel, small tire pump, repair kits, keys, and wallet.
Looking for your ideal set-up? Have a look at these!
Stay in touch while we get lost! Follow us on Social Media