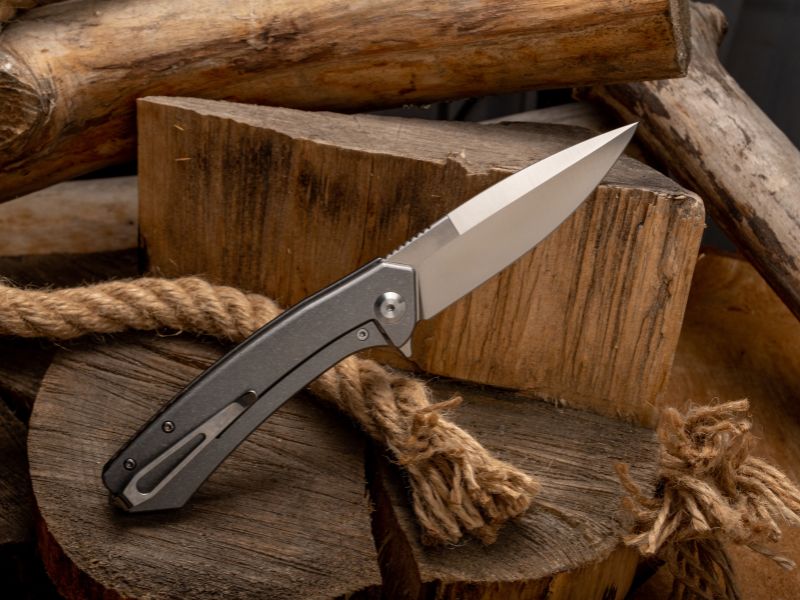 The Best Knives For Backpacking, Bikepacking & Cycle Touring
Lightweight, compact, pocket knife, fixed blade. For hiking, survival, camping and multiple uses
Exploring the great outdoors offers an unparalleled sense of adventure and connection with nature, but venturing into the wilderness also demands careful preparation and the right tools.
Among the essential gear for any outdoor enthusiast, a reliable and versatile knife reigns supreme.
Whether you're a dedicated backpacker, an avid hiker, or an adventurous bikepacker, having the best knife at your side can make all the difference in your outdoor experiences.
In this comprehensive guide, we'll unveil the best knives designed explicitly for bikepacking, backpacking, hiking, and camping – which means they are lightweight, compact, sharp, and multi purposes.
We'll go through pocket knives, fixed blade, multi-tool, EDC, tactical smart wallets and more, to find out what's the ultimate knife for backpacking, hiking, camping, and bikepacking.
From rugged survival scenarios to everyday campsite tasks, these multi-functional knives are tailored to meet the diverse demands of outdoor enthusiasts, ensuring you're well-equipped for whatever challenges the wilderness presents.
Join us as we delve into the world of top-tier knives, arming you with the knowledge to make informed decisions for your next outdoor escapade.
Bikepacking VS Hiking VS Backpacking VS Camping Knives
Disclosure: Some of our articles contain affiliate links. This comes at no additional cost for you and helps us keep this website up and running. (as Amazon Associates we earn commission from qualifying purchases)
For most circumstances, the best knife for any of these disciplines could be the same one, it always depends on the primary use you're going to make of it.
From preparing meals with your camping stove to repairing gear, a reliable knife is a versatile tool that can make a big difference on an outdoor trip.
In bikepacking, the art of packing gear on your bicycle and setting out on an adventure, you might want some more multifunctional tool that includes a knife.
When hiking and camping in the wild, you might want to focus more on forester uses, then you might need bigger blades.
If you're car camping, weight and portability become a secondary factor, you might want something bigger and more heavy-duty here, remember to check the legislation of the country or state you are in.
For example, in Colorado, you can own a pocketknife or any other knife with blades no longer than three and a half inches. In Connecticut, you cannot carry an automatic knife with an edge longer than one and a half inches. Typically, you can carry blades shorter than two and a half inches, although EDC blades can be as long as three inches, with handles reaching four to seven inches.
When urban backpacking, self-defense could be put into the game, although you should always try to avoid any conflict, a sharp pocket knife could be what you need.
In this article, we'll explore some of the best knives for bikepacking, hiking, backpacking, and camping – highlighting key features and benefits to help you choose the right one for your next adventure.
Best EDC Pocket Folding Knives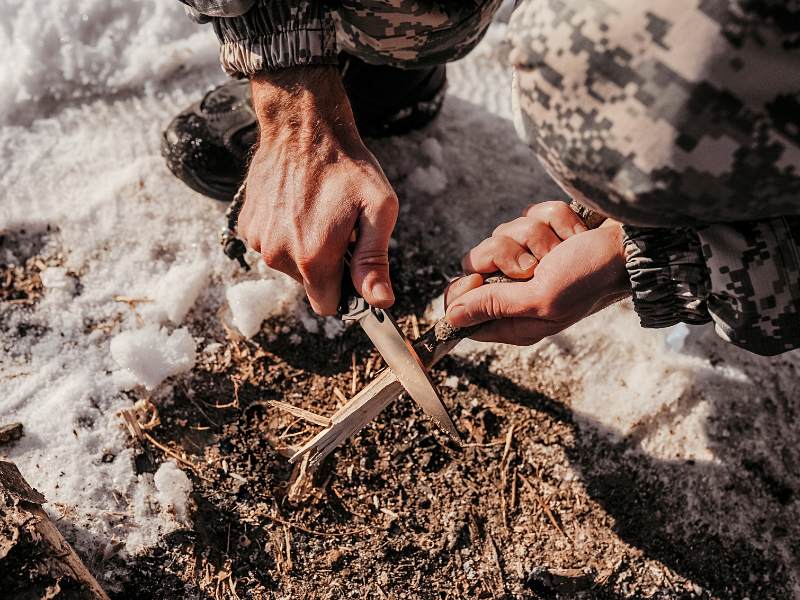 EDC stands for "every-day-carry," and these tools are designed to be consistently carried because they're both functional and convenient.
EDC knives are versatile tools you can use anywhere, as they are lightweight, compact, and have multiple uses. Their small size makes them easy to conceal and access for various purposes.
You can carry EDC knives in your backpack, pocket, or bikepacking bag. When choosing an EDC knife, it's essential to consider factors such as the blade material (e.g., stainless steel, carbon steel), the handle material (e.g., aluminum, G-10, titanium), locking mechanism (e.g., liner lock, frame lock)
1. Kershaw Leek Serrated EDC Pocketknife
best EDC bikepacking knife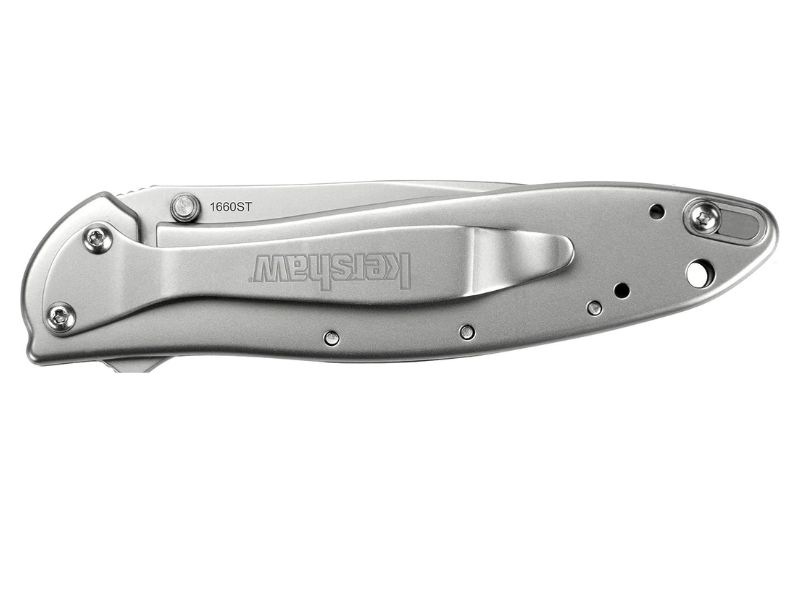 The Kershaw Leek Serrated Pocketknife is our top pick for the best EDC bikepacking knife. It's great for carrying daily due to its size, comfort, and all-around practical use. I'd recommend purchasing it for anyone looking for an all-around general-purpose knife.
Out of the box, the Kershaw Leek Serrated Pocketknife is nice and opens quickly. It's gorgeous with modern looks, and the mostly stainless-steel construction is pleasant to look at and fondle. It's like a small, functional sculpture.
A sleek profile also means it's not bulky in your pockets, it contracts to a slim profile, which easily stores inside the opening of your pants pockets. It's heavy enough to know it's there but doesn't weigh your bikepacking/backpacking gear. It's compact, too, and when folded, it measures 4″, which is the perfect size for most hands.
A key feature, which makes the Leek an ideal EDC Pocketknife, is the 3″ blade length. It's not too big or small, just the right size for an everyday pocket knife.
For a knife that you'll need to use daily, you'll love the blade. First, it's a Sandvik 14C28N stainless-steel construction. I love steel because it retains a sharp edge, even after regular use, re-sharpens easily, doesn't wear, and ages nicely.
Bikepackers will also love the drop-point partial serrations, which are nice during emergencies when cutting through thick, tough, and fibrous materials like natural fiber ropes.
The Wharncliffe blade also tapers and gets dramatically thinner at the tip, forming a needle-like tip. The tip is great for piercing and has virtually no resistance from most substances.
Kershaw Leek Serrated Pocketknife is also built with ease of use and safety in mind. It has a safety-assisted one-hand release, a tip lock to prevent pocket leg jabs when folded, and a frame lock to secure the blade.
Overall, the Kershaw Leek Serrated Pocketknife is a nice everyday knife and is a perfect fit for those needing a practical, safe, and easy-to-use 3″ bikepacking EDC knife.
Pros
·         All-round practical use
·         Built with safety in mind
·         Partial serration for working on fibrous cords
Cons
·         The needle tip is flimsy
2. Vosteed Racoon EDC Knife
Vosteed Racoon is a fine little knife for comfortable carry when a larger knife isn't suitable. The first impression of Vosteed Racoon is its well-built, quality components and superb fit and finish. The workmanship, style, and function are a great deal at the asking price.
The 3.25″ Black stonewashed blade, constructed out of steel, will please you in every way. It appears to be properly heat-treated, properly sharpened, and properly finished. The steel blade holds an edge and feels durable, and you can't seem to hurt it; great for an everyday outdoor knife.
The blade also has a nice high flat grind, decent choil, and a clean plunge grind. In short, the Vosteed Racoon is always ready for adventure and seems like the perfect companion for your next outdoor adventure.
Meanwhile, I can't get enough of the Vosteed cross-bar lock. Generally, I'm not a huge fan of cross-bar lock knives, but I've to give credit to Voosted. The action on the Racoon is much better & smoother, and you'll find it easier to open with the thumb stud without fear of your thumb sliding off and onto the blade. The blade pops out nicely too, and you won't have issues safely deploying Raccoon's blade.
The weight and dimensions are also nice, especially for backpacking purposes. In particular, the mostly flat profile of the handle sits flat in your bikepacking cycling jersey. When folded, it compacts nicely and won't gobble on your precious backpacking space.
The ergonomics are also nice, and the micarta feels soft and comfortable for a satisfying feel. The grip on the ergos works well when choked for close work or even gripped further back for full-on cutting.
Pros
·         Durable construction
·         Ultra-light
·         Easy to use
Cons
·         The pocket clip is less secure and exposes the better part of the knife
3. Kizer Assassin Everyday Carry Knife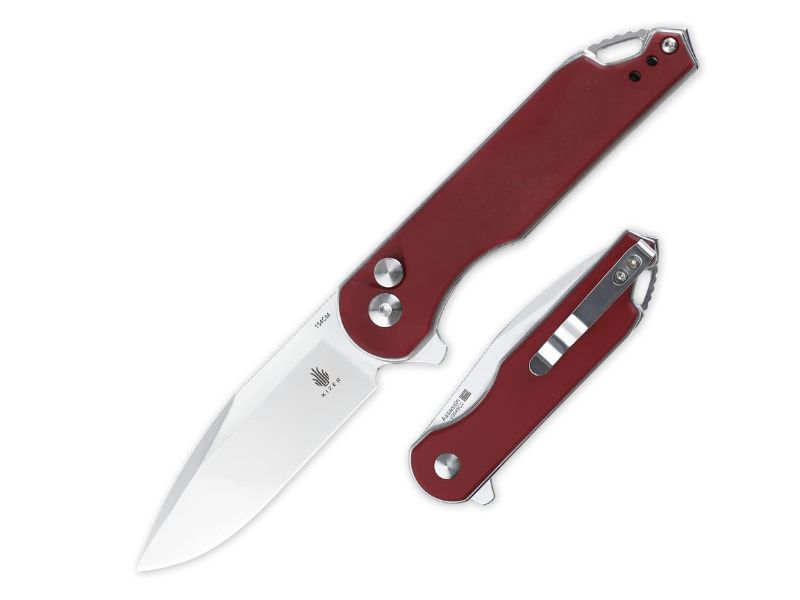 You'll be excited to pull the trigger on the Kizer Assassin EDC knife. First, there's something about the overall shape and size that most users find appealing. In the picture, it looks massive, but it's not. It's a good size for EDC with a 3″ blade, and it generally feels good and solid in most hands.
It also has a nice, solid, and lightweight construction. No wobble or anything like that. The bearings are nice and smooth, and you'll love how the blade opens up effortlessly. There's no fiddling or anything. And the best part is you can choose to use the flipper or the lock button to open the knife.
The steel blade construction is also fantastic. It comes sharp out of the box, and retains the edge even after repeated use, which makes it a great everyday knife.
Using the Kizer Assassin is also a breeze. The micarta scales are in a different league from what most backpackers are used to, and the ergonomic handle ensures a secure and confident grip for easy operation. Finally, I love that it comes with an ambidextrous clip, which can be switched around for left or right-handed carry.
My take on the Kizer Assassin is that it's a fidget toy when you want it to be and a serious knife when you need it.
Pros
·         Ball bearing for rapid deployment
·         Solid construction
·         Great ergonomics
Cons
Best Fixed Blade Knives
A fixed-blade knife is an excellent choice for backpacking due to its strength, durability, and ease of use. When backpacking, you'll likely encounter a variety of tasks that may require a reliable cutting tool, such as food preparation, cutting rope or cord, building a shelter, or even self-defense in remote areas. A fixed-blade knife can handle these tasks more efficiently than many folding knives, making it a popular option among outdoor enthusiasts.
ESEE Izula Fixed Blade Knife
1. Best fixed-blade knife for backpacking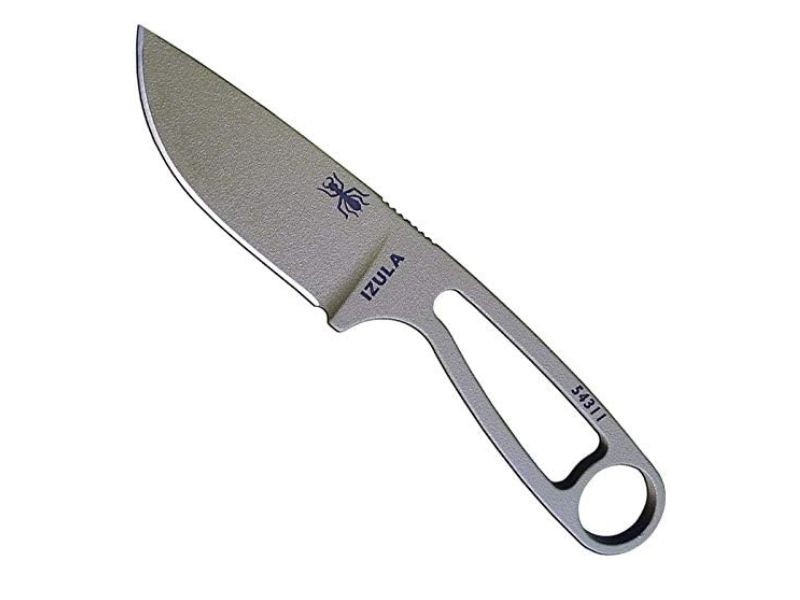 The Esee Izula fixed-blade knife ticks most, if not all, the boxes for the best fixed-blade knife for backpacking.
It comes sharp and keeps an edge 7 out of 10 times, but users find it easier to sharpen "strop" back up to razor sharp. It's a perfect option for food preparation when camping. It's also a useful pry tool.
The steel blade is solid, holds up, and works as if it were new. You can beat the hell out of it without worrying too much about its integrity. You simply need to clean it afterward, sharpen it, and it'll never let you down.
The ergonomics on the Izula are good, even for users with large, burly hands. It's petite and with a slim profile. A bigger knife would be heavy for outdoor enthusiasts. It allows your index finger to naturally rest on top of the blade, giving you all other digits on the handle. This blade would be awesome for backpacking and hunting.
And finally, it has an original and nice sheath. It's the strong hold on the knife.
Pros
·         Sturdy
·         Retains edge
·         Comes with a sheath
Cons
·         Challenge to remove from the sheath
ESEE Authentic Candiru Tactical Survival Knife
Most fixed knives are generally too big for the trail, but I like the size and design of the Esee Candiru. The 5" knife is ideal for walking, cycling, or camping. It can lay flat on your pocket (fabric sheath) or hang around your neck like a long necklace, but it doesn't include a chain. You've to buy it separately.
It sports heat-treated carbon steel, which is super-strong and holds an edge nicely. It feels stronger and more durable than regular folding knives, and this is great when you need to put it through paces when bikepacking or camping.
Esee Candiru is comfortable in most hands and has a perfect weight ratio. I love that it comes with a solid and well-constructed sheath.
Pros
·         Durable
·         Feels strong
·         Comes with a sheath
Cons
·         No chain for holding it on your neck
Elk Ridge – Outdoors Fixed Blade Knife
best fixed blade knife on a budget
Consider the Elk Ridge Outdoor Knife if you're on a budget and need an inexpensive but reliable fixed-blade knife for backpacking. For the price, it's a steal, and the quality, workmanship, and craftsmanship could command nearly triple the amount.
A key feature of the Elk Ridge is the blade, uniform and precise. While not ideal for processing game or killing bears, the 2 1/4" blade is a workhorse and will fit most outdoor uses. It's a knife you can always count on for camping, backpacking, hunting, bikepacking, and the general outdoors.
The steel blade is rugged and solid, and if you're concerned whether it'll rust, it takes on inclement weather like a champ. Of course, you mustn't leave it wet for extended periods.
I also love how this full-tang knife marries traditional and non-traditional materials to create a redefined allure. The maple's burly wood handle is rustic, at least, while the steel blade creates a modern vibe. Plus, the sheath is original leather and will keep your blade protected and discreet.
Pros
·         Chic and fun
·         Ideal for most survival situations
·         Reliable performance
Cons
Best Multirole/Swiss knives
A Swiss knife, often referred to as a Swiss Army knife, is a multi-functional pocketknife known for its versatility and compact design. It originated in Switzerland and was first developed by Karl Elsener in the late 19th century.
A typical Swiss Army knife incorporates various tools and features into a single unit, making it a valuable tool for outdoor enthusiasts, travellers, and everyday users.
COMEBO 2 PCS Pack Stainless Steel Swiss Style Multitools
What a fantastic deal for two versatile pocket knives! If you are looking for knives to keep in your car yet compact enough for backpacking, then you're bound to be impressed by this product.
I was pleased with the quality. The knife is sharp enough for my needs, and the tools are easy to open. They feel sturdy and well-made, serving as a handy tool.
The only small drawback is that the tools can be challenging to open if you have long nails. Besides that, this is an excellent deal for two top-notch pocket knives that are useful for many tasks!
Pros
Premium stainless steel construction
2 PCS Swiss Army Multitools
Compact design
Great for backpacking, climbing, hiking, etc.
Cons
Tools aren't the easiest to open if you have long nails
Amazon Basics 15-in-1 Stainless Steel Multitool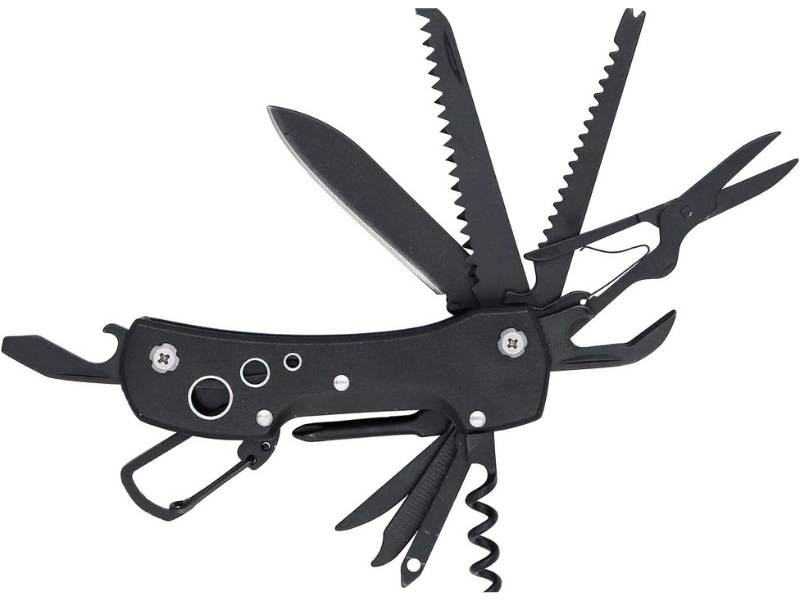 This 15-in-1 Stainless Steel Multitool is impressively sturdy and well-constructed, making it more effective than smaller multitools when dealing with tough screws or bolts.
Amazon Basics multi-function tool offers a wide range of features, including a saw, knife, hook remover, fish scaler, bottle opener, scissors, screwdrivers (both slotted and Phillips), metal file, ice breaker, corkscrew, nail cleaner, key-ring, and a needle.
It's made of trustworthy, long-lasting stainless steel with a hard-wearing black oxidation finish and aluminum handle.
Perfect for outdoor activities like hiking, camping, backpacking, and fishing, this multitool is also handy for survival situations, emergencies, and everyday use around the house.
The pliers are a standout feature, working exceptionally well with a comfortable feel and smooth spring action. The tool offers seven functions. The carabiner is a nice extra feature, though not a tool. For its price, it's a solidly built and basic multitool.
If you consider it one, the only potential drawback is that it's heavy for everyday pocket carry. However, it fits nicely in a briefcase or bag for easy access when needed.
Pros
Solidly built multitool
Perfect for backpacking, hiking, camping, etc.
Belt loop for easy hands-free carrying
Great feel and spring action
Cons
A bit heavy for everyday carry
Best tactical wallet knives
A tactical wallet knife is a compact and discreet knife designed to be carried in your wallet, usually in the form of a credit card-sized tool. It serves as a self-defense and utility tool, offering convenience and portability for everyday carry.
Ultimate 11 in 1 Survival Multitool By GUARDMAN
The Ultimate 11 in 1 Survival Multitool by GUARDMAN is a must-have for every bikepacker This compact, lightweight multitool offers many practical features, making it a potential life-saver in difficult situations.
This multitool is sturdy, reliable, and made with tough and virtually indestructible stainless steel. You will find it to be of high quality, with solid metal construction and no flex. It's a practical addition to any wallet, ready to tackle various tasks when needed.
Looking for the perfect gift for the special man in your life? This multi-function card-sized multitool is a fantastic choice! Whether it's for Father's Day, Valentine's Day, birthdays, graduations, or holidays, this versatile and handy tool will surely thrill them.
Backed by GUARDMAN's seal of quality and excellence, you can trust in the reliability of this survival tool. They stand by their products, offering a 1-Year No Questions Asked Warranty, giving you every reason to try it.
Pros
Made with durable stainless steel
Lightweight and compact
Easily fit in a wallet
Great little gadget
Cons
It might be a bit small than expected
The tactical smart wallet is a uniquely designed money organizer with a few extra features, like a blade you can remove from the money clip.
Zootility ZOO06 Hyper Thin Wallet Knife
Introducing WildCard™ – the ultra-thin pocket knife multitool made from heat-treated stainless steel. This innovative tool stands out for its convenient storage and patented FlyOff technology.
With no fasteners, it's incredibly sturdy, and its slim design allows it to fit right in your wallet, almost as thin as a credit card. The WildCard™ isn't just a pocket knife; it's a versatile multitool featuring built-in screwdrivers, a pry bar, rulers, and a bottle opener. 
The removable blade makes maintenance easy and is handy for everyday fixes and tasks during your backpacking trips.
Simply put, the WildCard™ is a game-changer, combining style, practicality, and ease of use.
Pros
Incredibly sturdy and versatile
Slim design to fit in your wallet
Perfect for opening boxes
Great for hiking, camping, and backpacking
Cons
It might be a bit too thin for those looking for a proper knife
SOG Cash Card Money Clip Pocket-Wallet Knife
This 2.75-inch money clip knife is a compact and tactical wallet knife with a clip, allowing you to secure cash, ID, and business cards. It's a great addition that stays discreet yet handy.
Its sharp blade and lightweight design make it perfect for everyday use. You can use it as a money clip, but some prefer to clip it to their pocket. Weighing only 2 ounces, it's a lightweight EDC pocket knife that can even be looped on a chain for easy carry.
This knife is constructed with 8Cr13MoV stainless steel and is lighter than average pocket knives. It features an easy-open lock blade pocket knife with a liner lock mechanism, making it slim and practical for daily use.
The blade is super sharp, enabling tasks beyond regular cutting. Moreover, SOG folding knives are built to last, offering repair and replacement services.
This money clip pocket knife is a practical and stylish tool for everyday carry. Its design and quality make it a great gift choice, especially for those who appreciate functional and well-crafted tools.
Pros
Lightweight wallet knife for everyday carry
An easy-to-open tool with an inner lock
Great gift choice built to last
Cons
Not best for fitting multiple cards
Stay in touch while we get lost! Follow us on Social Media