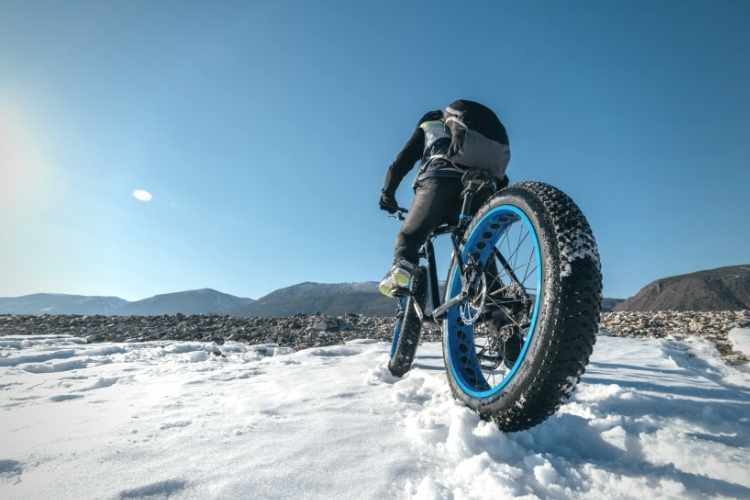 13 of the best cycling backpacks. Waterproof, lightweight, roll-top cycling rucksacks from cheap to top. The best bikepacking backpacks
As cyclists, one of the hurdles to using a bike to get around is transporting your belongings. But with our guide to the best cycling backpack, you can securely carry yourself and your necessities to shop, work, or anywhere else you need to ride.
Although many bike commuters are moving towards bike bags, a cycling backpack still offers a great solution to a cargo-carrying conundrum if you need to carry a lot of stuff.
On the other hand, serious bikepacking has spread all over with the advent of Enduro racing and some genuinely clever ways to carry spares and tools. Sometimes, however, no amount of tools stashed inside steerer tubes or Velcro straps can tote what you need on a ride, and sometimes you need to carry a lot of stuff.
Commuter bikes often feature racks for pannier bags, but if you detest pannier racks, the best cycling commuter backpacks allow you to carry no end of stuff too. A pannier is not very comfortable to carry around off the bike, while the right cycling commuter bag can also be stylish and comfortable when the ride is over.
As for mountain bikers, for several reasons, they should have MTB backpacks during mountain trail riding. These backpacks provide storage for a large volume of water. Riding with hydration packs offer better hydration compared to the use of water bottles because it is easier to reach a hose.
5 Best Bike Commuter Backpacks
Disclosure: Some of our articles contain affiliate links. This comes at no additional cost for you and helps us keep this website up and running. (as Amazon Associates we earn commission from qualifying purchases)
How we compile our gear guides: during the almost 10 years of cycloscope.net our team personally tested dozens of similar pieces of gear. For what we can't test personally, we involve other people in the cycling community to give their feedback and opinion about gear they have used. Our decade-long experience in bicycle touring enables us to find the key cons and pros of every product we mention.
As a daily bike commuter, you might need to haul quite some stuff back and forth from your house to your workplace, gym, night out, or whatsoever. You might need a proper waterproof and lightweight backpack for your commute, have a look at these.
Ortlieb Commuter Daypack City Backpack [21L]
Price: around $235.00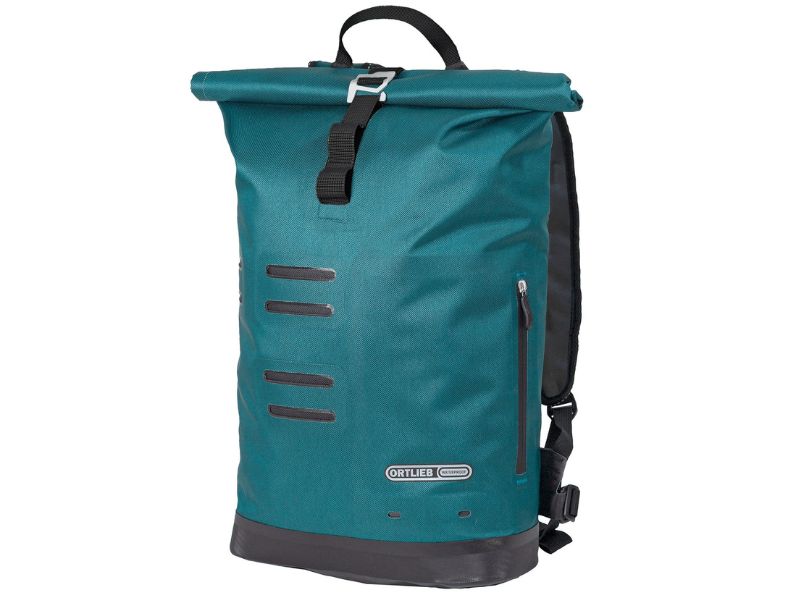 The Ortlieb commuter daypack allows you to put everything that you need for a day's work. This lightweight cycling backpack is made of durable nylon fabric and resists water well.
Ortlieb Commuter is a comfortable pack that I take out once per week on a 40-mile RT commute that includes some big hills. Thanks to the thick foam standoffs, I get great ventilation in my back.
The pack's capacity is fine for carrying work clothes plus a laptop. Its level of waterproofness is thorough, and it has a smart design throughout its makeup. At $235.10, it's pretty steep, but I've used the high price to guilt myself into the bike commute once per week, so maybe that downside is a plus too! Haha.
Patagonia Refugio 26L Pack [26L]
Price: about $129.00
The 26-liter Patagonia Refugio travel pack protects your gear from scuffs, rough handling, and scrapes being a weather-resistant daypack with the right amount of space to haul your daily essentials.
I feel confident recommending this to anyone looking for something to protect their valuables from nature's elements, having used it in severe rain and snowstorms. Durability is also outstanding. While snowboarding, I have fallen on this bag and scraped it on very sharp lava flow tunnels, with little to no damage to the Cordura ripstop nylon/polyester fabric.
It comfortably holds my laptop, change of clothes, and everything else I need for the day. It sits comfortably on my back whether it's mostly empty or loaded with heavy groceries. The back panel is well ventilated too.
Timbuk2 Tuck Pack [20L]
Price: about $68.00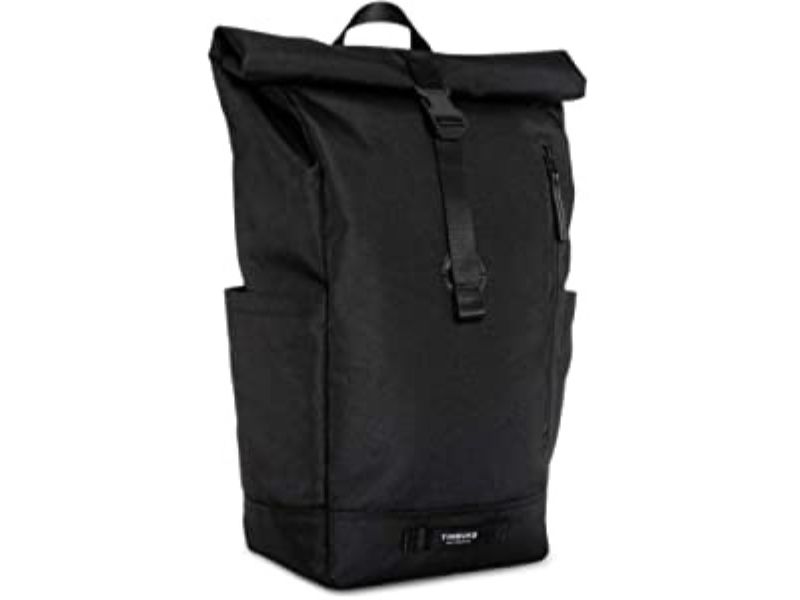 Near or far, Timbuk2 is a streamlined, straightforward roll-top cycling backpack for any adventure.
Including a hidden pocket at the back that I find handy for carrying my phone and wallet, the bag has numerous pockets. The bag feels hard-wearing and sturdy. It's large enough to accommodate a lot of kits and comfortable to wear. It also resists water superbly, so it's perfect for winter commutes!
I will say I hate the blind spot the roll top creates over my shoulder, although it allows for a lot of extra room. The top of the roll top juts out into my field of vision because the material is rather sturdy.
Rapha Reflective Travel Backpack [25L]
Price: about $205.00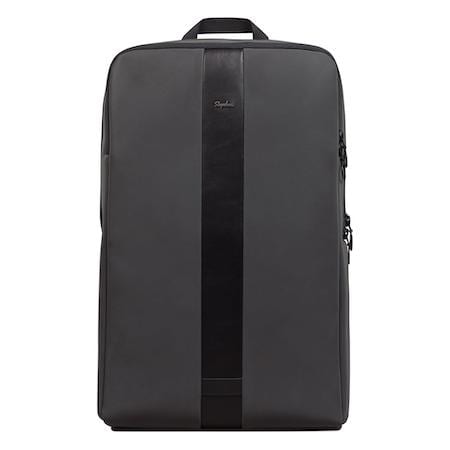 This pack is a compact and refined backpack big enough for overnight commuting.
The pack unzips in a clamshell style to lie flat, allowing you to access and pack its contents like a suitcase, maximizing the bag's 25-liter capacity. A magnetic sternum strap stabilizes the bag on your back when fully loaded, and a separate padded laptop pocket keeps a 13" laptop safe.
A quick access front pocket incorporates an internal slip pocket and zipped pocket to hold travel documents wherever your trip takes you and gives you access to smaller items on the go. When not in use, the pack's hi-vis pink rain cover slides inside the mesh pocket present in the main compartment.
Craft Cadence waterproof cycling backpack
Price: about $110.00
The Craft Cadence waterproof cycling backpack is one of the most loved and popular cycling commuting backpacks from the UK. This is a community-inspired backpack that has been built from the input of commuters over the years, and it shows.
It's got all the features that commuters are looking for – waterproofing through seamless welding technology, a very comfortable padded back panel that channels airflow away from your back, external areas for attaching locks and helmets, and excellent internal storage.
Unlike other roll-top bags which are just one big hole, the Craft Cadence backpack uses an innovative approach. There are two removable organizational sleeves inside.
There is a bright yellow removable internal organizational sleeve that covers the whole bag, with pockets at both the front for essentials and small clothing items and connected to a tech sleeve at the back for your tech equipment such as laptops and tablets.
The tech sleeve is further detachable from the overall sleeve if you want to free up room. You can also remove the entire sleeve for maximum space, or just attach the tech sleeve to the back of the bag (without the larger sleeve). As you can see there is a myriad of organizational possibilities with this bag!
Don't just take our word for it, this bag has a loyal following as can be seen by their active Instagram account!
4 Best Mountain Bike Backpacks
Although we'll dedicate an entire article to the world of MTB hydration packs, we decided to feature some of the best MTB backpacks here. Those are selected not just with water capacity in mind, but for their overall quality and convenience.
LOCALLION Cycling Backpack [6L]
Price: about $28.99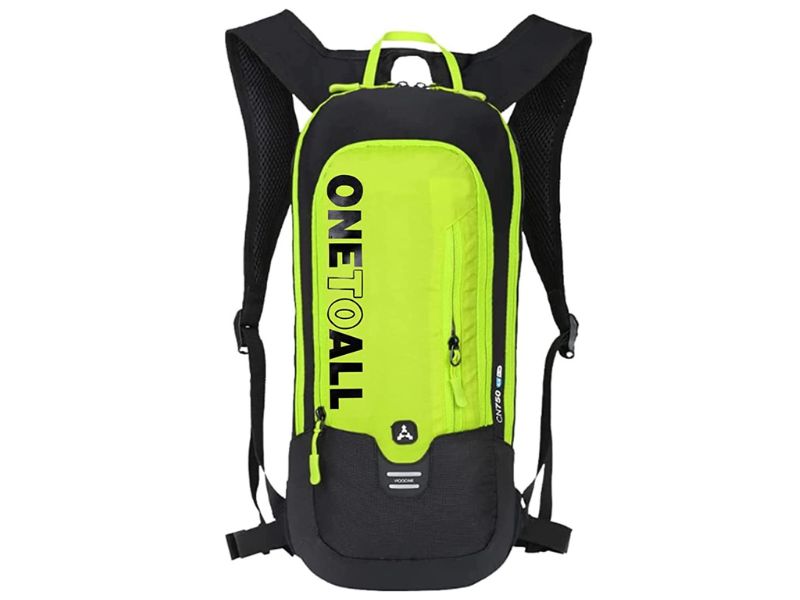 So that you have a relaxed outdoor experience, this bike bag is not only practical but also slim line, most importantly, lightweight, which adds no extra burden to your journey.
This small 6L backpack has an array of compartments and zip pockets, plus a special hole designed for hydration bladders (not included, will fit 2L).
Regularly, I carry a spare tube and some tools, and everything else is stuff that I'm switching in and out on the bike trail for my urban leisure rides around the city. It distributes the weight comfortably and is a light backpack for day trips.
It has a solid structure and the mesh on the back allows some airflow across your back. One of the cheapest MTB backpacks you can find. For under 30 bucks, it's a bargain!
2. Deuter Speed Lite 12 Biking Backpack w. Hydration System [12L]
Price: about $60.00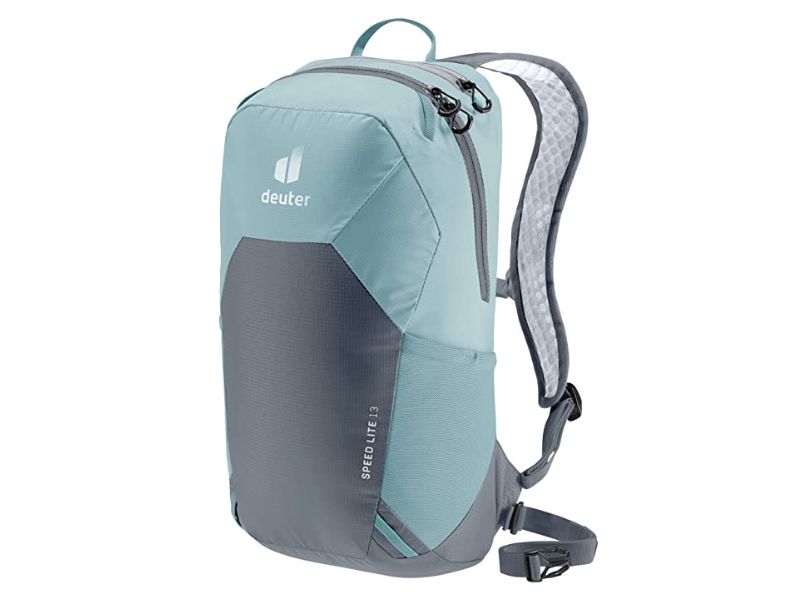 While keeping you comfortable and organized along the trail, the Deuter Compact EXP 12 bike pack expands to fit in more gear. Knowing you can go farther in comfort, you'll hit the trails lighter and faster with a super-tight fit and new hip wing construction.
Don't let its small size fool you: it's elastic and accommodates extra gear. The best feature is the hydration system: it's sturdy, simple, and possesses intelligently designed valve connections. Plus no chemical smell. Even better, you will barely feel the weight of 3.0 L of water!
Ideal for trips on an MTB, it's an outstanding rucksack. It fits snugly. It has loads of pockets and a well-thought-out design.
Osprey Raptor 14 Hydration Pack [14L]
Price: around $150.00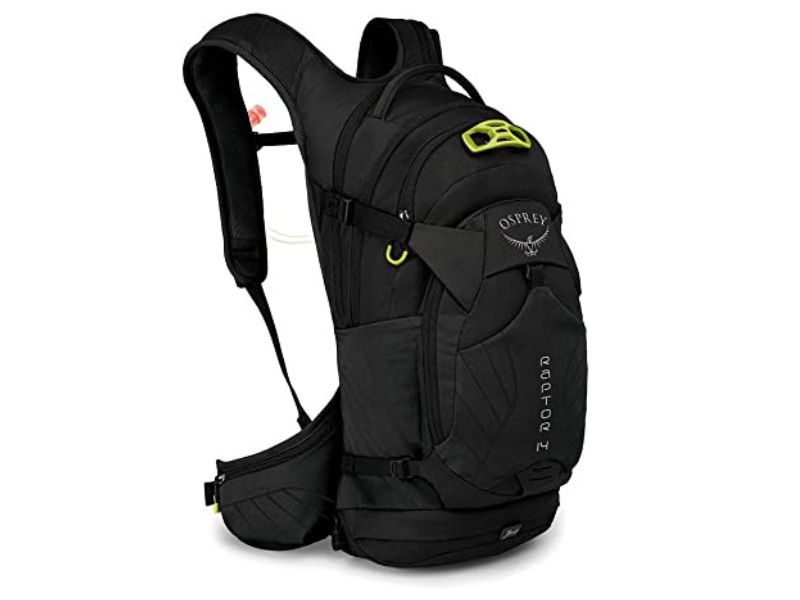 The men's Osprey Raptor 14 hydration pack helps you stay fueled up and organized on the trail with a 2.5-liter reservoir and enough storage to haul your gear.
Even on hot days and over all kinds of terrain, it's super comfortable. It has plenty of storage; pockets galore in all the right places.
It's on the pricier tier of hydration packs, but the $150 cost is so worth it! More than enough for a whole day's ride, the 2.5L featured on the bag serves the cyclist well. It also comes with a little tool bag, which is mainly for mountain biking or any accessories. To end it off, this bag comes with a lifetime warranty!
CamelBak Octane 10 Hydration Pack [10L]
Price: about $100.00
CamelBak ranks as one of the best MTB backpack manufacturers because it offers no real shortcomings. It's a little intimidating to adjust, but it feels like another part of your body once done. It doesn't bounce or move around.
It's light despite the 2L bladder. You will love the 2-liter water reserve as it will keep you from exhausting it in trail runs and longer Spartan races.
It has a huge amount of storage between the handy "snack pouches" on each shoulder strap and the backpack compartment itself. This means you can store things like energy gels and protein bars in the shoulder straps and a headlamp and your phone or keys in the back, and you rarely need to remove the pack even when you need to refuel during a run.
4 Best Bikepacking Rucksacks
Bikepacking bags can have quite some capacity, but their odd shape makes them awful to carry certain kinds of items. Fitting food in a saddle bag is not always easy, and it's really hard to fathom where should you store your laptop in a bikepacking setup. That's why many bikepackers still love to use backpacks. Here are a few great ones.
Evoc Trail Builder Performance Backpack [30L]
Price: about £215.00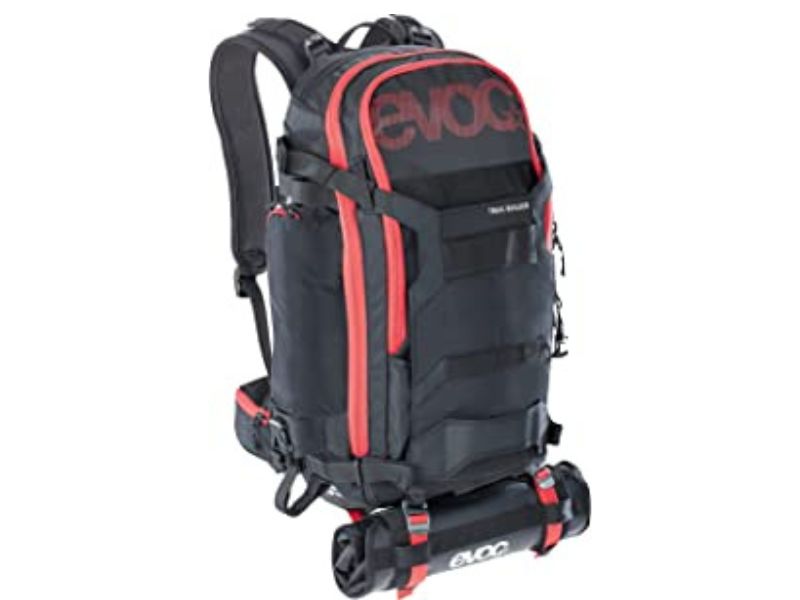 You can carry your trail-building workshop on your back with Evoc Trail Builder. The backpack, designed with trail builders in mind, offers a carrying system that provides balanced load distribution, making it ideal for the comfortable transporting of heavy loads. Evoc Trail Builder is one of the best mountain bike backpacks for carrying your tools next to and on trails with your mountain bike or gravel rig.
This large Evoc backpack sits securely on your back while you ride, different from non-cycling backpacks that tend to wobble around as you cycle. In addition to this, cycling backpacks often have a rear light tab and reflective strips to improve night-time visibility.
While these cycling backpacks come without hydration bladders, many of them have a bladder pocket ready to take one.
CamelBak K.U.D.U. Protector 20 Hydration Pack [20L]
Price: about $224.22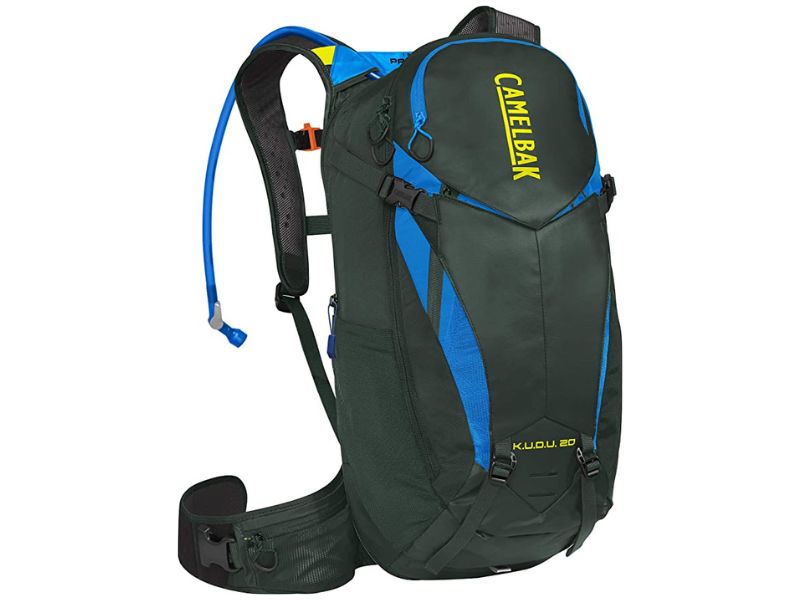 Awesome and spacious, CamelBak has many straps to secure it to your body and it possesses a built-in back protector. The full-back Level II protector shields you against minor injuries and absorbs impact in a crash. The pack has lots of pockets too. It includes a 3-liter hydration pack as well.
You can find a pack that ventilates better or weighs lighter than CamelBak, but you will hardly encounter a backpack that fits as securely as it does. You can put snacks, spare tubes, multi-tool, a hand pump, a first aid kit, and a light jacket with ample room to spare.
It fits great and looks even better.
LOCALLION 5.5L Cycling Backpack [5.5L]
Price: about $34.00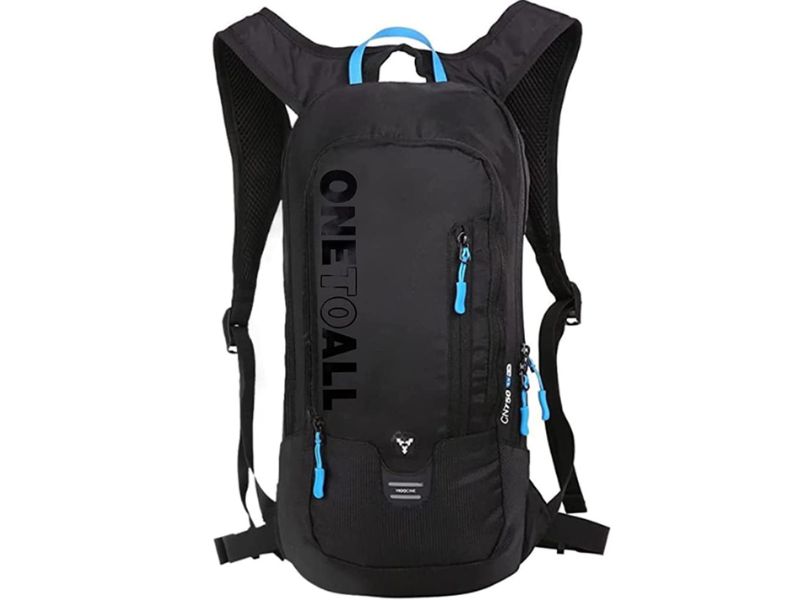 This other Locallion product is a very satisfying backpack for bikepacking. From the seat to the shoulder straps, the back of the backpack is made of breathable mesh material that aids sweating and breathing during riding. With a belt, it doesn't matter if you do strenuous exercise, it relieves a lot of burden and stress. Strong straps secure the big bottle.
It has a zipper pocket for many carry-on items. On top of that, it's safe to exercise at night because of its reflective strips.
This small 5.5-liter rucksack holds all you need to ride, including wallets, water bladders, towels, umbrellas, and other items.
Evoc FR Enduro Blackline Rucksack [16L]
Price: $160 – $285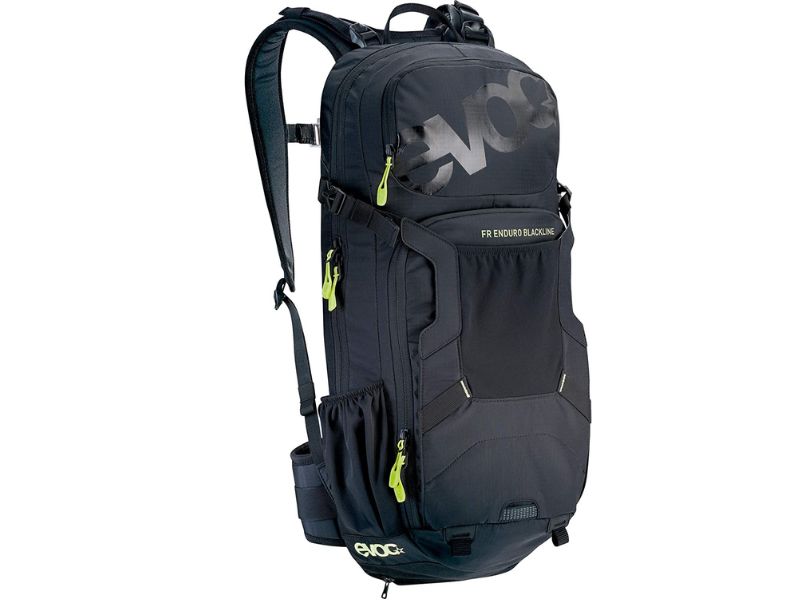 This larger Evoc pack rocks, from the material of the bag to the compartments.
The Evoc Blackline protector is a bit long, and thin, and has good pocket placement. The result is a rucksack that fits better, enhances motion, moves around less when riding, and keeps tools organized. All your spares and tools will fit with ease in the tool area. There are several pockets for other items as well.
It has a pocket for a bladder, although it does not come with one – no surprises there because it is not a specialist mountain bike backpack. The pack sits where it needs to; it secures in place on even big jumps or drops and ventilates better than most other packs. Plus the back protector is top-notch and removable.
Things to consider when making a choice of the best cycling backpacks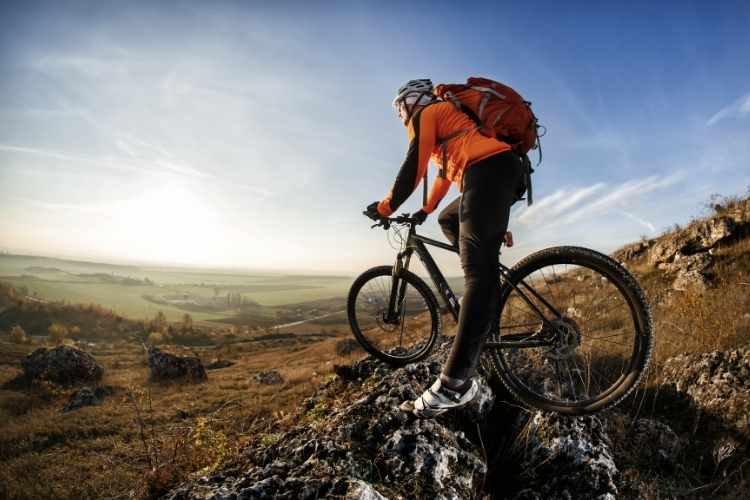 Cycling-specific
The way your body positions on a bicycle differs greatly from when walking.
Mounted on a road bike, your back will be at an angle, meaning the weight of the backpack will fall into you rather than your shoulders carrying the weight. This will not only increase the heat buildup on your back but also cause the rucksack to flop to one side whilst riding, putting twisting pressure on your back. To prevent twisting and overheating, many cycling backpacks feature a hip belt and breathable padding where it interfaces with your back.
Additional features include things like improved waterproofing, places to clip a rear light, and strapping to carry your helmet when you arrive at your destination.
How big?
Backpacks come in all sizes and shapes, and how big you need them depends on where you're headed. A lighter, smaller bag will suffice if you just need somewhere to put your change of clothes, while a bigger bag with a hip belt will be better if you're carrying a laptop, spare clothes, lunch, shoes, and equipment you'll use throughout your day.
What are you carrying?
A lot of bike commuters nowadays carry a laptop with them; if this is you, look for the best bike commuter backpack with a padded inner sleeve that will keep your laptop safe. Is your work attire a t-shirt and jeans, or do you need to change into a pressed, wrinkle-free shirt when you arrive at your destination? To leave your clothes less crushed when you arrive at your destination, bags with a larger main compartment is more ideal.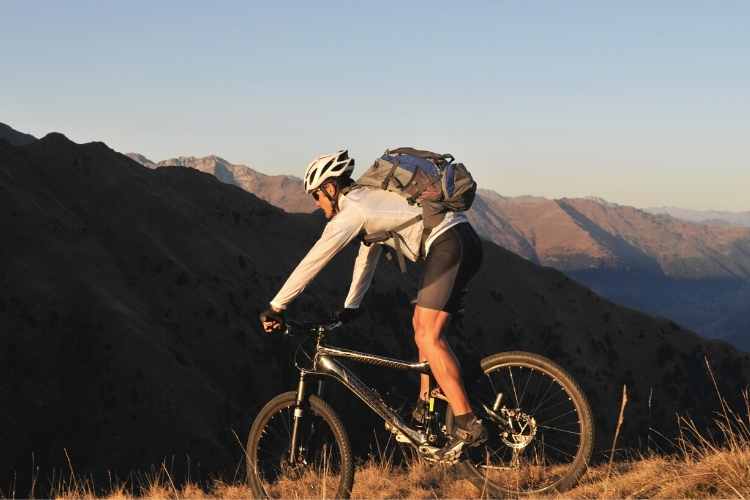 A high chance of rain? Go waterproof!
Do you live in Brisbane or Bristol? For the latter, buying the best waterproof cycling backpack is a no-brainer, while for the former, a removable rain cover will suffice.
Harness and protection
If you're looking at larger packs, you are planning to ride with a bit of weight, so a bag's fit is crucial. A backpack should have a sternum strap and a hip belt, at the bare minimum. Extra points if there is a spine protector or internal frame built in.
Ventilation
As you ride, wearing a pack will prevent you from radiating as much heat away from your body. Find the best cycling rucksack with a suspended mesh back panel or that has an air-permeable material and channels for airflow.
Organization
There is nothing worse than having to dump the contents of your bag out on the trailside because you're looking for your CO2 inflator head or Dynaplug. Many mountain bike backpacks will have dedicated sleeves or zippered organizational pockets for specific tools, while others will even have removable tool rolls. At the end of the day, dividers come with a small cost on capacity.