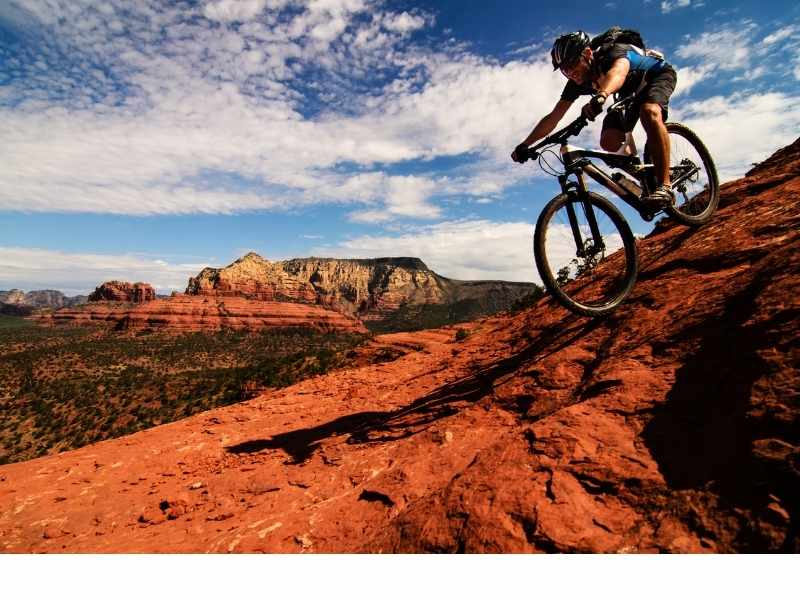 The best MTB hydration packs for 2023
Camelbak, Osprey, Evoc, and cheaper alternatives for bikepacking, enduro, and mountain biking – Reviewed and compared
In the world of mountain biking, carrying water bottles has become increasingly difficult due to the small size of the frame diamond both in full suspension MTB and hard-tail.
Getting the best MTB hydration pack for your needs can be a real necessity if you plan on spending more hours on the trail.
Mountain biking can be a tough sport, and if you combine it with bikepacking you might see yourself lost in the wild for days and days, that's why a cycling-specific hydration pack is an important add-on to your biking gear.

Hydration packs are basically backpacks with a water bladder and a hose for you to drink without stopping. Larger ones can be also used to store some gear but be careful not to make them too heavy or your back will complain.
There are hundreds of models on the market, so to help you choose the best hydration pack for your mountain biking adventures, here are our picks
Going remote? Consider also
The 14 best water filters for bikepacking
The best MTB Hydration Packs in a nutshell
Disclosure: Some of our articles contain affiliate links. This comes at no additional cost for you and helps us keep this website up and running. (as Amazon Associates we earn commission from qualifying purchases)
How we compile our gear guides: during the almost 10 years of cycloscope.net our team personally tested dozens of similar pieces of gear. For what we can't test personally, we involve other people in the cycling community to give their feedback and opinion about gear they have used. Our decade-long experience in bicycle touring enables us to find the key cons and pros of every product we mention.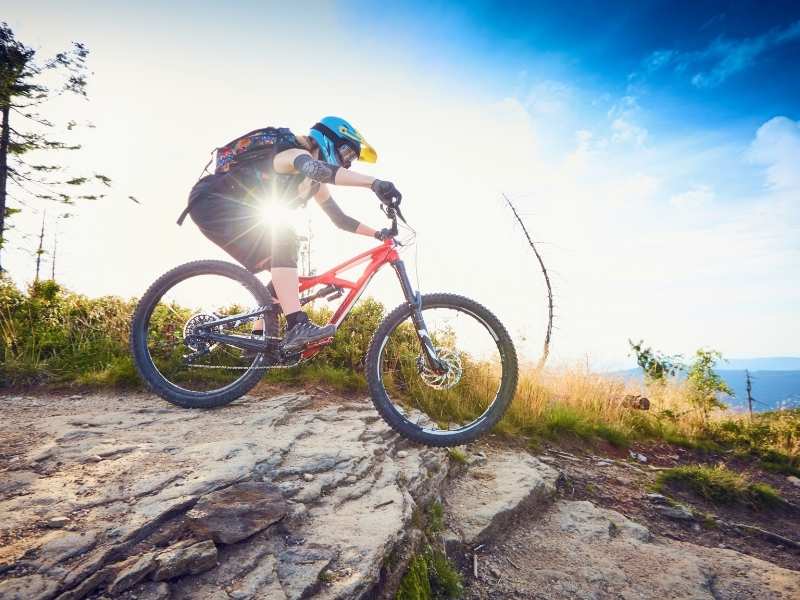 the bigger sizes
smaller packs
More affordable hydration packs
High-end hydration pack
Special mentions
Our recommended MTB hydration packs – the bigger sizes
If you need to carry plenty of water and like to use a backpack to store also some essential gear, you'll need a bigger hydration backpack – here are our picks
1. CamelBak M.U.L.E. 100oz [3l]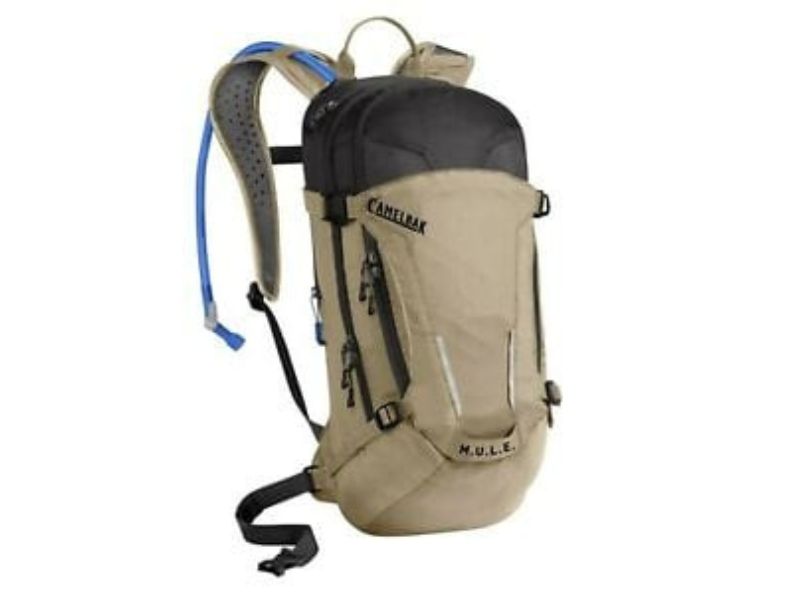 A nice hydration pack that hits the sweet spot of size vs. storage. It is lightweight but big enough to carry a day's worth of snacks and gear and three liters of water. The 3-liter bladder and drinking tube are quality, easy to clean, and easy to drink from.
The bag has pockets for tools and things. It's great for a day on the trails with room for sandwiches and a waterproof coat. The pack is 12 liters, so the 3-liter bladder means 9 liters of storage space is used to store clothing and gear. The efficient bladder is the top feature of this pack.
The M.U.L.E has a streamlined design that keeps it maneuverable and light. So it won't get in your way even when it's fully loaded for a day of mountain biking.
Lastly, the feel and fit of it on your back are nice: airflow is great and it sits well. 
2. Camelbak M.U.L.E. LR 15 3L Hydration System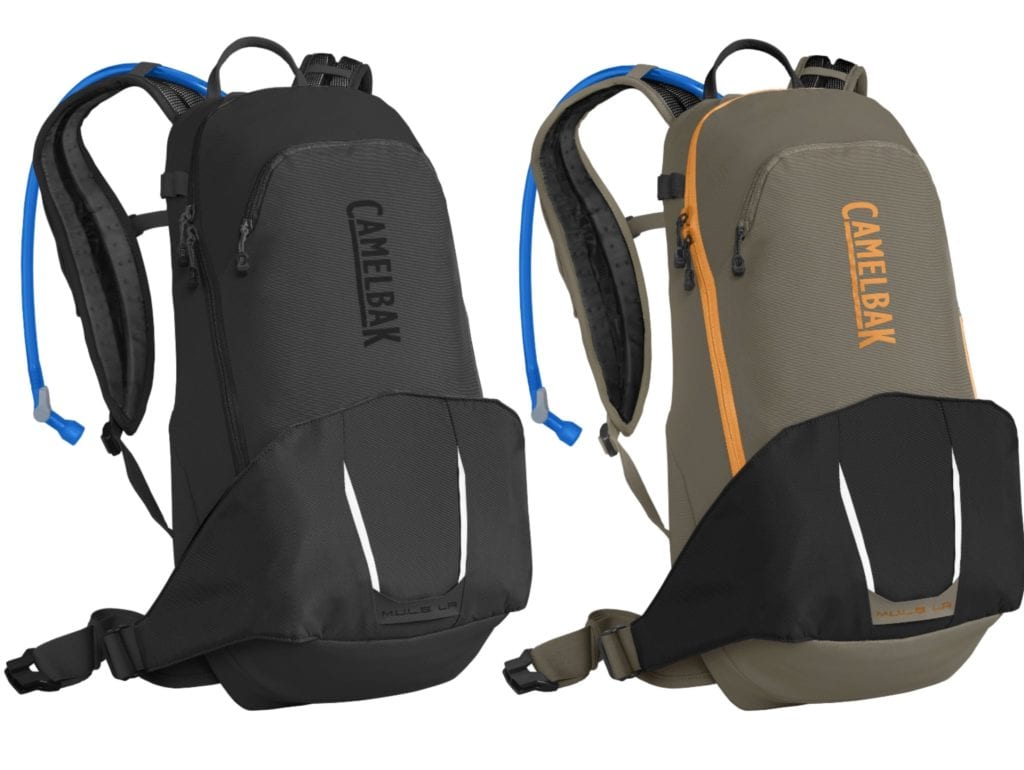 The M.U.L.E. LR offers a perfect blend of sturdy cargo and hydration. The narrow profile and low center of gravity keep it light and comfortable even when stuffed to the rim.
Keeping the weight positioned low on your back gives better stability out on the trails on the saddle.
The Camelbak M.U.L.E. Low Rider 15 (3L) delivers 20% more water per sip through the brand-new Crux Low Rider reservoir.
The separate zippered compartment with tool roll and gear organizer, an additional top zippered pocket, external helmet hooks, and hip-belt pockets also mean you keep all your essentials close at hand.
With newly designed paneling, when the lumbar is low, the band sitting horizontally across the M.U.L.E. pulls the pack tighter, stopping the water from decreasing stability and sloshing around. This panel can be unclipped for easy access to the tool and rain cover. Allowing you to simply carry a helmet or jacket on the outside of your pack, a separate expansion system can be purchased for full trail capability.
Looking for more storage? The best backpacks for cycling compared!
Best hydration backpack – smaller packs
The following hydration packs of the smaller size are the ones we've found to be the best of the lot.
3. Evoc CC 3L Backpack + 2L Bladder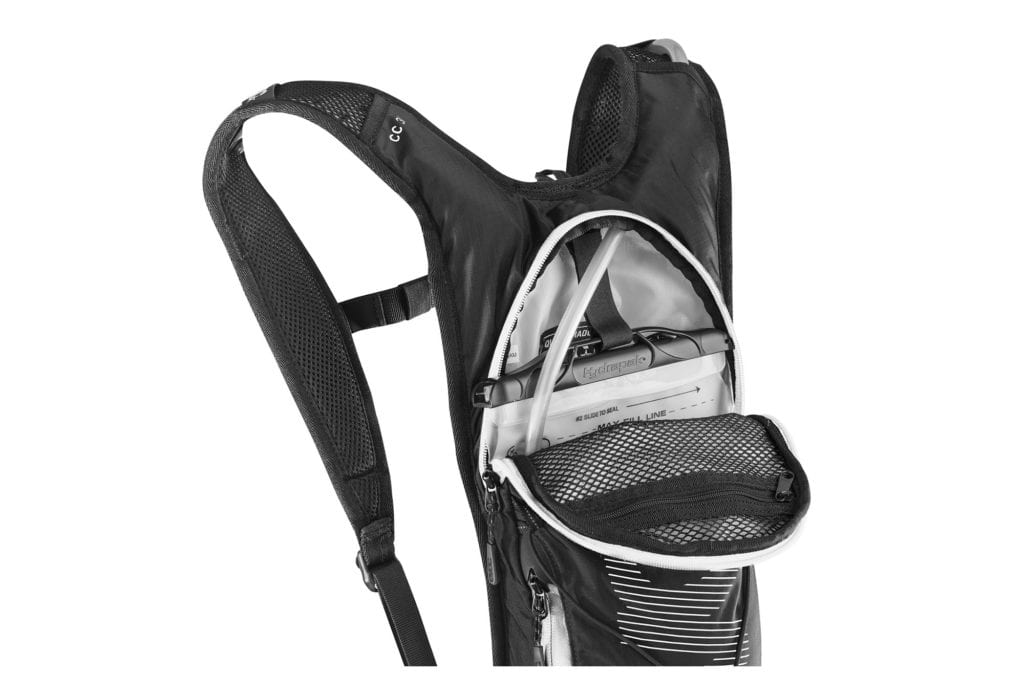 I have a Camelbak Mule 100oz (reviewed earlier on) that is a fantastic all-day use, but I found that I can do with something smaller for short trail rides.
The Evoc CC has just one front zip pocket, but it is enough to fit my phone, car key, compressor, and bike tool in one go. In addition, the main pocket around the water bladder accommodates a spare inner tube and some energy bars. It is very light and I hardly notice I am wearing it. What's more, I specifically wanted the waist strap feature that the Camelbak alternative of the same size lacks.
There is, however, not a vent system against your back like the Mule 100oz, and at first, I thought this might give me a sweaty back. But ventilation has not been an issue at all because it is a lot smaller.
4. Camelbak Octane Dart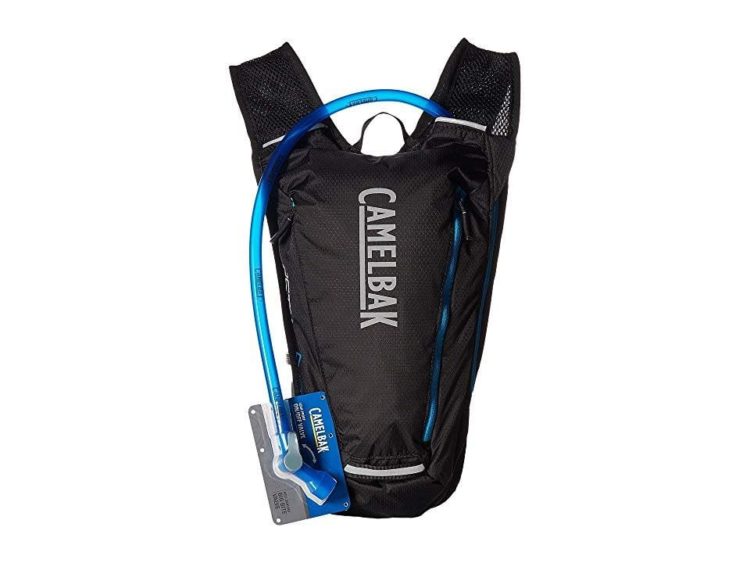 The many pros of this pack include adjustable straps, comfort, lightweight, portability, and quality materials.
The 1.5L bladder provides enough hydration to last three hours on the trail and helps keep the pack to a decent size. It has a couple of pockets to carry keys, a phone, an energy bar, etc. It has a small pouch, big enough for a grab gel or similar, on the left shoulder, too. The chest strap is adjustable to get it snug, and it sits comfortably on the back. 
The pack fits well and stays put. you will quickly forget it's there. Without breaking stride, the nozzle is simple to sip from.
The brand-new Crux design delivers 20% more water per sip, an ergonomic handle ensures easier refilling, and an on/off lever makes preventing leaks easily. It also has reflectivity for early morning or evening runs.
More affordable hydration packs
The following are the more affordable hydration packs in the market.
5. Arvano Hydration Pack Bike with 2l Water Bladder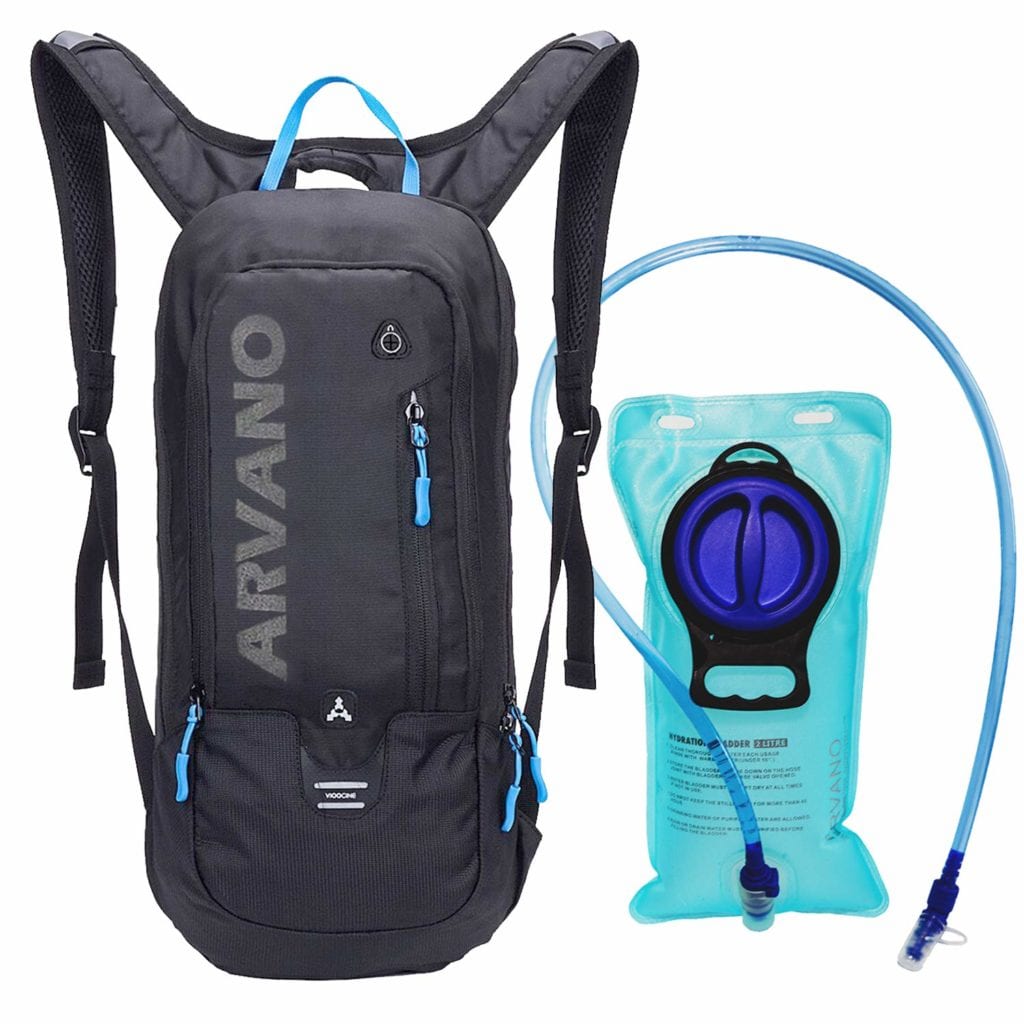 Secure backpack with a feature-rich hydration bladder, this bag at $36 is a great value for money. This backpack is constructed of good materials and the yellow color highlights the cyclist like a reflection vest. It has a small strap to clip your tail light.
You can adjust the waist, chest, and back straps so they fit snugly. You can carry a good amount of items with you, and I can't rave nearly enough about the 2 Liter hydration bladder. The taste-free water bladder made from medical-grade materials is BPA-free. It possesses an ergonomic handle for easier refilling and an on/off valve that effectively prevents leaks.
The large 4-inch opening supports easy cleaning, and you can add ice cubes for an even cooler drink.
6. MARCHWAY Tactical Molle Hydration Pack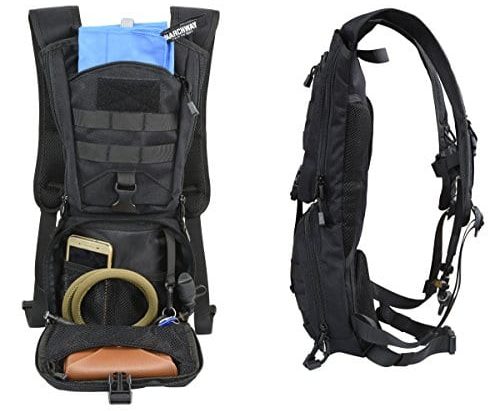 Marchway Tactical hydration pack is furnished with a streamlined and compact design: only 19.7"x8.7"x2.6" in size. Ergonomic design helps fit the pack on your shoulders, chest, and waist. It possesses 3 adjustable straps for accomplishing this purpose and reducing bounce. 
The molle straps are heavy-duty and durable and can accommodate additional weighted bags. The insulated tubing with the stop-flow valve, when you have to morph your body in weird angles during hikes, helps prevent getting soaked from a leaking mouthpiece. The separate compartments are handy.
Although thin, memory foam in the shoulder pads is breathable. The pack is made of reliable materials: water-repellent and wear-resistant nylon, durable and impact-resistant buckle, military-grade webbing, anti-fading cloth, and a long-lasting SBS brand zipper.
7. Camelbak Classic 2.5 Litre Hydration System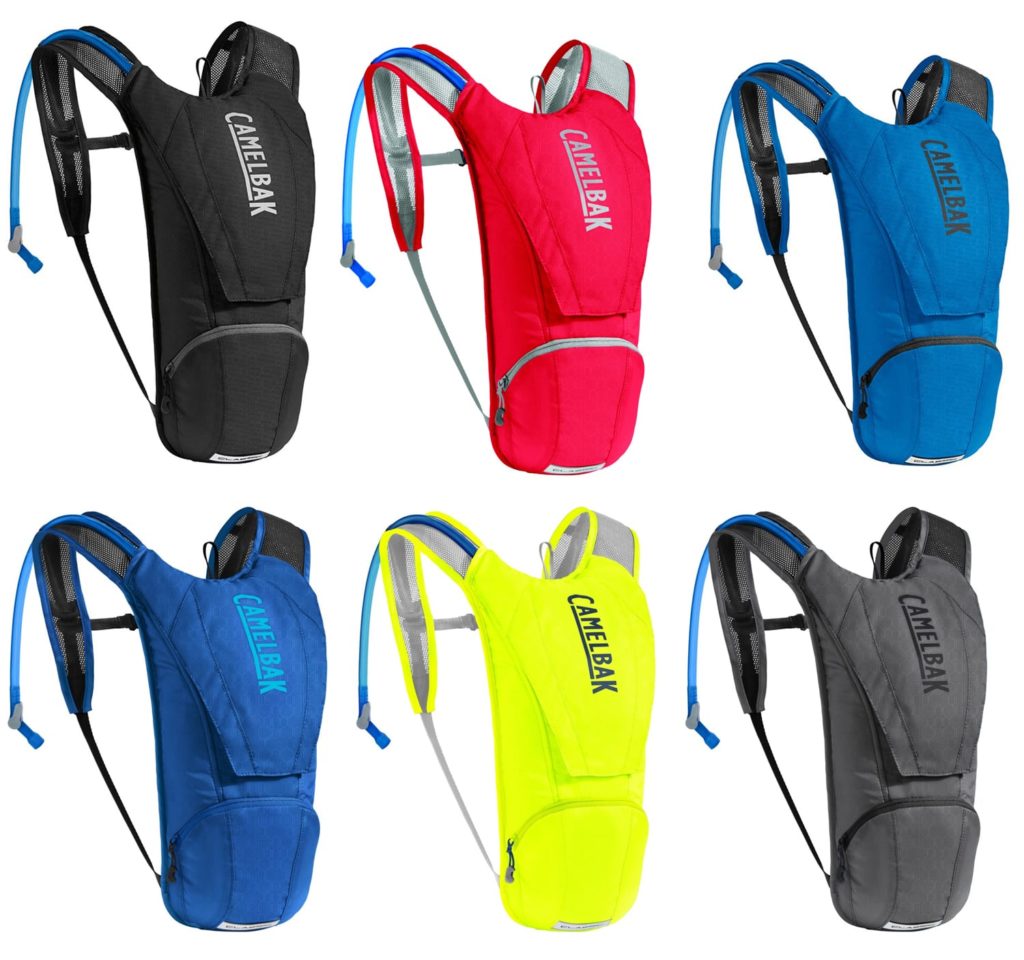 I would recommend Camelbak Classic for any runners or riders who want to carry a lot of water with them along with some gels or energy bars while having it right up close on their backs, with it not moving around.
Also, if you're fed up wearing a heavy hydration pack that always moves about whilst riding, then you should buy this classic mountain bike Camelbak. This bag will allow you to carry 2.5L of water, some snacks, a multitool, tire levers, and a pump with ease.
The best thing part is, it sits right up close on your back and doesn't knock you off balance. Its small size and tight fit will ensure you quickly forget about it and focus on the ride.
Into Bikepacking? Check Also
High-end hydration pack
High-end hydration packs are costly for a reason: they offer feature-rich designs.
8. Osprey Raptor 10 Hydration Pack – 2.5 Liters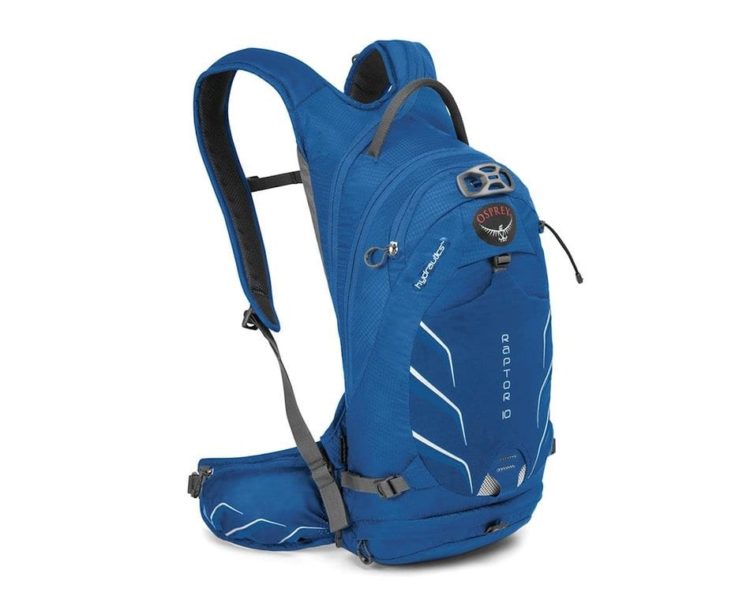 Osprey Raptor 10 hydration pack has a dedicated reservoir compartment with Hydraulics LT 2.5-liter reservoir included, which helps you stay effectively hydrated on the trail. Allowing for easy water access on the move, a lightweight sternum strap magnet holds the bite valve.
It has a LidLock helmet attachment that stashes your helmet for easier transport between rides. The side compression straps secure and balance your load. Osprey Raptor 10 will also carry a full-face helmet.
Hipbelt pockets provide on-trail access to small items, while a scratch-free slash pocket holds your sunglasses or electronics. The front pocket quickly stashes extra gear or a rain shell, while the front panel stash pocket offers easy access to necessities.
The redesigned Airscape back panel provides an improved fit and ventilation while a removable roll-up tool pouch keeps tools organized and handy.
The reflective patch and blinker light attachment (light not included) aid visibility in the evening and early morning rides. 
Special mentions
9. CamelBak Lobo 100oz Hydration Pack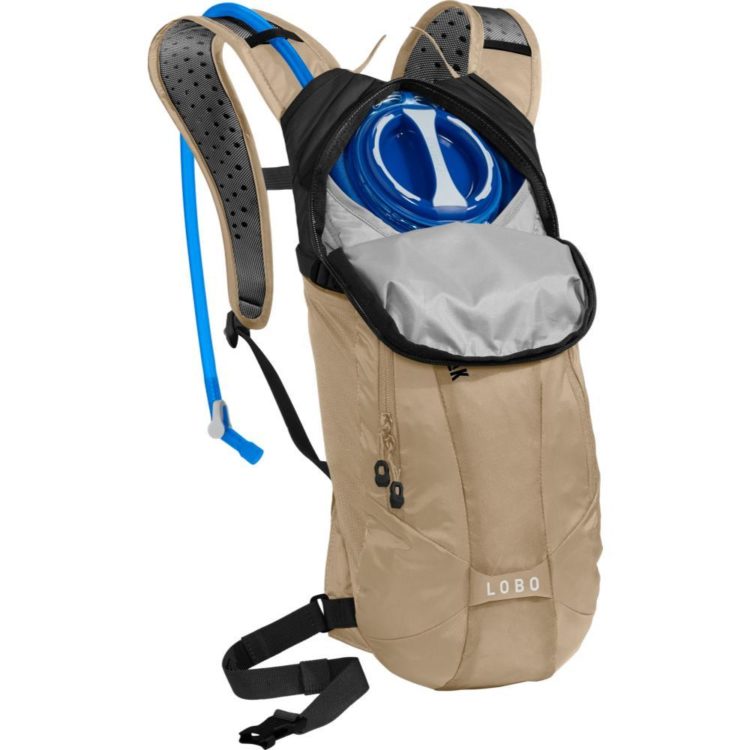 The Lobo helps you travel fast and light on days when the weather is clear and the trail is calling, or days when you want to ditch most of your gear and ride. It carries enough water for a substantial 3+ hour ride with the 3 liters of hydration capacity, and the external fill means you can top off the hydration pack without unpacking anything.
The brand-new Crux design delivers 20% more water per sip, while the on/off lever makes it easy to prevent leaks. Magnetic Tube Trap keeps your tube accessible and secure when you need it.
The air director back panel offers air channels to keep your back cool; external hooks let you carry your helmet without denying you access to your pack. The stretch overflow storage lets you stash a rain shell or extra layer. Reflective accents, on the other hand, enhance your visibility in low-light environments. 
Lastly, a removable stability belt helps keep the pack secure over technical terrain.
10. Osprey Katari 7 Hydration Pack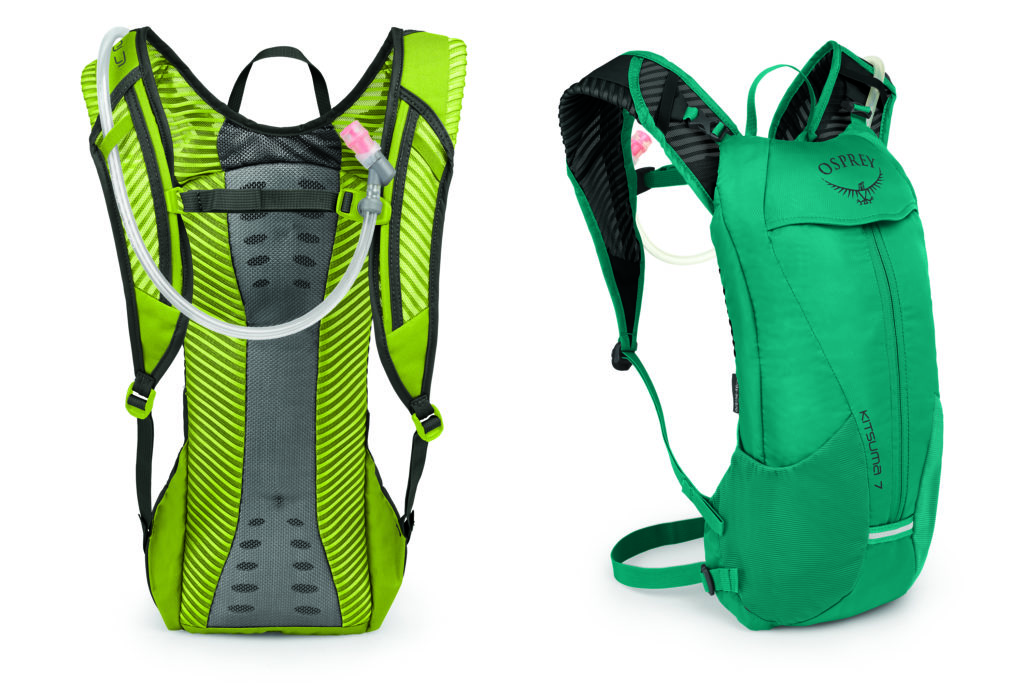 Katari 7 Hydration Pack, housing a 2.5L reservoir, allows you to push your limits during long summer days. It keeps your water in place as you fly down forest trails with its small, streamlined, and stable design.
It has an innovative and ventilated mesh harness that secures the load to your back and allows air to ventilate it.
Easy access to the 2.5L Hydraulics reservoir allows you to keep your focus firmly on the trail – this is thanks to a bite valve that is attached to a magnetic sternum strap, which keeps your water flow in reach and able to open and close with one simple hand movement.
Additional features include a light attachment point with reflective detailing that allows for riding after the setting of the sun. Also, a zippered, scratch-free pocket keeps your delicate sunglass and electronics unscratched. 7 liters of volume exist to store riding essentials.
11. Camelbak Octane XCT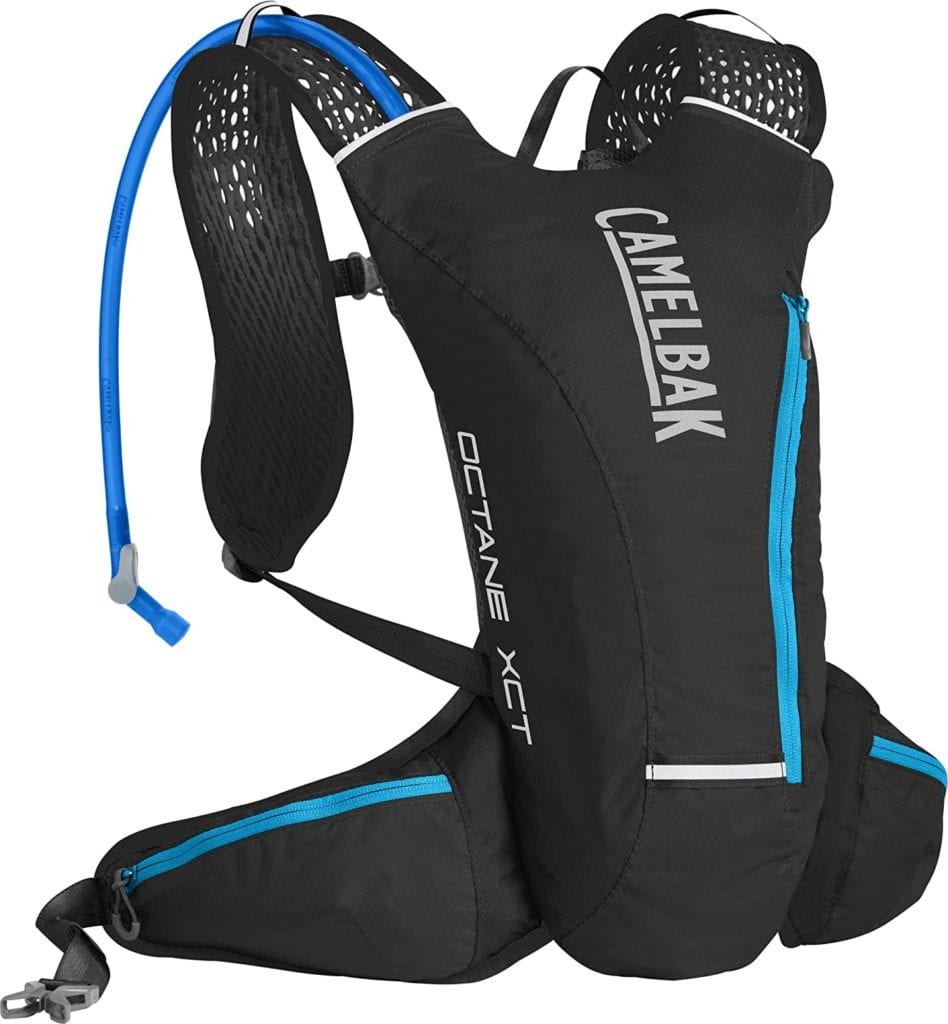 Great comfort is the strong point of this water pack. One trick is to turn the reservoir upside down after filling to suck out the air so sloshing while riding never happens.
The shoulder straps are vented and wide for comfort. The 2 liters size is enough water for a 3 hours ride on hot summer days and you can fill it with less to carry less weight for a shorter run or cooler place. The Crux design delivers 20% more water per sip, an ergonomic handle supports easy refilling, and an on/off lever prevents leaks.
It has cargo pockets for easy access to essentials. The reflective element supports early morning or evening rides, and the bag is made with ultra-light materials. It has front-facing pockets on the harness for easy fuel and gear storage.
12. Osprey Syncro 5
Syncro 5 is the answer when you want to carry hydration on your back and not much else. It is a lightweight and highly ventilated pack with minimal gear carry.
I can fit one sweatshirt or two shirts, car keys, iPhone 7, Topeak mini 9 multitools, Lezyne mini bike pump, snacks, money, 2.5 liters of water in the high-quality reservoir, and sunglasses in the scratch-proof pouch. It doesn't bounce while doing extreme MTB. My back stays cool with that space in between the pack and my body, which keeps the water cool for longer too. 
It has a LidLock to carry a helmet. It also has a removable high-visibility rain cover and magnetic sternum strap for quick access to the reservoir bite valve.
13. Mubasel Gear Insulated Hydration Backpack
Best cheap MTB hydration pack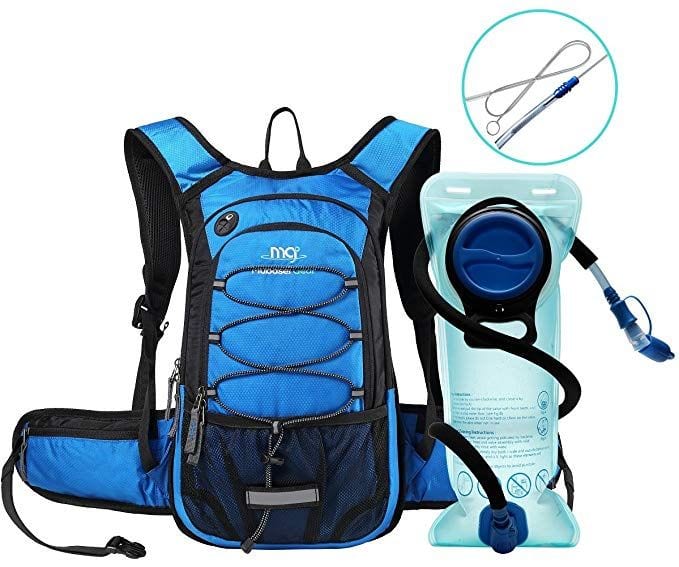 One of my riding partners owned Mubasel for almost a year now and has experienced no issues. It is lightweight yet generous with the amount of storage for such a cheap hydration pack!
You can stick multiple snacks and other things inside, including a phone and point and shoot camera.
Mubasel comes with a 70-Ounce (or 2 Liter) BPA-free hydration bladder and sends the test report to your e-mail upon purchase. With the insulated bladder compartment, your drink can keep cool for up to 4 hours. No issues with leakage or condensation.
The opening is a large design that allows you to dry the bladder easier than the screw one. Just bottom up, it will dry itself. With a click-in connection instead of a traditional screw, it will never get loose and cause leakage.
It has padded shoulder straps that incorporate a breathable system, and it's lightweight enough not to be an annoyance.
Our group owns multiple hydration packs and has experienced issues such as leakage, tube flopping all over the place, or defective mouthpieces, but this hydration pack has it all and costs only 30 bucks.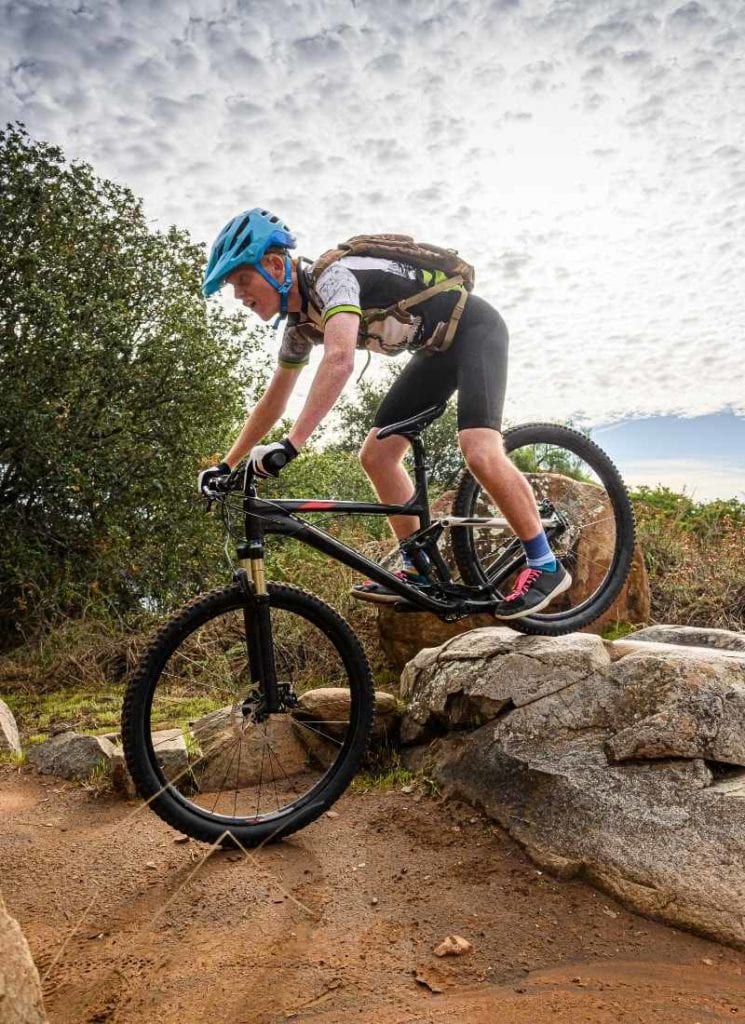 What to look for in a mountain bike hydration pack
There are a wide array of excellent hydration packs to choose from. So, mostly, your decided choice is based on your priorities. Consider some of the things you can prioritize while deciding to purchase a hydration pack.
1. Fluid Capacity
If you are riding somewhere remote where it won't be easy to find water, the further you go, the more fluid you need to carry. Expect hydration bladders to range in capacity from around 1.5 liters to 3.0 liters.
If you never head out for more than three hours, the smaller size will be fine. But if you are planning long rides, especially in hot weather, go for a 3.0-liter pack.
2. Space for Clothes and Tools
Next, consider the cargo capacity. You'll only want space for a few basic spares for short rides. But the more room you have, the longer you can stay out on the trail. Big packs will have room for some food, a waterproof top, and more.
Also can impact the capacity you need is your style of riding. Body armor and a full-face helmet are sensible protection for serious downhill riding, but you may not want to wear them on the ride back up the hill. Thus, go for a pack that has enough capacity to store these, too. There's no point, however, in having a bulky pack if you're never going to fill it. 
A smaller pack will be cheaper, lighter, and more comfortable. It helps to have a pack, whichever size is right for you, that will let you organize what you carry rather than leave everything to rattle around in one big space. Look for a pack with a variety of compartments and pockets.
It makes it much easier to find what you need while out on the trail if there's a specific place for everything.
3. Fit and Ventilation
A hot and sweaty back is one of the drawbacks of a hydration pack. Look for a pack with channels in the padded back to help air circulate. 
Also crucial is a good fit. A pack that suits a rider with a long torso will likely be uncomfortable for someone with a short torso.
The width of the chest strap, the width of the waist strap, and the level of padding also vary from one pack to another. 
Stay in touch while we get lost! Follow us on Social Media