10 best camping water filters & purifiers for bikepacking, cycle touring and hiking
The fastest, ultralight, portable, and most compact filtration systems: UV, bottles, ceramic pumps
We've all been there "Can you drink the water?" And well nothing breaks your touring plans like a few days hugging a toilet or even worse a trip to the local hospital.
So if you're planning a bikepacking trip where you won't see a tap for days, or hitting Asia, Africa, or Latin America with your backpack and camping tent, the best portable water filter for your needs is a critical piece of equipment.
The water filtration systems industry has developed massively in the last few years and there are now a bewildering array of considerations to make and styles to choose from. So we've done the work to make sense of it all for you.
As a backpacker or bicycle tourist you can find yourself purifying everything from your Tanzanian hotel bathroom water to a muddy Indian Canal.
Water Filters VS Water Purifiers
Disclosure: Some of our articles contain affiliate links. This comes at no additional cost for you and helps us keep this website up and running. (as Amazon Associates we earn commission from qualifying purchases)
How we compile our gear guides: during the almost 10 years of cycloscope.net our team personally tested dozens of similar pieces of gear. For what we can't test personally, we involve other people in the cycling community to give their feedback and opinion about gear they have used. Our decade-long experience in bicycle touring enables us to find the key cons and pros of every product we mention.
The filter itself does most of the work and gets most, but unfortunately not all, microscopic life out of your water.
The basic fact is that there are big micro bugs like Amoeba and Bacteria that are relatively easy to filter out but viruses are just so small that it's a technological challenge to filter them out, not even the best camping water filter will catch them.
The good news is that 99% of the bad stuff in water are amoeba and bacteria so usually that's enough.
If you do want to stop viruses then you need a purifier. Purifiers come in many forms, chemical, UV light, and super-fine filters being the most common all of which have their pros and cons.
All the microscopic stuff you're cleaning out of your water is slowly blocking the microscopic pores in your filter, and that means filtration gets slower and harder. Some filters try to send it back out the way it came with a back flush. These can be either built-in or come as a syringe, an extra item to carry.
3 Great Portable Pump Water Filters
Our first water filter was a pump. You pump water through a filter and get as much water as you want when you want it. They're usually a bit bulkier and a bit more effort, but give you maximum control. Pumps also, well, suck.
We don't mean all that hard work pumping, or actually, maybe we do, but they also suck up the water from anywhere, direct from the stream, that bucket, or your spare coke bottle. This frees you from the need to have just the right bag.
1. MSR Guardian Purifier Water Filter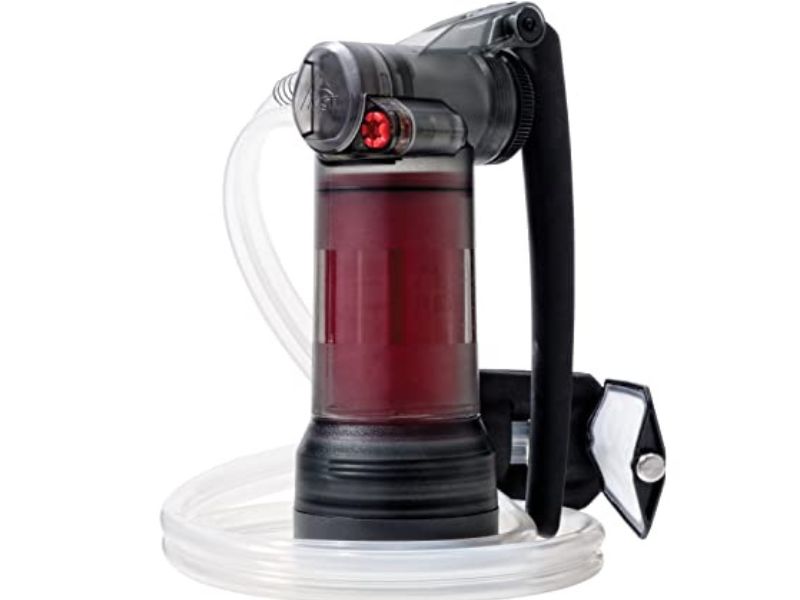 Filters 1 liter in about 40 seconds
Weighs about 0.5 kg
The MSR Guardian is the ultimate Pump but it doesn't come cheap. It's sturdy, self-cleaning, and most importantly it purifies. If you want to weep at the cash register once and then reliably have clean water month after month, year after year, no matter what, this is worth considering.
2. MSR MiniWorks EX Purifier System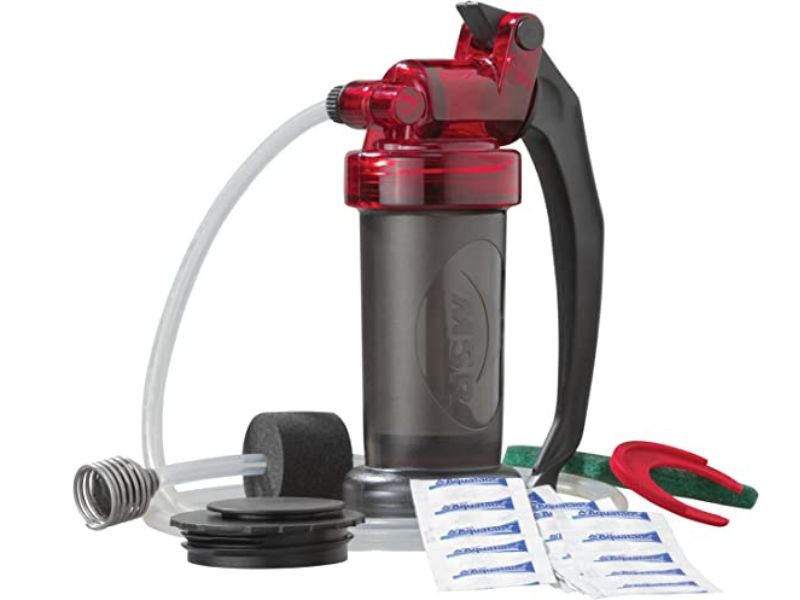 So you want a pump but you don't want to pay $350 for the Guardian. The mini works do the basic job of cleaning water under most circumstances but it's not going to purify.
Instead, to earn its `"purifier" label it comes with chlorine tables which of course means you're going to need to keep buying them. It's perfect when you mostly don't need to purify then adopt a two-part solution of tablet or UV for the rare circumstances you do.
3. Katadyn Hiker Pro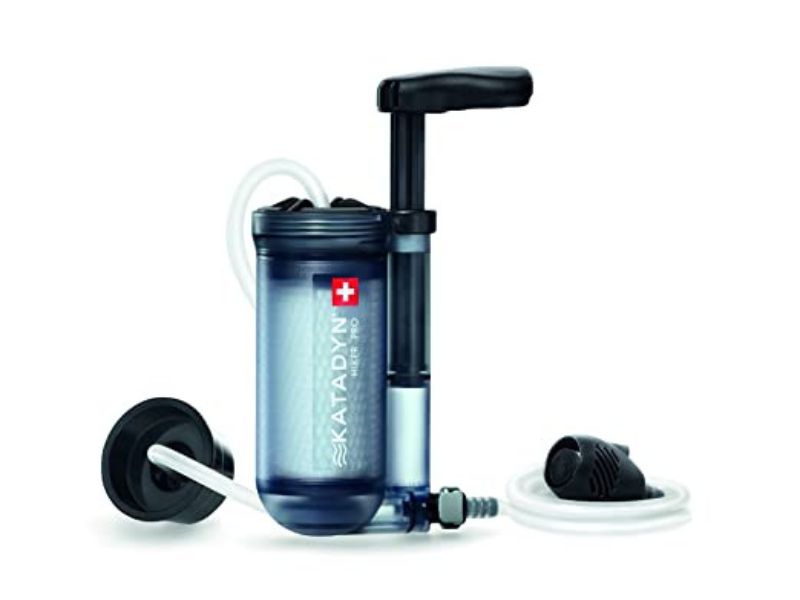 Filters 1 liter in about 50 seconds
Weighs about 0 4 kg
Katadyn is MSR's rival and the hiker pro is a decent budget option for a bikepacking water filter.
It has a reputation for being great for filtering clear water but lacking a back flush system it can clog up on murky water. It doesn't purify.
Squeeze Filtration System
Squeeze is the new pump, basically, instead of pumping you fill an input bag and squeeze the bag, and out comes clean water, simple. The downside is high pressure in plastic bags is a disaster waiting to happen.
4. Sawyer Squeeze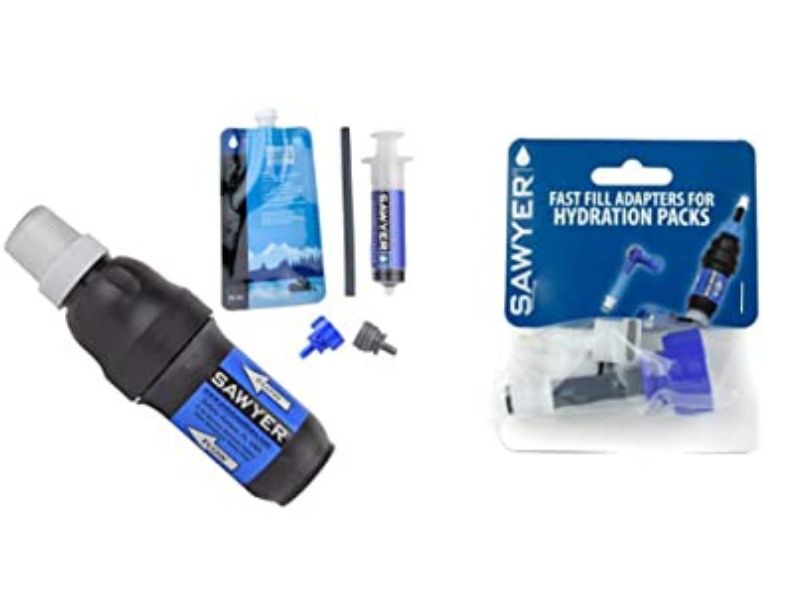 Filters 1 lt in about 40 seconds
Weighs about 0.6 kg including a back-flush syringe.
The Sawyer squeeze is the classic squeeze device. It does what it does well, and reliably on long trips but it doesn't purify, it is rated down to 0.1 microns which is good for a non-purifying device.
The device itself has a reputation as being solid and reliable, the biggest problem is the input plastic bags, the things you physically squeeze and they're what's likely to break then your device will be rendered useless.
At least they're light, bring spares. It comes with a special syringe to back-flush the device, and on longer tours, you should carry it.
2 Portable Gravity Water Filters
Gravity filters take away all the hard pumping and squeezing and instead with gravity filters water flows from a top bag through the filter into a bottom bag.
They're great for setting up at your campsite and just leaving them to do their own thing but because they take more time they're less good for that quick stop by a stream to refill your water bottles.
5. Sawyer 1 Gallon Gravity System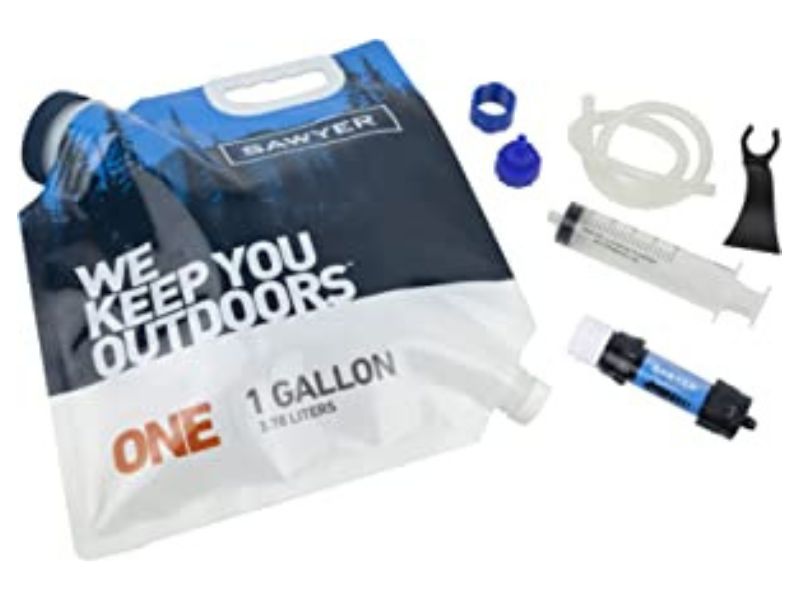 Filters 1 liter in about 2 minutes
Weighs about 0.12 kg
If you want a gravity system that will fill your bottles at your campsite that can double as a squeeze system for a quick "give me my water now" refill on the road then this is your ideal product.
Sawyer finally realized that other companies were providing adaptors to turn these squeeze filters into gravity filters and so they produced their own. You get 1 Gallon (3.78 L) water bladder to hang from a tree or your handlebars, with the hose at the bottom that connects to a variation of the standard Sawyer Squeeze Mini with an output hose to whatever you're trying to fill.
Like any gravity system, you're dependent on a gravity-style bladder with an exit hose at the bottom and they can break the road, you probably should bring spares but they're light.
They claim to filter to 0.1 micron which is on the line for viruses but they don't promise virus removal. You might want to carry tables or a UV pen if you're expecting some seriously bad water.
6. Platypus GravityWorks
Filters 1 liter in about 40 seconds
Weighs about 0.3 kg
The Platypus GravitWorks lacks the flexibility of the Sawyer system but if all you want is a gravity system, then it's a better gravity system than a Squeeze that also does gravity – it's faster and more durable. Even if you buy the Sawyer system, buy the Platypus bags.
UV Water Purifiers
UV light kills bacteria and viruses. Eventually. So the idea behind portable water purifiers is to stick a UV light in your water and wait about an hour and everything should be dead.
Pros is they purify without chemicals, Cons are the time, no guarantee of making it to the deepest darkest corners of your water bladder and it adds another device to your already crowded device charging list.
7. SteriPEN Adventurer Opti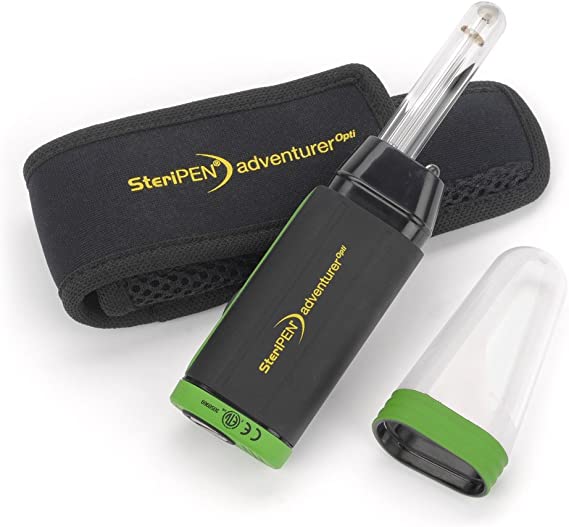 Filters 1 lt in about 90 seconds
Weighs about 0.2 kg
A UV product like SteriPen should kill all bugs in your water but it's not going to clean dirty water. It's great for bottles and smaller bladders but it may not purify everything in the biggest water bladders and it takes time.
A full charge (4-6 hours) should last for about 30 – 50 L of water. One bulb is supposed to last about 8000 L. So if you need to purify and don't want to put chemicals in your drinking water and you think you'll have reliable electricity then it's a good option.
For those really bikepacking and camping in the remotest locations, it could also be part of a strategy where you filter with something else most of the time and you want an occasional full purification option for the worst water.
Bikepacking Bottle Water Filters
Bottles are popular with cyclists but not necessarily the first choice for touring. But if you really want a bottle or want something multi-use for traveling, hiking, and cycling then there are some interesting options.
They're quick, you drink straight from the bottle using the energy of sucking or squeezing. But they're only for drinking and are one per person.
Check out our guide about the best water bottle for cycling
8. Grayl Geopress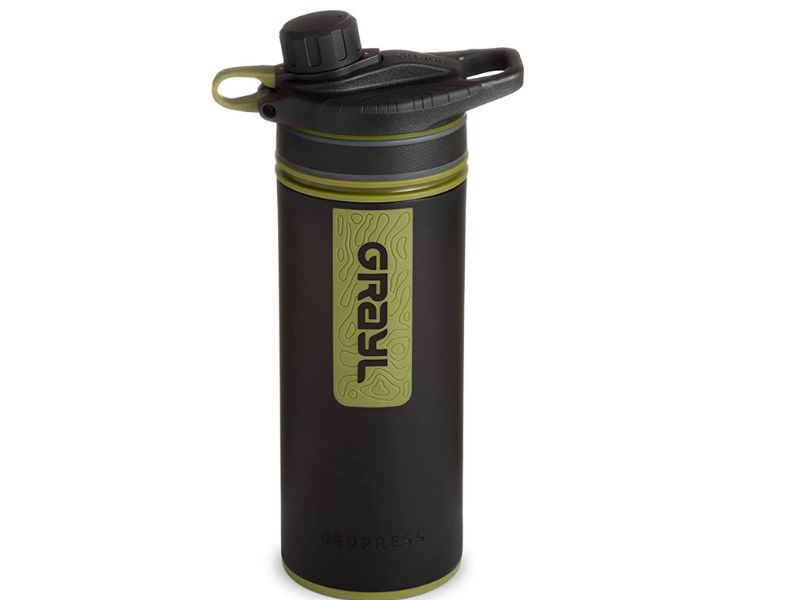 Filters 1 lt in about 30 seconds
Weighs about 0.5 kg
The Grayl Geopress has some serious pros and cons. First, it purifies. In fact, it has the highest quality purification of any item on the list, and also successfully removes heavy metals from truly bad water.
That makes it an option if you really care about your water quality, particularly when you trust your night water source but just want to purify road water or when you want a two-device filter and purify strategy.
The cons are it's a bit on the heavy side and the cartridges are rated to about 350 uses of the 750 ml bottle or maybe 200 liters, and they cost about $30 each. Long-term that adds up plus Grayl is a new startup so there's no guarantee on future cartridge replacements.
Still one of our favorite portable water purification and filtration systems, all in one!
9. Katadyn BeFree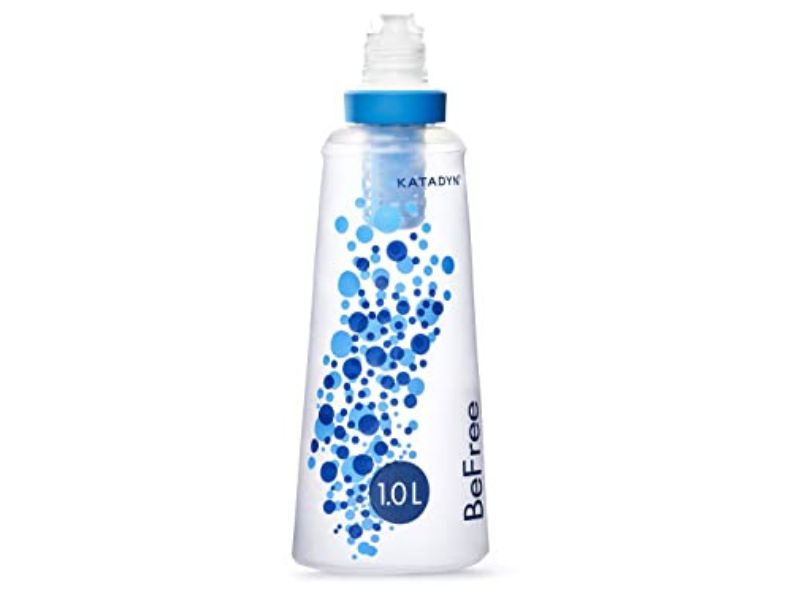 Pretty much instant
Weights about 50 grams
The BeFree is a reliable lightweight bottle, that filters but doesn't purify. The filter is essentially a super bottle top that screws into a bottle and then squeezes and drinks.
And it's standard enough that when not if, the original bottle breaks you can just switch to another regular bottle. It should last about 1000 liters.
An ideal bicycle touring filter thanks to its minimal size and weight.
Frequently Asked Questions about Camping Water Filters and Purifiers
Do water filters purify water?
No. Water filters remove micro bugs like Amoebas and Bacteria. To get water safe from viruses you need a water purifier (UV or chemical). Boiling water for some minutes also kills most viruses.
Do UV water purifiers really work?
UV purification is a safe way to purify water without the use of chemicals. For UV light to kill 99.9% of the pathogens though, it takes a certain amount of time, related to the size of the filter and the amount of water. So always give your portable UV purifier enough time.
Stay in touch while we get lost! Follow us on Social Media