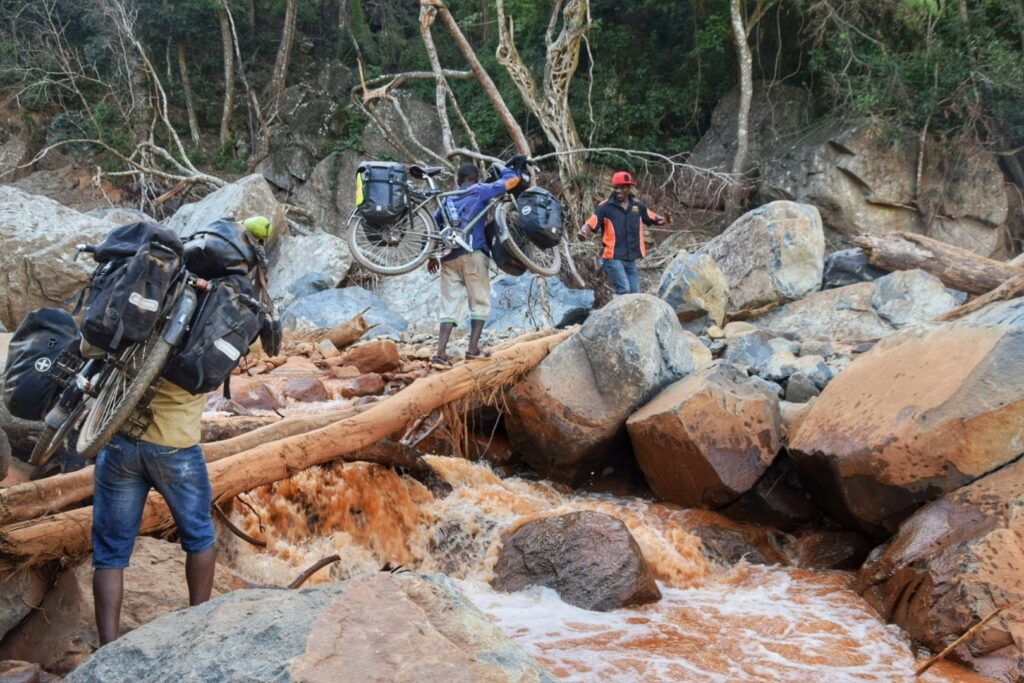 Cycling Africa – Bike touring from Cairo to Cape Town or bikepacking West Africa
Itineraries guides and bikepacking routes. East, West & Southern Africa
Cycling Africa sounds like the most adventurous thing you could do on your bike right? Actually though, bike touring or bikepacking Africa is only as adventurous as you want it to be.
Western people are always full of stereotypes about the African continent: always hot, no water, violent tribes, lack of food, no roads… just to name a few. Truth is you could cycle Cairo to Cape Town without ever leaving the tarmac highways and always sleeping in a comfortable hotel, but you could also never see a guesthouse and ride only on dirt roads and single-tracks, it's all about what you want to make of it.
The first thing you'll need to do if you want to travel Africa on a bike is to give up all of your stereotypes and prejudices. Africa is not a country, is a very diverse continent encompassing 54 states, all different from each other, with unique characteristics, challenges, and positives.
We've cycled a fair portion of East and Southern Africa and lived in the continent for 4+ years. Besides our first-hand experience, we also hosted dozens of cycle tourers at our home in Malawi and gained knowledge from them about places we haven't visited ourselves yet.
So we felt ready to offer you this comprehensive guide that aims to be a useful resource for everyone planning a bicycle trip in Africa.
The budget. How much does it cost to cycle Africa?
Africa is seen as the poorest continent in the world, and that is true when it comes to the living conditions of the general population.
That doesn't mean though that the whole of Africa is cheap. Some countries have rampant inflation that makes prices of basic good extremely high, even for western standards.
Accommodation is often cathered towards wealthy tourists, not much backpackers culture here, that is relflected in luxury-grade prices.
Attractions are also often overpriced, climbing Kilimanjaro starts at 1600$ per person, and when it comes to Safari prices can really get crazy, especially in some countries (Tanzania, Kenya, Uganda, Botswana).
Add to this the price of the visa, often around 50$ per country and you'll see why cycling Africa is much more expensive than cycling in Asia.
In my opinion, the minimum budget for bicycle touring Africa comfortably is 10/15$ per day, including emergencies.
Of course, if you wild camp and cook most of the time, while avoiding tourist attractions, you could make it with less than that. I personally know people whose budget was less than 5 bucks a day and they have cycled the East and the West of Africa for years, it all comes to your ability to adapt.
If you want to have a safe and comfortable trip and also enjoy at least a few tourist attractions, consider 20/30$ per day as the perfect budget for a bikepacking trip in Africa.
Disclosure: Some of our articles contain affiliate links. This comes at no additional cost for you and helps us keep this website up and running. (as Amazon Associates we earn commission from qualifying purchases)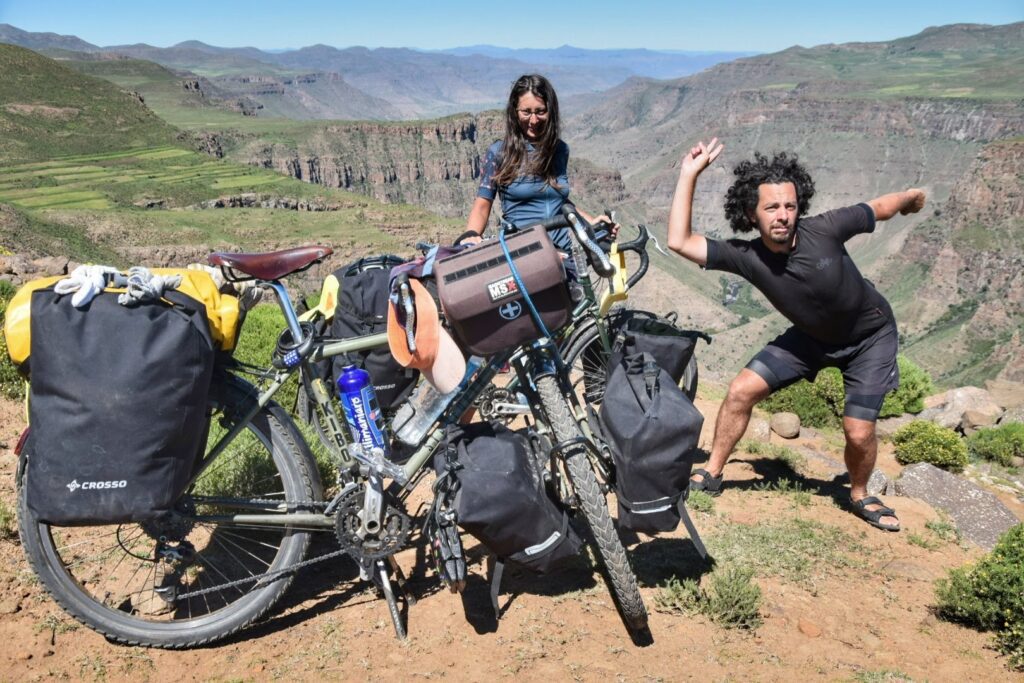 What bike do I need to cycle Africa?
What bike for Africa? Well, as with everything, it depends. If you want to do a record-fast Cape to Cairo crossing you could even use a speedy aluminum gravel bike.
Anyway, for most cycle tours in Africa something a bit more off-road capable would be a better choice. Even if you don't want to get lost on dirt roads and village tracks, you'll still have a few unavoidable circumstances where a fatter tire would mean a lot.
We recommend a steel bike with 26″ or 700c tires and a width between 2″ and 2.8″.
Steel because you'll never know, being able to weld the bike in case of a disaster might not be the ultimate solution, but at least it could get you out of immediate troubles.
26″ or 700c because these are the most common wheel sizes across the continent.
2″ and above because the wider the better when on sand, rocks, or mud.
About 70% of the cyclists we met traveling Africa were using tubeless tires, we ourselves use Schwalbe Marathon Plus Tour with tubes and almost never had punctures. Up to you, keep in mind that tubeless sealants might be impossible to source in most places.
Handlebars might also make a difference, we started with narrow drop bars and swapped as soon as we had a chance with wider Salsa Woodchipper. Wider handlebars give much more control off-road, especially when carrying weight on the front.
A good range of gears is also paramount, the lowest you can get the better, it is as some slopes are just insane on countryside roads.
If you're looking for an adventure bike check out these articles

> What's the Best Type of Bike For Touring and Adventure Cycling?
> 15+1 Best Bikepacking Bikes in 2022: Gravel, Touring, Plus, MTB Hardtail, Fat, Full-Suspension & Folding
> Touring Bikes: 17 of the Best Travel Bicycles under 2000$
> Mountain Bike Touring – The MTB Set-Ups for Bikepacking & Cycle Camping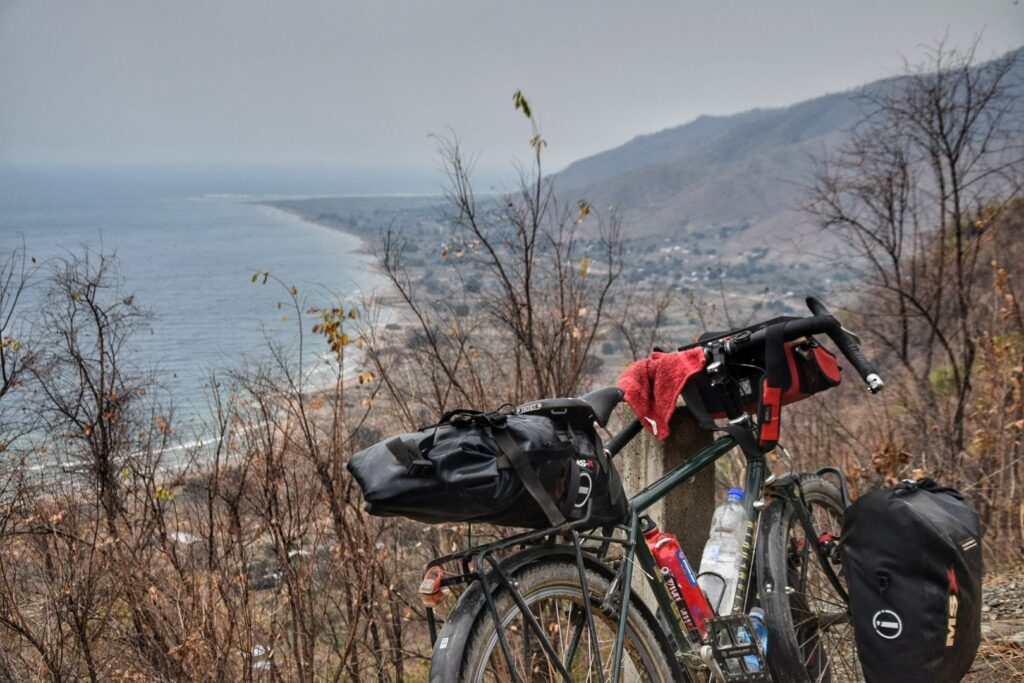 Cycling Africa packing list
I know many would shrug at this, but you could cycle tour Africa without camping gear. You will just need to plan your sections more carefully and avoid very remote areas.
That said, we recommend bringing a full bike touring camping gear set: waterproof tent, warm sleeping bag, sturdy sleeping mat.
Cooking gear is also important. Although you might find roadside food to be commonplace (not everywhere) that is not always safe to eat, especially when it comes to meat. Cooking gear will allow you to have a more balanced and safe diet to replenish the energy you've used up during the long day on the saddle.
Tools and spares are very hard to find except in South Africa, if you need to replace your Shimano Dehore crank you might need to have it shipped from abroad.
You should bring all the nécessaire to fix common problems. I recommend even a cassette extractor. A bottom bracket tool is quite big but I actually found myself needing it.
Spares
Tubes or tubeless sealant
1 folding tire
Spokes
Chain links
Nuts and bolts
Derailer Jockey
Tools
Tire levers
Allen keys
Screwdriver
Chain tool
Spokes wrench
Pump
Cassette extractor
Pliers
Clothes
You'll get dirty when bikepacking Africa, dust and mud are day occurencies if you leave the tarmac roads. It's worth staying in a guesthouse every now and then even just to get the chance to do some laundry. If you want to know more about what to wear bikepacking, read the linked article. Otherwise down here is our packing list for Africa.
Rain Jacket/Poncho
Goretex Shoes/SPD shoes/Hiking Sandals
2 Short Sleeves Cycling Jerseys
2 Pairs of Padded Cycling Shorts
Arm Warmers
Leg Warmers
2 Merino Base Layer (1 sleeveless or short sleeve/1 long sleeve)
Merino Trousers (for sleeping)
Hiking Trousers
3 Pairs of Socks
3 pairs of Underwear
2 normal cotton shirts
2 pairs of running/football shorts
You might have noticed quite some winter gear, that's because Africa is not always hot. Many places are at high altitudes and can go below freezing in wintertime (Lesotho, Ngorongoro area, Ethiopia… and many more places. So always do your homework and check the altitude and weather of the places you mean to visit, then decide what sort of warm clothing will you need.
Vaccinations, prophylaxis, and medicines
Of course, you should consult your tropical disease physician before undergoing any sort of vaccines or prophylactic treatments, they will know what's best for you.
We'll just give our two cents here, as people who have lived around the continent for 4+ years.
Malaria: malaria prophylaxis is devastating to the body and doesn't prevent 100% from getting malaria. We absolutely recommend not taking any for an extended period of time. Bring instead malaria treatment meds, get tested immediately at the very first symptoms, don't trust self-tests but go to a proper clinic.
Is it good to be covered against tetanus and hepatitis, while cholera and meningitis depend more on the areas you're going.
When we packed our stuff and came cycling in Africa we packed a ton of medicines. That was quite stupid. Unless you have a condition that requires specific meds, you'll find most of the medicines needed to treat common African diseases everywhere in Africa.
The only medications I recommend bringing are:
strong painkillers,
malaria treatment,
antidiahorrohic
nonsteroidal anti-inflammatory gel (NSAID)
From our direct experience, we also recommend taking deworming pills every 3/4 months to get rid of unwanted parasites, which unfortunately are pretty common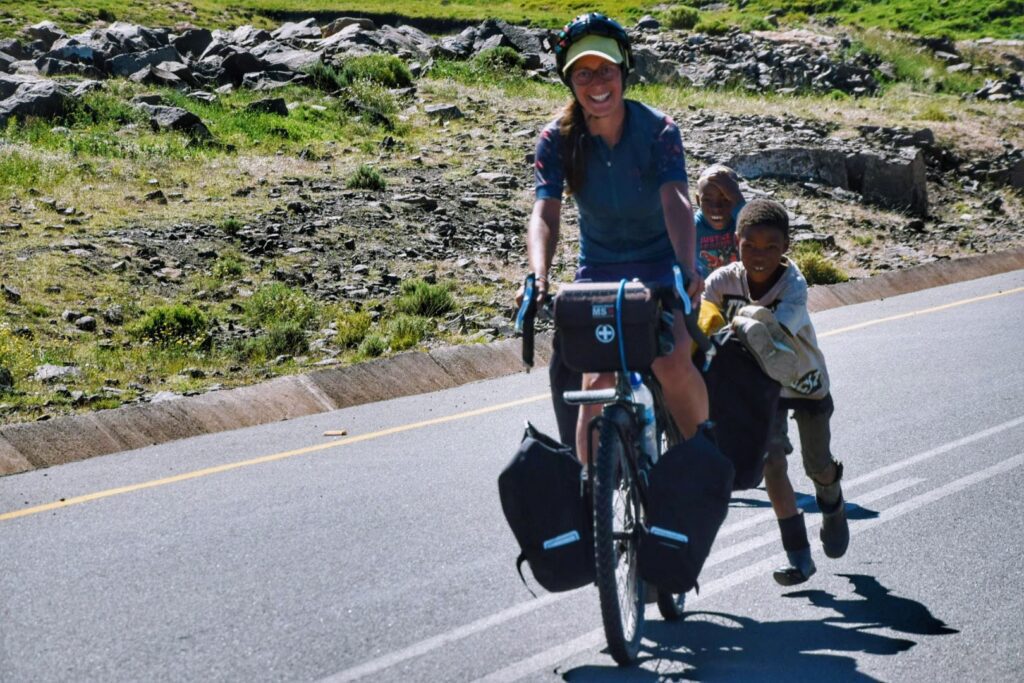 Cycling Africa – The Long Distance Routes
Africa is a huge continent, the second biggest after Eurasia – there are, of course, an infinite number of long-distance routes you could cycle.
There are though a few no-go zones and some impassable borders that make some ideas only good on paper, but impossible in reality.
As a matter of fact, most people do either cycle East Africa (often on the Cape to Cairo route) or West Africa. Of course these are not fixed routes and can (and should) be personalized to fit the wants and needs of every individual bikepacker.
Cycle Touring East Africa – Cape to Cairo
Cape To Cairo is the most cycled route in Africa. During our years in Malawi we hoseted dozens of cyclists doing this itinerary. Here we'll give you some generic info and link to our in-depth articles about each country.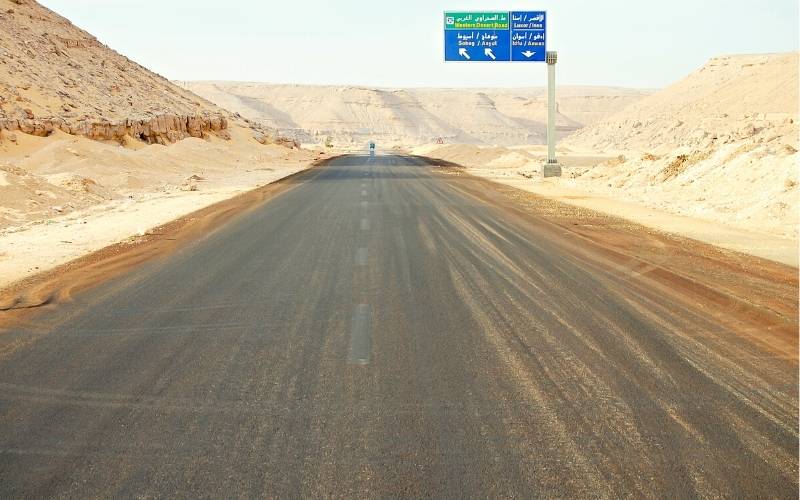 Cycling Egypt
Starting with Egypt you'll begin with one of the least fun places to cycle in Africa. Egyptian police don't like cycle tourers, cycling on the few highways across the Sahara desert is forbidden, in the best case, you'll be escorted by police all the way, having to wait for a new escort every time you cross a county.
The landscapes around the main road 60 are quite flat and dull, with heavy winds. The Nile routes are more interesting but still, you'll have trouble riding all the way.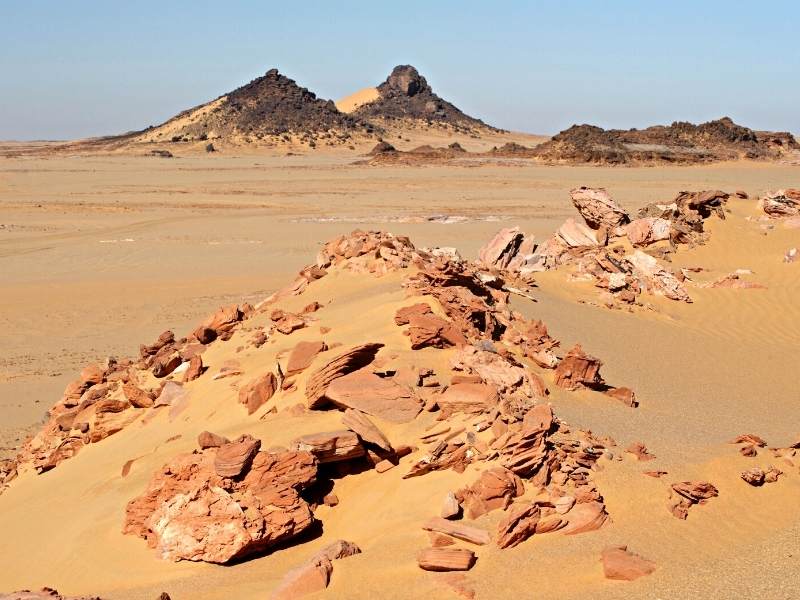 Sudan
Sudan is a breath of fresh air between the two most difficult countries in the East Africa cycle route. Well, not exactly fresh as temperatures can get up to 40C and above in June, July, August.
Sudan is ideally cycled in boreal winter, in the months of December, January, and February when temperatures are milder. Those who find themselves cycling Sudan in Summer often opt for cycling during the night.
Sudan is huge, one of the biggest countries in Africa, and sparsely populated. The distances between settlements are quite long – this is a country where you'll really need camping gear, water capacity, and cooking gear.
So why is Sudan a breath of fresh air? Because of its people, among the friendliest, most helpful, and welcoming in the whole continent, if not in the whole world.
Cycling in Sudan is challenging but always a great experience – the country ends up being one of the favourites among the Cape to Cairo crowd.
A few things to know about cycling Sudan:
The choice of roads is narrowed in Sudan, as unpaved roads mean sand, unrideable unless with a proper fat bike.
The prevalent wind direction is north to south, so going the opposite direction can be quite challenging.
The most interesting part of Sudan is the north, with its pyramids and the heritage of Nubian culture
Sand storms are common in the spring months.
Drinkable water comes mostly from the Nile, bring a filtration/purification system and enough bottles for at least 6/8 liters.
Clay pots are used to store water for public use along the road
You should wear long pants and possibly long sleeves
For more information about Sudan, we recommend this article by Exploring Wild.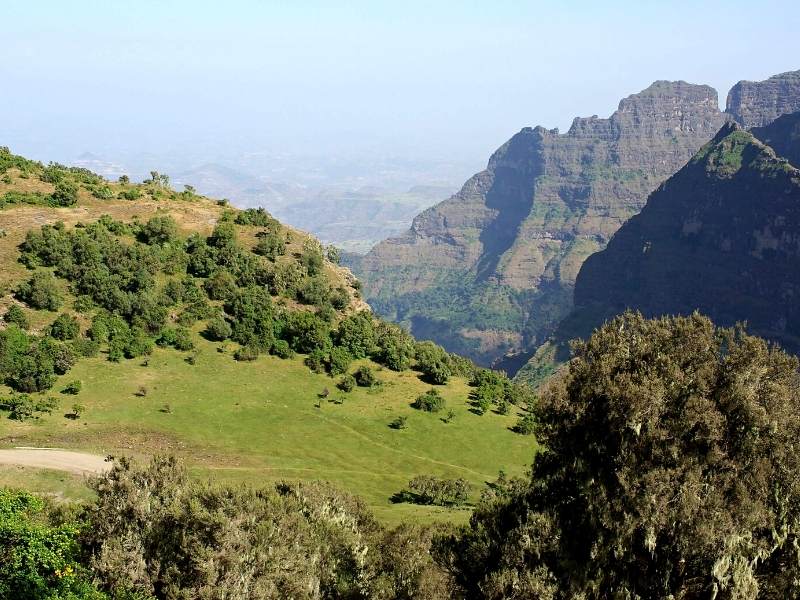 Ethiopia
Ah, Ethiopia! The cradle of Africa and maybe of the whole humanity, the richest culture on the continent, the only African country that was never colonized. Impervious mountains, remote plateaus, millenarian architecture, dozens of different tribes… it sounds like a paradise for cycle tourers… except it's hell.
There's not a single person in the whole bikepacking community that hasn't been stoned in Ethiopia. Half of the conversations on the Cape to Cairo WhatsApp group are about that.
This doesn't happen everywhere but it can happen anywhere, it's really a lottery not to get your skull crushed by a stone when cycling Ethiopia.
Ethiopia is also a very politically unstable country, with large-scale wars and smaller conflicts always active in some parts of the country. We really recommend studying the situation before getting your wheels inside this beautiful but problematic country.
Unfortunately, I could find no proper articles about cycling in Ethiopia on the internet and we haven't been there ourselves. We recommend joining the Cape To Cairo Cycling Club FB group and asking to be added to the WhatsApp chat, as that is the best resource for updated info on Ethiopia.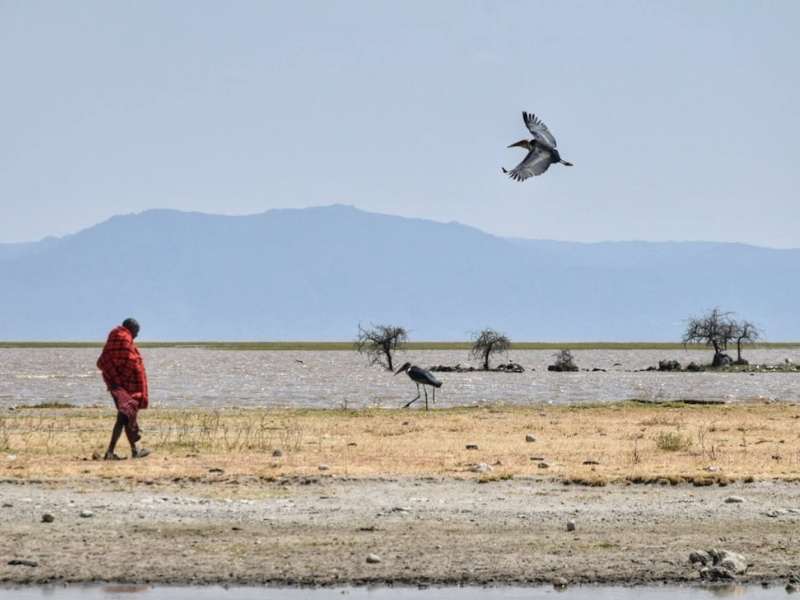 Kenya
We can talk about Kenya by first dividing it into three major areas: the dry north, the lush and mountainous south, and the coast.
The north is the most remote area, it's also home to conflicts and armed groups so caution should be exerted and up-to-date information must be collected timely. Especially the north-east, including the coastal areas, might be no-go zones: you might encounter police blocks refraining you to go any further in these areas.
Most people cross the north on main roads at a relatively fast pace, although the remoteness and peculiar beauty of Lake Turkana attracts more than a few of the most adventurous bikepackers.
The south is much more friendly, with diverse landscapes and people, gorgeous wildlife parks, hills, and mountains.
We recommend avoiding the main road between Mombasa and Nairobi as the traffic is very heavy, chose more secluded routes instead.
The beach lovers might want to head east, towards the touristic paradises of Kilifi, Watamu, and Malindi before crossing into Tanzania.
Mountain lovers should instead head west: Mount Meru, Lake Naivasha, Lake Elementaita, Nakuru, and Eldoret are all amazing areas. Adventure seekers can use the mountainous and remote C51 and C44 roads to cross into Uganda near the spectacular Mt. Elgon.
Not much info around about bikepacking in Kenya, while we prepare for our own trip there we suggest this short guide.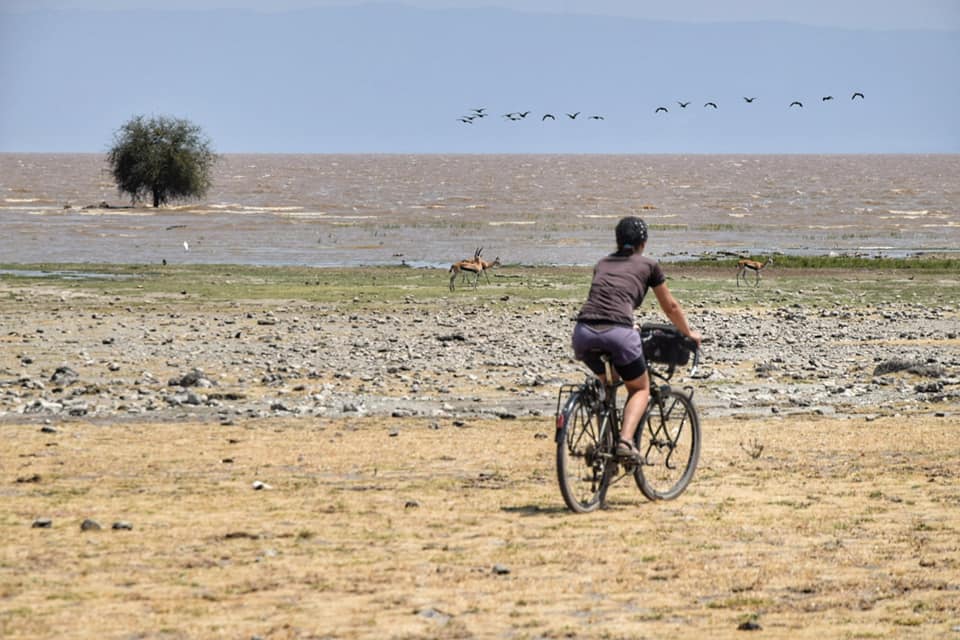 Tanzania
Tanzania is a vast and beautiful country where is well worth spending some cycling time. There's so much to see in Tanzania that you might end up stuck there. The Masai land in the north is fantastic, with its quintessential savannah and cultural and wildlife diversity.
The Lushoto Plateau and Usambara mountains host some of the last remaining rainforests in Africa, the coast and islands are a mix of white-sand paradisiac beaches and wildlife reach mangroves, with plenty of diving opportunities.
We have been living for 1 year in Tanzania and wrote this extensive article where you should be able to find all the info to plot your own route.
We wrote also more specific articles about several Tanzanian attractions, you'll find them all grouped here.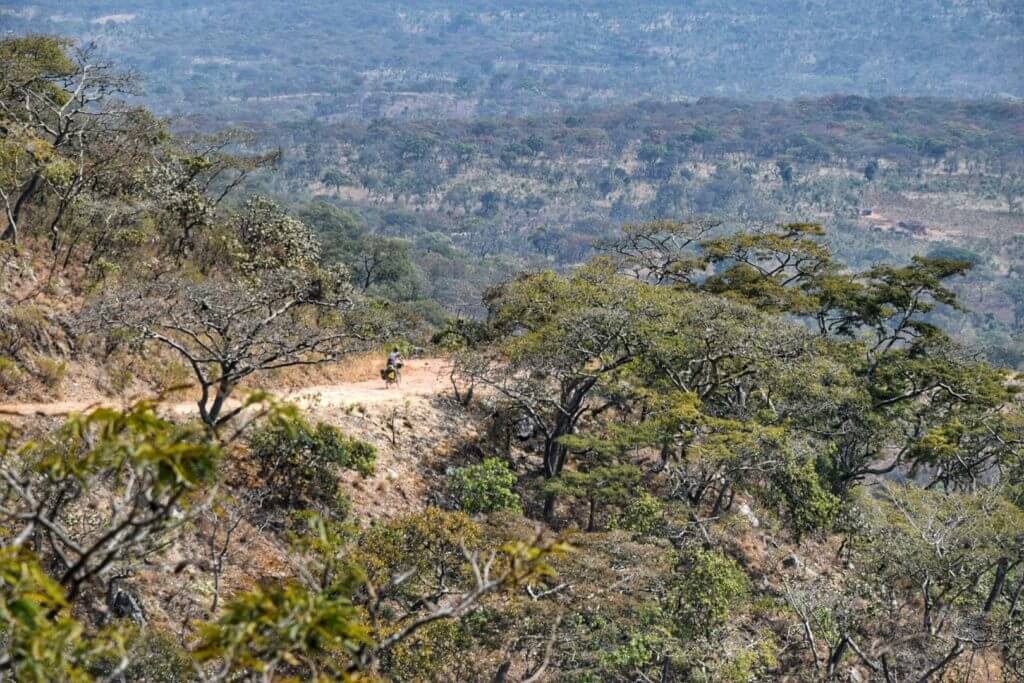 Malawi
Malawi is our home, we've lived here for more than 3 years – among the 60+ countries we've visited we chose this one. There are many reasons and you can find out yourself by coming here.
Malawi is often skipped by Cape to Cairo cyclists, after all, you could save on one visa and cross from Tanzania directly into Zambia or even Mozambique (not a good idea at the moment given the unrest in the northern province of Moz). Please don't do this mistake.
Although visa policies have become recently a pain in the a**, it's still totally worth entering and exploring this small but beautiful country.
The north of Malawi is mountainous and lushly forested, you can follow the lake shore for easier rides or get challenged by the steep slopes of Nyika Plateau and Livingstonia.
The best places to spend some time on the shores of Lake Malawi are Nkhata Bay and Chinteche in the north and Cape Maclear in the south. Taling the historical Ilala Ferry for at least a few stops is a great opportunity to experience the daily life of fishermen in remote villages; if you have time, consider visiting Likoma Island.
In the south, the landscapes get more flat and deforestation is more evident. Although it is a bit off the cycling route, you should totally hike Mt. Mulanje: it's a spectacular and vast massif with a network of well-maintained shelters you can access for very cheap, a great budget alternative to Kilimanjaro.
All the info you might need to plot your bikepacking route in Malawi can be found here:
We wrote many more articles about Malawi, find them all here.
Mozambique
Mozambique is often overlooked by touring cyclists, most of the Cape to Cairo bikepackers avoid it, crossing Zambia instead to get to bike the alien landscapes of Namibia before reaching their final destination in Cape Town.
This version of the cape to Cairo is the most common and certainly nice, Namibia is an absolute highlight, but we also advise considering the alternatives. All those who chose to bike Mozambique made great memories of the country.
Moz is a very big country, landscapes are mostly flat and most forest and wildlife has been wiped out by the long civil war. The coast though has some world-class surfing beaches, lively coral reefs, and unique lagoons.
What leaves the best memories about Mozambique though is always its people, very jovial, loud, and cheerful. Food in Mozambique is also the best in East and Southern Africa.
The Cabo Delgado province in the north is, unfortunately, a no go zone, with Islamist jihadist ravaging the area.
If you're considering cycling Mozambique, have a look at our in-depth guide here: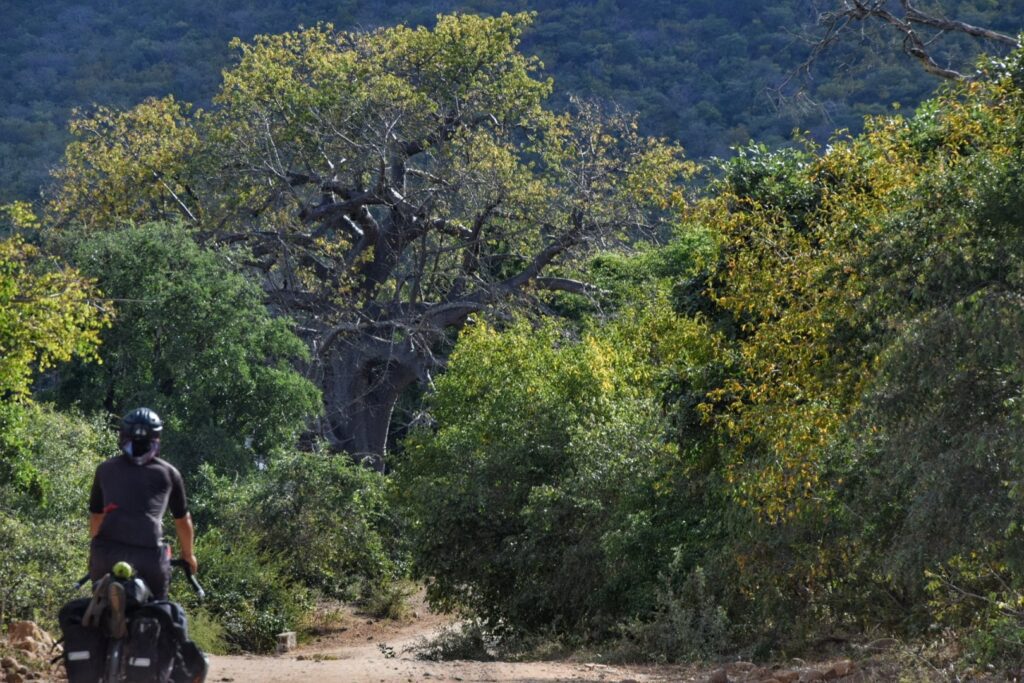 Zimbabwe
Another big favourite of ours, with its troubled past and present and peculiar landscapes Zimbabwe is such an interesting country.
Zimbabwean people have the best education in Southern and East Africa, you'll get great conversations with locals here, great chance to understand more about Southern Africa.
The best cycling in Zimbabwe is undoubitably in the Eastern Higlands, where weird rock formations, fast flowing rivers, and forested mountains are found.
Due to the chronic inflation and lack of cash affectiong the country, we recommend getting some updated info before entering Zim, you might need to bring in US dollars – when we were there there was absolutely no cash in the ATMs.
Read everything about bikepacking Zimbabwe here:
> Cycling Zimbabwe: guide, tips and our itinerary with GPX track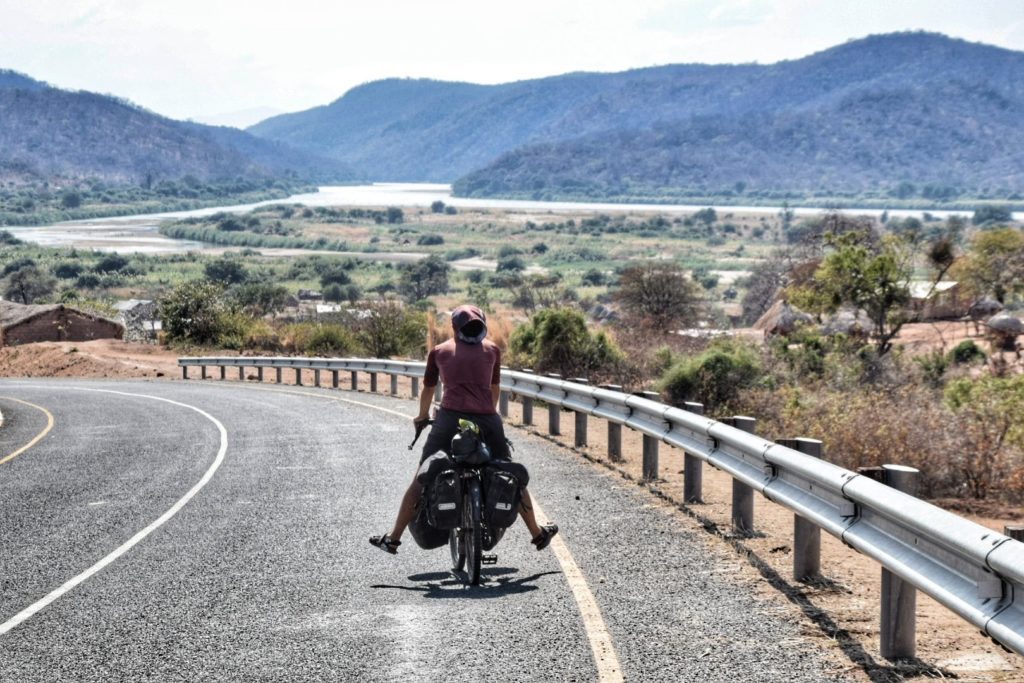 Zambia
Zambia is not on our top list of the best countries to cycle in Africa. The lack of a proper road network in the North-East and North-West forces most cyclists to ride the long and quite boring Great East Road, the highway crossing Zambia from the Malawian to the Namibian border.
The Eastern section of the Great East Road is not so dull, with a lot of forest and small hills around the Lower Zambezi National Park and the scenic crossing of the Luangwa river. If you want a Safari experience, South Luangwa National Park is one of the best parks when it comes to value for money.
The Western section from Lusaka to Livingston and beyond is quite boring though, so boring that many riders decide to take a bus or hitchhike to save some days to be spent in Namibia, not a bad idea honestly.
Victoria Falls are nice but not really my cup of tea: I've seen many waterfalls and although these are certainly spectacular, they're really a bit too touristy. Besides that, the best side from where to admire the falls is the Zimbabwean one.
The last section from Livingston to the Namibian border has really terrible road conditions, we advise crossing into Botswana and then accessing Namibia from there.
Read more about Zambia here:
Botswana
Botswana has the highest density of wildlife in the world, and one of the lowest densities of people. It's really a wildlife sanctuary and one of the few places where you should really think about where you're camping, as elephants and lions poking around your tent are not an uncommon occurrence. Touring cyclists often camp under GSM towers, which are fenced and so protected from dangerous animals.
Botswana is one of the most peaceful countries in Africa, a champion in human rights and democracy. Main roads are well maintained and easy to cycle, no mountains at all in this country.
Botswana is also the country where most of the few remaining San people (Bushmen) live. Their ancestral hunter-gather culture is unique and rich in knowledge and wisdom, they mostly live in the west of the country, in the vastness of the Kalahari desert.
Namibia
Namibia is one of the most beautiful countries in the world. its unique and everchanging landscapes are sure to amaze and surprise even the most navigated travelers.
It's also one of the toughest places to cycle through: immense distances, corrugated and sandy roads, no water, no shade, extreme thermal excursions.
To cycle in Namibia you'll need fat tires, good camping gear, 5 liter minimum water capacity, space for food, tools, and spares – not a country for beginners.
The west is the most beautiful area, with the Namib desert dunes, the incredible rock formations of Spizkoppe, and other places.
The north is where most of the native population lives, the fascinating Himba and Herero cultures are alone worth a visit of this area, which also features gorgeous landscapes and interesting attractions such as the Petrified Forest and the Twyfelfountain Rock Carvings
Making it up to the Angola border and visiting Epupa falls is to me a more rewarding experience than Victoria Falls, without even taking into account the stunning beauty of the border road itself, along the Kunene River.
We wrote a guide about Namibia, check it out to plan your route there:
South Africa
South Africa is a huge country, with such a diverse landscape to give every kind of bike enthusiast the proper cup of tea. Mountains, deserts, long coastlines, forests, rolling hills, and barren peaks, there's more than a bit of everything in South Africa.
Many long-distance bicycle travelers decide to skip South Africa or cross it quickly on their Cape to Cairo route. The reason we often heard is that they consider this country too "westernized", not interesting enough. After having cycled for 3 months in South Africa we can say that it is not completely true.
Cape Town is a beautiful modern city deserving to be visited, some services in the country (especially supermarkets and guesthouses) meet first-world standards, but it is enough to leave the cities to get into traditional villages and great diversity, old cultural traditions are still living and you can find them if you look hard. Furthermore, among African countries, South Africa is the one that offers safaris at more reasonable costs.
South Africa though, is sadly known for the regime of racial segregation, apartheid, officially ended a quarter of a century ago but which left obvious consequences in society and many issues, one above all that of the land, still unresolved.
The Rainbow Nation is sadly also famous for having one of the highest crime rates in the world, and indeed some areas can be dangerous. We recommend extreme caution when crossing big slum areas and not to wild camp much but rather ask for hospitality.
If you have time, our advice is to get deep into South Africa and explore as much as you can, instead of hastily reaching Cape Town from the Namibian border.
We wrote a lot about South Africa, detailing our route in a series of thorough articles, find them here:
> Cycling South Africa: the complete guide and itinerary (40k words!)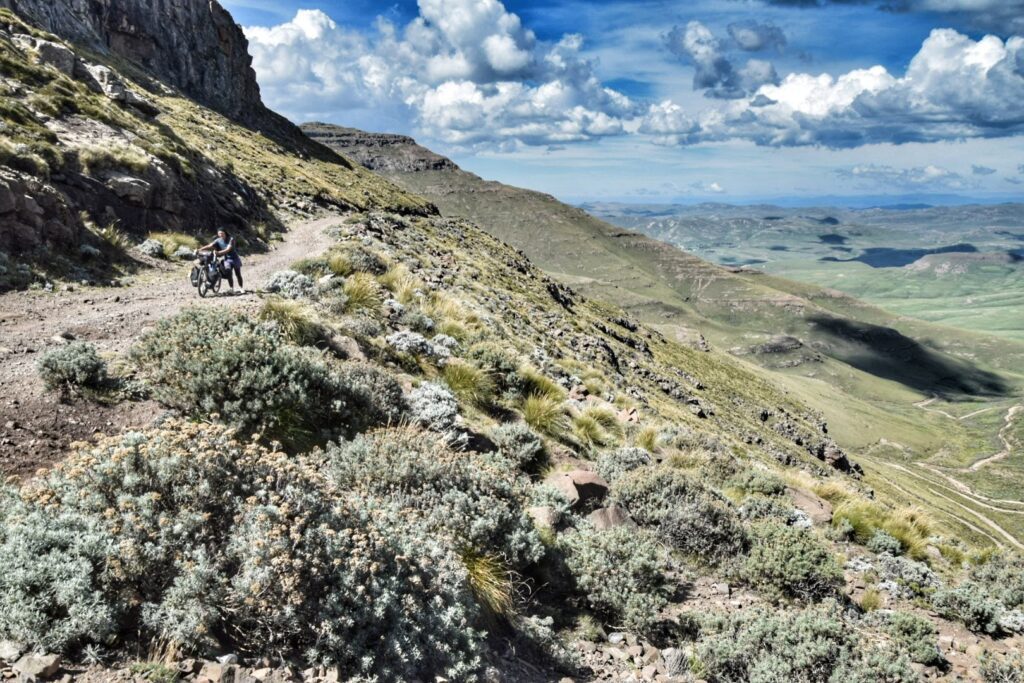 Lesotho
A final mention goes to the Kingdom of the Sky, one of our absolute favourites – Lesotho is the only country in the world that lies completely above 1000 meters in altitude.
Famous for its shepherds who always wear colorful wool cloaks regardless of the temperature and the typical hat depicted in the national flag, for its breathtaking views at every corner, and for the classic case round stone with a thatched roof.
Lesotho has some of the most challenging mountain passes in Africa, like Sani Pass and Matabeng Pass, if climbing and gorgeous mountain sceneries (including stunning waterfalls) are your things you shouldn't miss it.
This small enclave country is completely different from the rest of Africa, laying for almost its entirety above the tree line you'll encounter very unique vegetation and culture.
Water is plenty but get ready for a lack of food and accommodation. Wild camping and bringing your stock of food are paramount here.
Check our itinerary in Lesotho:
> Lesotho: a Road Trip Through the Kingdom of the Sky – Full Itinerary and Lots of Info
Cycling West Africa
Bikepacking West Africa is much more challenging than doing the same in the East. There are many more countries to cross, many more visas to obtain, and a lot more people to deal with.
West Africa has a much higher population density compared to the East, traffic can be crazy on main roads and unwanted attention will be a daily struggle.
At the same time, the western countries are much less touristic than those in the East, their cultures are incredibly interesting and the adventure feeling is on another level.
Some sections are quite challenging:
Crossing Western Sahara will see you traversing a waterless no-man land, where rule of law is almost non-existent
Nigeria is infamous for its corrupted police and the instability of some areas
The crossing of the DRC, although short, can be a serious issue with visas
In general, accommodation is much harder to find in West Africa, staying with locals is often the way to go as also wild camping is quite difficult due to the high population density.
We hope to expand this section about West Africa, or even write a new post about it. We are working on gathering information from fellow travelers and organizing our future bicycle trip in the area.
In the meanwhile, check this guest route (you can contribute yours! Get in touch!)
> Bikepacking Guinea Conakry and Guinea Bissau – The 2 Guineas cycling route
Visas
Visas in East Africa used to be quite straightforward, most nationalities could obtain visas on arrival almost everywhere, pay at the border and off you go.
Nowadays, after the pandemic, many nations have resorted to online visa applications. This has complicated things a bit, as these websites are often glitchy and might require quite some time to get the application through. Response times also vary a lot from case to case, and it's not rare to be stuck at a border while waiting for your online visa.
West Africa though is much more complicated, crossing all of these tiny countries often means being stuck in capitals for days waiting for a visa, and some borders are still closed to foreigners due to the aftermath of the pandemic. Visas also contribute quite a bit to raising the overall cost of the trip.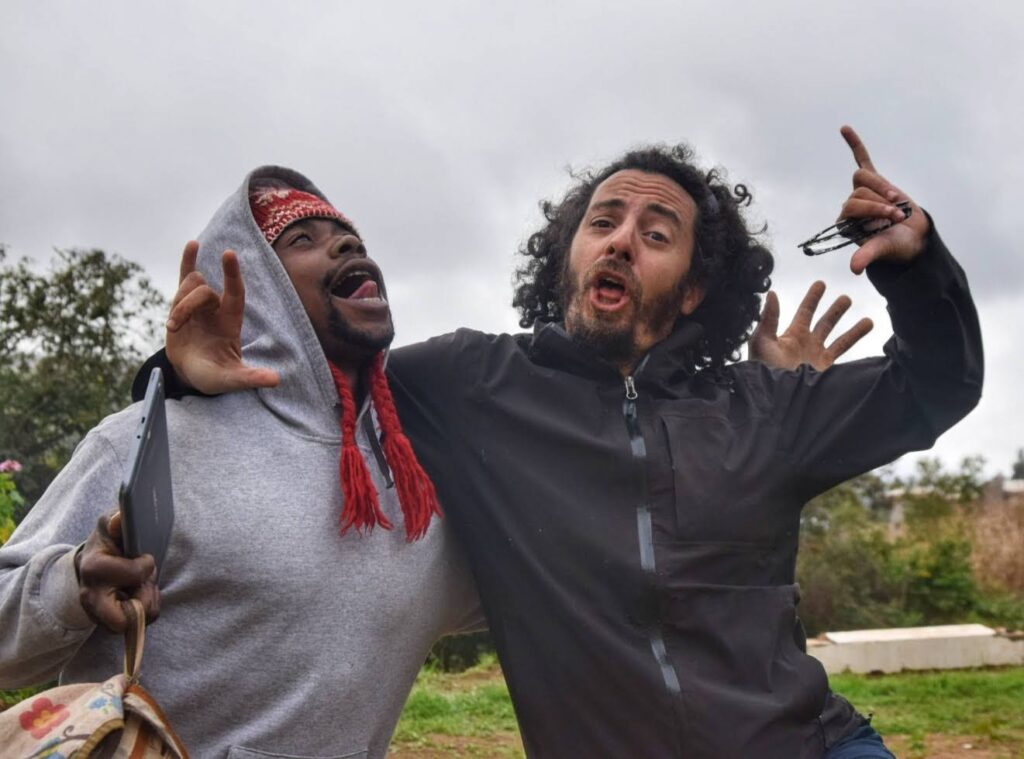 Languages
Africa is home to thousands of languages, dozens and sometimes hundreds can be found within a single country.
As a rule of thumb though, former colonial languages are quite widespread. That means English is common in former British colonies, French in former French colonies, and Portuguese in former Portuguese colonies (namely Mozambique and Angola). German is not really used anymore while Dutch will help you with Afrikaaner people in Namibia and South Africa.
So if you plan on cycling in West Africa, definitely up your French game a bit, otherwise you'll find yourself lost in translation.
In the Swahili-speaking countries of Kenya and Tanzania, despite the colonial past, English is less common, as the role of "lingua franca" has been assumed by indeed Swahili.
Accommodation and wild camping
Another stereotype people often have about Africa is of vast empty spaces completely lacking in infrastructure. To see something like this you need to go to National Parks, or maybe in Namibia, or the middle of Saharian countries, or the forest of DRC.
The population in Africa is quite spread out, people can live in the remotest corners, you're never too far from a dwelling, even if you can't see it.
This means people would probably know there's someone wild camping nearby… most of the time you'll just receive friendly and curious visitors, not the best of you like your privacy but almost never a threat.
What can be dangerous is wild camping near bigger villages or towns, especially in the weekends. Alcohol is a problem in many countries in the world, and when it's cheap homemade booze, it can make people even crazier.
Besides that, some areas are sketchier than others, and it's quite difficult to predict if a place is less safe than normal.
That's why we rarely try to stealth camp, and we generally don't recommend doing that in Africa. A proper and safer way (valid almost everywhere) is to engage with locals.
If you are near a village, or even better a small family hamlet, all you have to do is ask permission from the dwellers to pitch the tent and leave a donation the next day.
We really do not advise stealth camping in Africa, a proper and safer way (valid almost everywhere) is to engage with locals. If you are near a village, all you have to do is ask permission from the inhabitants to pitch the tent and leave a donation.
This will lead to nice and meaningful interactions, you'll be safer with a community hosting you and the community could surely use your contribution (we always give the money to the elder women, that most likely would know how to best use it).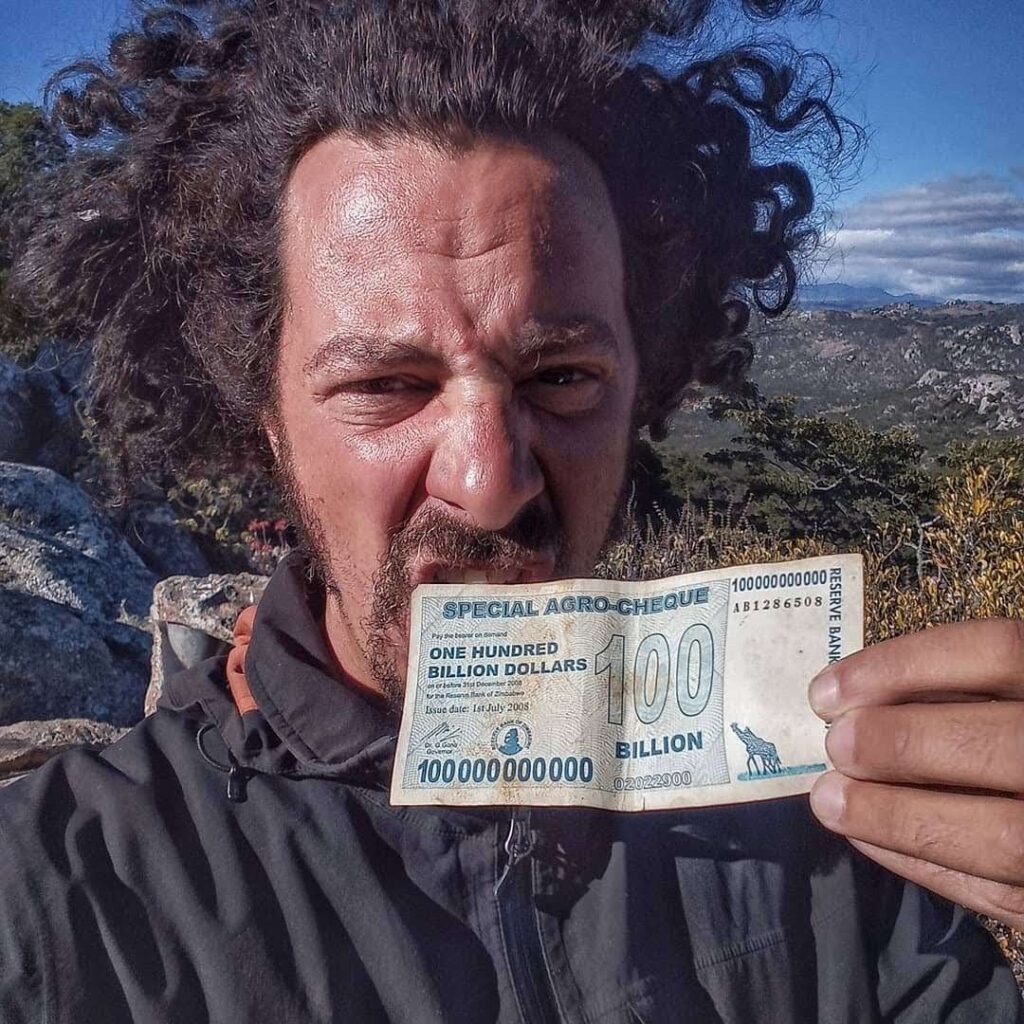 Getting Cash
ATMs are present in all the major towns and most of the time will work with all Visa and Mastercard cards. The fees are often quite high, and maximum withdrawal amounts quite small, another thing that adds up to the overall coast of cycling Africa.
Wise (former Transferwise) is our go to solution. It allows you to instantly open virtual bank accounts in almost any currency, when you do that you'll be charged local fees instead of international, quite a bargain.
Carrying some US Dollars is a good idea, some visas can only be paid in USD and sometimes you might find yourself stranded if ATMs are not working or there's a lack of cash in the country (see Zimbabwe).
Stay in touch while we get lost! Follow us on Social Media