Cycling Zambia. Bikepacking the Great East Road and more cycle touring itineraries.
Water, food, camping, accommodation, safety, border crossings, and more info
Zambia is a huge nation, bordering 8 countries. If you're bicycle touring Africa there are good chances at a certain moment you'll find yourself cycling Zambia.
Let me say this straight, bikepacking Zambia is not the most exciting bike trip you can do in Africa. Besides the Great East Road, crossing through the country from Namibia to Malawi, there are not many roads to cycle.
Most of the rest of the country is connected by a really challenging road network, where corrugation, sand, mud, river fords and road floods can be a common occurrence.
If you're looking for a really challenging adventure in a friendly African country, you could consider a bikepacking trip to the remote areas of Zambia – but for most of those in the Cape to Cairo journey you'll better stick to the Great East Road, with a few possible variations.
Disclosure: Some of our articles contain affiliate links. This comes at no additional cost for you and helps us keep this website up and running. (as Amazon Associates we earn commission from qualifying purchases)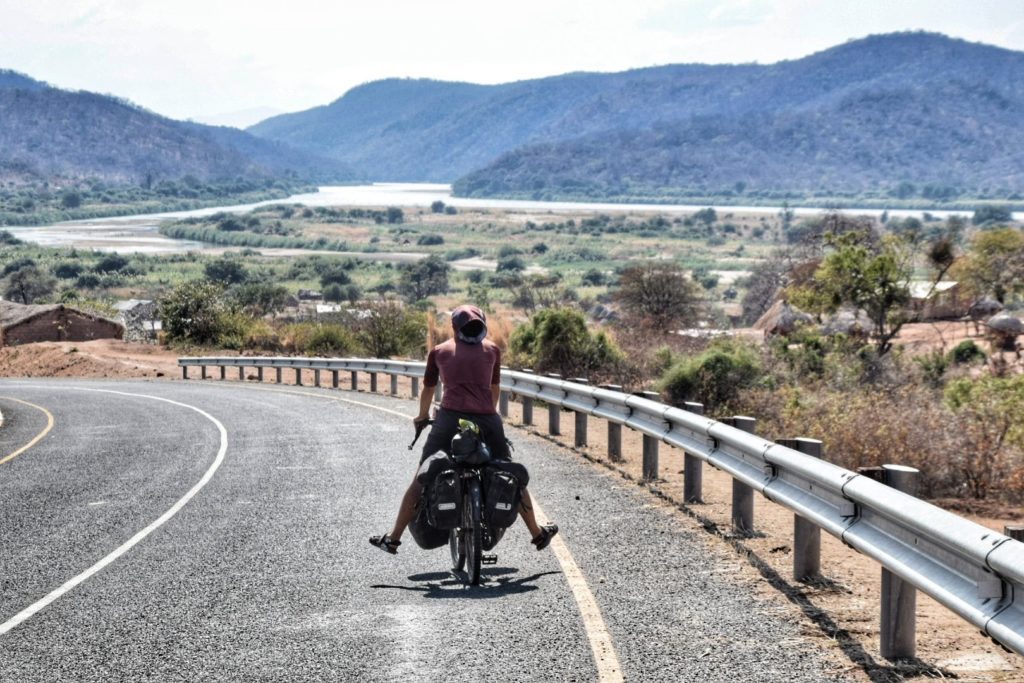 Things to know before cycling Zambia
Zambia was a British protectorate privately owned by Cecil Rhodes, it was called Northern Rhodesia and was colonized relatively late compared to other African countries.
English is widespread and the official language of the country, other languages include Bemba (spoken by 35% of the population), Chewa (20%), Tonga (12%), and Lozi (6%).
With a total population of about 18 million and a density of only 25 per Km2, Zambia is somehow scarcely populated. As it happens in many parts of Africa anyway, people live quite spread out, so you'll always meet someone when hiding in the bush to camp or for a dump.
Cellular signal is not constant in Zambia, due to the sparse population most of the country is not covered by 4G, which is of course present in all the towns.
Despite being traversed by mighty rivers such as the Zambesi, the Luangwa, and the Kafue, Zambia is quite a dry country. The lack of mountains doesn't make it a place rich in water streams.
Although the GDP figures say otherwise, Zambian people are among the poorest in the world, you'll rarely see brick houses or glass windows in the countryside. The people of Zambia are extremely friendly and easy going making it a safe country for bike touring.
Cycling Zambia along the Great East Road
1. From Chipata to Petauke
The Great East Road is Zambia's main highway connecting Chipata and the border with Malawi to the end of the Caprivi Strip in Namibia.
It is numbered as T4 from Chipata to Lusaka, T2 in the short stretch between Lusaka and Kafue, T1 from Kafue to Livingstonia, and M10 in the last terrible section to Namibia.
We'll describe this cycling route from the Malawian border to Namibia, including a few possible alternatives.
Entering from the Mchinji border in Malawi, it's only a 20km ride to Chipata, the major city of East Zambia. Chipata is not big but you'll find three big western-style supermarkets, plenty of good accommodation, and good restaurants (including Indian and Chinese). You should stock in food in Chipata as you won't meet any other proper shops until reaching Lusaka, 570km later.
From Chipata to Katete and Petauke it's quite an easy but boring and flat section, you could consider the detour to Mfuwe (the gate of South Luangwa National Park) and then take your chances on the Old Petauke Road.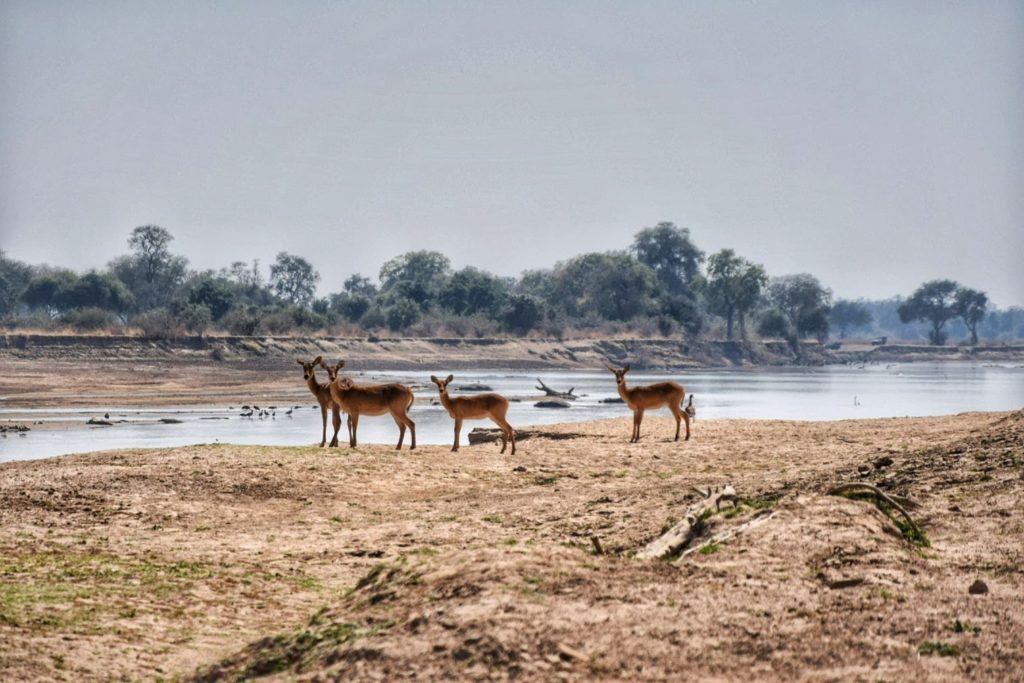 Alternative A – The Old Petauke Road
The Old Petauke Road runs along the unfenced edge of the South Luangwa National Park, not to far from the Luangwa River. Many adventurous bike tourers decide to cycle it, but you should be aware of its challenges and dangers.
To get there from the East, you'll first have to reach to the touristic village of Mfuwe, where you could arrange a budget safari in the park, one of our favorites on the whole continent.
From Mfuwe, the Old Petauke Road starts, leading back to the main road to the city of Petauke.
Cycling this road is not much different than cycling into the park itself, you can literally meet any kind of wildlife, including the most dangerous – we personally know of a cycle tourer who was followed by a lioness for more than 30 minutes, it was saved by an occasional 4×4 driving by… quite rare, quite lucky.
The old Petauke is also in pretty bad shape, with corrugation and sand/mud when dry/wet. Since you'll have to ride it all in one day (no way you could survive wild camping here), do your own calculations.
Read more about:
> Zambia: A Safari Through South Luangwa NP – One Of The Most Dense Wildlife Parks in Africa
2. From Petauke to Luangwa
This stage and the next one feature the nicest landscapes you'll see on this Zambian bike trip. It's a hilly but gentle road with good tar surface, crossing through forest-covered small mountain ranges.
The villages are far apart and the only proper towns here are Nyimba and Luangwa Bridge, here you can find accommodation in basic guesthouses, small shops, and local restaurants.
Luangwa bridge is one of the scenic highlights of this cycle route, the Luangwa river bed is majestic, with its wide sandbanks where you'll have a chance to spot crocodiles.
Luangwa bridge is a small trading-post town with a colorful market of homemade baskets, chitenge clothing, local fruit, and vegetables. The two guesthouses here a pretty shabby (although we had great fun with the guys and girls at Smart Guesthouse), another option is to go a few km south along the river and reach the overpriced but nice Bridge Camp.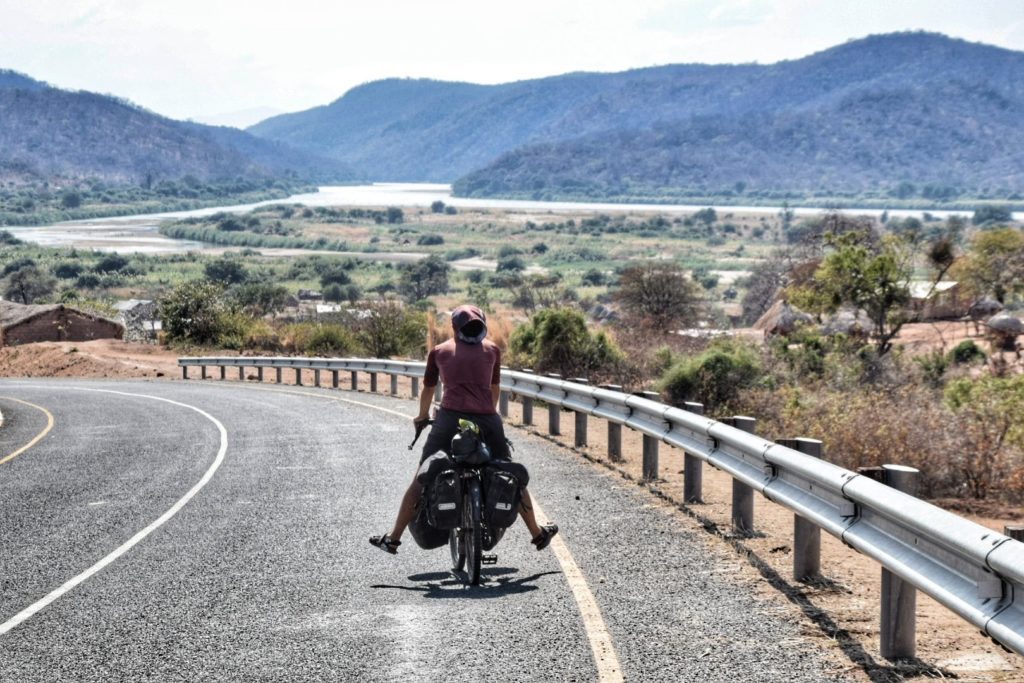 Alternative B – The Luwangwa road to Feira
This road going south along the river is actually quite beautiful, with plenty baobabs and stunning views of the river. It leads to a border with Zimbabwe and Mozambique that can only be crossed by bike or on foot, as it requires getting across the mighty zambesi on a small boat. We did this crossing and it was great.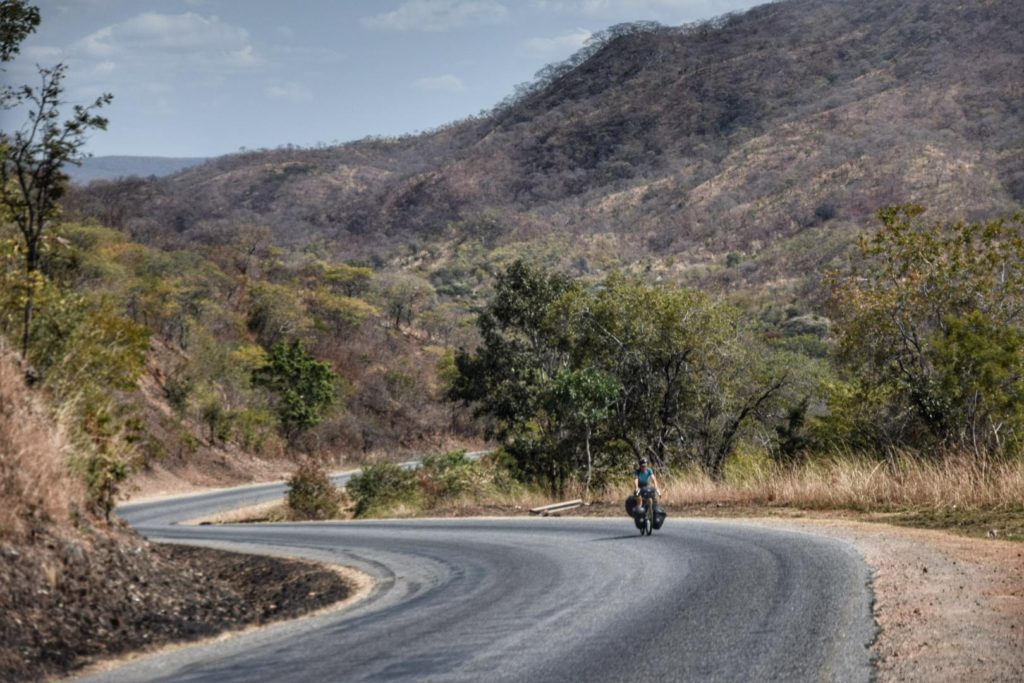 3. From Luangwa Bridge to Lusaka
This is another pretty section, bordering the north edges of the Lower Zambesi National Park. Here you'll face most of the climbs of this route, but be not afraid, they are nothing too hard and the road surface is perfect.
You should also not fear wildlife encounters here, the park is fenced and the best you could meet are some baboons, don't feed them and pass wide.
From Undaunda to Chongwe and Lusaka the road is uninteresting again, with growing traffic volumes as you approach Lusaka.
Lusaka itself is my least favourite Southern African capital: treeless, crowded, urbanistically horrific. The city center is also somehow sketchy, with harassment being commonplace.
The good thing is that you can find almost anything in Lusaka, including bicycle parts (although it is better to contact the shops and order in advance. The many shopping malls have god international restaurants and western-style supermarkets. Besides hopping, I recommend not spending in Lusaka any hour more than necessary.
4. From Lusaka to Livingstone
After the hassle of exiting Lusaka, you'll have a short but interesting section reaching the town of Kafue and crossing the homonymous river. From here to Livingstone the road is quite boring all the way.
Alternative C – On dirt near Lake Kariba
You could choose to take the T2 towards Zimbabwe and eventually the D500, a small gravel road between Lake Kariba and a small mountain range. It's quite a big detour though and you'll be forced on the T1 again near Pemba.
Actually, from Mukonga there are small and remote dirt roads leading to Sinazongwe and Maamba (close to Lake Kariba), but they are quite convoluted and challenging, if you have time on hand and like Zambia, you could give this 300+km adventure a try.
If you stick to the Great East Road, you'll pass some decently sized towns, Mazabuka and Choma, before the last leg to Livingstone, where you can admire the Victoria Falls.
Livingstone itself is nothing special: good accommodation options, international restaurants, and supermarkets. Here you can enter Zimbabwe from the famous bridge over the falls (where you could do bungee-jumping if you wish).
5. From Livingstone to Namibia
Livingstone to Kazungula is an ok road, here we highly recommend crossing into Botswana. The road from Kazungula to the Namibian border at Katima Mulilo is indeed not a road, it looks like it has been bombed by heavy airstrikes, even by bicycle there's no way to find a straight line between the huge crater-like potholes – no reason to cycle this unless you can't enter Botswana for some reasons or wish to go to Angola.
If going to Angola, besides passing by the underrated Ngonye Waterfalls, you'll have a long a difficult way up the sandy roads to the Malundu border post or an extremely long way to Kamapanda or Chitau crossings – only for the most adventurous.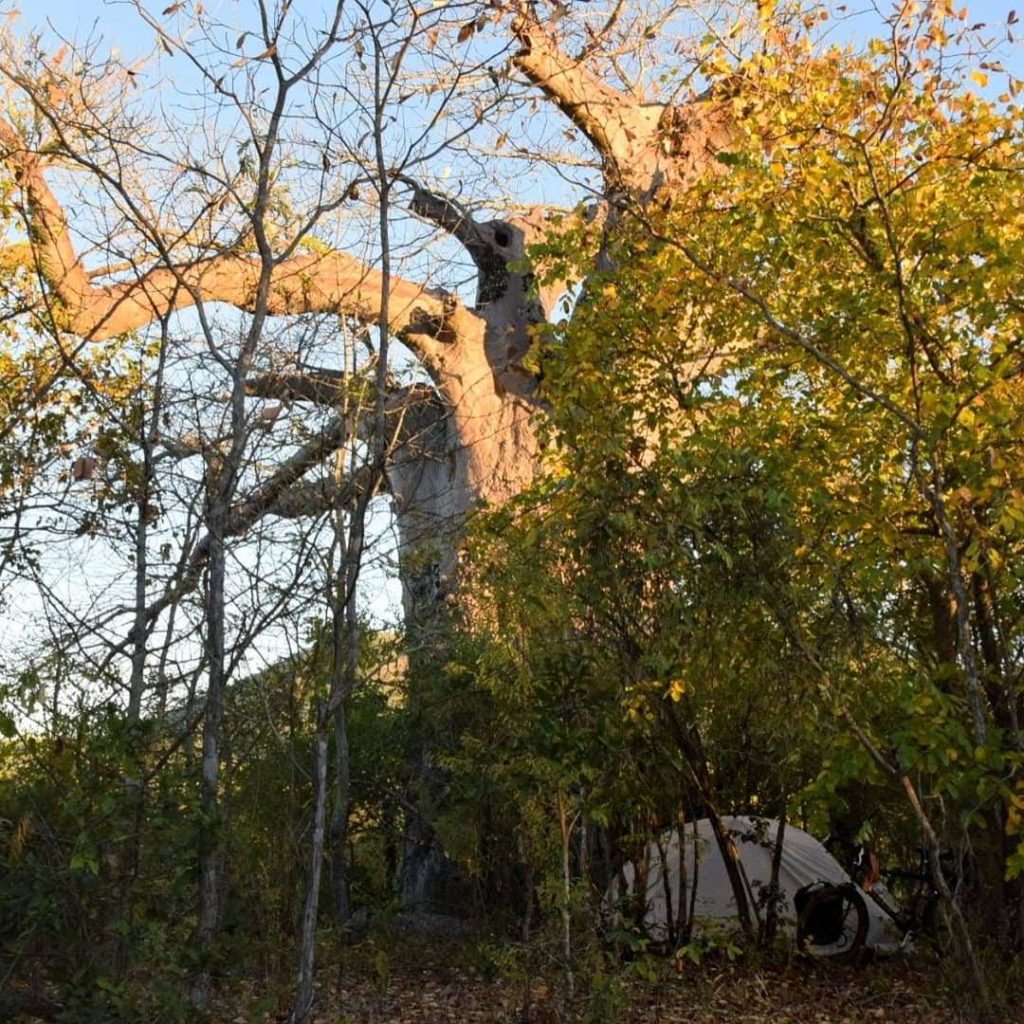 Wild camping and accommodation in Zambia
Being a sparsely populated country with mostly unfenced land, wild camping in Zambia is quite easy. Avoid the immediate vicinity of villages, especially if there are bars around, as drunk people can be unpredictable. Try to find your way a bit deeper in the bush and far from walking trails to avoid being spotted.
That said, we always recommend asking locals in small dwellings. Find a nice-looking and well-maintained family hamlet and approach the people asking to camp near their houses, you'll rarely face a denial. This way you'll be safer from hyenas and crooked people, while also having the opportunity to engage in meaningful interaction with a rural community. Always leave something as a sign of gratitude, a little cash is best (between a couple of dollars to 10 bucks worth) but also food will be appreciated – we advise always leaving cash in the hands of adult women (some men might be too proud to accept, while others could end up spending it on alcohol).
Guesthouses are available only in towns, the quality is often very low but prices are quite cheap. Always ask to see the room and have a look at the bed for bed bugs or extremely worn-out mattresses.
Getting food and water when bikepacking in Zambia
Drinking water is available from taps and village wells, it's usually safe water but you should still exert some caution.
If you're on a long-bicycle touring journey across Africa your guts should be accustomed to African water, we recommend taking deworming pills every 4/6 months or when experiencing symptoms.
If you just arrived here from a western country, or are used to bottled water, definitely bring a water filter or purifier.
Unless you fency grilled mice, you won't find much food except in towns. Stock in canned goods and whatever non-perishible food you are used to while on the road.
Are you on an African bike trip? Have a look at:
Stay in touch while we get lost! Follow us on Social Media