Bikepacking Namibia. Two bicycle touring routes, packing list, best seasons to go cycling Namibia.
Everything about cycling Namibia, from 2-weeks itinerary to a cross-country trail
Planning a bikepacking trip to Namibia? Or maybe cycle touring through Namibia on your Cape to Cairo long-distance journey? Here we'll give you all the info you may need to enjoy and stay safe while cycling Namibia.
Namibia is an extraordinary country, the dryest in Austral Africa, in the top three least densely populated in the world, but yet home to plenty and diverse ancestral cultures, incredible vegetation, and a diverse and ever-changing landscape. There are so many reasons for a bike trip in Namibia, but cycling here doesn't come easy.
The lack of water, the sandy and corrugated infinite roads, the heat of summer or the cold and gusty winds of winter, the dust that burns your throat. These are some of the challenges you'll have to face when bike touring Namibia.
Disclosure: Some of our articles contain affiliate links. This comes at no additional cost for you and helps us keep this website up and running. (as Amazon Associates we earn commission from qualifying purchases)
Best season for a trip around Namibia
Summer begins in November and ends around March, these are the hottest months of the year. Due to the total lack of shade moreless throughout the country, it's not really recommended to cycle here during this season. This is also when Namibia gets its rare rains (some areas have not seen a drop in five years from 2016 to 2021), in the northern areas you might have problems on some remote river roads that can undergo sudden floods.
The coldest months are June and July where the Namib desert and even the capital Windhoek can reach temperatures even as low as -10C at night. If you are well equipped this is not a terrible time to cycle.
The winds are somehow unpredictable and change directions throughout the year and in different areas. Just keep in mind the capital Windhoek is literally called "wind corner". The windiest months are also the coldest months: June, July, and August.
Overall, the best months for bikepacking Namibia are definitely April, May, August, and September. With milder temperatures and calmer winds.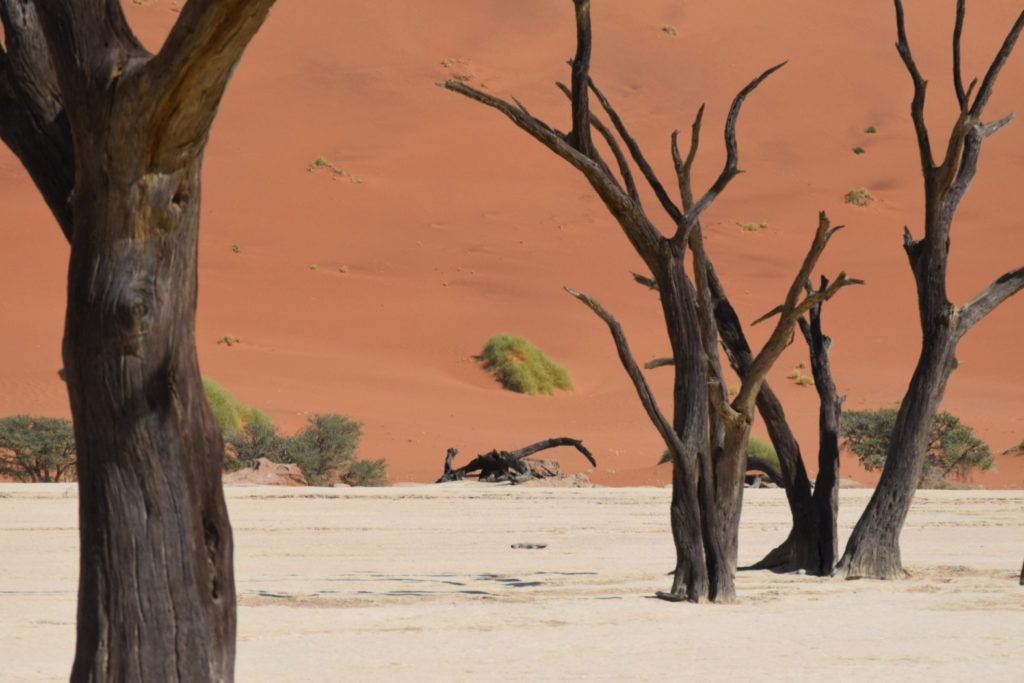 What to pack when cycling Namibia
You'll need to be completely self-sufficient when cycling through Namibia. Camping and cooking gear is a must, as it is a must to make arrangements to be able to carry at least 4 liters of water at the time.
A sturdy bicycle with fat tires is highly recommended. Sand and corrugation are ubiquitous and you might need to push for some sections even when mounting 2.3″ tires.
We advise not less than 2″, the wider the tire the better the experience in this country. If your bike doesn't support that, consider getting something more proper for this terrain – it's no fun to be stuck in the sand for days in a row.
Cellular signal is very rare in Namibia, we recommend you download all your maps offline and the fundamental app iOverlander.
If you're going in winter you'll definitely need to carry a cycling jacket and even winter gloves.
Check our article: The 7 Best Campsites in Namibia – a Guide to Sleep under the Most Beautiful Skies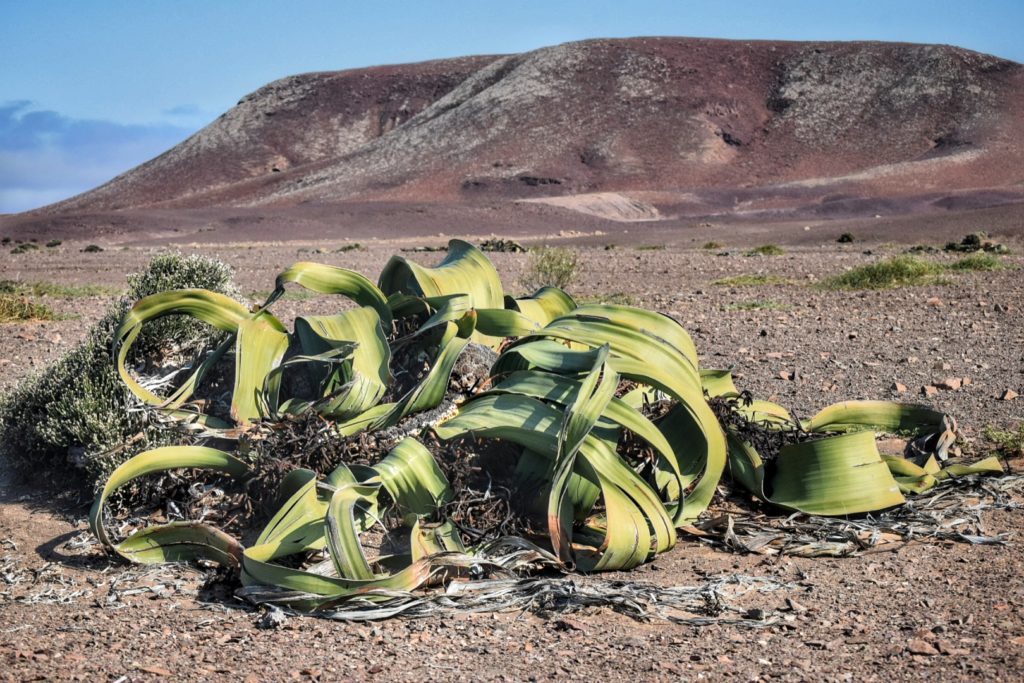 Cycling Routes in Namibia
In such a diverse and vast country, the possibilities are literally endless. There's so much to see and experience in Namibia that almost any route can be amazing. We absolutely encourage you to do your own research and plan your own, unique and personalized route.
That said, the most dramatic and fascinating landscapes are in the west part of the country, the east, in the direction of the Botswana border, is more flat and monotonous, consisting mostly of low bush and Savannah – still an interesting area but not as special as the whole length of the west side.
Here we propose two cycling itineraries of Namibia: the first one is a bikepacking loop around the capital Windhoek, it's meant for people who fly in and out for a relatively short adventure-cycling vacation.
The second itinerary is suggested to the many bicycle tourers who cross Namibia from north to south, or vice versa, on their long-distance tours of Africa, usually Cape-to-Cairo or West Africa.
1. Two-weeks fly-in/fly-out bikepacking itinerary in Namibia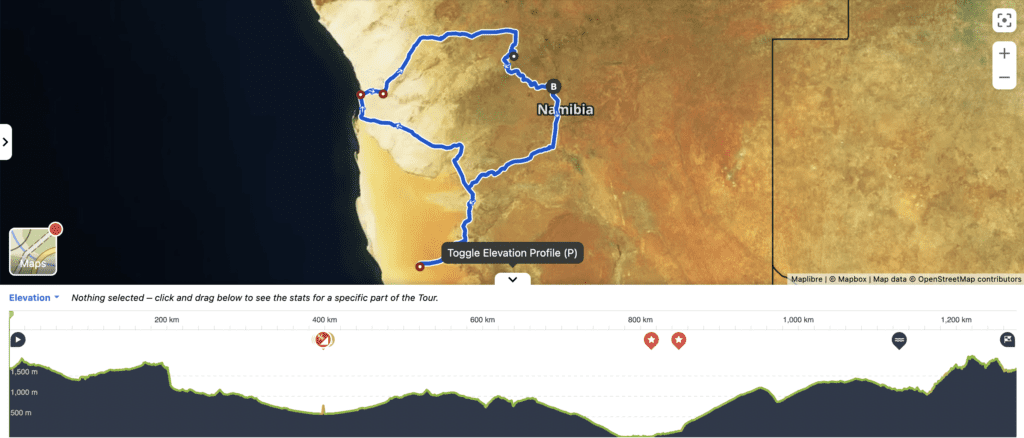 This 1300 km bikepacking route includes several of the most incredible landscapes in the country, concentrated in a compact but still strenuous itinerary.
Highlights along the route:
Windhoek
Spreetshoogte Pass
Solitaire
Sossusvlei
Namib Naukluft National Park
Welvis Bay Dunes
Swakopmund
Moon Landscape
Spizkoppe
Alternative options:
20km detour at Moon Landscape to see the oldest Welwitcha Mirabilis in Namibia
120km detour to see the Seal Colony at Cape Cross and the beginning of the Skeleton Coast
Hitch a ride on the way back from Sossusvlei or on the last leg after Spizkoppe to shorten the itinerary.
2. Crossing Namibia By Bike
For the long-distance cycle tourer here is the idea of a cross-country route. Most people head to or come from Cape Town South Africa, this itinerary uses the Noordoewer border south and leads immediately to one of Namibia's most iconic landscapes, Fish River Canyon.
Riding along the diamond-rich Sperrgebiet desert to Aus, with a possible detour to the remote coastal town of Luderitz, before proceeding to the world-famous Dead Valley of Sossusvlei.
Following this route you'll pass the iconic abandoned cars of Solitaire, the breathtaking landscapes of Namib Naukluft NP, and the dunes of Walvis Bay, where the desert meets the ocean.
The spectacular rock formations of Spizkoppe and Moon Landscape are not left out, and the ancestal rock carvings of Twyfelfontein are your gateway into the northern regions where most of the tribal populations live.
A stop in the city of Opuwo is mandatory, where you could meet Himba and Herero roaming in the supermarkets with their traditional clothes. Reaching Epupa falls will see you cycling remote and challenging roads but the reward is worth it – not just the incredible falls, but the whole road along the Kunene River and the border with Angola, where you'll meet the real Himba on a daily basis while cycling the only wet area of Namibia.
In Ruacana you could already cross into Angola if West is your way, while if you're going to Botswana you'll have to follow the highways of the northern provinces – not the most interesting parts of Namibia, something you could consider hitchhiking if you have time constraints.
The Caprivi region is certainly interesting, with the Okavango Delta and the highest population of Elephants. Also, few of the remaining San People (Bushmen) still live here. The landscapes are now those of the typical African Savannah, a golden flat bush.
Although many people manage to, cycling the Caprivi strip is forbidden, that's why Komoot doesn't show this section of the route on the map. In Caprivi, you'll have passable borders with either Zambia, Botswana, or Angola.
Water and Food Supplies in Namibia
Water is very scarce in Namibia and settlements are quite far apart. The best way to find water is definitely asking the many tourists on rented 4×4 that you'll meet along the way – they are not there just to throw clouds of dust at you, they can also be great support (the only possible support in many cases) when you're in need of something.
How much does cycle touring Namibia cost?
Although as a bikepacker in Namibia you'll probably do a lot of wild camping, the country still offers plenty of campsites which are often great value for money.
Namibia is heavily traveled by South Africans and other nationalities on 4×4 vehicles often with rooftop tents, although some of them like to wild camp, a vast majority resort to private campsites.
If you're able to cycle about 90/100km x day (not easy along these roads), you might even sleep at a campsite and have a shower every night.
Campsites are always charged x person, and range from 100NAD (7USD) for community-based campsites to 250 or even 300 NAD per head for "luxury campsites" or those located near the most popular tourist attractions (i.e. Etosha). The average prices are around 150/170 x person, about 10/12 USD.
Besides those costs, the only other expenses are your food and eventual entrance fees to tourist attractions.
Shops and supermarkets are present in the few and far-apart cities, where you should stock in unperishable items such as pasta and canned food.
Estimated cost of a bikepacking trip in Namibia: 15/20 USD x day
Most campsites have restaurants where you can buy a nice meal for 80-180 NAD, yes some are much more expensive than others. Local restaurants can be found in the north, where most of the black population lives.
Tourist attractions such as Sossusvlei or Etosha National Park are reasonably priced at about 150 NAD per person. Some minor attractions (Fossilized Forest, Burned Mountain…) are overpriced and might be avoided if you're on a budget.
What to pack for a cycling holiday
Bike Gear
Pro Tip!
You don't need an expensive bike to cycle here. You can easily ride on a refurbished bike that you can get for free (or almost free) – learn how here!
---
Cycle Clothing
Pro Tip!
Use common running shorts to cover your cycling shorts in conservative countries!
---
Accessories
Stay in touch while we get lost! Follow us on Social Media