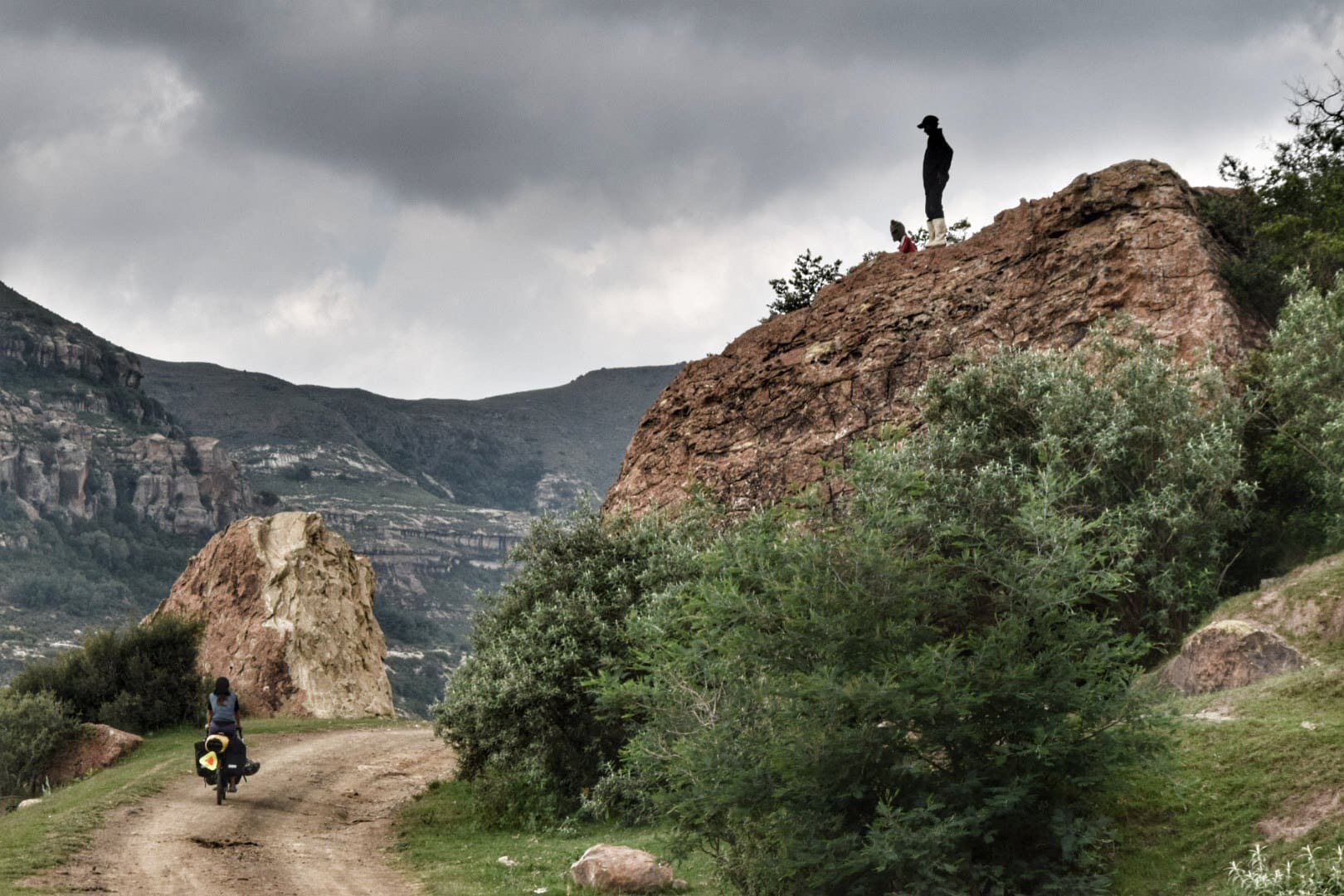 Touring Lesotho – Our recommendations for the perfect road trip
Things to do, tourist attractions, road conditions, mountain passes
Driving, hiking, and cycling in Lesotho
Attraction and highlights, things to see and do, road conditions, accommodation options, remote mountain passes, and off-the-beaten-path places
Lesotho, the Mountain Kingdom, a place often overlooked by tourism, a small enclave state within South Africa which holds some of the most well-kept secrets in the African continent, and some of the most beautiful landscapes we have seen so far.
We embarked on a very challenging 10 days cycling road trip in the Kindom of the Sky. Here in this blog post, we'll describe and suggest our itinerary in Lesotho and try to give all the information needed to plan your ride (or drive or hike or whatever), including some attraction and highlights, things to see and do, road conditions, accommodation options, remote mountain passes, and off-the-beaten-path places.
Lesotho is the only country in the world that lays completely above 1000 meters in altitude. Famous for its shepherds who always wear colorful wool cloaks regardless of the temperature (they were used in the film Black Panther by Ryan Coogler) and the typical hat depicted in the national flag, for its breathtaking views at every corner and for the classic case round stone with a thatched roof.
Before delving into our itinerary in this beautiful country, some general information for those who want to visit this wonderful and still little known kingdom. Our route was made by bicycle, and asking for some passage, but the information in this article is valid for every means of transport you decide to use.
Going to Lesotho? Have a look at
Maletsunyane Falls, hikes, accommodation option and an insight guide on the highest waterfall in Lesotho
Planning Lesotho – advice and itineraries
Sani Pass – all about the highest pass in South Africa
Sani Mountain Lodge – why you should avoid
Road tripping South Africa? Have a look at
Getting to Lesotho from Port Elizabeth – a great Eastern Cape route
Barrydale and the Little Karoo
Cycling the Western Cape Coast from Cape Town
Want everything in one post?
Cycling in South Africa – everything you need to know
A brief history of Lesotho
Disclosure: Some of our articles contain affiliate links. This comes at no additional cost for you and helps us keep this website up and running. (as Amazon Associates we earn commission from qualifying purchases)
Although the numerous dinosaur prints and human fossils remain clearly show things were happening here, not much is known about the early history of this land. Nowadays Lesotho is almost exclusively (99.7%) inhabited by Basotho people, descendants of Bantu migrations from 3/4 thousand years ago.
In 1818, Moshoeshoe consolidated various Basotho groupings and became king. During Moshoeshoe's reign (1823–1870), a series of wars (1856–68) were fought with the Boers who had settled in traditional Basotho lands. These wars resulted in the extensive loss of Basotho soldiers' lives (possibly 1,500), and vast arable lands, now known as the "Lost Territory".
Fearing defeat, Moshoeshoe asked to place his kingdom under British protection and the Boers were ordered to leave. The arable land west of the Caledon River remained though in Boer's hands.
A series of revolt followed the annexation to the Cape Colony in 1871, but despite having lost most of its lands and left in the hardship of the mountain the Kingdom survived under British protectorate and was never annexed to the Union Of South Africa, thus saving itself from experiencing Apartheid.
The Kingdom of Lesotho got back its full independence in 1966 and is now a parliamentary constitutional monarchy. Lesotho is the only enclave state (meaning that it is surrounded by only one other state) in the world outside the Italian peninsula.
Geography and weather in Lesotho – the best time to visit?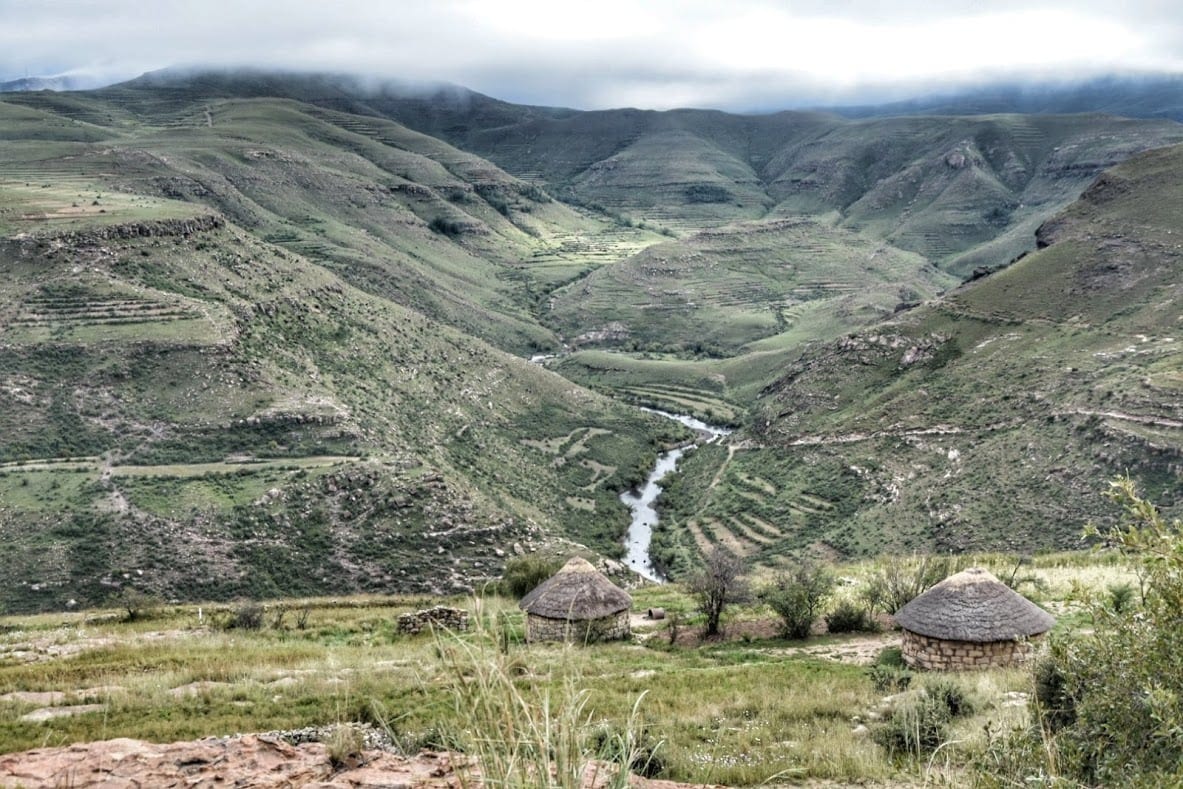 Sehlabathebe area
Lesotho's nicknames, "Kingdom of the Sky" or "Mountain Kingdom", often associated with adjectives such as "forgotten" or "lost" are most understood once you're here. This is, in fact, one of the highest mountainous regions in Africa home of two of the three highest passes in the continent.
The whole country lies above 1,400 meters on sea level, 70% is higher than 2,000. There are very few trees in Lesotho due to its overall altitude.
Lesotho is obviously much cooler throughout the year compared to almost anywhere else in Southern Africa. In winters c the lowlands get down to −7 °C (19 °F) and the highlands to −18 °C (0 °F) at times. Snow is common in the highlands between May and September; the higher peaks can experience snowfalls year-round.
In Summer, most of the rain falls as thunderstorms. Temperatures are as high as 30° C (86° F) but can still get chilly at night. Winds can blow you away at any time of the year, but there are also many windless days.
Probably the best time to visit Lesotho in early austral Spring or Autumn, to avoid the rainfalls of summer and the cold of winter. We traveled here in late March/early April 2019 and were very lucky with the weather.
---
Accommodation in Lesotho
Guesthouses and hotels

There are basic guesthouses and hotels in Lesotho, but outside the main cities or towns, they are not so frequent, on some more remote dirt roads there could be no accommodation for miles and miles.
Most lodges are not on any popular booking website, they are though usually reported on Google Maps or other applications like iOverlander which we recommend you download.
The only way to book in advance is to phone the property, that is a good idea if you want them to be prepared for your arrival. Many lodges also offer the possibility of camping. Room prices are generally higher than in South Africa (500/700 Rand).
Especially in the most remote areas, there is no electricity and running water. Usually, they will provide you with a paraffin lamp and will heat buckets of water that you can use to bath in a bowl in the room.
Sometimes they have a generator for electricity but there is not always petrol to operate it. These solutions are less comfortable than a real hotel in the city but are much cheaper and help the economy of small villages less traveled by tourism. A room starts at about 250 Rand.
Some lodges have backpackers dorms, we mentioned quite a few options in our articles about Sani Pass and Maletsunyane Falls. We also wrote a full review of Sani Mountain Lodge, which we recommend avoiding.
The capital Maseru is the only place where you'll find "international standards" accommodation, with WiFi and everything. There are not many reasons though to stay in Maseru.
Wild camping in Lesotho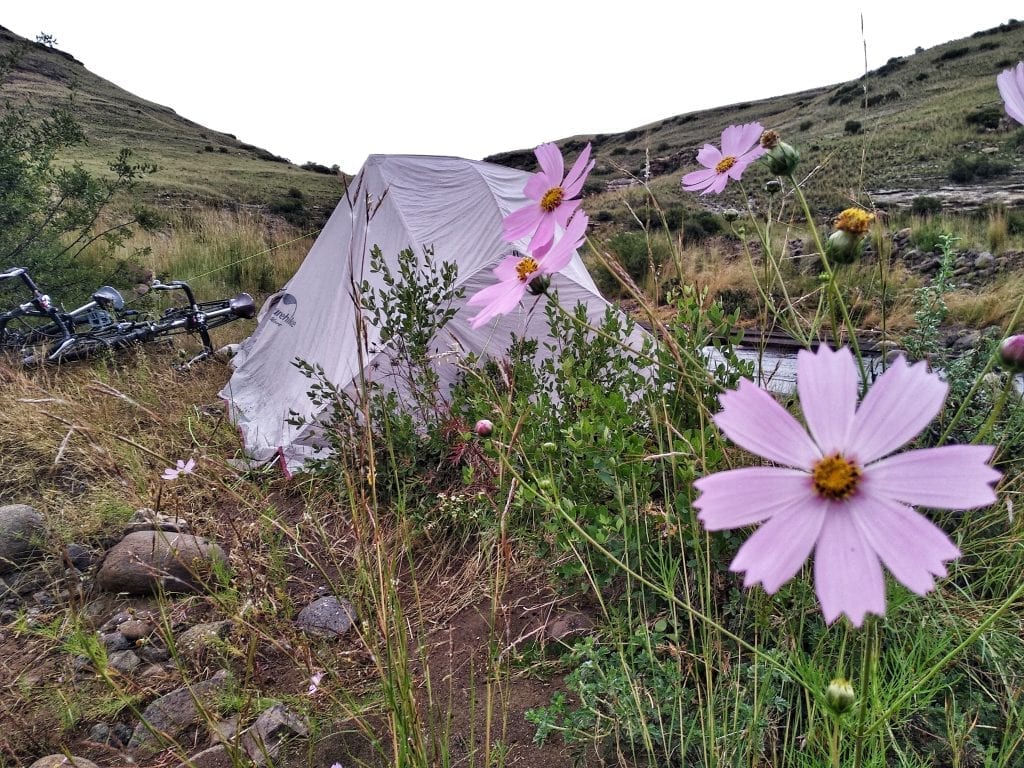 Free camping is a very good solution in Lesotho. The Mountain Kingdom is not a densely populated country, there are vast spaces of grassland, nice beaches by the rivers, and no fences whatsoever.
It is easy to find isolated niches where to pitch your camping tent, but keep in mind that wherever you are you will always meet a shepherd with his sheep so you'll never be really alone.
Also, temperatures can drop several degrees during the night, even in summer, so be sure to carry the right gear.
Ask the locals for hospitality
We really do not advise stealth camping in Lesotho, a proper and safer way (valid almost everywhere) is to engage with locals. If you are near a village, all you have to do is ask permission from the inhabitants to pitch the tent and leave a donation.
We have been given a room at the house of the village teacher and nothing has been asked, we left 150 Rand to the family anyway. It is also a great way to get to talk with villagers and "understand" the local lifestyle.
---
Useful information for tourism in Lesotho
Water and drinks
Given the average altitude of the country of about 2000 meters, drinking water is not a problem. Lesotho is, in fact, the main supplier of water for surrounding South Africa.
In the capital Maseru and in the main towns of the country, water is drinkable from the taps. In the villages, there are drinking water fountains from which you can fill your bottles for free.
Bottled water is not sold anywhere except in the capital Maseru. In the shops, you will find only soft drinks, beer is bought from licensed bars, they are pretty ubiquitous.
Food
There are no restaurants outside the larger cities (mostly the provincial capitals), and the only supermarkets worthy of the name are in Maseru. In every village, there is a grocery store but there is practically nothing there, only rice, canned fish, instant noodles, and packets of macaroni to be topped with dehydrated soy mince.
Some bananas or apples can be found in the bigger shops, usually run by Chinese or Indian people, even those rarely have any fridge. Rare street vendors might have corn or seasonal fruit, for the meat you should usually ask the locals.
Stock in supplies in South Africa before getting into the kingdom, bring a camping stove with enough gas cylinders, you will not find them in Lesotho.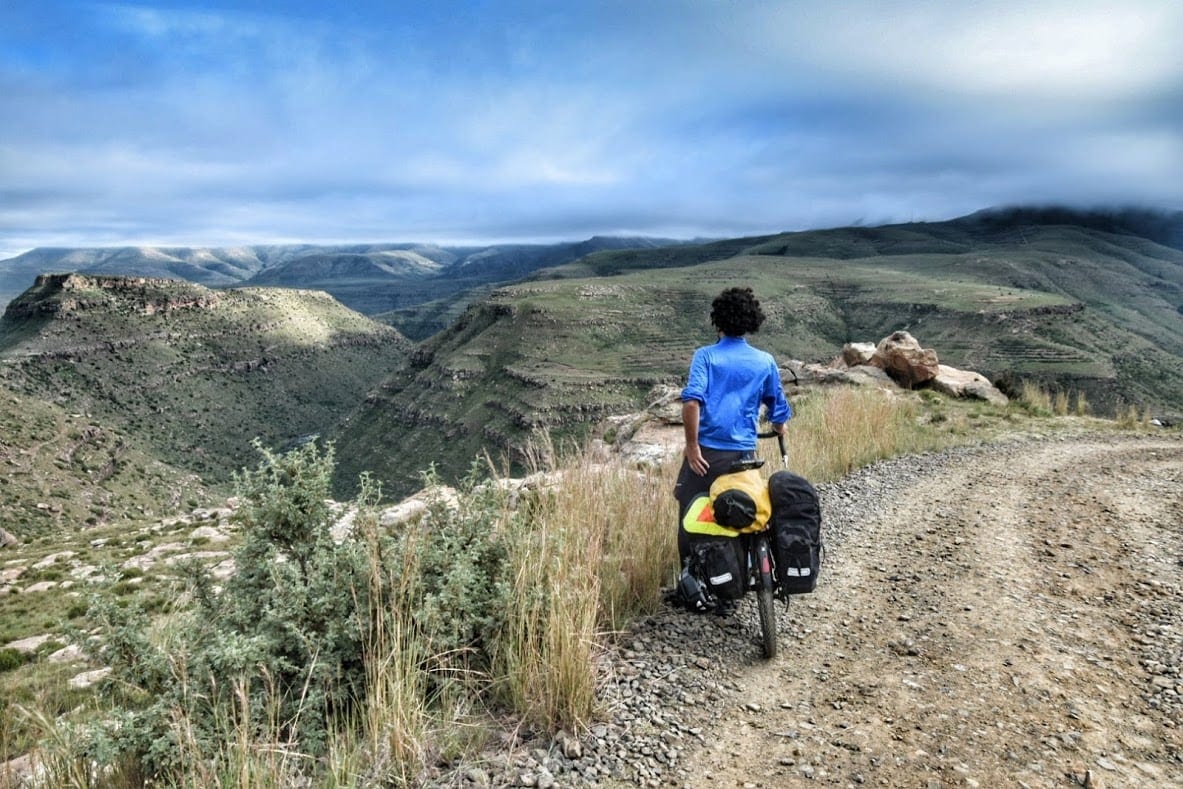 Roads of Lesotho
Only 20% of the roads in Lesotho are paved but the situation is slowly improving, there are Chinese companies across the country that are rebuilding roads, probably in exchange for diamonds, of which Lesotho is rich. The conditions of unpaved roads vary from disastrous to acceptable to good.
Many roads can be in good condition for a few months and completely quenched after the rainy season. Many of these roads are accessible only by 4×4 and others only on horseback.
Ask the locals about the road conditions, their information is often not reliable since few people own a car but if you ask more than one person and mostly everyone tells you the road is terrible, it is probably true.
---
Language
Lesotho has two official languages, South Sotho and English. Almost everyone speaks a few words of English, some are very fluent. Communicating, even if just at a basic level, is never a problem. As in all countries, it is always respectful to learn a few words in the local language.
Connectivity
Phone signal is strong almost everywhere in Lesotho, to our great surprise the Vodacom SIM card we bought as soon as we entered Lesotho also worked in the most remote places.
Entering Lesotho you can buy a SIM Card only in the main centers, we bought it at the Vodacom of Quthing, 200 Rand for 2 GB, but it's then much cheaper to reload.
Keep in mind that electricity and WiFi are practically non-existent outside the cities so if you need internet you'll have to rely on the data connection. WiFI is only present in hotels in larger cities and is not very fast.
---
Visa requirement in Lesotho and border crossing
Lesotho is visa-free for several nationalities, 49 countries have 90 days exemption while 22 are allowed only 14 days, check here if your country is among these.
An important fact that you should know if you're not a citizen of South Africa or Lesotho, is that your South African visa keeps on running while you're in Lesotho, in fact eating up your allowed days of stay. if you run out of South African visa time while in Lesotho you'll be given only a 7-days extension.
There are fourteen border posts between South Africa and Lesotho, the most used are Maseru bridge and Qachas Nek. Border formalities are usually quick and easy.
Safety concerns in Lesotho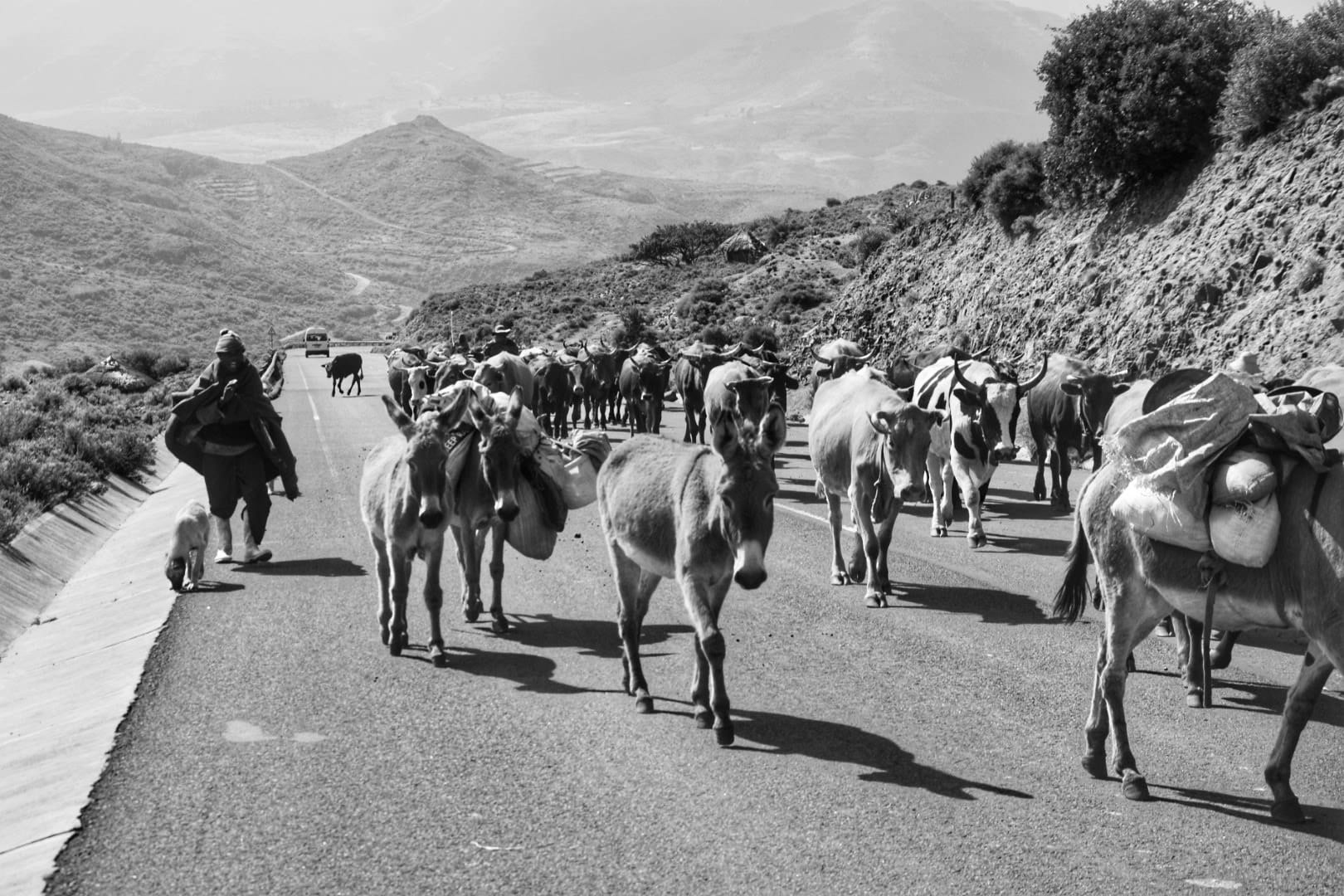 Lesotho is a fairly safe country, it's democratic and fairly stable in the last years. Just mind the usual common sense, don't show expensive items, and don't leave them unattended.
During the weekend, especially in the city, you can meet a few drunk people, if you are in the capital at night it is best to take a taxi.
---
Getting around in Lesotho without a vehicle – hitchhiking, local taxis, and public transports
Moving around the country is surprisingly very easy even without a vehicle, but only for the adventurous and "fearless". Hitchhiking is commonly practiced by the locals, there are few cars but most of them will give you a lift if there's one free sit, sometimes even if there isn't. Some will ask money, most won't.
Local minibusses (which contrary to South Africans, state their destination on the windshield), are quite a common sight even on the roughest roads, just stop them and get on. You'll be the center of attention but they are safe.
They are also the cheapest way to get into Lesotho from South Africa. You'll have to change several and it will take some time. Get down at the border, cross on foot, and then take another minibus.
Of course, there's no schedule for this privately owned collective taxis (indeed people call them taxis), but waiting won't be too long in populated areas.
No official public transport exists in Lesotho outside Maseru. Some companies organize bus tours.
The itinerary of our cycling road trip in Lesotho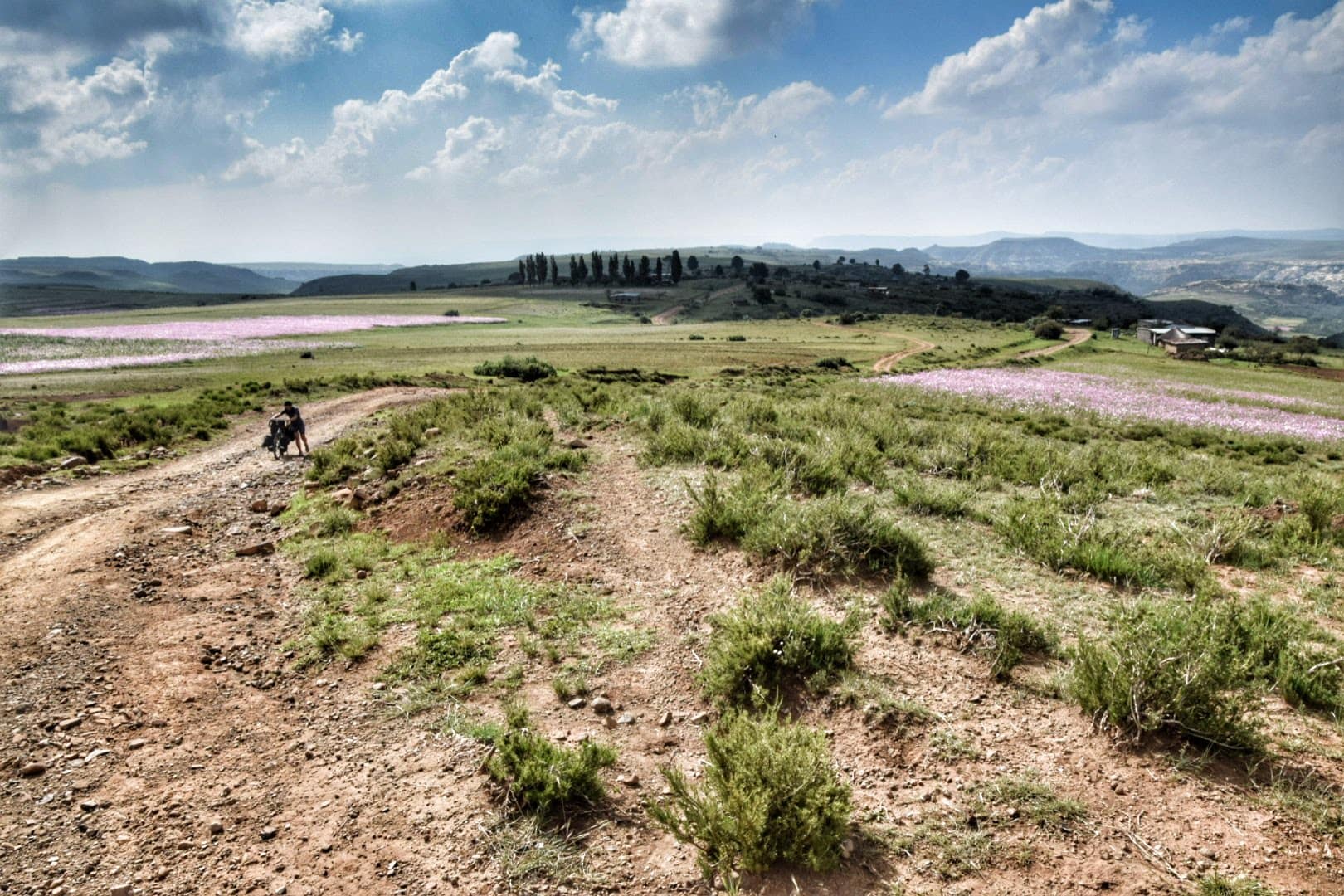 This is the itinerary we have traveled by bicycle over ten days, taking a couple of days off and taking a few steps.
This route is definitely magnificent and will take you to explore remote areas of the Kingdom of the Mountains, keep in mind however, some sections are not passable by a normal car.
On 4×4, or with an enduro or travel motorbike, everything is possible, but it requires preparation and technique, be careful.
Riding this itinerary by bike is extreme, one of the most difficult undertakings of our "career". Get ready to push a lot and bring some spare parts with you.
Map and GPS track of our cycling itinerary in Lesotho
This is the route of our Lesotho cycling itinerary, a 564km ride with almost 14,000 meters of elevation gain. We did it in 10 days but we hitchhiked a few sections. Riding time is strictly connected with weather and road conditions, on dirt roads 50km a day is already a very good average.
If you're planning a road trip by car or motorbike, a week can be enough. Less than that would result in a stressful rush, consider cutting something off if your time is limited.
---
Route A2, from Quthing to Maseru (237 Km)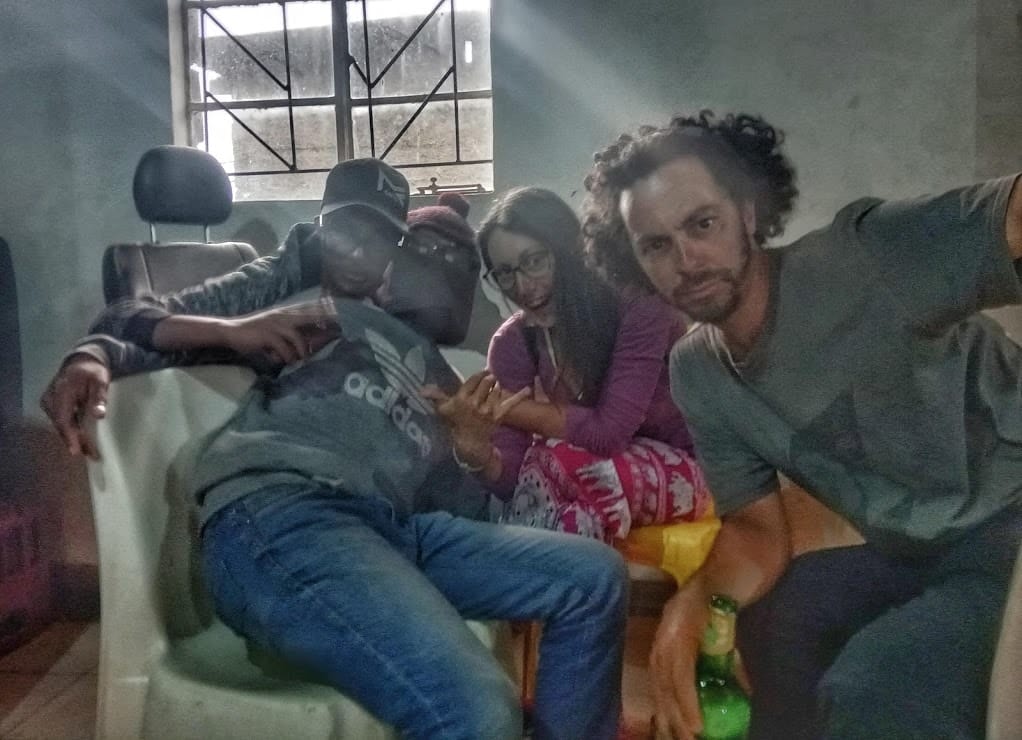 This section of the route is not reported in our itinerary, we cycled a short section of it from the border to Quthing and back towards Maseru. We didn't plan on going to Maseru and we did it only because we needed a bike mechanic, which can only be found there in the capital. We hitched this ride because of the bike problem, this is certainly not the most interesting part of Lesotho although it's still nice and not boring.
From the Palmietfontein border, the road continues well-paved down to Quthing, one of the main cities of Lesotho, where there are several guesthouses and above all the main street. It seems that every store loves to place big speakers on the outside and shoot music at full volume.
We arrived on Sunday and were immediately invited by locals to a dance party with DJ sets in a bar in the village. Quthing is a lively place but doesn't expect a "developed" town.
From Quthing there are two paved roads, one goes north to the capital Maseru (A2) and the other follows the southern border to Qachas Nek (A4). We went north because we needed to find a mechanic for one of our bikes and, apparently, there are none except in the capital.
The A2 road, despite going to Maseru and crossing one of the most inhabited parts of Lesotho, does not have much traffic but, from a landscape point of view, it is certainly not the most spectacular road in the country.
If you ride this road you will pass by Mafeteng where we recommend you visit Tshepo, a young boy who has an association called Hands of Life – Cycling, check also their Facebook page.
By donating bicycles to children and young people they teach them a new way of moving, a job, create new ideas and in the meantime educate them about risky behaviors, in particular regarding HIV, a disease that affects 25% of the population.
Tshepo will be happy to make you camp in the association's garden if you spend a few hours seeing what they are doing and encouraging children!
The only other big size settlement is Mohales Hoak, a lively market town. Very few if any official accommodation can be found outside these main centers.
This is the lowest part of Lesotho, there are grain crops and small hamlets everywhere, the road is not too hilly when compared to the rest of the Kingdom.
Welcome to Lesotho! Just past the border of this remote enclave Kingdom and it's immediately party!

We go look for a well deserved beer and we suddenly find ourselves dancing and chatting with joyous people.

The day after Elena's rear in starts behaving like a fixie… Keep reading our diary on facebook!
Maseru, the capital of Lesotho
The capital of Lesotho, Maseru, is not really an unmissable place, but it is the only city where you will find decent supermarkets and services in general.
Most tourists from South Africa enter from this border and Maseru is a good stop for a night of setting-in before seeing the real Lesotho. There are plenty of cheap guesthouses where you can sleep, with hot water, electricity, and WiFi.
Starting from the north of Maseru we crossed the city and we can confirm there really is not much to see here. The streets are full of people trying to sell cyclists and motorists any kind of thing, from fried fish to gym weights.
We asked ourselves several times who, stuck in traffic, would never have been able to buy gym weights from a street vendor, we haven't found the answer yet but if they continue to sell them there might be someone that buys them.
Street vendors also sell fruit, and if we had known that we would not have seen it again in all of Lesotho we probably would have bought some.
From Maseru to Moitsupelis (53 Km)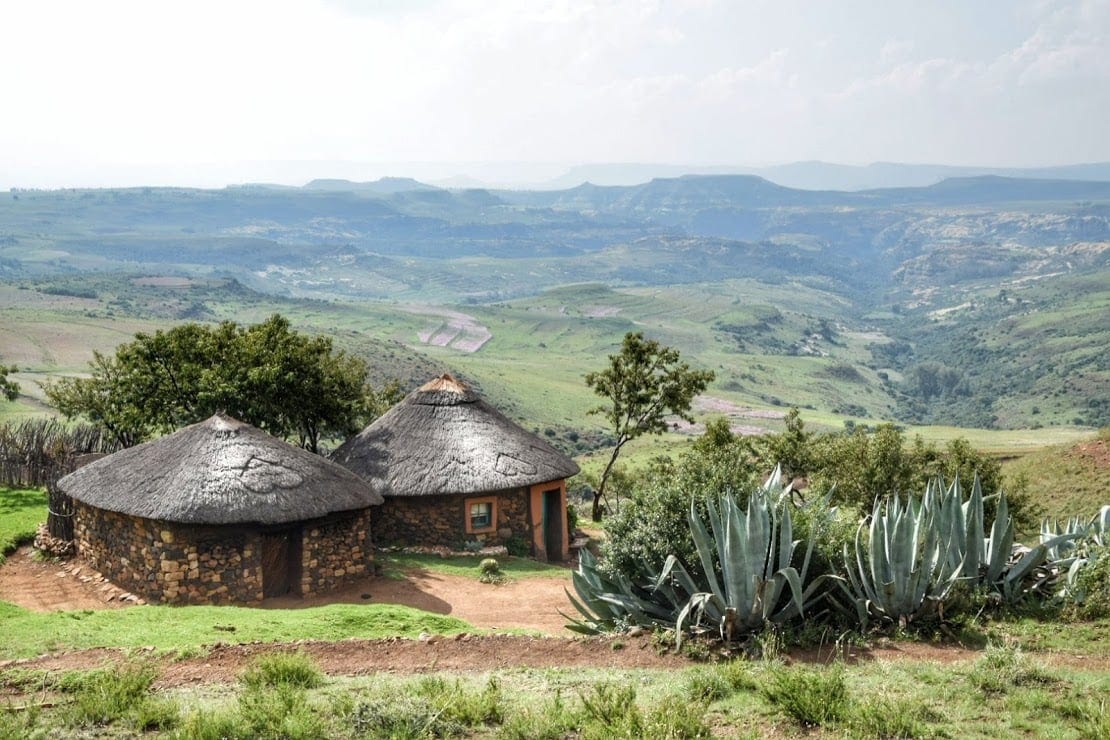 From Maseru, we took the recently paved A5 road that leads to Qachas Nek via the beautiful Maletsunyane Fall near Semonkong. We almost always followed the paved road except for a detour on a dirt road of about 20 kilometers that we highly recommend but that requires a 4×4, a bike that is unloaded or, as in our case, some push-off sections.
The road remains busy and not very pleasant as far as Roma where, suddenly, the traffic ends. Just before Roma, we took the road in the direction of Koro-Koro, paved, and then deviated on our left onto a dirt road with no name that rejoins the A5 near Moitsupelis. (check the map above)
The dirt road is challenging and there are stony hairpin bends with important slopes, especially in the initial part, but you will be rewarded by the magnificence of the landscape, high peaks and a sea of colorful flowers, traditional villages with typical round stone houses, shepherds on horseback with their mantle and the impression is to be constantly inside a documentary.
A little less pleasant, are the hordes of children that will chase you asking you "sweets" and "money". Unfortunately, for decades many whites have had the habit of throwing candy at children from cars, a behavior that has led the locals to believe that a white person's wealth is infinite and that it is enough to ask for money or candy from a passerby to get them.
Back on the paved road, we cycled another ten kilometers, luckily downhill, again a scenic valley dominated by a mountain with two "nipples". Here's the small village of Moitsupelis where there's a small shop.
We slept at Casa Tumi, you can also camp and there is a nearby river where you can swim. The locals believe there's a dangerous mythological serpent in the river, be advised.
The place is run by a local girl, a great way to contribute to the local economy. At night the sky will offer you such a unique star show you'll wish you knew how to do astrophotography.
One of the most epic days ever. We left the nevrotic and dirty Maseru and hit the road towards the highest mountains, once we get into the Koro Koro road the path degenerates quickly, climbing steeply on a washed out track

The landscape is unbelivable, we soon cross a traditional village, here people are more rough, temprated by the hardships of the mountains… Keep reading our diary on facebook!
From Casa Tumi to Semonkong (60 Km)
From Casa Tumi the road climbs up to about 2200 meters, continuing through small villages and magnificent mountain landscapes. Practically no traffic. At one point you will see one of the steepest asphalt roads ever seen, we thought from a distance this was some sort of optical illusion but, with great discomfort, we were wrong.
Daniele almost pedaled it, I didn't. Pushed up the bike while followed up by children who asked me for money and candy. An average incline between 16 and 18%. Arrived at the end of these few kilometers of hell, the road keeps on climbing but with more human slopes, up to a nameless mountain pass at about 2800 meters.
At this altitude, you will see young shepherds and sometimes baby-shepherds who live for days in temporary huts of stone and straw with animals.
Usually, they tend to sheep and cows but also goats, donkeys, and horses, which lead up here to graze. Most of the herders ride a horse and use the donkeys to carry their belongings.
After the pass, the marvel continues down to the village of Semonkong where you can sleep, camping, or indoor, at Semonkong Lodge, about 4 kilometers from Maletsunyane Falls. At the time of our visit, in April 2019, there were no other places to sleep in the village. You can read our article about Maletsunyane Falls and Semonkong, you will find all the information on how to reach it, where to sleep, what activities you can do in the area, etc.
Continuing south along the A4 road, on the ascent after the village of Semonkong there is an excellent vantage point that will allow you to see the falls on the other side of the canyon, those that are not seen from the Maletsunyane viewpoint.
Back on tar, and it's a blessing, since this road climbs up a 2800 meters pass with slopes straight out from a surrealist painting.

This route though has been paved only less than two years ago, and the feeling of remoteness is still strong. People here live like they had for centuries, mostly unaware of the rest of the world out there… Keep reading our diary on facebook! 
From Maletsunyane Falls to Quachas Nek (114 km)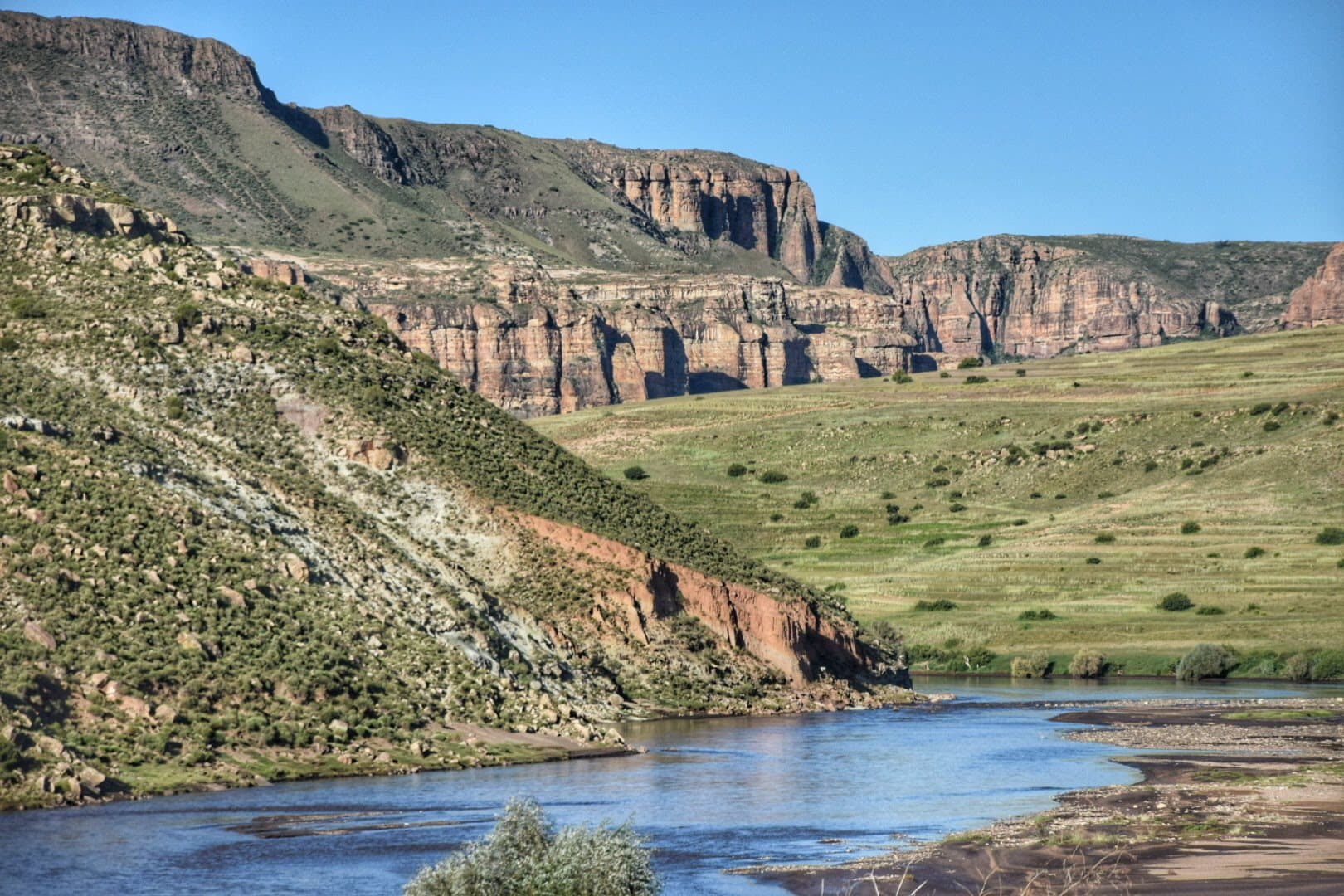 The road continues with constant and steep ups and downs to Qachas Nek, along the Orange River (Senqu) and the landscape literally changes at every turn, there is not a single boring meter along this road. The pavement is always very good besides a few potholes and occasional landslides.
The first section will bring you up again to 2,600 meters and then down back to 1,500 where you meet the Senqu for the first time, there's a sort of canyon here with peculiar rock formations. just after the bridge, there's an unnamed guesthouse made by rondavel houses and run by girls.
The sign says "fast food" but there was no food, just a small shop. We added all the info about this place on iOverlander, best stargazing ever.
Up and down again twice before a short "flat" section along the river that gives life to the whole of South Africa. Then the detour to Qachas Nek, of course uphill.
Arrived in Qachas Nek there are three or four guest houses where to sleep, a Chinese shop that even had a fridge (cheese slices are a luxury after days in Lesotho). Some guesthouses have a restaurant and offer dinner for about 35 Rand, just over 2€, salad and chicken or fried eggs.
The road to Sehlabathebe National Park (100 Km)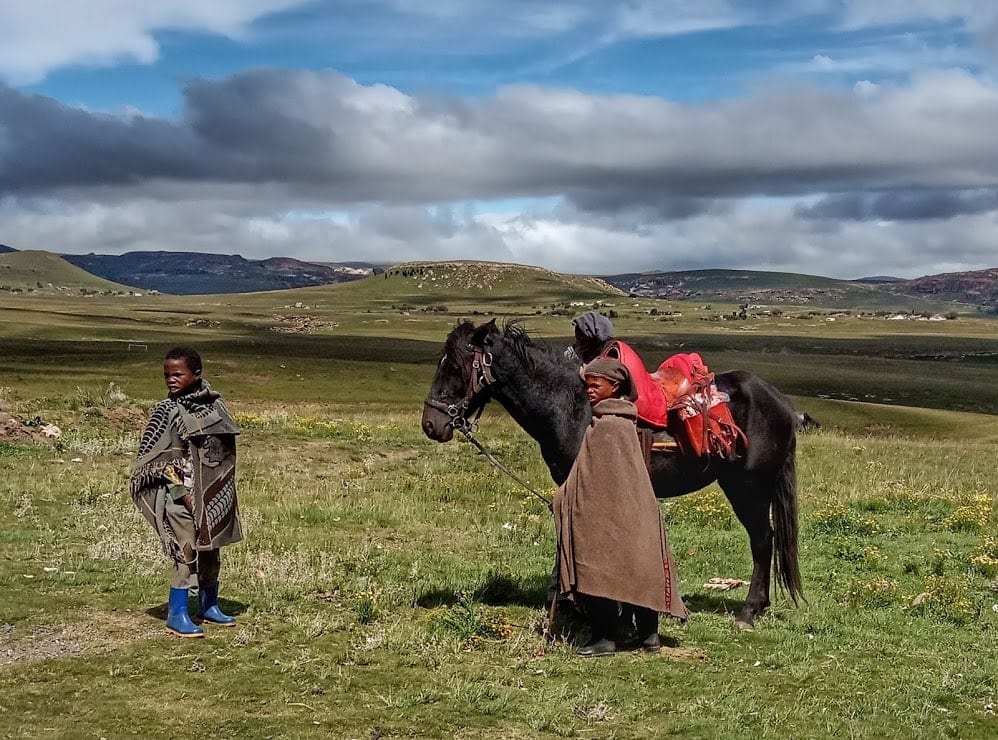 From Qachas Nek we backtrack about ten kilometers and took a dirt road on the right that leads to the Sehlabathebe National Park. The Chinese are working to rebuild the road and the first 20 kilometers are excellent. They should end in a couple by 2021 so those who'll pedal thereafter us will find it much easier but maybe less charming.
After the Chinese construction site, the road is very rough, sometimes rocky and sometimes sandy, very bumpy. It could be difficult to travel during the rainy season and a 4×4 is highly recommended. Ramatsseliso is about 2,400 meters high, the landscape is rough and mystical, these are the highest slopes of the Drakensberg
From what we have been able to understand, there are no "official" accommodation options up to Ramatseliso, 70km from Quachas. Ramatseliso has one of the many other border crossings with South Africa, the road down from the Ramatseliso border to South Africa has been recently fixed and, although unpaved, is a good option if you want to bail out before the real hell begins.
From Ramatseliso the road continues to follow the border and then turns north to Sehlabathebe. Slopes are sometimes vertical and road surfaces often disastrous. The road though is more and more scenic.
In Sehelabatebe you will find a Chinese shop and a very basic guesthouse, managed by a very kind gentleman where you can sleep for 200 Rand per night.
If you wish to visit the Sehelabatebe National Park, the first of Lesotho, you'll have to take a 4km detour to its gates. The park is known for its wilderness and silence, we had enough of that along our roads so we didn't visit. We are sure though that it's worth a stop for those on cars or motorbikes. The park has a lodge and camping.
Matabeng Pass (40 Km)
From Sehlabathebe we continued towards the Matabeng pass, 13 kilometers uphill along a road that is in fact just an expanse of rocks, up to about 3000 meters. And then another 20 kilometers of descent, even less rideable. The whole thing took us about 9 hours.
At the top of the pass, we were lucky enough to spot three rare Cape Griffins, which circled near the antenna, while a teenage shepherd listened to traditional music from a USB speaker…
We counted at least fourteen watercourses to be forded, some section required short portages above massive boulders, the overall ride was very bumpy and technical.
It was worth it anyway but it cost us a whole day of effort. We camped along the Qulu river once the most difficult part of the descent was over. You will also find a campsite near Tebalo, I don't think there are showers or electricity but probably a bathroom. It might be worth paying if you want to sleep more peacefully and you're not a fan of free camping.
Please be advised that challenging the Matabeng Pass is a serious undertaking! By car, it requires a very good 4WD and an experienced driver. The same thing by motorbike, some section are very tricky and it's easy to get stuck or fall, go in convoy. Matabeng pass is really not for everyone!
The secret Senqu river road – from Tsoelike to Matabeng (60km?)
Matabeng is a beautiful pass but is not the most impressive landscape in Lesotho, if you don't feel like doing it there's another alternative. A mysterious road, not marked on most maps, that begins somewhere in Tsoelike (the first village you'll meet after leaving the tar road near Qachas Nek) and leads straight to the village of Matabeng, at the northern foothill of the pass.
This is a huge shortcut, saving you all the ride along the border, the Sehelabatebe road, and most important the Matabeng Pass. We thought about doing it but we couldn't clearly identify the beginning of the road at Tsoelike. On the north side though, near Matabeng, the road is very evident.
According to the few accounts, this is a much easier way than what we described above, but none of these accounts is recent and things change quickly in Lesotho.
Google marks this road as a dead-end, komoot knows a way through but we weren't sure we could trust it. Lifeintravel.it has a GPX track of this road somewhere on their site.
Sehongong e Mashai (30 Km)
From the campsite, the road leaves the Qulu river once it flows in the Senqu, here the road goes up again. After the first steep hill (16/17%) the road conditions improve. The surface is much more even and maintained than ever before, there are still some steep inclines but also easier kilometers.
The landscape is especially gorgeous between Sehongong and Masai, where it peeks from a height back into the Senqu and its tributaries, that form various scenic canyons.
The road through has some very dangerous sections, no guardrails, and deep cliffs dropping vertically beside the road, as usual. If you look down you can spot buggies and trucks at the bottom of the cliff, local drivers seem not to care much though, so take your chances if you decide to hitch a ride.
Apparently, there is a guest house in Mashai and one in Sehongong.
Menoaneng pass and Rafolatsane (106 Km)
The route then joins the A3 road about 30km southeast from Thaba Tseka. If you take left from here youàll be going towards the provincial capital, where the asphalt will be back. This route will take you along the impressive Katse Dam and reservoir, and eventually back to Maseru.
This itinerary though keeps off-the-beaten-path, going right (west) at the junction towards another nasty mountain pass, the Menoaneng pass.
The beginning is rather flat and runs along a beautiful river, offering excellent locations for free camping. The road then begins to rise towards one of the many passes of Lesotho, the Menoaneng pass, at an altitude just above 3000 meters.
Throughout this whole section, there are steep drops and the road is narrow, requiring caution and attentiveness. In particular, the last 5 kilometers that lead to the pass are not in good condition, nothing compared to the Matabeng pass anyway.
Going down you will reach Rafolatsane, a few kilometers before the finally paved road that leads to the Sani Pass. In Rafolatsane there are two guest houses, we stayed at St. James Lodge run by the local church and school. There are electricity and hot water, heating and a common area with a kitchen and fireplace.
The room with a private bathroom and electricity costs 300 Rand per person, otherwise you can stay for 150 in rondavels without electricity and with an external bathroom, they will still give you a paraffin lamp and you can access the common area where there is electricity. It is also possible to camp, we do not know how much it costs because at the time of our arrival, in April, it was very cold and raining so we opted for the roof on the head.
You can read more about Rafolatsane in our article about Sani Pass road.
From Rafolatsane to Sani Pass (48 Km)
About 3 kilometers from St James Lodge, the paved road leads to the highest point near Sani Top, at 3240 meters, one of the highest passes in Africa.
The climb is pleasant and it seemed very easy for us after what we have done in Lesotho. Keep in mind that, despite being a paved road, there are no towns or shops along the way.
It would be curious to know why precisely this road, where there are no towns inhabited by locals, has been paved, seems to serve only Sunday tourists from nearby South Africa, South Africans were in fact all the cars we met along the way.
The road goes down a bit to the Lesotho border, at about 2800 meters high, this is the top of Sani Pass, the highest in South Africa.
There are 3 places to sleep, we strongly advise you to avoid the Sani Mountain Lodge (where we had a really bad experience) and to opt for one of the other two solutions available, you can find them in the linked article.
In this other blog post, we describe in deep detail the road from Rafolatsane (Mokhotlong) to Sani Pass and further down into South Africa.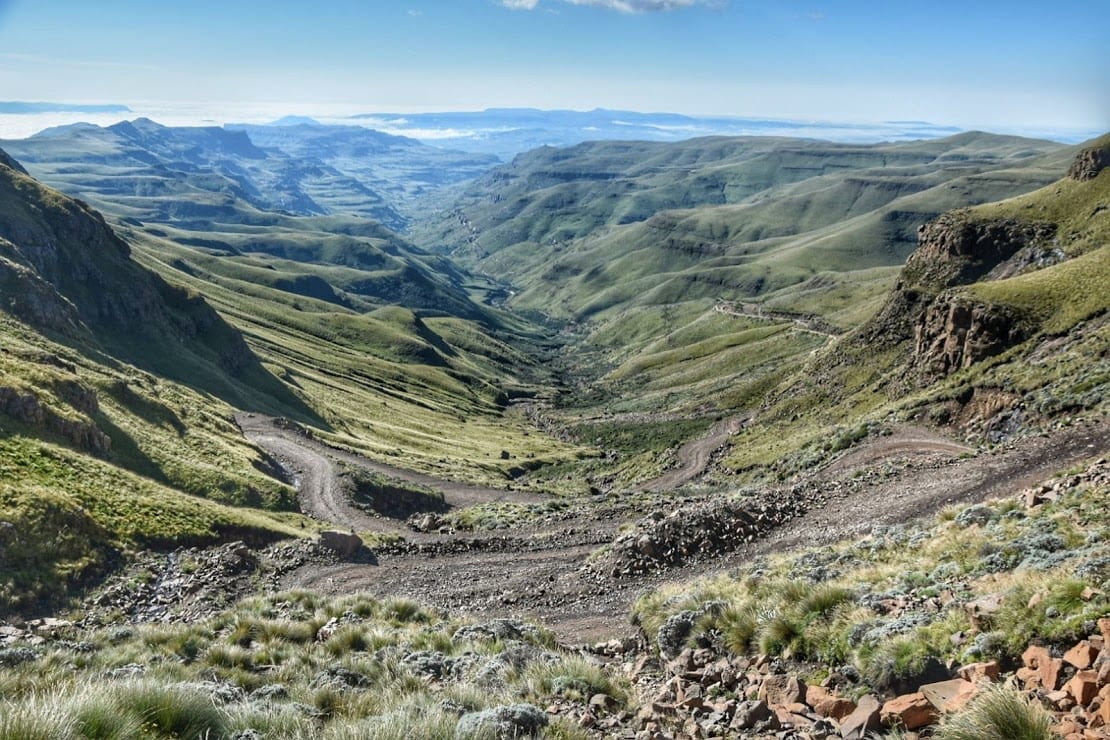 The view from the border is magnificent, but the road conditions are not as good. From the border of Lesotho, you will travel 8 kilometers of steep rocky switchbacks back to the South African border. From there on the road is undergoing renovation and can easily be found just as a river of mud.
In wet conditions, Sani Pass is difficult to travel by any means of transport. There are private transport services that will take you to the top of the pass if you don't feel like driving.
---
Conclusions
Lesotho is a small country and doesn't have many roads. The few there are though are all astonishing and worth exploring. We are very satisfied with this itinerary which brought us through the famous highlights but also very remote into the wilder areas of the Mountain Kingdom.
If you have a car and some time, or you are a bike rider with infinite stamina, you should explore as much as you can. If you happen to travel roads not mentioned here, we would love to hear your tips and stories in the comments below.
Pictures Gallery
---
Get Inspired!
Maletsunyane Falls, hikes, accommodation option and an insight guide on the highest waterfall in Lesotho
Planning Lesotho – advice and itineraries
Sani Pass – all about the highest pass in South Africa
Sani Mountain Lodge – why you should avoid
Road tripping South Africa? Have a look at
Getting to Lesotho from Port Elizabeth – a great Eastern Cape route
Barrydale and the Little Karoo
Cycling the Western Cape Coast from Cape Town
Want everything in one post?